College Basketball Nation:

Loyola Chicago Ramblers
July, 24, 2012
7/24/12
11:55
AM ET
About a month ago, Michigan State athletic director Mark Hollis -- our leading early season college basketball event
auteur
-- made it clear to the media that he wanted to do something to honor the history of a game that very much deserves it.
He
wanted to recreate the 1963 Mississippi State-Loyola NCAA tournament Mideast Regional semifinal
in Michigan State's old Jenisen Field House, site of the original. That game only occurred because an all-white Mississippi State team defied the staunch segregationist governor, Ross Barnett,* who very much did not want one of its state university basketball teams competing against teams with non-white players. The governor tried to prevent the Bulldogs from leaving the state, and the state of Mississippi filed an injunction designed to keep the Bulldogs within its own borders. But the team courageously snuck out anyway. It lost 61-51 to eventual national champion Loyola in East Lansing, Mich. that day. But by the opening tip, it had won a far greater victory.
[+] Enlarge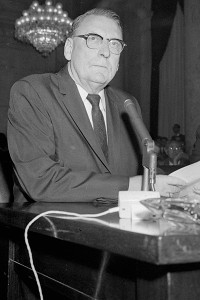 AP File PhotoMiss. Gov. Ross Barnett testifies before the Senate in this July 12, 1963 photo. Loyola's Jerry Harkness called the 1963 Mideast semifinal against Mississippi State "the beginning of the end of segregation" and insisted that both teams won.
That game was dubbed the "Game of Change," and it still stands as an example of what sports can be when they're more than games, when the sometimes brutally equalizing force that defines all competition -- can you play or not? -- works ultimately to bring us closer together. It's cheesy and banal but it's true, and that's why, 50 years on, Mississippi State and Loyola will honor that game over the next two seasons,
per ESPN Chicago's Scott Powers
.
The sides weren't able to agree on a deal to play at a neutral court like Michigan State (and the Spartans won't be involved), but the schools agreed to a home-and-home series that won't require much in the way of logistical haggling. While a one-off event at the site of the original game sounded like an appropriate experience, there's nothing wrong with honoring the "Game of Change" for the next two seasons.
As far as I'm concerned, the more reminders of that game in 1963, the better. Each is more than deserved. It's necessary.
(*
Just for some context, Barnett, in addition to being governor, was also a member of the white supremacist Citizens' Council. He became famous for jailing Freedom Riders and doing next-to-nothing to prevent widespread riots during the court-ordered admission of Ole Miss's first African-American student, James Meredith. The night before those riots, Barnett gave his famous "I love Mississippi" speech at an Ole Miss-Kentucky football game. You can watch it on YouTube. The atmosphere, the anger, the resistance to change -- it's frightening. Fifty years later, you can still feel the fever
.)
February, 2, 2011
2/02/11
12:36
PM ET
Charlotte's great. I really like it here. Traffic isn't much of an issue, at least in my experience; the airport was in-and-out; my hotel is within walking distance of pizza, bars, burritos and even a Pei Wei; and hey, check this out: It's 60 degrees today! I really can't complain.
But I'm not exactly in Charlotte by choice. At least not anymore. After filming yesterday's ESPNU College Basketball Experts show, I was supposed to fly back to Chicago late last night, but because a monstrous snowstorm has pretty much shut down the entire midwest, I'm in the south until tomorrow. At the earliest.
When you can't drive on Lake Shore
, you can't fly planes into O'Hare. Makes sense.
Which is why what the Loyola Chicago men's hoops team did last night is so, well, surprising? Impressive? Downright dumb? All of the above?
The Ramblers -- never has that nickname been so apt -- left their north-side city digs at approximately 1:45 p.m. yesterday. They arrived in Dayton for today's game with Wright State at 12:45 a.m. On a normal day, that trip takes five hours. Yesterday, according to an e-mail from Loyola spokesman Bill Behrns, it was a "five-movie trip." And the fun didn't stop there:
So, a trip that normally would take five hours via bus, took 10 hours, or twice as long, and was complete with a detour due to Interstate 70 being closed just before the Indiana-Ohio border. It was a five-movie trip. When we arrived at our hotel in Dayton, they had just gotten full power restored after running on a back-up power generator due to the ice storm that hit the Dayton area. All in all, a long day for everyone involved with the travel party, but we are happy to have arrived safely and give credit to both of our bus drivers for getting us to Dayton safely and without incident.
It's a little bit remarkable that any Chicago-area team was able to make it anywhere yesterday or today. Chicago usually scoffs at snow. The city rarely closes schools for weather; it almost
never
tells people to stay home from work. But this storm is different. The city is shut down. My friends, usually stuck in offices on Wednesday afternoons, are planning poker games and home movie hangouts. And even when the snow moves out, the temperatures are supposed to plummet, roads are supposed to freeze, and the National Weather Service
keeps sending out one dire warning after the next
.
After spending a good deal of time on hold this morning, I was finally told by a travel agent to forget it. Not only because it "wasn't going to happen," but because "you don't want to be in Chicago, anyway."
Given all this, you'd expect more basketball-related cancellations. But Loyola Chicago made its trip. Indiana announced its game with Minnesota Wednesday night is on. (The title of IU's press release? "Game On." Awesome.) In fact, it seems most -- if not all! -- of the college hoops contests in the Midwest are going to take place tonight. That's surprising in any case, but especially so when you consider that most mid-major schools, like Loyola Chicago, don't have charter planes and high-resource transport options at their disposal. They're just busing. Five movies, six movies, whatever.
I'm not sure that's always the wisest option, but as long as everyone's safe, bring in the hoops. Or, if you prefer: game on, Garth.