College Basketball Nation:

Loyola Greyhounds
November, 16, 2012
11/16/12
9:00
AM ET
The Hall of Fame Tip-Off is a tournament set up for one marquee team.
That's what it did last season for Kentucky. That's what it's doing this season for Ohio State.
The Buckeyes are set to play in a "title" game, regardless of what occurs Saturday at the Mohegan Sun. And for OSU, having some sort of certainty probably helps, considering that its Nov. 9 opener -- against Marquette aboard the the USS Yorktown in Charleston, S.C. -- was canceled.
The basics
: Nov. 17-18 at Mohegan Sun Arena in Uncasville, Conn.
The set matchups (Nov. 17)
: Norfolk State vs. Loyola (Md.), noon ET; UMKC vs. Albany 2:30 p.m. ET; Ohio State vs. Rhode Island, 5 p.m. ET; Seton Hall vs. Washington, 7:30 p.m.
The favorite
: Well, the tournament is set up for Ohio State, so it's hard to pick any other team. The Bucks come into the event as the only ranked squad, much like last year's event with Kentucky. OSU hasn't had a true barometer contest yet due to the cancellation of the Marquette game. The best scenario would be for the Buckeyes to get pushed a bit here in advance of having to go to Duke on Nov. 28 in the ACC/Big Ten Challenge.
FIVE PLAYERS TO WATCH
Mike Black, Albany:
The senior guard is off to an America East player-of-the-year-type season. Black scored a combined 42 points over his past two games after 15 in the season opener. His ability to score in a variety of ways should prove useful once he gets into conference play. So far, he's not having any problems scoring against perceived tougher competition.
Aaron Craft, Ohio State:
The Buckeyes point guard is one of the top lead guards in the country. He has to set the tone early and often for Ohio State. He has been known as a defender and top facilitator, but might have to do more scoring with the current makeup of the OSU roster. Craft scored 20 points Sunday in a 22-point win over Albany.
[+] Enlarge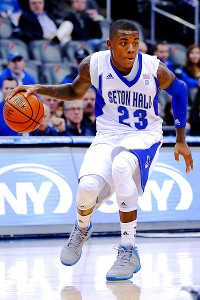 Jim O'Connor/US PresswireSeton Hall swingman Fuquan Edwin is averaging 19.5 points so far this season.
Fuquan Edwin, Seton Hall:
The Pirates have consistently had a big-time scorer under both Bobby Gonzalez and current coach Kevin Willard. Edwin is off to a terrific start in this department, averaging just under 20 points a game so far. He probably will get plenty of shots against Washington and then possibly Rhode Island. This could be a breakout weekend for Edwin to gain even more name recognition prior to Big East play.
Abdul Gaddy, Washington:
Gaddy is off to a solid start for the Huskies after a few seasons of erratic and injured play. He has the ability to dominate the ball and give Craft plenty to handle if the two meet Sunday. Gaddy didn't bolt when everything didn't go his way. Now he has to maximize his opportunity and excel.
Deshaun Thomas, Ohio State:
Thomas is the new face of this team. He played well off Jared Sullinger last season, but now he has to be the featured forward. Thomas scored 19 in the opening win over Albany. He is a consensus preseason All-American and he will need to live up to that hype if Ohio State has a real shot to compete for the Big Ten title.
FIVE BIG QUESTIONS
How will Ohio State handle being expected to win?
The Buckeyes have gone through the past few seasons in a favored role in the Big Ten. This season they can actually play with more freedom not being the fave. But in this event, anything less than two wins at the Mohegan Sun will be deemed a disappointment. The Bucks need to show that they have balance and can defend over the next two days.
Which Albany team will show?
The Great Danes are 2-1, with wins over Washington on the road and against Duquesne, so they appear to be a legit contender in the conference. Beat MAAC contender Loyola (Md.) and Albany will get even more credibility among its peers.
Will Washington turn its season around?
The Huskies lost two players to the NBA draft after winning the Pac-12 regular-season title. But the season was still expected to be promising and still can be if the Huskies can stop the bleeding from this week's stunning home loss to Albany. A year ago, Washington came east and lost at Madison Square Garden to Marquette and Duke. This is the first of two trips to Connecticut for the Huskies (they play at UConn on Dec. 29). Leaving with at least one win is a must. Two would add momentum for the rest of the nonconference slate.
How much of a contender or pretender is Seton Hall?
The Pirates are a bit of an unknown in the Big East. This event has a chance to unveil the mystery. Seton Hall should be taken seriously because of its ability to score. If the Pirates can get to a meeting with Ohio State and pull the upset, then a possible top-half finish in the Big East isn't out of the question.
What are the chances Danny Hurley can get his first win at Rhode Island?
The Rams lost by 12 at home to Norfolk State and got drilled at Virginia Tech by 19 points. URI is going through a complete overhaul and won't truly be back until a high-level recruiting class comes to Kingston next season. But this team can't get too discouraged here early in the season. A split of the games this weekend will at least give the Rams some confidence moving forward.
THE PICKS
Saturday:
Loyola (Md.) over Norfolk State; Albany over UMKC; Ohio State over Rhode Island; Washington over Seton Hall.
Sunday:
Norfolk State over UMKC; Albany over Loyola (Md.); Seton Hall over Rhode Island; Ohio State over Washington.
July, 26, 2012
7/26/12
12:00
PM ET
When and where:
Nov. 17-18 at Mohegan Sun Arena, Uncasville, Conn.
Naismith Bracket
Nov. 17: Ohio State vs. Rhode Island (5 ET, ESPN3); Seton Hall vs. Washington (7:30 ET, ESPN3)
Nov. 18: Third-place game (7 ET, ESPN3); championship game (4:30 ET, ESPN2)
Springfield Bracket
Nov. 17: Norfolk State vs. Loyola, Md. (Noon ET); Albany vs. Missouri-Kansas City (2:30 ET)
Nov. 18: Third-place game (11:30 a.m. ET); championship game (2 ET)
[+] Enlarge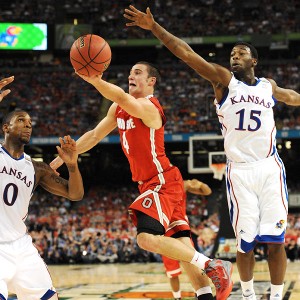 Richard Mackson/US PresswireAaron Craft must now run Ohio State's offense without Jared Sullinger.
Initial thoughts:
I'm somewhat intrigued, especially with Ohio State and Washington potentially meeting in the title game. Both squads, which lost a combined three first-round picks in June's NBA draft, reboot. I want to see what
Deshaun Thomas
does with his new position as the go-to guy for the Buckeyes following the departure of
Jared Sullinger
.
Aaron Craft
had offseason surgery to repair bone chips in his ankle. He's been hampered for years by the injury. Now that he's healthy, will his defense wreak even more havoc on the perimeter?
Terrence Ross
and
Tony Wroten
Jr. are gone, so the Huskies will turn to
Abdul Gaddy
and
C.J. Wilcox
this season. The duo is the program's only hope to remain relevant in a top-heavy Pac-12 (see Arizona and UCLA).
The rest of the field is so-so based on talent, but it's backed by good story lines. Seton Hall will likely take a dip after losing
Jordan Theodore
and
Herb Pope
. Rhode Island's Dan Hurley kicks off his first season in the Atlantic 10 after leading Wagner to one of the greatest seasons in program history. But leading scorer Jamal Wilson graduated and the team's No. 2 scorer,
Billy Baron
, transferred after his father and former head coach Jim Baron was fired. Look for freshman Jordan Hare, a 6-foot-10 center from Michigan, to earn big minutes in his first season.
The mid-major participants offer a few gems. Loyola (Md.) forward
Erik Etherly
finished with 19 points, seven rebounds and four blocks during an NCAA tournament loss to Ohio State last season. Cinderella Norfolk State is coming off its March upset of No. 2-seed Missouri. But the star of that game, Kyle O'Quinn (26 points), has graduated.
Pendarvis Williams
, who dropped 20 on the Tigers, is the new leader for a program that shocked the country with a win over a Tigers squad that looked like a Final Four team entering the Big Dance.
Matchup I can't wait to see:
Ohio State-Rhode Island. Hurley took over Wagner a year after the program had won five games. Last season, the team earned 26 victories. That's why he was such a coveted orchestrator in the offseason. He's taking over a URI squad that went 7-24 and finished No. 202 in Ken Pomeroy's rankings. But he can change the Rams. I'm not picking the upset, but this could be a surprising matchup between a newly motivated Rams squad and a Buckeyes team adjusting to life without Sullinger.
Potential matchup I'd like to see:
Ohio State-Washington. The two teams that could meet in the championship game of the Naismith bracket are in similar positions. New identities for both teams. Sullinger has been the heart of the Buckeyes program for the last two seasons. Now that offense will revolve around Thomas and it will be a completely different look for an OSU squad that's relied on the nation's top pure post presence. Last season, the Huskies won the Pac-12 regular season title with Ross and Wroten, a pair of underclassmen. They've lost a lot of firepower. An early upset over the Bucks, however, could set the tone for UW's season.
Five players to watch
Aaron Craft, Ohio State:
He's definitely in the "best point guard in America" conversation. This is an important event for Craft (8.8 ppg, 4.6 apg), one of the country's top defenders (2.5 spg). He's coming off summer ankle surgery and now the floor leader must learn to operate within a Buckeyes offense that no longer features Sullinger.
Erik Etherly, Loyola:
He's the top player for a Greyhounds squad that should be the favorite to win the MAAC this season. The senior forward averaged 13.5 ppg, 7.5 rpg, 1.9 apg, 1.5 bpg and 1.1 spg in 2011-12.
Jordan Hare, Rhode Island:
Hare maintained his commitment to the Rams after Hurley took the job. The 6-foot-10 center from Saginaw, Mich., chose Rhode Island over Michigan, Michigan State and other high-major programs. He's a crucial building block for Rhode Island and Hurley.
Deshaun Thomas, Ohio State:
If he'd avoided his 3-for-14 outing in a Final Four loss to Kansas, Thomas might have entered the NBA draft. But the versatile scorer decided to return and enjoy his BMOC status now that Sullinger is in the pros. He's the reason the Buckeyes have cracked the top 10 in early projections for the 2012-13 season. Yet, questions remain about his ability to affect games without the ball in his hands.
C.J. Wilcox, Washington:
The Huskies lost a pair of first-round draft picks in Wroten and Ross. But Wilcox is back. He averaged 16.0 ppg in last season's NIT, an extension of a promising season that featured nine games of 19 points or more for the NBA prospect.
Naismith title-game prediction
Ohio State over Washington. Thad Matta starts a new chapter without Sullinger, but he'll have a more versatile team as
LaQuinton Ross
and
Lenzelle Smith
, Jr., play bigger roles. The Buckeyes are clearly the best team in the field. An upset is always possible, but it's highly unlikely if Ohio State enters the tourney at full capacity. They'll kick off the year with a victory at Mohegan.
Who others are picking:
Eamonn Brennan:
Ohio State over Washington
Andy Katz:
Ohio State over Washington
Jason King:
Ohio State over Washington
Dana O'Neil:
Ohio State over Washington
April, 25, 2012
4/25/12
5:00
AM ET
1. Kentucky coach John Calipari said Tuesday afternoon that Rod Strickland, a director of basketball operations, would be staying with the Wildcats and not heading to work for Larry Brown at SMU. Calipari said his entire coaching staff will remain intact; assistants Kenny Payne and Orlando Antigua had interest in a few openings but never got too far in the process. Assistant John Robic has been a steady presence next to Calipari during his tenure. Meanwhile, Calipari said he's hopeful that the Wildcats can add one more recruit after already securing a top-five class.

2. Tony Benford could have joined Larry Brown's staff but made the wise choice. Benford has longed to be a head coach and getting a North Texas gig that will be one of the best in its current and possible future league makes sense. The SMU staff situation continues to be an odd process as the school/Brown search for a possible coach-in-waiting rather than dealing with the now and simply turning to recruiting and coaching. SMU was supposed to hire one coach, not one for now and one for the future.

3. Loyola (Md.) coach Jimmy Patsos would be a great choice for Virginia Tech after he made the NCAAs and coached in the ACC as an assistant. Patsos is a tremendous worker and brings unbelievable enthusiasm. But the Hokies will likely look for high-level coaches they can't get (VCU's Shaka Smart), flirt with others who may make too much money or have a buyout (Richmond's Chris Mooney) before looking at coaches who fit for cost, timing and location of this job. I will be surprised if Virginia Tech were to lure a coach who has a solid, stable situation in a top-eight league.
February, 10, 2012
2/10/12
10:00
AM ET
For full coverage of the Michigan State-Ohio State matchup,
click here
.
Friday


Iona at Loyola (ESPNU, 7 p.m. ET):
Loyola coach Jimmy Patsos was peeved that his squad was left out of the TV BracketBusters games. Well, this one is on TV and it's a shot for the Greyhounds to let the rest of the country know that the more publicized Gaels aren't the only team in the MAAC. The teams are tied atop the league. This should be the MAAC tournament final, with one of the two earning the bid in Springfield, Mass., next month.
Saturday


Louisville at West Virginia (ESPN, noon ET):
The Cardinals are rolling while the Mountaineers haven't been the same since losing to Syracuse and failing to get that goaltending call on Jan. 28. If West Virginia doesn't stop Louisville in transition, the Mountaineers are in serious trouble. But you have to expect WVU will get this win at home.


Virginia at North Carolina (ESPN3, 1 p.m. ET):
The Cavaliers can disrupt the Tar Heels and control the tempo. The key will be how the Heels respond to their disheartening loss Wednesday to Duke. UNC is the more talented team, but are the Tar Heels mentally tough enough to bounce back and beat a disciplined Cavs squad?


Miami at Florida State (ESPN3, 1 p.m. ET):
The Seminoles had to take care of business against the bottom of the ACC. But they didn't for the second time when they were stunned at Boston College on Wednesday. Miami comes in on a roll after following up its win Sunday over Duke with a victory over Virginia Tech on Thursday. This could be one of the most evenly matched ACC games -- not involving Duke or Carolina -- the rest of the conference season.


Connecticut at Syracuse (1 p.m. ET):
The Huskies need to show some pride and play well at Syracuse. Orange coach Jim Boeheim wasn't at all pleased with his team's effort Wednesday against Georgetown. UConn, meanwhile, is coming off a brutal performance Monday at Louisville. The Orange have more talent, depth and experience. UConn needs to create havoc on the defensive end to have a shot and
Andre Drummond
and
Alex Oriakhi
better play one of their best games to control the post.


Baylor at Missouri (ESPN3, 1:30 p.m. ET):
The Bears got worked over by Kansas at home; Missouri is coming off a gritty victory at Oklahoma after beating Kansas in Columbia last Saturday. Separation has occurred in the Big 12, with Missouri and Kansas a game ahead of Baylor. The Bears had better find a way to defend. Missouri already proved it can win against a taller set. If Missouri wins, Baylor would not have beaten Mizzou or Kansas this season.


VCU at Old Dominion (2 p.m. ET):
This should come as no surprise: VCU is on a roll and atop the CAA with Drexel and George Mason. ODU is a game behind after losing last week at Mason. If the Monarchs want a shot at the CAA title, they probably have to win this game. ODU gets one more shot at one of the leaders, hosting Drexel to end the season. All four are postseason teams, but only one might be in the NCAAs.


Wyoming at New Mexico (3:30 p.m. ET):
The Lobos won where UNLV could not -- at Wyoming. New Mexico has quietly put together a potential MWC title season. UNM is tied with UNLV and a game behind San Diego State. This is another chance to stay in stride with the Rebels and Aztecs.


San Diego State at UNLV (4 p.m. ET):
The Aztecs knocked off the Rebels in the final second Jan. 14 at Viejas Arena. Each has suffered a surprising road loss since, at Colorado State and Wyoming, respectively. Thomas & Mack will be rocking. The key will be if the Aztecs can again keep the Rebs off the backboards in key moments.


Wichita State at Creighton (ESPN2, 5 p.m. ET):
The Bluejays are reeling, by their Missouri Valley standards, after losing two straight. Wichita State lost at home to Creighton on Dec. 31, and if the Shockers want to win the Valley regular-season title, they need to win this game. Don't be surprised if this ends up being game two of three between these two Valley favorites. A meeting in St. Louis seems inevitable.


Kentucky at Vanderbilt (ESPN, 9 p.m. ET):
The Wildcats have reached the toughest part of their road schedule -- at Vandy, at Mississippi State and at Florida before the end of the regular season. The Commodores certainly have the talent, experience and some beef to deal with Kentucky. But can they finish against UK, or any elite team? Vandy isn't going to win the SEC. But this is a huge confidence game for the NCAAs.


Xavier at Temple (ESPN2, 9 p.m. ET):
The Musketeers have been erratic. Temple hasn't always been healthy. The Owls appear to be the front-runners in the A-10 -- at least at this point -- but X can upstage Temple with a victory in Philadelphia. This could be a decisive win for the Owls in their quest to win the league outright.
January, 30, 2012
1/30/12
5:00
AM ET
1. The BracketBusters pairings will be unveiled at 6:30 p.m. ET on ESPNU Monday night. I have no idea what they will be but I'm on the show to discuss the Feb. 17-19 event. I've bounced around plenty of pairings and here are my top four: Saint Mary's at Creighton; Long Beach State at Murray State; Wichita State at George Mason; Drexel at Iona; Akron at Loyola (Md.); Nevada at Oral Roberts; Valparaiso at VCU.
2. Let's hope
Kevin Parrom
makes a full recovery from a broken right foot. The Arizona junior guard has suffered enough. He was shot in the right leg and left hand in September. He lost his mother to cancer in October. I interviewed Parrom in New York prior to the 2K Sports Classic in November. He handled the pain well at the time, but it was clear he was still hurting. He deserves some good news over a long stretch. He has proven that he's strong enough to deal with adversity and this is yet another hurdle.
3. The College of Charleston didn't reveal the health crisis facing coach Bobby Cremins. But if he doesn't return to coaching, he has proven that coming back after a long respite and going from a high-profile, high major to a lower-profile program can be revitalizing. Cremins has given the Cougars' program a national identity and plenty of pop in the Southern Conference during his tenure. His path back to coaching is one that might be repeated by others -- somebody who needed a break but then wanted to get back in and be effective when older. Hopefully Cremins will be well again soon.
October, 24, 2011
10/24/11
6:28
PM ET
By
ESPN.com staff
| ESPN.com
Before we get to the Blue Ribbon team-by-team previews for the Metro Atlantic Athletic Conference, here is Eamonn Brennan's one-minute wind sprint through the league:
Blue Ribbon breakdowns of all 10 teams in the MAAC:
Canisius
Fairfield
Iona
Loyola
Manhattan
Marist
Niagara

Rider
St. Peter's
Siena
More MAAC content
: