College Basketball Nation:

Luke Loucks
March, 21, 2012
3/21/12
5:00
AM ET
1. Florida State coach Leonard Hamilton has no interest in the Illinois job, according to a source with direct knowledge of his plans. Hamilton declined to publicly comment. The source said Hamilton wants to stay at Florida State where he believes he will have a better team in 2013 than he had when he won the ACC tournament in 2012. The Seminoles, which lost to Cincinnati in the third round of the NCAA tournament, do lose key seniors
Xavier Gibson
,
Luke Loucks
,
Deividas Dulkys
and
Bernard James
. But the return of
Michael Snaer
and
Ian Miller
will secure the backcourt. Still Hamilton is firmly committed to staying at FSU where he has said he can finish his career in Tallahassee.
2. Butler coach Brad Stevens is enjoying the CBI and anticipates a semifinal matchup against Pitt that would be likened to an NCAA tournament game. "Pitt is healthy right now and playing well,'' Stevens said Tuesday night. Stevens, who coached in consecutive national title games, said the CBI has done wonders for his team. "I look out on the court and see three freshmen and six guys in our top eight who are freshmen and sophomores,'' Stevens said. "That's why we're not in the NCAA tournament. But we're getting better and growing.'' Still, it's not easy for Stevens to watch the NCAAs. "It's really hard,'' Stevens said. "It's never easy to watch.''
3. A number of sources close to Northwestern's Bill Carmody have wondered throughout the year if Carmody would return after the exhaustion of trying to get the Wildcats to the NCAAs. Still, the Wildcats have improved dramatically under Carmody and are always competitive. If he were to resign then the Wildcats would have to look at Duke associate coach Chris Collins, who is from Northbrook, Ill. Collins is ready to make a break from Duke and would do wonders back in his hometown.
March, 19, 2012
3/19/12
12:42
AM ET
NASHVILLE, Tenn. – A quick look at No. 6 seed Cincinnati's
62-56 victory
over No. 3 seed Florida State in the third round of the NCAA tournament's East Regional at Bridgestone Arena:


Overview:
It was a physical contest from the outset with both teams looking like two big bulls slamming into each other. Florida State led by one at halftime, and it stayed close throughout the second half.
The two teams traded leads, and neither shot particularly well (38 percent from the field for both teams). What killed the Seminoles were costly turnovers, and the Bearcats capitalized. They outscored the Seminoles 19-6 off turnovers and also had a 13-5 advantage on fast-break points.
And even though Cincinnati was just 5-of-15 from 3-point range, guard
Sean Kilpatrick
hit back-to-back shots from long distance just inside 4 minutes, and then the Bearcats only missed once from the free-throw line in the final two minutes of the game.
Turning point:
The game was tied at 50-50, and Florida State had the ball. But a lazy pass by FSU's
Luke Loucks
against Cincinnati's pressure defense was stolen by
Dion Dixon
, who flew in for a dunk to give the Bearcats a 2-point lead with 1:30 to play. A couple of possessions later, Loucks committed another turnover when he was called for traveling. The Seminoles never got any closer than four points the rest of the way.
Key player:
Kilpatrick led the Bearcats with 18 points and was 4-of-6 from behind the 3-point arc. He also had 6 rebounds and 2 steals in 37 minutes.
Key stat:
The Bearcats were 9-of-10 from the free-throw line in last two minutes of the game. They only shot 63.7 percent from the line during the season.
Miscellaneous:
Even though Cincinnati guard
Cashmere Wright
shot just 2-of-10 from the field, he dished out 6 assists, collected 5 steals and turned the ball over only twice in 33 minutes. … The Bearcats wore the black version of their new Adidas uniforms on Sunday. Their jerseys were black with fluorescent orange/pink numbers and trim. … Florida State's leading scorer,
Michael Snaer
, had another off shooting night. He was 0-of-7 from the floor in the second-round victory over St. Bonaventure and was just 4-of-11 Sunday against Cincinnati.
What's next:
Cincinnati (26-10) will advance to the Sweet 16 to face second-seeded Ohio State on Thursday night in Boston. It's one of those matchups that you wouldn't see during the regular season. Ohio State hasn't been willing to play Cincinnati on a regular basis and has typically wanted to play only if the game were in Columbus.
March, 16, 2012
3/16/12
8:21
PM ET
NASHVILLE, Tenn. -- Now that's more like it.
This city is known for its music, specifically the country variety.
But it was compelling basketball that had Bridgestone Arena rocking in the two afternoon games Friday, and after a pretty flat day Thursday in the NCAA tournament, we needed a little drama.
The start to the Cincinnati-Texas game didn't look like much. The Longhorns had more air balls than points midway through the first half.
But after managing just four field goals in the first half, Texas dug itself out of a 19-point hole early in the second half and actually had a pair of chances to take the lead in the final minutes before falling
65-59
to Cincinnati.
"You know nothing's going to be just handed to you in this tournament," Cincinnati senior guard
Dion Dixon
said. "We've got a veteran team. We've been here before. We know that it takes 40 minutes."
Friday's second game in Nashville was the essence of what makes this tournament the spectacle it is.
St. Bonaventure, a small Franciscan Catholic school located about an hour from Buffalo, N.Y., took No. 3 seed Florida State to the wire before losing
66-63
.
The Bonnies led the whole way, and their passionate fans were as much the story as the team itself. The school has only about 2,400 students, and it sounded like just about all of them were in the arena for most of the game.
"A week ago, we were planning on playing in the CBI [College Basketball Invitational], and here we are in the Big Dance with a chance to tie the game up," St. Bonaventure coach Mark Schmidt said. "You couldn't ask for more."
Even after Florida State showed tremendous resolve and finally took its first lead with about five minutes to play, the Bonnies had their chances to pull off the shocker.
[+] Enlarge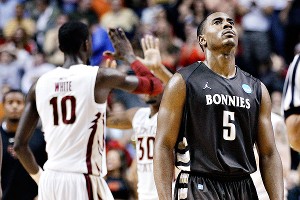 AP Photo/Mark HumphreySt. Bonaventure's Jordan Gathers heads for the bench late as FSU players celebrate behind him.
"That's the ACC [tournament] champs. We're the little Bonnies, and we're going toe to toe with them," Schmidt said. "That's a credit to my guys."
But therein lies the beauty of this tournament, and why people skip work and skip school every year for what's now the second round of this hoops extravaganza.
"That's why they call it March Madness," Schmidt said. "Can the underdog compete with the big dog and have enough to knock them off?"
In this case, the Bonnies didn't have enough, but that had more to do with Florida State than it did with anything St. Bonaventure didn't do.
More precisely, it had everything to do with the Seminoles' 27-year-old senior forward,
Bernard James
, whose story already has been an inspiration to hoops fans and non-hoops fans all over the country. James served six years in the Air Force, with three deployments to the Middle East.
On Friday, he was an inspiration to his teammates, and at times, put them on his back and carried them.
"The finality of it all hits you," James said. "Nobody wants to go home."
There were stretches in the game during which James was screaming at his teammates and telling them to simply get him the ball. He finished 8-of-11 from the field with 19 points and nine rebounds.
"As a point guard, when a 6-foot-10 Army veteran, or an Air Force veteran, is screaming at you, you listen," Florida State guard
Luke Loucks
said. "So, you know, a few plays we weren't even running any plays. I was kind of waiting people out, giving him the ball, and obviously you look at the stat sheet and he was producing all night long."
It also says something about Florida State's resolve that the Seminoles could win with their leading scorer, guard
Michael Snaer
, going 0-for-7 and failing to score a point.
"We've been kind of a resilient team all year," Florida State coach Leonard Hamilton said. "We've been in a lot of these close games, and this was another typical ACC blowout by three points."
March, 11, 2012
3/11/12
6:25
PM ET
ATLANTA — Florida State forward
Bernard James
has a simple message for those who dare to doubt his basketball team.
"You should be a believer now," he yelled as the last specs of championship confetti floated down around him from the Philips Arena ceiling.
Guard
Ian Miller
wasn't so reserved with his response.
"I guess they believe now," he said.
"If they don't, tough luck because we're getting a ring for this one."
It's hard not to believe in this FSU team after the Seminoles knocked off top-seeded North Carolina
85-82 in the ACC tournament final
. The Seminoles captured their first ACC tournament championship and became the first team since Georgia Tech in 1995-96 to beat both Duke and North Carolina twice in the same season.
The same team that lost 6 of 10 games from the end of November to the beginning of January, suffering losses by 20 and 18 points along the way, went 4-1 against Duke and North Carolina, proving that FSU's successes were no accident.
"This is not a fluke," Miller said. "You can't win a championship on a fluke. Today, by winning this championship, our coaches told us it ain't a fluke no more. People know we're real now."
Added James: "We silenced a lot of the doubters who say we don't belong in the same breath as Duke and Carolina."
Sunday, FSU stood alone, again, but only because it was above Tobacco Road's giants.
[+] Enlarge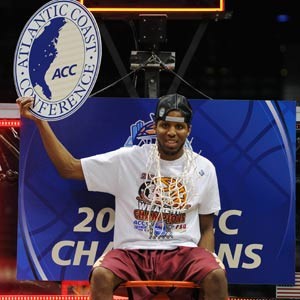 Bob Donnan/US PresswireGuard Michael Snaer and the Seminoles will be a tough force in the NCAA tournament.
Now, the Seminoles, turn their attention to the NCAA tournament and are looking to take their high-flying act to the top of the college basketball mountain.
"We have five or six more wins until the national championship," Miller said. "We're trying to get there now."
The notion of FSU making such a run in the craziest of months is no longer laughable. This team is legit. It went from trouble to tremendous in a few months and now has tons of momentum to thrive off of.
Plus, it's going to be hard for teams to keep up with the Noles. FSU's up-tempo offense frustrated its victims throughout the ACC tournament. UNC, which desperately wanted to slow things down, was left zonked after its uncomfortable foot race.
With such a deep bench, FSU was able to keep its motor going and the legs churning.
"We were all coming off a third day of playing so we wanted to impose our will and try to let them know that they couldn't outrun us," forward
Xavier Gibson
said.
That sort of thing will come in handy during the Dance.
This team can shoot, too, with guards like
Michael Snaer
(ACC tournament MVP),
Luke Loucks
and
Deividas Dulkys
lighting it up from the floor. The Noles shot just under 60 percent against the Heels and shot no worse than 42 percent during its current five-game winning streak.
FSU is also hot from beyond on the arc after hitting 25 of 49 3s in the ACC tournament.
With as fast, physical and athletic as the Noles are, this will be a formidable group for any team to face in the coming weeks. Physically, this team is ready, but players want to make sure that once the celebration of Sunday's win has subsided that this team is in the right frame of mind for another championship run.
"We can't get satisfied with this," James said.
For as sweet as Sunday's win was, this team is still hungry.
"The ACC was just to let people know that we're not a game, there's no jokes no more," Miller said. "We wanted to make a statement and today we did that."
March, 11, 2012
3/11/12
3:29
PM ET
ATLANTA -- Florida State survived a vicious rally and a last-second 3-point attempt from top-seeded North Carolina to capture its first ACC tournament championship with a
85-82 win Sunday
.
With the win, the Seminoles became the first team since Georgia Tech in 1995-96 to beat both Duke and North Carolina twice in the same season.
The Seminoles' up-tempo offense was too much for the Tar Heels to handle for most of the afternoon, but it also helped that FSU shot 58.9 percent from the field (33-of-56).


UNC matched FSU well in the second half, but a nine-point halftime deficit was too much for the Heels to overcome. Florida State also connected on 11 of 22 3-point shots, including four from both
Michael Snaer
and
Deividas Dulkys
.
Four Seminoles players -- Snaer, Dulkys,
Luke Loucks
and
Ian Miller
-- were all double-digit scorers.
Without forward
John Henson
, who was out with a sprained left wrist, UNC failed to have a consistent down-low presence on both ends of the floor.
Turning point:
With UNC down one with 10 seconds left, point guard
Kendall Marshall
chucked a deep 3 that rimmed out and was rebounded by Dulkys. He was fouled and converted two free throws to put FSU up three with five seconds remaining.
Key player:
Snaer scored a team-high 18 points on 7-of-13 shooting and hit 4 of 5 3-point attempts. He was also named the tournament MVP.
Key stat:
Florida State shot 58.9 percent from the field Sunday and hit 11 of 22 3s.
Miscellaneous:
This was North Carolina's ACC-leading 31st appearance in the ACC tournament championship game. ... Since Dulkys scored a career-high 32 points in the regular-season win over UNC, his best point total had been 14 points. He scored 16 Sunday. ... UNC's
P.J. Hairston
hit three 3s Sunday. Since hitting four against Monmouth on Jan. 1, Hairston had made only eight 3s heading into Sunday. ... FSU's
Bernard James
recorded five blocks. ... Both teams each scored 40 points in the paint. ... FSU's bench outscored UNC's 28-14.
What's next:
FSU's tournament chances were never in doubt, but with the win, it earned an automatic bid to the Big Dance. Now, the Noles will sit back and wait for their seeding fate. FSU could now be seriously considered for a No. 3 seed. UNC likely locked up a No. 1 seed with Duke's loss to the Noles on Saturday, but there could be some worry with Missouri capturing the Big 12 championship Saturday night.
March, 10, 2012
3/10/12
5:52
PM ET
ATLANTA -- There wasn't a dull moment when Duke and Florida State got together for a chance to meet North Carolina in the ACC tournament final. But with both teams down to their last breath, Florida State guard
Luke Loucks
drained a deep 2 with 11.9 seconds left, giving the Seminoles a 62-59 lead. Duke's
Seth Curry
's half-court launch rimmed out right at the buzzer, preserving the
Seminoles' win
.


Florida State took the season series against the Blue Devils, advancing to the ACC title game for the second time in school history. Both times have come in Atlanta.
Turning point:
Having
Mason Plumlee
foul out with a minute left hurt Duke in the post. It also sent Loucks to the line, where he hit two free throws to make it 60-57. His winning shot took care of the rest.
Key player:
While Loucks was clutch for the Noles late, guard
Michael Snaer
put on another show against the Blue Devils. He led FSU with 16 points on 7-of-12 shooting, grabbed four boards, dished six assists, blocked two shots and had two steals.
Key stat:
Duke turned the ball over 16 times Saturday. In the two previous games against the Seminoles, Duke turned it over 11 and 10 times, respectively. FSU scored 19 points off those turnovers.
Miscellaneous:
Loucks set the FSU school record for career games played with 132 when the Seminoles played Miami on Friday. He made it 133 against Duke. ... With
Austin Rivers
' 17 points, he recorded his team-leading 29th double-figure scoring game for Duke. ... The loss ended Duke's streak of three consecutive ACC tournament championships. ... FSU dominated the paint, outscoring Duke 34-24. ... FSU also won the bench battle 18-9. ... The game featured eight ties and 10 lead changes.
What's next:
Duke is headed home and will likely come out of this weekend as a No. 2 seed in the NCAA tournament. Florida State will take on top-seeded North Carolina on Sunday for a shot at its first ACC tournament championship. A win for the Seminoles might propel them to a No. 3 seed in the NCAA tournament, but it appears the Noles have secured at least a No. 4 seed.
February, 23, 2012
2/23/12
10:45
AM ET
In the moments that followed a 79-59 road loss to Clemson on Jan. 7, Florida State's coaching staff accosted players in the locker room about the multiple gaffes that had led to the lopsided score.
The Seminoles' stubborn defense had failed them as the Tigers shot 49 percent from the field. They committed 16 turnovers. And their 24 fouls led to Clemson's 28-for-33 mark from the charity stripe.
But as Leonard Hamilton and his staff pointed out the team's flaws,
Bernard James
stirred in his seat, especially when coaches questioned players' collective effort.
[+] Enlarge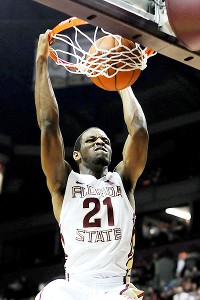 Melina Vastola/US PresswireMichael Snaer and Florida State are rolling with wins in 10 of their past 11 games.
James, who scored 10 points and grabbed eight rebounds in that game, felt a need to speak. With a declarative tone, he told everyone in the room that he had played hard. And he asked his teammates, who'd just suffered their sixth loss in 10 games, if they'd done the same.
"I just kind of snapped right there. I kind of defended myself," James told ESPN.com. "I felt like I played hard that game. I placed the blame on certain individuals. It wasn't to tear anybody down. I just felt like somebody needed to take responsibility for the loss."
That moment broke the ice for a Florida State squad that turned a postgame discussion into an intervention. James said the Seminoles expressed their frustrations with one another. They talked about the missed assignments that had led to their poor start. They vowed to implement more accountability.
"We pretty much had to let the frustration out to start off on a new foot," said junior
Michael Snaer
.
They've won 10 of their past 11 games, a mark punctuated by wins over North Carolina and Duke. Tickets for Thursday night's home game against Duke sold out in 15 minutes.
The Seminoles' evolution was evident on the final play of their 76-73 road win at Duke on Jan. 21. After
Austin Rivers
tied the game on a late drive, the Seminoles didn't panic. They just executed.
James said he "knocked the snot out of"
Seth Curry
on a screen as
Luke Loucks
drove up the floor and found Snaer in the corner for the winning 3-pointer.
"Something would have went wrong [if that had happened before the Clemson loss]. Something would have been out of place," James said. "The reason why that play worked was because everything happened the way it was supposed to."
Hamilton could see the surge coming. Even after the Clemson loss, the coach said he believed his team was struggling because it hadn't jelled yet.
Xavier Gibson
had switched positions. Loucks was still getting comfortable as the starting point guard.
Ian Miller
was unavailable at the start of the season, but he's averaged 10.5 points per game since his Dec. 22 return.
But Hamilton agrees that the Clemson loss jolted a team that needed a midseason wake-up call.
"That game just brought us back to reality," he said. "It kind of refocused us."
Here's a list of the other squads that have managed to turn things around this year:
Drexel
-- The Dragons lost four of their first six games. But they've lost just one game since Dec. 3 and are riding a 14-game winning streak. They're on top of the CAA with a 15-2 record.
George Mason
-- Paul Hewitt endured some early struggles in his first season at George Mason. Nonconference losses to Florida Atlantic and Florida International seemed to spell trouble for the Patriots. But the Patriots found some poise as the season progressed. At 14-3 in the CAA, they're tied with VCU for second place.
Iowa State
-- The Cyclones suffered from the chemistry issues that come with being a team that relies on transfers. Despite possessing talented players such as
Royce White
and
Chris Allen
, the Cyclones lost at Drake, to Northern Iowa at home and at Michigan in their nonconference season. Would they find a way to click and extract the full potential from their roster? Yep. The Cyclones are fourth in the Big 12 with a 10-5 record, and they're probably headed back to the NCAA tournament.
LIU Brooklyn
-- The Blackbirds own the Northeast Conference right now (15-1). But they lost six of their first 11 games.
Notre Dame
-- It all started with
Tim Abromaitis
suffering a season-ending injury in November. The Fighting Irish's 65-58 road loss to Rutgers on Jan. 16 was their eight defeat of the year. But that's the past. The new Fighting Irish have won nine games in a row.
South Florida
-- The Bulls are on the bubble with a 10-5 record in the Big East. In late December, that would have appeared to be a misguided forecast. From Nov. 19 through Dec. 28, the Bulls lost seven of 11 games.
UNC Greensboro
-- The Spartans are on top of the Southern Conference's North division with a 10-7 record. Somehow, this team recovered from a 2-14 start to its 2011-12 campaign. Now that's a turnaround.
VCU
-- Shaka Smart's Rams look dangerous again. After losing most of the starters from last season's Final Four team, the Rams lost three of their first six games. But
Bradford Burgess
(12.9 ppg) has embraced his role as a leader on and off the floor. They're tied with George Mason for second place in the CAA at 14-3.
Washington
-- There's a lot of bad in the Pac-12. But the Huskies are one of the struggling league's success stories. They lost to South Dakota State 92-73 at home Dec. 18. It was their fifth loss in seven games. But the Huskies have lost just three games since that disaster. They're 12-3 in the Pac-12 and making a legitimate push for an at-large berth.
January, 21, 2012
1/21/12
8:13
PM ET
Florida State couldn't contend for the ACC title if it didn't knock off North Carolina and Duke.
The Seminoles did just that in an eight-day stretch that will long be remembered in Tallahassee.
"We have a chance,'' said
Michael Snaer
, who hit the buzzer-beating 3 in FSU's
76-73
win at No. 4 Duke on Saturday. "But we can't get ahead of ourselves. We knew this was a big game for us, but now every game after is even bigger and we've got to bring it.''
[+] Enlarge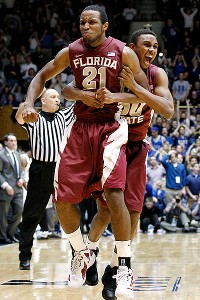 AP Photo/Gerry BroomeFlorida State's Michael Snaer and Ian Miller celebrate after Snaer's buzzer-beating 3-pointer to defeat No. 4 Duke on Saturday.
That's true. But the Seminoles have changed the game in the ACC with a season-altering week.
Florida State stunned North Carolina last Saturday by 33 points. The Seminoles then handled Maryland by 14 before traveling to Cameron Indoor Stadium, where the Blue Devils had won 45 in a row and 64 straight against unranked opponents.
That all ended when Snaer hit a 3-pointer on a feed from
Luke Loucks
at the buzzer, after Duke's
Austin Rivers
had tied the game on a layup with 4.9 seconds left.
"I just made a wide-open shot, anyone could do it,'' Snaer said. "[The pass] was on point. [Loucks] did a great job of pushing the ball up the court.
"This has just been a great week for our program. We're playing our best basketball right now. Guys are finding their roles and we understand what it takes to win a game. We've gained some momentum.''
Remember, this is the same FSU team that lost to Princeton at home and to Harvard in the Bahamas. To start ACC play, the Seminoles lost by 20 at Clemson.
And that's why FSU coach Leonard Hamilton was reluctant to get too excited about his team even after beating UNC. He said last Saturday he needed to see how the Noles would handle success against Maryland and Duke.
The answer pleased him.
"We have a chance to be pretty good if we keep understanding how we have to play together,'' Hamilton said. "We're trying to take advantage of our strengths and weaknesses. We're not there yet.''
The Seminoles have a power player evolving in
Bernard James
(12 points, eight rebounds Saturday), a shooter in
Deividas Dulkys
(32 points against the Tar Heels), a heady point in Loucks and a confidence now that is soaring.
"In order for us to be a program of significance in our league and nationally, we have to be somewhere close to the two premier programs in the country and if you're going to do that, today was a tremendous step in that direction,'' Hamilton said.
He added that the Seminoles didn't feel the pain of the early losses until recently.
"We had them watch those games to see what it felt like,'' Hamilton said. "There is a different focus now. I don't feel we've slid back. We dug a hole for ourselves and we're still trying to get out of it.''
But the scheduling is now in FSU's favor. Florida State doesn't play Carolina again. Duke has to go to Tallahassee on Feb. 23. The only other contender may be Virginia, which does play the Seminoles twice (Feb. 4, March 1).
Florida State next faces Wake Forest on the road Wednesday.
"If we lose the next game," Snaer said, "the Duke game goes away.''
January, 21, 2012
1/21/12
7:25
PM ET
This Saturday promised one of the best wall-to-wall slates of college hoops fixtures thus far this season, and the afternoon action didn't disappoint. In fact,
it just about blew my mind
. Let's take a comprehensive look at what we learned from said afternoon action, shall we? (Check back late tonight for a recap of the evening action.)
Florida State 76, No. 4 Duke 73
What we learned
: How cool is Leonard Hamilton? Bad charge call? He just smiles.
Another
bad, potentially crucial, game-deciding charge call? A smile and a wink. A buzzer-beating 3 to upset No. 4 Duke in Cameron Indoor Stadium -- the same 3 that sent FSU's bench into a joyous on-court scrum? A quick nod. A walk to midcourt. A handshake. No big deal, right?


Hamilton isn't the celebratory type; he's as steady a presence as there is in college hoops. But what his team did Saturday -- just a week after it blew the doors off against North Carolina at home -- was worth much more than the cucumber-cool reaction Hamilton offered. This was a massive, season-changing win for the
Florida State Seminoles
.
There were plenty of opportunities to fade away. Midway through the second half,
Ryan Kelly
hit two 3s and a fast-break dunk to extend Duke's lead to 58-50, its widest margin of the afternoon. The crowd was rocking. FSU's shots weren't falling. It appeared Duke would do what Duke does: Gather itself, extend a lead, and ride out another ho-hum ACC home victory. Instead, the Seminoles kept battling. Within a minute, they had closed the eight-point lead to just five, and by the time the game reached its crucial moments -- the final minute -- FSU pulled just ahead at 71-70.
Things stayed tight all the way through. Kelly received the benefit of the doubt on a pretty clear charge with 20 seconds left and Duke guard
Austin Rivers
made a great move to the rim to tie the game at 73 with just 6 seconds remaining. But FSU guard
Luke Loucks
, calm as his head coach, advanced the ball to guard
Michael Snaer
in time for Snaer's buzzer-beating, game-winning 3 just a few feet in front of the visitors bench. That's when the ecstasy, apparently shared by all but Hamilton, commenced.
So what did we learn? We learned that the Noles are indeed very real. Are they as good as their 33-point blowout over UNC? Of course not. But they're good enough -- strong enough, defensive enough, big enough, tough enough -- to present matchup problems for some of the best teams in the country, even on those teams' home floors. Before the season, we thought Florida State was the third-best team in the ACC. After losses to Harvard and Princeton and a wipeout at Clemson, that projection looked wildly optimistic. Now, it almost feels cautious. If the Seminoles play like this the rest of the way, they're definitely better than that.
No. 5 Missouri 89, No. 3 Baylor 88
What we learned
: This one-point deficit was reached thanks to a meaningless last-second 3 from Baylor's
Brady Heslip
, and so the score line belies the real takeaway from this Tigers road win: Missouri is no illusion. No. This team is just flat good.


Can any other conclusion be reached? Consider the accomplishment here: The Tigers went on the road against the No. 3 team in the country, one with as much size and athletic interior talent as any of the nation's contenders -- a quality supposedly anathema to Mizzou's very essence -- and scored 1.24 points per possession in a win that required a first-half battle, a second-half push and a late survival of an inevitable Baylor run. The Tigers are simply relentless on the offensive end, attacking the tiniest of defensive gaps with more speed than any other backcourt in the country.
If you were wondering why Missouri forward
Ricardo Ratliffe
is so handily dominating competition this season -- leading the nation in field goal percentage and effective field goal percentage by a huge margin to date -- you received your answer today. Ratliffe cuts and spaces in the middle of the paint as well as any forward in the country. He's a tireless, opportunistic offensive rebounder with great hands and lightning-quick feet. And more often than not, Missouri's guards -- particularly
Phil Pressey
, who was brilliant in Waco -- break down the defense, ruin its rotation and find Ratliffe for easy finishes around the rim. His line Saturday, against all that long, NBA-worthy Baylor talent: 27 points on 11-of-14 from the field (see?), 8 rebounds (6 offensive) and 2 blocks. He was, per the usual, brilliant. Meanwhile, Pressey finished with 18 points and 7 assists, 6 steals and 5 rebounds. Can't understate his total impact on the game.
There are concerns for Baylor going forward.
Perry Jones III
continues to live up to the occasionally unfair "soft" label; when you're a 6-foot-11 lottery pick, and the opposing team had only two contributors bigger than 6-6, 8 points and 4 rebounds just doesn't cut it. The Bears, despite their clear size advantage, allowed the Tigers to rebound 48.3 percent of their misses on the offensive end; per Ken Pomeroy's rankings, Baylor is the 220th-best team in the nation on its defensive glass. When you can run a front line of Jones,
Quincy Acy
and
Quincy Miller
(who turned in a stellar scoring performance today, it should be noted), why are you getting so consistently and comprehensively outworked on the boards?
Still, let's give the Tigers a huge amount of credit. When Missouri were blown out at Kansas State, the concerns about this team's size were seemingly validated. Sure, Mizzou played well in the nonconference. Sure, the shots were falling. Sure, Ratliffe was on a tear. But could Frank Haith's team really keep it up in conference play? Weren't the Tigers, among any team with an undefeated nonconference record, the most likely to fade into Big 12 mediocrity? The answer, as we now know, is a resounding no. Small? Sure. Guard-oriented? You bet. This team is what it is. What you see is what you get. And what you get is one of the best offensive -- check, that, one of the best, period -- teams in the nation, bar none. Great win.


West Virginia 77, Cincinnati 74 (OT)
What we learned
: If you haven't seen
Kevin Jones
play lately, you're missing the Big East Player of the Year to date -- and a legitimate national POY contender, too. Frankly, you might not recognize him. Jones, who struggled to adapt to a star role last season, has emerged as all that and more in 2011-12. This form was again on display today, especially late in regulation, when Jones hit a massive go-ahead 3 to help WVU push Cincinnati to overtime, where the Mountaineers outlasted the Bearcats for a massive home win. Jones finished with 26 points on 11-of-15 from the field, hitting both of his 3-point attempts and grabbing 13 rebounds in the process. Like I said: If that's not the Big East Player of the Year thus far, I don't know who is.
In the meantime, despite the loss -- and a truly questionable layup attempt by
Dion Dixon
, when the Bearcats needed a 3 to tie -- Cincinnati can come away from this game looking pretty good. Just a few days after beating UConn on the road, it faced down a star-led squad on its brutal home court and very nearly, but for a few late errors and big plays by West Virginia, came away with a win. If you thought Cincinnati was the second-best team in the league after the win over the Huskies, you might still feel that way now.


Tennessee 60, No. 11 Connecticut 57
What we learned
: The Huskies can't stop the slide. Saturday's loss at Tennessee marks UConn's fourth loss in its past six games, and was again emblematic of the woes facing this team: disjointed offense, a willingness to take bad shots, lack of leadership in tough situations, interior play far below the sum of its insanely talented parts. We knew Cuonzo Martin's Tennessee squad would come out and play hard in Knoxville. Even when the Volunteers have been bad this season (which has been often: This win moves them to a mere 9-10 overall), they've played with a blue-collar, let's-work-hard spirit preached constantly by their first-year head coach. Today it paid off.
But Connecticut deserves much of the blame here, too.
Andre Drummond
and
Alex Oriakhi
should be dominating undermanned frontcourts like UT's. Instead, they combined for 11 points and were obviously outplayed by freshman
Jarnell Stokes
, who posted a double-double in his third career game. The same Stokes who was a 17-year-old kid in high school last month. Great win for the Vols, of course, but the postgame questions will be all about UConn. As of Jan. 21, this team -- so talented, so promising, so mystifyingly mediocre -- still has miles to go before it can be considered a Big East contender, let alone one with national title aspirations.


No. 2 Kentucky 77, Alabama 71
What we learned:
There are no moral victories in college hoops. Alabama coach Anthony Grant will be eager to share that rather cliché bit of information with his team following Saturday's loss at Kentucky. And it's true -- a win is a win, a loss is a loss, and minimal nuance is allowed to color those stark W's and L's at the end of the season. Still, in the final moments of Bama's impressive Saturday road stand, against the No. 2 team in the country and a program that has won its past 47 road games, the longest active streak in Division I, the only thought that occurred to this viewer was: "Well, no matter whether they win or lose, this was a
great
game for Alabama."
It was. The Crimson Tide are in the midst of a three-games-in-eight-days scheduling bump, one that put them on the road at Mississippi State (loss), at home against Vanderbilt (loss, and an ugly one at that) and then, mercilessly, on the road at Kentucky. Yet Alabama never quit coming at the typically impressive Wildcats. Even when struggling forward
Tony Mitchell
fouled out with five minutes remaining, the Tide kept getting scores and free throws and good looks, pushing the game and preventing UK from ever finishing in comfort.
In the end,
Anthony Davis
' freakish interior defense saved Kentucky's day; the last of his four blocks came with 7 seconds left to preserve a four-point lead, and thus the expected result was achieved. But give Alabama credit: That was a gutsy, tough road performance. This team seemed easy to write off over much of the past two months, but if Saturday's performance was any indication, it will be a worthy competitor in the coming SEC stretch run.


Dayton 87, Xavier 72
What we learned
: The Flyers have come a long way since Nov. 30. That's when this team lost 84-55 to Buffalo at home, three days after winning the Old Spice Classic title game over Minnesota. Four days later, Dayton was blown out at Murray State. At that point, first-year coach Archie Miller appeared to have a sincere rebuilding project on his hands. Nearly two months later, the Flyers are, well, flying. This 15-point home win over putative Atlantic 10 favorite Xavier puts them at 4-1 in A-10 play, another excellent addition to a résumé that includes victories over Alabama, Saint Louis and, most recently, a strong 10-point win at Temple. By now, Dayton isn't a rebuild. It isn't a neat little story. It's a legitimate A-10 contender with an easy case to make for an at-large spot in the NCAA tournament. Who saw that one coming?
In the meantime, Xavier's off-and-on struggles -- which appeared to abate with a four-game winning streak in A-10 play -- reared their ugly head again. The Musketeers were mediocre on offense and downright bad on defense, allowing 87 points in 65 possessions, or 1.33 points per trip. Sometimes it's ugly offense, sometimes it's lenient defense, but in either case, it's clear Chris Mack's team hasn't put its midseason slide entirely in the rearview.
[+] Enlarge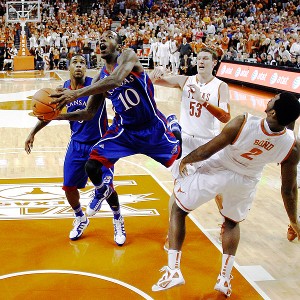 AP Photo/Eric GayTyshawn Taylor didn't have a single turnover, and 22 points, as Kansas held off Texas.
Some other observations from Saturday afternoon's selections: