College Basketball Nation:

Malcolm Grant
March, 9, 2012
3/09/12
12:56
AM ET
ATLANTA -- Looking back at the first half against Georgia Tech on Thursday night,
Shane Larkin
could see why people will question if Miami deserves to be a part of the NCAA tournament.
Miami's freshman guard was front and center for the Hurricanes' putrid first 20 minutes of action at the ACC tournament. He and his teammates shot 6-of-25 (.240) from the field, turned the ball over seven times, had one assist and scored just 19 points. If not for Georgia Tech's equally grotesque first-half performance, the Canes might be doing a lot of self-loathing right about now.
But there are always two sides of a game, and Larkin prefers to focus on the second half -- the half in which Miami trounced the Yellow Jackets in their own backyard. It was a half where the Canes shot 41 percent from the field and suffocated Georgia Tech with its smothering defense.
Miami's utilization of the full-court press stymied the Yellow Jackets, forcing them to make mistake after mistake, leading to 12 of Georgia Tech's 20 turnovers. Larkin, who was benched to start the second half for sloppy, lackadaisical play, awoke to score 10 of his team-high 12 points in the second frame. Guard
Rion Brown
came off the bench to drain back-to-back 3s that helped spark a crippling 18-0 run early in the second.
[+] Enlarge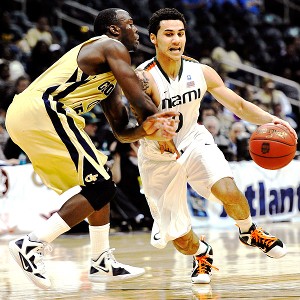 Paul Abell/US PresswireShane Larkin, right, believes his Miami team passes the eye test for the NCAA selection committee.
The Canes were smarter, tougher and faster and played their way into the field of 68 with the
54-36 victory
, according to Larkin.
"I know you have to pass the eye test and if people were watching that, we looked like a terrible team in the first half," Larkin said. "If they watch the whole game, they'll see that we're a very talented team (with) a lot of people who can score the ball, great bigs, and we deserve a chance to play in the tournament."
The Canes entered Thursday's game with an RPI of 51, a strength of schedule of 50 and a 3-10 record against the RPI top 100. Those numbers aren't pretty, and the only things keeping this team alive are victories over Duke and Florida State. That means Miami will likely need to make some sort of run in the ACC tournament.
That run started with its blowout of Georgia Tech, a team counted out of the tournament months ago, and could continue with a win over Florida State on Friday. Miami is 1-1 against FSU, and would get back in the tournament committee's good graces with another win over the 17th-ranked Seminoles.
ESPN bracketologist Joe Lunardi has Miami as one of the last four out, so work needs to be done, but senior guard
Malcolm Grant
said his team can't worry about brackets and possibilities. Winning will cure everything for Miami.
"[Friday's] a big game for us, but we don't want to go in there thinking that if we win we're definitely in the tournament because we don't want to put added pressure on ourselves," Grant said.
To Larkin, Miami's body of work, which includes 19 wins, isn't the only thing that should send the Canes dancing. He thinks the second-half effort Thursday shows how dangerous and exciting this team could be in the tournament.
Given the chance, Larkin believes Miami would be quite the date for the Big Dance.
"We're a very talented team, can do a lot of things, and we showed that in the second half," he said.
January, 16, 2012
1/16/12
8:00
AM ET
What's more surprising so far in this topsy-turvy ACC? That Boston College, the team predicted to finish 12th, already has two league wins, or that North Carolina, predicted to win the ACC and more, got pummeled at Florida State by 33 points? Here's this week's attempt at ranking the squads in this head-scratching conference:

1. Duke:
The Blue Devils' defense is still a work in progress, but it showed some much-needed second-half intensity in surviving a close game against Virginia (despite making less than half of its free throw attempts and only a quarter of its 3-point attempts) at home last week. After winning at Clemson on Sunday, Duke is 3-0 in ACC play.
2. Virginia:
The Cavs took Duke down to the wire at Cameron Indoor Stadium but couldn't find enough offense, besides senior forward
Mike Scott
, to extend their 12-game winning streak. Still, UVa's defense (as well as Scott, who has scored 23 points in each of his past two games) will continue to give teams fits.
3. North Carolina:
The 33-point loss at FSU on Saturday was the worst in the Roy Williams era -- embarrassing and unacceptable for a team considered a Final Four favorite. The Tar Heels must show more mental toughness on the road. They must get more from their bench. And they need a lot more from ACC Preseason Player of the Year
Harrison Barnes
, who is 7-of-25 his past two games.
4. NC State:
After coach Mark Gottfried challenged his team to play better defense than it did during its midweek loss to Georgia Tech, the Wolfpack responded, holding Wake Forest to 2-of-20 from 3-point range and 40 total points in a 76-40 win. All five NCSU starters continue to average double figures in scoring.
5. Florida State:
After winning at Virginia Tech and blowing out UNC, it looks like it's finally starting to come together for the Seminoles. Their defense is showing its expected intensity and the team is playing more as a unit.
Deividas Dulkys
isn't going to score 32 points every day, but if FSU can get some consistent offense from
Michael Snaer
and
Ian Miller
, it's going to become harder and harder to beat.
6. Maryland:
The Terrapins have now won nine of their past 10 games as
Terrell Stoglin
continues to score and freshman
Alex Len
continues to impress. Next up: a test at Florida State, another team that looks to be on the upswing after an inconsistent start to the season.
7. Miami:
The Hurricanes, on paper, have the pieces to be a factor in the ever-shuffling ACC standings, but they still haven't put it all together. They've had plenty of time to stew after their big loss at UNC last Tuesday, but they can't afford to have guards
Malcolm Grant
and
Durand Scott
both shut down, as they were against the Tar Heels.
8. Clemson:
After losing to Boston College and Duke, coach Brad Brownell is still looking for a go-to scorer to consistently make plays when needed. Will that player ever emerge?
9. Virginia Tech:
After losing to Boston College (a team with nine freshmen), coach Seth Greenberg said it's too early to panic. But at 0-3 in the ACC, with games against UNC and Virginia on the horizon, the Hokies are on the brink of busting their NCAA tournament bubble before it's even inflated.
10. Georgia Tech:
The Jackets snapped their four-game losing streak by winning at NC State, only to lose at Maryland. Tech scored only 19 points in the first half of that game, its lowest half of scoring of the season.
11. Boston College:
Who'd have thunk it? The freshman-laden Eagles followed a two-point win over Clemson with a two-point win over Virginia Tech. You've got to respect what Steve Donahue is building in Chestnut Hill.
12. Wake Forest:
NC State tried to keep the Deacons from scoring 40 points in its 36-point romp; it almost succeeded. Although junior
C.J. Harris
remains near the top of the league in scoring, the Deacons have now lost three of their past four games.
Robbi Pickeral can be reached at bylinerp@gmail.com. Twitter: bylinerp.
January, 2, 2012
1/02/12
8:30
AM ET
Would the fourth-best team in the league please raise your collective hand? Or at least, your level of play? One more attempt to rank the ACC squads before conference competition (finally) begins this weekend. As always, feel free to debate or weigh in:
1. North Carolina:
Blowout wins against Elon and Monmouth certainly don't help UNC's RPI. But then again, its ACC opener against Boston College this weekend probably won't either. Forward
John Henson
continues to average a double-double, plus a league-leading 3.2 blocks per game.
2. Duke:
After a 40-point win over Western Michigan followed by a 30-point win over Penn, the Devils have one more road game, at Temple on Wednesday, to gear up for league play. Freshman
Austin Rivers
continues to lead the team -- and the ACC Rookie of the Year race -- with 15.4 ppg.
3. Virginia:
The Cavaliers, who have won 10 straight, should get a good pre-conference test Monday night in Baton Rouge, where they will face an LSU team that has won seven straight by holding its competition to fewer than 60 points per game.
4. Virginia Tech:
The Hokies have now beaten Oklahoma State twice this season, the second time snapping the Cowboys' 37-game home winning streak against nonconference foes. Tech has won six in a row entering its ACC opener at Wake Forest on Saturday.
5. NC State:
Scoring depth could be an issue come conference play, but the Wolfpack's starting five sure knows how to keep things interesting.
Lorenzo Brown
leads the league in steals at 2.1 per game.
6. Florida State:
For the second time this season, the Seminoles lost to an Ivy League school -- this time to Princeton in triple overtime. With six scholarship seniors on the team, FSU should be showing more motivation.
7. Miami:
The Hurricanes haven't lost since forward
Reggie Johnson
returned, and trail only Duke in the league in 3-pointers made per game (8.3).
Malcolm Grant
is the team's leader (and the ACC co-leader) in that category with 2.8 made per game.
8. Maryland:
Center
Alex Len
made an alley-oop dunk in the opening minute of his college debut against Albany. A sign of good things to come for the Terps? He's averaging 13.5 points and 7.5 rebounds after two games, and Maryland has won six straight.
9. Wake Forest:
Led by
C.J. Harris
(18.7 ppg), the Deacs have already won nine games this season, one more than 2010-11. They've won three straight, but are still tied for last in the league in rebounding margin, at minus-5 per game.
10. Georgia Tech:
The Jackets' latest loss was at Fordham, which only managed one victory in the Atlantic 10 last season. One problem: Tech can't seem to hold on to the ball, as its turnover margin is minus-3 per game.
11. Clemson:
Forwards
Milton Jennings
and
Devin Booker
are combining to average only about three more points per game than last season. More was expected.
12. Boston College:
The Eagles managed only three points (all on free throws) in the final 8:32 of their loss to Harvard, and the point-less stretches are becoming a theme for young BC. Boston College is averaging a league-worst 61 ppg.
Robbi Pickeral can be reached at bylinerp@gmail.com. Twitter: @bylinerp.