College Basketball Nation:

Manny Harris
July, 1, 2010
7/01/10
2:47
PM ET
It hasn't been the best of offseasons for Michigan coach John Beilein. First the Wolverines lost their two leading scorers in
Manny Harris
and
DeShawn Sims
. Sims was a senior, but Harris' decision to enter the NBA draft especially hurt. Despite his apparent differences with Beilein, Harris was Michigan's most productive player, and his decision to go to the draft was unrewarded when Harris wasn't selected in either round last Thursday night.
[+] Enlarge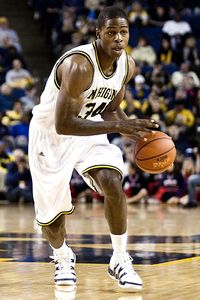 Icon SMIDeShawn Sims averaged 16.8 points and 7.6 rebounds per game last season for the Wolverines, but opted to enter the NBA draft.
Then Beilein lost a huge chunk of his coaching staff. Assistants
Jerry Dunn and Jeff Mahoney left after the season
. Graduate manager Patrick Beilein left for Dartmouth. And
fifth-year assistant Mike Jackson left to take an assistant's position at Purdue
.
Now there's more bad news to deal with:
Laval Lucas-Perry
, a redshirt junior expected to compete for Michigan's starting point guard spot, was bounced from the team thanks to a "violation of team standards," according to a Michigan press release. According to AnnArbor.com, Perry had the team standards "made clear to him on several occasions" and apparently didn't get the picture.
The move comes at a transparently bad time for Beilein and the Wolverines. Perry played in 32 games in 2009-10, starting 22 of them; his loss adds to the stark turnover throughout Michigan's program. That turnover will require Beilein to shift some personnel,
probably resulting in more time
at the shooting guard spot for either sharpshooter
Zack Novak
and
Stu Douglass
.
Fortunately, Beilein does have a pair of top 100 recruits on the way in 2010 --
power forward Evan Smotrycz
and
shooting guard Tim Hardaway Jr
. -- but the recruiting class isn't nearly good enough to make up for Michigan's losses this offseason. If Beilein had the college coach's classic three-year rebuild in mind when he took over at Michigan in 2007, that plan is decidedly behind schedule.
March, 30, 2010
3/30/10
10:48
AM ET
In 2010, lots of people who'd be better off not entering the NBA draft are going to, with utmost certainty, be entering the NBA draft. Prepare yourself.
Why? Quite simply, the NBA's potential lockout looms over the 2011 season and the 2011 NBA draft like the big money-sucking vacuum out of that weird animated Goodyear commercial that's been on every tournament telecast since March 18. With the chance the draft won't be around next year, or, if it is, that teams won't be able to offer their draftees contracts until an ongoing dispute between owners and the NBA players' association is settled, pretty much everyone who has even an outsider's shot at the NBA this year is going to be testing those waters early and often.
Tommy Mason-Griffin started the trend
. Yesterday,
UTEP's Derrick Caracter continued it
. Of course, this goldrush
includes players like Cole Aldrich
, likely lottery picks that should be going pro this year, guys whose best interests would be served by the draft even if it wasn't a lockout year. It will also include guys like Michigan's Manny Harris,
who announced he was leaving John Beilein's program Monday
. Harris is currently at the
tail end of the second round of Chad Ford's NBA mock
(Insider); there's a decent chance he'll go undrafted.
At some point, you wonder if doing the counterintuitive thing would be the best strategy. If there's going to be an NBA draft run this year, and you can afford to stick around for another year (two or more is better, but beggars can't be choosers), maybe you take the risk, stay in school, and hope the lockout thing works out? Maybe you boost your draft status simply by not being in the morass that will be 2010's overstuffed draft. It's has a higher ratio of risk to reward, but anything beats this 2010 draft. The bad decisions -- in so far as you can call them that -- are just going to keep rolling in.
March, 12, 2010
3/12/10
2:03
PM ET
INDIANAPOLIS -- If there were any doubts left about who should win National Player of the Year in college basketball, Evan Turner just extinguished them. He's the best. Case closed.

Turner's leaning 3-pointer from 37 feet away a flicker before the final buzzer lifted top-seeded Ohio State to a 69-68 win over No. 8 Michigan in the Big Ten tournament quarterfinals. Officials reviewed whether the shot got off in time before ruling it good.

Ohio State remains alive for a No. 1 seed in the NCAA tournament after a true escape job today against its archrival. The Buckeyes will face Wisconsin or Illinois on Saturday.

Michigan guard Manny Harris, who was brilliant in the second half with 22 of his 26 points, appeared to secure the upset on a fallaway jumper with 2.2 seconds left. The Wolverines spent the entire half clawing out of a hole they had created with a poor end to the first.

Watching Turner dribble up the floor, you have to question Michigan's defensive strategy on the last play. Everyone in the arena knew Turner was getting the ball, and he faced surprisingly little push-back as he crossed the half court stripe and launched the game-winner. After a strong first half, Turner struggled a bit in the final minutes, but once again, he came up big when Ohio State needed him most. David Lighty and William Buford also stepped up nicely for the Buckeyes.

You have to feel for Michigan, which ended an extremely disappointing season with one of its better efforts. Harris and guard Stu Douglass were brilliant in the second half as Michigan took its first lead since midway through the first half with 29.4 seconds to go. The Wolverines were a preseason top 15 team hoping to build on an NCAA tournament appearance, but they finish 15-17.
March, 12, 2010
3/12/10
12:49
PM ET
INDIANAPOLIS -- Michigan dictated the tempo early before Ohio State snapped out of its funk with ferocious defense and took total control in the final eight minutes.
Quick thoughts at the
halftime break
:
Early on, Ohio State looked like a team that hasn't played since March 2. The Buckeyes were sloppy with the ball and seemed content to launch uncharacteristic 3-point attempts. How did they turn things around? Great defense, especially on Michigan forward DeShawn Sims, who scored the first eight points for his team before slowing down a bit. The Buckeyes recorded back-to-back steals on a 25-6 run to close the half. Michigan committed nine turnovers, most of them during the major slide.
Michigan appeared more comfortable playing up-tempo in the first 12 minutes, as Sims found his shooting touch and guard Zack Novak attacked the basket with aggression. Sims swished three turnaround jumpers before Ohio State put Evan Turner on him. Manny Harris really needs to get more involved for the Wolverines.
Turner was his typical brilliant self with nine points, but he really got his teammates involved as the half went on. The National Player of the Year front-runner fed Jon Diebler (eight points), David Lighty (seven points) and William Buford (five points), and Ohio State piled up 25 points in the final nine minutes. Turner recorded six assists and is well on his way to another double-double (at least).
March, 12, 2010
3/12/10
10:15
AM ET
INDIANAPOLIS -- Four quarterfinal matchups in the Big Ten tournament are on tap today.
Let's take a quick look at each one.


No. 1 seed Ohio State vs. No. 8 seed Michigan (ESPN, noon ET)
Records:
Ohio State (24-7), Michigan (15-16)
Season series:
The teams split two matchups, with Michigan winning 73-64 in Ann Arbor and Ohio State prevailing 66-55 in Columbus on Feb. 27.
Advancement:
Winner faces Wisconsin or Illinois in Saturday's first semifinal (CBS, 1:40 p.m. ET)
What to watch for Ohio State:
National Player of the Year front-runner
Evan Turner
makes his first appearance in the Big Ten tournament, as Ohio State eyes a possible No. 1 seed in next week's NCAA tournament. The Buckeyes could sneak in to the top line, but only if they win the Big Ten tournament. Turner had 18 points, 11 rebounds and seven assists in the teams' last meeting after sitting out a Jan. 3 game at Michigan with a broken back. Ohio State ranks second in the Big Ten in scoring defense (60.4 ppg) and will try to contain Michigan star forward
DeShawn Sims
with
Dallas Lauderdale
.
What to watch for Michigan:
The Wolverines need a complete performance to beat the surging Buckeyes, and they'll look for big things from guard
Manny Harris
, who looked good in Thursday's first-round win against Iowa (22 points, 9 rebounds). Michigan played stifling defense for most of the Iowa win and needs a similar effort against Turner,
David Lighty
and
William Buford
. The good news is U-M seems to match up decently with Ohio State this year. "We beat them for a whole game, beat them for a half," Wolverines forward
Zack Novak
said Thursday. "They got us for one half this year, so we're confident going in."


No. 4 seed Wisconsin vs. No. 5 seed Illinois (ESPN, 25 minutes after Michigan-Ohio State)
Records:
Wisconsin (23-7), Illinois (18-13)
Season series:
The teams split two meetings, with each squad winning on the other's home floor. Illinois stunned Madison at the Kohl Center on Feb. 9, but Wisconsin surged to a 72-57 rout Sunday in Champaign.
Advancement:
Winner plays Ohio State or Michigan in Saturday's first semifinal.
What to watch for Wisconsin:
The Badgers might be the hottest team in this tournament, having won four consecutive games. It's no secret the surge has coincided with the healthy return of forward
Jon Leuer
, who won Big Ten Player of the Week honors last week. Leuer (14.9 ppg, 5.7 rpg) and forward
Keaton Nankivil
(8.7 ppg, 4.7 rpg) really balance out Wisconsin's offense and will put pressure on Illinois bigs
Mike Tisdale
and
Mike Davis
. The Badgers flustered Illinois star
Demetri McCamey
in Sunday's win and need a similar defensive effort from
Jordan Taylor
.
What to watch for Illinois:
McCamey's sideline confrontation with head coach Bruce Weber generated plenty of national attention, and it will be interesting to see how the mercurial star responds today. Illinois needs its best player to be at his best against a jelling Badgers team. The Illini are only 1-5 since their win in Madison and need to find other ways to score if the outside shots aren't falling. They also must rebound better after Wisconsin crashed the offensive glass well in Sunday's game.


No. 2 seed Purdue vs. No. 7 seed Northwestern (Big Ten Network, 6:30 p.m. ET)
Records:
Purdue (26-4), Northwestern (20-12)
Season series:
Northwestern won the teams' only meeting, 72-64, on Jan. 16, which marked Purdue's last loss with a healthy
Robbie Hummel
.
Advancement:
Winner faces Michigan State or Minnesota in Saturday's second semifinal (CBS, 25 minutes after first semifinal).
What to watch for Purdue:
After a rough start in its first game without Hummel, Purdue rallied last week for two wins. The Boilers need a strong effort today from center
JaJuan Johnson
, who was a nonfactor before fouling out against Northwestern the last time the teams met. Senior guard
Chris Kramer
also had a rough outing in Evanston and needs to be a bigger factor on both ends of the floor. Purdue's suffocating man-to-man defense could be the difference tonight. "Instead of someone picking you up at 21 feet, they pick you up at 90 feet," Northwestern coach Bill Carmody said.
What to watch for Northwestern:
The Wildcats actually match up well against Purdue. They have won two of the teams' last three meetings and choked away a big lead in the only defeat. Standout freshman wing
Drew Crawford
is very banged-up -- he had at least three ice packs on his body after Thursday's win -- so Northwestern needs production from other spots. Point guard
Michael Thompson
stepped up big against Indiana (16 points), but senior guard
Jeremy Nash
and sophomore center
Luka Mirkovic
need stronger performances today.


No. 3 seed Michigan State vs. No. 6 seed Minnesota (Big Ten Network, 25 minutes after Purdue-Northwestern game)
Records:
Michigan State (24-7), Minnesota (19-12)
Season series:
Michigan State won both meetings, but only by a combined eight points. After a 60-53 win in East Lansing, the Spartans needed a huge shot from
Kalin Lucas
to outlast Minnesota, 65-64, on Jan. 23 at Williams Arena.
Advancement:
Winner faces Purdue or Northwestern in Saturday's second semifinal.
What to watch for Michigan State:
The Spartans come off of a strong showing against Michigan on Sunday but will be without junior guard
Chris Allen
, who is suspended for the game. Allen ranks fourth on the team in scoring (9.1 ppg), and his absence will put a bigger burden on starting shooting guard
Durrell Summers
. Michigan State's front line has played better as of late and needs a strong performance against Minnesota bigs
Damian Johnson
,
Ralph Sampson III
and
Colton Iverson
. The Spartans haven't been great defensively this year, but they have held their last six opponents to just 57.2 points per game.
What to watch for Minnesota:
After two blowout wins against bottom feeders, the Gophers can really boost their NCAA tournament hopes with a win today. They paced Michigan State in both games and endured one of several heartbreaking losses in the meeting at The Barn. If seniors Johnson and
Lawrence Westbrook
continue to answer the bell like they did Thursday, and if
Devoe Joseph
builds on a strong performance, Minnesota will be tough to beat. "Last time we played Michigan State we lost by one point," Joseph said, "and we made a lot of mistakes in the last four minutes, so I definitely think we can pull off the upset."
March, 11, 2010
3/11/10
4:26
PM ET
INDIANAPOLIS -- After a scare early in the second half and in the closing minutes, Michigan held off
Cully Payne
and Iowa,
59-52
, to advance to the Big Ten tournament quarterfinals. The Wolverines will face top seed Ohio State on Friday (ESPN, noon ET).
[+] Enlarge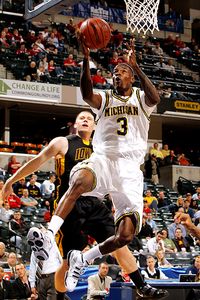 Jonathan Daniel/Getty ImagesManny Harris heads to the hoop for two of his 22 points Thursday.
Michigan got what it needed from its star players, particularly junior guard
Manny Harris
, who played a lot like he did early in the season. Harris was very aggressive on both ends of the court and finished with 22 points, nine rebounds and two assists. Wolverines senior forward
DeShawn Sims
continued to be a load in the low post, racking up 14 points.
Iowa never quit today, which is more than I can say for the Hawkeyes' last two outings -- historically bad losses to rivals Wisconsin (67-40) and Minnesota (88-53). The Hawkeyes carried over the momentum they built late in the first half, thanks to Payne, who scored a career-high 25 points. Iowa cut Michigan's lead to four points before a Sims block led to a
Zack Novak
3-pointer. The Hawkeyes also took advantage of Michigan's sloppiness down the stretch, cutting the lead to five with a chance to get closer.
Payne surpassed his previous career best of 18 early in the second half. But other than promising forward
Aaron Fuller
(10 points, 13 rebounds), Payne didn't get much help from his Iowa teammates.
The Hawkeyes struggled to hang onto the ball, committing 14 turnovers in the loss.
There's a lot of buzz here at Conseco about the future of Iowa third-year head coach Todd Lickliter, which could be addressed in a matter of moments. Lickliter has four years remaining on his contract but owns a 38-58 record at Iowa.
Stay tuned ...
March, 11, 2010
3/11/10
3:25
PM ET
INDIANAPOLIS -- We've reached halftime here at Conseco Fieldhouse, and No. 8 seed Michigan has led the entire way against No. 9 Iowa.


Some quick thoughts:
Michigan's defensive aggression and Iowa's sloppy ball-handling have been the difference so far. The Hawkeyes committed a five-second violation on the game's opening possession and finished the half with eight turnovers. When you're shooting as poorly as Iowa has been lately, you need to take care of the basketball. Michigan has done a nice job of that so far, committing only three giveaways.
Manny Harris hasn't had the season he envisioned, but the Michigan junior guard looks very impressive so far. He's consistently attacking the rim but not taking silly shots, and he's getting his teammates involved. Harris has 12 points and five rebounds.
Iowa guard Cully Payne is almost single-handedly keeping the Hawkeyes in this game. After a slow start, the freshman point guard has scored 13 of Iowa's 23 points, hitting 3 of 5 3-point attempts. He engineered a 12-5 Iowa run to close the half. Payne clearly is the type of player who fits well in Todd Lickliter's system, but he'll need more of his teammates to get hot in the second half.
Michigan is still 3-point happy, but Iowa can't forget about DeShawn Sims down low. Sims, who had double-doubles in both meetings with Iowa this season, has been able to score fairly easily down low and boasts 10 points at the half.
February, 17, 2010
2/17/10
12:15
PM ET
Ekpe Udoh
fell a block shy of his second triple-double of the season in Baylor's
88-70 win over Texas Tech
. Udoh finished with 13 points, 11 rebounds and 9 blocks. He would have been just the second Big 12 player with multiple triple-doubles in a season since the conference formed. Colorado's David Harrison had a pair back in 2003. Meanwhile, Baylor clinched its third straight 20-win season with the win. The Bears only had three such seasons before Scott Drew arrived.
North Carolina only put up 51 points in a
loss to Georgia Tech
. That's the fewest points of the Roy Williams era, and the fewest by a Tar Heels team since 48 against Duke in 2002. The Tar Heels shot just 32.2 percent from the field, their lowest since a 2003 win over Akron. North Carolina also had its worst performance from the line (41.7 percent) since 2003. The first half was particularly disastrous, as the Tar Heels nearly had more turnovers (15) than points (21).
Michigan came back from a five-point deficit with just 22 seconds remaining in regulation to notch an overtime
win over Iowa
.
DeShawn Sims
led the charge with six points in the final 15 seconds. Both Sims and
Manny Harris
put up 20-point, 10-rebound games in the win. It's just the third time that Sims and Harris have had a double-double in the same game, and the first time both went for 20 and 10.
Northern Iowa got back to its defensive ways on Tuesday,
clinching its first outright MVC regular-season title
. The Panthers did so by holding Creighton to 52 points and a 37.5 field goal percentage. This came after giving up 68 points in Saturday's loss to Bradley. Northern Iowa is second in the nation in scoring defense, allowing only 55.1 PPG. In conference play, that is down to 53.5 PPG, also second to Princeton. A big part of those low point totals is the fact that Northern Iowa does not send its opponents to the line. Panthers' opponents attempt only 13.8 free throws per game, third fewest in the nation.
Speaking of Princeton, the Tigers improved to 6-1 in the Ivy League with a
58-51 win at Penn
. The 51 points allowed represent just the second time that Princeton has allowed an Ivy opponent to crack 50 points. In seven games, Princeton has held conference opponents to just 46.6 PPG and 35.5 percent from the floor. Princeton is a perfect 5-0 in conference road games, and closes its conference slate with five of seven at home, though a test in Ithaca looms.
February, 4, 2010
2/04/10
12:46
PM ET
January, 26, 2010
1/26/10
11:45
AM ET
And just in time for
Michigan's trip to Ann Arbor Tuesday night
, too. The quotes from Michigan's statement (
via UM Hoops
) are below:
"It is our hope that Manny will show tremendous growth from his suspension," said Beilein. "We look forward to moving on and to having a great practice today."

"I wanted to take this opportunity to apologize to the university, the coaching staff, my teammates and every U-M fan for not being able to help the team against Purdue," said Harris. "I made a poor decision during last Friday's practice which I regret very much. I fully accept the suspension from the coaching staff. It was the correct decision. I cannot tell you my disappointment for letting my teammates down and showing the lack of leadership that I normally try to provide. I love my teammates, the coaches, this program and especially all the fans who have continued to support me. I have learned a great deal from this situation and I don't ever want to have it happen again."
All right then. That's a suitable apology, and Harris has been known to play well after disciplinary action, so Michigan fans can be at least somewhat hopeful of a strong performance from their best player at Michigan State tonight. They'll desperately need it.
That's mere short-term stuff, though; Harris and Beilein need to start thinking about the future. Michigan is in a precarious position. The Wolverines are 10-9 with few, if any, signature wins. As of right now they're nowhere near the bubble. Despite some gaudy numbers,
Harris hasn't played all that well
. The decision tree for both has changed: Can Harris and Beilein find some sort of common bond in the face of overwhelming odds, one strong enough that Harris will want to stick around for his senior season? (Harris is projected as a mid-second-round NBA draft pick right now.) Or do they stubbornly feud until the season ends and Harris goes pro, ruining any chance of a postseason appearance this season? Michigan can still salvage something here, whether it's this year or next. But both coach and player need to figure out whether they're willing to try.
January, 25, 2010
1/25/10
1:20
PM ET
It's Monday, the Cats are the new No. 1 team in the country, and we're all just living in their shadow. Don't try to fight it. Do, however, send me links and posts via Twitter. Now, on with the links:
January, 23, 2010
1/23/10
1:40
PM ET
That's the word out of Ann Arbor, where Harris was disciplined during practice and will not play during Michigan's game at Purdue today. Via
USA Today
:
Michigan guard Manny Harris has been suspended for what his coach described as an act of unsportsmanlike conduct during practice. Coach John Beilein announced the suspension Saturday ahead of the Wolverines' game at Purdue. Beilein said in a statement that Harris "used poor judgment" on Friday and it would be "best for Manny's future" if he didn't play.
This seems, um, bad. (Trenchant observation, right?) Not only bad for Michigan in the near-term -- the Wolverines' odds of pulling off an upset at Purdue just got even longer -- but bad for Harris and John Beilein and Michigan in general for the rest of the season. Beilein says he will meet with Harris after Saturday's game and determine whether he can return to the team for Tuesday's game versus Michigan State. If that kind of meeting is necessary, this doesn't seem like a token Tom Izzo practice suspension. This seems bad.
Then again,
Izzo's quasi-suspension
of
Kalin Lucas
earlier this season sort of seemed like a big deal, too, and Lucas and Izzo have been just fine since. So maybe it's not a big deal. Cliché alert, but only time will tell.
December, 2, 2009
12/02/09
10:24
AM ET
The Big Ten's hope to actually make the Big Ten/ACC Challenge a legit challenge took a body blow late Tuesday night when
Michigan State lost at North Carolina
. Asking either Indiana or Iowa to win was a tall order, so it was up to the Spartans to keep the league on the winning side of the ledger. Instead, with MSU's third loss in 12 months to its nemesis, the Big Ten went from up 3-0 to a 3-3 stalemate.
But the conference still has a chance to win this thing for the first time since 1999. The critical games are Boston College at Michigan, Minnesota at Miami and Florida State at Ohio State. Wisconsin at home will be tough, but asking the Badgers to beat Duke is a tall order. Ditto Illinois -- the young Illini are still trying to regroup after losing to Utah and Bradley and winning at Clemson won't exactly be a cakewalk.
So that leaves it up to the Wolverines, Gophers and Buckeyes. Michigan and Minnesota both have received an early comeuppance, tumbling from their early-season rankings after disappointing losses. The Wolverines, who dropped two to Marquette and Alabama, need to be more than the
Manny Harris
show, especially against a BC team that is much better than people think.
The Gophers, in the meantime, looked great upsetting Butler, but struggled offensively against Portland and Texas A&M. Miami can score -- the Hurricanes put up 85 in their upset of South Carolina in the Charleston Classic - - so Tubby's boys will need to get the offense out of the 60s to win.
Finally, Ohio State is playing much better after its disappointing half against North Carolina two weeks ago. Double-double machine
Evan Turner
,
David Lighty
and
Jon Diebler
are making for a potent attack but the Buckeyes can't afford to get fat and happy at home. Florida State was the surprise winner at the Old Spice Classic, with
Chris Singleton
earning tourney MVP honors there.
The blueprint to winning this challenge exists for the Big Ten.
The question is: For once, can the league follow it?