College Basketball Nation:

Marcus Ginyard
March, 30, 2010
3/30/10
3:33
PM ET
As I'm not a card-carrying member of the powder blue faithful in Chapel Hill, N.C., I can't say for sure. But I suspect the only thing more painful for North Carolina fans than this season's rapid decent from the elite -- barely finishing .500, missing the tournament, and suffering one of the worst post-NCAA title seasons of all-time -- would be if Duke not only managed to get past the Sweet 16 again but won the tournament. This is how fandom works, especially on Tobacco Road. The level of fervor with which you cheer on your own team is directly proportional to how much you root against your team's rival. Such is life.
Roy Williams, though, refuses to get caught up in the rivalry. Per the usual, on the subject of Duke,
Williams is taking the high road
:
"I think Duke is the favorite. They've proven that, they're the No. 1 seed, they deserved the No. 1 seed," Williams said Monday, calling West Virginia his second choice. "Duke is the favorite, there's no question in my mind about that, but it's the Final Four and anything can happen."

"I don't pick the team that I want to win, because I sit there -- really sit there -- and I watch the game," Williams said, "I don't get caught up in, 'I hope Duke wins, I hope Duke loses.' If Duke is successful it's important to North Carolina."
Well, that's one way of putting it. Roy Williams isn't going to get caught up in the petty squabbles of fandom. He's rooting for the common North Carolinian good. You have to respect that, even if it leaves out the whole part where a national title makes Duke an even tougher school to recruit against.
You also have to respect
Marcus Ginyard
's view, which couldn't be more different or more honest:
"Any time Duke is doing well," Ginyard said, "it hurts my heart."
A-ha! So that's how North Carolina fans really feel. I thought so.
February, 20, 2010
2/20/10
4:59
PM ET
CHESTNUT HILL, Mass. -- North Carolina coach Roy Williams scanned his team's schedule Friday night and saw a potential path to the NCAA tournament.
[+] Enlarge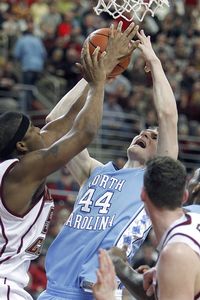 AP Photo/Michael DwyerTyler Zeller and UNC lost again Saturday, their ninth loss in the last 11 games.
Beat Boston College on Saturday, rip off four more wins in a row to get to 8-8 in the ACC and the Tar Heels would be right there for an NCAA at-large bid.
"I thought we'd get on a run and be in the NCAA tournament," said the Hall of Fame coach. "Now we have to readjust and get it done Wednesday [against Florida State]. I've never been in this position. I've never cared if we were a one seed, two seed or a three seed. But I thought that if we win five in a row, get to 8-8, that would get us in, but we didn't get the first step."
Despite having multiple chances to beat Boston College, the Tar Heels once again couldn't finish a game,
losing to the Eagles 71-67
at Conte Forum. The loss dropped UNC to 3-9 in the ACC, 14-13 overall, and left it dangerously close to playing itself out of the NIT (it's unlikely UNC would pay to play in the CBI) and, gasp, finishing last in the ACC.
The Tar Heels have the tiebreaker with last-place NC State (3-10 in ACC play) after sweeping the Wolfpack. But if the Tar Heels were to fall so far as to finish last they would, per league rules, not participate in next season's ACC-Big Ten Challenge, just like Georgia Tech this season. That would have been unheard of a few months ago.
After the game, it was BC sophomore
Reggie Jackson
(17 points), not anyone on the Tar Heels, talking about winning out and finishing 8-8 in the league and possibly winning the ACC tournament and bursting a team's bubble. The Eagles now stand at 4-8 in the ACC, 13-13 overall.
"Everybody knew that this could be the start of five wins in a row," said Tar Heels senior guard
Marcus Ginyard
. "We were excited. We felt like we had a great attitude, a great practice and it didn't equate to the type of play we needed to win. We've got to play with more pride. That's the bottom line."
Don't blame Williams for projecting a possible NCAA tournament bid. He hasn't missed the NCAA tournament since 1989 -- his first season at Kansas -- and that was because the Jayhawks were on probation after Larry Brown's 1988 national championship season.
This is new territory for this group of Tar Heels as well as Williams. And it's hard to fathom for all of those involved.
North Carolina beat Ohio State -- with
Evan Turner
-- in New York in November and took out a healthy Michigan State team in the Big Ten-ACC Challenge in Chapel Hill, N.C., in December. The Tar Heels also beat the ACC's second-place team, Virginia Tech, at home, even after losing at College of Charleston in a game in which they were missing Ginyard and
Will Graves
to injury.
Tyler Zeller
missed 10 games with a stress fracture in his foot. He returned Saturday to score nine points and grab seven boards in 16 minutes, but he missed seven shots.
Travis Wear
missed his fourth game with a sprained left ankle and
David Wear
nearly missed this game with a hip injury. And, of course, double-double threat
Ed Davis
missed his third straight game with a fractured left wrist.
But these aren't excuses. The Tar Heels still have talent (just watch
John Henson
as he scooped up a loose ball and snapped in a jumper while getting fouled or as he picked up a steal and flushed a jam). UNC has seven McDonald's All-Americans on its roster.
The Tar Heels were just 1-of-8 on 3-pointers, missed 32 2-point shots and were outrebounded by four by the smaller Eagles. Their guard play has been inconsistent, to say the least.
Larry Drew II
,
Dexter Strickland
and
Leslie McDonald
were unable to find a smooth stroke. Graves was 1-of-5 on 3s.
"It's been the most frustrating time I've had in coaching," Williams said.
Williams said the Charleston and Clemson losses shook UNC's confidence. He said prior to that he thought "we were really going to be good."
Williams said there was one point during the BC game when Drew looked at him after a turnover and said "my fault."
That didn't wash well with Williams. Overall, he said the Tar Heels need to "freakin' play," since their backs were against the wall.
"You've got to go out and fight until you frickin' die," said a heated Williams, who has been coaching with a sling for a few weeks after undergoing shoulder surgery this season and is now dealing with a bad head cold.
The mood in the Tar Heels' locker room was somber. Remaining games against Florida State, at Wake Forest, home against Miami and at Duke all seem difficult at this stage.
Said UNC senior forward
Deon Thompson
, "I guess I know how other teams feel now."
That emotion may not subside until the season ends.
January, 13, 2010
1/13/10
10:15
PM ET
CLEMSON, S.C. -- Any thought Clemson couldn't be a pressing, disruptive, turnover-producing team at Littlejohn Coliseum this season was dispelled in the first 20 minutes Wednesday night, as the Tigers have a 50-32 lead on No. 13 North Carolina.
Sure, the Tigers gave up a 23-point lead to Illinois early in the season and lost.
Yes, the Tigers beat Boston College here last Saturday and were able to dictate the pace. But the Eagles have traditionally been bothered by the Tigers' pressure here or in Chestnut Hill.
But for the Tigers to do to North Carolina what it did last season to Duke was a significant confidence boost in the first half. Clemson scored 50 points before halftime after racing out to a double-digit lead within the first few minutes. The Tigers forced Carolina into 16 turnovers and the Tar Heels couldn't make a 3-pointer.
Meanwhile, Clemson was scoring at a rapid pace, with
Trevor Booker
owning the paint early and then
Tanner Smith
,
Andre Young
and
Noel Johnson
all finding their stroke for two 3s a piece.
Clemson shot 57 percent, 46 on 3s and shared the ball well with 12 assists on 19 field goals.
It didn't help the Heels that they weren't full strength, either. For the second straight time UNC came limping into the state of South Carolina.
A week ago Monday, the Tar Heels lost to the College of Charleston without
Marcus Ginyard
and
Will Graves
(both out with ankle injuries). This time,
Tyler Zeller
is out and was wearing a boot on his right foot. An MRI proved negative but he will get a bone scan when he returns to Chapel Hill. The move is meant to be preventive with so much of the season still to go.
North Carolina coach Roy Williams said to me at the half: "Our big guys have to move more.''
Deon Thompson
made one field goal,
Ed Davis
made none and neither did Will Graves. Backup
Travis Wear
had more field goals than all three with two.
"(Clemson's) pressure was really good,'' Williams said. "Our team was scared to death. I've never seen anything like that (from one of his teams).''
January, 13, 2010
1/13/10
12:44
PM ET
January, 4, 2010
1/04/10
9:55
PM ET
North Carolina's question from the preseason on was going to be its ability to score and defend on the perimeter.
[+] Enlarge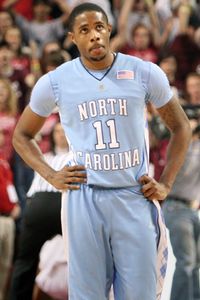 AP Photo/Mic SmithLarry Drew II and the Tar Heels suffered a surprising loss to College of Charleston.
On the eve of the ACC, the Tar Heels haven't been able to solve that issue confidently. Not having starters
Marcus Ginyard
and
Will Graves
against the College of Charleston on Monday night meant the Tar Heels were down their top perimeter defender and their top 3-point shooter.
What that did was give Charleston the green light to launch 3-pointers. And the Cougars didn't hesitate, making 13-of-32 in a thrilling
82-79
victory over the Tar Heels to create a worthy court-storming at Carolina First Arena.
Meanwhile, the Tar Heels made just 1-of-6 as guards
Dexter Strickland
(2-of-11) and
Larry Drew II
(3-of-10) struggled mightily from the field. Without Ginyard and Graves the Tar Heels just don't have the personnel to defend someone like
Andrew Goudelock
, who has speed and the ability to launch shots over taller defenders. He did that in making 10 of 20 overall and 4 of 8 3s, including the game-tying, overtime-inducing 3-pointer with 2 seconds left on the Cougars' final possession.
As ESPN researcher Jason McCallum pointed out, the Charleston starting backcourt outscored its UNC counterpart 52-17. Carolina's starting guards scored or assisted on just 11 of the 27 shots the Heels made. Yikes.
North Carolina can't win the ACC unless Ginyard and Graves are healthy, and even with them, the guard play hasn't been as consistent as say rival
Jon Scheyer
and
Nolan Smith
at Duke. Charleston should be in the mix for the Southern Conference title as projected in the preseason. The Tar Heels were considered an ACC title contender and a possible Final Four-bound team. If the guard play doesn't improve, then the potential of big men
Deon Thompson
,
Ed Davis
,
Tyler Zeller
,
John Henson
and
David Wear
won't be enough for UNC.