College Basketball Nation:

Marist Red Foxes
October, 15, 2012
10/15/12
6:35
PM ET
By
Brett Edgerton
| ESPN.com
July, 26, 2012
7/26/12
12:00
PM ET
Tournament bracket
for the 2012 Old Spice Classic
When and where:
Nov. 22-23 and Nov. 25 at HP Fieldhouse in Orlando, Fla.
Initial thoughts:
I like the field. Other than Gonzaga, the bracket contains a bunch of teams with a lot of question marks -- but there's something for everyone in this field. West Virginia enters the Big 12 without last season's scoring leaders, Truck Bryant and Kevin Jones. But
Aaric Murray
and
Deniz Kilicli
could be beasts in the paint for the Mountaineers. Led by
De'Mon Brooks
, Davidson returns the core of last season's 25-win team and the Wildcats could certainly win this tournament. Oklahoma made strides in Lon Kruger's first season, and its key players are back. Still not sure if that means much for the Sooners in this bracket or the Big 12. We'll find out. UTEP should also be improved with the return of nearly everyone. Vanderbilt, however, lost everyone. Top five scorers from 2011-12? Gone. Now Kevin Stallings must rely on a group of young players, such as sophomore
Dai-Jon Parker
, No. 33 in the 2011 ESPN100. But Gonzaga is clearly the star of the tournament. Name it and the Bulldogs have it. They lost Robert Sacre, but
Elias Harris
returns after toying with the idea of entering the NBA draft.
Sam Dower
continues to mature and could break out this year. And
Kevin Pangos
and
Gary Bell Jr.
lead one of the most complete backcourts in the country.
[+] Enlarge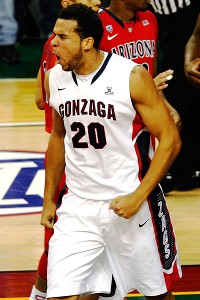 AP Photo/Kevin P. CaseyAfter toying with the idea of entering the NBA draft, Elias Harris returns for his senior season at Gonzaga.
Matchup I can't wait to see:
Gonzaga-Clemson. I think the Zags possess one of the most versatile rosters in the country, but their toughness will be tested early against the Tigers. Incoming freshman
Jaron Blossomgame
is the type of dynamic scoring threat with the versatility and athleticism to perplex Gonzaga's deep backcourt.
Milton Jennings
and
Devin Booker
could create problems for Mark Few's interior players if they're physical and aggressive. But Clemson was one of the worst defensive units in America last season, and the Zags owned the No. 29 rating in adjusted offensive efficiency in Ken Pomeroy's ratings. So it could be a shootout.
Potential matchup I'd like to see:
Davidson-Gonzaga. I'd love to see a pair from mid-major leagues advance and compete for the title. Davidson beat Kansas in KC, so the Wildcats' veterans wouldn't be intimidated by a Gonzaga team that should crack the Top 25 when preseason rankings are unveiled. And it's always fun to watch Pangos simply because the "he might hit eight 3s tonight" potential starts at tipoff. This would be a great title game.
Five players to watch
Jake Cohen, Davidson:
The Wildcats are sleepers in this tournament because they return the bulk of last season's playmakers. Cohen, a 6-10 forward, is one of the anchors for a Davidson team with the potential to surprise the field. Cohen scored 24 points and grabbed 10 rebounds in a NCAA tournament loss to Louisville last season.
Milton Jennings, Clemson:
He was a McDonald's All-American in high school, but we're still waiting for the senior to live up to that tag. This is his last chance. With
Andre Young
and
Tanner Smith
gone, there's even more pressure on the 6-9 forward to play up to his potential. If he does, the Tigers could make a push for an NCAA tourney bid. If his struggles continue in his fourth and final season, the Tigers could fade away in the ACC.
Deniz Kilicli, West Virginia:
The 6-9 forward must step up this season for a Mountaineers squad that relied on Jones last year. He averaged 10.7 ppg and 5.4 rpg for West Virginia during the 2011-12 campaign, but the senior recorded a 55 percent clip from the charity stripe. That has to change.
Kevin Pangos, Gonzaga:
The 6-1 guard is one of the top young players in the country. He hit 40 percent of his 3-pointers and 85 percent of his free throws last season, while averaging 13.6 ppg. If Pangos struggles, there's a good chance the Bulldogs will encounter problems, too. He scored a combined 17 points in Gonzaga's last three regular-season losses.
Steven Pledger, Oklahoma:
Pledger (16.2 ppg) helped Kruger get off to a respectable start (yes, .500 play is a respectable start when considering the NCAA investigation and messy finish to Jeff Capel's tenure). Now, Pledger and other vital contributors return for a Sooners squad that could use this tourney as a catalyst for Kruger's second season with the program.
Title-game prediction
Gonzaga over Davidson: Too many weapons for the Bulldogs. They're tough inside. Harris is a force. And Pangos, Bell Jr. and
David Stockton
comprise a backcourt unit that's just too tough for this field to harness. This could be a special Gonzaga squad.
Who others are picking:
Eamonn Brennan:
Gonzaga over West Virginia
Andy Katz:
Gonzaga over Davidson
Jason King:
Gonzaga over West Virginia
Dana O'Neil:
Gonzaga over West Virginia
February, 13, 2012
2/13/12
6:25
AM ET
By
ESPN Stats & Information
| ESPN.com
A scan of the college basketball box scores each night guarantees all kinds of statistical oddities and standout performances. Here are some we found from Sunday:

Iona 83, Marist 74
Iona's
Scott Machado
recorded his first career triple-double (10 points, 11 rebounds, 10 assists) and the 10th in Division I this season. Nakiea Miller (March 5, 2000) is the only other player in Iona history to accomplish the feat.
LIU-Brooklyn 81, Saint Francis (NY) 78
LIU's
Jamal Olasewere
made all 11 of his field goal attempts in the win, tying Vermont's
Luke Apfeld
(Dec. 23 vs. Towson) for the most made field goals without a miss in a game this season.
Wright State 70, Milwaukee 46
Wright State collected just one offensive rebound, becoming the sixth team this season to win a game with one or fewer offensive boards. The Raiders are the only team to win such a game as well as lose to a team with a one or fewer offensive rebounds (Feb. 4 at Valparaiso).
Missouri State 64, Bradley 53
Bradley's
Taylor Brown
missed all 11 of his field goal attempts in the loss, tying him for the third-most misses without a make in a game this season.
November, 11, 2011
11/11/11
11:52
AM ET
Today is the big day: The Carrier Classic. It's exciting. It's fun. It's going to be one of the better spectacles in college hoops history. But for various reasons I discussed on the podcast yesterday, it not be the best-played
basketball game
of all-time.
Fortunately, there is far more to this opening Friday of basketball. This is really the first day of the season, and this weekend is the first time we get to see one of those familiar all-day smatterings of the sport.
An aircraft carrier's awfully cool, but actual basketball? On Saturday and Sunday? The season is back, folks, and that might be the most exciting part of all. Here's an extended primer on the weekend's most interesting games:
Friday
Marist at Kentucky (7 p.m. ET, ESPN3):
For all of the excitement over the return of forward
Terrence Jones
, Kentucky's freshmen class is the reason this team is one of the favorites to win the national title. Thing is, we haven't seen these freshmen play -- at least not in a real college basketball game. Of course, Marist isn't going to put up much of a fight; Chuck Martin's team was one of the worst in all of Division I last season. Either way, though, it will be interesting to see just how scary this Kentucky team looks. If their recent 126-40 exhibition win is any indication, it could be a long night for the Red Foxes.
Rhode Island at George Mason (7:30 p.m. ET):
Former Georgia Tech coach Paul Hewitt makes his debut at George Mason Friday night. In many ways, Hewitt's Mason move is his opportunity to prove some of the critics of his coaching at Georgia Tech -- those who say he was merely a good recruiter who couldn't often piece together actual basketball teams -- wrong. The team he inherited in 2011-12 is solid, but it lost major pieces (Cam Long graduated,
Luke Hancock
transferred) from last year's successful run. Hewitt's ability to get big contributions out previous role players will define his first season in the Colonial.
Belmont at Duke (9 p.m. ET, ESPNU):
This is arguably the best non-Carrier game of the weekend. Duke is Duke. Cameron Indoor is Cameron Indoor. Coach K is Coach K; he's just three wins shy of breaking his mentor Bob Knight's all-time college basketball wins record, a feat he could very well accomplish in his next three games. But Belmont is far from a guarantee. On the contrary, the Bruins were 30-4 and a major tournament sleeper last season, but a tough No. 4 vs. No. 13 matchup with Wisconsin derailed those hopes. But Belmont returns almost everyone of note from 2011-12 -- they're probably the best mid-major team in the country -- and whatever advantages Duke may have on their home floor could be negated by the Bruins' experience and cohesion. We don't know if this young Duke team has those qualities yet, or if sheer talent will be enough to carry them through. But we get to find out on The U tonight. Don't miss this one.
BYU at Utah State (9 p.m. ET, ESPN3):
Speaking of games you shouldn't miss, huh? Here's another must-see, and there are a handful of reasons why: Both teams are consistent winners, both teams are retooling after particularly successful 2011-12 seasons, both teams are well-coached and play smart, sharp, uptempo basketball. Those are all good reasons to tune in. But they may fall short of the two main reasons, which are:
1. This rivalry. Utah State fans do
not
like BYU, and yes, that is a massive understatement.
2. The atmosphere. Utah State superfan
"Wild" Bill Sproat
leads one of the rowdiest and most distracting student sections in the country. If he performs "I'm a little teapot" again -- just Google it -- your time will have been well spent. Trust me.
Oregon at Vanderbilt (10 p.m. ET, ESPN3):
Neither coach particularly wanted to open the season with this matchup, as our own Andy Katz blogged Wednesday. But Oregon coach Dana Altman was desperate after learning Auburn had cancelled a proposed season-opener, and Vanderbilt coach Kevin Stallings, a friend of Altman's stepped up and took the game. It's not the most opportune time for Vandy to be playing sneaky-good, well-coached Pac-12 sleepers; starting forward
Festus Ezeli
will be injured for another six weeks, and until his return the Commodores may be content to tread water. A loss tonight would not be the start anyone in Nashville is looking for.
Saturday
Lehigh at Iowa State (2 ET, ESPN3):
As we saw Wednesday night -- just before an athletic and talented St. John's team pulled a win together in the final minutes -- Lehigh, led by third-year star guard
C.J. McCollum
, can really play. This is a challenge for Iowa State. But much of what makes this game a challenge for the Cyclones will come from within: Is Fred Hoiberg's transfer-heavy lineup, featuring former Minnesota flameout
Royce White
and former Michigan State cast-off
Chris Allen
, mature and focused and ready to go? Are the issues that cost those players their original roles with their original teams officially behind them? Can a team with this many transfers be even greater than the sum of its talented parts? The road to answers in Ames begins Saturday.
Butler at Evansville (3 p.m. ET):
Last year, when Butler went to Evansville and promptly lost to the Purple Aces, it was fashionable to declare the Bulldogs' season over. It's important to remember, not only for Butler but for just about every team on this docket, that this is only the first game of the season. In Butler's case, it's another chance to see Brad Stevens' handful of new players, as well as check in on how
Andrew Smith
and
Khyle Marshall
are adjusting to new featured roles.
Presbyterian at Duke (4:30 p.m. ET, ESPNU):
This is likely to be an easy Duke win, but it has meaning: If Duke beats Belmont Friday night, this could be the game Coach K ties Knight for 902 career wins. If Duke doesn't beat Belmont, well, it will have to wait a game or two to finish up all this record business. It's a little anticlimactic, actually: We know he's going to get this victory
eventually
. It's not if, but when.
Northern Iowa at Old Dominion (7 p.m. ET):
Never let it be said that Northern Iowa is afraid to play anyone anywhere. The Panthers open with one of the more brutal mid-major schedules of any team that doesn't have to play crazy guarantee games to keep the basketballs inflated: UNI begins Saturday night at ODU, where senior guard
Kent Bazemore
is looking to continue his program's recent emergence onto the national scene. Then, after that east coast trip, Northern Iowa travels all the way across the country to Moraga, Calif., where they will play Randy Bennett's experienced batch of St. Mary's sharpshooters. Just a brutal way to open your season. Fun, travel-filled, eye-opening -- and totally brutal.
Sunday
Cleveland State at Vanderbilt (2 p.m. ET, ESPNU):
If there's one mid-major team whose fans are most vocal on Twitter, it may just be Cleveland State. They swear -- swear! -- that the Vikings have been overlooked this preseason. The reasons are understandable, they say; 2011 star guard Norris Cole is in the NBA, and CSU didn't make the tournament with him, so why would people think it could do so without him? But the Vikings do have some serious talent: Everybody but Cole is back, and coach Gary Waters has added a batch of talented players to the rotation this offseason. Vanderbilt, playing without Ezeli, gets two nice tests to open the season this weekend.
North Carolina at UNC Asheville (4 p.m. ET, ESPNU):
You might be curious: Why would North Carolina go to UNC Asheville to play an early-season nonconference game? In most cases, your incredulity would be warranted. In this instance, it's a gesture of good faith: Asheville is opening a brand new basketball arena on Sunday afternoon, and Williams and the Tar Heels decided to help their satellite campus christen the new digs by dropping on the first weekend of the season. UNC may want to be careful, though: Any Carrier-lag or hangover, and they could find themselves in a battle with a scrappy Asheville squad. No good deed goes unpunished?
Lamar at Louisville (4 ET, ESPN3):
Pat Knight is like his father Bob in at least one way: He's a thoroughly enjoyable character. Unfortunately, the younger Knight didn't display the kind of program-building prowess that for decades made his father the king of Indiana basketball. Then again, it's a bit harder to build a program at Texas Tech. It's not exactly "Hoosiers" in Lubbock, you know? Either way, Knight's post-Tech career with Lamar begins Sunday night at Louisville, where the Cardinals are gearing up for what Rick Pitino hopes can be his most successful season since 2009.
Southern at Texas A&M (4 p.m. ET):
Texas A&M cruised past Liberty in their debut Wednesday night, and that should be the expectation when Southern comes to town Sunday, too. But the underlying concern here is for new coach Billy Kennedy's health. Kennedy was recently diagnosed with Parkinson's, and he is yet to make his return to the team after leaving to begin treatment earlier this month. Could he come back Sunday?
Chattanooga at Indiana (5 p.m. ET):
Indiana fans are as excited for this season as any in recent memory; the addition of top forward recruit
Cody Zeller
to a slowly improving lineup bodes well for the Hoosiers' chances of avoiding the Big Ten cellar -- and competing for at least some form of tournament presence -- in 2011-12. But Indiana should be careful here: Chattanooga is one of the SoCon's best squads this season, and they could spring an upset on Indiana before you can say "cream and crimson."
Rider at Pittsburgh (6 p.m. ET, ESPN3):
There are questions about Pittsburgh this season, questions that may either take a month or two, or no time at all, to answer. Can the Panthers rebound as well without senior forward Gary McGhee? Can point guard
Travon Woodall
capably handle his larger and more important role? We'll get a glimpse at some of these answers Sunday night, as Rider should at the very least provide a frisky early test for Jamie Dixon's team.
Florida Atlantic at Washington (8 p.m. ET):
Are the nation's scribes just a little too low on Washington? It's starting to feel that way. The Huskies received minimal top 25 love this season, and they do have big holes to fill: Isaiah Thomas and Matthew Bryan-Amaning were this team's two most important players, and both are gone. But Lorenzo Romar does have a bunch of talent in Seattle, namely
Terrence Ross
and star freshman
Tony Wroten
, Jr., who may eclipse most, if not all, of the other star freshmen guards with his ability to smoothly score and distribute in Romar's fast-break game.
George Washington at Cal (9:30 p.m. ET, ESPNU):
There are high hopes for Cal this season; many believe they're the rightful Pac-12 favorite. If so, they'll have to get nice contributions from Minnesota transfer
Justin Cobbs
, who has played well during exhibitions and could be a nice complement to experienced guards
Allen Crabbe
,
Jorge Gutierrez
and
Harper Kamp
.
October, 24, 2011
10/24/11
6:28
PM ET
By
ESPN.com staff
| ESPN.com
Before we get to the Blue Ribbon team-by-team previews for the Metro Atlantic Athletic Conference, here is Eamonn Brennan's one-minute wind sprint through the league:
Blue Ribbon breakdowns of all 10 teams in the MAAC:
Canisius
Fairfield
Iona
Loyola
Manhattan
Marist
Niagara

Rider
St. Peter's
Siena
More MAAC content
:
January, 30, 2011
1/30/11
3:38
PM ET
By
ESPN.com staff
| ESPN.com
St. John's wasn't the only New York team that thrilled its fans on Sunday afternoon. With his team down two, Manhattan's
Michael Alvarado
nailed a shot from well beyond halfcourt that beat the buzzer and lifted the Jaspers over Marist,
60-59
. Take a look at the shot ...
November, 16, 2010
11/16/10
2:05
PM ET
This is where I was going to write the lyrics to "Afternoon Delight," but then I actually listened to "Afternoon Delight" again and, well, wow. According to Wikipedia, that song not only was on the radio in 1976 but was a No. 1 single. What were you guys listening to in 1976?! Not only is the song obviously dirty, but it's also completely terrible. Is "Afternoon Delight" the reason punk music exists? I have so many questions here.)
2 p.m. ET: La Salle at No. 17 Baylor (ESPN/ESPN3)
-- As with most marathons, the middle section is where things really get interesting. (Not that yours truly would know; I have as good a chance of playing in the NBA as I do running a marathon anytime in the near future.) We have a pretty good parallel here: After an exciting start (Memphis versus Miami) and a comfortable cruise (everything after Memphis versus Miami), here's where things will really begin to heat up. Baylor doesn't exactly have the opponent of the century in Waco -- La Salle looks like a lower-tier A-10 team this season -- but the Bears will be playing without
LaceDarius Dunn
for the second straight game as Dunn finishes a three-game suspension for an alleged domestic incident involving his girlfriend. The La Salle-Baylor matchup also serves as the college hoops audience's first chance to see top recruit
Perry Jones
-- who might be a top-five pick in the NBA draft next season -- play alongside
Quincy Acy
in the Bears' frontcourt. With Dunn in the fold, the Bears are a potential Final Four team. Without him? We'll see.
4 p.m. ET: No. 24 Virginia Tech at No. 3 Kansas State (ESPN/ESPN3)
-- And here we go. One of the three or four truly marquee matchups of the marathon, Virginia Tech-Kansas State has everything: Two Top 25 teams and conference contenders; two brilliant scorers at the guard position (Kansas State's
Jacob Pullen
and Virginia Tech's
Malcolm Delaney
); and a raucous home-court environment that will instantly remind you of all you've missed so dearly in the past seven months. It's also a major proving ground for Tech, which has barely missed the NCAA tournament in the past few seasons thanks largely to lackluster nonconference schedules. With a win, the Hokies would go a long way toward solving that problem early. At the very least, Hokies coach Seth Greenberg won't have to hear the scheduling criticism this time around. This is a beast of a game for his team. And for fans of college hoops, too.
5:30 p.m. ET: Marist at No. 7 Villanova (ESPNU)
-- Nova isn't likely to face a challenge from not-so-mighty Marist on Tuesday; the Red Foxes lost every game but one in 2009-10, finishing last in the MAAC in the process. In other words -- duh -- this should be an easy win for the Wildcats. But as with anything else, improvement is in the journey, not the result, and the chance to check out Jay Wright's new-look Villanova team will be worth a look. The Cats are an assemblage of talent at this point, a lot of very good players and talented youngsters. But are they a capital-T Team? After last season's disappointing finish down the stretch and the loss of All-America point guard Scottie Reynolds,
Corey Fisher
& Co. still have a long way to go toward proving they're worthy of their preseason plaudits.
July, 21, 2010
7/21/10
10:43
AM ET
About a year ago -- in other words, a long enough time for my short attention span to completely forget this was happening -- Marist brought an unusually quirky lawsuit to court. The suit involved coach Matt Brady, who Marist signed to be its new head coach before Brady signed a similar contract with James Madison. Marist alleged that JMU had violated an arcane agreement in Brady's deal that prevented the coach from recruiting any of his former Marist players or prospects to JMU. (Brady eventually signed several of his former prospects to play at JMU.)
The suit was unique enough at the time that few
legal experts seemed to know what to do with it
. Last month, New York Supreme Court Justice Charles B. Wood was less confused.
In a decision released Monday
, Wood ruled that Marist had "adequately articulated the elements for a claim of [wrongful] interference with a contract" against JMU and the state. Marist's case, quirky though it may have been, won.
By this point, it's probably fair to ask that timeless question: "Who cares?" After all, the Marist-JMU decision is just a petty grievance between two hoops lightweights over a young coach and a few prospects, right?
Sort of, yes. But it could also have wider implications for college hoops contracts in general.
CBS' Gary Parrish explains
:
So let this be a lesson for all coaches and every school that will spend next March and April pursuing other schools' coaches. Sports contracts have details about what can and cannot be done that are ignored annually, but, turns out, those details do not have to be ignored. What Marist has shown is that if a strong president and athletic director want to seek damages for a breach of contract by a coach, they can seek damages for a breach of contract by a coach. What Marist has also shown is that the case can be won.
The notion that coaches can routinely break their contracts and strong-arm universities into letting them go -- taking top recruits with them, even if that violates a line or two of previously ignored fine print -- is one that now faces some scrutiny. Whether that's a good or a bad thing, it's a thing. Coaches and the schools that hire them might actually have to honor the conditions of their contracts, lest they face legal repercussions. Radical concept, huh?