College Basketball Nation:

Markel Starks
March, 13, 2014
3/13/14
1:52
AM ET
NEW YORK -- The new Big East lost one of its bubble teams Wednesday night before its tournament even got into full swing.
Georgetown
(17-14, 8-10) -- owner of five wins against opponents ranked in the RPI's top 50 -- was relegated to the No. 7 seed and a first-round game, thanks to its sub-.500 conference record. And then it got bounced by No. 10 seed
DePaul
, 60-56.
Just six weeks after knocking off then-No. 7 Michigan State on this very same court, the Hoyas were knocked out of NCAA tournament contention.
When asked at the start of his postgame press conference what he said to his team after the game, Georgetown coach John Thompson III replied, "I just told them when we're leaving in the morning."
[+] Enlarge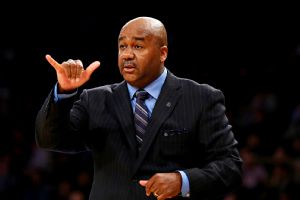 Elsa/Getty ImagesGeorgetown coach John Thompson III tried to make a case for the Hoyas for the NCAA tournament after their loss to DePaul, but it wasn't a very convincing one.
The Hoyas were up 25-23 at the half despite shooting just 38.5 percent from the field (10-for-26) and committing eight turnovers. They led 40-36 with under 11 minutes remaining and were still clinging to a one-point lead, 45-44, with less than 7 minutes left.
The two biggest shots of the game were back-to-back 3-pointers by DePaul forward
Forrest Robinson
of all people. The first broke a 45-45 tie with 5:58 remaining, and the second gave the Blue Demons a 51-45 lead with 5:08 left.
Robinson was averaging just 3.4 points in 11.8 minutes per game.
Brandon Young
, DePaul's leading scorer, had an off night, with just 13 points and six turnovers before fouling out with 1:01 to play. But newly minted Big East Rookie of the Year
Billy Garrett Jr.
picked up the slack, scoring a team-high 17 and sinking all seven of his free throws, including four in the final 21 seconds.
This is just DePaul's second Big East tournament victory ever, and first since 2009.
"Obviously that was a heck of a win for our ballclub," Blue Demons coach Oliver Purnell said. "But I think our guys earned it every step of the way by their approach."
Georgetown had won 14 straight games against DePaul dating back to 1994.
"This is disappointing to us, but you've got to give a whole heck of a lot of credit to Oliver and his team and his staff," Thompson said. "They played a very good game -- a very, very good game."
The Hoyas certainly did not. They were an identical 10-for-26 in the second half. Sophomore
D'Vauntes Smith-Rivera
scored 21 and senior
Markel Starks
added 17, but neither shot the ball well from the field -- 5-for-14 and 7-for-19, respectively.
And keep in mind DePaul is one of the worst defensive teams in the country -- ranked No. 331 out of 345 Division I schools in defensive field goal percentage -- at 47.9 percent.
It's hard to believe these are the same Hoyas that beat the Spartans at Madison Square Garden the day before the Super Bowl, beat Creighton just eight days ago and beat VCU and Kansas State earlier in the season as well.
Going into Wednesday night's game, ESPN's Joe Lunardi listed Georgetown as No. 8 on his list of teams knocking on the NCAA tournament's door. The Hoyas had a chance to play their way into the Big Dance with another win over No. 2 seed Creighton in the quarterfinals and a victory in the semis over Xavier or Marquette.
But the Hoyas couldn't get past last-place DePaul first.
A dejected Thompson made a half-hearted sales pitch to the NCAA tournament selection committee after the loss, but wasn't very convincing.
"Our strength of schedule is ninth in the country," Thompson said. "We went through a very rough stretch. We had a starter out when
Jabril [Trawick]
was out. From the time he got hurt until the time he came back, we were 1-5 during that stretch.
"They say they take injuries into consideration. Tonight's loss is disappointing. Next question."
The only question now is, will Georgetown accept a bid to the NIT?
January, 28, 2014
1/28/14
2:05
AM ET
WASHINGTON, D.C. -- There was a time, and it wasn't all that long ago, when the Villanova Wildcats were one of the best defensive teams in the country.
Through Jan. 18, two opponents scored more than a point per trip in any game against the Wildcats. The first was Delaware in a tight win on Nov. 22, just before Villanova handled Kansas and Iowa on back-to-back nights in the Bahamas. The second was Syracuse, which still hasn't lost a game. Jay Wright's team ranked among the top three or four defenses in the country; it pressured offenses to the 3-point line and defended the perimeter with nearly equal enthusiasm; it was consummate. When the Jan. 19 Associated Press poll was unveiled, Villanova was deservedly ranked No. 4 in the country.
And then Creighton happened.
The Bluejays' 96-68 master class -- the best win in Creighton history and possibly the best offensive performance of the past decade -- didn't merely produce a bunch of eye-popping, retweetable statistics. It exploded Villanova's defense. Without breaking a sweat, Ethan Wragge and Doug McDermott and everyone else in a royal blue uniform did everything the Wildcats are designed to stop, over and over again, on Villanova's home floor.
By the middle of the second half, when it became clear Creighton wouldn't stop, it was worth wondering whether Wright's team had just suffered the kind comprehensive emotional battering Michael Jordan made famous. The kind old NBA veterans still whisper about, the kind that ruins a season.
Seven days later, Villanova is doing just fine, thanks.
[+] Enlarge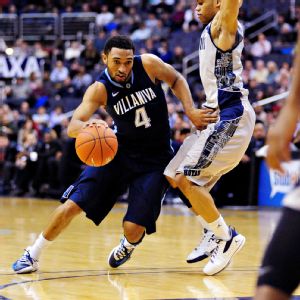 Evan Habeeb/USA TODAY SportsThings seem back to normal for Darrun Hilliard and Villanova after beating Georgetown Monday, the second straight road victory for the Wildcats.
Monday night's 65-60 win at Georgetown was a welcome return to form for the Wildcats -- a return to weak-side rotations and drawn charges, to interior challenges and forced turnovers, to the kind of adaptable, pressuring defense that earned them that No. 4 ranking in the first place.
"That was old-school Big East basketball," Wright said. "That was fun."
The Wildcats won despite shooting just 40 percent from the field, and 31.8 percent from 3-point range, in large part because they forced the action on the offensive end enough to shoot 28 free throws. It was offense-as-erosion, and nearly as slow.
Meanwhile, Georgetown couldn't crack Villanova's defense, turning the ball over 18 times and getting just nine free throws for their trouble. And that puzzled John Thompson III.
"We're getting the ball into the paint, we're getting penetration, we're getting drives, we're getting the ball down low, but fouls aren't being called," Thompson said. "I'm not saying we're being fouled and they're not called. I don't know, but you look at that stat right away and you see we shot nine foul shots they shoot 28, so we've got to figure out how to get fouled.
"Every game seems to be called differently. One could say that opposite ends of court are called differently."
The officials may have had a rough night at the office, and Georgetown's offense has hardly set the world alight -- Bluejays 2.0 it is not. But credit the Wildcats, too. Villanova's ability to combine maximum turnovers and minimal fouls made every Hoyas mini-run -- and it felt like there were dozens -- ultimately futile. After an 8-0 run to start the game, Thompson's team led just once.
One decisive late play summed up the general tenor: Down 61-58 with 34 seconds remaining, Georgetown guard Markel Starks -- who had 20 points and six assists and was the Hoyas' only effective offensive player -- drove baseline. As he elevated to swing a pass to an open teammate in the opposite corner, he crashed into a rotating Wildcats defender who had already anticipated the charge.
It was a sort of inverse scenario from just two days prior. On Saturday, Tony Chennault's would-be game-winner at Marquette was waved off at the last second. But Wright's team managed to pull out a 94-85 OT win anyway -- a game they won by pouring wave after wave of points on the board. Neither game was an aesthetic wonder, Wright admitted, but even he was impressed to come away from the week 2-0.
"[Our guys] really have great character and mental toughness," Wright said. "They really do. There's a lot of challenges, you know? You win a couple games, you get things going good, and then you get smacked in the face, you get knocked down. How you respond is important.
"Since that game we've been on the road two games back to back against two very good teams. We haven't been pretty in either one of them, but we've found a way."
That game. Whether intentional or not, Wright avoided mentioning Creighton by name. Under different circumstances, the omission could be read as denial. After two gutty bounce-back road victories, it reads more like acceptance. The Wildcats have moved on, and they seem to be doing just fine.
October, 18, 2013
10/18/13
3:10
PM ET
NEW YORK CITY -- Markel Starks understood that the circumstances of Wednesday's Big East Media Day would result in a multitude of questions about the next steps for a Georgetown program that must regroup in 2013-14.
[+] Enlarge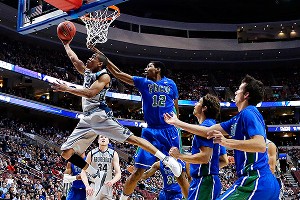 AP Photo/Matt RourkeMarkel Starks (left) and Georgetown to be more versatile on offense this season.
Perhaps "regroup" is the wrong word. But any team that loses a lottery pick (
Otto Porter
) and pushes ahead without a veteran standout that could have filled that lottery pick's shoes (
Greg Whittington
) must provide some answers about its future.
But Starks didn't have a sob story about Georgetown's new makeup.
"We play as a unit," Starks said during the event at Chelsea Piers. "We play as a group. Obviously, we just lost a great player. Even still, with or without him, we play as a unit. … I think we can still be a very dangerous team."
And it's true.
Whittington's absence didn't stop the Hoyas from winning a share of the Big East crown last year.
Porter, however, was available then.
Without the talented forward, Georgetown could be a more versatile team because they'll be challenged to spread the ball around.
Inconsistent offense was a challenge for the team last year, too. That won't be as much of an issue this year, Starks said, because the Hoyas are more mature.
"At times last year, we did have problems scoring the basketball," he said. "We were young last year. You were asking freshmen and sophomores to contribute as juniors and seniors. ... But I'd rather win ugly than lose a game 80-79. This will be a very exciting year not only for the program but for the league. And yes, we will score the basketball."
D'Vauntes Smith-Rivera (8.9 PPG) is a strong candidate to emerge as an offensive catalyst for the program.
John Thompson III praised Smith-Rivera's offseason development. He said the 6-foot-3 sophomore could be a breakout star for the Hoyas this year.
"I'm expecting a very big year," Thompson said. "I think he's worked very hard in the offseason."
Yes, there are still questions. Questions that the Hoyas can't answer until next month when games begin.
The Hoyas haven't had Whittington for nearly a year. So it's not really a loss. But he'll definitely help if he ever becomes available this season following a summer knee injury.
Inside the program, however, Georgetown is talking like a team that is ready to compete for the Big East crown, not a team that's worried about what it has lost since last season.
July, 16, 2013
7/16/13
10:20
AM ET
Editor's Note: Over two days, we're releasing the brackets/matchups for 11 of the top early-season events. Starting Wednesday at 10 a.m. ET, we'll unveil the final six: Charleston, 2K Sports, Diamond Head, CBE, Wooden and Maui. A thread of previews and info for all 11 tourneys can be found here.
Tournament bracket
for the Puerto Rico Tip-Off
(Editor's Note: An earlier version of this bracket had a pair of incorrect matchups. We apologize for the mix-up.)
When and where:
Nov. 21-22, 24 in San Juan, Puerto Rico
Initial thoughts:
The bracket seems to grant Georgetown an easy path to the title game. Northeastern lost its top two scorers --
Joel Smith
and
Jonathan Lee
-- from last season (29.9 PPG combined). And Kansas State is recovering from a tumultuous offseason that included the loss of
Angel Rodriguez
and
Rodney McGruder
. Georgetown's opening-round opponent, Charlotte, had offensive issues last year (187th in adjusted offensive efficiency, per Ken Pomeroy) and now top scorer
Chris Braswell
is gone.
A title, however, is not a guarantee. The Hoyas will probably travel to San Juan without
Greg Whittington
, who recently tore his ACL. And the other side of the bracket is much tougher, even though Long Beach State is depleted after multiple offseason dismissals. Florida State struggled last season but the Seminoles were young so most of their roster returns, although they'll miss
Michael Snaer
. Michigan is the obvious favorite. The Wolverines will be led by
Mitch McGary
and
Glenn Robinson III
, a pair of players who would have been first-round draft picks last month had they decided to leave school after their team's national title game loss to Louisville in April. Freshman
Derrick Walton
will probably follow
Trey Burke
as the team's new point guard. He'll be surrounded by a strong crew. VCU will be tough, too. The HAVOC defense helped VCU acquire the nation's highest turnover rate last season. The Rams, however, lost point guard
Darius Theus
and
Troy Daniels
. Still, they haven't lost much steam with a solid recruiting class and Florida State transfer
Terrance Shannon
in the mix now.
Things could get interesting on Friday in this tournament.
Matchup I can't wait to see:
Florida State has a lot to prove. Last season was a mess for Leonard Hamilton, who recently received a contract extension. His program has a chance, however, to make an early statement in the 2013-14 season with a win over a VCU squad that will be a Top 25 program entering the season. But Shaka Smart has some new faces, and his squad must identify a new leader now that Theus is gone.
[+] Enlarge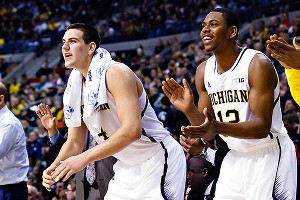 Rick Osentoski/USA TODAY SportsMitch McGary and Glenn Robinson III could have been first-round NBA draft picks following Michigan's run to the national title game.
Potential matchup I can't wait to see:
Can you say rematch? The last time Michigan and VCU met, the Wolverines pummeled the Rams in the third round of the NCAA tournament. That 25-point victory was an embarrassment for a VCU squad that was completely out of rhythm from tipoff. But the Rams are deep again. And the Wolverines have a couple of potential lottery picks running the operation again. I'd love to see these two squads face off again in the semis.
Five players to watch:
Treveon Graham, VCU:
The Rams are often praised for their defensive strengths. Last season, however, VCU proved its worth on offense, too -- averaging 78.0 points (11th in the nation). Graham, the team's top scorer, was a catalyst. He averaged 15.1 PPG and 5.8 RPG. He also hit 36.6 percent of his 3-pointers. Graham doesn't waste minutes, either. He had the Atlantic 10's top offensive rating (118.1 per KenPom.com, among players who used at least 24 percent of their team's possessions). Last season was a breakout campaign for this guy. If VCU reaches its ceiling, the 6-foot-5 guard/forward could earn All-American consideration.
Mitch McGary and Glenn Robinson III, Michigan:
After the Wolverines rumbled to the national championship game in Atlanta, many expected McGary and Robinson to take their talents to the NBA. The two youngsters had a chance to turn pro and make millions. But their decision to return means that the Wolverines will enter the season as Big Ten contenders again. There's a huge gap at PG, a spot that was occupied by Wooden Award winner Trey Burke last season. With McGary and Robinson back, John Beilein has one of America's top centers and one of the nation's most versatile wings. This tournament will be an early opportunity for the duo to prove that Michigan is still potent without Burke.
Okaro White, Florida State:
There's a lot of pressure on White right now. Florida State will enter 2013-14 without top scorer and veteran Michael Snaer. Terrance Shannon transferred. And Leonard Hamilton will be forced to rely on some young players again in a league (ACC) that could be the nation's best conference with the arrival of Pitt, Notre Dame and Syracuse. But White made major strides in his junior campaign. The 6-8 forward averaged 12.4 points, 5.9 rebounds, 1.0 steals and 1.1 blocks. He hit 81.5 percent of his free throws, and he was 10th in the ACC with a 4.13 block percentage (KenPom.com). But can he lead this group? We'll find out in Puerto Rico.
Markel Starks, Georgetown:
Greg Whittington's torn ACL jeopardizes his entire season and it also jeopardizes the Hoyas' season. Three other starters from last season return. But it was much easier to view Georgetown as a threat to win the inaugural title in the new Big East when Whittington was healthy. To maintain that hope -- if Whittington can't return -- Starks has to guide a team that still has some talented pieces from last season and will add UCLA transfer
Josh Smith
after the first semester. Starks did it all for Georgetown last year (12.8 points, 3.0 assists, 1.3 steals, 41.7 percent from the 3-point line). But the Hoyas might need him to do even more in 2013-14.
Title-game prediction:
VCU over Georgetown.
The Hoyas should reach the title game, but I think they'll face a VCU squad that's equipped with a multitude of talent and depth. Smart has a rotation that could be 10-11 players deep. And even though he has lost a few veterans, he will gain the services of former top recruits
Mo Alie-Cox
and
Jordan Burgess
, two players who were academically ineligible for competition last season. And Shannon, the Florida State transfer, will be available, too. Smart's HAVOC attack demands talent and depth, and he has both. This is the most skilled squad that he has had at VCU. That's just too much for Georgetown to overcome, especially with VCU's interior advantage (see Shannon and 6-9 forward
Juvonte Reddic
). These Rams will be dangerous. They'll prove it in San Juan.
Who others are picking:
Eamonn Brennan:
VCU over Georgetown
Jeff Goodman:
VCU over Northeastern
Seth Greenberg:
Michigan over Georgetown
Andy Katz:
Michigan over Georgetown
Jason King:
VCU over Kansas State
Dana O'Neil:
VCU over Kansas State
March, 15, 2013
3/15/13
10:00
PM ET
NEW YORK -- A quick look at the Syracuse's
58-55 overtime win
over Georgetown in the semifinals of the Big East tournament.
What it means:
It doesn't get any better than that.


Georgetown and Syracuse, the two longtime archrivals, met one last time as fellow members of the Big East conference Friday night. And after 45 thrilling minutes, Syracuse had landed the final punch.
In a game that will be talked about for years to come, played in front of a sellout crowd at Madison Square Garden, the Orange defeated the Hoyas to advance to this year's Big East championship game.
No. 19 Syracuse (26-8, 11-7), which had lost four of five games prior to tournament, has now won three games in three days, previously defeating Seton Hall and Pittsburgh. The Orange will be a higher seed in the NCAA tournament as a result. And they've gotten some revenge after losing to the Hoyas twice in the regular season -- both times by double digits.
No. 5 Georgetown (25-6, 14-4), which had won 13 of its past 14 games, will no longer contend for a No. 1 seed in the Big Dance after this loss. But the Hoyas will still get a very high seed and will be a force to be reckoned with.
How it happened:
Georgetown drew first blood.
Otto Porter Jr.
scored the first bucket of the game and the Hoyas went in front by as many as five and maintained the lead for almost the entire first 12 minutes. But a
James Southerland
3-pointer pulled Syracuse even, 17 apiece, with 8:04 remaining in the first half. That was the first three points of a 13-0 run, making it 27-17, as Georgetown went nearly eight minutes without scoring a point. Freshman guard
Trevor Cooney
, who averaged 3.5 points in 11.7 minutes per game, scored 10 first-half points for the Orange, including a pair of 3s. Syracuse led 29-20 at intermission.
Georgetown gradually clawed its way back in the second half.
Mikael Hopkins
scored the Hoyas' first seven points, and then
Markel Starks
buried three 3-pointers in short order. Georgetown finally tied the game up, 49 all with 1:48 left in regulation, on a pair of
Jabril Trawick
free throws.
Baye Keita
drained both ends of a 1-and-1 to put Syracuse back in front 51-49, but then Porter also made both ends with 7 seconds left to tie the game again.
Michael Carter-Williams
missed a jumper at the buzzer and we moved on to overtime.
Syracuse's
Brandon Triche
scored the first two points of OT on a driving layup, and then Starks fouled out with 3:36 remaining -- a big blow to Georgetown. With 18 seconds left and the Orange in front 57-55, Triche was fouled. He made the first, but missed the second, giving the Hoyas another chance to tie. But after a timeout, Porter was smothered defensively and turned the ball over. With four seconds left, Fair went to the foul line, but missed both free throws. Georgetown rebounded, but Trawick's half-court heave at the buzzer was off the mark.
Star watch:
Triche, Southerland and Keita each scored 13 points for Syracuse. Triche scored 11 of his 13 after halftime. Southerland drained four 3-pointers, giving him 16 for the tournament -- that ties the tourney record. Keita, who averages just 3.3 points per game and was shooting just 48.6 percent from the foul line, made all seven of his attempts from the charity stripe.
Hopkins had 15 points to lead Georgetown. Starks scored 13 and Porter added 12.
Number crunch:
In a box score that reveals a very even game, two things stand out. Syracuse was a little better from beyond the arc, shooting 7-for-18 (38.9 percent); Georgetown was 4-for-18 (22.2 percent). Even more important, Syracuse was 13-for-19 from the foul line (68.4 percent). Georgetown, on the other hand, was just 11-for-20 (55 percent).
What's next:
Syracuse, the No. 5 seed, will play No. 2 seed Louisville on Saturday at 8:30 p.m. ET. Georgetown heads home, licks its wounds and begins preparing for the Big Dance.
March, 14, 2013
3/14/13
2:32
PM ET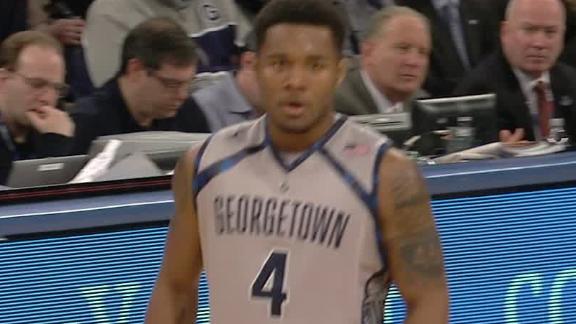 NEW YORK --
What it means:
Georgetown moves on to the Big East semifinals, and remains in play for a No. 1 seed in the NCAA tournament. Cincinnati is currently projected to receive an at-large berth, but it's no lock.


The Bearcats rallied after falling behind big in the first half (see below), but the Hoyas ultimately cruised to victory in the first of four quarterfinals at Madison Square Garden on Thursday,
winning 62-43
.
Georgetown (25-5, 14-4), ranked No. 5 in the country, has now won 13 of its past 14 games. Cincinnati (22-11, 9-9) is listed as a No. 11 seed in the latest edition of ESPN.com's Bracketology, but will have to sweat it out until Selection Sunday.
The turning point:
Georgetown jumped out to a 16-point lead, 24-8, with 5:37 remaining in the first half, after back-to-back 3-pointers by Big East Player of the Year
Otto Porter Jr.
and freshman
D'Vauntes Smith-Rivera
. Cincinnati went more than seven minutes without scoring a single point. But then the Bearcats got hot from deep, making four treys in the closing minutes -- three by
Cashmere Wright
-- to draw within five, 29-24, at intermission.
Cincinnati opened the second half on a 9-2 run, taking a two-point lead, 33-31, on another Wright jumper with 16:22 to play. But then Georgetown scored seven points in a row to re-take control of the game -- five by Smith-Rivera. The Bearcats never got closer than five points again. A putback, again by Smith-Rivera, pushed the lead to 12, 51-39, with 5:14 left. The Hoyas put them away from there.
Star watch:
It was a true team effort by Georgetown. The Hoyas had three players in double figures -- Porter (18 points, 11-for-11 from foul line),
Markel Starks
(14) and Smith-Rivera (13).
Jabril Trawick
chipped in nine points.
Wright led Cincinnati with 14 points, and
JaQuon Parker
added 12.
Sean Kilpatrick
-- the fourth-leading scorer in the Big East this season (17.3 ppg) -- scored just four points, shooting 2-for-12 from the field and 0-for-8 from beyond the arc. It was a day to forget for the Yonkers, N.Y., native, playing very close to home.
Number crunch:
The shooting percentages of the two teams were strikingly similar, until the final few minutes, when Cincinnati was hoisting up quick shots and Georgetown was cleaning up at the foul line. The difference? Georgetown had 10 more attempts from the field, thanks to an 11-7 advantage on the offensive glass, and 15 turnovers by the Bearcats. The Hoyas gave the ball away just nine times.
What's next:
Georgetown, the No. 1 seed, will play the winner of No. 4 Pittsburgh versus No. 5 Syracuse, on Friday at 7 p.m. ET.
Cincinnati returns home to await its postseason fate.
March, 9, 2013
3/09/13
2:01
PM ET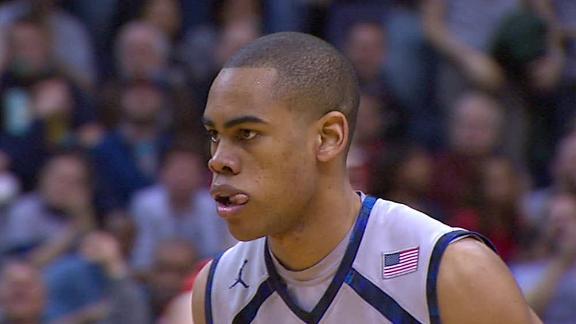 WASHINGTON, D.C. -- A quick look at Georgetown's
61-39
win over Syracuse on Saturday.


Overview:
The rivalry is officially closed. Syracuse will head into the record books with the overall series lead. But Georgetown took the last two, and trust me, the Hoyas won't forget.
The first was the
Otto Porter
show. The second: simply a show. Georgetown all but mopped the floor with its archrival, leading by as many points as it wanted and proving it is more than just Otto Porter Jr. The national player of the year candidate was good, but he had help. The Hoyas' backcourt helped carve up Syracuse's zone, with
Markel Starks
and
D'Vauntes Smith-Rivera
combining for 34 points.
The win secures at least a share of the Big East regular-season crown for Georgetown and assures the Hoyas of the top seed in next week's conference tournament.
As good as Georgetown looked, Syracuse looked that bad, and that has been a problem for the Orange of late. Yes, they got off the losing wagon by beating DePaul, but really that doesn't count. Truth is, Syracuse has looked terrible for the past two weeks, as has its senior leader,
Brandon Triche
. Triche was 1-for-9 in this game, and he is 7-for-29 over the past three games. He has to get out of his own head for the Orange to win.
Turning point:
The Hoyas controlled this from the tip, but they really took over at the start of the second half. Already up seven, Georgetown scored nine unanswered points, finishing the run with a
Nate Lubick
bucket in transition off a sweet pass from Starks. Syracuse coach Jim Boeheim called a timeout. It didn't help. The game was all but over.
Key player:
Split the difference between Starks and Smith-Rivera, who started the game with all of Georgetown's 16 points and finished with 19 and 15, respectively.
Key stat:
Pick one from the Syracuse box score -- 1-of-11 from 3-point range, 14 turnovers. It just wasn't pretty for the Orange.
Miscellaneous:
The last Big East regular-season game between these two rivals brought out the cleverness in the fans and the Hoya glitterati. Patrick Ewing, Michael Graham and Alonzo Mourning were among the players on hand for the game. Like most folks, Ewing said he was "disappointed" to see the Big East and this rivalry end. "I'm sad to see it go," he said. … A big banner during player introductions read, "Our hatred will never end." One student lofted a "Porter for Pope" suggestion, and another suggested the Hoyas' Otto (Porter) was > than Syracuse's (the Orange). Then there was the definitive: "Officially closed: Manley, Dome." … The Verizon Center was packed with 20,972, the largest college basketball crowd in D.C. metro history. To which Syracuse (35,012 for its game against Georgetown) says, "eh."
Next game:
It's on to the Big East tournament for both teams.
February, 21, 2013
2/21/13
10:45
AM ET
By
Jeremy Lundblad, ESPN Stats & Information
| ESPN.com
Rob Carr/Getty ImagesOtto Porter has emerged as a dark-horse contender for the Wooden Award.
As March approaches, the field of Wooden Award contenders continues to narrow.
Trey Burke
is the point guard.
Doug McDermott
is the scorer.
Mason Plumlee
is the big man.
But
Victor Oladipo
's emergence has put the focus on a new type of Wooden Award candidate: the do-everything player.
Oladipo has emerged as Indiana's most efficient scoring threat and best defender. On a team with another All-American candidate (
Cody Zeller
) and two other 1,000-point scorers (
Christian Watford
and
Jordan Hulls
), Oladipo has turned a complementary role into an elite one.
But what if you are the do-everything player on a team without much else?
That's what makes
Otto Porter
a dark-horse Wooden contender.
Six weeks ago, Georgetown appeared to be on the verge of implosion. It suffered back-to-back losses without reaching 50 points. Then, the Hoyas suspended arguably their second-best player in
Greg Whittington
(academics).
Since then, Georgetown is 10-1 with Porter carrying the team on his back. He's averaging 17.6 points and 8.2 rebounds per game over that stretch in a starting lineup where
Markel Starks
is the only other player averaging more than eight points per game.
Porter is one of college basketball's most prolific stat-sheet stuffers. He ranks in the top 30 in the Big East in scoring, rebounds, assists, steals, blocks and 3-pointers.
Statistically, his season bears a striking resemblance to Syracuse's Wes Johnson in 2009-10, a fitting comparison with the Hoyas travelling to the Carrier Dome on Saturday. Both averaged at least 15 PPG, 7 RPG, 2 APG, 1 SPG and 1 BPG while hitting half of their shots.
Over the past 25 years, the only other high-level players to do that were Tom Gugliotta for NC State in 1991 and Danny Granger for New Mexico in 2005.
Porter has put up these numbers while playing for one of the slowest-paced teams in the nation. The Hoyas rank 308th in the nation in possessions per 40 minutes. Johnson's Syracuse squad averaged eight more possessions per 40 minutes than Georgetown does this season.
Johnson finished third in the 2010 Wooden vote behind Evan Turner and John Wall. So why isn't Porter deeper into this season's discussion?
Ironically for a stat-sheet stuffer, numbers might not do him justice because defense is such a big part of his impact. Porter ranks 20th in the nation in defensive rating. Among Wooden candidates, only
Jeff Withey
(14th) is ahead of him.
As Georgetown keeps winning Porter will gain more notice, and that's what it will take for him to enter the Wooden conversation.
Only four Wooden Award winners have averaged fewer than 18 PPG (Anthony Davis, T.J. Ford, Elton Brand and Ralph Sampson). All were on top-five teams. For Oladipo, Plumlee and even Porter, it all comes down to how their respective teams finish out the season.
December, 4, 2012
12/04/12
10:50
PM ET
NEW YORK -- Players leave. They get hurt.
Stuff, if you will, happens.
This isn't exactly breaking news in sports, especially in college basketball where, in the age of one-and-done, a player's tenure has the shelf life of milk left out on a July day in Vegas.
And so J'Covan Brown left Texas a year early for the NBA and
Myck Kabongo
, the subject of an NCAA investigation, isn't playing for the Longhorns right now and
Jaylen Bond
is rehabbing a tricky foot injury and has no set return date.
Fair enough reasons behind the Longhorns' 5-3 record, their loss to Chaminade, and their
64-41 obliteration
Tuesday at the hands of Georgetown in the Jimmy V Classic, a game that wasn't close from the tip.
So explain Georgetown, then.
The Hoyas lost their three leading scorers -- Jason Clark, Hollis Thompson and Henry Sims. OK, they have
Otto Porter
, but the other guys who are starring --
Greg Whittington
,
Markel Starks
,
Nate Lubick
-- were role players a season ago.
Yet the Hoyas are 6-1 and ranked 15th in the country. On the heels of a 24-9 season and a third-round exodus from the NCAA tournament, Georgetown, even without its top three players, looks better.
And the Longhorns look, well ... awful isn't too strong, is it?
"It's a fragile business, very fragile,'' Georgetown coach John Thompson III said. "A couple guys leave that you don't expect -- like they have guys hurt, dealing with the NCAA -- it makes a big difference. The way you plan for things to do, from last year to the next, it changes and it's hard.''
[+] Enlarge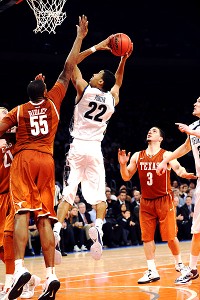 Cal Sport Media via AP ImagesSophomore forward Otto Porter (22) scored 14 points and grabbed 8 rebounds for the No. 15 Hoyas.
Except it never seems to be that hard for the Hoyas. Georgetown guys graduate or move on and yet here the Hoyas are, back in the mix just like every year. The lazy answer is to chalk it up to the Princeton system, a term Thompson despises, as if it is some smoke-and-mirrors game of deception that confuses everyone else.
The more simple solution is that the Hoyas recruit not just for the immediate but also for the long term, building a program instead of just a team.
Guys leave, and have left the Hoyas early. But there are plenty who stay and develop.
This team is a perfect example. Porter didn't go the AAU route, didn't have anything resembling a profile until he started a year ago. Now he's a legit candidate for Big East Player of the Year.
"I think what makes this team exciting is we could get a lot better,'' Lubick said. "There are a lot of things we can sharpen up on both ends of the floor. We're a young team. We're not looking at the rankings. We're excited to get better.''
Yeah, so are the Longhorns -- and considering this performance, they can't get much worse.
Texas scored 41 points -- crossing the 40-point threshold only in the final minute of the game.
It was the Longhorns' fewest points in a game since 1987. Texas also coughed up 22 turnovers, which would be alarming except for the fact that it's the third time in eight games the Longhorns have given the ball away more than 20 times.
Certainly if and when Kabongo is cleared, it will help. He's a playmaker, both for himself and his teammates. Presumably he'll help eliminate the turnovers -- though committing more might be difficult -- and offer some much-needed direction to a team that appears to be lost in the forest.
Texas coach Rick Barnes said that, during the first television timeout, he asked his team how many turnovers it had. Someone offered two.
"They had seven,'' Barnes said. "How can you not know that? It's like you're not in the game mentally.''
So, yes, Kabongo can help, but to pin everything on the absence or return of one guy is an excuse that even Barnes is tiring of.
"That doesn't matter right now,'' he said. "These guys that we have right now are better, better than they are playing.''
Stuff happens.
Good teams that become great programs handle it.
Ask Georgetown.
November, 30, 2012
11/30/12
9:55
PM ET


Overview
: No. 20 Georgetown's
37-36 victory
over visiting Tennessee was one of the sloppiest games of the season to date. At one point in the first half, Tennessee was shooting below 19 percent from the field against Georgetown's frustrating 2-3 zone. But the Vols climbed back into the low-scoring matchup because their opponent failed to register a field goal in the last 10 minutes of the first half.
Trae Golden
's floater beat the buzzer to give Tennessee a -- wait for it -- 18-16 lead at halftime. It was the worst half for the Vols in nearly a decade. The offensive production was mediocre in the second half, too. But Georgetown started with a 13-5 run. Tennessee answered with a 13-6 run. There were six lead changes in the final 8 minutes, 19 seconds of the game. But neither team scored in the final 4:08 of regulation as the Hoyas preserved the one-point lead. According to ESPN Stats & Information, it was the first time that Georgetown had won by scoring 37 points or fewer since beating Catholic during the 1945-46 season. Wow.
Turning point
: Tennessee made two crucial surges. It responded to Georgetown's early eight-point lead in the first half, then it fired back when it rallied early in the second. But the game was ultimately decided in the final seconds. With his team up 37-36,
Greg Whittington
fumbled a pass, resulting in a turnover that gave the Vols possession with 22 seconds left. But the home team pressured the 3-point line all night, which was evident when
Skylar McBee
and
Jordan McRae
missed contested 3-pointers in the final seconds.
[+] Enlarge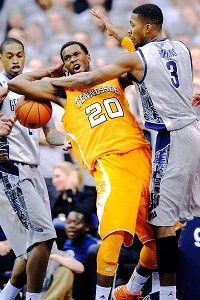 AP Photo/Nick WassGeorgetown's Mikeal Hopkins (3) and Greg Whittington, who combined for 16 points, surround Tennessee's Kenny Hall.
Why Georgetown won
: Well,
Markel Starks
scored the winning basket with 4:08 to play. But the Hoyas really won because of their defensive pressure. No player on either team scored in double figures. It was one of those gritty November matchups. Defense really was the difference because shots weren't falling. John Thompson III's squad forced 12 turnovers and held Tennessee to a 3-for-16 clip from the 3-point line.
Why Tennessee lost
: The Vols spent the night digging out of ditches. They were down in the first half but bounced back. They were down in the second but bounced back. Those early holes, however, affected them down the stretch. They missed so many easy shots, shots that have fallen in other games this season. And they expended a lot of energy trying to make up for it. Credit Georgetown's defense for its role in creating that offensive chaos. But Tennessee did have a chance in the waning seconds. Not sure why the best plays were a couple of 3-pointers -- shots that hadn't gone in most of the evening -- when the Vols were down by a point. Paging
Jeronne Maymon
(12.7 points, 8.1 rebounds per game in 2011-12). He's still recovering from knee surgery. Tennessee could have used him Friday night.
Star(s) of the game
: Hard to identify a star in a game that featured so many droughts, right?
Otto Porter
had eight points, seven rebounds and three steals. Whittington had the same stat line. They were both 4-for-11. JTIII is obviously cloning 6-foot-8 forwards.
What it means for Georgetown
: It means the Hoyas need to become a better offensive team to beat top-tier squads in the Big East. They certainly have the defense to do it. And it seems Porter and Whittington are stars. But the offensive gaps will crush them against tougher teams.
What it means for Tennessee
: The Vols need Maymon. Yes, they have to take smarter shots, but they also need Maymon. I think he changes the program's prospects. And they're just not tough enough defensively to afford the offensive lapses that plagued them against the Hoyas.
What's next
: Tennessee will face Virginia on the road Wednesday. Georgetown will take on Texas on Tuesday at Madison Square Garden in the Jimmy V Classic.
November, 21, 2012
11/21/12
2:44
AM ET
NEW YORK --
Victor Oladipo
held up the Legends Classic banner for the crush of Indiana fans to view.
Oladipo made his way around the arena, even standing up on the media table at one point.
The No. 1-ranked Hoosiers had just knocked off unranked but soon-to-be top-25 Georgetown
82-72 in overtime
Tuesday night at the Barclays Center.
This was just a two-game tournament that didn't even produce a supposedly marquee matchup of Indiana versus UCLA (the Bruins aren't close to being as good as Georgetown is now, or possibly in the future). But it didn't matter to Indiana what the tournament was called, whom the Hoosiers had to go through to win it or when the games were played.
This title meant something to IU.
"It's huge, man," Oladipo said. "This was our first big test, our first tournament as the No. 1 team in the country. Georgetown is a really good team with a lot of really good players. It means a lot for us to win this tournament with two wins on the road."
Georgetown represented, but the majority of fans were clad in crimson and white. This Hoosiers team has a following akin to the Indiana teams of old. There is a sense among fans that they are witnessing something special. And the perception isn't farfetched.
Cody Zeller
is a star and the preseason national player of the year. But he was mortal these two days in Brooklyn. He was in foul trouble Monday against Georgia, and while he had his moments against the Hoyas, he struggled to gain position at times and wasn't a dominant presence.
"That's what makes us so dangerous," Zeller said. "Even last year, I don't have to do it all whether they take me away as a shooter or a driver. I don't have to worry about getting my stats. We can get the win no matter whether I score."
[+] Enlarge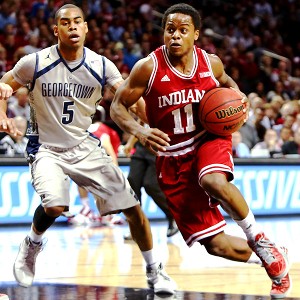 Debby Wong/US PresswireFreshman guard Yogi Ferrell finished with more free-throw attempts (11) than Georgetown (10).
Zeller still had 17 points and eight boards, equaling the scoring output of guard
Jordan Hulls
. The offensive balance and the ability to find openings in Georgetown's lanky, rangy zone was effective.
Christian Watford
made big shots and got boards (he had 10 points and 10 rebounds),
Yogi Ferrell
got to the free-throw line (9-of-11), reserve
Remy Abell
was a perfect option off a double team (a pair of 3-pointers) and
Will Sheehey
found his way to the basket, one time with authority on a slam.
"We have a team full of guys," Hulls said. "[Zeller] obviously gets more attention, but we have guys who can come in and contribute."
Indiana coach Tom Crean loved every second of this game. He told me at halftime that this was an epic college basketball game for November. He said afterward that if he couldn't coach it, he would have loved to have played in it. The atmosphere wasn't Assembly Hall, but it was more than adequate for a neutral-site, nonconference tournament setting.
Georgetown had its chance to knock off the Hoosiers but hit several scoring droughts, ignoring stud
Otto Porter
a few times. After
Markel Starks
fouled out it became harder for the Hoyas to pull off the upset.
"They've got a nice combination of experience and good younger guys," Georgetown coach John Thompson III said. "Yogi adds a whole new element with his speed. Zeller was the preseason player of the year. They have guys who have been through the ropes. They're poised, very, very poised."
That's a whole new experience for Indiana. The Hoosiers have never been the team to beat on the schedule under Crean. They are now.
"Now we're on the other side of it," Zeller said. "We'll get everyone's best shot, and we kind of expected that when we signed up to play at Indiana. You're going to get the best shot when you're first in the country."
The Hoosiers are hardly done being pushed, with North Carolina in Bloomington next Tuesday for the ACC/Big Ten Challenge (yes, even after the Tar Heels lost to Butler in Maui). They will play Butler in Indianapolis on Dec. 15, and of course there's the Big Ten schedule.
"These were two great games for us and it teaches us that we're capable of winning the tough games," Oladipo said. "These were the first two games that tested us and we came out with the victory. This is big for us. We'll have a lot more tough games down the road. We're the No. 1 team in the country and we did a good job to beat Georgetown and get the win."
November, 20, 2012
11/20/12
12:40
AM ET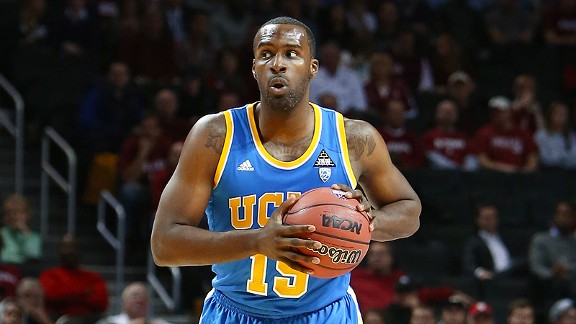 Debby Wong/US PresswireShabazz Muhammad was clearly rusty in his NCAA debut as UCLA fell to Georgetown.
BROOKLYN, N.Y. -- UCLA had worked on
Shabazz Muhammad
's eligibility for 22 weeks, and the verdict was based on information that ultimately never changed, according to UCLA athletic director Dan Guerrero.
Guerrero said Monday night that he has been in college athletics for 30 years, and this was the first time that he had to deal with something so frustrating. Muhammad was dinged with a three-game suspension and a $1,600 restitution penalty for expenses from unofficial visits to the Triangle in North Carolina while in high school. UCLA and the NCAA knew that information in the spring after gathering documents and conducting interviews, Guerrero said, but didn't reach the same conclusion until the NCAA's decision was made Friday.
The wait for Muhammad was worth it for UCLA, considering he is the most heralded Bruin recruit since Kevin Love signed and led UCLA to the 2008 Final Four.
Muhammad's numbers were more than admirable for a player of his stature, especially considering he had missed nine weeks of the preseason with a left ankle injury, didn't accompany the team to China on a foreign-bonding trip, and then sat out a few weeks with a shoulder injury.
Muhammad scored 15 points in 25 minutes but wasn't a factor inside, grabbing just one rebound.
Oh, and the
Bruins lost 78-70 to Georgetown
in the semifinals of the Legends Classic, preventing a coveted Muhammad-
Cody Zeller
(even though they wouldn't have guarded each other) headline event in the championship game Tuesday night at the Barclays Center.
Instead, the Hoyas -- led by their own undervalued national player of the year candidate,
Otto Porter
(18 points), and outspoken but effective guard
Markel Starks
(23 points) -- get a crack at No. 1 Indiana (10 p.m. ET, ESPN).
Let's just say that Muhammad wasn't impressed with his performance, felt out of sync a bit. Porter and Starks were hardly fawning over him, either.
"He's been getting a lot of media attention, and he performed well under the lights," Starks said. "He's in college basketball now, and he has to show and improve every night. But obviously the spotlight is going to be on him. He's going to have to live up to expectations."
"He's a good player," said Porter, who had been bothered by concussion symptoms last week and played in his first full game Monday. "Don't get me wrong, we just came out and outworked UCLA."
"I think I can be a lot better," Muhammad said. "At the end I felt more comfortable. It was my first college basketball game, and I look forward to being better."
Muhammad said missing the team's trip to China did leave him on the outside while the team gelled. He is trying to get back in game shape, too. And he desperately wanted to play against Indiana.
"It really doesn't feel good inside. I wanted a shot at them," Muhammad said. "But we know we really aren't ready yet."
Georgetown is, though, and the Hoyas will get an opportunity to knock the Hoosiers off their perch.
Muhammad will/should be fine. He will get plenty of touches against Georgia in the consolation game Tuesday night. He'll ultimately give the Bruins quite a trio with
Jordan Adams
and
Kyle Anderson
, who struggled with zero points against the Hoyas.
UCLA started anew with the addition of Muhammad. Of course, something went sideways when
David Wear
injured his back on a nasty fall, leaving him questionable going forward.
But who would have thought that the Hoyas, not the Bruins, would look like the team ready to challenge Indiana in late November?
"We'll find out tomorrow if we're ready," Starks said. "We've been in the gym and we compete every day. We'll find out who shows up [Tuesday]."