College Basketball Nation:

Marshall
February, 23, 2012
2/23/12
7:15
AM ET
By
ESPN Stats & Info
| ESPN.com
A scan of the college basketball box scores each night guarantees all kinds of statistical oddities and standout performances. Here are some we found from Wednesday.

Sam Houston State 50, Northwestern State 37
In what might have been the worst offensive game of the season:
Northwestern State set an NCAA record for most 3-point attempts without a make by missing all 26 of its 3-point attempts.
The teams combined to shoot 27-for-64 (42.2 percent) from the free throw line. The 37 combined misses are four more than in any other game this season.
The two teams combined for seven assists, the second-lowest total of the year.
Thanks to all the misses, the Bearkats' Antuan Bootle had 20 rebounds off the bench, only the second player this season with that many rebounds as a non-starter.
Ten players scored for Northwestern State despite the fact that the Demons scored only 37 points.
High Point 98, Campbell 60
High Point's
Nick Barbour
scored 44 points in 32 minutes, tied for the third-highest scoring output this season. No player had scored that many points in 32 minutes or fewer against a Division I opponent since Feb. 13, 2010, when UTEP's Randy Culpepper scored 45 in 32 minutes against East Carolina.
Northeastern 85, George Mason 82 (OT)
Northeastern's
Jonathan Lee
scored 27 points on four field goals (one 3) and 18 free throws. He's the first player to score that many points on four or fewer made baskets since Evansville's
Colt Ryan
scored 28 points on four field goals and 19 free throws on Dec. 23, 2010.
Marshall 66, Houston 58
The Thundering Herd made just 4 of 18 free throws (22.2 percent), the lowest free throw percentage in more than three years for a team with more than 10 attempts. Incidentally, Marshall shot 4-for-18 on 3-pointers as well.

Lafayette 84, Colgate 67
The Leopards made 18 3s in the win, tied for the third-most made 3s by a team this season. They made only 10 2s, becoming the seventh team this year to make at least eight more 3-pointers than 2-pointers.
February, 19, 2012
2/19/12
8:27
AM ET
By
ESPN.com staff
| ESPN.com
A scan of the college basketball box scores each night guarantees all kinds of statistical oddities and standout performances. Here are some we found from Saturday:
Note of the Day
Sixteen players had 10 or more assists Saturday, six more players than on any other day this season.

Oklahoma State 90, Texas 78
Oklahoma State's
Keiton Page
made all 20 of his free-throw attempts as part of a career-high 40 points. The 20 free throws without a miss match the most by any player since the start of the 1996-97 season. As a team, Oklahoma State made 43 free throws, matching the most by any team this season (Colorado State on Nov. 22).
Northwestern State 100, Campbell 86
Like Page, Northwestern State's
William Mosley
attempted 20 free throws on Saturday; unlike Page, Mosley made just five of his 20. No player since the start of the 1996-97 season had missed 15 free throws in a game before Mosley did it in Saturday's win. There were 93 free throws attempted in this game by both teams combined, most in a game this season.
Montana 94, Hawaii 79
Montana sophomore
Kareem Jamar
had 21 points, 11 rebounds and 11 assists in the win, the first triple-double of his career. The 21 points match the third-highest total of his career, the 11 rebounds are the second most he's had in a game, and the 11 assists are four more than his previous career high.
Washington State 72, Arizona State 50
Arizona State finished with 50 points despite scoring only eight points in the first half. They are the second team this season to score fewer than 10 points in the first half and still score at least 50 for the game. Eastern Michigan scored nine in the first half of a 71-50 loss to Virginia Tech on Dec. 22.
Virginia 71, Maryland 44
UVA won by 27 points despite being tied at halftime, matching the largest margin of victory by a team trailing or tied at halftime against a Division I opponent this season. Hawaii trailed South Carolina State by one at the half in a 27-point win on Dec. 29.

Marshall 73, SMU 68
SMU scored 54 points in the second half after scoring 14 in the first half. In their previous game, the Mustangs scored just 28 points.
South Alabama 66, Western Kentucky 61
South Alabama's
Javier Carter
had 10 points, 10 rebounds and eight blocks off the bench in the Jaguars' win. The eight blocks are the most by a bench player this season.
March, 3, 2010
3/03/10
8:47
AM ET
The Morning After is our semi-daily recap of the night's best action. Try not to make it awkward.
No. 7 Ohio State 73, Illinois 57
: There were zero upsets to speak of last night, and Illinois' bid for a tournament-securing win at Ohio State was no different. Instead, the night was a feel-good Buckeye festival. Thad Matta's team secured a share of the Big Ten title.
Evan Turner
got a national spotlight, not that he needed it (more on this below). And
Mark Titus
, the by-now-famous
purveyor of Club Trillion
, made the most of his senior night,
notching one final trillion
in front of hundreds of Club Trillion t-shirt-clad OSU fans --
not to mention raising a whole bunch of cash for sick children
. Really, things couldn't have gone much better.
The most notable performance of the night -- other than Titus', obviously -- probably came from Ohio State sharpshooter
Jon Diebler
, whose seven 3-pointers for 21 points (this scoreline math is refreshingly simple) helped bury the Illini in the second half. After the game, though, the only national topic was Turner. More specifically, the topic was "Is Evan Turner the player of the year?" Every analyst ESPN had to offer on Sportscenter proclaimed it to be true. The only dissenters? America. In a SportsNation poll, 37 percent of the country voted for
John Wall
as the player of the year; Turner notched 33 percent of the vote. Which means one thing, America: You're on notice. I know Wall might be the most familiar name, but it's March now. There's no excuse for this. Inform thyself. Wall is a great player, but Turner has had a better season, and he deserves the award. I thought we Turner advocates had settled this issue already -- seriously, you have no idea how good it felt to see the unanimous pundit praise for Turner Tuesday night -- but apparently not. We have more work to do. Turner bandwagon team ...
assemble!
No. 19 Vanderbilt 64, Florida 60
: Again, no upsets here: Florida, like Illinois, could have sealed an at-large NCAA tournament spot with a win over the sturdy Commodores on Tuesday night. It didn't happen. Still, the Gators acquitted themselves nicely in the loss; Florida held a typically efficient Vanderbilt offense to a mere 64 points on 60 possessions. Billy Donovan's team was undone by its poor shooting, though, hitting 21-of-50 2-point shots and just 2-of-13 from 3 for a paltry 31.8 effective field goal percentage. Even in a solid defensive effort, that's not going to get the job done.
The Associated Press wrap of the game seems to think that Florida significantly hurt its tournament chances with the loss, but that seems slightly overstated. Sure, Florida didn't help itself, but losing by four to Vanderbilt at home isn't the worst result in the world, is it? Florida might have more work to do -- but no more work than before Tuesday, right?
Everywhere else
: Cincinnati likewise needed a big win to keep itself in the at-large conversation. They almost got it,
but insert the old koan about horseshoes and hand grenades here
...
UTEP clinched the outright Conference USA title with a hard-fought win at Marshall
... Missouri's
Zaire Taylor
almost perfectly recreated
Tyus Edney's famous game-winner in a
thrilling overtime win at Iowa State
...
North Carolina became the second team in the history of college basketball to get to 2,000 wins
; one wonders if the current players felt strange holding that 2,000-win plaque, given this season's ugliness ...
Syracuse had no problems with St. John's on senior night
...
Baylor won at Texas Tech
, handing Pat Knight's team its sixth straight loss ...
Minnesota suffered a major letdown at Michigan
, one which officially puts the final nail in the the already almost-entirely-assembled Gophers' coffin ...
Trevor Booker
did manly things in
Clemson's win over Georgia Tech
... and
Marquette shredded Louisville's zone in a 21-point win in Milwaukee
.
March, 2, 2010
3/02/10
4:30
PM ET
Saddle Up is our daily preview of the hoops your TV wants you to watch. Here's Tuesday night's rundown.
Illinois at No. 7 Ohio State, 9 p.m. ET, ESPN
: Of any team facing bubble implications to play tonight, Illinois' situation is perhaps the most fluid.
A win at Ohio State puts the Illini in the absolutely-in pile
; a loss leaves them right about where they are now, if not worse off. Losing would make the Illini would 18-12 overall, the sort of record the committee will not be perfectly thrilled with, and Illinois would still have to fend off loss No. 13 when Wisconsin comes to Champaign, Ill. on Sunday.
The good news is Illinois has proven capable of beating top Big Ten teams on the road before. The bad news is that Illinois' style plays right into the Buckeyes' hands: Few teams prevent free throws quite like the Buckeyes, and few teams refuse to pocket their jump shots and attack the rim quite like the Illini. If Illinois can reverse this trend for a night -- if they can get Demetri McCamey to attack the basket and get forwards Mike Tisdale and Mike Davis some good looks against Ohio State's somewhat undersized, shallow front line -- Bruce Weber's charges have a chance. If not, well,
Ohio State is better and more efficient than Illinois
in just about every aspect of the game. Things don't bode well.
No. 19 Vanderbilt at Florida, 7 p.m. ET, ESPN
: Speaking of bubble teams in need of help ... Florida, come on down.
Joe Lunardi has Florida as a No. 10 seed in the tournament right now
, but thanks to a close loss at Georgia (which is actually not that horrible loss, given how well Georgia has played at home this season), Florida could use a big win tonight before a daunting trip to Rupp Arena on Sunday.
Make no mistake: That's what a win over Vanderbilt would be. Big. The Commodores have been a steady force in the SEC all season. Their only league losses have been to Kentucky and a blowout at Georgia -- there's that pesky Georgia team again -- and while not a great defensive team, Kevin Stallings' bunch is very difficult to stop on the offensive end. Vanderbilt's attack is nicely balanced between forwards A.J. Ogilvy and Jeffrey Taylor, and guard Jermaine Beal, all who shoot a plus-50 effective field goal percentage. Florida's lack of a true post presence could hurt them against the 6-foot-11 Ogilvy. Then again, Florida's strength isn't its size; it's speed. Make Ogilvy work away from the hoop on defense -- the sudden offensive brilliance of forward Chandler Parsons applies here -- and the Gators can make Vanderbilt exceedingly uncomfortable. And then we can stop talking about the Florida's bubble issues forever. I'm cool with that.
Everywhere else
: Cincinnati doesn't share Illinois' and Florida's bubble anxiety -- it's entirely out of the picture, now -- but
a win over Villanova couldn't hurt matters
, I guess ...
Gonzaga would put the cap on another WCC title season by topping Cal-State Bakersfield tonight
... With a win at Marshall,
UTEP would seal the outright Conference-USA crown
...
Baylor will put its third-place standing in the Big 12 on the line at Texas Tech
...
Likewise for Missouri at Iowa State
...
Minnesota plays at Michigan
in yet another battle of the upper midwest's most disappointing teams ... and deadlocked
Big East teams Louisville and Marquette will play a game both teams want
, but don't necessarily need, in regards to NCAA tournament hopes. Marquette is involved, so it's a safe bet the game will come down to the wire. That should be fun.
January, 28, 2010
1/28/10
12:45
AM ET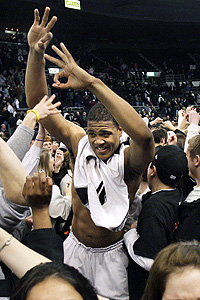 AP Photo/Elise AmendolaBilal Dixon and Providence had reason to celebrate after an 81-66 win against UConn.
Something I didn't think I would see:
Providence ahead of Connecticut
in the Big East standings. PC is 4-4, UConn is 3-4.
How about this quote from PC coach Keno Davis: "We can beat anybody in the country. We have enough talent, but we have to play extremely hard.'' I'm not sure I'm buying that proclamation, but it's good to know Davis has that much confidence in his crew.
UConn's win over Texas was as impressive a W as we've seen this season. But I knew if Connecticut was an elite team the Huskies had to win a game on the road that they're supposed to -- and they didn't. It's odd looking at the Big East standings and seeing UConn ranked No. 19 yet in 11th place in the league.
Not sure there was as impressive a road performance in the SEC (save Kentucky winning at Florida) as Vanderbilt's win at Tennessee. The Commodores got spirited production out of Jermaine Beal (25 points) and held the Vols to 6-of-20 on 3s. Vandy goes into Kentucky on Saturday with a chance to actually build a two-game lead on the Cats. Huh?
No one should fault BYU for losing at New Mexico, 76-72. The Pit is and will be one of the toughest places in the country to play, and I can tell you from years covering the Lobos that there is no opponent that gets the place as amped as the Cougars. BYU remains the MWC favorite even with the loss to the Lobos. But UNM desperately needed the win to stay in the race.
Memphis coach Josh Pastner picked up a quality road W by winning at Marshall to keep the Tigers in the C-USA league race.
Villanova's 18-1 record and 8-0 mark in the Big East after beating Notre Dame is as impressive as any in the country. But the Wildcats' schedule is back-loaded with road games at Syracuse, Georgetown and West Virginia that will be tough to tackle.
Duke won again at Cameron. I just don't see the Blue Devils losing at home. So that's eight ACC wins right there. The Devils have already won at Clemson. So that's nine. Pick up at least two road wins out of BC, Miami or Virginia (don't see UNC or Maryland) and the Blue Devils will likely win the league with 11 wins. That's unless Maryland decides to string together a bunch of road wins.
Florida is winning the games it should at home now with a 79-63 win over Georgia to move to 4-2 and move closer to an NCAA berth after two NIT years.
Drexel snuffed out Northeastern's win streak at 11 (which was the third-longest in the country) with an impressive 61-48 win on the road.
Hard to generate buzz for William & Mary now after the Tribe lost to James Madison by a deuce to fall to 6-4 in the CAA.
Hard not to cheer for Oklahoma State to beat Texas A&M on Wednesday, the ninth anniversary of the tragic plane crash that killed 10 people associated with the program. OSU beat the Aggies to move ahead of them in the standings at 4-2 (A&M is 3-3).
What has happened to LSU's offense? The Tigers led Alabama at the break, but scored just 13 points in the second half. Tasmin Mitchell and Bo Spencer were a combined 4-of-18 in the 57-38 loss at Alabama. The defending SEC champs are now 0-6 in league play.
Believe it or not, Hofstra's Charles Jenkins had an eight-point play in the Pride's 93-54 win over UNC Wilmington. He scored on a layup and was fouled. But it was ruled an intentional foul and then Wilmington's Benny Moss got a technical for arguing. Jenkins hit all four free throws (two for the intentional and two for the technical) and then Hofstra got the ball because of the intentional foul and Jenkins scored off the inbound pass with a floater. In five seconds, the score went from 26-9 to 34-9. Wow.