College Basketball Nation:

Marshawn Powell
February, 15, 2013
2/15/13
9:30
AM ET
One man's attempt to decipher the ongoing chaos that defines the SEC in 2012-13:
1. Florida.
The Gators were questioned following a surprising road loss to Arkansas last week. But they revealed their prowess in recent lopsided wins against Mississippi State and Kentucky. Florida's greatest quandary is its competition. When it looks good (second in both adjusted offensive and defensive efficiency per Ken Pomeroy), many suggest that it's not facing premier opposition. When it loses? Panic and "I told you so." But the Gators are still one of America's best teams. There shouldn't be any debate about that.

2. Missouri.
I don't know if the Missouri squad that stomped Ole Miss in Columbia on Saturday (98-79) is the real Missouri. The Tigers, however, proved what they're capable of when they smashed the Rebels last weekend. Three players topped 20 points. They shot 52 percent from the 3-point line. They followed that with a 42-point road win against Mississippi State on Wednesday night. But I'm still evaluating those road losses to Texas A&M and LSU. You should do the same. I have no doubt that Frank Haith possesses a roster that has the potential to contend with any team in the league. Even Florida. But only at home. If Haith's squad can get its act together once it leaves campus, then Missouri could finally become the team we thought it would be entering the 2012-13 season.
3. Alabama.
After Florida, the SEC becomes a confusing assortment of squads that are difficult to assess because of their collective inconsistency. So you have to reward a team -- for the purposes of these rankings -- when it hits its stride. Bama's offense is what it is (58.1 ppg, 12th in the league). It's been that way all year. The Crimson Tide scored 37 in a 12-point road loss to Auburn on Feb. 6. I'm still digesting that. But, Anthony Grant's program has won four of five to secure a third-place slot in the SEC. It won three of those games by four points or less. You can look at that multiple ways. Either Bama is just an average SEC team that is squeezed by other mediocre teams, or
Trevor Releford
(14.6 ppg) leads a gritty squad that is winning with an aggressive defense (55.5 ppg allowed) that has masked its offensive challenges.
4. Arkansas.
I think Florida is really good. So I'm still impressed by the Razorbacks' win against the Gators last week. Yes, they followed it up with a loss at Vanderbilt. But they've won three out of four. And Mike Anderson commands an offensive unit that is as potent as it is inconsistent.
BJ Young
and
Marshawn Powell
? That is serious talent. The Razorbacks have struggled on the road. So has the rest of the league, the rest of America. But they've demonstrated their ceiling in this four-game stretch. Arkansas could finish the season strong.
5. Texas A&M.
Oh, Texas A&M. Your ability to baffle is quite baffling. The Aggies beat Ole Miss on Wednesday night because
Elston Turner
scored 37 and went 7-for-10 from the 3-point line. The Aggies are not a good 3-point shooting team (32.3 percent, ninth in the league). Yet they shot 50 percent from beyond the arc in their past two wins (against Ole Miss, Missouri). With so many single-digit losses and wins (every game in February), Texas A&M's free throw shooting (71.8 percent, second in the SEC) and rebounding (39th nationally in offensive rebounding rate) position the Aggies to win those tight games. But there is danger every night for the Aggies. They seem to embrace it.
6. Ole Miss.
The
Marshall Henderson
(19.5 ppg) buzz has decreased in recent weeks. And the Rebels have revealed their flaws. They are an offensive gem (74.8 ppg, No. 1 in the SEC). Four of their past five opponents, however, have shot 46 percent or better from the field. That's why they have lost four of their past five. Andy Kennedy's offensive tools are fluid and potent. Yet his defense (71.8 ppg, 13th in the SEC) has been absent in recent weeks. Really, all year (2013). The good news for the Rebels is that they will not play Missouri or Florida in their last seven SEC games. The bad news is that their defense is so uncertain, they could still finish the season in the bottom of the standings.
7. Kentucky.
I hate what happened to
Nerlens Noel
. As Dana O'Neil pointed out this week, it's a devastating injury for him and his experience as a young man. Surgeons will repair the ACL. And Noel will probably enter the NBA draft and make millions in the coming months. But the program is obviously hurt by the loss. The Wildcats had not orchestrated a convincing argument for an at-large bid even when they had Noel. What now? John Calipari's youngsters must dig deep. The selection committee will likely consider Noel's injury. But I think the next seven games (and whatever happens in the SEC tournament) will dictate Kentucky's fate on Selection Sunday, since it has not really justified at-large status to date. It's unfortunate that the Wildcats won't have Noel down the stretch, because they were improving with him, especially on defense.
8. Georgia.
Billy Donovan will probably win it. But perhaps Mark Fox will ultimately be the SEC's coach of the year. The Bulldogs endured one stretch that included losing seven of eight in November and December. However, the Bulldogs have won five of six. Fox has one double-figure scorer (
Kentavious Caldwell-Pope
is averaging 17.7 ppg). The Bulldogs have the worst scoring offense in the league (57.2 ppg), but they have enhanced their defense, which is fourth in the conference (60.6 ppg allowed). And they are second only to Florida in 3-point shooting (37.3 percent). Overall, it's a major improvement for the program. The Bulldogs are still fighting after losing four of their first five SEC games.
9. Tennessee.
Cuonzo Martin's crew scored a win against rival Vanderbilt on Wednesday night in Nashville. Yes, the Commodores have struggled all season. But an Arkansas team that defeated Florida couldn't win there last weekend. The Vols are just 5-6 in league play.
Jarnell Stokes
, however, can lead Martin's squad up the SEC standings. He's a bully right now. And I'm not surprised. Stokes has finally accepted his leadership role with the team. The Vols will go as far as he takes them. That's a lot of pressure for a sophomore, but it's the reality. After that 58-46 win against Vandy, (Stokes finished with 17 points, 10 rebounds, five blocks and a steal), Martin said, "Jarnell has really stepped us as our guy. Now our offense flows through Jarnell." Stokes has recorded double-doubles in seven of eight games. In Stokes the Vols should trust.
10. LSU.
Johnny Jones' team has won four of five. Sophomore
Johnny O'Bryant III
has rivaled Stokes in recent games. He finished with 30 points, 10 rebounds and a block in a 64-46 win at South Carolina on Thursday, and he has double-doubles in seven of the past eight games. The Tigers defend the 3-point line better than any team in the league (opponents are shooting just 26 percent). This is a good example of the challenges I face each week with these rankings. On Jan. 30, the Tigers defeated Missouri. They are 10th right now, but they could be fourth in these power rankings. That is the scenario each week when you have so many teams with similar records, resumes and struggles.
11-12. Vanderbilt/Auburn.
Last weekend, the Commodores beat Arkansas by 18. It was just the second time Vandy scored 67 or more in regulation in SEC play. The Commodores, however, are in the top half of the league in scoring defense. Tony Barbee's program won its first two SEC games. But the Tigers have lost eight of their past nine.
13-14. South Carolina/Mississippi State.
These schools have won four games combined in the SEC. South Carolina and Mississippi State are 13th and 14th, respectively, in field goal percentage and field goal percentage defense in the SEC.
February, 5, 2013
2/05/13
10:15
PM ET
Yep. That just happened.
Florida, No. 2 in the polls, just lost at Arkansas. By a thousand points. OK, the real score was
80-69
. But it felt like there was a million-point gap between the teams for most of the game, right? The Razorbacks shot 53 percent from the field and took a 23-point lead in the first half, while the Gators managed an uncharacteristically low 29 percent clip before halftime.
Game over.
So what does this mean? I'm not sure. But I'll try to explain …

For Arkansas fans:
Look what happens when the Razorbacks play D. It's amazing, right? I mean, the same squad that just upset the Gators gave up 75 at South Carolina. Arkansas is ranked 93rd in adjusted defensive efficiency per Ken Pomeroy and 11th in the SEC in defending the 3-point line (conference schools were shooting 35.2 percent from beyond the arc against the Hogs prior to Tuesday's win).
But they'd averaged 77.0 points per game this season, No. 22 in America, prior to the upset.
BJ Young
and
Marshawn Powell
comprise one of the most talented offensive duos in America. And when Arkansas' offense flows, the Razorbacks can put up points by the boatload. See: Tuesday.
Yet, Arkansas has only played well at home (5-0 in the SEC in Fayetteville, 0-4 on the road) since the start of conference play. The Razorbacks have lost to Texas A&M, South Carolina, Alabama and Ole Miss on the road. Tuesday's victory will certainly boost this team's résumé (77 BPI entering the matchup), but securing additional quality wins in a league as weak as the SEC will be a difficult task. They'll go to Gainesville for the rematch Feb. 23 and they have two remaining matchups against No. 21 Missouri.
So it's conceivable -- especially if the real Arkansas stood up Tuesday evening -- that the Razorbacks could make a case for an at-large bid in the coming weeks.
And they could also lose to Vanderbilt in Nashville on Saturday. No guarantees with a team that's demonstrated such a different swagger on the road.
But the Hogs can build on Tuesday's win, that's for sure.

For Florida fans:
First, the numbers. The Gators had defeated their first eight SEC opponents by an average of more than 26 points a game. Steamrolling would be putting it nicely to those eight opponents.
Courtesy of the geniuses at ESPN Stats & Information: If the Gators had defeated Arkansas by 14 points or more Tuesday, they would have been just the third team in college basketball history to win nine consecutive conference games by that margin (UNLV in 1990-91, Arizona in 1988-89).
We talkin' 'bout history. Florida was not just the most dominant team in the SEC, the Gators were enjoying one of the most dominant regular-season stretches in recent college basketball history.
So it was shocking to see that team get crushed the way it did against Arkansas. The Razorbacks scored 43 points in the first half. Three teams failed to score 43 points in matchups against the Gators this season. Billy Donovan's program hadn't given up more than 67 points in one game this season. Arkansas scored 80.
I think it will be easy for doubters to point to Florida's schedule and league affiliation and question its impressive performances. The Gators have suffered their three losses (Arizona, Kansas State and Arkansas) outside Gainesville. They play in a weak conference. They've defeated two teams all season that are currently ranked in the Associated Press poll (No. 21 Missouri and No. 24 Marquette).
Overrated? Slow down.
I say Florida is still a very good team. The Gators are balanced, proven by the fact that they were the only team in the country that was ranked top five in both defensive and offensive efficiency prior to Tuesday's loss.
Look, they had a really bad night against a team that had a great one. Still, I don't think the game was a major statement for either team. A beating is a beating. The Gators took one. They were down by 27 points in the second half and committed 16 turnovers. What can Donovan really take from that?
The Gators will move on, regroup, potentially get healthy (
Will Yeguete
missed a chunk of the game with a knee injury) and push toward the SEC crown.
The bottom line is that Arkansas did things in this game that it had failed to do throughout the season. And Florida made mistakes that it had not made in previous SEC games.
Maybe it'll spur the Hogs on to an incredible run and be the first sign of a fraudulent Florida team. But I doubt it.
In the words of Public Enemy, "don't believe the hype" about the Gators or the Razorbacks after a lopsided matchup that could prove to be an anomaly for both squads.
February, 1, 2013
2/01/13
9:30
AM ET
Here we go again. This week's SEC power rankings:

1. Florida.
In the 1980s, Mike Tyson was a brutal force who tore through boxing's contenders with an ease that few, if any, pugilists had ever achieved. But Tyson had a problem. He didn't beat guys who would have been considered contenders in more vibrant eras in the heavyweight division. So it's tough to assess his legacy. Yes, he was dominant. But whom did he fight? That's Florida's challenge right now. The Gators are destroying the SEC. They're one of three teams in the past 25 years that have defeated their first seven conference foes by 15 points or more, according to Elias. But they're in a league that's clearly one of the worst conferences in America. Still, they held a high-major program (South Carolina) to 10 points in the first half of a 39-point victory this week. That's impressive regardless of whom they were playing.
2. Ole Miss.
So Destiny's Child just dropped a new track called "Nuclear." The song created a buzz because folks were convinced that Beyonce & Co. would get back together. But that hasn't happened. The bottom line is that the track is like every other "group" effort by the pop trio: a lot of Beyonce and a little bit of the other two women/members whom most folks can't name (Michelle Williams and Kelly Rowland).
Marshall Henderson
turned into Beyonce when Kentucky visited Ole Miss on Tuesday night. He made the night about Marshall Henderson instead of his team. He took bad shots. He played to the crowd. He got into a verbal spat with coach Andy Kennedy. And he threw a piece of ice toward fans. Great theater. But he didn't lead the Rebels to a win. There was just too much of him and not enough of everyone else in that crucial game.
3. Kentucky.
About a decade ago, Dr. Dre promised hip-hop fans that he would deliver one of the greatest rap albums of all time: "Detox." He has teased with a variety of leaked tracks. But he hasn't delivered the full project, only glimpses of what it might be. That's how I feel about this Kentucky team right now. I think the Tuesday victory at Ole Miss was a great showcase for a Wildcats squad that could emerge as Florida's greatest threat in the coming weeks. It was a dominant performance, especially for
Nerlens Noel
(12 blocks). But we shouldn't forget the loss to Alabama. Or Texas A&M (at home). Or Baylor (also at home). The Wildcats have potential, and they proved it again when they beat the Rebels. But I'm weeks away from believing that it was anything more than one impressive effort by a team I can't trust yet.
4. Alabama.
The Crimson Tide beat Kentucky last week, lost to Tennessee over the weekend and squeezed past Arkansas for a 59-56 victory that was decided in the final seconds Thursday night. Where would you rank them? I could leave Bama here. I could also move Anthony Grant's squad down two or three spots. I'm not sure that this is the fourth-best team in the SEC. But I don't have any evidence that it's
not
the fourth-best team in the league, either. And that's the problem with this conference. By now, Bama over Arkansas should mean something. It should have offered proof that one team was moving forward and the other was moving in the opposite direction. It didn't really do that. Neither team played well. Arkansas went 3-for-19 from beyond the arc. Bama committed 19 turnovers. I'm not sure one team is really better than the other. And that's the story of the SEC -- after Florida of course -- right now.
5. Missouri.
Here's the essence of the conversations I've had with Mizzou fans for the past two weeks via the Twittersphere. Me: "Missouri is not as good as its ranking suggests. The Tigers have bigger issues than
Laurence Bowers
' injury and absence." Mizzou fans: "You're wrong. We'll get Bowers back. We'll be fine." Me: "But their ballhandling is inconsistent, they're not defending the 3-point line and … " Mizzou fans: "Dude, Bowers will be back. And we'll be fine." Well, Bowers returned … and the Tigers lost at LSU 73-70 on Wednesday night. LSU is 12th in the league with a 39.3 percent overall mark from the field. But LSU -- which has lost to Auburn, Georgia and South Carolina -- shot 55 percent against Mizzou. This is the same Tigers squad that averaged 0.9 points per possession through the first six games of SEC play, 12th in the league according to John Gasaway. Confused yet?
6. Tennessee.
The Vols might the most intriguing team in the conference after Kentucky. They lost their first three SEC games but they've won three of their past four, a stretch that includes a win over Alabama.
Jarnell Stokes
finished with double-doubles in those three victories. When he plays to his full potential, the Vols are clearly a different team -- one that's capable of competing with most of the squads in this league.
7. LSU.
Yep, the Tigers beat a nearly complete Missouri squad (Keion Bell did not play) Wednesday night. But they've also lost to Auburn, South Carolina and Georgia. … And they've beaten a Missouri team that entered the conference slate as Florida's toughest competitor. So I guess they're seventh. Why? Because the SEC just doesn't make much sense, especially after LSU pulled off one of the biggest wins by a team in the bottom tier of the league.
8. Arkansas.
The Razorbacks are a solid offensive group that struggles in games that aren't track meets. They're averaging 66.4 points per game in SEC play, fifth in the league. Yet they're last in 3-point shooting (23.9 percent). And they're really limited to whatever
Marshawn Powell
and
BJ Young
can give them each night. The duo accounts for 41 percent of Arkansas' offensive production. So every night is a toss-up, especially for a program that's ranked 104th in adjusted defensive efficiency per Ken Pomeroy.
9. Georgia.
Mark Fox has only one scorer averaging double figures (
Kentavious Caldwell-Pope
at 17.5 points per game). But he's making up for those offensive gaps with the 3-ball. The Bulldogs, who've won three of their past four, have hit 36.2 percent of their 3-pointers, third in the SEC.
10. Texas A&M.
Between now and Feb. 13, the Aggies will play Kentucky (again), Missouri and Ole Miss. This is an important stretch for a program that has disappointed since a Jan. 12 victory at Kentucky. The Aggies are holding SEC opponents to 58.0 PPG (tied for second in the conference) but they're only scoring 58.4 PPG (12th).
Elston Turner
's recent turn of inconsistency hasn't helped.
11. Vanderbilt.
Four of the Commodores' past six games have been played on the road. So the young program's fortunes could change in the coming weeks, because four of its next five games are at home, a stretch that does not include matchups against Kentucky, Ole Miss, Florida or Missouri. The Commodores have lost two SEC games by two points or fewer. They lost to Ole Miss in overtime. Their 61.5 percent mark from the charity stripe (last in the SEC) won't help the Commodores secure future wins in similar scenarios.
12. Mississippi State.
The Bulldogs kicked off the SEC with promise by winning their first two games. But they've lost their past five. Their greatest challenge? Turnovers. They've averaged 18.3 per game in SEC play. That and a defense that's giving up an SEC-worst 70.7 PPG.
13. Auburn.
Tony Barbee's program isn't much better. Auburn's SEC opponents have averaged 70.0 PPG in league play. The Tigers are also on a five-game losing streak.
14. South Carolina.
The Gamecocks scored 10 points in the first half of a loss to the Gators this week. I know, I know. They played Florida. But even Southeastern Louisiana managed 26 in the first half of its 82-43 loss to the Gators this season.
January, 25, 2013
1/25/13
9:30
AM ET
We're here. You know what we do. We rank the SEC. And it's a collective effort. We'll get through this week's SEC rankings together.
1. Florida.
The Gators aren't just the best team in the SEC, they might be the best team in the country right now. Check out the numbers: first in adjusted defensive efficiency and second in adjusted offensive efficiency per Ken Pomeroy. Check the results. Florida's 83-52 win over Missouri was one of the worst beatdowns of the season. The Gators displayed their versatility and overall ability to execute in ways that few teams in America can. They have few weaknesses. They're in their own league.

2. Ole Miss.
So the Rebels averaged 80.2 ppg through their first four conference matchups. Then they score 18 in the first half of Thursday night's win over the Vols. Such is life in the SEC, I guess. The bottom line is that Andy Kennedy's crew might be the only team that can turn the league into anything more than a one-team race (Google Florida and Beast Mode). But that first half against Tennessee was a rare display of imbalance for the program.
Marshall Henderson
, however, made it right in the second half. He's a stud.
3. Alabama.
I know. I don't know how this happened either. But this Bama squad has overcome injuries and limited depth to surge up these power rankings in the last week. After Anthony Grant lost
Carl Engstrom
(out for the year with a torn ACL) and
Andrew Steele
(sports hernia) to injuries last month, the Crimson Tide hit a wall. From Dec. 1 through Jan. 8, Bama lost six of eight games. Then the program began to play defense. Only one SEC team (Florida) has held its conference opponents to a lower average (59.2 ppg allowed).
4. Missouri.
The Tigers have issues that are bigger than life without
Laurence Bowers
. Yes, the team has missed the talented forward. But the weekend's Florida loss exposed Missouri as a team with serious ballhandling issues (21 turnovers in that game). The Tigers are also lost whenever
Phil Pressey
struggles. How "deep" are they? We've heard so much about this team's depth and potential. But Missouri looks like a disorganized team that's not as tough as it should be. I know the Tigers beat Alabama a few weeks ago. I'd pick Bama right now, though.
5. Arkansas.
The Razorbacks have been better defensively than I figured they'd be in SEC play (39.4 field goal percentage defense, second in the league). I thought they'd just shoot for 80 and hope that would be enough to squeeze by most of the teams in this league. They had a chance to prove they're more than just one of the best among the mediocre squads when they faced Ole Miss. What did they do? They went 6-for-20 on 3-pointers and committed 16 turnovers.
BJ Young
and
Marshawn Powell
were the only players who cracked double figures. Those two talented players need consistent help.
6. Kentucky.
The second half of Kentucky's loss at Alabama exhibited every struggle this team has had this year. The Wildcats weren't resilient when they had to be. Their guards struggled. A program that features multiple first-round prospects for the NBA draft went 8-for-27 after halftime. I don't think John Calipari has one problem; I think his program has a bunch of problems. The Wildcats are inconsistent. They're inexperienced and it shows whenever they find themselves in tough late-game situations. And they appear to be losing confidence. Yet other than Florida and perhaps Ole Miss ... Kentucky, like the rest of the SEC, can contend with any team in the conference. Weird.
7. Texas A&M.
The Aggies have really struggled since their Jan. 12 road win over Kentucky. That might be the highlight of their season. They've lost three consecutive games since that victory. Their challenges? Top scorer
Elston Turner
has scored just 22 total points during this three-game losing streak. Remember him? He's the guy who scored 40 in that win in Rupp Arena. He was the hero. But the Aggies are limited on offense (60.4 ppg in the SEC, 11th in the league). They're not good enough to overcome their best player's struggles.
8. Tennessee.
The Vols were good enough to hang with Ole Miss on Thursday night. But they couldn't do more than that. They had a great opportunity to beat one of the SEC's best. They couldn't finish. Tennessee was outscored 44-31 in the second half of that 62-56 loss. Now they've lost five of their last six games. And I just don't see how Cuonzo Martin's program rights this ship when he has one of the worst defensive units (117th in adjusted defensive efficiency per Ken Pomeroy) in the SEC.
9. Vanderbilt.
Kevin Stallings is rebuilding with this young group. The Commodores have encountered a multitude of obstacles. But they're riding a two-game winning streak after beating South Carolina and Auburn by a combined 19 points. And three of their next five games are winnable (Alabama, Arkansas, Tennessee). Vandy is limited in a variety of areas. But the Commodores lock up the perimeter (25.5 3-point field goal percentage defense) better than any team in the SEC. That's going to be key going forward.
10. Auburn.
Tony Barbee's crew is trying to fight its way out of the bottom tier of the SEC. But that's a tough task with a porous defense (74.0 points per game allowed is the worst mark in the SEC; 158th in adjusted defensive efficiency per Ken Pomeroy.) The Tigers have excelled at times during the past month. But their last three games, all losses, are another example of the program's extremes. And it starts with its defense.
11. Mississippi State.
If you've followed these rankings, then you know Rick Ray's story. He's currently leading a program that can barely practice because it's so short-handed. Ray is limited in what he can fix right now. But the Bulldogs have won two SEC games, even though they're near the bottom of every meaningful statistical category in the league. They're even on top of the conference with 18.8 turnovers per game. Doesn't make much sense. But the SEC doesn't make sense.
12. LSU.
Remember the team that looked vibrant and hopeful entering SEC play? Well the Tigers played such a poor nonconference slate that it really wasn't fair to judge the program at that point. Now seems like a more appropriate time to measure this LSU squad, which just won its first SEC game on Wednesday when it defeated Texas A&M. With so much parity in the bottom of the league, every bucket helps. So LSU's 58.3 free throw percentage, last in the league, definitely hurts.
13. Georgia.
Mark Fox's squad landed its first SEC win when it defeated LSU over the weekend. The coach has one of the tougher tasks in the league. He has one high-level player in
Kentavious Caldwell-Pope
. But he doesn't have a strong supporting cast around him. So the Bulldogs currently possess the worst scoring offense in the SEC. And that's going to be an issue all year. Fox could use a midseason trade right now. But Saturday's win could be something they eventually build on.
14. South Carolina.
Pitbull can't save his biggest fan right now. Frank Martin, however, could use the help. The team he left, Kansas State, is off to a strong start. The team he joined, South Carolina, is at the bottom of one of the worst leagues in the country. Only two teams are shooting worse than the Gamecocks (37.9 percent) in SEC play. Perhaps Martin will turn South Carolina into a contender. The program is light years away right now.
January, 11, 2013
1/11/13
9:30
AM ET
Just when we thought we understood the enigma known as the SEC -- just when I'd felt comfortable with my weekly rankings -- SEC play began. And the madness continued. We'll get through this together.
1.
Florida
-- The Gators have the most complete team in the SEC right now. They opened up SEC play with a 33-point win against Georgia on Wednesday night. They're balanced, experienced and talented. Few teams in this league can say that. Their losses (Arizona, Kansas State) weren't bad losses. And I still think that this team is growing.
Kenny Boynton
,
Mike Rosario
and
Patric Young
anchor Florida's core, but they're also assisted by talented reserves such as
Will Yeguete
.

2.
Missouri
-- The Tigers were more efficient in their Tuesday victory against Alabama than they were in a nail-biter against Bucknell over the weekend. But they lost
Laurence Bowers
to a knee injury in that game. That's clearly a concern as they prepare for an Ole Miss team that is more than capable of pulling off the upset, especially at home. I still think that the Tigers rely on
Phil Pressey
too much, and that's going to cost them at times this season, possibly as soon as Saturday when they face the Rebels without Bowers.
3.
Ole Miss
-- The Rebels had such a poor nonconference strength of schedule (No. 241 per ESPN.com's RPI rankings) that their impressive stats (top 40 in Ken Pomeroy's offensive and defensive efficiency ratings) have been difficult to trust. But Ole Miss opened up SEC play with a dominant win at Tennessee. No, the Vols aren't the crème de la crème of the conference. But they're definitely better than Mississippi Valley State and East Tennessee State, two teams the Rebels faced during their nonconference slate.
4.
Kentucky
-- As I watched the Wildcats on Thursday night, I realized that I'd given the hype more credit than it deserved. Yes, I still believe Kentucky could be the best team in the conference by the end of the season. But what evidence do I really have to assume that the Wildcats will come anywhere close to their potential? They blew a 47-31 lead at Vanderbilt, a team that lost to Marist by 17 points. So I'm still waiting for Kentucky to prove that it's more than a bunch of NBA prospects that can't play together.
5.
Tennessee
-- Tennessee's offense has been a concern all season. But in its past two games, its defense has been the issue. The Vols gave up 85 points to Memphis and 92 points to Ole Miss in back-to-back losses. I still think Tennessee is one of those squads that could give any team in the conference trouble. But the Vols haven't put together a run that has showcased their potential. This pattern will lead to an average finish in the SEC if Cuonzo Martin can't find a way to reverse it.
6.
Auburn
–- So, I'm surprised, too. But I think Auburn deserves a slot in the top half of the league. Why not? Tony Barbee's program knocked off LSU in its SEC opener Wednesday night, even though leading scorer
Frankie Sullivan
(17.2 ppg) fouled out after scoring 10 points. Junior
Allen Payne
has played well during a stretch that's featured five wins in seven games (the Tigers suffered a two-point loss at Illinois on Dec. 29).
7.
Texas A&M
–
Elston Turner
(15.5 ppg) and Co. have won three in a row since a 53-51 home loss to … Southern on Dec. 22. The Aggies crushed Arkansas 69-51 in their SEC opener Wednesday night. So perhaps that loss to Southern won't define their season. The Aggies have held their opponents to 58.6 ppg, second in the conference. But like so many teams in this league, they amassed that sexy stat against a lukewarm nonconference slate. Their dominance Wednesday night, however, suggests that they might be one of the best average teams in the conference. A road win against Kentucky on Saturday would send a message to the league.
8.
Alabama
-- I was searching for signs of progress on Tuesday night. I mean, Bama has to do something. Fast. And the Crimson Tide had their chance in Columbia. The team was down 40-36 at halftime. And then, Bama arrived. Anthony Grant's squad was outscored 44-32 in the second half. Alabama finished with 16 turnovers and shot 5-for-17 from the 3-point line. This isn't an issue with injuries. This is just a team that apparently can't complete games. They're talented enough to play with any team in the conference in stretches. Winning, however, is still a problem.
9.
LSU
-- Johnny Jones' squad didn't commence SEC play with a bang. Instead, the Tigers lost on the road to Auburn. They didn't accrue any meaningful wins during a weak nonconference slate. So I never believed the 9-2 record that they took into that game. I figured if they couldn't handle the ball against McNeese State (19 turnovers) and Houston Baptist (15 turnovers), then they'd probably have trouble in the SEC. Their 12 turnovers in the Auburn loss were costly. They missed 6 of 10 free throws. LSU's inflated nonconference record might have been debunked in the SEC opener.
10.
Arkansas
-- The Razorbacks average 80.6 ppg, ranked 11
th
nationally. That offense is their only ticket to any respectable finish in the SEC.
BJ Young
and
Marshawn Powell
average 31.4 ppg for Mike Anderson. So how did Arkansas end up with 51 points at Texas A&M? Well, Powell's foul trouble and zero points certainly didn't help. This squad had won five in a row against a lackluster assembly of nonconference opponents entering the game. Meaningless. They barely cracked 50 points against a midlevel SEC squad. It's not the end of the world for the Razorbacks. But Anderson has to figure out what's up with Powell (17 points combined in past three games) going forward.
11.
Mississippi State
-- Speaking of effort, how about the Bulldogs winning their SEC opener against South Carolina 56-54? After the win, Mississippi State head coach Rick Ray tweeted, "Thank you to the Bulldog fan base for all of the congratulatory tweets. I appreciate it. Prepping for Georgia now. Grindin' for my State!" He should be pumped for his program, which has struggled all season. The Bulldogs have won three of four.
12.
Vanderbilt
-- Kudos to Kevin Stallings' squad for nearly knocking off Kentucky at home Thursday night. The Commodores overcame a 16-point deficit and put themselves in a position to pull off the upset. But they fell short. Now, it should be noted that the finish was corrupted by an obvious shot-clock violation on a
Nerlens Noel
bucket with 17.3 seconds to go. But the true moral of the story is that you should always avoid a 16-point deficit when possible. Vandy's effort in the second half was commendable. But the SEC standings don't have an "effort" column.
13.
South Carolina
-- Frank Martin, this is your team. The Gamecocks, like most of the league, grabbed 10 nonconference wins against a poor schedule. So they entered SEC play as a mystery. They hadn't proven anything. What did they do in their first conference test? They committed 24 turnovers. The Gamecocks have been fumbling all season against lesser programs. And that weakness affected the outcome in their conference opener. Check the box scores. Turnovers have plagued this program all season. And it will be its biggest issue in SEC play.
14.
Georgia
-- Mark Fox has a really, really good player named
Kentavious Caldwell-Pope
(17.0 ppg). He's a star. But he doesn't have much to put around him. So the Bulldogs are averaging just 59.4 ppg, No. 321 in Division I. In their 33-point loss to Florida on Wednesday night, Caldwell-Pope (11 points) was the only player who cracked double figures. Now, the loss did stop a four-game winning streak. But it's just difficult to see how Fox's program will avoid the league's basement if it expects one player to carry the load every night.
August, 16, 2012
8/16/12
10:32
AM ET
Editor's note: The art of dunking has brought excitement to the game. It also has created chaos in arenas around the nation and provided plenty of challenges for coaches, says Myron Medcalf.
The 2012-13 season is just a few months away. If you're searching for walking highlight reels, follow these rising (literally) stars. Or, just turn on "SportsCenter" throughout the year. You'll probably see them.
This isn't a comprehensive list, but here are some guys who can really throw down a dunk (in alphabetical order):
Deuce Bello (Baylor)
-- Last season, ESPN captured Bello's behind-the-back, 360 dunk during a shoot at Baylor. Yes, a behind-the-back, 360 dunk. He made it look easy, too. Next season he'll play a lot more, and that extra time should translate to more highlights.
Ryan Boatright (Connecticut)
-- The 6-foot guard doesn't look the part of a high-flier, but Boatright gets up. The second-year Huskies guard is one of the most explosive guards in the country. He can beat defenders with his speed and ballhandling, and he's not afraid to climb and go to the bucket.
Markel Brown (Oklahoma State)
-- Last season, Brown was ejected after earning his second technical foul in a Big 12 game.
His crime?
He stared at a defender after his one-handed alley-oop slam set Stillwater on fire during a matchup against Missouri.
Ramon Galloway (La Salle)
-- The La Salle guard is versatile. He averaged 14.1 ppg for the Explorers and shot 44.2 percent from beyond the arc. But he unveiled another element of his game -- an arsenal of ridiculous dunks --
during an NIT matchup against Minnesota
in March.
Nick Johnson (Arizona)
-- The 6-3 shooting guard created an archive of highlights in high school. He added a few more to his collection last season, his first at Arizona. He's an athletic young star
with surprising bounce
.
James Michael McAdoo (North Carolina)
-- The Tar Heels lost a lot of talent to the NBA this offseason, but McAdoo returned and should be a star. With
Tyler Zeller
and
John Henson
in front of him, McAdoo logged 15.6 minutes per game last season. But the 6-9 spectacle showed flashes of his above-the-rim potential throughout the campaign.
Mason Plumlee (Duke)
-- You know what they say about guys like Plumlee: Big men can't jump. Well, Plumlee
dispels many myths with his leaping ability
and aggressiveness. The 6-11 senior can glide with the best of them. Check out his infamous "three-ball" dunk on YouTube.
[+] Enlarge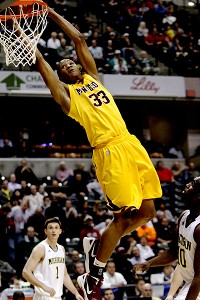 AP Photo/Kiichiro SatoMinnesota's Rodney Williams is worth watching any time he has the ball near the rim.
Marshawn Powell (Arkansas)
-- Last year, Powell
tore his ACL in practice
. Before his injury, the Arkansas star was one of the most athletic players in the country. He's back this season. Look for him to take to the air again.
Andre Roberson (Colorado)
-- Roberson goes to the rim with bad intentions. Colorado's 6-7 wing is always forceful when
he attacks the rim
. He's not limited to dunks, either. But it's definitely an entertaining component within his game.
Victor Rudd (South Florida)
-- I was in Dayton for the First Four when Rudd rocked the rim in South Florida's lopsided win over California in March. The 6-7 forward is a special athlete. Earlier this week, I asked Rudd the feeling he gets when he dunks. "I kind of like that noise," he said. He'll hear it often this season.
Rodney Williams (Minnesota)
-- As a freshman, Williams was listed as a potential NBA draft pick in various mock drafts.
He certainly has NBA-level athleticism
. He can dunk over you. He can glide from the free throw line. He can twirl in midair. When he has the ball with room to fly, you shouldn't blink.
Patric Young (Florida)
-- Young is a 6-9 forward who always goes hard to the rim. His biggest problem last season was the limited touches he received in Florida's guard-heavy offense. But the 247-pound big man tries to rip the rim off whenever he's in position for the dunk.
August, 10, 2012
8/10/12
10:30
AM ET
There are 345 Division I college basketball teams and thousands of coaches and many more players and, well, I have a confession to make: Sometimes, I just forget about guys.
I'll admit it. I forgot about
Marshawn Powell
. OK, fine. Two confessions.
In my own defense, the reasons are understandable. The last time we saw Powell play college basketball in any extended context -- that is, for longer than a week -- was back in 2010–11. Powell was a promising sophomore then, averaging 10.8 points per game and turning some heads within the SEC, but he was plying his trade for a team so utterly forgettable it cost former Arkansas coach John Pelphrey despite the top–10 recruiting class Pelphrey secured for 2011.
[+] Enlarge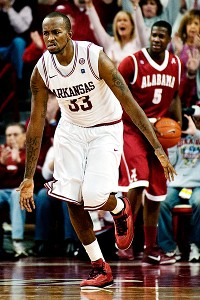 AP Photo/April L. Brown Marshawn Powell of Arkansas missed most of last season with an ACL injury.
The 6-foot–7 Powell entered the 2011–12 season with a bit more of the spotlight; he was named to the preseason All-SEC second team, and he shot 71.4 percent and averaged 19.5 points per game in his first two contests of the season. And then, in a late November practice,
he tore the ACL in his right knee
. Powell's season was over before it really ever began.
So you can forgive me -- or at least I hope you can forgive me? -- when I admit that in thinking about the upcoming Arkansas season, about second-year coach Mike Anderson and the bevy of talented sophomores he brings back to Fayetteville this fall, I've long since overlooked Powell's prospective return to the lineup. To me, the 2012–13 Razorbacks season was all about the potential star turn of point guard B.J. Young, the development of forward
Hunter Mickelson
, the way Anderson's "40 Minutes of Hell" would slowly but surely seep its way into his players' pores, and what all of that would mean in an arguably top-heavy SEC.
But Powell is indeed a big part of this team. As
the Associated Press wrote Thursday night
, the redshirt junior forward returned to practice this week just in time to participate in the Razorbacks' four-game trip to Italy and Lithuania (including stops at the Italian Alps, as well as Milan and Rome) and just in time to start heavily breathing throughout Anderson's infamous conditioning sessions:
The Arkansas forward took the court with his teammates last week in preparation for a preseason 10-day trip to Italy, beginning Friday. He quickly discovered that all of his rehabilitation hadn't quite prepared him for one of coach Mike Anderson's practices.

"I couldn't even make it past half court I was so tired," Powell said.
(For the sake of my own state of mind, I'm going to do my best and not try to imagine what coming back from a year-long injury and then trying to run Anderson-led wind-sprints must feel like. I shuddered throughout the composition of this paragraph.)
Anyway, assuming Powell plays at a level consistent with his first two seasons, he'll not only bring experience to a still-young team, but he'll provide a very solid power forward piece up front alongside the 6-foot–10 Mickelson. That's a good frontcourt. Not great, but good. If Young makes the leap everyone expects, and this personnel configuration works within Anderson's system, Arkansas has an awfully good shot at its first NCAA tournament bid since 2008.
To be fair, I thought that was the case before I was reminded of Powell's return. With him, the chances are only increased. Point is, it's time to stop overlooking his return. It's happening, and it's fantastic news for the Razorbacks.
December, 9, 2011
12/09/11
10:30
AM ET
Based on results and not preseason expectations, here's my attempt at ranking the SEC teams one month into the season:
1. Kentucky
: The Wildcats played the toughest nonconference game to date and beat North Carolina on a buzzer-beating blocked shot. UK has the most talent in the league and will be the team to chase throughout the season. Nothing will change that going forward.

2. Florida
: The Gators lost on the road in two places (Ohio State, Syracuse) where most teams will fall this season. Wednesday's OT victory against Arizona was a must-win for this team. Having
Patric Young
score 25 points is a good sign the Gators will keep getting better.
3. Mississippi State
: The Bulldogs have the most intriguing frontline in
Arnett Moultrie
and Renardo Sindey.
Dee Bost
continues to be a steadying force for MSU, which seems to have righted itself since the home loss to Akron. This has the look of an NCAA team.
4. Vanderbilt
: The Commodores have played the toughest schedule of any SEC team so far, but the Dores blew leads against Xavier at home and at Louisville. Getting
Festus Ezeli
back in a road win at Davidson means Vandy can start its season anew. This is still a team with a chance to go far in March.
5. Alabama
: The Crimson Tide lost at home to surging Georgetown and on the road to an erratic Dayton. Bama is still an NCAA-type team, but the Tide need to find some consistency before they hit the SEC season. The ceiling is still high for this crew.
6. Ole Miss
: The Rebels squeezed out a win at DePaul when
Murphy Holloway
came through in the clutch. But that win and the one at Penn State aren't exactly jaw-droppers. The Rebs have a formidable frontcourt, but the guard play has to improve.
7. Arkansas
: The Razorbacks lost
Marshawn Powell
for the season, but still showed they had plenty of fight in a loss at Connecticut. Mike Anderson has this team highly competitive with a chance for postseason play.
8. LSU
: The Tigers have climbed up into the top eight after winning two in a row on the road, at Houston and at Rutgers. The rebuilding job by Trent Johnson might be turning a bit of a corner. A game against Marquette is still on the horizon, which could humble the Tigers.
9. Tennessee
: The Vols have lost four of their past five, but Tennessee did show it can hang and play with passion and purpose in losing to Duke and Pitt in close ones, and to Memphis in double overtime in Maui. A soft part of the schedule is coming up. UT needs to take advantage.
10. Georgia
: The Bulldogs have hit a skid in the schedule by losing five of their past six, all against power-six schools (no softies here). Georgia needs a win badly and might get one at USC on Dec. 17.
11. South Carolina
: The Gamecocks were looking like one of the worst teams in any major conference early in the season (with losses to Elon and Tennessee State), but the win at rival Clemson keeps them out of the SEC basement. The problem is that Ohio State comes calling on Dec. 17. Uh-oh.
12. Auburn
: The Tigers (4-1) have a better overall record than LSU, Tennessee, South Carolina or Georgia, but the four wins were against low-majors. The one time the Tigers played a power-six school they lost badly at Seton Hall. So judging is still incomplete with the Tigers.