College Basketball Nation:

Marvin Menzies
September, 4, 2013
9/04/13
10:30
AM ET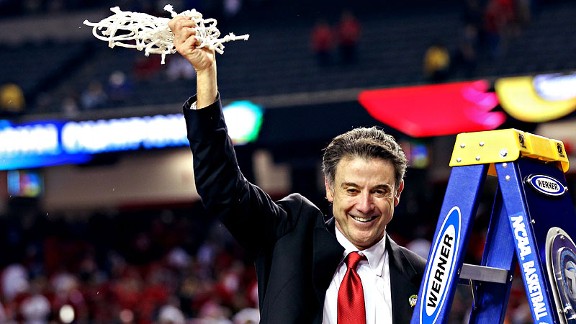 Streeter Lecka/Getty ImagesRick Pitino hasn't just won two national titles and taken three separate schools to a Final Four -- he also has provided a strong group of assistants who have had success of their own.
Editor's Note: Three legendary college basketball coaches -- Jerry Tarkanian, Rick Pitino and Guy Lewis -- take center stage this weekend as the trio is inducted into the Basketball Hall of Fame in Springfield, Mass. We'll be devoting a day to each as we examine what made them HOF-worthy. Here is Tuesday's tribute to Tarkanian.
There are coaching trees and then there is the
forest birthed by Rick Pitino
. Imagine crossing a redwood with a sequoia. And then adding the Rockefeller Christmas tree on top for good measure.
That gets you maybe a quarter of the way up the branches of Pitino's tree. No fewer than 13 of his ex-assistants and/or players currently serve as college head coaches (Mick Cronin, Scott Davenport, Billy Donovan, Travis Ford, Marvin Menzies, Richard Pitino, Kareem Richardson, Steve Masiello, Herb Sendek, Tubby Smith, Reggie Theus, Kevin Willard, Sean Woods). And if you stretch the list to include former head coaches or current assistants, it goes on for miles.
Between them, Pitino's disciples have four national championships of their own (two for Donovan, one each for Smith and Davenport). So trying to pick the best of this family tree is like trying to pick your favorite uncle. Highly subjective.
Consider this attempt just that, then -- an attempt to amass a list of the most successful ... with an out clause list of others who were left off.
1. Billy Donovan:
Before he won two national titles at the University of Florida, Donovan was Billy the Kid, the feisty point guard who led Providence and Pitino to the Final Four in 1987. Two years later, Donovan and his mentor reconnected at the University of Kentucky, where Donovan cut his coaching teeth as an assistant until 1994. Embarking on his own as a head coach, first at Marshall and now at Florida, Donovan has rolled up 13 NCAA tournament bids and has been to at least the Elite Eight in five of the past six appearances.
2. Tubby Smith:
Smith had the unenviable job of following in Pitino's well-heeled footsteps at Kentucky, when Pitino's one-time assistant returned to Lexington as head coach in 1997. Smith picked up right where his old boss left off, leading the Wildcats to their seventh national championship in his first season. Smith would go on to reach the 100-win mark faster than any other UK coach not named Adolph Rupp and collect five SEC titles. The former head coach at Tulsa and Georgia went on to Minnesota and is now at Texas Tech.
[+] Enlarge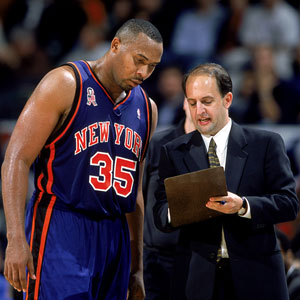 Garrett W. Ellwood/NBAE/Getty ImagesJeff Van Gundy went from being an assistant under Rick Pitino at Providence to leading the New York Knicks to the 1999 NBA Finals.
3. Jeff Van Gundy:
The popular NBA analyst and former NBA head coach was part of a pretty impressive bench lineup at Providence. Van Gundy was the graduate assistant, alongside assistants Herb Sendek and Stu Jackson, when the Friars went to the Final Four in 1987. Van Gundy, who was working as a high school head coach before Pitino hired him, used that coaching gig to launch his own career. He'd eventually serve as head coach for both the New York Knicks and Houston Rockets.
4. Jim O'Brien:
The son-in-law of one Hall of Famer (Jack Ramsay), O'Brien would begin working alongside a future Hall of Famer in 1994, when he joined Pitino at Kentucky. Long a college coach in his own right, O'Brien helped Pitino usher the glory years back to Lexington and when Pitino jumped to the Boston Celtics, O'Brien went with him. Little did he know it was the beginning of his own career. It was O'Brien who would take over in Boston after Pitino epically flamed out, twice leading the Celtics to the playoffs. He'd then go on to two more NBA head-coaching jobs, with Philadelphia and Indiana, before retiring at the end of last season.
5. Herb Sendek:
The master of his own pretty heavily limbed coaching tree, Sendek got his start under Pitino. The western Pennsylvania native joined the Providence staff as a graduate assistant before moving up to assistant coach. When Pitino left PC for Kentucky, Sendek went with him, spending four seasons with the Wildcats before launching his own head-coaching career. Sendek has gone from Miami (Ohio) to NC State to Arizona State and now has 20 years of head-coaching experience. He has made seven NCAA tournaments and has three conference coach of the year awards.
6. Frank Vogel:
No one can trace their roots directly to Pitino quite as thoroughly as the Indiana Pacers head coach. After meeting Pitino at Five-Star camp in Pittsburgh, Vogel, then a student at Juniata College, decided he was transferring on the spot to Kentucky. He had no promise of anything from Pitino but after loitering around the gym for weeks, he got a two-week trial period helping out assistant Jim O'Brien. A year later he was a student manager, and after graduation served as a video coordinator. The coach was so impressed with Vogel's abilities that when Pitino went on to the Boston Celtics, he brought Vogel with him, hiring him as the team's video coordinator. Vogel would outlast Pitino in Boston, staying on as an assistant coach under O'Brien. Six years later, when O'Brien was fired at Indiana, Vogel was named the Pacers' interim coach. This past season under Vogel, the Pacers made their first Eastern Conference finals appearance since 2004.
7. Mick Cronin:
The son of a head coach counts his father and Pitino as his two biggest mentors. He joined Pitino at Louisville in 2001 after five seasons at the University of Cincinnati under Bob Huggins. Eventually becoming Pitino's right-hand man and associate coach, Cronin was lauded for his recruiting savvy and eventually parlayed that into a head-coaching job at Murray State. He led the Racers to two Ohio Valley titles and NCAA tourney appearances before leaving to lead his alma mater, Cincinnati. Cronin has been credited with reviving the Bearcats, who had just one returning player when he arrived on campus.
8. Ralph Willard:
One of Pitino's closest friends and confidants, Willard worked alongside the Hall of Famer in three different stretches -- first as an assistant with the Knicks (1987-1989), then later at Kentucky (1989-90) and finally, at Louisville (2009-2012). In between, Willard forged his own impressive career, serving as head coach at Holy Cross, Pittsburgh and Western Kentucky. He had his best success at his alma mater, Holy Cross, leading the program to four NCAA tournament berths and amassing a 192-117 record at the Patriot League school.
9. Travis Ford:
The beloved Kentucky point guard started his career at Missouri but transferred to his home state school because he liked the style of its head coach. That would be Rick Pitino. Ford, fashioned in the same spitfire image of Billy Donovan, would take the Wildcats to three NCAA tournaments. With all that UK love and his coach's endorsement, Ford landed his first head-coaching gig at the tender age of 26, taking over at NAIA Campbellsville. That led to a job at Eastern Kentucky -- and EKU's first NCAA berth in 25 years -- which led to a job at Pitino's alma mater, UMass (and an Atlantic 10 title) and now to Oklahoma State.
10. Scott Davenport:
Maybe not as well known as others on this list, Davenport is every bit as successful. In his eighth season at Division II Bellarmine, Davenport has taken a program that was sub-.500 before he arrived all the way to a national championship in 2011. The former high school coach made the jump to the college game in 1996, joining Denny Crum's staff at Louisville. When Pitino came aboard in 2001, Davenport stayed on staff, working with Pitino until 2005, when he moved on to Bellarmine.
11. Marvin Menzies:
As a longtime assistant coach, Menzies' resume went on for pages before he joined Pitino at Louisville in 2005. Menzies' career had hopscotched from the high school ranks to junior college to San Diego State to USC to UNLV. After just two seasons alongside Pitino, Menzies was a head coach, taking over at New Mexico State. He has since led the Aggies to three WAC titles and three NCAA tournament berths.
Others to be considered:
Cal State Northridge head coach Reggie Theus (Louisville assistant, 2003-05); Seton Hall head coach Kevin Willard (Louisville assistant, 2001-07); Florida assistant coach John Pelphrey (played at Kentucky); former NBA executive vice president Stu Jackson (Providence and New York Knicks assistant).
May, 31, 2013
5/31/13
5:00
AM ET
1. Commissioner Mike Aresco pulled off a shrewd but intelligent move when he made sure the new American Athletic Conference offices stayed in Providence, R.I. -- where the Big East staff has been based. The majority of the staffers are family people and didn't want to leave Providence. If the league office were to move, the staff might be more apt to look elsewhere or be plucked away by the new Big East. That hasn't happened, and the new Big East is still without a commissioner or staff. Meanwhile, the American has the same people running its operation. The American released its logo Thursday and it has a chance to catch on. The league is taking care of its business. Its basketball tournament sites should be announced in the next few weeks and the favorites are Memphis, Tenn., for the men and either Hartford, Conn., or Uncasville, Conn. (at the Mohegan Sun Arena), for the women.
2. Two Wisconsin-Green Bay players released statements through the school Thursday after spending the past month wondering if head coach Brian Wardle would be dismissed due to verbal-abuse allegations.
Keifer Sykes
and
Alec Brown
said: "We are really happy that the investigation is over, and we are excited about playing together next season for Coach Wardle and our other coaches. This has not been an easy couple of months for our team and coaches to go through and we are ready to move forward. The character and communication in our locker room is really good right now, and we are focused on getting better this offseason and contending for a championship next year." Lost amid these investigations are the players who were held hostage by uncertainty. Wardle was cleared of mostly everything, though he must have an adviser with the team next season to watch what occurs. UWGB has a legit shot to win the Horizon League.
3. New Mexico State will be the last team standing from the traditional WAC in 2014. The Aggies aren't 100 percent certain where they will be in basketball in two years. New Mexico State can't get in the Mountain West, and needs to find a way to get into Conference USA. That's the perfect fit for the Aggies, who have a historical rivalry with UTEP. If they can't move, coach Marvin Menzies' squad should get an NCAA bid or compete for a berth every season. There really is no excuse in such a weakened WAC.