College Basketball Nation:

Matt Dickey
March, 15, 2012
3/15/12
8:25
PM ET
PITTSBURGH --
J.P. Primm
led his team through the hallways of the Consol Energy Center, chanting, "It's not the size of the dog.'' His No. 16-seeded UNC Asheville team backed him in the fight and almost made history.
But like the 108 teams that came before them since 1985, the Bulldogs failed to rewrite the longest-held NCAA tournament tenet: A No. 1 seed has never lost to a 16tth seed since the tourney was expanded 27 years ago. In the end, UNC Asheville joined their underdog brethren and lost
72-65
to Syracuse.
Soon, maybe before this night is over, we will move on to another team, another Cinderella, and UNC Asheville will just be another footnote.
If only it were so easy for Primm to forget. The senior will relive this one for a long time, not just ruminating on what might have been, but also wondering if it should have been.
He and the thousands of UNC Asheville fans born in the two hours between opening tip and final buzzer headed to the exits left more disillusioned than disappointed.
[+] Enlarge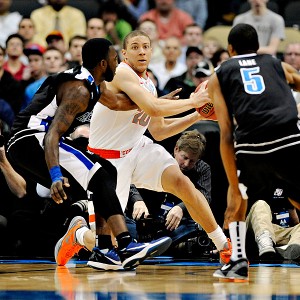 Richard Mackson/US PresswireSyracuse had problems solving UNC-Asheville's zone defense and trailed by four points at the half.
"It's frustrating when you play that hard and that tough for 40 minutes against one of the top teams in the country, to have a couple of calls that don't go your way, it just takes the air out of you.''
Primm was referring to two late-game calls that went against the Bulldogs. With 1:20 left and the Bulldogs trailing by four,
Scoop Jardine
appeared to miss the front end of a one-and-one. Instead Primm was called for a lane violation. Official Ed Corbett said the violation was clear, that Primm, who was outside the box, released before the ball hit the rim.
Instead of a miss and a Bulldog ball, Jardine then sank both free throws.
Then, down 66-63, Asheville turned up the defensive pressure with a full-court press that seemed to stifle the Orange. A toss to the sideline by the Asheville bench appeared to go off
Brandon Triche
's hands.
Instead Corbett ruled it tipped off an Asheville player. The play, Corbett said, was not reviewable.
USA Today reported
that John Adams, the NCAA's head of officiating for men's basketball, said on TruTv that "I'm not going to alibi for the gentlemen in the game. They work their butts off. When you see this call, it's either a foul or you give it to the other team that didn't knock the ball out of bounds. He didn't get it right."
Primm acknowledged that nothing was guaranteed, that even if the calls had gone for them, the Bulldogs still had work to do. He just wanted the chance.
"You're in it and then that happens, it just deflates you. The air just goes right out of you,'' he said. "I'll watch it again and it will hurt. I just hope those guys watch it, too.''
The controversial finish masked the real story. Syracuse, insisting that neither
Fab Melo
's suspension nor any of the other issues would distract them, played an awful lot like a team with other things on its mind.
The Orange came out horribly flat, unable to solve Asheville's zone defense. Instead of looking for creases and seams, as teams do against Syracuse, they passed the ball around the perimeter, jacking up 13 3-pointers. They made only one.
"We haven't attacked zones, even though we play it and work against it every day," Jim Boeheim said. "When you make those shots against zones, it's a different world."
That allowed the Bulldogs to not only stay in it, but to take a four-point lead at the break. When you let a good team, regardless of the seed, hang around, you allow that little nugget of hope to blossom.
UNC Asheville, with four seniors on its roster, didn't need much else.
The Bulldogs played about as smart and as hard a game as a team can play in their situation, resisting the urge to go-go-go like they usually do, opting instead to methodically and carefully pick apart the Syracuse zone. The Bulldogs dished out 17 assists on 21 made baskets, and despite leading scorer
Matt Dickey
shooting just 1-of-13 were never officially out of the game until it was over.
"Basketball is not a game of perfect,'' Eddie Biedenbach said. "We made some mistakes and it cost us. But they made plenty of mistakes and some of them didn't cost them. I don't want to comment on officiating. I think to answer [the] question best, that big replay machine up on top, you heard the crowd reaction.''
The reality is it is emotionally harder to lose close as a 16, but it is tougher to play as a top seed. The Bulldogs had nothing to lose. No one, save the guys in the locker room, really thought they had a chance to win this game.
On the other bench, since the Melo news broke on Tuesday, most people have been trying to figure out when, not if, Syracuse was going to lose.
"There's always that team everybody wants to lose; that's us,''
Dion Waiters
said. "I don't know. Somebody has it in for Syracuse this year. There's like a black cloud following us around or something.''
The Orange have used the run of bad news to circle the wagons even tighter, adopting an us-against-the-world mentality. "I don't think it's the whole world,'' Boeheim joked. "Three-quarters, maybe. I think there's some people in China that aren't upset with us.''
But right now the enemy is within.
Syracuse looked lousy against Cincinnati in the Big East tournament. Afterward, they swore they'd learn from that game, that they'd regroup and come out swinging in the only tournament that really mattered.
Instead they created more doubters in their debut.
They are the big dogs in this tournament.
They need to find the fight.
March, 14, 2012
3/14/12
11:45
PM ET
PITTSBURGH -- Here's a quick rundown of what to look for in Thursday's afternoon games at Pittsburgh:
No. 8 Kansas State (21-10) vs. No. 9 Southern Miss (25-8), 12:40 p.m. ET


Back when he was an assistant at Cincinnati, Frank Martin watched Larry Eustachy try to rebuild both his career and his life at Southern Miss.
The two schools then were Conference USA foes, and let's just say it wasn't a fair fight.
"I remember how bad his team was that year, how frustrated he was with that team,'' Martin said.
Fast-forward and the two are prepping to face one another in the NCAA tournament, Martin as the head coach with Kansas State and Eustachy with the Golden Eagles team he's cultivated from nothing to the school's third NCAA tournament berth.
Eustachy, his struggles with alcohol and his ignominious dismissal from Iowa State well documented, returns to the Dance for the first time in a decade a different person, comfortable in his own skin and happy to share his story.
"There's nobody that's got more scars on their fanny than me,'' Eustachy said. "I could do this blindfolded and backwards and every day. So I think my story is a neat story. I think it's a great story. I think it inspires people.''
Martin is usually one of those people who gets inspired. But not this week. This week he's more worried about what the Golden Eagles present than what his peer has overcome.
"For me, to see his team play, especially over the last 72 hours studying his team, it's hilarious because it's like watching his old Iowa State teams play,'' Martin said. "It's got Larry Eustachy stamped all over it. A lot of folks say we're the hardest playing team in America. Well, Larry's teams were the hardest playing teams when he was at Iowa State.''
Who to watch:
Southern Miss' Darnell Dodson.
Dodson initially signed with Pittsburgh, wound up in a junior college, transferred to Kentucky and is now with the Golden Eagles. He's a high-major player who has added a much-needed scoring punch to Southern Miss, averaging 11.1 points per game.
Kansas State's Angel Rodriguez.
The freshman point guard has given Martin a few gray hairs, averaging nearly as many turnovers (2.6) as he does assists (3.2). He'll have to do more of the latter against Southern Miss' tough group of guards.
What to watch:
The Golden Eagles are not a very good shooting team -- they shoot only 40 percent from the floor -- which makes for tough sledding against a Kansas State squad that is tough-minded, particularly on the defensive end, and considerably bigger. Guards
Angelo Johnson
and
Neil Watson
need to be especially strong going to the basket.
No. 1 Syracuse (31-2) vs. No. 16 UNC-Asheville (24-9), 3:10 p.m. ET


More than a coach, Jim Boeheim is a basketball fan. He has a working knowledge of what teams are doing -- who's good, who isn't.
And while the seed line says his team is playing a walkover, the Syracuse coach knows better.
"They're shocking to me to be a 16-seed,'' Boeheim said. "I'm sure most people would say I'm just saying that, but I had seen them play already this year before we got the tapes in. I just think they're a really good basketball team.''
The Bulldogs certainly don't look like a 16-seed, not with 24 wins, a huge cushion in the Big South Conference (winning by four games), an RPI of 91 and a more than respectable nonleague schedule, against the likes of North Carolina, Connecticut and Tennessee.
But the seed is the seed and the only stat that ultimately matters in the end is the obvious one: No No. 16 seed has beaten a No. 1 in NCAA tournament history.
It is the elephant in the locker room that every coach, who preaches that his team believes it can win every game, has to address.
UNC-Asheville coach Eddie Biedenbach knows the history better than anyone. Just a year ago, his Bulldogs won in the First Four to set up a 1-16 game against Pittsburgh. The Bulldogs made that interesting, cutting the Panthers' lead to six before eventually losing by 23.
That team, however, is now a year older and a year wiser. Biedenbach sports a veteran starting five -- four seniors and one junior -- who remember well what happened a year ago.
"All those things are neat, they're fun and I love the talk shows and the reporters that write about that stuff,'' Biedenbach said. "But being the first to do that is fascinating, too.''
Who to watch:
Syracuse's Rakeem Christmas/Baye Keita
All eyes will be on the replacement Syracuse big men, given the charge to fill in for
Fab Melo
. Both have played in spurts, but none significantly or certainly on such a big stage. Neither has to be huge offensively -- that's up to
Kris Joseph
and
Scoop Jardine
to get their swagger back -- but they have to be good defensively.
UNC-Asheville's Matt Dickey and J.P. Primm
You can't say one without the other. The two classmates have achieved more at Asheville than anyone before them, part of the school's winningest class. More critical to this game, the pair are the premier gunslingers.
What to watch:
The pace. UNC-Asheville likes to go, averaging 80 points per game, and it has five guys who can score. All the starters average double figures in scoring. They prefer to get to the hoop or get to the free throw line, where they shoot a strong 76 percent. How that works against Syracuse's zone, even without Melo, will be interesting.
October, 17, 2011
10/17/11
1:35
PM ET
By
Diamond Leung
| ESPN.com
North Carolina, one of the favorites to reach the Final Four, begins its season away from home. There's the Carrier Classic in San Diego for the opener, and two days later, the Tar Heels go to play North Carolina-Asheville to help open a new arena there that
Roy Williams helped build in his hometown
.
Not often does a Big South team get to host a national championship contender to start the season, and so hundreds of UNC Asheville students who attended the first practice at Kimmel Arena on Friday were given free tickets for the upcoming showdown, according to the
Asheville Citizen-Times
.
The excitement of the new arena, a new season for a Bulldogs' program coming off a 20-win season and NCAA tournament appearance and the rare opportunity to see the Tar Heels play in Asheville brought out the students, who stood patiently in line until the doors opened shortly after 5 p.m.

"I got here around 3:15 p.m., and I'm the first one in line," said Ashlei Clodfelter, 20, a junior from Winston-Salem.

"There was a guy who pitched a tent here (Thursday), but he packed it in. Said it was too cold."

In less than two hours before the doors opened, 463 students from an enrollment of 3,600 were in line, passing time by texting, reading, socializing and listening to a two-person impromptu band on a ukelele and makeshift drum.
Those who attend the game will get to see
Harrison Barnes
and Co., but don't forget UNC Asheville, which was picked to win the Big South, has some players as well.
Matt Dickey
is the league's preseason player of the year, and it's actually the Bulldogs'
J.P. Primm
who will be the only player on the court to have declared for the NBA draft.
Were some of the UNC Asheville students in line the other day bigger supporters of North Carolina? Possibly, but it looked like those in attendance had fun taking in the scrimmage and dunk contest at the first Dunkin' at the Doghouse event.
March, 28, 2011
3/28/11
2:36
PM ET
The NCAA tournament had plenty of excitement when it came down to crunch time. Let's look back at some of the memorable late-possession moments from the first two weeks:
In the East:
Luke Hancock's 3-pointer with 21 seconds left capped a George Mason comeback win over Villanova in the second round.
Brandon Knight's driving layup with two seconds remaining gave Kentucky a two-point win over Princeton in the second round.
Darius Johnson-Odom's 3-pointer with 27 seconds left helped push Marquette past Syracuse in the second round.
Washington's meltdown against North Carolina in the final few possessions that prevented the Huskies from tying the Tar Heels at the end of regulation in the third round.
Knight's 15-foot shot that sent Kentucky past Ohio State in the Sweet 16.
In the West:
Tennessee quit on the game in the second half and lost by 30 to Michigan.
Duke's Kyrie Irving made his only field goal against Michigan with 32 seconds left as he gave the Blue Devils a lead before the Wolverines' Darius Morris missed a game-tying runner at the buzzer.
Arizona's Derrick Williams blocked a potential game-tying bucket by Memphis in the final seconds.
Williams converted a three-point play with 9.6 seconds remaining to upset Texas after the Longhorns committed a five-second violation on an inbounds play.
Temple's Juan Fernandez nailed an off-balance 18-foot shot to beat Penn State in the second round after Talor Battle hit a game-tying 3-pointer with 12.2 seconds left.
In the Southwest:
Down by two to Louisville, Morehead State's Demonte Harper went for the win and got it with a 3-pointer with 4.2 second left to beat the Cardinals in the second round.
VCU's Bradford Burgess converted a layup off an inbounds pass with 7.1 seconds left in overtime to knock off Florida State in the Sweet 16.
And in the Southeast:
Butler beat Old Dominion on a layup by Matt Howard at the buzzer.
Butler beat Pitt after Nasir Robinson fouled Howard on a rebound off a missed free-throw at the buzzer when the game was tied. Howard hits a free throw to win the third-round game.
And in the First Four:
UNC Asheville's Matt Dickey hit a 3-pointer with 10.5 seconds left that sent the game against Arkansas-Little Rock into overtime before Asheville won.
March, 17, 2011
3/17/11
5:55
PM ET
WASHINGTON, D.C. -- A quick look at
Pittsburgh's 74-51 win
over UNC Asheville.


Overview
: UNC Asheville threatened to continue the afternoon's run of wild games and upsets but the Bulldogs couldn't pull the ultimate upset. Pittsburgh eventually proved too tough, especially on the glass, and kept alive the NCAA tournament's perfect streak for No. 1 seeds.
Turning point
: Up only 32-29,
Ashton Gibbs
drained a 3-pointer, igniting a 10-0 run for Pittsburgh. Though the Bulldogs refused to go quietly, that distance proved enough to allow the Panthers to ultimately exhale and advance.
Key player
: Gibbs. Overshadowed in the loss to Connecticut thanks to Kemba Walker's buzzerbeater (he had 27 in that game), Gibbs got his spotlight back here. He scored 26 points on 9 of 17 shooting, torching UNCA from the outside, where he was 6 of 10.
Key stat
: The Panthers owned the Bulldogs on the glass. They had a critical 44-24 advantage that allowed Pitt to overcome a sluggish start.
Miscellaneous
: Matt Dickey's run in the NCAA tournament might be over, but the UNC Asheville junior made a few fans along the way. The guard plays like he believes no one can guard him and he's not entirely wrong. Dickey had 21 points in the losing effort. … It goes without saying that Pitt is going to have to play a lot better in its next game. Butler, the Panthers' next opponent, plays terrific defense and won't give Pittsburgh anything.
What's next
: The Panthers will meet Butler on Saturday. Plenty of people have circled this as a potential upset pick and it's not a crazy thought. Both teams play great defense and have on-court and NCAA experience. Should be an entertaining one.
March, 15, 2011
3/15/11
10:44
PM ET
DAYTON, Ohio -- The First Four has a long way to go to match the Final Four. But as far as warm-up acts go, maybe the NCAA is on to something.
The first installment of the new four-game, first-round format provided a fantastic finish -- and our first March Madness hero.
His name is
Matt Dickey
, a junior guard for North Carolina-Asheville. Dickey's 3-pointer with 10.5 seconds left in regulation against Arkansas-Little Rock forced overtime, where the Bulldogs went on to
win 81-77
.
One game, already one shining moment. But even Dickey wasn't originally too keen on the idea of beginning his tournament run in Dayton, calling it the "play-in game" on the postgame news conference dais.
[+] Enlarge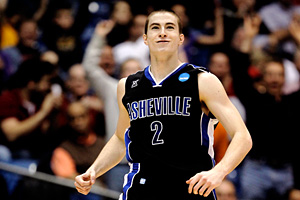 Gregory Shamus/Getty ImagesUNC Asheville's Matt Dickey became the tournament's first hero after hitting a game-tying 3-pointer with 10.5 seconds left in regulation.
"We were kind of disappointed, because we heard we were going to be a 16 [seed] playing Duke in Charlotte, possibly, or maybe move up to a 15," he said. "But our coaches said this is a good chance to play a team on a big stage that's about our caliber. And we did."
Arkansas-Little Rock was actually better than North Carolina-Asheville most of the game. The Trojans trailed for only a few seconds in the first 40 minutes. But they could never build a comfortable lead, and UNCA hung around long enough to close strong.
For that, the Bulldogs can thank Dickey, who scored 19 of his 22 points after halftime. The tying 3-pointer came on a step-back move from the corner he's been perfecting for the past two years.
"My 3-point shooting wasn't so good last year, so my coaches told me to keep working on it," he said. "It had to come in handy some point, and I guess it did tonight."
Dickey fits the underdog profile we like in our madness idols. He's from a town of 12,000 called Trussville, Ala., just outside of Birmingham, and his main college suitor other than UNC-Asheville was Shorter, an NAIA school.
The First Four had the potential to make its participants feel like they're shorter than the rest of the field. But the Bulldogs weren't complaining too much. They got to fly to Dayton on a charter plane, the first time any of the players had ever flown anything but commercial. After wrapping up interviews and getting dressed, they were heading back onto another charter to Washington, D.C., where they'll face No. 1 seed Pittsburgh on Thursday in the Southeast Regional.
"We're going to feel presidential again," guard
J.P. Primm
said.
The opening act of the NCAA tournament had a pretty regal feel to it, too.
March, 15, 2011
3/15/11
9:26
PM ET
DAYTON, Ohio -- The 2011 NCAA tournament is officially one game old. And if the rest of the games are as fun as the first one, we're in for a wild March.


Here is a quick recap from UNC Asheville's
81-77 overtime win
over Arkansas-Little Rock in the First Four at University of Dayton Arena.
Turning point:
UNC Asheville had only one lead in regulation, a brief one-point edge near the end of the first half. But the Bulldogs kept hanging around and chipping away before closing the second half on a 9-2 run, capped by
Matt Dickey
's 3-pointer with 10.5 seconds left. Arkansas Little-Rock's top scorer,
Solomon Bozeman
, fouled out in the final minute of regulation, and the Trojans could generate only one field goal in overtime without him.
Key stat:
UNC Asheville converted 23 of 28 free throws, including 10 of its final 12 to hold off the Trojans.
J.P. Primm
was 12-of-14 from the line.
Star player:
Dickey scored 14 of his team's final 18 points in the second half to lead the charge into overtime, and his step-back 3-pointer from the corner is the first shining moment of this year's tournament. He finished with 22 points, five rebounds and three assists.
What's next:
UNC Asheville advanced to take on Southeast Regional No. 1 seed Pittsburgh on Thursday in Washington D.C. All five of the Bulldogs starters are 6-foot-5 or under, so expect them to have trouble combating Pitt's size inside.
March, 15, 2011
3/15/11
1:40
PM ET
DAYTON, Ohio -- The road to the Final Four begins at the First Four.
For the first time in NCAA tournament history, there will be four play-in ... excuse me, first-round games, held in Dayton for the right to move on to what is now referred to as the second round on Thursday and Friday. On both Tuesday and Wednesday, two automatic-bid teams will square off to determine which faces a No. 1 seed later in the week, while a pair of the final at-large squads will try to prove their worthiness in the expanded field.
Yes, it's different and will take some getting used to. We're here to guide you through it with a preview of the First Four's first-day action.


Arkansas-Little Rock (19-16) vs. UNC-Asheville (19-13)
How they got here:
North Carolina-Asheville upset Big South regular-season champion Coastal Carolina in the conference tournament championship game. After finishing fifth in the Sun Belt's West Division, Arkansas-Little Rock made an improbable run through the conference tournament, nipping North Texas by one point in the championship game.
Storyline:
UNC-Asheville is making just its second NCAA tournament appearance, and in 2003 the Bulldogs won the opening-round game in Dayton over Texas Southern before losing to Texas. Arkansas-Little Rock is in its first NCAA tournament since 1990, when it lost to eventual national champion UNLV. The winner advances to play No. 1-seed Pittsburgh on Thursday in the Southeast Regional.
Players to watch:
UALR guard
Solomon Bozeman
was the Sun Belt's regular-season and tournament MVP, and his 3-pointer with 1.5 seconds against North Texas left punched the Trojans' dance card. The South Florida transfer shot 46 percent from 3-point range this season. UNCA is led by guards
Matt Dickey
, who was the Big South tournament MVP, and
J.P. Primm
.
What to look for:
UNC-Asheville center
D.J. Cunningham
has had an injury-plagued season and missed the Big South tournament, but the Bulldogs expect him to play in Dayton. When available, the 6-foot-10, 240-pounder provides a strong rebounding and shot-blocking presence inside. Without him, the starting lineup in the Big South tournament featured no player taller than 6-foot-5, while UALR has two players 6-7 or taller in its starting five. Asheville has a balanced scoring attack, with six players averaging at least 8.8 points per game. The Trojans' game plan is simple: lean heavily on Bozeman and the 3-point shot, at which they finished 13th best in the country in making.


UAB (22-8) vs. Clemson (21-11)
How they got here:
Clemson finished 9-7 in the ACC and won one game in the ACC tournament to squeak its way in. UAB claimed the regular-season Conference USA title but lost its first game in the conference tournament to East Carolina before receiving a Selection Sunday surprise.

Storyline:
Along with VCU, UAB was the team nobody could believe made the field. All the criticism about the Blazers, though, obscured the fact that Clemson didn't beat anyone of note all season, either. Both of these teams have a lot to prove while deciding who plays No. 5-seed West Virginia in the East Regional.
Players to watch:
UAB point guard
Aaron Johnson
leads the nation at 7.7 assists per game. Backcourt mate
Jamarr Sanders
is often the beneficiary of those passes and paces the team at 17.7 points per game. For Clemson, senior guard
Demontez Stitt
is averaging 17 points and five rebounds over his past 10 games, including a 25-point effort in the ACC tournament loss to North Carolina.
What to look for:
OK, it's time to stop griping about the selection committee and get down to business, and this has all the makings of an interesting game. Both teams are evenly matched and boast very similar statistics across the board. They both average 68 points, hold their opponents to just over 60 points, shoot 44 percent from the field and start a three-guard lineup. The Stitt versus Johnson matchup should be fun to watch. In a stronger year, these two might be meeting in the NIT. But that's just griping. "We're supposed to be here because the committee selected us to be here," Johnson said. "So what other people got to say about us, they can just keep talking because we're going to play basketball."
February, 23, 2011
2/23/11
10:30
AM ET
By
ESPN.com staff
| ESPN.com

In the closing seconds, UNC Asheville's Matt Dickey stole the inbounds in a tie game and hit the game-winning 3 to upset first-place Coastal Carolina, which entered the game 15-1 in the Big South and 24-3 overall.