College Basketball Nation:

Matt Gatens
July, 20, 2012
7/20/12
1:33
PM ET
As part of our Summer Shootaround series, here are the best- and worst-case scenarios for the Big Ten:
Illinois
Best-case
: No one's expecting much from Illinois in 2012-13, and the reasons are obvious: With zero in the way of fresh blood entering the program this season, this is essentially the same team that lost 12 of its final 14 games last season (necessitating the firing of coach Bruce Weber) only without its best player, center
Meyers Leonard
. I get it. But there hasn't been a mass exodus at the program.
Brandon Paul
and
D.J. Richardson
will be senior guards capable of blowing up at any time (Paul especially). The supporting cast has its holes, but harnessed correctly that's a backcourt that could give plenty of Big Ten teams trouble -- at the very least.
Worst-case
: What happens when you add a dearth of young talent, experienced players who pretty much gave up on their last leader and a new coach asked to bring it all together? There is no one answer. Frankly, anything is possible, and while that includes the aforementioned revival from Paul and Richardson, it could just as easily lead to Paul looking around, deciding he's the best player on his team by a lot (not that he would be wrong) and posting yet another incredibly inefficient, borderline-greedy offensive season. I don't think Illinois will totally bottom out this season, but that's only if coach John Groce can convince everyone, Paul included, that's no way to spend a year on the hardwood. If he doesn't, this could get ugly in a hurry.
Indiana
Best-case
: Don't look now, Indiana fans, but I'm going to do it: IU's best-case scenario is the NCAA collegiate men's basketball national championship. I know. Crazy, right? What's even crazier is that it doesn't require a huge stretch of the imagination. After all, Indiana will feature the best returning player in college basketball in
Cody Zeller
, who was dominant as a freshman and (according to every dispatch out of Bloomington this summer) is only beginning to showcase his newfound core strength, defense and versatility. The Hoosiers have a coterie of scorers around Zeller: stretchy wing
Christian Watford
, rim-attacking guard
Victor Oladipo
, sharpshooting floor general
Jordan Hulls
and do-everything
Will Sheehey
, not to mention a recruiting class that features at least one sure-fire immediate rotation player in point guard
Yogi Ferrell
. This team is deep and well-rounded and scores like crazy, and it's going to be a lot of fun to see where Zeller & Co. can go.
Worst-case
: To go where they really want to be, the Hoosiers are going to have to play better defense. It's just that simple. Indiana improved some last season, but where it really excelled was offense: Tom Crean's team ranked fourth in the country in adjusted offensive efficiency but just 64th on the defensive end (IU's 102-90 tournament loss to Kentucky was thrilling evidence of this disparity). Hulls' size disadvantage makes him unreliable at the point of attack; Zeller and Watford must become better rim protectors; and in general Indiana must find some trait to sustain itself on that end of the floor. At some point in the tournament, everybody goes cold. Eventually, your D has to carry you through.
Iowa
Best-case
: It's Year 3 of coach Fran McCaffery's rebuilding cycle, and everything seems to be going according to plan. Iowa has made strides in each of his first two seasons. Now with two talented freshmen from the Iowa-Nebraska border (center
Adam Woodbury
and point guard
Mike Gesell
), this could be the year the Hawkeyes officially emerge from their post-Todd Lickliter morass. Other than the freshmen, the keys are rising sophomores
Aaron White
and
Josh Oglesby
and junior
Melsahn Basabe
, who took the Big Ten by storm as a freshmen but fell off a bit last season. If there is a collective step forward and the freshmen prove productive in a hurry, this is an NCAA tournament team waiting to happen. Right on schedule.
Worst-case
: Let's not forget, of course, that senior guard
Matt Gatens
was by far this team's most efficient scorer, not to mention its senior leader -- the guy who almost
single-handedly shot Iowa into the tournament last season
. His loss is a crucial one. Just as crucial is defensive improvement. In 2011-12, the Hawkeyes were a top-35 offensive team but ranked No. 180 in defensive efficiency and No. 278 in opponents' effective field-goal percentage (eFG%). There is plenty of reason for optimism here, but if Iowa doesn't guard someone, it won't be dancing yet.
Michigan
Best-case
: Just last week, Big Ten Co-Freshman of the Year
Trey Burke
told the media he saw his team as a national title contender. That's a very optimistic best-case scenario, sure, but in such a wide-open hoops landscape, I'm inclined to agree. Burke is one of the nation's best lead guards, and he's complemented well by
Tim Hardaway Jr.
's outside-in game. The Wolverines also have a pair of top 25-ranked freshman to fawn over. Like Hardaway,
Glenn Robinson III
comes equipped with NBA genes, while just last summer forward
Mitch McGary
was once considered one of the best five prospects in the class of 2012. This is unquestionably the most talented Michigan team in a decade, and if the freshmen excel early, Burke's opinion won't seem farfetched.
Worst-case
: It's hard to see this team, which is indisputably more talented and almost certain to be more dynamic, somehow
not
being in Big Ten title contention by the end of next February. But if somehow the Wolverines are merely above average in 2012-13, it could be because they carry over last season's just-OK defensive effort (No. 60 in adjusted defensive efficiency). Or because they lack the breadth of reliable 3-point shooters (
Evan Smotrycz
transferred, while
Zack Novak
and
Stu Douglass
graduated) who have come to define coach John Beilein's two-guard front offense, which relies on 3-point shooting to stretch the floor. I think Beilein will make it work, and I think Michigan will be very tough to beat. But increased success is far from guaranteed.
Michigan State
Best-case
: As good as Michigan's backcourt is, could Michigan State's actually be better? If
Gary Harris
, the No. 2-ranked shooting guard (and No. 11-ranked player overall) in the Class of 2012 lives up to his considerable hype, it's a distinct possibility. But for seniors
Draymond Green
and
Austin Thornton
(and one-year graduate rental
Brandon Wood
), the Spartans return everybody from last year's 29-8 redeem team, including big-bodied forward
Derrick Nix
, still-blossoming athletic freak
Adreian Payne
and impressive freshman
Branden Dawson
, who should recovery from an ACL tear in time to join the team for the Big Ten season. But the key to it all is point guard
Keith Appling
. If Appling is a star -- and I would bet he will be -- the Spartans will be right back near the top of the Big Ten, same as usual.
Worst-case
: I brushed over Green's departure casually in the above paragraph, but there's really no way to overstate just how important Green was to Michigan State in 2011-12. Not only was he the team's tireless vocal leader, he was its best scorer, rebounder
and
passer. Without Green to solidify everything the team did, it's not unfathomable to see Michigan State take a step back into respectable but not great territory.
Editor's note: ESPN.com's Summer Shootaround series is catching up on the offseason storylines for each conference. For the rest of the best- and worst-case scenarios for the Big Ten, click here.
March, 8, 2012
3/08/12
1:27
PM ET
Overview:
Both Iowa and Illinois entered the Big Ten tournament in need of a championship to earn a trip to the Big Dance. Iowa had managed to impress in stretches this season (the Hawkeyes swept Wisconsin) and was mentioned as a sleeper in the buildup to the Big Ten tournament. Illinois, however, had fallen on hard times. The Illini had lost 11 of their past 13 -- a stretch that might cost Bruce Weber his job -- prior to Thursday's 64-61 loss to Iowa.


After a back-and-forth first half that featured a 50 percent shooting clip for Illinois and a 46 percent mark for Iowa (Illinois had a 31-27 lead at halftime after a
D.J. Richardson
3-pointer at the buzzer), Illinois stormed out to a 40-33 advantage just minutes in the second half. But Iowa returned fire with a 22-8 run that gave the Hawkeyes a 55-48 advantage midway through the second half.
It was just a four-point game in the final minute, and a crucial Iowa turnover seemed to put Illinois in a position to change the outcome. But the Illini coughed the ball up before they could do anything with that vital possession.
Joseph Bertrand
hit a 3-pointer with 16.1 seconds to play, cutting Iowa's lead to one (62-61). But a pair of free throws by
Matt Gatens
put the Hawkeyes ahead again by three.
Turning point:
The Illini appeared to possess a little mojo at the start of the second half, but Gatens squashed that momentum with a pair of crucial buckets near the 14-minute mark. Gatens hit a deep three, then dunked off a turnover on the other end. The game turned off that stretch. Iowa began playing with more vigor, which led to the run that turned the game in the Hawkeyes' favor.
Key player:
Gatens was a star for the Hawkeyes. He scored 20 on 7-for-12 shooting. Beyond the box score, however, the senior stayed calm when Illinois started to pull away at the start of the second half. He also had three rebounds and an assist. He converted all four of his free throw attempts, including two in the final seconds.
Key stat:
The Illini committed 12 turnovers compared to Iowa's six. The Illini went 7-for-25 from beyond the arc.
Miscellaneous:
The Illini made this game far more difficult than it had to be with tough shots toward the end of the shot clock …
Meyers Leonard
scored 18 points in what might have been his final game at Illinois … Freshman
Aaron White
(13 points) could be a Big Ten star next year.
What's next:
Iowa moves on to face Michigan State at noon on Friday. Illinois will probably end up in the NIT. The bigger question is how long Weber will be on the sideline.
February, 24, 2012
2/24/12
5:15
PM ET
Consider, for a moment, the kind of week Iowa guard
Matt Gatens
just had.
On Sunday, he set a then-career high in points, scoring 30 in a 78-66 win over Indiana. Four days later, Gatens scored 33 -- yes, another career high -- in a 67-66 win over Wisconsin. Taken as a whole, Gatens was 22-of-36 from the field, including a scorching 14-for-20 from 3-point range. On Thursday night, he hit two free throws with 3.6 seconds remaining, enough to hold off Wisconsin's final push.
"My teammates are like, 'What's gotten into you, man?'" Gatens told ESPN.com by phone Friday. "It's just one of those things. It feels good. It's all been clicking. It's great."
Wherever the hot stretch came from, its timing couldn't be better. That's true of the Hawkeyes, who are suddenly, desperately clawing their way toward fringe NCAA tournament consideration.
[+] Enlarge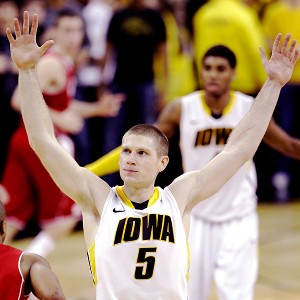 AP Photo/Charlie NeibergallMatt Gatens and the Hawkeyes must win out to have a shot at making the NCAA tournament.
Few people are lucky enough to know what they want to do in ninth grade. Gatens was one of them. That's when Gatens, a top-100 recruit in the class of 2008, committed to then-Iowa coach Steve Alford. This may have been the least surprising commitment of all time. Gatens was born and raised in Iowa City. His father, Mike Gatens, played at Iowa in the 1970s. His mother, Julie, is a former Hawkeyes cheerleader.
Gatens remembers visiting practices as a kid, watching Tom Davis' old teams, idolizing point guard Andre Woolridge -- whose No. 5 jersey Gatens adopted as a child (and still wears today) -- lead the Hawks on the break in front of a rocking Carver-Hawkeye Arena crowd. Back when Carver-Hawkeye used to rock.
Since he was born, Gatens has bled black and gold. If only he'd been born at a different time.
"When I came to Iowa, my goal was to get to NCAA tournaments and compete on a national level," he said. "We obviously haven't done that."
Gatens couldn't have known it at the time, but his commitment would be followed by one of the more fallow periods in Iowa hoops history. Before 2006-07, Alford's final year with the program, the Hawkeyes had reached the NIT or NCAA tournament in 24 of the past 28 seasons. This dated back to Lute Olson's tenure in the late 1980s and early '90s. Alford resigned at Iowa after the 2006-07 season, just one year before Gatens was set to enter the program.
He was replaced by former Butler coach Todd Lickliter, whose tenure at the school might charitably be described as a "disappointment." "Disaster" is probably a better word. Lickliter went 38-57 overall and 15-39 in the Big Ten in three seasons. His final season, a grating 10-22 campaign, pushed football-obsessed Iowa fans away. In 2010, Lickliter was replaced by former Siena coach Fran McCaffery, and Gatens faced the prospect of playing for the program's third coach in five years.
Through no fault of his own, the hometown kid who only ever wanted to play for Iowa found himself caught in a vicious rebuilding cycle. He was a talent, perhaps Iowa's only talent, capable of scoring in bunches -- Gatens has averaged double-digit points in each of his four seasons -- but not quite good enough to carry a program on his back. The easy thing to do -- what many college players do, and understandably so -- is transfer. But Gatens never gave it a thought, never wavered on his teenage commitment. Why?
"I grew up loving the Hawkeyes," Gatens said. "It was always my dream to play here. Iowa fans have a saying: 'Once a Hawkeye, always a Hawkeye.'"
In McCaffery's second season, the Hawkeyes are still rebuilding. McCaffery
has two ESPN top-100 recruits
, both Iowa natives, on board for 2012. Which is all well and good, Gatens said, but as a senior with just a few more weeks left in his career, he isn't content to go down without a fight. Frankly, he's running out of time.
"I'm just trying to get this program back to where it deserves to be," he said. "We've got a lot of young guys here. The program is going to be fine. But we seniors want to go out and create our own memories for the fans too.
"You just want to get everything you can out of it. We want to get the tournament. We haven't done it, but if we keep playing the way we are down the stretch, I think we can get into that conversation."
It isn't going to be easy. Iowa, which is 2-8 away from Carver-Hawkeye this season, will travel to Illinois and Nebraska for two of its final three games. Both are must-wins, and they're followed by a home date against bubble team Northwestern in the March 3 season finale. After wins over Indiana and Wisconsin, the Hawks' at-large résumé is much better than it was, but their bad RPI (No. 126) and ugly nonconference strength of schedule (No. 305) mean they have to win out (for a 10-8 Big Ten record) and possibly make a run in the Big Ten tournament to get within striking distance of at-large consideration.
It's a long shot, sure, but it's one that didn't even exist before Gatens dropped 63 points and 14 3s on two ranked teams this week. As his career winds down, and the prospect of life after Iowa basketball comes into stark focus, Gatens is trying to be remembered as more than the hometown kid whose career came at the worst possible time.
"Hopefully the fans will remember me as a guy who loved Iowa, whose dream it was to play here, a guy that remained loyal to the fan base through good times and the bad," he said. "But hopefully, they'll remember me as someone who went out on a higher note. Hopefully they can remember me a winner too."
February, 24, 2012
2/24/12
5:00
AM ET
1. Alabama coach Anthony Grant has built up quite a bit of leverage. Grant held his ground on the suspensions of
JaMychal Green
and
Tony Mitchell
and the Tide has won two straight. Mitchell is done for the season, but Green has been reinstated, though, Grant didn't play him at Arkansas Thursday night. The Tide, which looked lost and out of the NCAA tournament discussion a week or so ago, are now back in position with three winnable games to close the season against Mississippi State, Auburn and at Ole Miss.
2. Could Iowa make a run to the NCAA tournament? Well, it's not totally crazy. The Hawkeyes have won two home games in a row over ranked Indiana and Wisconsin as
Matt Gatens
scored a combined 63 points in two games. What if Iowa were to win at Illinois, Nebraska and beat Northwestern at home to finish 10-8 in the Big Ten? It's not implausible. The Hawkeyes may be more than a spoiler in the Big Ten tournament. There is a chance the Hawkeyes could be playing their way toward a bid. The beauty of a league like the Big Ten is that the opportunities are still available.
3. Duke has a more favorable schedule than North Carolina. What would really be remarkable is if Duke won the ACC despite losing two conference home games and neither was against North Carolina. But it's possible. The Blue Devils aren't going to wow you, but they have risen in the games that mattered most on the road in the ACC. Duke could end up being one of the softest No. 1s among the four, but could earn it if the Blue Devils can get past the Tar Heels in the coming weeks.
October, 27, 2010
10/27/10
3:30
PM ET
Jinxes are not real. Whether you're watching baseball, navigating ladder-strewn sidewalks, or
squaring off with the judge on the U.S.-Mexico border
, it's important to remind yourself: jinxes do not exist.
So, no, I do not have the
power to jinx Iowa forward Matt Gatens
. This is just really awful timing.
A mere two days after
lauding Gatens as a potential individual breakout pick in the Big Ten this season
, Iowa coach Fran McCaffery
told the Associated Press
that Gatens tore a tendon in his left hand and will be out indefinitely. McCaffery didn't offer much in the way of specifics, but an Iowa spokesman did say that the injury isn't expected to be season-ending. Gatens will have surgery Thursday.
Even if the injury isn't season-ending, the Hawkeyes just went from really bad to really, really, really bad, and Gatens just went from a potential star to an outpatient. It's another bad break for an Iowa program that seems to be stacking those up in the past three years, and it's another bummer for Gatens, a promising player whose career has been marred by forces outside his control. Here's to a speedy recovery. Karma may be no more real than the jinx, but still, Iowa could use a little good karma right now.
October, 25, 2010
10/25/10
2:55
PM ET
You have to feel for
Matt Gatens
. He did, after all, come to Iowa in a torrent of optimism. New coach Todd Lickliter had just finished his first season, and at that point could be reasonably expected to rebuild the Hawkeyes in the manner of his former Butler program. Gatens was ranked No. 99 overall in the class of 2008, the sort of impact recruit Iowa desperately needed. And, to top it all off, Gatens was a hometown kid, an Iowa City native that committed to Steve Alford as a high school freshman and stuck with Lickliter when Alford was unceremoniously let go.
Needless to say, things have not gone well. Lickliter presided over sub-.500 seasons; the Hawkeyes never won more than six games in the Big Ten and never qualified for the NIT, let alone the NCAA tournament. Meanwhile, fans abandoned the program, and the rollicking Carver-Hawkeye Arena of Gatens' youth (Jess Settles: never forget) fell silent.
Now a junior, Gatens is playing under his second coach (third, technically, if you want to count the commitment to Alford), and Iowa is again in the first year of an entrenched rebuilding process. It's probably not quite the tenure the Iowan envisioned for himself.
Still, there might be one bit of positive news here, and that's that in 2010-11, under new coach Fran McCaffery's up-tempo system, Gatens will have every opportunity to make a name for himself. Why? Pace.
From Basketball Prospectus
:
Iowa was 341st with a 58.5 adjusted tempo in the 2008-09 and 333rd with a 60.4 mark in 2007-08. The Hawkeyes failed to score 60 points in 54 of Lickliter's 96 games. Not surprisingly, Iowa's attendance dropped to an average of just 9,550 a game last season. By comparison, McCaffrey's Siena teams were held under 60 points just nine times in 163 games in five seasons. [...]

Gatens was Iowa's leading scorer last season when he averaged 12.3 points/4.3 rebounds/3.3 assists/36.7 minutes a game while ranking 20th in the nation in percentage of minutes played with 91.3. Slimmed down to 208 pounds, Gatens is moving from forward to guard this season and McCaffrey is expecting big things, saying "He's actually driving and dunking the ball like he used to."
There are at least four encouraging signs in those two paragraphs. The first is McCaffery's desire to play up-tempo. That's nothing new, of course; the former Siena coach
has been touting the benefits of high-speed hoops since he got the job this spring
. The second is Gatens' usage rate, which doesn't figure to dip thanks to a rather shallow Iowa roster. The third is the guard-forward switch. The fourth is Gatens' weight loss.
All four factors figure to make Gatens a much more statistically impressive scorer. Gatens was already putting up solid, if not great, numbers in Lickliter's brutally slow system. Even if Gatens doesn't get any more efficient (and he might), a drastic increase in possessions is bound to significantly improve his counting stats. Throw in the position switch (more time facing the hoop can't be a bad thing) and the weight loss (physical fitness is always good, right?) and you've got a potential breakout candidate on your hands.
Of course, that doesn't mean the Hawkeyes will be good. They, um, won't. But for a player that has stuck by his hometown school after two regime changes and two years of horrendous performance, a little individual recognition might be the next best thing.