College Basketball Nation:

Matt Pressey
February, 25, 2012
2/25/12
11:41
PM ET
LAWRENCE, Kan. -- Outside Allen Fieldhouse, nearly an hour after the most memorable game in the venue's storied history, a black chartered bus with gold stripes and a Show-Me-State license plate idled in the parking lot.
One by one, each member of the
Missouri Tigers
basketball team walked past armed security guards and made his way toward the door.
Matt Pressey
stopped and signed items for autograph seekers,
Michael Dixon
hid his face beneath a gray hoodie and
Marcus Denmon
slouched in his seat as he peered through a tinted window.
Outside, first-year coach Frank Haith paced back and forth across the sidewalk, staring at the ground as he talked on his cell phone following his team's
87-86 overtime loss
to Kansas. Eventually, the luggage compartment was shut. The bus engine gurgled and Haith climbed aboard.
At 6:27 p.m. central time, the Border War was over.
The driver's foot pressed a pedal and the Missouri Tigers were whisked away from Allen Fieldhouse and Lawrence, Kansas.
Forever.
For Jason King's full column, click
here
.
January, 12, 2012
1/12/12
2:09
AM ET
AMES, Iowa –
Matt Pressey
wanted to speak his mind.
The chatter that followed his team's 16-point loss at Kansas State on Saturday — which snapped its 14-game winning streak — became fodder for the critics who thought the Tigers' lofty ranking belied their true standing.
Had Pressey heard the jeers from the naysayers in recent days?
His response began with a shoulder shrug.
But before he could open his mouth to answer the question after his team's
76-69 victory at Iowa State
on Wednesday, Missouri coach Frank Haith interjected.
"We didn't hear that criticism. So we don't listen. Things we can't control, OK?" Haith said.
He sounded like a man who just wanted to forget.
Everything about Missouri's loss in Manhattan, Kan., seemed to justify its doubters.
They're not big enough. They're not deep enough. They're not tough enough. They'll struggle outside of Columbia.
But everything about the Tigers' gritty victory over Iowa State suggested otherwise.
They're extremely fast on the perimeter. They're crafty enough to guard bigger squads. They scored 40 points in the paint even though they're one of the smallest teams in the league. And on a night when their leading scorer struggled, six other players recorded double figures.
The Tigers never used the word "need" in describing Wednesday's victory, but it was an essential win for the program.
Some squads still haven't recovered from stinging losses suffered weeks ago. Losing became a trend for Pitt and UCLA, two teams that suffered tough defeats in the early stages of the 2011-12 season.
To stop one loss from affecting their future, the Tigers would have to show more moxie on the road than they appeared to have Saturday.
"To win on the road, you've got to have that kind of mental toughness," Haith said. "You've gotta be able to withstand runs because teams are going to go on runs because of the crowd."
[+] Enlarge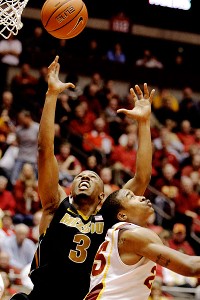 AP Photo/Charlie NeibergallSenior Matt Pressey, left, said he and his Missouri teammates worked on mental toughness after suffering their first loss.
So Haith set aside some time to talk about all of the problems that affected his Tigers in the Kansas State loss. There were many.
They were outscored 44-25 in the first half. They were crushed on the boards. And they hit just 29 percent of their 3-pointers.
Once those issues were discussed, Haith told his team to forget about the loss and move forward.
"We spent a lot of time on that Sunday talking about K-State and then, there was no more to talk about," Haith said. "We were on to the next game. We were on to preparing ourselves. Once we got done with it, it was talking about the toughness thing. We physically got whipped. … They understood we cannot let that happen again."
Déjà vu, however, lurked at Hilton Coliseum.
An Iowa State squad that connected on 8 of its 12 first-half 3s -- including
Scott Christopherson
's halfcourt shot just before halftime -- and followed the lead of a 6-foot-8 point guard/power forward
Royce White
(16 points) looked like the better team early.
But Missouri's premier qualities emerged in the second half. The Tigers hit 59 percent of their shots after halftime. And although
Marcus Denmon
(1-for-5 for just 6 points) struggled, six of the seven Mizzou players who saw time for Haith scored in double figures.
"If we do a good job of being aggressive … They're going to have to pick their poison," Pressey said about his squad's versatility.
The Tigers met every Cyclones charge in the second half with their own surge. After
Chris Allen
nailed a 3-pointer with 22 seconds on the clock to cut Missouri's lead to 3, Denmon knocked down four free throws to seal the win. That was with both Kim English and Steve Moore on the bench with five fouls.
Chest-thumping and fist-pumping spread through Missouri's bench as the Tigers fought off the Cyclones with five players. The team's intensity rose with every ISU threat.
They wanted the test and another chance to prove themselves in a hostile environment. And they elevated their collective game against the challenge.
"The whole week we focused on being mentally tough," Pressey said. "Not so much physically, but being mentally tough on both ends, defense and offense."
Missouri's deficiencies could continue to cause problems, especially as it prepares to play some of the league's bigger teams. But the Tigers say they don't care about their weaknesses or the critics who emphasize them.
They're comfortable with who they are. They also realize that they're going to pose matchup problems for opponents, too.
"We've got a lot of guys who can score it," Haith said. "It's no secret. We're not going to get any taller between now and the end of the year. We're not going to add any more dudes. This is what we got."
January, 11, 2012
1/11/12
10:09
PM ET
AMES, Iowa – Here are my quick thoughts on Wednesday's
Iowa State-Missouri matchup
.


How it happened
: Iowa State lost its leading scorer, rebounder and passer five minutes into the first half when
Royce White
went to the bench with two fouls. But
Ricardo Ratliffe
went out for Missouri soon after with the same problem.
The undersized squads played small ball for most of the first half. But Iowa State had the momentum.
The Cyclones missed two key opportunities, however, to extend a lead against a top-10 opponent. The No. 9 Tigers went scoreless for a five-minute stretch midway through the first half, but a turnover, a misguided alley-oop and bad shots prevented the Cyclones from seizing the opportunity.
And after
Scott Christopherson
, who led all scorers with 19 points, nailed a 50-foot 3-pointer at the halftime buzzer – Iowa State was then 8-for-12 from behind the 3-point line and shooting 48 percent from the field – the Cyclones came out of the locker room with mojo. But they started the second half with four missed free throws and a turnover, squandering another chance to build a lead against Missouri.
The Tigers, seeking a victory after a 16-point loss to Kansas State over the weekend, turned it up a notch in the second half. Their perimeter speed was clearly a problem for the Cyclones. After taking a two-point lead two minutes into the second half, ISU never led again.
Mizzou was led by
Matt Pressey
(14 points), Ratliffe (12 points) and
Phil Pressey
(12 points). The Tigers shot 59 percent from the field in the second half.
After
Chris Allen
(17 points) hit a 3-pointer with 22 seconds on the clock, however, Iowa State was down just 72-69. But Mizzou sank four free throws in the final seconds to seal the victory.
Iowa State's greatest challenge came at the free throw line. White scored 16 points, but he was also 2-for-8 from the charity stripe. His team was 13-for-25.
Star of the game
: Matt Pressey led six Tigers in double figures. He was 5-for-8 from the field and made all four of his free throws.
Most awkward moment
: Iowa State fans yelled "Sit down!" as
Steve Moore
went to the bench with his fifth foul late in the second half. One problem … White was at the line shooting a free throw. He missed it.
Turning point
: Allen threw an ill-advised alley-oop to White near the seven-minute mark with Iowa State down 57-55. Missouri scored off the turnover, kicking off a crucial 9-3 run that gave the Tigers breathing room late with a 66-58 edge.
What the win means for Missouri:
The victory will help the Tigers forget about the disaster at Kansas State and quickly rebuild their confidence.
What the loss means for Iowa State:
It means that the Cyclones aren't good enough to squander key opportunities to pull away from talented squads. But they lost this game due to some fixable flaws. The Cyclones should still be a factor in the Big 12.
Up next:
Missouri will host Texas on Saturday; Iowa State will travel to Kansas the same day.
November, 9, 2011
11/09/11
5:00
AM ET
1. Organizers for the Carrier Classic and the U.S. Navy will make a Thursday night call if the North Carolina-Michigan State game has to be moved to the hanger below the top deck due to weather. The forecast for Friday in San Diego calls for a high of 65 with a 30 percent chance of showers. The two teams will practice on top of the deck Thursday afternoon where it is expected to be 72 and sunny.
2. Missouri coach Frank Haith said he will play like Villanova this season after the season-ending injury to forward
Laurence Bowers
. Haith said he will play four guards --
Kim English
,
Marcus Denmon
,
Phil Pressey
and
Matt Pressey
-- with
Ricardo Ratliffe
inside. His first player off the bench will be guard
Michael Dixon
. Haith said he's confident the Tigers will be difficult to guard.
3. Connecticut is still anxiously awaiting an update on freshman guard
Ryan Boatright
's eligibility. Boatright is eligible to practice but not play in games while the NCAA is looking into a plane ticket he received while playing AAU basketball. UConn assistant coach Kevin Ollie said Boatright is a must to spell
Shabazz Napier
at the point. Boatright is the most vocal of any Huskie as UConn searches for a voice to replace Kemba Walker. Boatright could also be the most productive player off the bench.