College Basketball Nation:

Matt Roth
August, 28, 2012
8/28/12
2:35
PM ET
Not that he really seemed that way in the first place,
Matt Roth
's original comments about his scholarship status at Indiana --
as told to the Bloomington Herald-Times's Dustin Dopirak
-- didn't seem accusatory or angry. Instead, he seemed slightly confused, but he also ultimately understood the reality of the situation, and given the Hoosiers' 13 scholarship players and Roth's participation in senior day this spring, it was hardly a surprise to learn he wouldn't be in the Hoosiers' lineup anyway.

Still, the situation spoke to the perils of oversigning -- even without Roth, IU was still over the scholarship limit until the academics-based departure of recruit Ron Patterson -- and with the Hoosiers suddenly on the cusp of a national title run,
it was hard to come away thinking the guy got anything but a bum deal
. Plus, Roth's account of his interaction at coach Tom Crean's basketball camp over the weekend, wherein the two didn't discuss the situation but Crean offered his services as a reference ("You kind of put one and one together there," he said), gave the impression that Roth himself was largely left in the dark.
The would-be fifth-year senior was very eager to dispel that notion Monday.
In an interview with Indiana fan site Peegs.com
, Roth told reporter Jeff Rabjohns that he and Crean "have a great relationship and that the two were in regular contact throughout the summer," and that he was more aware of his status situation than he let on. He said the coaching staff "did a great job of keeping me in the loop, helping me as a person, not just as an athlete," and that the scholarship situation "didn't work out in my favor."
Roth repeated that at no time did he feel he wasn't in communication with Crean and the basketball staff about his situation. He said answers he gave to questions about whether he spoke with Crean at one specific point in time were misconstrued as a comment on the overall situation in some recent articles.

"There were conversations," Roth said. "They did a great job. They tried in every way to make it possible for me to return. I knew it would take a lot of things that nobody could control. I can't say enough about the way they helped me in job pursuits. I know behind the scenes, they've done a lot of great things to help me in the interview process. They've really been there and helped me as I've tried to find a job, and they've helped me try to find a job in the location where my fiance and I want to be as we start our lives."
Roth holds no ill will, and in fact is quite eager to make sure everyone knows he holds no ill will, particularly in the wake of the bad press Indiana received Monday. He also apparently understands that this sort of thing comes with elite program territory:
"[After the season], I had several talks with the coaches," Roth said. "I was very aware there were several things that would have to happen for a scholarship to open up with the recruiting success IU is having and the return of IU basketball to where it should be. I was well aware of all that. They did everything in their power. There were a lot of things they could not control. I was well aware of that."
Which brings us back to the original point. Whatever Roth's feelings on the situation -- and they matter more than anyone else's -- the sheer fact is that a few weeks ago Indiana had at least one more player than scholarships for the 2012-13 season, and two if you included Roth. The Hoosiers were lucky to have a guy as reasonable and supportive as Roth be one of those players, and arguably just as lucky to have Patterson's academics keep him from enrolling as a freshman this fall. Things worked out. Roth is moving on. Life is peachy in Bloomington, Ind.
Even so, these are the kinds of situations that arise when your program is on a meteoric rise, when you have more interested players than available scholarships. And such situations are almost never flattering.
August, 27, 2012
8/27/12
10:00
AM ET
It is no surprise to learn that former Indiana guard Matt Roth won't be returning to the Hoosiers for his fifth year of eligibility this fall. There are many reasons for such a statement. Roth already has a bachelor's degree and a masters. He isn't enrolled in school in the fall. Indiana already has 13 scholarship players, which is the limit. Until
recruit Ron Patterson's tough summer of academics
cost him his spot at IU, the Hoosiers had 14 scholarship players. Roth participated at IU's senior night this spring. And so on.
[+] Enlarge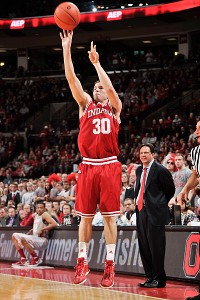 Jamie Sabau/Getty ImagesGuard Matt Roth won't be playing for the Hoosiers this season.
Still, Roth -- per his conversation
with the Bloomington Herald-Times' Dustin Dopirak Sunday evening
-- remained a tad bit confused. It's not that he didn't get it. He did. It's just that, according to his account, he never actually received official word on his status. He kind of had to figure it out for himself.
That includes waiting to hear for much of the summer, having been told to keep his options open for the coming fall. It also includes an appearance at IU coach Tom Crean's basketball camp Saturday, during which the two "briefly spoke" but never directly discussed Roth's status. And yet, of course, it was obvious. From Dustin:
Roth said he and Crean spoke briefly at camp, but he didn't want to pull Crean away from coaching the young players at the camp. Roth said even though Crean didn't directly address his status, he did tell Roth to use him as a reference for any job applications. He said he appreciated that, but it also allowed him to read between the lines.

"You kind of put one and one together there," Roth said.
For one, Roth could be spending another year at IU, but isn't because his services are no longer needed. But he seems OK with that. It's not the nicest thing about college basketball, but it is a thing about college basketball, at least until student-athletes don't face a wild imbalance of scholarship power. Also, Roth could have transferred; he could have been eligible to play somewhere else right away, per the graduate student transfer exception. The demand-supply thing doesn't always cut both ways in situations like these, but it seems to here.
What feels a little bit ickier is that Roth was told to keep his options open, and so -- instead of finding a job in athletic administration, his chosen field -- he did exactly that. He kept his options open. He didn't go out and find a gig. He didn't transfer. And ... now he's kind of stuck. Why? Because Indiana, thanks to both awkward timing and Crean's own aggressive acquisition of talent, simply has more players than it needs. From Dustin again:
"It's going to be tough to find something," [Roth] said. "But I'm being optimistic. I might have to take a job that isn't in my field and make it work for a couple of years, or maybe I find something that I've never thought about that hits home as something I'd want to do."
He added that what people will eventually remember about his career is that "I gave it everything I had for four years here," and he's right. Indiana fans are likely to remember him for that. They'll certainly remember him for being really good at one thing: shooting a basketball. If Roth didn't do a whole lot else during his Indiana career, man, he could shoot the basketball.
Funny thing is, that career began when Indiana needed players more than players needed Indiana. It ended just before what could be one of its best seasons in the past 25 years. And so the transition is complete.
May, 8, 2012
5/08/12
1:15
PM ET