College Basketball Nation:

Matt Vogrich
March, 22, 2013
3/22/13
6:00
PM ET
AUBURN HILLS, Mich. -- VCU has spent much of this season flustering opposing point guards, sending them into various states of disarray and their "Havoc" defense wreaked, well, havoc on the plans of opponents all season long.
The Rams, though, have not seen an offense quite like the one they will Saturday in the round of 32. VCU turns everyone over. Michigan, with its sophomore point guard
Trey Burke
, hardly ever gives up the ball.
Something has to give.
"It's a difference of style," VCU sophomore guard
Briante Weber
said. "If they take care of the ball, they win. If we get them to turn over, then we win."
It may come off as that simple, but trying to beat Havoc is anything but.
[+] Enlarge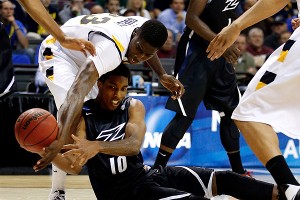 Gregory Shamus/Getty ImagesVCU's "Havoc" defense forced Akron into 21 turnovers during the Rams' first-round rout.
Michigan spent Friday morning looking at variations of VCU's Havoc, then walked through the varying press breaks it would try to use to stop it.
It is not something the Wolverines can simulate. Other teams have tried and failed.
"We really haven't seen pressure like that in my years of being here," said Memphis junior guard
Chris Crawford
, whose Tigers lost to VCU 78-65 in November. "We had to adjust to it, but it was like they were everywhere."
That is part of the plan. VCU spends its entire preseason working on conditioning and defense in an effort to run Havoc at almost all times, forcing opponents to flail about and start to see passing lanes that aren't really there.
It happened for Memphis, which turned the ball over 22 times in that loss. That number is what the Rams have averaged in their 27 wins this season. They have blitzed opponents left and right with a press that can have a multitude of variations, depending on the opponent.
"We just try to deny the wings," VCU guard
Darius Theus
said. "Team stops, actually. Just build a wall around the basket."
The wall, at times, can seem impenetrable. It took Memphis a half to figure out exactly how to move the ball up the floor against VCU. And trying to do it with one primary point guard alone won't work, either.
"What's crazy is it's one thing to try and prepare for it," Memphis assistant Damon Stoudamire said. "When we actually seen it, it started our guys on the initial. If we played them now, we'd be prepared.
"When you see stuff like that, the way it came, it's like a barrage, boom, boom, boom, boom. And they made shots. They turning you over and then they score, that's a bad recipe right there."
The key is to not try and go up the sides of the floor. Doing that will be the high-risk, high-reward maneuver for Michigan. If it beats VCU up the side, it'll have a fast break. If it doesn't -- it'll be a likely turnover.
And it needs to get more than just Burke involved, using guards
Tim Hardaway Jr.
,
Nik Stauskas
and maybe even backup point guard
Spike Albrecht
as options.
"Our guys have to stay connected," Michigan assistant LaVall Jordan said. "They are all connected defensively with their rotations and their traps. We have to be connected offensively."
Someone will get disjointed Saturday. Whichever team doesn't likely will end up winning.
News and Notes
Memphis and Michigan State know each other well even as nonconference opponents. Tigers point guard Joe Jackson and Spartans guard Keith Applingplayed together on the USA Basketball Under-19 team this summer. "I'm real cool with Keith Appling," Jackson said. "We played together in the USA games overseas. I kind of know what he can do good and what he can do bad."He isn't the only one to know a Michigan State player. Memphis' Adonis Thomas and Michigan State's Branden Dawson were teammates on the West team in the 2011 McDonald's All American game, and Dawson said they have stayed in touch. "He's a great guy," Dawson said. "A great player. The thing that really shocked me is that he's 6-7, 240 now. When we were at the McDonald's, he didn't weigh that much." There's also a decent chance Appling will be matched up with Jackson and Thomas with Dawson on Saturday.

Appling tweaked the patellar tendon in his left knee Thursday against Valparaiso. A day later, he said it is still bothering him "a little bit off and on," but that he anticipated playing tomorrow.

Burke said his back is "a little sore" from falling yesterday but definitely would play Saturday. Michigan guard Matt Vogrich, who missed Thursday's game with strep throat, was back with the team Friday.
November, 2, 2012
11/02/12
10:45
AM ET
The top five teams in
our preseason rankings
belong there. There are far more strengths than weaknesses for Indiana, Louisville, Kentucky, Michigan and Kansas. Sure, there's always room for the unpredictable occurrences that could change any program's fortunes, such as injuries and suspensions.
The obvious flaws, however, seem minimal for the programs on this list. Indiana is deep and anchored by America's top player,
Cody Zeller
. Multiple standouts return for a Louisville squad that reached the Final Four without a completely healthy roster. Kentucky shipped its starting five to the NBA in June, then added more NBA-level talent by July. Michigan has the nation's top point guard (
Trey Burke
) and an elite prospect inside (
Mitch McGary
). Kansas has an elite core with
Jeff Withey
,
Elijah Johnson
and freshman
Ben McLemore
in the mix.
So what could go wrong? Well ...
What could go wrong with Indiana? The Hoosiers' struggles outside Bloomington continue. I'd like to believe the infusion of talent on Tom Crean's roster will overcome any repeat of the program's subpar performances on the road last season. But I can't assume anything right now. I'll exclude any references to the team's challenges in venues not named Assembly Hall during the Dark Years (Crean won 28 games in his first three seasons after the Kelvin Sampson scandal). But last season, Crean finally had the team he desired. And he still struggled on the road. The Hoosiers simply were a different squad in those scenarios, mostly on defense (64th in adjusted defensive efficiency in 2011-12). Of their eight losses outside Bloomington, five were double-digit defeats. Two were to Iowa and Nebraska. If inconsistency follows the Hoosiers on the road (or to neutral venues) this season, they might lack the momentum necessary to put together a serious run in March. The ability to execute in hostile and foreign arenas is a staple of championship-caliber teams. Indiana has yet to prove it's capable and consistent in those situations.

[+] Enlarge

AP Photo/Bill HaberGetting top-five talent seems a given for Kentucky coach John Calipari, left, and Kansas' Bill Self; top-five performance is another matter.

What could go wrong with Louisville? The Cardinals can't score. Rick Pitino's history suggests Louisville will defend as well as any team in America. Again. The Cardinals were No. 1 in adjusted defensive efficiency last season. And they rode that defense to the Final Four in New Orleans. Louisville's greatest quandary was its lukewarm offense, especially in close games. The team lost seven games by eight points or fewer. And 12 of its victories were decided by the same margin. Those games could have gone either way. That's tightrope basketball for a team that failed to reach 60 points in nine games. And it could catch up to the Cardinals in 2012-13, especially with Kyle Kuric gone. When the Cards need a bucket in those situations, whom will Pitino turn to? His best options (Russ Smith, Peyton Siva, Wayne Blackshear and Chane Behanan) all were inconsistent last season.

What could go wrong with Kentucky? The freshmen play like freshmen. Last season's Kentucky team was special. Anthony Davis and Michael Kidd-Gilchrist were the subjects of national headlines because of their youth and talent. But UK was bigger than the two freshman stars. Terrence Jones was mature enough -- down the stretch -- to take on a complementary role. Marquis Teague, Doron Lamb and Darius Miller solidified the nucleus. The chemistry of that championship team was its greatest trait. John Calipari recruits talented freshmen, then fosters an atmosphere that helps them blend with his veterans. It's not easy or common. Throughout the history of college basketball, there are more examples of freshmen fumbling through a season than succeeding, especially when offered key roles with elite teams. Although Calipari has mastered the formula for the one-and-done generation better than any other coach in the country, there's always the possibility the freshmen on his roster will make the mistakes most freshmen make. Calipari's current group -- featuring future NBA lottery picks Nerlens Noel and Alex Poythress -- is young and strong. That's the norm in Lexington. Youthful errors that lead to limited success, however, are the norm everywhere else.

What could go wrong with Michigan? John Beilein's offense becomes stale without 3-point shooters. I asked Beilein about the departures of two crucial 3-point shooters, Stu Douglass and Zack Novak, during Big Ten media day in Chicago. "Hopefully we've replaced that a little bit. But [players] that really understood what we were doing offensively? That's the difficult part," he said. Douglass, Novak and Evan Smotrycz, who transferred to Maryland, accounted for 140 of the team's 276 made 3-pointers in 2011-12. Beilein's system thrives on perimeter balance: guards who penetrate and proven shooters they can dish to when defenses collapse. Beilein's new options -- Matt Vogrich (10.7 minutes per game last season) and four-star freshman Nik Stauskas -- are unproven. They might fill in perfectly. But the proficiency of the shooters who departed was vital for the entire roster. Burke and Tim Hardaway Jr. could create shots partially because defenses couldn't leave Novak and Douglass. There's a trend with Beilein. In 1994-95, his Canisius squad shot 669 3-pointers, second in the school's history. His 2001-02 Richmond team took 893 from beyond the arc, a record for the program. His 2004-05 West Virginia squad took 785 3-pointers, fourth in the nation that season. Beilein's squads live and die by the 3-ball. It's crucial within his system. Beilein's offense will stall if he fails to identify players he can trust on the perimeter prior to the start of Big Ten season.

What could go wrong with Kansas? The Thomas Robinson hole is too big to fill. Kansas is the preseason favorite to win the Big 12. The Jayhawks are seeking their ninth consecutive conference crown. It's an impressive run that illustrates Bill Self's ability to replace talent with more talent. Robinson was different, though. He was obviously elite (17.7 points and 11.9 rebounds per game). But he also boosted the resilience of last season's Kansas squad, which was gritty enough to reach the national title game in a come-from-behind win over Ohio State in the Final Four. Robinson's in-game intensity willed Kansas to multiple victories last season. Even on his off days, he provided the energy the team needed. The Jayhawks certainly possess all the skill they need this season. Withey, Johnson, McLemore and Perry Ellis anchor this program now. That's why KU is a top-five team. But Robinson had a rare combination of skill and swagger. Who will be that guy for the Jayhawks this season?
September, 20, 2012
9/20/12
10:45
AM ET
Editor's Note: In the buildup to Midnight Madness, we are taking an in-depth look at Joe Lunardi's top five seeds in a series called Countdown To Madness. In addition to the Insider stories, Eamonn Brennan will offer Three Big Things about each team and we'll have Five Questions with a player or coach from each squad.
For
Tim Hardaway Jr.
, the scenario is becoming routine. Every single day on the Michigan campus -- whether he's eating lunch with a teammate, sitting in class or walking to practice -- someone stops him to talk about Wolverines basketball.
"We could be out and about, and a group of fans will just walk up to us," Hardaway said. "They'll wish us luck and say, 'Oh, we're so excited for the season.'"
The buzz in Ann Arbor is certainly understandable.
One season after claiming a share of the Big Ten title, the Wolverines are expected to contend to reach the Final Four thanks to a mix of talented returnees, such as Hardaway and
Trey Burke
and highly touted newcomers
Mitch McGary
and
Glenn Robinson III
.
"There's a lot of hype," Hardaway said, "but I think we're doing a good job of just making sure that everyone settles down. The season hasn't even started yet. We're all just preparing to play anyone in the country. Everyone is excited about the season. Everyone is trying to make it seem like we're back. But we have a long way to go."
Hardaway, who averaged 14.6 points as a sophomore last season, spoke with ESPN.com earlier this week.
[+] Enlarge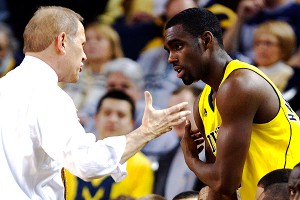 Rick Osentoski/US PresswireTim Hardaway Jr. said Michigan coach John Beilein, left, puts great trust in his guards.
What's the most encouraging thing you've seen from your teammates thus far?
Tim Hardaway Jr.:
Just the mindset of everyone coming in, with everyone having the same intensity and passion about playing Michigan basketball. Everyone sees that and we're all trying to fulfill our dreams and get back to where we were last year and win a Big Ten championship.
Who will be the "surprise player" on this year's squad?
TH:
Everyone has been making a lot of improvement.
Jon Horford
is coming off an injury and has been playing really well in the summer.
Matt Vogrich
has been shooting the ball really well.
Blake McLimans
is getting better.
Jordan Morgan
-- just everyone in general. Everyone has added little pieces to their game to make them more successful and help the team out any way they can.
Even though you had a great season overall, you went into a major shooting slump and made just 35 percent of your shots in February. How were you able to snap out of it and finish so strong?
TH:
It was a team effort. We had a lot of guys coming into the locker room with me and having conversations about what I needed to work on. During the Nebraska game,
Zack Novak
talked to me at halftime before we walked onto the court. He said, "Hey, you can help the team out in different ways than scoring." Once I heard that, I think I just snapped out of it from then on. That's what helped me out the most.
What did you do in the offseason to better prepare yourself for your junior year?
TH:
I feel like I'll be playing a lot more at my normal position [combo guard] instead of being at the 3-spot. We lost two of our main guards, Zack Novak and
Stu Douglass
, from last year. So I'm working on my ball-handling, guarding the point guard and guarding the shooting guard. I'm just trying to have fun and play Michigan basketball. Wherever Coach Beilein wants me to play, I'll play. I'm not a picky guy. I just want to be out there on the floor and have fun and help my team in whatever way I can.
What's the best part about part about playing for John Beilein, and what goals has this team set for itself?
TH:
[Beilein] is an excellent coach. He lets us play. He lets the quarterback, the point guard, call out the plays. He has the utmost confidence in his guards to make the right decisions out there.
As far as goals, the first thing is to get better every day. We've been saying that since the first day of the fall semester. We're not focused on national championships or Big Ten championships. We'll worry about those later in the season. Right now we just want to do everything we can to get better as a team, build our chemistry up with these new freshmen and get better every single day.
March, 18, 2011
3/18/11
2:59
PM ET
CHARLOTTE, N.C. -- If this was the last game for Tennessee head coach Bruce Pearl then it was not representative of his career with the Vols.
Tennessee under Pearl has been a consistently disruptive team that put opponents on the defensive and was usually the aggressor.


But the Vols were completely outmatched against Michigan in the second half as the Wolverines ran away with a
75-45 win
. The early fire that the Vols showed off the opening tip soon evaporated as Michigan ran its sets, was the disruptive defensive team and finished well on the break as well as making 3s.
Michigan looked like a team that enjoys playing together and had a purpose for each possession. Tennessee did not. The Vols weren't sulking or displaying poor body language but there just seemed to be a lack of overall fight with the crew. There were a few moments later in the second half after the lead grew to 20-plus. But it was too late.
Key stat
: The Wolverines were shooting over 50 percent and seemed to be an offensive machine throughout most of the latter stages of the first half and into the second. Michigan is starting to resemble the offensive squad that West Virginia had toward the last few seasons under John Beilein. This team went through growing pains last season under Beilein when it missed the tournament. This season it just took some time to get used to the system and once they grasped the concepts the Wolverines were a tough out.
Turning point
: I could go with the start of the second half when the Vols came out flat but I'd say it may have been when AD Mike Hamilton signaled the end of the Pearl era with his comments earlier this week on a Knoxville radio station. The Vols said the right things during the Thursday news conference but it was obvious that they saw the end was near for the staff. The staff couldn't hide its frustration, either.
The good
: Michigan has quite a youth brigade in Tim Hardaway Jr. and
Darius Morris
, two players who fully grasp the Beilein system and are excelling in it at this stage in the season. The role play from
Zack Novak
,
Evan Smotrycz
and
Matt Vogrich
was solid throughout and the Vols couldn't hang with supposedly higher level talent.
The bad
: Tennessee is usually one of the better traveling teams. It was clear that the Vols' fan base was done with this team considering the turnout. Tennessee gave the Vols' fans reason to stay home. If they had driven here then there would have been a reason for reimbursements.
Goodbye
: The end will likely come for Pearl sometime next week and the entire Vols' staff and probably for heralded freshman wing
Tobias Harris
, who is a talent that is probably ready to try the NBA draft.
What's next
: Michigan moves on to the third round to likely play top-seeded Duke, which plays Hampton later Friday afternoon. Duke and Michigan had a regular rivalry going for a spell but that has since been discontinued. Michigan has accomplished plenty so far this season and has nothing to lose going into a game against Duke.