College Basketball Nation:

Maurice Sutton
February, 19, 2012
2/19/12
1:10
AM ET
PHILADELPHIA – After his team beat Syracuse, handing the Orange their first loss of the season, Mike Brey challenged his players to believe in the unbelievable – that Notre Dame, a team without its best scorer and relying on a freshman and sophomore in the backcourt, wasn't just a fluke; that the Irish were something special.
And those crazy kids bought it.
They looked around the room, at a ragtag group that counted just two guys with any significant experience; that in November lost by 20 to Gonzaga and in December by 7 to Maryland, and they gobbled the bait like greedy guppies.
Sometimes seeing is not believing.
Sometimes you believe and then you see.
The Irish have risen from their early wake to storm to a second-place spot in the Big East, using that Syracuse victory as a catapult to what is now an eight-game win streak after Notre Dame rallied to beat Villanova,
74-70 in overtime
.
Notre Dame was picked to finish ninth in the league. And that was before Tim Abromaitis blew out his knee. Yet with the Big East tournament a little more than two weeks away, the Irish are sitting extremely pretty at 11-3, tied with Marquette but owning the tiebreaker after a 76-59 spanking of the Golden Eagles on Feb. 4.
"We do believe we're special, we really do,'' said
Pat Connaughton
, a freshman who throws 94-mph fastballs for the Irish baseball team and drained seven 3-pointers for the hoops squad against Villanova.
And in this particular Big East season, a little self-confidence can go a long way. On Saturday, the Irish needed to come from a 16-point halftime deficit and a first-half hole that once ballooned as large as 20 to beat a team that has won just four league games this season and was down two starters.
Earlier in the day, Louisville, which took Syracuse to the brink on Monday and is 7-1 in its past eight games, needed overtime to dispatch DePaul, a team that has won just twice in 2012.
Toss aside Syracuse at the top and the difference between 2 and 16 is as thin and flimsy as a Jay Wright pocket square.
[+] Enlarge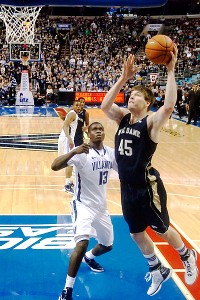 Cal Sport Media via AP ImagesJack Cooley had 18 points and 13 rebounds as Notre Dame got past Villanova in overtime.
Connecticut last season became the first team to win five games in five nights to capture the league tournament.
Who'd take the odds that lightning couldn't strike again this year?
"Confidence is the difference-maker in this league,'' Brey said. "It's razor-thin stuff.''
No one would call Notre Dame a great team. The Irish's margin of victory is a flimsy 4.6 points. They don't rebound particularly well. Their players are not more talented than Villanova's. If anything, the Wildcats hold the advantage in beefy player resumes.
Yet there was Notre Dame, down 20, getting smoked on the boards, shooting terribly and looking like it was up 20. No hung heads, no grimaces or pouting.
Maybe, in part, at least, is because the Irish figure they've been playing with house money all season. Abromaitis was supposed to be the guy. The senior averaged 15.4 points a year ago and would, with
Jack Cooley
, give Notre Dame a formidable inside-outside presence.
When he was injured, there wasn't so much dejection as there was rampant confusion.
"We practiced with him all summer and all fall,'' Connaughton said. "And then when we had to play without him, we were like, 'Oh, am I supposed to shoot this?''
Brey had been through it before, forced to regroup after losing Luke Harangody two years ago, which helped him at least to keep his head on straight.
His players relied on him, but more they relied on each other. These guys genuinely like one another, Connaughton said, and that comfort helped fuel a trust on the court.
It was evident against the Wildcats. While the inexperienced Cats were blowing their lead, jacking up bad shots and making few of them – Villanova made all of just four field goals in the second half before
Maurice Sutton
somehow tipped in a fifth at the regulation buzzer to force overtime – the Irish were passing and searching, giving up one OK look for a better one. They used a late 13-4 run to send the game into overtime.
And then, with the Irish up 68-65 in the final minute of overtime,
Scott Martin
found Connaughton, who sunk his seventh from beyond the arc to cement the victory.
Notre Dame made 25 field goals in the game.
The Irish dished out assists on 17 of them.
"It's not just the margin for error that's so small; it's the margin for success,'' Wright said. "If you look at their numbers, they're not that impressive, but what is impressive is how they execute. They know their roles extremely well and they know who they are and who makes the plays. They believe in what they're doing.''
And these days believing is carrying the day.
"Jeremy Lin and the Irish,'' Brey laughed. "Believe it."
January, 28, 2012
1/28/12
4:59
PM ET
PHILADELPHIA -- The game lasted 2 hours and 30 minutes.
Jay Wright was hit with a technical before halftime. Buzz Williams earned one, he says, for not saying a word. "I never got a 'T' for not saying anything. I guess you can get T's now for body language.''
Maalik Wayns
screeched a playground curse word that wouldn't earn a pre-teen a date with a bar of soap, racking up technical No. 3 of the day.
And not even Twitter can claim as many tweets per hour as Pat Driscoll, James Breeding and Tim Clougherty made on their whistles -- 45 in all.
After surviving all of that, not to mention a game that offered a rhythm only Elaine Benes could dance to,
Junior Cadougan
emerged from his locker room thoroughly nonplussed.
"Ah, this is nothing,'' the Marquette guard said. "You should see our practices.''
This was a game that only the winner could love, a Bataan Death March up and down the court to the free throw line 57 times.
Make no mistake. Marquette did indeed love it, loved it a bunch. The Golden Eagles claimed their sixth win in a row the hardest way possible, surviving not only the aforementioned but also a one-time 18-point deficit for the
82-78
win against Villanova.
The difference between spots No. 2 and No. 16 in the Big East (and perhaps even spot No. 1 if
Fab Melo
isn't cleared soon) is about as thin as a supermodel. Too many inexperienced teams, too few superstars have collided to make this one of the most unpredictable league seasons in recent memory.
The most talented team may not win the whole thing. The toughest very well could.
[+] Enlarge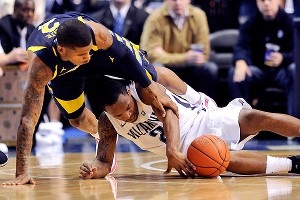 AP Photo/Michael PerezVander Blue and Marquette made things tough on Villanova's Maalik Wayns, the Big East's No. 2 scorer.
Right now Marquette, holding steady in second place, is making a bid to be that team. Buoyed by practices that Cadougan said almost always include scuffles, the Golden Eagles make up in attitude what they may sometimes lack in size.
"It's how we work. It's what we believe in,'' Williams said. "I don't say that to be arrogant, but you can't go on the road, playing against any team in this league and go through what we did and have a chance to win unless you're extremely tough. But you can't just be tough on game day. You have to be tough all the time.''
This one required every ounce of tough for Marquette, especially after a Villanova team that is fighting to avoid its worst season under Wright since 2003-04 streaked to a surprising 28-10 lead.
Fortunately for Williams, he has toughness personified in the form of
Darius Johnson-Odom
. The senior, who doesn't crack so much as the hint of a smile during a game, scored 10 of MU's next 12 points, singlehandedly bringing down the deficit from insurmountable to manageable, 33-21.
Johnson-Odom is more lunch pail than flashy, the sort of player who quietly dominates a game, dominates the statistics but doesn't draw a lot of attention in the process.
He's also the guy, Williams said, who dominates a huddle. More vocal than his head coach, DJO kept his team organized in the first half, not with firebrand and preaching but with a casual calm that delivered just as much of an impact.
"I think we were a little too confident early, not because we'd beaten them before or anything but because we'd won five straight,'' said Johnson-Odom, who finished with a season-high 26 points. "We had a little too much swagger. That was out of character for us in the first half.''
Marquette's true character returned in the second half, that endless scrappiness that frustrates opponents. Cadougan draped himself all over Wayns, the league's second-leading scorer. Wayns, who dropped 39 on Cincinnati two weeks ago, finished with 12 points, hitting only 3-of-10 from the floor. Cadougan also pressured him into six turnovers.
Cadougan and Wayns have been going at it for years, back when both were starring on the high school and summer-league circuit.
"I tried to contain him, keep him out of the paint and just make him feel uncomfortable,'' Cadougan said. ""He's tough, one of the best guards in the Big East. They win games when he gets hot.''
Wayns never did, but Villanova, a young team struggling to find itself this season, hung around anyway. The Cats, in fact, led by four with just a little more than six minutes to play when Wayns was whistled for the technical.
Wayns screamed his frustration at Breeding after the official called a touch out of bounds play out on Nova. He cursed but most would agree it was a mild-mannered expletive on the scale of one to offensive.
Wayns may have been the victim of bad timing. Or cursing. The call came in the wake of a strong-worded edict from NCAA national coordinator of officials
John Adams
.
"You should have a very low tolerance for players who use profanity towards officials or who 'wave you off' after a call, etc.,'' Adams wrote. "These type of actions call for Technical fouls. Call them!''
Johnson-Odom made the two free throws and
Jae Crowder
scored on the ensuing possession, putting in a reverse layup to tie it.
The Wildcats, already down two big men in
Mouphtaou Yarou
and
Markus Kennedy
, never recovered.
If there is solace for Villanova it is that the Cats are clearly taking baby steps toward improvement. It's likely too late to resurrect this season. This team seems predestined for a date with the NIT, missing out on an NCAA invite for the first time in eight years.
But in recent weeks the Wildcats are showing more life and, more critically, showing that folks other than Wayns can score.
Maurice Sutton
, pressed into action, had the best game of his career with 11 points, 10 rebounds, three steals and two blocks.
Dominic Cheek
, the potential second scorer Nova needs desperately, had 16 and
JayVaughn Pinkston
17.
And Villanova is playing harder, diving for loose balls against Marquette and forcing 16 turnovers.
Marquette, however, played tougher.
And in the Big East, especially this season, toughness wins the day.
January, 28, 2012
1/28/12
2:57
PM ET
PHILADELPHIA -- A quick look at
Marquette's 82-78 win
over Villanova:
What it means:
Marquette has won six in a row and stands in second place in the Big East. This isn't a finesse team, but a scrappy one -- think Pitt of old. The scrappiness serves the Golden Eagles well. Villanova, meantime, is showing life, but it's a little too late to resurrect what likely will go down as the worst season under Jay Wright since 2003-04.
Why it happened:
This wasn't pretty. The foul-plagued game took two-and-a-half hours to complete, with officials serving three technical fouls and so many personal fouls it was impossible to get into a rhythm. But if they weren't beautiful, the Golden Eagles were wily. Marquette slowly and methodically chipped away at Villanova's lead, which was 18 at one point in the first half. The Golden Eagles upped the ante on the defensive end.
Junior Cadougan
virtually took
Maalik Wayns
out of the game, pressuring the junior guard so much he could barely get the ball on an inbounds play. And then
Darius Johnson-Odom
did the rest.


Star of the game:
Johnson-Odom scored a career-high 26, hitting one dagger after another for the Golden Eagles. Teammate
Jae Crowder
struggled with his shot, but still finished with 20 points and 12 boards.
Maurice Sutton
deserves a mention despite the loss. The little-used junior, pressed into service thanks to foul trouble for
Mouphtaou Yarou
and
Markus Kennedy
, was everywhere for the Wildcats, diving on loose balls and tipping inbounds passes. He scored 11 and added nine rebounds.
For starters:
Maybe the best news of the first half for Villanova was that the Wildcats led by 10 and Wayns wasn't the leading scorer. Villanova's guard has had to do almost everything for the Cats this year, but
James Bell
and
Dominic Cheek
took charge against Marquette. Each had 11 to lead Villanova to a 46-36 edge. It would have been worse without Johnson-Odom. The guard scored 10 points in a row and swished a shake-and-bake 3 to end the half, giving him 13 and keeping the Golden Eagles in it. The game might force Big East officials to reconsider using six fouls for its games. The two teams were whistled for 25 fouls and each coach got hit with a technical.
What's next:
Marquette hosts Seton Hall on Tuesday, while Villanova gets a week off before traveling to Pittsburgh for a game on Super Bowl Sunday.
February, 13, 2011
2/13/11
2:20
AM ET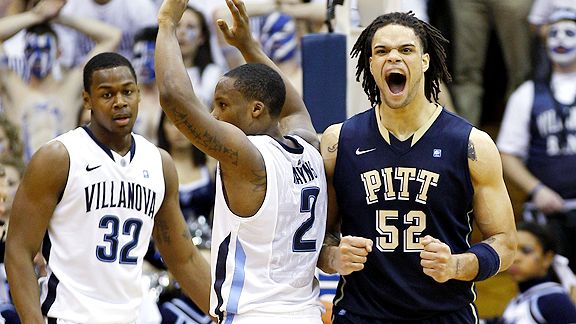 AP Photo/Matt SlocumGary McGhee and the Panthers won a hard-fought match against the Wildcats.
VILLANOVA, Pa. -- At first it looked harmless, like
Isaiah Armwood
actually was trying to pull
Mouphtaou Yarou
away from a potential fracas.
On replay, however, it was viewed otherwise. As Armwood, the Villanova sophomore, wrapped his arm around Yarou, he hit
Nasir Robinson
in the left eye.
"A cheap shot,'' Robinson called it.
A technical Jim Burr ruled it.
Another day at the office, Pittsburgh declared.
Pitt always has been the sort of team that prides itself on taking an opponent's best punch and responding. The Panthers typically mean that in the figurative sense.
Apparently they can take the literal body blows, too.
"He reached around Yarou and extended his arm,'' Robinson said. "It was definitely intentional, a cheap shot. But that sort of stuff happens every day in practice. We get bloody noses, black eyes, you name it. It doesn't matter. We just let the refs call it and keep playing.''
Handling friendly fire is one thing. Walking onto a campus 14 hours into its fevered pitch and handling a punch to the face in a heated game that featured three technicals, 43 fouls, and so many floor burns and loose-ball dives that you were waiting for the coaches to call for their cut men, is another.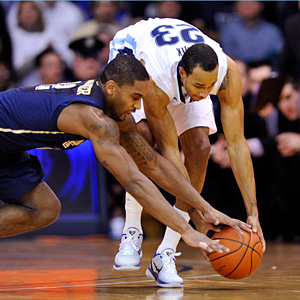 Brad Wanamaker (left) and James Bell combined for 8 personal fouls. Brad Wanamaker (left) and James Bell combined for a total of 8 personal fouls.
Yet Pitt absorbed the hits and kept on coming, not only keeping its composure but running on a post-punch 15-4 streak that ultimately proved the difference in a
57-54
victory against Villanova.
The Panthers, who halted the Wildcats' 46-game win streak at the on-campus Pavilion, now stand atop the sequoia of conference perches, 11-1 in the Big East.
Which will mean what, exactly, on Monday?
Not likely a spot atop the rankings.
When the conversation tracks to who ranks among the nation's best -- a conversation sure to take on a rowdier tenor after Ohio State's loss at Wisconsin -- it rarely loops around to the Panthers.
Most everyone agrees that the Big East is the best conference in the country and no one will argue that the Panthers aren't the best in the Big East.
But in 14 weeks of poll voting, the best team from the best league has yet to receive a single vote.
"I think it's time for us to be in the conversation among the elite,''
Brad Wanamaker
said. "But really, we want to be in the conversation among the elite at the end of the season, not now. When they start talking about the national championship, that's when we want to be talked about.''
Ah, but therein lies the chronic rub with the Panthers, the dirty little secret that maybe has kept voters from casting their ballots in Pitt's favor.
The Panthers have won at least 10 conference games in each of the past 10 seasons and have won 211 games since Jamie Dixon took over as head coach for the 2003-2004 season -- the fifth-most among Division I teams.
For all of that success, Pitt has no Final Fours appearances during that time. The Panthers were tantalizingly close two seasons ago, making it to the Elite Eight before Nova's Scottie Reynolds quashed the Panthers' dream in one coast-to-coast dash.
Other than that, it has been during the Sweet 16 or earlier rounds that Pitt leaves the party.
And so fairly or not, the Panthers have been labeled a team built to withstand the rigors of the Big East but not necessarily built to win it all.
This team, though, might be different.
"This is as tough and as good a team as they've had,'' Villanova coach Jay Wright said.
Pitt seems to have a knack for losing key players at critical times. Mike Cook, Levance Fields, Jermaine Dixon are among the who's who to have missed stretches during their careers.
Now the Panthers can add
Ashton Gibbs
to the list. The junior, and most improved Big East player a year ago, is sidelined with an MCL injury in his left knee. He sat nattily dressed in a suit on the bench while his teammates played a game that was more akin to a brawl.
In the past, the Panthers sort of looked to survive without their star, finding a way to piecemeal their way to enough success while their injured player mended.
This time Dixon sent a much simpler message: relax.
"We've emphasized that since day one, that there's no need to do anything differently,'' Dixon said. "We've practiced without him, played without him. We don't have to make it more than it is.''
Echoed Wanamaker, "We were confident. We knew without Ashton somebody would have to step up but that didn't meant someone had to fill Ashton's shoes. We just had to go play our game.''
And in arguably two of the toughest environments they'll face this year -- at backyard brawl rival West Virginia and at "College GameDay" juiced Villanova -- the Panthers did exactly that.
This game was ugly, brutal and mean, just the way Pitt likes it. At times, the fans were crazy that the officials were blowing the whistle too much and others, angry that they were letting too much go.
When Robinson all but tackled
Corey Fisher
on a fast break, the play itself resulted merely in a foul call. It was the jawing after that earned the pair a double technical.
That's sort of how it went all night, with bodies flying and shots not falling, a thing of beauty to those who prefer their basketball served with a side of hand-to-hand combat.
Not until the final minutes did there seem to be any fluidity, and naturally when it arrived, it came from the most nonsensical of sources.
In a game where the two teams would combine to shoot 4-of-25 from beyond the arc, a guy who took five 3-pointers all season drained one like it was nothing.
Antonio Pena
's 3 with under a minute got the Wildcats within three and after Pena stripped Wanamaker, Villanova -- burned by Rutgers on a 4-point play at the buzzer a game ago -- had a chance to at least force overtime.
Dominic Cheek
missed a 3 from the baseline but
Maurice Sutton
corralled the rebound and passed it out to
Maalik Wayns
. Falling and eventually landing on his backside, Wayns drained the 3.
But it came a split second after Jim Burr already ruled the shot was after the buzzer. The game was over.
"We made too many mistakes in the second half,'' Wright said. "I just think they were just physically older and tougher than us. It seemed like every time there was a loose ball in this game, we'd both get a hand on it but in the end, they'd end up ripping it out of ours.''
Not just absorbing the punch, but delivering the knockout.
August, 4, 2010
8/04/10
5:26
PM ET
For the next month or so, our friends at The Mag are previewing one high-profile school per day for their Summer Buzz series. For the sake of all that is synergistic, yours truly will be attempting the same, complementing each comprehensive Insider preview with some adjusted efficiency fun. Today's subject? Villanova

. Up next? Tennessee.
Throughout former All-American Scottie Reynolds' tenure at Villanova, the Wildcats had a familiar defensive tendency. They fouled. Correction: They fouled
a lot
.
[+] Enlarge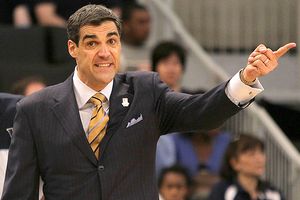 Jim Rogash/Getty ImagesVillanova's 2010-11 team might be Jay Wright's most balanced team ever.
The thing is, for the first three years of Reynolds' tenure, it didn't seem to matter. In 2006-07, 2007-08, and 2008-09, Villanova always ranked below the Division I average -- including two seasons far below it -- in opponent free throw rate. But those same three years saw the Wildcats post adjusted defensive efficiency rankings of Nos. 18, 34, and 15, respectively. How? By taking care of the other three defensive factors (opponents' offensive rebounding percentage, effective field goal percentage, and turnover percentage) well enough that a few free throws here and there didn't make much difference.
Then, in 2009-10, the wheels came off. Villanova's defense wasn't abysmal, but in allowing 94.0 points per 100 possessions it ranked No. 62 in the country. For much of the season, we assumed Villanova would compete for a Final Four spot. Even during a late-season swoon, most assumed 'Nova was better than they were playing. In the end, though, maybe they weren't. Maybe their defensive deficiencies were just too much to overcome. The offense, after all, was pretty darn good.
All of which is a roundabout way of saying this much: Scottie Reynolds might be gone, and the Wildcats will usher in a new wave of talented players, but the foul woes that plagued Villanova are likely to remain.
After all, the Wildcats were fouling long before Reynolds arrived. (And Reynolds, to his credit, had the lowest fouls committed per 40 minutes mark of anyone on 2009-10's team.) Only once since 2004-05 has a Jay Wright-coached team ranked in the top 200 in opponents' free throw rate. That year was 2005-06; Villanova ranked No. 198. There may be something systematic at work here.
More pertinent, though, is the increased visibility of a suite of Villanova players who committed their share of fouls last season. There's Corey Fisher (3.7 fouls committed per 40 minutes) Antonio Pena (4.9), Maalik Wayns (4.9), Mouphtaou Yarou (6.3) and Maurice Sutton (7.8 [!]). Isiah Armwood gets a pass for his limited usage last season, but even he committed 6.6 fouls per 40. Read together, those tallies look less like foul averages and more like the collective GPAs of valedictorian candidates at one of those high schools that gives extra GPA credit for A+ grades and advanced placement classes. ("What was your high school GPA?" "7.4!" Uh, what?)
The point is, there are still plenty of foul-prone players on this team. Some of them have major roles already. Some of them will be expected to step in. Either way, they're likely to keep committing fouls.
Naturally, that doesn't doom Villanova's season. Quite the contrary: If Villanova has shown one ability in Wright's tenure, it's that his teams are often able to overcome their willingness to send opponents to the line so frequently.
There is plenty of good news about this Villanova team, too. With a glut of big men ready to step in and take on larger roles -- especially senior forward Pena -- the Wildcats could be as balanced as any team Wright has ever coached. They might not need to rely on stellar guard play. They might not need the individual brilliance of a player like Reynolds.
And perhaps most importantly, a bigger and more balanced Villanova lineup -- one that can score without playing three or four guards -- could help the Wildcats cut down on those fouls. The Big East is a big conference; being bigger can only help. That goes for shoring up the defensive glass, too.
Whatever the improvements, though, it's hard to imagine a young team that commits as many fouls as the 2009-10 Wildcats did getting anywhere near the Final Four. Villanova remains talented. They might be more balanced than ever. But unless they morph into the nation's best offense (unlikely given Reynolds' offensive efficiency) or figure out a way to create more turnovers (possible, I guess), or learn to keep opponents of the glass (doable, especially with more size and depth), they're on track to suffer through the same issues as 2009-10's impressive but ultimately disappointing team.
March, 18, 2010
3/18/10
2:05
PM ET
PROVIDENCE, R.I. -- First-half impressions from Robert Morris' stunning
28-22 halftime lead
over Villanova:


Villanova coach Jay Wright benched starters Scottie Reynolds and Corey Fisher for a "teaching moment." The teaching issue didn't last more than four minutes but there was clearly an effect.
Wright was making a statement to his players and the team, and the flow of the squad was clearly affected. Remember, Villanova was also integrating Taylor King, who had been disciplined last week.

Reynolds committed two turnovers, including an offensive foul, when he came into the game. He finished the half missing all five shots, including four 3s. Fisher wasn't any better, getting to the free throw line twice and missing both. The Wildcats were a meager 2-of-12 on 3s and got hammered on the boards 21-10.
I've had countless coaches tell me that going to the NCAA tournament one time for the low- to mid-majors is a big deal for that experience the second time around. Cornell is hoping that will be the case the third time. Well, RMU sure is making the argument for it to be a trendy theme. RMU was the aggressor from the start and showed no fear.
To pull off an upset like this, you need a big-time scorer to go off. It's a must. RMU has one in the shortest player on the floor. Karon Abraham, a 5-foot-9 guard, unloaded three 3s in a quick stretch to give the Colonials the advantage.
While Nova's Maurice Sutton is the one who is being the most active for the Wildcats, it's the continued aggressive play by Dallas Green and Russell Johnson, showing no fear in going right back at the Cats, that is helping RMU stay out front.
You know there has to be a run in Nova. There has to be.
There's a reason Nova lost five of its last seven games and limped into the NCAAs. The Cats were struggling and weren't in rhythm.
Nova's lifeless attitude can't continue in the second half for it to win.
Villanova never should have been a No. 2 seed in this region. West Virginia should be the 2. But that's an old debate.
If Fordham and Seton Hall athletic directors weren't watching this game, they should be now. RMU's Mike Rice, a Fordham grad, should be atop their list.
December, 1, 2009
12/01/09
4:19
PM ET
Scary news out of Villanova today that freshman
Mouphtaou Yarou
is
out indefinitely with Hepatitis B
. Certainly the primary concern is the Wildcat big man regains his health from a scary disease that can affect liver function.
But losing Yarou for quite possibly the entire season also will impact Villanova's attempt to return to the Final Four. The biggest question mark for a talented Villanova team is in the frontcourt, where the Wildcats are trying to replace Dante Cunningham and Shane Clark. Junior
Antonio Pena
has been a surprising bright spot. Pena is averaging 12.5 points and 10.5 rebounds through the first six games, putting up incredibly productive numbers after serving as Cunningham's understudy.
But after Pena, the Wildcats are very thin. Duke transfer
Taylor King
isn't a post-up player and
Maurice Sutton
, while a serviceable backup, hasn't been asked to contribute much in his career. Rookie
Isaiah Armwood
, too, is a good role player off the bench.
Villanova has experience winning without a big man. The Wildcats went to the Elite Eight with four guards and an undersized center in Will Sheridan in 2006. The guards in place now --
Scottie Reynolds
,
Corey Fisher
,
Maalik Wayns
and
Corey Stokes
-- are talented enough to carry the Cats, but asking them to do what Randy Foye, Allan Ray, Mike Nardi and Kyle Lowry did is a pretty tall order.
How Pena continues to develop -- and his ability to stay out of foul trouble -- will be critical, especially in the always physical Big East.