College Basketball Nation:

Melvin Goins
March, 10, 2011
3/10/11
10:12
PM ET
ATLANTA -- Tennessee nearly blew a 16-point lead in the final seven minutes of its SEC tourney opening-round game against Arkansas, but survived with a
74-68 victory
at the Georgia Dome.


The Razorbacks trailed 68-52 with 7:05 to play, but then went on a 16-0 run to tie the score at 68 with 2:08 remaining. After starting the second half 14-of-18 from the field, the Volunteers went 0-for-11 from the floor and had two turnovers during their nearly five-minute drought.
Arkansas had a chance to take a lead in the final two minutes, but forward
Delvon Johnson
turned the ball over while trying to spin around UT freshman
Tobias Harris
with 1:10 left.
On Tennessee's next possession, Harris found senior
Brian Williams
inside for an easy layup to make it 70-68 with 55 seconds to go. After the Hogs called timeout, UT guard
Melvin Goins
stripped the ball from guard
Julysses Nobles
, and Harris was fouled with 33.8 seconds to play. Harris made two foul shots to seal the victory.
Turning point:
After the Volunteers took a 16-point lead in the second half, Arkansas got back-to-back 3-pointers from
Rotnei Clarke
and Nobles to make it 68-64 with 3:41 to play. Williams, the Vols' best inside presence, was poked in the eye and had to leave the floor. The Hogs tied the score at 68 with Williams sitting on the bench. He returned to make the winning basket.
Key player:
Harris, a freshman from Dix Hills, N.Y., is considered a potential one-and-done player and it doesn't take very long to see why he might enter the NBA draft after only one college season. The 6-foot-8 forward scored 20 points on 7-for-13 shooting and grabbed three rebounds.
Key stat:
The Volunteers held on to win despite shooting only 2-for-15 on 3-pointers. It was the fewest number of 3-pointers UT made in a game this season, tying season-lows in losses to Kentucky and Charlotte.
Miscellaneous:
Junior guard
Scotty Hopson
, the Vols' leading scorer with 17.7 points per game, scored only eight points on 4-for-9 shooting. He didn't start the second half because of a "coach's decision" and was replaced on the floor by senior
Josh Bone
.
What's next:
The Volunteers will play SEC regular-season champion Florida in Friday night's quarterfinals. Both of UT's games against UF this season were extremely close, with the Gators winning 81-75 in overtime in Knoxville on Jan. 11 and 61-60 in Gainesville on Feb. 12. Arkansas finished the season with an 18-12 record, and coach John Pelphrey's future at the school seems to be tenuous at best with a 69-59 record in four seasons.
December, 27, 2010
12/27/10
3:40
PM ET
By
Diamond Leung
| ESPN.com
Christmas Eve marked the first day in which a Tennessee coach could engage in off-campus recruiting since the school announced self-imposed sanctions for NCAA violations Bruce Pearl and his assistants are accused of committing.
Pearl, associate head coach Tony Jones and assistant Steve Forbes remain unable to hit the recruiting trail, but the last day of Vols assistant coach Jason Shay's three-month suspension was Thursday.
While Shay hits the road and the other coaches are forced to stay on the sidelines, that certainly doesn't mean they can't use the powers of the Internet to reach recruits, according to the
Knoxville News Sentinel
.
In the absence of off-campus recruiting, Forbes and Pearl have been active communicating with players on Facebook.

"It's a good way to communicate with kids because a lot of them are on it every day," said Forbes, the primary recruiter for current UT players Scotty Hopson and Melvin Goins. "You can e-mail them on Facebook, but you can't post on their wall, and you can't (Facebook live) chat.

"We can also send them links to articles or videos."
I'm wondering if the NCAA has rules against excessive usage of the "like" button.
In any case, Pearl won't be able to engage in off-campus recruiting until Sept. 24, 2011, so recruits across the nation would be wise to be on the lookout for a famous Facebook friend hitting up their pages and sending them messages.
Curiously though, the
link to Bruce Pearl's Facebook page is broken
on the team's website. But so long as there are recruits out there to be had, Pearl will find a way to get in touch -- off-campus recruiting suspension or not.
November, 26, 2010
11/26/10
10:45
PM ET
NEW YORK -- The NCAA mess that Bruce Pearl and his staff got the Tennessee program into will rear its ugly head again when the NCAA releases its official document of allegations, most likely within the next month.
But for one night at least, the Volunteer basketball team shifted the focus to actual basketball -- in this case an improbable NIT Season Tip-Off trophy after an impressive
78-68 win
over seventh-ranked Villanova in the championship game at Madison Square Garden.
It's become clear now that the more Tennessee wins, the less likely an NCAA investigation will have a major effect on this particular team.
The reason is the Vols have a basketball team that is again worthy of attention, and a freshman in
Tobias Harris
that should at least be in the same conversation with
Jared Sullinger
of Ohio State,
Harrison Barnes
of North Carolina,
Terrence Jones
and
Brandon Knight
of Kentucky and in a few weeks,
Josh Selby
of Kansas.
[+] Enlarge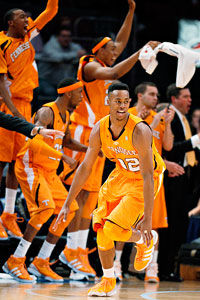 AP Photos/Henny Ray AbramsTourney MVP Scotty Hopson and his Tennessee teammates were all smiles on Friday night.
"We showed toughness, in a tough environment and we had an edge coming in,'' said Pearl. "Nobody picked Tennessee to win.''
No one on ESPN.com, that's for sure
.
"I wouldn't blame you,'' Pearl said. "I would have picked Villanova against the field, too.''
After this 10-point victory, in which they led for the final 12 minutes and for most of the game, the 24th-ranked Vols will certainly move up in the rankings. But just as importantly, perhaps, they'll strike a bit of fear in the minds of every team in the SEC East, after Tennessee was picked to finish fourth in the division despite several pieces of the Elite Eight team returning and Harris' arrival.
"We wanted the focus of our basketball program to be on the basketball,'' said Tennessee senior wing
Steven Pearl
, whose scrappy 15 minutes didn't go unnoticed. "I think [my dad] has handled it great. You can't tell any difference with his coaching this team. He has acted normal. Off the court we talk about it, but he's handling it very well. He's done a good job of keeping it away, from it being a distraction.''
The University of Tennessee and the Southeastern Conference had made it difficult to ignore. The school self-imposed penalties on Pearl and his staff, from docking salary to taking them off the recruiting road after Pearl misled NCAA investigators about high school recruits at a Pearl-housed barbeque. And then SEC commissioner Mike Slive put the focus back on Pearl with his unique eight-gamedays suspension to start league play, which doesn't prevent Pearl from traveling with the team, coaching them in practice or -- in the middle of the suspension -- coaching the Vols at Connecticut on Jan. 22.
With that as a backdrop, the Vols arrived in New York perceived as sort of a team turmoil.
Well, they hardly fit the part. The only disruption Tennessee had here was backup point guard
Trae Golden
's 102-degree fever that kept him out of the game against Villanova. Pearl said it was going to be a problem prior to tipoff because of Villanova's guards.
But point guard
Melvin Goins
, a backup last season and now a starter, and
Skylar McBee
among others (including Hopson), handled the Nova guards quite well as
Corey Fisher
went 1-for-10 for three points (after scoring 26 in the semis) and
Maalik Wayns
went 3-for-11 for 11 points. The trio of Fisher, Wayne and
Corey Stokes
-- the same group that combined for 61 points against UCLA -- tallied just 25 against the Vols.
Villanova coach Jay Wright warned his guards about driving against Tennessee's bigs and said they might have to make an extra pass. He foresaw that the Cats wouldn't be able to get to the rim -- and they didn't.
"What impressed me the most was how physical they all were, from Melvin Goins to Skylar McBee to Tobias Harris, their physicality,'' Wright said.
The Vols had great balance against Nova, shutting down the Wildcats on 3s (4-of-21) and then hitting 3s at a more efficient manner on their end (6-of-16). Harris' ability to be a point forward -- to take the ball and drive on his own to the hoop -- makes him a tough mismatch. Wright noticed.
"I want to win and I'm trying to do everything I can to help this team win,'' said Harris, the freshman from Long Island.
[+] Enlarge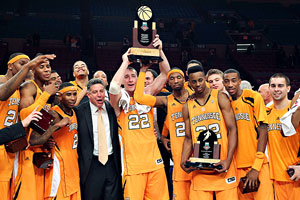 Nick Laham/Getty ImagesA team many expected to lose its first game in New York instead won two en route to the NIT title.
"I think you saw what he was capable of, making tough plays,'' said Pearl of Harris, who finished with 15 points and nine boards. "We put the ball in his hands a lot. He was recruited to play that point forward. He can be a good passer too. We need him to score. He's an inside-out player and those are tough matchups.''
The NIT was also the official arrival of
Scotty Hopson
as a go-to scorer. Hopson was a celebrated recruit as a McDonald's All-American, but admittedly took a backseat the past two seasons. At SEC media day last month, he said he needed to be much more assertive.
Mission accomplished in New York. He was named the NIT's MVP after scoring a team-high 18 (to go along with 19 against VCU).
Cameron Tatum
's 17 showed how balanced offensively this team can be throughout the season. And the gritty play of another New Yorker, forward
Brian Williams
(12 points and seven boards), only adds to the Vols' toughness.
"We were an Elite Eight team last year, but this is a new team with a lot of new guys,'' Pearl said. "Our depth will always be a factor, but we played hard and were unselfish. We can rebound and we can defend.''
On Dec. 11 at the SEC-Big East Invitational, Tennessee plays Pittsburgh at the CONSOL Energy Center, home of the Pittsburgh Penguins. Then the Vols have yet another Big East date Jan. 22 at UConn. And in between, Tennessee hosts USC and Memphis as well as a sneaky good College of Charleston. So there are plenty of potential potholes on the nonconference schedule.
As for league play, picking Florida, Kentucky or Vanderbilt ahead of Tennessee in the SEC East is still not a reach, based on the rosters and the flashes each of shown at times already this season. Georgia has been a bit of disappointment so far, but the Bulldogs haven't had SEC preseason player of the year
Trey Thompkins
at full strength yet. Still, all those other teams have lost. The Vols have not. And they have the best win of that group so far.
"We understand that we're not a great basketball team and we can't get carried away and say we're the best team in the country,'' Steven Pearl said. "We beat a good Villanova team. We've got to stay grounded. Playing Pitt could be a different animal. But we're excited for the test.''
The players were certainly euphoric after the game, jumping on the back of Bruce Pearl at center court. Pearl kept saying the right things -- that this wasn't about him, but rather about the team. And on this night at least, he was right. The shift from off the court to on the court was real.
"We had to get the issues focused on the court,'' Williams said. "That's what we wanted.''
And that's what they got.
May, 24, 2010
5/24/10
2:06
PM ET
When
Tyler Smith
and three fellow
Tennessee Volunteers
were caught with a handgun, a bag of marijuana, and an open container of alcohol on New Year's Day, Tennessee's season was supposed to be finished. Instead, the Volunteers rallied, recovering from the dismissal of Smith and the suspensions of
Cameron Tatum
,
Brian Williams
, and
Melvin Goins
by beating Kansas nine days later and eventually getting all the way to the Elite Eight in the NCAA tournament's toughest region. Smith's loss didn't hold the Volunteers back. In fact, it was easy to forget all about him.
Still, it's worth revisiting why exactly Smith and company had a handgun in the first place. After all, getting caught with marijuana and an open container of alcohol is already bad enough, especially if you're someone for whom criminal activity can become a public issue. But it's even worse to have a handgun with an altered serial number on your person. Why? That's the most confusing part. Why the gun?
On Monday morning,
speaking for the first time since his arrest and dismissal, Smith attempted to explain just that
:
Tyler Smith, Tennessee's top-rated basketball player, said he bought the gun that brought down his college career because someone had threatened to kill his 3-year-old son. He's never said that before now. And he still won't go to the police. Last November in Knoxville, Smith, who lived off campus, had much of his personal property stolen. The former Giles County High School star said he was about to call the police, but the threats came first.

He said the first text message threatened his life. The second promised to kill his son. Smith said he knows who did it, but he never called the police. Instead, two days later, he bought a Taurus pistol for protection. "I'm the one who put myself into that situation with the gun," Smith said recently, speaking publicly about the incident for the first time. "But a lot of people don't know the whole situation."
The story makes sense, and it fits in well with the refrain we often hear when a high-profile athlete is caught with a gun: I needed it to protect myself. And I get that. I really do. For professional athletes, it behooves one to hire a couple of bodyguards for personal protection rather than take the pistol into your elastic waistband, Plaxico Burress-style. That same opportunity isn't afforded to amateur athletes, who don't have the money to pay for guards. They have to go a different way.
Which is why Tyler Smith should have gone to the cops. Immediately. Why didn't he? Smith has a plausible explanation for that, too:
Smith said police asked why he hadn't reported them. Smith said he responded by saying the threats specifically stated for him not to go to police. "Two or three guys," Smith said last week, referring to the threat makers. "I knew them, I knew them, I knew them."

"I never even thought about using it," Smith. "I thought if word got around that I had protection, that would keep them away."
Again, I get it. Or maybe I don't get it -- I've never been threatened with violence -- but I at the very least can empathize. You're scared. You've got people threatening your life and the life of your loved ones. You've got stuff getting stolen from your house. They're telling you not to go to the cops. You might be slightly uncomfortable getting cops involved anyway. I know I would be. The walls are closing in.
So you take matters into your own hands, hoping the knowledge that you're capable of violence keeps your threat-makers from turning their threats into action. And what happens? You get caught, you get in trouble, and your alibi -- plausible though it may be -- has little on record to back it up.
There is a lesson to be learned here, especially for young athletes who feel threatened: Tell your coach. Tell your advisers.
Tell the cops
. Absolutely nothing good can come from thinking you can handle such threats on your own. Tyler Smith's story sounds all too familiar, and while it's easy to empathize, it's hard not to think Smith should have known better. Because closing walls or no, he should have.
March, 26, 2010
3/26/10
8:14
PM ET
ST. LOUIS -- Quick thoughts from Ohio State 42, Tennessee 39:


Very good game so far -- close, competitive, well-played offensively, a lot of open shots going in, neither team able to take command. Tennessee is the physically superior team -- bigger and better athletes. But Ohio State has more skill and a bit better shot selection.
Ohio State shot a smoking 56 percent from the field and 55 percent from 3-point range. Tennessee shot 46 percent and 50 percent from 3.
After falling behind 11-4 almost immediately, Tennessee tightened its defense considerably. The Volunteers went on a 13-2 run for a four-point lead, and after that it was back and forth the rest of the half.
Ohio State was in an early crisis when David Lighty got his second foul with 13:43 left in the half and went to the bench. But the Buckeyes got a nice lift off the bench from Jeremie Simmons, who made three 3-pointers. He was the hot man late while William Buford (12 points) was the scorer early for Ohio State.
National Player of the Year Evan Turner had to work for his stats, particularly when guarded by pesky point guard Melvin Goins. But at intermission his numbers look like they always look: 10 points, three rebounds, four assists. You cannot shut him out of the box score.
Cameron Tatum did not miss for Tennessee. Made all three field goals and all three free throws for a team-high 11 points in just nine minutes. J.P. Prince continued his stellar NCAA tournament play with nine points, three assists and no turnovers.
Players and coaches alike were unhappy with the officiating, especially the first 12 or so minutes. The refs were calling it closely and mysteriously for a while, and it took a while for everyone to adjust.
March, 20, 2010
3/20/10
9:09
PM ET
PROVIDENCE, R.I. -- Tennessee has no business being in the Sweet 16.
UT's season since Jan. 1 has been just about as dysfunctional as possible and yet like so many teams, the Vols found themselves at the right time.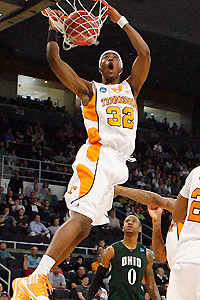 Stew Milne/US PresswireScotty Hopson scores two of his 17 points on this dunk against Ohio.
Tennessee had just won at Memphis on New Year's Eve day and the Vols were looking like a real contender in the SEC East. Then Tyler Smith,
Cameron Tatum
,
Melvin Goins
and
Brian Williams
were arrested on misdemeanor gun, drug and alcohol charges during a traffic stop in Knoxville on New Year's Day.
Smith was suspended and ultimately dismissed. Williams pleaded guilty to drug possession and was suspended for nine games (sat out 10). Tatum pleaded guilty to speeding and all charges were dismissed against Goins. The last two were suspended for four games and sat for five.
"Jan. 1 to now? Oh yeah,'' said Tennessee coach Bruce Pearl about how surprised he is with what has occurred. "But I can't control it. We were just going to prepare for Charlotte and see what happens.''
Tennessee beat Charlotte, No. 1 Kansas, Auburn and then-No. 21 Ole Miss in overtime -- all at home -- before extending the streak with a road win at Alabama. As the season progressed, the Vols dropped some games but also knocked off No. 2 Kentucky at home late in the season and then pulled off a major win at Mississippi State to end the conference season -- a loss that likely cost the Bulldogs an NCAA at-large berth.
Tennessee senior
Wayne Chism
said the Vols' team of six scholarship players and three walk-ons was a tight unit. And as each of the three suspended players came back they were welcomed by their teammates.
Williams said he couldn't get over how much the Tennessee fans, staff and players accepted him back after his mistake in judgment.
"It gave me a different perspective on basketball, on how hard you have to work at this high level and how people take basketball for granted,'' Williams said. "I saw how much I miss it.''
"To the outside world, it was great that everyone doubted us,'' Chism said. "But our fans stayed with us. We never stopped being together.''
And it showed. The Vols grinded out a win against San Diego State in the first round here and then was able to win much more of an uptempo game against Ohio in the second round.
"Coach said we can win a slow-down game and when a team speeds up the game, too,'' Chism said. "We would win a game in the 60s and one in the 70s and 80s. We can play at either speed.''
What Pearl has also done in easily his most challenging and successful coaching season is ensure that everyone on the roster is ready. Goins came back into the fold and made the decisive 3-pointer against the Aztecs. Against the Bobcats on Saturday, Pearl used
Josh Bone
for 10 quality minutes off the bench. Bone scored seven points, grabbed four boards and was 3-of-4 from the field. Bone didn't play against San Diego State and hadn't played in 10 of the last 11 games. During the suspension-filled homestand, he played 26 minutes in the win over Ole Miss.
Bottom line: This Tennessee team is as loose as you'll see. The Vols are relishing this newfound role of being discarded and not expected to succeed. And that seems to be the trend this weekend. Expect nothing. Tennessee has never been to the Elite Eight. That alone is amazing. Can you imagine if this team is the one that finally gets through to that level? Beat either Georgia Tech or Ohio State in St. Louis and these Vols will make school history. Who had that once Smith was dismissed?
If you said yes, you can't be serious.
"We're not a better team,'' Pearl said. "Our defense and rebounding has really picked up and we have more Brian Williams, more
Steven Pearl
,
Skylar McBee
[who hit the clinching 3-pointer against Kansas] and while we've improved defensively and rebounding, I'm not sure we're a better offensive team without Tyler.''
Indeed, every person wearing Orange should feel a part of this potentially historic run in Knoxville.
"The lesson is that the 10th or 11th man stayed ready for their opportunity,'' Pearl said. "But this is not a time of the year to reflect. But I can say at that time on Jan. 1, I didn't know what we had. We had six scholarship players and three to four walk-ons and we had to get them ready to play.''
The Vols have morphed into an evolving team with players coming back onto the roster since and are just now figuring out how much they can still improve. That's a good thing. They've still got at least one game left to play.
March, 19, 2010
3/19/10
1:17
AM ET
PROVIDENCE, R.I. -- You don't have to convince Tennessee coach Bruce Pearl or his team about the stakes in facing Ohio rather than Georgetown in the second round Saturday.
[+] Enlarge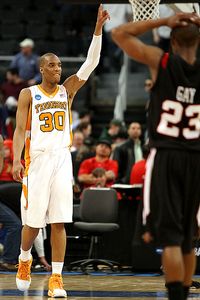 Elsa/Getty ImagesJ.P. Prince carried Tennessee in the first half, scoring 11 of his 15 points in a win over San Diego State. The Vols next face Ohio.
Pearl has been where Ohio is now when he was at Wisconsin-Milwaukee and coached the Panthers to the Sweet 16.
"It's a chance to go to the Sweet 16 and go to St. Louis, and have everyone talk about you for a week,'' Pearl said after No. 6 Tennessee
beat No. 11 San Diego State 62-59
in the nightcap at the Dunkin' Donuts Center in Providence Thursday night.
"Ohio is a lot like we were at Wisconsin-Milwaukee, relying on 3s,'' Pearl said of the Bobcats who upset No. 3 Georgetown in the first round earlier Thursday. "We shot ourselves past Alabama and Boston College that year. I guarantee it that Ohio thought it could beat Georgetown and I guarantee you they think they can beat us.''
Tennessee played a classic grinder game to beat the Aztecs on Thursday night. That's exactly what the Vols have done throughout an erratic season that has included knocking off top-seeded Kansas and Kentucky at home. Pearl said the Vols had to limit
Billy White
and
Malcolm White
inside, and they did as neither player cracked double figures for the Mountain West champs. Meanwhile,
J.P. Prince
ended up being the early catalyst for the Vols with 15 points before
Melvin Goins
was the finisher with a decisive 3-pointer.
But the Vols will have to switch how they defend in round two. It was critical to shut down the Aztecs' inside game. They'll have to defend on the perimeter against the Bobcats.
Beat Ohio and the improbable season for Tennessee, which had to deal with a major black eye when four players were arrested on New Year's Day which ultimately led to the dismissal of star wing Tyler Smith, continues to the Sweet 16.
"There's such a difference from the first weekend to the second,'' Pearl said. "Everyone talks about you. There are only 16 teams. It means a whole lot."
January, 9, 2010
1/09/10
8:27
PM ET
Tennessee's
Melvin Goins
,
Cameron Tatum
and
Brian Williams
remain indefinitely suspended and won't play against top-ranked Kansas Sunday in Knoxville.
All three are facing misdemeanor charges for their role in the New Year's Day traffic arrest where there was marijuana and two guns in a rental car. The charges and added information that became available to Tennessee led to Friday's dismissal of senior forward
Tyler Smith
.
UT coach Bruce Pearl said earlier in the week that there could be different levels of involvement in the case as more information becomes available and that punishments could vary. According to a source, the Tennessee staff believes there could be some changing of the charges as either reduced or wiped clean.
Meanwhile, in the ongoing
Renardo Sidney
drama, a source with knowledge of the findings said the NCAA's fact-finding release given to Misssissippi State on Friday didn't convince the school that there was enough to keep Sidney out of the first 16 games. According to the source, there were no surprises in the findings, with one of the issues being that Sidney wasn't honest about who picked him up in Los Angeles when he was in ninth grade.
The source said the school has been convinced for awhile now that there isn't enough evidence to hold Sidney out of competition. There is at least one thought that the Bulldogs could agree with the facts and hope that the NCAA would agree that the punishment has already been served. But if MSU wants to challenge the facts, then it will drag out even longer.
For what it's worth, Mississippi State coach Rick Stansbury is no longer using Sidney in practice. Since he's not being used in games, Stansbury has decided to have the staff work with him in individual workouts. If he is cleared at some point, he would work his way in as a backup.
January, 8, 2010
1/08/10
3:23
PM ET
Prior to
Friday's decision to dismiss
Tyler Smith
, Tennessee coach Bruce Pearl told ESPN.com there might be fairly different levels of involvement in the case and that could lead to different decisions. He said no decision had been made regarding Sunday's Kansas game, but that the three other players --
Brian Williams
,
Cameron Tatum
and
Melvin Goins
-- remained indefinitely suspended.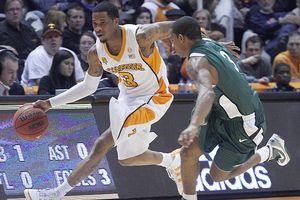 AP Photo/Wade PayneBobby Maze must limit his turnovers for Tennessee to have a chance against KU.
But it seemed highly unlikely any of the three remaining players would be cleared for what is easily the biggest nonconference game on Tennessee's home schedule.
Pearl said the crowd for Wednesday's win over Charlotte was a great help, rallying around the depleting Vols, especially once their huge lead was cut to six in the second half. Pearl said he anticipated a similar type of reaction from the Volunteer fans for the KU game. Tennessee had just six scholarship players for the Charlotte game and may have the same against the top-ranked Jayhawks.
For the Vols to have a chance forward
Wayne Chism
will have to rebound against
Cole Aldrich
, Pearl said. Scott Hopson and
Renaldo Woolridge
will have to make 3-pointers and
Bobby Maze
must limit turnovers against KU's
Sherron Collins
. Maze had only one turnover against Charlotte on Wednesday.
J.P. Prince
will also have to find ways to score. The Vols did defend well against the 49ers by limiting them to 27.6 percent on 3s, 36.2 percent overall. But obviously there is a talent upgrade with the Jayhawks.
Meanwhile, according to a number of NBA sources, Smith was already becoming a marginal draft pick with his play this season. He declared for the NBA draft in the offseason, but withdrew mainly because he wasn't getting any traction on being a first- or even second-round draft pick. Smith was averaging 11.7 points, 4.7 rebounds and 3.7 assists a game this season. All but his assist numbers were down from 2008-09, when he averaged 17.4 points and 5.8 rebounds a game.
One NBA personnel source said that executives will have to decide if Smith is worth digging into the facts of the case. The source said many times a big man is more often given the benefit of the doubt than a wing (where there are countless options) unless they are an exceptional talent.
Tennessee was projected to be Kentucky's toughest nemesis in the SEC East with its full compliment of players. But if Williams, Goins and Tatum don't return, the Vols will likely be vying with Florida and Vanderbilt, desperately trying to separate itself from the pack. In its three most significant nonconference games, Tennessee lost by 22 points at USC, lost by one to Purdue at the Paradise Jam, and won at Memphis on New Year's Eve day. The Vols open the SEC against Auburn on Jan. 14.