College Basketball Nation:

Mercer Bears
November, 23, 2013
Nov 23
10:35
PM ET
On a slow Saturday for college basketball, there just weren't many gems. North Carolina struggled with Richmond but eventually pulled away to win 82-72. Louisville dismissed Fairfield 71-57, which set up a marquee Sunday matchup against the Tar Heels.
Winless Tulsa gave Creighton a scare. But overall, it certainly wasn't the game's sexiest Saturday. But there were a variety of under-the-radar and mid-major programs that offered some impressive individual efforts.
These are some of the players who usually go unnoticed for the majority of the year until March approaches and we're all scrambling to find the next Butler or VCU. Well, remember these names. These athletes might be more relevant in the coming months.
[+] Enlarge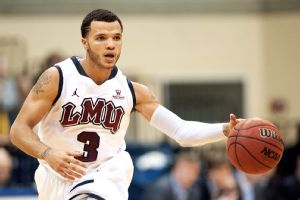 Orlando Ramirez/Icon SMILoyola Marymount G Anthony Ireland turned in a huge effort on Saturday.
1.
Keon Lewis (UTSA)
-- The UTSA junior guard had a monster game in his team's 87-76 win over Texas A&M-Corpus Christi. He recorded 30 points, 4 assists, 2 rebounds and 2 steals. He also went 13-for-13 from the charity stripe and 3-for-5 from the 3-point line.
2.
Anthony Ireland (Loyola Marymount)
-- The 2012-13 All-WCC first-teamer scored 25 points in a 76-70 win over Marist in the Paradise Jam. The senior also recorded 6 assists and 3 steals. And he made 10 of 11 free throws.
3.
Jameel Warney (Stony Brook)
-- The 6-foot-8 sophomore forward was in Beast Mode during Stony Brook's 67-61 win over Florida Atlantic. He finished with 23 points and 19 rebounds in that game. He was crucial for the Seawolves, who were locked in a tied game early in the second half.
4.
Langston Hall (Mercer)
-- The 6-4 senior led Mercer to an 81-54 win over Yale. He connected on four of his seven 3-point attempts. He also registered 18 points, 10 assists, 2 rebounds and 1 steal.
5.
Anthony Stitt (Charleston)
-- The junior finished the Cougars' lopsided 89-55 win over Furman with 4 steals. He also made 4 of 8 3-point attempts on his way to 21 points.
6.
Chris Horton (Austin Peay)
-- The sophomore big man is averaging 3.8 BPG. And he maintained that pace when he finished with four blocks in a 78-72 victory over Montana State. He also finished with 23 points and 9 rebounds.
7.
Sean Armand (Iona)
-- The 6-5 guard powered the Gaels in their 89-73 victory over Paul Hewitt's program. Armand was 10-for-16 from the field in a 30-point performance. It was his season high in George Mason's first blemish of the season.
8.
Ray Lee (Eastern Michigan)
-- What a performance by the freshman in his team's fifth consecutive win. He scored 38 points, went 12-for-15 from the field and made all five 3-point attempts in Eastern Michigan's 74-69 victory over Texas-Arlington. Another interesting note? His real name is Raven.
9.
Shawn Long (Louisiana-Lafayette)
-- Check out this stat line by the 6-9, 245-pounder: He finished with 24 points, 17 rebounds and 5 blocks in the Ragin' Cajuns' 84-75 victory over Oakland. He also hit a 3-pointer.
10.
Mark Henniger (Kent State)
-- The 6-9 senior led the Golden Flashes to a 102-97 win over Niagara. He was perfect. He went 6-for-6 from the field (20 points) and 8-for-8 from the free throw line. Kent State should bronze his shoes.
September, 11, 2013
Sep 11
11:55
AM ET
This week, ESPN.com has been
breaking down the nonconference schedules
of each team in nine of the nation's top leagues. Now let's take a look at the slates of a dozen of the top teams outside of those conferences.
BYU
Toughest:
Iowa State (Nov. 20), CBE Hall of Fame Classic (Nov. 25-26 in Kansas City, Mo.)
Next toughest:
at Stanford (Nov. 11), vs. UMass (Dec. 7 in Springfield, Mass.), at Oregon (Dec. 21)
The rest:
Weber State (Nov. 8), Mount St. Mary's (Nov. 15), vs. Utah State (Nov. 30 in Salt Lake City), North Texas (Dec. 3), Prairie View A&M (Dec. 11), Utah (Dec. 14)
Toughness scale (1-10): 7
-- With
Tyler Haws
back, BYU could steal the WCC crown from Gonzaga. The Cougars certainly will be prepared for the task. A home game against the Cyclones will be an early test for the program. The pot of gold in the Hall of Fame Classic could be a matchup against Final Four participant Wichita State (if BYU gets past Texas). Games against UMass and Oregon in December could be the kind of matchups that pull Dave Rose's team off the bubble on Selection Sunday, if they're successful.
FLORIDA GULF COAST
Toughest:
at North Carolina State (Nov. 26)
Next toughest:
at Nebraska (Nov. 8), Iona (Dec. 1)
The rest:
Hartford (Nov. 12), at Furman (Nov. 15), Eckerd (Nov. 18), Ave Maria (Nov. 23), at FIU (Dec. 7), Samford (Dec. 14), at South Florida (Dec. 17), at Mississippi State (Dec. 19), Las Vegas Classic (Dec. 22-23)
Toughness scale (1-10): 3
-- Florida Gulf Coast's athleticism and acrobatics enhanced the NCAA tournament experience for everyone, as "Dunk City" became a national slogan. Well, FGCU's nonconference slate belies its playmaking ability. The Eagles' toughest matchups should be road games against a Nebraska team that finished at the bottom of the Big Ten last season and an NC State squad that lost most of its impact players. The trip to Vegas yields games against Florida A&M and either Radford or Sacred Heart. And it gets worse. You'll have to Google "Eckerd" and "Ave Maria." The dunks can't make up for this disappointing schedule.
GONZAGA
Toughest:
Maui Invitational (Nov. 25-27), at West Virginia (Dec. 10), at Memphis (Feb. 8)
Next toughest:
vs. Kansas State (Dec. 21 in Wichita, Kan.)
The rest:
Bryant (Nov. 9), Colorado State (Nov. 11), Oakland (Nov. 17), Washington State (Nov. 21), Coppin State (Dec. 1), New Mexico State (Dec. 7), vs. South Alabama (Dec. 14 in Seattle)
Toughness scale (1-10): 8
-- The Zags must recover from the loss of talented frontcourt duo
Elias Harris
and
Kelly Olynyk
. But they're still talented enough to maintain their reign in the WCC. There will be little doubt if they succeed in the Maui Invitational. Matchups against Baylor and Syracuse could follow Gonzaga's opening round game against Dayton. A loaded Memphis squad could be a problem for the Bulldogs in February. Kansas State is less interesting because
Angel Rodriguez
and others transferred this offseason. The potential at the Maui Invite boosts this slate, however, especially because there's a strong chance we'll see those matchups.
HARVARD
Toughest:
at Colorado (Nov. 24), at UConn (Jan. 8)
Next toughest:
Great Alaska Shootout (Nov. 28-30), Boston College (Jan. 1)
The rest:
vs. Holy Cross (Nov. 10 in Boston), MIT (Nov. 12), Howard (Nov. 15), Bryant (Nov. 20), at Northeastern (Dec. 4), at Boston University (Dec. 7), Vermont (Dec. 21), at Fordham (Dec. 28), at Rice (Jan. 4), at Florida Atlantic (Jan. 21)
Toughness scale (1-10): 6
-- Tommy Amaker has one of the best rosters in Harvard history. He has the key players from last season's NCAA tourney squad. Plus, Brandyn Curry and Kyle Casey are returning from last season's suspensions. We'll know more about the program's ceiling after it travels to Boulder to face Tad Boyle's talented Colorado squad. Harvard will encounter one of America's best backcourts when it goes to UConn in January. Not much beyond that. The Great Alaska Shootout features one of the weakest holiday tournament fields in the country. Nothing else in this lineup that would really interest the selection committee.
INDIANA STATE
Toughest:
at Notre Dame (Nov. 17), at Saint Louis (Dec. 18)
Next toughest:
Great Alaska Shootout (Nov. 27-30)
The rest:
Ball State (Nov. 9), at Belmont (Nov. 14), Truman State (Nov. 22), at Eastern Illinois (Dec. 7), at Missouri-Kansas City (Dec. 14), IUPUI (Dec. 21), Belmont (Dec. 28)
Toughness scale (1-10): 6
-- The Sycamores are Wichita State's biggest challenger in the Missouri Valley Conference now that Creighton has moved on to the new Big East.
Jake Odum
and three other starters return. They'll have to get comfortable off campus. Road matchups against Notre Dame and Saint Louis will be their toughest nonconference games. The Sycamores play five true road games before MVC play begins, and that does not include the Great Alaska Shootout. The latter features a subpar field, but Indiana State could get Harvard in the title game at least. The program might regret two nonconference meetings with Belmont once Selection Sunday arrives.
IONA
Toughest:
at Kansas (Nov. 19)
Next toughest:
at Florida Gulf Coast (Dec. 1), at Dayton (Dec. 19)
The rest:
at Cleveland State (Nov. 9), Wofford (Nov. 16), George Mason (Nov. 23), St. Bonaventure (Dec. 14), at Nevada (Dec. 22), at Northern Iowa (Dec. 28)
Toughness scale (1-10): 5
-- Tim Cluess' program has reached the NCAA tournament in back-to-back seasons. And despite losing Momo Jones, the Gaels could return. Most of their starters from last season are back. Their nonconference slate, however, features few opportunities to boost their at-large resume. They'll play Andrew Wiggins and Kansas in Lawrence in November. George Mason, Florida Gulf Coast and Northern Iowa are all matchups they could lose. But even if they win all three, they'll probably need more quality wins to get some help on Selection Sunday.
LONG BEACH STATE
Toughest:
at Arizona (Nov. 11), Puerto Rico Tip-Off (Nov. 21-24), Creighton (Dec. 3)
Next toughest:
at Kansas State (Nov. 17), at Washington (Nov. 30), at NC State (Dec. 7), at Missouri (Jan. 4)
The rest:
Hawaii-Pacific (Nov. 9), Loyola Marymount (Nov. 14), USC (Dec. 19), Montana State-Billings (Dec. 21), at Nevada (Dec. 28)
Toughness scale (1-10): 10
-- Dan Monson's program dismissed standouts Kaela King and
Tony Freeland
in the offseason. But the 49ers still can win the Big West, especially with former UCLA guard Tyler Lamb becoming eligible after the first semester. They'll need everyone to step up to deal with this strenuous nonconference schedule. The program will face national title contender Arizona on the road in early November. The 49ers open the Puerto Rico Tip-Off with a matchup against Michigan, another national title contender. The tourney also includes VCU and Georgetown. Big East title favorite Creighton travels to the West Coast for a matchup in early December. The slate ends with a matchup against Missouri in Columbia. Now
that
is a nonconference schedule.
LOUISIANA TECH
Toughest:
vs. Oklahoma State (Dec. 14 in Oklahoma City)
Next toughest:
at Saint Mary's (Nov. 8), at Oklahoma (Dec. 30)
The rest:
Centenary (Nov. 13), Central Arkansas (Nov. 20), Gulf Coast Showcase in Naples, Fla. (Nov. 25-27), at Jackson State (Dec. 1), UL-Lafayette (Dec. 4), Southern (Dec. 7), Northwestern State (Dec. 11), McNeese State (Dec. 17), at UL-Monroe (Dec. 22), Longwood (Jan. 4)
Toughness scale (1-10): 5
-- Last season, Louisiana Tech won 27 games and cracked the AP's top 25 poll. The Bulldogs didn't reach the tournament, but they're still a potential favorite to win Conference USA in their inaugural season in the league. But they'll probably enter conference play with an inflated record. Their mid-December game against national title contender Oklahoma State is the only one that stands out. Road games against Saint Mary's and Oklahoma could be factors if Louisiana Tech is on the bubble at the end of the season. The Bulldogs' lack of quality nonconference wins hurt them last season. They at least have a shot at a few decent ones this season.
MERCER
Toughest:
at Ole Miss (Dec. 22)
Next toughest:
at Texas (Nov. 8), at Oklahoma (Dec. 2)
The rest:
Reinhardt (Nov. 13), Seton Hall (Nov. 16), at Evansville (Nov. 18), Johnson & Wales (North Carolina) (Nov. 20), Yale (Nov. 23), at Ohio (Nov. 26), at Valparaiso (Nov. 29), Denver (Dec. 7), Alcorn St. (Dec. 16), St. Andrews (Dec. 27)
Toughness scale (1-10): 4
-- Mercer brings back four starters from a team that won the Atlantic Sun's regular-season crown in 2012-13. That's the good news. But it's usually a bad sign when you have to Google some of the names featured on a team's nonconference slate. Yes, Johnson & Wales is a real school. Yes, Mercer is playing a bunch of high majors, too. But they're only high majors in name as 2013-14 approaches. Ole Miss should be its toughest game and the Bears have had success against the SEC in recent years. Texas has lost everyone, and Oklahoma has to replenish, too. Those three teams are not expected to contend for the title in their respective conferences. And then, there's Johnson & Wales.
SAINT MARY'S
Toughest:
at Boise State (Dec. 14), Diamond Head Classic (Dec. 22-25)
Next toughest:
Louisiana Tech (Nov. 8)
The rest:
Akron (Nov. 12), North Dakota State (Nov. 14), Drake (Nov. 16), Alcorn State (Nov. 24), Murray State (Nov. 30), Eastern Washington (Dec. 8), American University (Dec. 19)
Toughness scale (1-10): 5
-- This is actually better than some recent Saint Mary's nonconference lineups. But it's still so-so, even for a Gaels program that must reboot after losing star
Matthew Dellavedova
. A road game against Mountain West title contender Boise State is probably Saint Mary's toughest game. The Gaels could see the Broncos again if they beat South Carolina in the opening round of the Diamond Head Classic. Iowa State might be waiting in the championship game. Louisiana Tech could win the Conference USA crown in its first season, so that November matchup should be meaningful. But the Gaels have just one true road game.
SOUTHERN
Toughest:
at Florida (Nov. 18), at Arizona (Dec. 19)
Next toughest:
at Marquette (Nov. 8), at Baylor (Dec. 22)
The rest:
, at Middle Tennessee State (Nov. 10), Tulane (Nov. 13), at North Florida (Nov. 16), Arkansas-Little Rock (Nov. 22), Blue Mountain College (Nov. 25), at Denver (Dec. 3), at Louisiana Tech (Dec. 7), Dillard (Dec. 14), Champion Baptist College (Dec. 30)
Toughness scale (1-10): 10
-- The squad that nearly upset No. 1 seed Gonzaga in the NCAA tournament last season is ready to play the role of David again. Southern, a team that returns star
Malcolm Miller
, could ruin a few nonconference seasons for some of the country's best teams. The Jaguars kick off the year at Marquette. They'll face Florida in Gainesville a few weeks later. Then, they have back-to-back road matchups against Arizona and Baylor in December. That November game against Blue Mountain College is actually an anomaly on this challenging nonconference schedule. You taking notes, SEC?
WICHITA STATE
Toughest:
at Saint Louis (Dec. 1), vs. Tennessee (Dec. 14 at Intrust Bank Arena in Wichita, Kan.)
Next toughest:
CBE Hall of Fame Classic (Nov. 25-26), at Alabama (Dec. 17)
The rest:
Emporia State (Nov. 9), Western Kentucky (Nov. 12), at Tulsa (Nov. 20), Oral Roberts (Dec. 7), North Carolina Central (Dec. 22), Davidson (Dec. 29)
Toughness scale (1-10): 5
-- The Shockers have elevated expectations after last season's Final Four run. With so much talent returning, a trip to Arlington in April seems feasible. Wichita State will get an early test against reigning Atlantic 10 champ Saint Louis, and then it will host SEC sleeper Tennessee a few weeks later. The Vols beat the Shockers in Knoxville last season. They could face BYU if they beat DePaul in the first round of the Hall of Fame Classic. Games against Bama and Davidson shouldn't be overlooked, either. But this slate lacks the power players you'd like to see a Final Four team encounter prior to conference play.
March, 2, 2013
Mar 2
11:25
AM ET
By
Ryan Feldman
| ESPN Stats & Information
Here are the scenarios today for teams that have a chance to clinch their regular-season conference title outright. For conferences with two divisions, we use the terminology "will clinch best record" instead of "will clinch conference outright."

Akron: Will clinch best record in MAC with win at Buffalo and Ohio loss at Bowling Green
Belmont: Will clinch best record in Ohio Valley with win vs. Jacksonville State or Eastern Kentucky loss at Tennessee State
Charleston Southern: Will clinch best record in Big South South Division with win vs. Coastal Carolina
High Point: Will clinch best record in Big South North division with win vs. Campbell
Long Beach State: Will clinch Big West outright with win at UC Irvine or Pacific loss at UC Riverside
Louisiana Tech: Will clinch WAC outright with win vs. San Jose State and Denver loss vs. New Mexico State
Memphis: Will clinch Conference USA outright with win at UCF or Southern Miss loss vs. East Carolina
Mercer: Will clinch Atlantic Sun outright with win at Stetson or Florida Gulf Coast loss vs. Kennesaw State
Miami: Will clinch ACC outright with win at Duke
New Mexico: Will clinch Mountain West outright with win vs. Wyoming and Colorado State loss at Boise State
Niagara: Will clinch MAAC outright with win vs. St. Peter's
South Dakota State: Will clinch Summit League outright with Western Illinois loss vs. South Dakota
Texas Southern: Will clinch SWAC outright with win vs. Alcorn State
Valparaiso: Will clinch Horizon League outright with win at Green Bay or Detroit loss at Illinois-Chicago
Wichita State at Creighton: Winner clinches Missouri Valley outright
November, 16, 2012
11/16/12
8:00
AM ET
Until Connecticut's opening day victory over Michigan State in Germany, there wasn't much reason to get excited about the 2012 Paradise Jam. And even after a gutty, fired-up UConn team showed us it's not ready to wither just yet, the P-Jam (which is an abbreviation I just made up, I think; let's go with it) is far from the best early-season tournament out there. That would be the Battle 4 Atlantis, which basically drank every other early-season tournament's milkshake.
Even so, there are a few teams and players worth keeping an eye on.
The basics
: Nov. 16–19 at University of the Virgin Islands
The set matchups
: Mercer vs. George Mason, 1:30 p.m. ET; Illinois-Chicago vs. New Mexico, 4 p.m. ET; Wake Forest vs. Connecticut, 6:30 p.m. ET; Quinnipiac vs. Iona, 9 p.m. ET
The favorite: Connecticut.
New Mexico isn't far off -- the Lobos are still criminally underrated in the 2012-13 Mountain West conversation -- but it's hard to look at what UConn did to Michigan State and not be impressed (particularly because the Spartans took down Kansas four days and a 4,500-mile trip from Germany to Atlanta later). The Huskies' backcourt --
Shabazz Napier
,
Ryan Boatright
,
Omar Calhoun
and lengthy wing
DeAndre Daniels
-- appear to be playing fast, scrappy, motivated basketball under hungry young coach Kevin Ollie. And they have a straightforward route to the tournament title game.
FIVE PLAYERS TO WATCH
Shabazz Napier, Connecticut
: Napier struggled with leadership issues throughout the Huskies' lackluster 2011-12 season; he fully admitted other players simply didn't want to hear it. But Napier is now a legit veteran presence with a national title on his résumé, and this greenhorn UConn team revolves much more around his perimeter abilities.
[+] Enlarge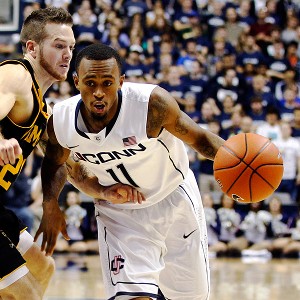 David Butler II/US PresswireRyan Boatright's making better decisions so far in his his sophomore season for UConn.
Ryan Boatright, Connecticut
: Boatright's freshman season was like many freshman seasons: promising but flawed. This season, he appears to be playing much more of a true point guard role, with Napier working more frequently off the ball, and the decision-making that made him a liability last season looks to be much improved.
Tony Snell, New Mexico
: The Lobos have a really good chance to win this tournament -- if UConn is the favorite, it's not by that much -- and Snell is a major reason why. He led New Mexico's 86–81 comeback win over Davidson Tuesday morning with 25 points, including a final-minute shot-clock-beating 3 to help seal the deal.
MoMo Jones, Iona
: Iona lost national assists leader Scott Machado and senior forward Mike Glover. It will gain former Iowa State point guard
Tavon Sledge
and former Toledo forward
Curtis Dennis
. But Jones -- the former Arizona point who transferred to Iona last summer -- should get the touches to have a very big season, even if he isn't always the most efficient scorer in the country.
C.J. Harris, Wake Forest
: The Demon Deacons still have a big talent hole to climb out of before they get competitive in the ACC again, but that doesn't mean you should overlook Harris. The guard had a breakout junior season, shooting 50.7 percent from 2, 42.2 percent from 3 and 84.4 percent from the line while lowering his turnover rate and drawing shooting fouls frequently.
FIVE BIG QUESTIONS
Is this Connecticut thing real?
As good as UConn looked Friday night -- and it did look good -- it's important to temper this kind of exuberance this early in the season. It was only one game (in Germany, no less) and Michigan State hardly had its finest outing. A convincing jaunt this weekend will hardly guarantee Big East title contention, but it will be another green shoot.
Where is George Mason right now?
Paul Hewitt enters his second season at George Mason with the program arguably as bereft of talent as at any point in the past five seasons. That's what happens when you lose two leading frontcourt scorers, Ryan Pearson and Mike Morrison (and your program's best recent scorer,
Luke Hancock
, is preparing to debut for Louisville). Mason looks likely to slide this season, but did open with a win over Virginia. This tournament will tell us more.
Is New Mexico good enough down low?
The Lobos have plenty of perimeter talent.
Kendall Williams
and Snell are gifted scorers,
Hugh Greenwood
is a crafty point,
Demetrius Walker
is finally getting it, and
Jamal Fenton
can really go. But after losing Drew Gordon to the draft, can New Mexico find and develop some interior presence in time to compete with UNLV and San Diego State?
Is Wake on its way?
There's no two ways about it: Jeff Bzdelik's tenure has been a disaster thus far, and that's before you consider the comparatively gleaming record of the man (Dino Gaudio) he replaced. But Bzdelik did improve Wake to a 13-win outfit last season after losing two starters from an 8–24 team, and Harris and
Travis McKie
form a really nice scoring combo. The Demon Deacons aren't going to challenge for the ACC title anytime soon, but there's at least a chance they won't be horrible. So there's that.
Will ESPN.com college football editor Brian Kelly shave his head if his alma mater, Quinnipiac, wins this tournament?
I don't know, but I
triple dog dare him
.
THE PICKS
First round
: Iona over Quinnipiac (sorry BK); UConn over Wake; New Mexico over UIC; George Mason over Mercer.
Semifinals
: UConn over Iona; New Mexico over George Mason.
Championship
: UConn over New Mexico.