College Basketball Nation:

Miami Redhawks
June, 7, 2013
6/07/13
4:40
PM ET
By
Jon Greenberg, ESPNChicago.com
| ESPN.com
Former Miami (Ohio) coach Charlie Coles had everything: The Xs and Os, the brains, the personality. In a perfect world, Coles would have been a millionaire with six-figure speaking fees, famous friends and a big shoe contract.
Instead he had a closet full of mock turtlenecks, the lowest salary in the Mid-American Conference -- despite a Sweet 16 appearance -- and more love and respect than any coach could dream about.
[+] Enlarge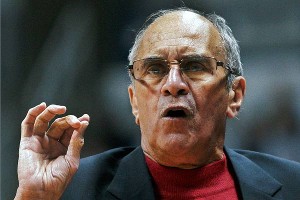 Al Behrman/AP PhotoMiami (Ohio) coach Charlie Coles, who had a 355-308 career record as a basketball coach, died Friday.
"He never asked [for more money]," said Jason Grunkemeyer, a former player and assistant under Coles. "He'd joke that he just wants to tiptoe around and 'hope they don't fire me.'"
Coles, who retired in 2012,
passed away at his home
Friday at the age of 71. No cause of death was listed, but Grunkemeyer said Coles had been suffering from a variety of health ailments, unrelated to a history of heart problems.
Coles retired as the MAC leader in league wins with 218, including a 167-109 conference record in 16 seasons at his alma mater, highlighted by that 1999 trip to the Sweet 16 behind future NBA player Wally Szczerbiak.
Coles won 355 games between Miami and Central Michigan, producing NBA players like Dan Majerle, Ira Newble and Szczerbiak.
But numbers didn't define Coles, who was one of the great personalities in college basketball. What defined him was his love of teaching -- he taught an undergraduate course on basketball theory -- and his unique personality.
"With Charlie, people like to talk about his sense of humor, but I always talk about his intelligence," said ESPN broadcaster and radio host Dan Dakich, who coached against Coles in the MAC from 1997-2007 while at Bowling Green. "That dude was brilliant."
To his players, he was a father figure.
"I think the thing with him was he developed the whole person," Grunkemeyer said in a phone conversation Friday from Muncie, Ind., where he is a basketball assistant coach at Ball State. "I think that's the thing for all of us who played for him or coached for him would be able to say. He didn't just care what you could do as a basketball player, he really cared about what you were as an individual. If things needed to corrected, he wasn't afraid to go there."
Dakich felt Coles was a kindred spirit in a league rife with animosity between coaches. When Dakich would tee off on the commissioner in meetings about the state of the league, Coles would be next to him, Dakich said, going, "'Keep going Dan, keep going.' Because he knew what was going to happen to MAC basketball."
One year, Dakich famously wore his sports coat backward during a winning streak, which included a win at Miami. After the streak ended, Miami traveled to Bowling Green.
"He came out with his coat backward, and I was dying laughing," Dakich said in a phone conversation. "He said, 'You're not stealing the mojo from me!' He was the only coach who got what this was about, me doing something stupid for my team."
After he lost Szczerbiak to the NBA following Miami's wild Sweet 16 ride, I remember Coles moaning about his fate at the 1999 MAC media day. Of course, that team, which had little talent, went to the MAC finals as a 9-seed. In 2001, he got to the conference finals again as an 8-seed.
I remember Coles fondly from my days as a student reporter from 1999-2001 at Ohio University. I looked forward to the Bobcats playing Miami for the chance to hear his thoughts at the postgame news conference. How many reporters look forward to a news conference? That's Charlie. And it was worth every minute. When he said he would trade for a little-known Ohio guard named Corey Reed, a few of us wanted to yell, "We'll trade him for you!"
These conferences were more like a Bill Cosby stand-up special, full of jokes and life lessons. (Who will ever forget his
memorable rant
after Miami's narrow loss at Kentucky in 2009?) He would rip a question from a student reporter in a way that wasn't nasty. He would tell long stories. He was also one of the few coaches who would compliment a team that just beat him and rave about the Corey Reeds of the world.
"When they beat his team, he always praised the other team," Dakich said. "Some guys in the MAC were so paranoid they wouldn't do that."
In a 2001 column I wrote about Coles, I mentioned him teasing a former recruit, Ohio forward Jon Sanderson, if he "were on my team, he could shoot all the 3-pointers he wanted, not just in the second half. Remember 'Wally World' baby."
This was during a game.
"Only he could get away with that," Grunkemeyer said.
In recent years, Coles asked an Ohio student reporter, Will Frasure, how old he was during a news conference. When Frasure said he was 22, Coles replied, "I would smile every day if I were 22."
Frasure said it's the best advice he's ever gotten.
Grunkemeyer played under Coles for three years, including that Sweet 16 season, and coached under him from 2007-12. He was an athletic director at the local high school in Oxford last year, so he got to spend more time with Coles. Because of this familiarity, he's often asked for Coles stories and impressions.
"Some are appropriate, some not so appropriate," he said with a laugh.
After some cajoling, Grunkemeyer thought of a recent story that wasn't about basketball.
"He was telling me a couple months back that he went to the doctor, because he's having issues, and Coach, he was probably taking one too many Vicodin. The doctor came in and," Grunkemeyer said, going into Coles' voice. "'Yeah this guy is gonna tell me I got to watch my pills, watch that Vicodin and I looked at him say, sir, you know who you're talking to. I'm 70 years old. I've had three open heart surgeries. I've got 15 specialists as my doctors and now you're worried about me trying to feel good. I got like three weeks to live if i'm lucky!' He was prophetic there. He's telling the story and he's laughing, I'm laughing. That kind of stuff. He wasn't afraid to talk about it."
Grunkemeyer had spent much of Friday talking to ex-teammates. The funeral hadn't been planned yet, but he was looking forward to it as a "real celebration of his life."
"I know I'm looking forward to crying, laughing and swapping stories," he said. "I think that's what he would want. That's how he lived his life. You should send someone there. There will be a lot of great stories."
Sounds like a dream assignment.
January, 13, 2013
1/13/13
12:32
AM ET
More observations from Saturday's evening slate:
[+] Enlarge

Christopher Hanewinckel/USA TODAY SportsChase Tapley scored 12 of his 19 in overtime as San Diego State beat back Colorado State's charge.
Other notes:
Leonard Washington (16 points, 13 rebounds) helped Wyoming rebound from its first loss of the season with a 59-48 victory at Nevada. The Cowboys were coming off a 63-61 loss to Boise State by way of a buzzer-beating 3-pointer on Wednesday.

I feel for Buffalo. The Bulls were down 54-33 to Miami (Ohio) before they launched a 24-2 run to take a 57-56 lead, but Allen Roberts' free throws in the final seconds gave the Redhawks the 58-57 win. Heartbreaking for Buffalo.

Need more proof that the Mountain West is legit? Air Force nearly upset No. 24 UNLV in a 76-71 overtime loss in Las Vegas. This league is potent top to bottom.
October, 26, 2012
10/26/12
4:55
PM ET
By
ESPN.com staff
| ESPN.com
Before we get to the Blue Ribbon team-by-team previews for the Mid-American Conference, here is Eamonn Brennan's quick wind sprint through the league: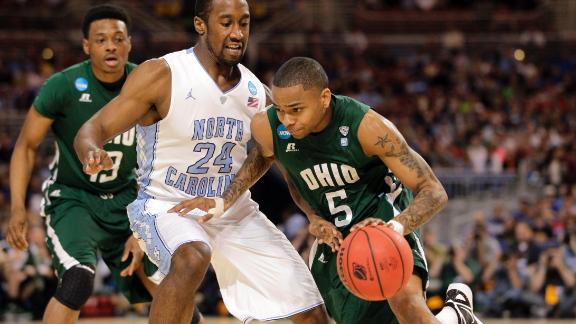 For Myron Medcalf's look at the nonconference schedules at Akron and Ohio,
click here
. For Medcalf's look at Keno Davis resurfacing at Central Michigan,
click here
. And for Blue Ribbon's in-depth previews of all 12 MAC teams:

Akron
Ball State
Bowling Green
Buffalo

Central Michigan
Eastern Michigan
Kent State
Miami (OH)
Northern Illinois
Ohio
Toledo
Western Michigan
December, 2, 2011
12/02/11
5:00
AM ET
1. Ole Miss coach Andy Kennedy has had a hard time catching breaks since he arrived in Oxford. The Rebels have dealt with injuries, defections and early-entrants and an inability to be consistent enough to be an NCAA tournament team. Whether or not Ole Miss can get there in 2012 is still to be determined. But the Rebels finally closed out a game in a frenetic situation as they beat DePaul on the road on a
Murphy Holloway
layup. Holloway, who played at Ole Miss, transferred to South Carolina and then came back, had committed a silly foul the previous possession before coming up with a decisive steal and layup. The Rebels got blitzed by 30 by Marquette in the Paradise Jam in the Virgin Islands but did finish off Miami in overtime last week. DePaul may be in the bottom fourth of the Big East but the win will still do wonders for the Rebels' confidence. "It's the first road win versus a Big East opponent ever in Ole Miss basketball history,'' said Kennedy late Thursday night of a random fact that seems hard to digest. "Sometimes you've got to win ugly.'' The Rebels aren't going to be better than Kentucky, Florida, Vanderbilt or likely Mississippi State or Alabama. But can Ole Miss be more productive than Tennessee or Arkansas or Auburn? This squad has a shot to be a top-six SEC team.
2. The Colonial Athletic Association has been disappointing through the first month of the season. Drexel (2-3) was the preseason favorite but the Dragons haven't been completely healthy and don't have a quality win. Other contenders like George Mason, VCU and Old Dominion have either not had their full complement of players or simply are rebuilding and aren't ready to win elite games. The best win by the CAA so far may be Northeastern's victory at St. John's, hardly a NCAA-bound victory since the Red Storm are likely a lower-half Big East squad. "We don't have that juggernaut team that stands out,'' said ODU coach Blaine Taylor. "But once we get our people back, the same with Drexel, George Mason and you'll see VCU play better than people will see how good the (CAA teams are). Our teams have been up and down that doesn't mean in the long haul that we won't have real good teams once we get to January and February.'' The CAA had its second Final Four team in six seasons when VCU earned a bid last April.
3. The MAC last had multiple NCAA tournament teams in 1999 when Miami was a 10-seed and Kent State was an 11. The league once had a flurry of NBA-level-talented players who for whatever reason didn't make it to the Big Ten. But the MAC slump has been going on for a dozen years. That is, possibly, until now. The MAC has already picked up significant wins: Akron at Mississippi State, Ohio at Marshall, Kent State at West Virginia, Miami and Buffalo beat Dayton (which won the Old Spice Classic). Bowling Green beat Temple. Will any of those wins get the MAC an at-large berth? Probably not. But the MAC is at least proving that it is no longer a weaker comparison to the Horizon League, the Missouri Valley or the Colonial.
November, 3, 2011
11/03/11
4:56
PM ET
By
ESPN.com staff
| ESPN.com
Before we get to the Blue Ribbon team-by-team previews for the Mid-American Conference, here is Eamonn Brennan's quick wind sprint through the league:
Blue Ribbon breakdowns of all 12 teams in the MAC:
Akron
Ball State
Bowling Green
Buffalo
Central Michigan
Eastern Michigan
Kent State

Miami (Ohio)
Northern Illinois
Ohio
Toledo
Western Michigan
More MAC content
: