College Basketball Nation:

Michael Bradley
July, 6, 2012
7/06/12
4:45
PM ET
This week, Vincennes University, a two-year junior college on the southwest Indiana side of the Illinois-Indiana border, announced a (relatively) momentous bit of transfer news:
Michael Bradley
, formerly of the
Connecticut Huskies
, would be joining the Vincennes basketball team for the 2012-13 season.
Bradley left UConn, where he famously gave up his scholarship to make room for highly touted 2011 recruit
Andre Drummond
, this summer in an attempt to play at Western Kentucky. But when the NCAA denied his appeal to play immediately -- a slightly strange decision, given Bradley's injuries and background -- the 6-foot-10 forward needed to find a place to play right away. That place just so happened to be a small Indiana junior college. Simple enough.
[+] Enlarge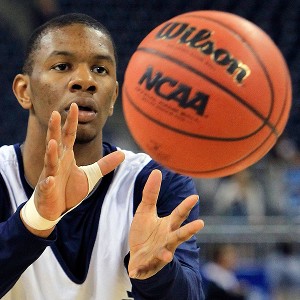 AP Photo/Mark HumphreyMichael Bradley will spend the 2012-13 season playing for Vincennes.
What was less simple was what all this meant for Bradley's eligibility. My editor emailed me with exactly that question, and we spent some time going through the NCAA transfer rules, but NCAA bylaws have a way of somehow being both dense and vague. Far as we could tell,
the rules made it seem that Bradley would be OK to transfer back to a Division I school after one year at Vincennes
, provided he carried over his coursework and completed the necessary added requirements for graduation from the two-year school in the coming year.
That's correct in a general sense. But, as we expected, Bradley's eligibility status is slightly more complicated.
Bylaw Blog's John Infante took it upon himself to answer our question at AthleticScholarships.net
, but not before laying out the distinctions between transfer types and the category Bradley currently belonged to. Warning, long blockquote ahoy:
The NCAA has three basic types of transfers and four basic sets of transfer rules. 4–4 transfers are transfers from a four-year college to another four-year college. 2–4 transfers are transfers from a two-year college (i.e. a junior or community college) to a four-year college. And 4–2–4 transfers are transfers from a four-year college to a two-year college then to another four-year college. [...]

When a student-athlete becomes a 4–2–4 transfer, he needs to meet the requirements of Bylaw 14.5.6 to play immediately when he ends up back at a Division I school:

1. Complete an average of 12 credit-hours per term of full-time enrollment at the two-year school;
2. Have one year elapse from the time the student-athlete left the first four-year school; and
3. Graduate from the junior college with an associates degree.

All of this should be relatively straightforward for Bradley. His unfulfilled residency requirement at WKU would also not stand in his way because 4–2–4 transfers are not affected by an unfilled residency requirement (only 4–4 transfers are). There is one potential speed bump though. [...]

When Bradley returns to Division I next year, he will have finished three years or six semesters of college. That means he will need to have completed 60% of his degree according to Bylaw 14.4.3.2. Normally that's not an issue, but it can be when an athlete transfers to a junior college after his second year.
Essentially, Infante writes, Bradley will have to choose his courses carefully at Vincennes to ensure that he has the 60 percent degree requirement fulfilled by the time he finishes what could be his lone year at the school. Bradley's situation seems all out of whack, but provided he gets the courses he needs from Vincennes, he should graduate with an associates degree from the two-year school and should be able to transfer back to a Division I school to play next season.
In shorter terms: Yes, Bradley can play Division I basketball again, probably even next season. And that's the answer to that question. Thanks, John.
July, 2, 2012
7/02/12
3:15
PM ET
Michael Bradley, the former Connecticut forward who
famously gave up his scholarship to make room for star recruit Andre Drummond
(and caused a minor ruckus in doing so, thanks to Connecticut's NCAA-imposed scholarship reductions), has finally found a place to play his basketball in 2012-13: Vincennes University, a two-year junior college in Indiana.
The school
announced Bradley's addition in a release this weekend
. The 6-foot-10 forward initially hoped to transfer to Western Kentucky and was enrolled in summer classes at the school, but was unable to secure immediate eligibility despite an NCAA appeal. Bradley would have had to sit out a third straight year -- an ankle injury cost him his 2011-12 season -- before competing for the Hilltoppers.
Instead, Bradley will take his talents to Vincennes, and Trailblazers coach Todd Franklin can barely hide his excitement:
"He's a big, talented guy, and he has a vast amount of potential," Franklin said in the release. "We hope he can get us over the hump (to be a serious contender for a NJCAA Div. I National Championship at Hutchinson, KS)." [...] When you can add a 6-10 Big East (Conference) transfer who doesn't bring a lot of baggage and was a high test score player, you have to feel fortunate."
Bradley was a high-Division I recruit who considered Georgia and Memphis as well as Connecticut during his initial recruiting run. The thought of him playing for the Hilltoppers in the Sun Belt conference -- where elite big men are rare commodities -- was intriguing enough. At Vincennes, assuming he can shake off the cobwebs caused by two years of game-inaction, Bradley could dominate -- all the while preparing for a move back to Division-I hoops down the line.
When that move could come will be interesting to watch. The
NCAA typically requires athletes at two-year institutions to graduate before they can become immediately eligible to transfer
. But if Bradley has enough preexisting credits to graduate from Vincennes within one year, could he theoretically be ready to move after just one season? Chances are this won't matter, as Bradley may never be a high-impact player at the highest levels of the sport. But he still has time to get there.
We'll have to wait and see what Bradley, and then the NCAA, decide. In the meantime, fans of the Vincennes Trailblazers -- and yes, they're out there -- have an unexpected hoops treat on their hands.
April, 5, 2012
4/05/12
6:43
PM ET
Hall of Fame and three-time national champion coach Jim Calhoun will face his toughest on-court challenge yet, trying to motivate UConn without the opportunity of playing in the postseason in 2013.
The NCAA officially informed the Huskies on Thursday that
the latest appeal to be eligible for the 2013 postseason was denied
based on a four-year period of Academic Progress Rate (APR) scores.
The Big East decided during the conference tournament to adopt a new policy that any school that isn't eligible for postseason cannot participate in a conference tournament, regardless of sport.
Calhoun issued a statement through the school Thursday, admitting that the university and coaching staff should have done a better job academically with the team, and that implemented changes have had an effect.
He added, "We will continue to strive to maintain that success as we move forward.''
Calhoun has two seasons remaining on his contract, and new athletic director Warde Manuel said Thursday during a conference call with the media that Calhoun has given him no indication he won't go forward as the coach.
"Jim is our coach,'' Manuel said. "Jim is committed to working to ensure the student-athletes do what they're doing now -- to focus on academically being successful, and being successful on the court.''
[+] Enlarge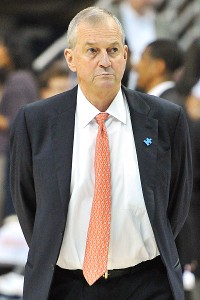 Cal Sport Media/AP ImagesNext season, UConn coach Jim Calhoun will have to motivate a team with no chance of reaching the postseason.
A number of sources close to Calhoun said he will not retire. Actually, this latest setback will likely embolden him even more to stay and get the Huskies through this hurdle, instead of him quitting on the program when it needs leadership most. Calhoun, who has survived two bouts of cancer, eight broken ribs and recent back surgery, is considered one of the toughest coaches in the country.
Calhoun returned from back surgery for the final regular-season game against Pitt on March 3 after missing eight games, then coached the Huskies in the Big East and NCAA tournament. Calhoun was suspended for three games to start Big East conference play as part of the penalties related to the recruitment of former student Nate Miles (not related to the APR issue).
The Huskies have already released junior forward
Alex Oriakhi
. He can play immediately somewhere else, because his former team is not allowed to play in the postseason in his final season of college. Kentucky, Duke, Florida, Missouri and North Carolina, among others, are interested in his services.
Manuel said no other player has asked for a release. Oriakhi is the only junior on the team.
The Huskies are awaiting NBA draft decisions from sophomore
Jeremy Lamb
and freshman
Andre Drummond
. Calhoun said two weeks ago that he would expect Lamb to leave if he were in the lottery, but wasn't convinced Drummond would bolt after initial conversations with his family.
The Huskies have one star recruit coming in the fall in Omar Calhoun. They also return rotation players
DeAndre Daniels
,
Enosch Wolf
,
Niels Giffey
,
Roscoe Smith
and
Michael Bradley
, as well as a potential all-Big East backcourt of
Shabazz Napier
and
Ryan Boatright
.
Preparing to play a season without the ability to reach the postseason isn't the norm, but it's not unique.
Two seasons ago, USC found out in January that it was banned from the postseason, including the Pac-10 tournament.
"It will be a challenge,'' said USC coach Kevin O'Neill of what Calhoun faces next season. "If anybody can do it, Jim can. He commands the respect to keep them up.''
O'Neill said he was helped by having senior transfers in Mike Gerrity (Pepperdine) and Marcus Johnson (UConn), who still wanted to play because they had nothing else left on their eligibility clock.
O'Neill said he focused the Trojans on trying to win the Pac-10 regular-season title. Calhoun will likely focus on the Big East regular-season title.
"Our guys continued to play hard, and we were in the hunt until the last two weeks,'' O'Neill said. "We were fortunate to have seniors. If it's a younger team, it's going to be really hard. [UConn] will have a whole year in advance, and you've got to motivate the guys to go to the weight room to work their a-- off every single day, and that will be difficult.''
Manuel isn't holding out hope for a change in the policy in time to save the 2013 ban.
The Huskies have argued that the NCAA should compute the APR based on the immediate four-year period. Instead, the NCAA started it in 2007-2011.
The men's team had an APR of 978 in 2010-11, and according to UConn had a perfect APR score in the fall of 2011.
Manuel said he views the Huskies as being penalized twice since it already lost a scholarship due to the poor APR, received a public reprimand and a reduction of practice hours. Manuel said the board of directors changed the level two penalty on Oct. 26, 2011 to go from the above mentioned to include a postseason ban.
"We knew the initial penalty when we submitted our information, we knew the punishment, there was no new data,'' Manuel told ESPN.com later Thursday of the expectation that the Huskies, in the fall, would receive the above mentioned penalties instead of a ban. "And then they changed the penalty.
"None of the freshmen on this team cost us a point,'' Manuel said. "The players on this team helped us stay perfect. These freshmen weren't on the team and their data won't be calculated.''
But Manuel said he has moved on and the Huskies must as well, to a season that will end with the last regular-season game.
The Huskies can still win a title in 2013. But just the Big East regular-season championship. That's it. As a result, this will be Calhoun's toughest task to date to ensure his depleted team is motivated enough to reach that goal.
December, 21, 2011
12/21/11
6:45
PM ET
Quick: When was the last time the NBA's potential No. 1 overall pick was also a walk-on? Has it ever happened before?
Until this season, probably not. But that's the case at Connecticut, where
Andre Drummond
and the Huskies revealed that the No. 2-ranked recruit in the class of 2011
was indeed paying his own way
-- thanks to the kind of "non-institutional" loans you and I took out when we were in college -- as a freshman this season.
[+] Enlarge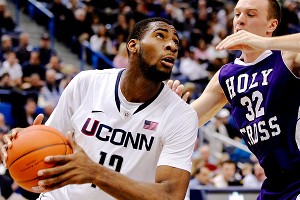 David Butler II/US PRESSWIREPerhaps a loss to Seton Hall on Wednesday might have UConn emphasizing getting the ball to center Andre Drummond much more often.
Why go walk-on? When Drummond committed to the
Connecticut Huskies
late this summer, he created a scholarship crunch at the program, which had lost scholarships thanks to the NCAA committee on infractions's decision in the Nate Miles recruitment scandal, as well as the Huskies' substandard Academic Progress Rate. With Drummond joining so late in the calendar, there simply wasn't room to add him without taking a scholarship away from someone else. That someone was redshirt freshman
Michael Bradley
, who UConn said volunteered to give up his scholarship and become a walk-on himself.
That move elicited howls of criticism, and rightfully so. Here was Calhoun and Connecticut taking a player's scholarship -- or allowing him to "volunteer" it, if you prefer -- and giving it to another player simply because that player was more talented. Bradley's background as the product of a hard-knock childhood, part of which was spent in the Tennessee Baptist Children's Home, didn't help the perception. (That low-income background allowed Bradley to qualify for other forms of financial aid, which was part of the justification for the decision, but "hey, he's poor enough to get other aid, he doesn't need the scholarship!" didn't exactly sound much better, did it?)
In the end, the scholarship restrictions imposed on the Huskies by the NCAA for both NCAA violations and bad grades proved feckless. UConn still got its man. The only thing that changed were Bradley's finances. It was one of the more cynical stories of the 2011 season, the kind of loathsome mess that makes your skin crawl.
At least, it seemed that way. Instead, as we know now, it may be one of the more heartwarming.
Drummond's comments to the New London Day
, which first reported the story Wednesday, showcase a reasonable, down-to-Earth dude who didn't like the idea of taking something his teammate had worked for. So guess what? The star freshman, with the insistence of his family, decided to take out loans and become a walk-on instead.
"I'm thankful for what Mike was trying to do for me," Drummond said Tuesday. "I told Mike, 'Don't do that, man. I'll pay my way and take a scholarship next year. You don't have to give up a scholarship for me.'

"It was my decision. That's not fair to him. He worked hard to get that scholarship. I'm not going to take something from somebody that's not mine. It was my decision to come late."
Drummond's decision makes sense for all sides. He will surely be able to pay back this year's student loans when he leaves for the NBA, which could be as soon as next spring; Drummond is a surefire lottery pick who'll soon be able to afford much more than books, room and board. Bradley gets to keep his scholarship, rather than lose it to poor timing, NCAA penalties he had nothing to do with and the cold calculus of elite-level college basketball. And Connecticut, for what it's worth, gets to save a little face. Win-win-win.
Of course, there are still some lingering questions here. For example, it seems Bradley and Drummond both entered the year uncertain of what their financial situation would be. If that were the case, why did UConn make Bradley the public face of the situation? At the very least, why didn't they let everyone know -- especially after getting hammered for the decision in the offseason -- that, hey, guess what, Bradley didn't really lose his scholarship, Drummond's actually taking out a loan, and so on? The reason for the timing of this news appears to be "because Andre admitted to the media that he was a walk-on," but why did it take that long?
But that stuff feels like semantics. On a basic level, this was the right thing to do. Given the way the situation unfolded this summer, and what we've sadly come to expect in college sports as a whole, Bradley remaining on scholarship represents a refreshing change of pace. And just in time for Christmas, too. How great is that?
October, 18, 2011
10/18/11
1:10
PM ET
By
Diamond Leung
| ESPN.com
When Michael Bradley recently broke his silence about giving up his scholarship so top center Andre Drummond could play at Connecticut, the redshirt freshman stressed he saw it as an opportunity to
make a sacrifice for the team
.
"I don't want anybody to pity me," he said. "That is the one thing that I don't want."
But it's difficult not to feed badly for Bradley after he
fractured his right ankle
and is scheduled for surgery that is expected to leave him out for six weeks while he rehabs.
The injury puts him further behind after a season in which he redshirted during the Huskies' national championship season. He could have provided depth at the position behind Drummond, but will now miss the start of the season.
Giving up the scholarship to the prized recruit instantly made UConn a national title contender again, but the decision was controversial given that UConn's crunch was mandated by the NCAA.
The other side to that is that if it weren't for Drummond, Bradley might never have gotten to UConn in the first place, according to the
New Haven Register
.
In July 2009, Jim Calhoun and Patrick Sellers, then a UConn assistant, were at the AAU nationals in Orlando to watch Drummond, the mega-recruit from their own backyard. The plan was for Calhoun to watch Drummond's game for one half, then flip-flop with Sellers, who was watching a game on another court.

But Calhoun became intrigued by the 6-foot-9 center who was more than holding his own against Drummond -- even, at times, dominating him. Kid by the name of Michael Bradley.

"Mike played so well," Sellers recalled. "Coach stayed for the whole game and started watching Mike, too."
Bradley has overcome recruiting anonymity to earn a national championship ring and has since given up his scholarship to help the team. Now he'll have an injury to recover from as well.
September, 2, 2011
9/02/11
12:14
PM ET
By
Diamond Leung
| ESPN.com
Andre Drummond has enrolled at Connecticut, and for the Huskies to
add one of the top recruits in the nation onto their roster
, someone needed to make a sacrifice with the team already in a scholarship crunch.
Redshirt freshman Michael Bradley became that guy and is now a walk-on after qualifying to receive financial assistance for college.
The
New Haven Register
detailed last year in a profile on Bradley the Chattanooga native's unstable upbringing that ultimately allowed him to qualify.
When Bradley was 11 years old, the tension between him and his mother, Jacqueline Phinazee, had reached a boiling point. Phinazee had trouble keeping a job and providing for her son (Bradley's father was never a part of his life, and he is now deceased).

"My mom wasn't too stable, job-wise and financially," Bradley said. "She wasn't too stable to take care of me."

The financial stresses on the household caused Bradley to lash out. He never got into any serious trouble, but he started talking back to his mother, flouting her authority, and began lagging behind in his schoolwork. Phinazee eventually decided to send her son to the Tennessee Baptist Children's Home.
Bradley ended up living at the home during high school while he developed into a 6-foot-10 UConn recruit, according to the story. He ended up redshirting because of the Huskies' deep frontcourt, and it wasn't easy for him to sit out during a national championship season.
In an
interview with WDEF-TV
in July, Bradley recalled a conversation with coach Jim Calhoun.
"He was like, 'Mike, you're always out here working hard. You're always putting the effort in. I like what I see. But one thing that I don't see as much anymore is that you don't seem to be as happy as you used to be.'
"And I was like, 'What do you mean, Coach? I'm happy.' But he was like, 'But you're missing something. It's something that gave you your little edge, you know?' He was giving me like mental advice, which was kind of weird."
Now Bradley is in the spotlight after Calhoun asked him to give up his scholarship. The New Haven Register's UConn men's basketball beat writer, David Borges, wrote the piece on Bradley growing up in the children's home, and like
our ESPN college basketball roundtable
, he's
a little uncomfortable
that the freshman gave up a scholarship to accommodate Drummond.
It's a pretty terrific gesture on Bradley's part. I've been told by those close to him that he has been willing to do it from the start, so long as everything works out financially, and that he didn't feel forced into doing it.

Still, the whole situation makes me a little uncomfortable. Why should a kid who obviously has come from a tough background have to forfeit his scholarship to a kid who didn't even decide he'd be attending college until a few days before classes started? And I'm not blaming Drummond here, either. He's 18 years old, after all -- he's allowed to be a bit indecisive, especially when you consider all the various pressures on him to finally make a choice.

I blame a system that allows these types of things to happen.
August, 31, 2011
8/31/11
2:03
PM ET
And that's putting it lightly.
When the NCAA registered its verdict in the Nate Miles case last year, the Committee on Infractions levied a three-game conference suspension -- to be served at the start of conference play --
against Connecticut coach Jim Calhoun for his role in Miles' recruitment
. Now that the Big East has formally revealed its 2011-12 schedule, we know exactly which fixtures Calhoun will be forced to miss. Turns out, the Huskies got the luck of the draw.
Connecticut's first three Big East games are as follows: at South Florida on Dec. 28, vs. St John's on Dec. 31 and at Seton Hall on Jan. 3. Calhoun's first game back will be a Jan. 7 tilt at Rutgers, at which point he will be free to coach the Huskies for the duration of the season.
Those are hardly the most compelling contests on UConn's schedule. South Florida and Seton Hall are expected to finish near the bottom of the Big East race in 2012, and though
St. John's boasts one of the deepest and most talented recruiting classes in the country
, it also lost 10 seniors and will be the youngest team in the country in 2012.
ESPN's Andy Katz spoke with associate Big East commissioner Dan Gavitt Wednesday, who said Calhoun's suspension was not a factor in the way the Big East constructed its slate of games this offseason:

"It was not taken into consideration in the scheduling process,'' Gavitt said. Gavitt said the integrity of the overall schedule had to be considered.
Like most conferences, the Big East schedules with the help of a computer formula, which allows the league to factor in the games reserved for major TV networks like ESPN and CBS, the balance of both halves of the schedule, as well as other mitigating factors. (For example, no team may play more than four games in a row on the road.) The Big East constructed this year's schedule no differently than any other year.
To be clear, that's the only fair way to handle such a matter. It's not the Big East's job to try and further punish Calhoun by scheduling games against top teams. Besides, asking the Big East to predict those games is folly anyway. (Maybe St. John's ends up being dynamic. Maybe Seton Hall is better than expected. You get the point.)
Still, when people say NCAA penalties are toothless, the past week at Connecticut is exactly what they mean. Along with Calhoun's suspension, UConn's penalties in the Miles case also included a lost scholarship in 2011-12. On Friday, top recruit Andre Drummond decided to attend UConn despite the scholarship crunch. What happened? A
little-used player named Michael Bradley forfeited his scholarship
to make room for Drummond. The scholarship crunch didn't cost the Huskies a top player. It merely forced the program into some creative math. In effect, Bradley -- who voluntarily gave up his scholarship, according to the school -- was the only member of the UConn program directly hurt by the NCAA's scholarship-related penalty.
And now there's this.
Changing cheaters' "cost-benefit calculus" with stricter NCAA enforcement
has been one of NCAA president Mark Emmert's recurring talking points. Connecticut still has a few more years of probation to work through, and it will lose scholarships in the coming two seasons as well. But any potential cheater thinking of bending the rules to land a top player would only feel emboldened to do so after seeing how well Calhoun's situation worked out.
To wit: Calhoun will miss two games against two of his league's worst teams. The third comes against its youngest.
Calhoun may not like that very much
, but he'd be advised to look on the bright side: He'll still be on the sideline for UConn's entire nonconference schedule. He'll be there for every important Big East game. He'll be there in the NCAA tournament. The Huskies still landed one of the top prospects in the country. Their coaches
can still recruit off campus
. And oh, by the way, they're still your reigning national champions. If you didn't know better, you'd assume Connecticut was never found to have committed violations at all.
Three games was always a slap on the wrist.
These
three games? A slap on the wrist would look medieval by comparison.