College Basketball Nation:

Michael Cobbins
February, 3, 2014
2/03/14
2:50
PM ET
There are plenty of things to ponder in the wake of
Stevie Clark
's dismissal from the Oklahoma State basketball team.
Top of the list is why Clark would think that urinating out of a moving vehicle was a good idea. Outraging public decency, the violation cited in his arrest, sounds about right for this one.
Second is why Clark, who also was arrested in January for a seatbelt violation and then offered the added bonus of having marijuana in his car, would so much as jaywalk.
But Clark's combination of stupidity and immaturity is the least of coach Travis Ford's problems. (Officially, now that Ford made the easy decision and booted Clark off the team.)
[+] Enlarge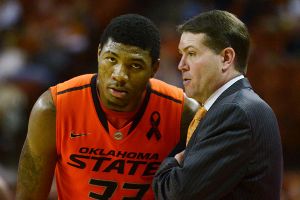 Brendan Maloney/USA TODAY SportsMarcus Smart and Travis Ford are running out of time to right the ship and now have a further depleted roster.
In five years in Stillwater, Ford has three NCAA tournament berths but has never gotten the Pokes out of the first weekend. That was supposed to change this year. After
Marcus Smart
defied conventional wisdom and opted to return for his sophomore season, Oklahoma State was picked to share the Big 12 title with Kansas.
Instead, here we are. The Cowboys have dropped three of their past four to fall to 4-4 in the league. They have just one conference win (Texas) with any meat on the bone and are a long way from sharing much of anything with Kansas.
Some of this is just bad luck. Michael Cobbins' Achilles injury has devastated the Cowboys' inside game, and while
Le'Bryan Nash
and
Kamari Murphy
have tried to help inside, they can only do so much.
But some of it is self-inflicted, too.
Clark probably should have been booted in January. That was his second arrest since coming to Oklahoma State, and blown second chances are usually the sign of a pattern instead of the road to penitence.
Now his lack of concern for his team and his apparent disregard for his Bible studies -- according to a recent Oklahoman story, Clark was meeting daily with his mother, to prevent, in his mother's words, the devil a chance "to get in and get busy" -- have left the Cowboys even more depleted on the bench. Oklahoma State went only seven-deep with Clark on the roster.
And then there is the elephant in the room that no one wants to talk about. That would be Smart. The onetime lock for national player of the year isn't even in the conversation right now. He's in a woeful shooting slump (13-of-53 in his past four games) and has been relatively ineffective in the entire Big 12 season, shooting only 34 percent in eight games.
Worse, he's acted less and less like the leader the Cowboys desperately need. A helpless chair took the brunt of his frustrations amid a lousy shooting night against West Virginia, and when people talk at all about Smart these days, it's usually more about his flopping than his play.
If Oklahoma State is to salvage this season, it has to start with Smart playing smart and acting a whole lot smarter.
The Cowboys are at the strange time of the season when there is plenty of time to fix what's wrong but time also is quickly flying by. We are a little more than a month away from the end of the regular season, six weeks from Selection Sunday.
What ails the Cowboys isn't easy to fix, especially in the Big 12, but Oklahoma State had better start searching for some answers before a season that started with such promise ends in a heap of a mess.
February, 3, 2014
2/03/14
10:00
AM ET
The past two weeks of Marcus Smart's life have not gone unnoticed. Once the nation's favorite player (literally), Smart has spent much of the past two weeks having any or all of the following brought into question:
His once-lauded leadership ability.
His body language.
His enthusiasm for flops.
No. 1 is dumb. For whatever being a leader really entails, at least this much is certain: You don't go from being the best leader in the country to a pox on your team simply because you got a little heated at referees that one time. No. 2 is dumber: Body language tea leaves are even less helpful than actual tea leaves. Unless you're in the locker room, you know nothing.
[+] Enlarge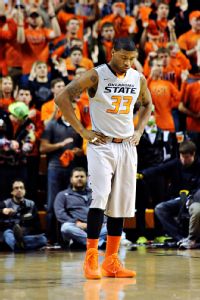 AP Photo/Brody SchmidtMarcus Smart's inability to hit from 3-point range is one of the issues facing Oklahoma State right now.
No. 3, on the other hand, is totally valid -- Smart does indeed flop. But as annoying and distasteful as seeing an extremely strong Division I athlete spinning into a pirouette at the slightest brush might be, it has nothing to do with his effectiveness on the court.
All the while, the most important thing about Smart's recent slide has gone overlooked: He's shooting the ball horribly.
After Saturday's loss to Baylor -- Oklahoma State's second straight defeat, one made worse by the Bears' own preceding struggles -- Smart's 3-point shooting average is down to just 28.6 percent. That's worse than the 29 percent he shot as a freshman. Save for that scorching night against Memphis, Smart hasn't exactly been Ethan Wragge, but his uptick in long-range accuracy was one of the main things differentiating his excellent sophomore season from his very good freshman one. Now, statistically, he is essentially the same player he was last season. A summer spent heaving 3-pointers, and the fearsome scoring weapon it seemed to produce, seems squandered.
Of course, the Cowboys have other issues, too. In back-to-back losses to Baylor and Oklahoma, Oklahoma State allowed 1.12 points per possession. Without center Michael Cobbins, a once-vaunted defense has been rendered average at best. And now, in order to avoid a three-game skid, that defense has to figure out how to stop Iowa State.
The Cyclones have had their own issues lately. The ankle sprain DeAndre Kane suffered at Oklahoma in early January didn't cause him to miss any time, but it did affect his play. As a result, Iowa State's offense seemed to lose some of the attacking verve that made it so special in November and December. Then again, the Cyclones' stretch of four losses in six games included a split with the Sooners, two losses to Kansas, a loss to Texas and a win over Kansas State. Now that we know how good Oklahoma and Texas are, things don't seem quite so grim.
In other words, what could be sold as a matchup of two good teams fighting their way through midseason struggles is really a game in which the onus is on Oklahoma State. The Cowboys have to figure out a way to get stops without their All-Big 12 defender in the middle, and Smart needs to find his shot again -- if it is there to be found.
January, 3, 2014
1/03/14
9:30
AM ET
Oklahoma State enters its Big 12 opener at Kansas State on Saturday trapped in drama created by a few recent developments.

On Tuesday, Travis Ford's program announced that center and top shot-blocker
Michael Cobbins
will miss
the rest of the season due to an Achilles injury
. On Wednesday, backup point guard
Stevie Clark
was arrested
for marijuana possession
.
ESPN analyst Fran Fraschilla recently tweeted that a college coach's greatest role is "crisis management coordinator." Oklahoma State's situation seems to back that statement, although Ford's predicament is not necessarily a "crisis" at this point. Plus, he still has one of the best players in the game --
Marcus Smart
-- leading his squad. And Smart's teammates
Le'Bryan Nash
and
Markel Brown
are both elite talents.
But Cobbins was significant for a team that is currently 17th in adjusted defensive efficiency per Ken Pomeroy. Oklahoma State's greatest challenge in league play will be its limited size. That's why the loss of Cobbins is such a blow for the program.
And Clark has averaged nearly 20 minutes per game for Oklahoma State. His 3.7 APG against 1.9 TPG comprises a better assist-to-turnover ratio than Smart's (4.1 APG, 2.9 TPG). He also answers the most significant question each night about Smart. What happens if the sophomore star endures early foul trouble?
With Clark's future in jeopardy and Cobbins out, Oklahoma State enters its matchup against Kansas State with questions that it can't answer until tipoff. But this is a different team without Clark and Cobbins.
If Smart is on the floor, Oklahoma State is still a contender. Its road to the title, however, is more complicated now. Depending on what Ford does with his lineup, Nash could log more minutes inside. Sophomore
Karami Murphy
's time on the floor should increase, too. And sharpshooter
Phil Forte
will be a greater factor in the backcourt.
Oklahoma State can make these adjustments and win the Big 12. But the Pokes will be on the road against a Kansas State squad that hasn't lost since Nov. 22 and owns a win over WCC contender Gonzaga.
With three or four potential contenders in the Big 12, one or two losses could separate the champ from the No. 2 team in the league. So an early stumble on Saturday could cost Oklahoma State down the road.
Oklahoma State's most immediate concern, however, is its new reality and the pressure it will face on the road in its first game of conference action.