College Basketball Nation:

Michael Gilchrist
July, 8, 2011
7/08/11
5:55
PM ET
By
Diamond Leung
| ESPN.com
The arrival of Kentucky freshman Michael Gilchrist to the college basketball scene is something that many fans have eagerly awaited, as ESPNU's third-ranked recruit of the 2011 class helps the Wildcats form one of the top teams in the country.
When looking out for Gilchrist on the court, it might help not be confused by the name on the back of his jersey.
Gilchrist reported on his
Twitter page
that he wants to be known as Michael Kidd-Gilchrist, and yes, that will be the name that is stitched above the 6-foot-7 forward's number.
In making the addition to his name, Gilchrist wrote that he was doing so in remembrance of his father and uncle. Darrin Kidd, his uncle, died of a heart attack on the same day Gilchrist signed his national letter of intent, and Michael Gilchrist Sr. was shot and killed in 1996, according to
ESPN Rise
.
"I can't look up in the stands like most other people and see my dad," Michael says. "I have my stepfather, and I love him, but it's not the same. And I had my uncle, but he died, so it's hard.

"But I just use it as motivation to go harder."
So along with the name change comes quite a story that lets you know a lot more about Kidd-Gilchrist and the source of his inspirations. With a simple gesture, the freshman who many believe has an NBA future gets to showcase his family history as well.
April, 13, 2011
4/13/11
6:36
PM ET
By
Diamond Leung
| ESPN.com
Kentucky coach John Calipari has certainly heard the rumors before that he might leave the college ranks to return to the NBA, and he's a veteran at downplaying that kind of talk.
The instant success he's found at Kentucky gets his name bandied about as a possible coaching candidate for the pro ranks, but it's in Lexington where there is an adoring fan base and a top recruiting class coming to town. He's used to receiving the compliment of having his name out there, but also claims there could be sinister forces at work.
From the
Louisville Courier-Journal
:
"Now it's only pro jobs," Calipari said. "Part of it is to try to screw up your recruiting. I laughed when the newest rumors came out. I said, 'You're not going to screw up our recruiting; we've already got the kids signed.'"

As for moving on to the NBA: "I've got a great job. I've got one of the best in our sport. I can't stop the rumors; I just don't deal with them.
That's not exactly denial, but Calipari is right to laugh it all off because he wins either way. If a better job in the league comes along, great. If not, elite recruits continue to want to play for him at UK, where he has begun his tenure with appearances in the Elite Eight and this season in the Final Four.
Even if Calipari again
loses many players to the NBA draft
this offseason, he'll have the nation's top recruiting class with Anthony Davis, Michael Gilchrist, Marquis Teague and Kyle Wiltjer coming into the program. They all signed in November, with the Chicago native Davis being named
ESPNU's top overall recruit
.
So at this point, whatever the NBA can offer Calipari, it's all good on his end.
March, 4, 2011
3/04/11
10:57
AM ET
By
ESPN.com staff
| ESPN.com


Recruiting experts Dave Telep and Paul Biancardi compare the top two small forwards in the class of 2011: Michael Gilchrist (Kentucky signee) and LeBryan Nash (Oklahoma State signee).
September, 7, 2010
9/07/10
4:45
PM ET
Recruiting rankings are a pretty fluid business, and at the top of top-whatever recruiting boards, the difference between the No. 1 overall player and the No. 5 overall player can be pretty minimal. Plus, it's never easy to project just how well a top prospect will perform once he gets on a college campus. The competitive distance between high school ball and AAU tournaments and actual college hoops is extremely wide.
Still, it's something of an honor to be the best player in your high school class, and it's always interesting to see how the rankings fluctuate every few months. So it's probably worth discussing
ESPNU's latest rejiggering of its top 100 list
.
The biggest change comes at the top:
Point guard Austin Rivers overtook
former No. 1 Michael Gilchrist for the top overall spot. That change came thanks to Rivers' incredible summer, which included a handful of impressive televised performances and a brilliant, gold medal-winning run for the USA U-17 team. Gilchrist, who had a pretty good summer himself,
fell to No. 2 overall
.
The new No. 3 is not exactly a surprise, given the late-arriving buzz surrounding Anthony Davis, who moved from
No. 12 in the last list to No. 3 in this one
. Davis has gone from a relative unknown a few months ago to the player many think is the most talented in the class -- not to mention the focus of a fracas between Davis' prospective school, Kentucky, and the Chicago Sun-Times,
which reported that Davis' father asked schools for money in order to recruit his son
. (As of late, little has come of the report, though the Sun-Times never backed down from reporter Michael O'Brien's initial accusations.)
Oh, and in shameless plug territory, you should probably also know that
the list itself
is reformatted and now includes stars next to players' names, all the better to understand the hierarchy involved here. And, in other improvements, individual player pages are redesigned all fancy-like. So, you know, go check it out.
August, 31, 2010
8/31/10
3:00
PM ET
If you look down
ESPNU's top 100 recruits for the class of 2011
-- especially at the top 30 or so recruits on that list -- the only word you see in the column under "school" more often than "Kentucky" is "none." That's how good this class is.
John Calipari has been on his way to landing a very, very good 2011 recruiting class for a while now. The No. 1 player in the class,
Michael Gilchrist
, committed in April.
Marquis Teague
, the No. 3 overall player, eventually de-committed from Louisville and committed to Kentucky in April.
Anthony Davis
, No. 12 in the class, fought through a brief rumor-oriented dust-up to finalize his commitment to the Wildcats in June.
And now, Calipari's fourth player:
Kyle Wiltjer
, the No. 32-ranked player in 2011,
announced his decision to attend Kentucky this week
. Wiltjer's commitment shores up what might be the best recruiting class Calipari has ever had, which, yeah, is saying something.
Maybe just as interesting, though, is that Wiltjer is the second straight player ranked No. 1 in the state of Oregon to commit to the Wildcats. The first was 2010's Terrance Jones, who famously donned a Washington hat at a press conference before changing his mind and ending up in Lexington. So what gives? Is Calipari that popular in Oregon? Does Kentucky's brand extend to the great northwest? Are players from Oregon going to start flocking to the Bluegrass State?
Levity aside, Wiltjer chose Kentucky for all the reasons other players choose Kentucky. In fact, he might sum it up more succinctly than I can. From the Portland Tribune:
Wiltjer was impressed with several things about Kentucky. He has great respect for coach John Calipari and his record of sending players to the NBA. He feels he'll fit well in Calipari's uptempo system of play. And he was swayed by a great recruiting class Calipari has compiled for 2011.
And there you have it. That formula -- which kicked off with what Calipari overzealously called the greatest night in Kentucky basketball history during the NBA draft in June -- has yielded what should end up being three straight No. 1 overall recruiting classes for Calipari at Kentucky.
Now that we're familiar with it, it's easy to understand. It's much tougher to replicate.
July, 19, 2010
7/19/10
10:40
AM ET
Sometimes, it's important for fans to remember just how small the differences between the No. 1 and No. 2 recruits in the country really are. Think of it this way: If your school was battling for the No. 56 and No. 57 recruits in a given class, and you signed the No. 57 instead of No. 56, you wouldn't register an ounce of disappointment. That's basically the difference between the top two or three or even five recruits in any class. Everybody's immensely talented, and at some point, the numbers cease to matter.
No. 1 overall ESPNU recruit Michael Gilchrist
gets it. Gilchrist, whose ability to excel on minimal sleep would really come in handy for yours truly right now, is in danger of losing his ranking in some recruiting circles. ESPNU
cites point guard Austin Rivers
as his closest competition, while others say
Chicago-area power forward Anthony Davis
has played his way into the top consideration. What does Gilchrist think of all that? Not much, really. Writing on his Twitter page late Thursday night,
Gilchrist said
:
Shout out to Anthony Davis, a lot of people think I would be mad that he's number 1 but I'm happy for him for real!
That's the right attitude, especially when it comes to recruiting rankings. They're sort of like college basketball polls -- they give some semblance of competitive order, but they're no substitute for matchups and on-court competition. Gilchrist's chance to prove he's the best player on the court will come in the fall of 2011. Until then, we'll just have to wait.
(Hat tip:
The Dagger
)
July, 14, 2010
7/14/10
11:09
AM ET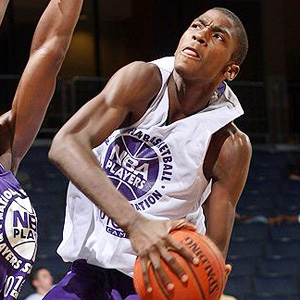 Andrew ShurtleffMichael Gilchrist is having a busy, and competitive, summer.
Being young is awesome. When you're in high school, you can stay up all night playing video games and drinking carbonated beverages and eating fast food and still make it up in time for your 7:45 a.m. bell without feeling like someone hit you over the head. This ability fades quickly. If I don't get enough sleep on Sunday night, I still feel it on Tuesday morning. (Or is it Wednesday? General awareness fades, too.)
Still, despite his youth, what Michael Gilchrist did is impressive. After winning a gold medal in Germany this weekend, the No. 1-ranked player in the class of 2011 had to fly back Monday and play a game on Sunday.
Mike DeCourcy details Gilchrist's sleepless excellence
:
Fresh from winning a gold medal with the United States junior national team in Germany, Gilchrist landed in Columbia, S.C., at 10:40 p.m. Monday. He caught a ride south, made it to bed at 5 a.m., woke up a couple hours later and -- in a game that began 9 a.m. Tuesday at the Nike Peach Jam tournament -- scored 26 points on 7-of-12 shooting in Team Final's 60-54 victory over Mean Streets. [...] Gilchrist's play was even more remarkable because he spent a lot of time being defended by Mean Streets' extraordinary Anthony Davis, a 6-10 tarantula who was credited with 15 deflections by one courtside statistician.
The fact that Gilchrist even made it to the game is impressive. I would have missed my alarm.
In fact, maybe that's the most impressive thing -- not just that Gilchrist played well, but that he didn't deflect the responsibility of playing a 9 a.m. game after an intercontinental flight and (maybe) three hours of early-morning rest. It's not like Gilchrist needs the publicity; he's already committed to Kentucky. Sitting out would have been respectable. Sleeping in would have been more than understandable.
Instead, he played. If that's the kind of hustle Gilchrist devotes to a somewhat meaningless summer circuit tournament, Kentucky fans should be even more excited about the forward's arrival in 2011. Imagine how hard he'll play when he gets to school.
July, 2, 2010
7/02/10
1:33
PM ET
By
Diamond Leung
| ESPN.com
Tony Wroten Jr., one of the best point guard recruits in the nation, has reportedly narrowed his choices to two schools -- Kentucky and Washington.
Wroten currently plays for Garfield High in Seattle, but the situation seems to have Terrence Jones saga written all over it. Kentucky coach John Calipari has lured one recruit out of the Pacific Northwest and can certainly do it again.
Not that Wroten plans on
pulling a Jones
or anything in terms of going back and forth on a decision, as
he told KJR
:
"I'm not going to do UW dirty like that. Whenever I choose my school, I'm going to go with that decision. I ain't going to put on the hat and then change the next day. I'm not like that."
Wroten is so talented that ESPNU has him as the No. 24-ranked recruit despite him missing his entire high school junior season due to a torn anterior cruciate ligament suffered from playing football.
Kentucky commits Michael Gilchrist and Marquis Teague have been
recruiting Wroten
while playing together over the summer, so maybe the Wildcats have an edge there.
One thing is for certain. Wroten does not lack confidence.
He told ZagsBlog.com that Harrison Barnes committing to North Carolina over Skype was "pretty weak" and also had this to say to KJR:
"When I do commit, it's going to be the best commitment ever because I'm going to do it big. I'm going to have a big press conference. It's going to be big."
July, 1, 2010
7/01/10
12:55
PM ET
Or
Ameribrah
. Whichever you prefer.
Sure, the
U.S. men's national team didn't make it past the round of 16 in the World Cup
, leaving a potentially world-changing (or, to those of you who have no interest in soccer whatsoever, at least mildly intriguing) run to the semifinals on the table. That was a bummer.
But guess what, world? We're still way better than most of you at basketball. Such was the case again Wednesday, when the
U.S. basketball under-18 team took home the gold medal at the FIBA Americas U-18 championships in San Antonio
. The gold medal game, an 81-78 win over Brazil, came down to a three-pointer by power forward Quincy Miller with 25 seconds remaining. Miller is the
No. 4 overall recruit in the class of 2011
; he's still undecided on his college future.
The U.S.'s two best players throughout will likely ring a bell. One was Kyrie Irving, the much-lauded incoming Duke point guard, who scored 21 points in the title game. The other was
Austin Rivers, the No. 2 overall recruit in the class of 2011
, and another who is yet to decide his college future. Most consider
Kentucky commit Michael Gilchrist
the best player in 2011, but Rivers' impressive performance for the national team has gradually shrunk the perceived distance between the two.
In any case, sorry, global sporting community. We Americans may be a few decades behind the rest of you in cultivating soccer talent, but we're still really awesome at hoops. Finally, my smug sense of American superiority is rightfully restored. All together now: USA! USA! USA!