College Basketball Nation:

Michael Thompson
March, 11, 2011
3/11/11
11:22
AM ET
INDIANAPOLIS -- Three things I can't wait to see in Northwestern-Ohio State:
Can Michael Thompson continue his roll? The spunky little Northwestern guard set a Big Ten tournament scoring record with 35 points against Minnesota Thursday. Theoretically, he'll be facing a tougher defense against the Buckeyes, so it will be difficult for a 5-foot-10 guard to dominate a game. But Thursday he very much looked the part of a senior who is driving to extend his career as long as possible, so we'll see what carries over to Friday.
Can Jon Diebler continue his roll? The Ohio State senior sharpshooter has been ridiculous of late, making 17 of 20 3-point shots in the Buckeyes' last two games. Four words for Northwestern: get a hand up. And even that might not be enough.
Can Northwestern shock the world? You may not remember, but the Wildcats just about had Ohio State beaten in Evanston in late January before letting it get away. Northwestern had the ball in a tie game in the last 20 seconds before turning it over, then fouling Jared Sullinger with three seconds remaining. He made one free throw for the victory. With that as a backdrop, Northwestern doesn't go into this game lacking hope the way most of us probably think it should.
Three things I can't wait to see in Michigan-Illinois
Can the Wolverines sew up a bid? Actually, I think they probably already have, but with fellow bubble-dwellers such as Colorado, Boston College and Georgia winning, Michigan would enhance its peace of mind with a victory today. Nobody wants to spend all day Sunday dithering about whether they're playing in the Big Dance or the NIT.
Does Illinois have a run in it? The likelihood of the Illini making a major statement in this tournament seems remote, because they haven't won consecutive games since early January. But even though they're seemingly in the NCAA tournament, there needs to be some reason for Illinois fans to expect something noteworthy next week. Time to give them some hope.
Which guard shines brighter, Tim Hardaway Jr. or Demetri McCamey? Hardaway has been on fire lately, averaging more than 20 points per game in his last six -- and his famous father is in Indy to watch him this weekend. As for McCamey, the senior for Illinois has had a fairly disappointing senior season but has shot a higher percentage in the last four games -- he's 27-of-49 from the field in that span. In fact, McCamey's 18 points in Illinois' two-point victory last month triggered his return to form.
Three things I can't wait to see in Michigan State-Purdue
Can the Spartans walk, much less play? Point guard Kalin Lucas had an ice pack on his right ankle Thursday night after re-injuring it against Iowa. Power forward Delvon Roe had ice on his chronically problematic right knee, and playing back-to-back games will be tough for him. The Spartans don't have the bodies to endure a lot of injuries, especially in the backcourt.
Does Purdue bounce back? The Boilermakers have had a great season, but they ended the regular schedule with a brutal two-point loss at Iowa. A lot of people, including the NCAA selection committee, will be watching to see if that was a blip or the beginning of a negative trend. Getting a No. 2 seed could depend on the showing today.
How Purdue-intensive is the crowd? With Indiana having a terrible year and already being eliminated from the tournament, will Conseco Fieldhouse be an ocean of old gold and black? It will be tough to rattle veteran Michigan State, but having the fans behind you never hurts.
Three things I can't wait to see in Penn State-Wisconsin
Will Talor Battle ever sit down? The Nittany Lions point guard has played 238 of a possible 240 minutes in his last six games, including the full 40 Thursday night against Indiana. It will be tough to maintain that pace in Indy against a fresh Badgers team.
Will Jordan Taylor ever get sloppy with the ball? The Badgers point guard leads the nation in assist-to-turnover margin, and his numbers in that area have only gotten better in recent weeks. He has 24 assists and three turnovers in his last five games.
Can Penn State upset Wisconsin again? The Nittany Lions beat the Badgers in State College in late January and split the season series. Given their motivation level to keep winning and get into the NCAA tournament, expect the best that Penn State can bring to the table.
March, 10, 2011
3/10/11
5:01
PM ET
INDIANAPOLIS -- Northwestern rode a dominant, 35-point performance from guard Michael Thompson for a surprisingly easy
75-65 victory
over Minnesota. It was a Northwestern record for most points scored in a Big Ten tourney game, and it helped the Wildcats to their second consecutive first-round victory in this event. Last year Northwestern beat Indiana in the opening round and lost in the second to Purdue. The tail-spinning Gophers have lost 10 of their past 11.


Turning point:
In the middle of the second half Northwestern hit a succession of outside shots to pull away in what had been a close game. A key play came when Northwestern had to heave up a desperation shot to avoid a 35-second violation, but got the offensive rebound and scored anyway. That seemed to spur the Wildcats on as they steadily built their lead from there.
Key player:
The 5-foot-10 Thompson was magnificent, hitting outside shots and driving the lane fearlessly. The senior made 5 of 12 from 3-point range and all eight of his foul shots.
Key stat:
Northwestern's 75 points were the most Minnesota has surrendered in more than a month, and the fourth-most the Gophers have given up all season.
Miscellaneous:
Northwestern got the victory despite just two points from leading scorer
John Shurna
. Minnesota was paced by
Trevor Mbakwe
's 19 points and 11 rebounds.
What's next:
Northwestern will take on No. 1 Ohio State Friday. Minnesota will hope for an NIT bid.
November, 29, 2010
11/29/10
7:24
PM ET
By
ESPN.com staff
| ESPN.com
The ACC/Big Ten Challenge will be the dominant storyline in college basketball over the next few nights, so might as well put our writers and contributors on the spot with predictions, right?
For what it's worth, the group consensus for each game adds up to a 6-5 Big Ten victory over the ACC. But it's actually even closer than that. In the highly anticipated Iowa-Wake Forest matchup, our panel took the Hawkeyes by a 5-4 margin. If one of those five had picked the Deacons, we'd be projecting an ACC overall victory.
Sounds to us like an event worth tuning in to …
MONDAY
VIRGINIA AT MINNESOTA (ESPN2, 7 ET)
Jay Bilas:
Minnesota -- Tubby Smith has depth and guard play, and Tony Bennett doesn't.


Eamonn Brennan:
Minnesota – The Gophers are a complete and balanced team, even if
Al Nolen
and
Rodney Williams
miss the game due to injury; Tony Bennett's rebounding Virginia squad is, well, not.

Fran Fraschilla:
Minnesota -- The Gophers are one of the country's early-season surprises and they are at home in the friendly confines of Williams Arena. This will be ugly.

Doug Gottlieb:
Minnesota -- Despite not having Al Nolen, Minnesota is still loaded.
Maverick Ahanmisi
was a late signee who is a year older than most freshmen, and that maturity will come in handy.

Andy Katz:
Minnesota – The Gophers are depleted with injuries, but likely get
Devoe Joseph
back and are too strong, too tall and too deep for rebuilding Virginia.

Diamond Leung:
Minnesota -- Minnesota might be banged up, but
Blake Hoffarber
and
Trevor Mbakwe
should be able to dominate.

Joe Lunardi:
Minnesota -- The shorthanded Gophers are still too much for the Cavs at this point.

Dana O'Neil:
Minnesota -- Even without Al Nolen and Rodney Williams, the red-hot Gophers are too talented for the still struggling Cavaliers.

Jay Williams:
Minnesota -- Even though they won't have starters Al Nolen and Rodney Williams due to injuries, I expect Blake Hoffarber, Trevor Mbakwe and
Ralph Sampson III
to dominate.
TUESDAY
GEORGIA TECH AT NORTHWESTERN (ESPN2, 7 ET)
Bilas:
Northwestern -- The Wildcats will spread the Jackets out and keep them on a string between open 3s and backdoor cuts.


Brennan:
Northwestern -- Facing its first real "test" of the season, Northwestern's matchup zone and tricky Princeton offense will give Georgia Tech fits.

Fraschilla:
Northwestern -- Sadly, even a win over the Yellow Jackets won't mean much in March. Too much
John Shurna
in this one.

Gottlieb:
Northwestern -- Tech played well this weekend, but the travel and
Juice Thompson
will be too much.

Katz:
Northwestern -- If we're going to take the Wildcats seriously, they have to win a game like this at home against the inferior Yellow Jackets.

Leung:
Northwestern -- The Wildcats should stay undefeated playing on their home court and with John Shurna playing well.
Lunardi:
Northwestern -- A solid win over Creighton sets the Wildcats up nicely for another victory.
O'Neil:
Northwestern -- John Shurna has been terrific all season for a Wildcat team dreaming of -- gasp! -- an NCAA bid.
Williams:
Northwestern -- This is the year Northwestern makes the NCAA tournament because of Shurna and Thompson.
IOWA AT WAKE FOREST (ESPNU, 7 ET)
Bilas:
Iowa -- Wake Forest will have a hard time beating anyone this season.


Brennan:
Iowa -- Because as bad as Iowa is, Wake Forest is -- somehow -- worse.
Fraschilla:
Wake Forest -- Someone has to win, right?
Gottlieb:
Iowa -- Hawkeyes are coming off a win. Fran McCaffery will dial up something.
Katz:
Wake Forest -- I can't see the Demon Deacons losing four home games before Dec. 1.
Leung:
Iowa -- Between the two, Iowa has shown a few more signs of life.
Lunardi:
Wake Forest -- Neither team has played a true road game, so you have to go with Wake at home.
O'Neil:
Wake Forest -- Because as bad as the Demon Deacons have looked early, the Hawkeyes have looked worse.
Williams:
Iowa -- After watching Wake lose to Stetson, VCU and Winthrop, I give the edge to Iowa on the road.
OHIO STATE AT FLORIDA STATE (ESPN, 7:30 ET)
Bilas:
Ohio State -- Florida State can really guard, but scoring efficiently is a problem the Seminoles have and the Buckeyes don't.


Brennan:
Ohio State – FSU's defense will keep this one close, but the interior offensive rebounding of
Jared Sullinger
and
Dallas Lauderdale
will be too much for the Noles to manage.
Fraschilla:
Ohio State – The Leon County Civic Center is not the home court the Seminoles deserve.
Gottlieb:
FSU's
Chris Singleton
has put up insane numbers with two triple-doubles, but OSU has the athletes to guard him and his compadres.
Katz:
Ohio State -- The Buckeyes won at Florida and have a better inside game than Florida State, although FSU's Chris Singleton will likely put up the best numbers.
Leung:
Ohio State -- Despite the all-around talents of FSU's Chris Singleton, Ohio State has too many weapons, including Jared Sullinger in the middle.
Lunardi:
Ohio State -- Buckeyes complete the Sunshine State sweep in Tallahassee.
O'Neil:
Ohio State -- Tough follow for the Seminoles after an emotional, disappointing loss to the Gators. Plus, Jared Sullinger is the why to all questions about the Buckeyes.
Williams:
Florida State -- Yes, I call the upset here.
Xavier Gibson
and
Bernard James
will give Mr. Sullinger a lot to deal with down low.
MICHIGAN AT CLEMSON (ESPN2, 9 ET)
Bilas:
Clemson -- The Tigers are at home, and Michigan hasn't won away from home.


Brennan:
Clemson -- Michigan might not be as bad as we thought, but it is not good enough to beat a capable Clemson team, whose only loss was a one-point neutral-court defeat to ODU.
Fraschilla:
Clemson -- Early returns about new coach Brad Brownell are positive.
Gottlieb:
Michigan -- Searching for an upset here, the 1-3-1 proves tough to tame. The Wolverines appear a bit better than expected, though they will suffer in conference.
Katz:
Clemson -- The Tigers, regardless of coach, are too tough at home against similar-level teams.
Leung:
Clemson -- Tigers coach Brad Brownell is fitting right in and has enough weapons to win this one.
Lunardi:
Clemson -- The Wolverines are a long way from being able to win at Littlejohn.
O'Neil:
Clemson -- The Wolverines have done little to prove they're over what ailed them last season.
Williams:
Clemson -- After losses to both Syracuse and UTEP, I don't see the Wolverines bouncing back at Littlejohn Coliseum.
NORTH CAROLINA AT ILLINOIS (ESPN, 9:30 ET)
Bilas:
Illinois -- North Carolina doesn't push the ball and get easy baskets, and Illinois is at home.


Brennan:
Illinois -- The Illini have home-court advantage, but they also have the benefit of a veteran team that can match up with the athletic -- and as yet thoroughly disappointing -- Tar Heels.
Fraschilla:
Illinois -- Are the Heels losing their mystique?
Gottlieb:
Illinois -- Better guards, at home, and though Illinois does not have great strength inside, neither does UNC. Illini by more than 10.
Katz:
Illinois -- The Tar Heels are still searching for a leader and the Illini need this game too much to prove their relevance.
Leung:
Illinois -- It appears that catching the Tar Heels early is the way to go, and an Illini team with size can play with anyone.
Lunardi:
Illinois -- What once looked like a toss-up should be a comfortable win for the Illini.
O'Neil:
Illinois -- The Illini play with grit and determination, traits sorely lacking so far this season for the Tar Heels.
Williams:
Illinois -- UNC does not have the poise or experience to win this one on the road.
WEDNESDAY
NC STATE AT WISCONSIN (ESPN2, 7:15 ET)
Bilas:
Wisconsin -- The game is at the Kohl Center, isn't it? Next question.


Brennan:
Wisconsin -- Besides the immense advantage provided by the Kohl Center, the Badgers are, for all their early-season warts, one of the better rebounding teams in the nation. The Wolfpack without senior forward
Tracy Smith
are one of the worst.
Fraschilla:
Wisconsin -- Anywhere but the Kohl Center, I'd give the Wolfpack an even chance to win.
Gottlieb:
Wisconsin -- NC State has better talent, but Wisconsin will use
Jordan Taylor
off ball screens and
Jon Leuer
is a great fit for what Wisconsin does and Bo Ryan is great at what he does. Frankly, the Wolfpack might become bored with the tedious pace of the Badgers.
Katz:
Wisconsin -- The Wolfpack are without Tracy Smith and to beat the Badgers at the Kohl Center you have to be full strength.
Leung:
Wisconsin -- Jon Leuer is just too much to handle, and the Badgers are playing at home.
Lunardi:
Wisconsin -- The Badgers figure to be extra cranky after losing the Old Spice title game.
O'Neil:
Wisconsin -- I'm guessing practice hasn't been fun for the Badgers since their uncharacteristic slide against Notre Dame. Someone will feel the brunt of that frustration.
Williams:
Wisconsin -- The Badgers have compiled a 138-11 (.926) home record under coach Bo Ryan heading into the season. Enough said.
INDIANA AT BOSTON COLLEGE (ESPNU, 7:15 ET)
Bilas:
Boston College – The Eagles are at home and
Reggie Jackson
can really score.


Brennan:
Boston College -- Boston College has one awful loss (to Yale) and one solid win (over Texas A&M), so let's give it a slight advantage over an Indiana team that has yet to leave Assembly Hall -- or play a non-cupcake opponent.
Fraschilla:
Boston College -- Reggie Jackson hits it out of the park in the Eagles' win.
Gottlieb:
Boston College -- Reggie Jackson is the best player on the floor. The Eagles use the lessons learned in giving away leads in Orlando to help them beat IU.
Katz:
Indiana -- The Eagles own more talent but lack focus in finishing games, something the Hoosiers seem to have now.
Leung:
Boston College -- The easy part of Indiana's schedule is over.
Lunardi:
Boston College -- BC is coming off a very good showing at the Old Spice and should win at home.
O'Neil:
Indiana -- The recruiting good news for the Hoosiers spurs a much-needed good win on the court.
Williams:
Boston College -- When Reggie Jackson is allowed to probe with the dribble and is on his game, BC is a tough team.
PURDUE AT VIRGINIA TECH (ESPN, 7:30 ET)
Bilas:
Virginia Tech -- Purdue is not only missing
Robbie Hummel
, but really missing Chris Kramer.


Brennan:
Purdue -- Both teams have played solid defense and both have had their struggles offensively, but
JaJuan Johnson
should provide too many matchup problems for a shallow Va. Tech front line.
Fraschilla:
Virginia Tech -- Hokies are desperate for a quality nonconference win.
Gottlieb:
Virginia Tech -- Virginia Tech struggles with pressure defense (see Purdue). Purdue struggles to score against legit defenses without Robbie Hummel. Hokies in a great game.
Katz:
Virginia Tech -- The Boilermakers are still a formidable bunch, but winning in Blacksburg is hardly an easy task, especially when the Hokies are a top-three ACC team.
Leung:
Virginia Tech -- The Boilers are showing they're not the same team without Robbie Hummel, and they'll have their hands full containing
Malcolm Delaney
.
Lunardi:
Virginia Tech -- The Hokies want to stockpile every nonconference scalp they can get.
O'Neil:
Virginia Tech -- Neither team has exactly been lighting it up offensively, but the Hokies have Malcolm Delaney, who can score, and the home court.
Williams:
Virginia Tech -- Purdue simply doesn't have the same scoring punch like the Hokies' Malcolm Delaney,
Dorenzo Hudson
and
Jeff Allen
.
MARYLAND AT PENN STATE (ESPN2, 9:15 ET)
Bilas:
Maryland -- Although a road game, the Terps have more talent.


Brennan:
Maryland -- Maryland forward
Jordan Williams
is a budding star, and unless
Talor Battle
can sprout about 10 inches by Wednesday night, the Nittany Lions won't be able to stop him.
Fraschilla:
Maryland -- The Terps should grind out a road win in State College.
Gottlieb:
Maryland -- The Terps are better inside with Jordan Williams and though Talor Battle can win a game on his own, Maryland's size and pressure in the backcourt should hurt his percentages.
Katz:
Maryland -- Penn State is having a hard time being relevant while the Terps continue to play tougher, no matter the venue.
Leung:
Maryland -- The Terrapins' only losses are single-digit ones to Pitt and Illinois, so Penn State should be no problem.
Lunardi:
Maryland -- Penn State isn't the most athletic bunch and was already exposed by Ole Miss.
O'Neil:
Maryland -- The Nittany Lions would need to borrow one of JoePa's linebackers to have a player to contend with Jordan Williams.
Williams:
Maryland -- The Nittany Lions will have no answer inside for the Terps' Jordan Williams.
MICHIGAN STATE AT DUKE (ESPN, 9:30 ET)
Bilas:
Duke -- Michigan State is turning it over too much right now, and Duke's defensive pressure should capitalize.


Brennan:
Duke -- After Duke's dominant win over Kansas State and Michigan State's sluggish start in Maui, the Blue Devils look miles ahead of the field. This early in the season, the Spartans won't be able to close the gap in Cameron.
Fraschilla:
Duke -- Tough place for ANYONE to win.
Gottlieb:
Duke --
Derrick Nix
is back and he should help with the depth of Michigan State inside, but MSU struggled with the quickness of Washington and UConn. Duke's pressure and athleticism are similar.
Katz:
Duke -- The Spartans aren't in March form yet, while the Blue Devils look like they've already made plans for Houston.
Leung:
Duke -- In case you missed the CBE Classic, the Blue Devils are just better than everyone else right now.
Lunardi:
Duke -- Won't make the same mistake of picking against Duke this week.
O'Neil:
Michigan State -- I'll admit I'm not 100 percent in on this pick, especially with Duke playing at home. But after a few humbling visits to the other part of Tobacco Road in recent years, a disappointing loss to UConn and a tongue-lashing after a lackluster effort against Tennessee Tech, I think the Spartans are due for a show-me win.
Williams:
Duke -- Duke is hands-down the best team in the country and the energy within Cameron will be too much for Michigan State to handle.
July, 27, 2010
7/27/10
11:13
PM ET
Northwestern was a few wins away from its first NCAA tournament berth last season without Kevin Coble.
The assumption was that if the senior forward returned from a season-ending foot injury a year ago that the Wildcats would finally break the infamous streak, especially with three more berths to be had with the expansion from 34 to 37 at-large bids under the new 68-team format in 2011.
Coble isn't going to play again for the Wildcats, officially deciding to call his career over and focus on graduating in December. Coach Bill Carmody told ESPN.com Tuesday night that he saw this coming after multiple conversations with Coble over the past few weeks. Coble made it official Monday when he met Carmody in his office in Evanston after Carmody had returned from the road recruiting.
[+] Enlarge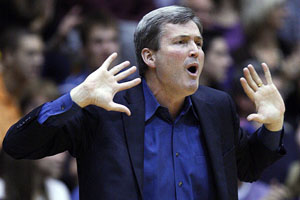 AP Photo/Nam Y. HuhBill Carmody is optimistic about Northwestern this season, despite learning that Kevin Coble will not play.
Maybe Carmody was camouflaging his disappointment over the decision but he wasn't glum when reached by phone Tuesday night. The Wildcats were 7-11 without Coble last season, 20-14 overall and return leading scorer
John Shurna
, who joined other college players practicing against the U.S. National Team in Las Vegas last week.
Add the return of top scorers
Drew Crawford
and
Michael Thompson
in the backcourt,
Luka Mirkovic
inside with Shurna and fifth-year senior
Jeff Ryan
, back from an ACL injury, and Carmody sees another team that can be a factor in the Big Ten. The Wildcats add freshman guard
Jershon Cobb
, who is expected to contribute immediately.
"We've got good players,'' Carmody said. "We're going to have a nice year.''
The Wildcats, sans Coble, beat NCAA-bound Notre Dame, Purdue and Minnesota during the regular season before losing at Rhode Island in the first round of the NIT.
One of the reasons for Carmody's optimism lies with the Wildcats' well-timed trip to Italy next month. Coble wanted to make sure Carmody knew prior to the trip, or the 10 practices that are allowed, which will start on Aug. 16 before a Aug. 28 departure. He didn't want to be wavering, go on the trip and then not play. That's fine with Carmody. Now he knows he won't have to figure out if Coble will be on the squad. Ryan isn't cleared to play, but he'll be on the trip to continue to be a leader. Carmody expects Ryan to be ready for the season. Cobb can go on to Italy under a new rule allowing freshmen to travel on summer foreign trips.
If the Wildcats are going to bond, find their identity and purpose for this season without Coble, the timing of the trip to Italy is perfectly placed.
"When I took a team at Princeton on a trip like this it turned out to be fantastic for us,'' Carmody said. "We ended up having a nice year. We don't start school until late September. So this is going to be real important for us. The practices are going to be something that will get us ready for next year.''
The Big Ten has at least two national title contenders in Michigan State and Purdue. Ohio State won't be too far behind with the addition of possible national freshman of the year in
Jared Sullinger
. Expect Illinois, Wisconsin and Minnesota to be NCAA tournament teams, as well. Iowa, Penn State, Michigan and Indiana are projected to be in the bottom four in some order and out of the postseason contention.
That leaves Northwestern in the middle, just like a year ago, with a chance to go in either direction. Having a healthy Coble may have tipped the Wildcats finally toward a bid. Knowing he's unavailable in July and going on the trip to Italy in August to jump start the season should give the Wildcats a chance to figure out if they can finally be relevant on Selection Sunday.
March, 12, 2010
3/12/10
7:28
PM ET
INDIANAPOLIS -- Northwestern came out hot and claimed an early lead before Purdue rallied behind stifling defense and the brilliance of junior guard
E'Twaun Moore
.
A few thoughts halfway through a good one.


Purdue missed 13 of its first 16 field-goal attempts but didn't let the cold shooting have any effect on the defensive end. Northwestern generally handles the ball well, but the Boilers forced 11 turnovers in the opening half.
Moore scored 16 of the Boilers' first 24 points and hit three 3-pointers in less than two minutes to spark a nice run late in the half. He's really taking control in the absence of star forward Robbie Hummel and not hesitating on any shooting opportunities.
Much like his last game against Northwestern, Purdue center JaJuan Johnson found himself in early foul trouble. But after briefly leaving the floor with two fouls, the junior provided a jolt of offense for an otherwise cold Boilermakers team. If Johnson can avoid the whistles in the second half, he could be a difference-maker for Purdue.
Northwestern center Luka Mirkovic has struggled mightily away from Evanston this season, but he's showing how he can affect a game tonight. Before leaving the floor with two fouls, Mirkovic passed the ball extremely well out of the post, finding shooters open for 3-pointers. And tonight, Northwestern is knocking down its open 3s. Fouls limited Mirkovic's effectiveness in the half, but he should be a factor in the final 20 minutes.
The Wildcats were a two-man team (Michael Thompson and John Shurna) for most of Big Ten play, but they're getting more from other players for the second straight tournament game. Freshman Drew Crawford, who is battling a multitude of injuries right now, has 10 first-half points. Jeremy Nash is contributing at the foul line.
March, 12, 2010
3/12/10
10:15
AM ET
INDIANAPOLIS -- Four quarterfinal matchups in the Big Ten tournament are on tap today.
Let's take a quick look at each one.


No. 1 seed Ohio State vs. No. 8 seed Michigan (ESPN, noon ET)
Records:
Ohio State (24-7), Michigan (15-16)
Season series:
The teams split two matchups, with Michigan winning 73-64 in Ann Arbor and Ohio State prevailing 66-55 in Columbus on Feb. 27.
Advancement:
Winner faces Wisconsin or Illinois in Saturday's first semifinal (CBS, 1:40 p.m. ET)
What to watch for Ohio State:
National Player of the Year front-runner
Evan Turner
makes his first appearance in the Big Ten tournament, as Ohio State eyes a possible No. 1 seed in next week's NCAA tournament. The Buckeyes could sneak in to the top line, but only if they win the Big Ten tournament. Turner had 18 points, 11 rebounds and seven assists in the teams' last meeting after sitting out a Jan. 3 game at Michigan with a broken back. Ohio State ranks second in the Big Ten in scoring defense (60.4 ppg) and will try to contain Michigan star forward
DeShawn Sims
with
Dallas Lauderdale
.
What to watch for Michigan:
The Wolverines need a complete performance to beat the surging Buckeyes, and they'll look for big things from guard
Manny Harris
, who looked good in Thursday's first-round win against Iowa (22 points, 9 rebounds). Michigan played stifling defense for most of the Iowa win and needs a similar effort against Turner,
David Lighty
and
William Buford
. The good news is U-M seems to match up decently with Ohio State this year. "We beat them for a whole game, beat them for a half," Wolverines forward
Zack Novak
said Thursday. "They got us for one half this year, so we're confident going in."


No. 4 seed Wisconsin vs. No. 5 seed Illinois (ESPN, 25 minutes after Michigan-Ohio State)
Records:
Wisconsin (23-7), Illinois (18-13)
Season series:
The teams split two meetings, with each squad winning on the other's home floor. Illinois stunned Madison at the Kohl Center on Feb. 9, but Wisconsin surged to a 72-57 rout Sunday in Champaign.
Advancement:
Winner plays Ohio State or Michigan in Saturday's first semifinal.
What to watch for Wisconsin:
The Badgers might be the hottest team in this tournament, having won four consecutive games. It's no secret the surge has coincided with the healthy return of forward
Jon Leuer
, who won Big Ten Player of the Week honors last week. Leuer (14.9 ppg, 5.7 rpg) and forward
Keaton Nankivil
(8.7 ppg, 4.7 rpg) really balance out Wisconsin's offense and will put pressure on Illinois bigs
Mike Tisdale
and
Mike Davis
. The Badgers flustered Illinois star
Demetri McCamey
in Sunday's win and need a similar defensive effort from
Jordan Taylor
.
What to watch for Illinois:
McCamey's sideline confrontation with head coach Bruce Weber generated plenty of national attention, and it will be interesting to see how the mercurial star responds today. Illinois needs its best player to be at his best against a jelling Badgers team. The Illini are only 1-5 since their win in Madison and need to find other ways to score if the outside shots aren't falling. They also must rebound better after Wisconsin crashed the offensive glass well in Sunday's game.


No. 2 seed Purdue vs. No. 7 seed Northwestern (Big Ten Network, 6:30 p.m. ET)
Records:
Purdue (26-4), Northwestern (20-12)
Season series:
Northwestern won the teams' only meeting, 72-64, on Jan. 16, which marked Purdue's last loss with a healthy
Robbie Hummel
.
Advancement:
Winner faces Michigan State or Minnesota in Saturday's second semifinal (CBS, 25 minutes after first semifinal).
What to watch for Purdue:
After a rough start in its first game without Hummel, Purdue rallied last week for two wins. The Boilers need a strong effort today from center
JaJuan Johnson
, who was a nonfactor before fouling out against Northwestern the last time the teams met. Senior guard
Chris Kramer
also had a rough outing in Evanston and needs to be a bigger factor on both ends of the floor. Purdue's suffocating man-to-man defense could be the difference tonight. "Instead of someone picking you up at 21 feet, they pick you up at 90 feet," Northwestern coach Bill Carmody said.
What to watch for Northwestern:
The Wildcats actually match up well against Purdue. They have won two of the teams' last three meetings and choked away a big lead in the only defeat. Standout freshman wing
Drew Crawford
is very banged-up -- he had at least three ice packs on his body after Thursday's win -- so Northwestern needs production from other spots. Point guard
Michael Thompson
stepped up big against Indiana (16 points), but senior guard
Jeremy Nash
and sophomore center
Luka Mirkovic
need stronger performances today.


No. 3 seed Michigan State vs. No. 6 seed Minnesota (Big Ten Network, 25 minutes after Purdue-Northwestern game)
Records:
Michigan State (24-7), Minnesota (19-12)
Season series:
Michigan State won both meetings, but only by a combined eight points. After a 60-53 win in East Lansing, the Spartans needed a huge shot from
Kalin Lucas
to outlast Minnesota, 65-64, on Jan. 23 at Williams Arena.
Advancement:
Winner faces Purdue or Northwestern in Saturday's second semifinal.
What to watch for Michigan State:
The Spartans come off of a strong showing against Michigan on Sunday but will be without junior guard
Chris Allen
, who is suspended for the game. Allen ranks fourth on the team in scoring (9.1 ppg), and his absence will put a bigger burden on starting shooting guard
Durrell Summers
. Michigan State's front line has played better as of late and needs a strong performance against Minnesota bigs
Damian Johnson
,
Ralph Sampson III
and
Colton Iverson
. The Spartans haven't been great defensively this year, but they have held their last six opponents to just 57.2 points per game.
What to watch for Minnesota:
After two blowout wins against bottom feeders, the Gophers can really boost their NCAA tournament hopes with a win today. They paced Michigan State in both games and endured one of several heartbreaking losses in the meeting at The Barn. If seniors Johnson and
Lawrence Westbrook
continue to answer the bell like they did Thursday, and if
Devoe Joseph
builds on a strong performance, Minnesota will be tough to beat. "Last time we played Michigan State we lost by one point," Joseph said, "and we made a lot of mistakes in the last four minutes, so I definitely think we can pull off the upset."
March, 11, 2010
3/11/10
6:59
PM ET
INDIANAPOLIS -- Bill Carmody's motto for years has been simple and straightforward: Make shots.
Those two words appear outside Northwestern's basketball offices and on the T-shirts of those in NU's student section.
[+] Enlarge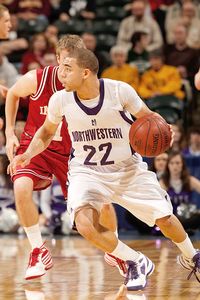 Jonathan Daniel/Getty ImagesNorthwestern's Michael Thompson scored 13 of his 16 points in the second half.
For 32 minutes, Carmody's players didn't follow orders at all. With 7:58 left in Thursday's first-round Big Ten tournament matchup against No. 10 seed Indiana, Northwestern had made 4 of 28 shots from 3-point range.
"At shoot-around today, we made about five percent of our shots," Carmody said. "I thought we got all our misses out of our system, but we didn't."
Junior point guard
Michael Thompson
evidently had enough of the bricks, and sparked Northwestern on a huge second-half run to take control. The seventh-seeded Wildcats went on a 20-5 spurt midway through the second half and recorded a rather comfortable
73-58 win against Indiana
. They outscored IU 37-13 in the final 13 minutes.
Northwestern has won 20 games for the first time in team history and advances to face No. 2 seed Purdue in the quarterfinals Friday (Big Ten Network, 6:30 p.m. ET). Thursday's win likely assures NU of an NIT berth, at the very least.
After scoring only three points in an ugly first half, Thompson exploded for 13 in the final 20 minutes and really provided a lift from beyond the arc (four 3-pointers). The man nicknamed "Juice" didn't have much of it early, but an elbow to the throat from Indiana's Tijan Jobe early in the second half changed that.
Though the elbow wasn't intentional, no foul was called and the 5-9 Thompson let the 7-feet Jobe know about it. Thompson got in Jobe's face and the officials called double technical fouls with Indiana leading 35-29 and 17:08 left.
"He felt like the big guy was trying to bully the little guy," Wildcats guard Jeremy Nash said. "He was like, 'I'm not having it. I'm going to show you how big I can play.'"
Thompson did in the final nine minutes, sparking Northwestern with his shooting and showing emotion rarely displayed.
"That really got me going," he said of the altercation with Jobe. "It gave me a lot more energy to make me want to go out there and play hard. It was just me being small and him trying to move me out the way.
"All my life, I've been small. People [underestimate] me because of my height, but I just try to compete and play as hard as I can."
Northwestern had relied almost exclusively on its starting five for most of the season, but got a huge lift off the bench from guard
Alex Marcotullio
(eight points) and forwards
Davide Curletti
(12 points) and
Mike Capocci
. The Wildcats found other contributors than Thompson and
John Shurna
today.
Indiana (10-21) had no business leading by only three points at the half, after the way Northwestern shot the ball. The Hoosiers built an 8-point lead in the second half but totally fell apart down the stretch, especially with their ball-handling. The rebuilding project continues for Tom Crean.
March, 11, 2010
3/11/10
5:54
PM ET
INDIANAPOLIS -- It wasn't pretty on either side, but No. 10 seed Indiana holds a 3-point lead on No. 7 Northwestern at halftime of a first-round matchup. A wild tip-in by Northwestern star
John Shurna
just before the buzzer makes this a one-possession game heading to the second half.
Quick thoughts:
Given that 3-point shooting is Northwestern's bread and butter, the Wildcats are extremely fortunate to be down by only three points. The Wildcats missed 13 of their first 14 attempts from long range and finished the first half a miserable 2-for-18. They'll certainly need that percentage to go up in the second half.
After struggling inside a bit early, Indiana did the dirty work late in the half and finished strong. Freshman forward Derek Elston was particularly impressive with eight points and five rebounds, and freshman forward Christian Watford added seven points and three boards.
Hoosiers guard Verdell Jones III continues to impress with nine first-half points on 3-of-5 shooting. If this game is close down the stretch, Jones likely will have the ball in his hands.
Defense has kept Northwestern in the game, which comes as a surprise after the team's poor defensive showing Saturday at Indiana and for much of Big Ten play. The Wildcats have three steals and four blocks in the opening half, and a 18-16 edge in rebounds. NU outscored Indiana 16-8 in the paint. Bill Carmody's team likely will need more offense from point guard Michael Thompson (3 points) and center Luka Mirkovic (zero points) to win this game.
January, 8, 2010
1/08/10
10:41
AM ET
Were this just one game, Northwestern could be forgiven for having an off night. After all, Oregon State just lost to Seattle by 50 points; weird things happen to marginal basketball teams, and one weird night shouldn't necessarily doom a season.
That said, whatever good vibes Northwestern had going into the Big Ten season might now, officially, be all the way gone. Thursday night
NU hosted Texas Pan-American
at Welsh-Ryan Arena. Pan-Am (every time I hear "Pan-Am" I think of Alec Baldwin's character in the still-sort-of-underrated movie "Aviator," and I get kind of mad that "Million Dollar Baby" won Best Picture in 2004, but OH WELL) is not a good basketball team; they entered Thursday night's game 1-16, including losses to Missouri and Texas by a combined scored of -- get this -- 118 points.
Pan-Am could have fooled the Wildcats. Northwestern leading scorer
Michael Thompson
played
17 scoreless minutes in the first half
, and NU trailed by seven at halftime. Northwestern picked things up in the second half and eventually took home a 53-44 win. But the win is almost less important than the circumstances surrounding it: 53-44? A halftime deficit? At home?
To Texas Pan-American?
This is classic Northwestern basketball, and by "classic," I mean "bad." Along with last week's losses to Illinois and Michigan State -- the MSU loss was a blowout at home -- the Wildcats are getting dangerously careless with their hot start. NCAA tournament teams don't play this poorly against 1-16 teams at home. Are the Wildcats still a tournament team?