College Basketball Nation:

Midnight Madness 2012
October, 12, 2012
10/12/12
11:35
PM ET
CHAPEL HILL, N.C. -- Six-foot-10, 260-pound freshman
Joel James
probably didn't imagine his North Carolina career would begin in a tutu. Neither, likely, did classmates
Marcus Paige
,
Brice Johnson
or
J.P. Tokoto
.
But such is the ritual of "Late Night With Roy Williams," UNC's annual team introduction that precedes the official start of basketball practice. Part dancing, part videos, part scrimmage, Friday marked Tar Heels fans' first chance to see their team -- which lost four starters to the first round of the NBA draft -- at the Smith Center before real workouts begin at 9 a.m. Saturday.
"My freshman year, I would have been, 'Naaaah, I can't do the tutu,'" redshirt junior
Leslie McDonald
said, laughing after his "blue" team won the event-ending intrasquad scrimmage 37-27. "… But Joel's a big dude, and to see him in a tutu, that's funny."
[+] Enlarge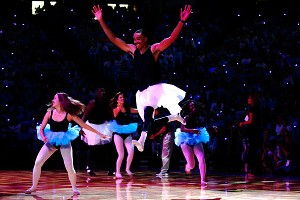 AP Photo/Gerry BroomeBrice Johnson and his fellow UNC freshmen sported tutus as part of Friday's festivities.
It was a night filled with emotion … and applause and dancing.
UNC changed up "Late Night" a bit this season, beginning the evening with an Olympics-style opening ceremony during which each of the school's sports teams was introduced, and walked around the court.
After each of her players was introduced individually, women's basketball coach Sylvia Hatchell pulled chancellor Holden Thorp -- who recently resigned, effective at the end of the school year -- out of the stands to join her near midcourt. The women's players then hoisted him atop their shoulders, before commencing with their own skits and videos.
Finally, it was time for what most of the patient, light-stick-wielding fans were waiting for: men's basketball introductions. And the only cheer that was louder than the one for McDonald and senior
Dexter Strickland
-- who have both fought through ACL injuries, and opted to be introduced together -- was the roar for Williams.
The Hall of Fame coach, who is still recovering from a surgery to remove a tumor from one kidney and a biopsy on a tumor in his other kidney (both were non-cancerous), grew emotional as the crowd's standing ovation lasted more than a minute.
Earlier in the day, his Fast Break Against Cancer Breakfast
raised $150,000 for UNC Lineberger Comprehensive Cancer Center -- but this was about being back on the court with his players after a serious cancer scare.
And his players understood the fans' appreciation.
"It's history -- just to see that icon, everybody supporting him," McDonald said.
After the team's dance routines -- which included some ballerina moves by the freshmen (thus the tutus), then a salsa shimmy and some Broadway kicks by the rest of the veterans -- the team managed to coax Williams into a few shag-like moves.
Afterward, he sat behind the scorer's table with Strickland and smiled as he watched the blue-white scrimmage. Strickland, still working his way back from February ACL surgery, did not play as a precautionary measure, a team spokesman said. But the guard will practice Saturday.
Sophomore
P.J. Hairston
led the "Blue" team with 12 points in the unofficial stats, while Paige added 7 and Joel had 6. Junior
Reggie Bullock
and sophomore
James Michael McAdoo
scored 7 points apiece for the "White" team.
The night seemed enjoyable to them all, although the veterans know Saturday morning's opening workout will be much different than Friday's festivities.
"Get your mind ready," McDonald said when asked how to prepare for a first practice. "We know that this is interacting with the crowd, but tomorrow is the big show. … If you saw us diving on the floor tonight, imagine what we'll be doing tomorrow."
Freshmen were not available to talk about their performances (dance or scrimmage); per team rules, they are not allowed to do interviews with media until after they play in their first regular-season game.
But it sounds like at least one guy didn't have much to say about some of his dance apparel, anyway.
After ESPN recruiting analyst Dave Telep tweeted
"@marcuspaige15 you have some explaining to do with the tutu at UNC's Midnight Madness,"
Paige, (
whom Williams expects to start at point guard this season
) offered this response via Twitter:
"I'd rather not talk about it...lol"
.
Follow Robbi Pickeral on Twitter at @bylinerp.
October, 12, 2012
10/12/12
4:35
PM ET
Midnight Madness ain't what it used to be.
The reasons are many. One,
as Andy Katz writes today
, is the impact of new offseason individual workouts and foreign trips, which have combined to give coaches a much better feel for their teams on the first day of "official" practice than ever before:
By the time practice officially begins for Division I men's teams Friday night, the majority already will be well ahead of schedule. If they took a foreign trip in the summer, then the progression is even further.

Because of a new NCAA rule, coaches could be with their teams during the summer if they were enrolled in classes. Team workouts for two hours a week could occur beginning Sept. 15.

"We already have a pretty good feel of what we need to do,'' Texas coach Rick Barnes said Wednesday afternoon, prior to the V Foundation dinner. "It doesn't dawn on me that Friday is the start of practice because I feel like we've been practicing. The rule changes have changed all of that.''
But it's not just the new practice rule, or the way coaches view their teams internally.
The truth is, Midnight Madness has been changing for a while now. When I was in school -- and I'm 27, so it wasn't so long ago -- Midnight Madness began at midnight. (Also, get off my lawn.) Because of this, there was a special feeling about the event, one that's hard to pin down but is probably best described as "buzz." There was a manic energy, borne not only of excitement for the return of basketball, but from the small yet monumental observations one felt could be gleaned from the actual scrimmage itself. It's like every member of a fan base came together on one night -- in the middle of the night, no less -- and began giddily scouting like a group of 15,000 old hands. It was one of my favorite nights of the season.
This year, more and more programs have followed the new Midnight Madness template. Their events aren't at midnight. Heck, by the time you read this Friday afternoon,
Indiana's event will nearly be underway
. "Afternoon Madness" doesn't quite have the same ring.
So Andy's story is just one more evolution -- or devolution -- of a tradition that keeps losing whatever luster it had in the first place, if any. The smart reaction to Andy's piece,
that of Bylaw Blog's John Infante
, says the NCAA should drop the pretense of the event (and the notion that there exists a college basketball offseason these days) and move first practice up to the beginning of October.
All of these things are true and, yeah, they're kind of a bummer.
Maybe the NCAA moves the start date up, or maybe they don't. Maybe the events are at midnight, and maybe they aren't. Guess what: It's
still the first day of college basketball practice
. It's still Midnight Madness. And I am still very, very excited. You can change a lot about what we recognize as "Midnight Madness," but that will remain.
In other words, from my family to yours: Happy Midnight Madness, everyone.
October, 12, 2012
10/12/12
1:15
PM ET
By
Brett Edgerton
| ESPN.com
ESPNU, WatchESPN.com and ESPN3 will tip off the college basketball season with Midnight Madness, beginning with live coverage of Indiana's practice at 5 p.m. ET. ESPN3 will continue complete coverage at seven school sites throughout the evening, starting at 7 ET.
From 9 to midnight, ESPNU studio will provide fans with a "whip-around" look at highlighted teams coast-to-coast, along with analysis from Jay Bilas and Seth Greenberg and several Andy Katz interviews of the nation's top coaches. The Madness coverage will extend into its final hour on ESPNU's nightly entertainment show, UNITE, with its inaugural Midnight Madness Special.
The events being broadcast on ESPN3 are linked below for easy viewing. Here's the full lineup:
--
Indiana
with Jay Williams and Dan Dakich (
ESPN3 at 5 ET
)
--
NC State
with Bruce Pearl (
ESPN3 at 7 ET
)
--
St. John's
with Tarik Turner (
ESPN3 at 7 ET
)
--
Florida State
with Jacob Ridenhour (
ESPN3 at 7 ET
)
--
Kentucky
with Jimmy Dykes (
ESPN3 at 7:30 ET
)
--
North Carolina
with Doris Burke (
ESPN3 at 7:30 ET
)
--
Syracuse
with Dino Gaudio (
ESPN3 at 8 ET
)
--
Missouri
with Stephen Bardo (
ESPN3 at 8 ET
)
--
Pittsburgh
with Bill Raftery (
ESPN3 at 10 ET
)
--
Georgetown
with Tim Welsh (only on ESPNU)
--
Maryland
with Len Elmore (only on ESPNU)
--
Baylor (men and women)
with Fran Fraschilla (only on ESPNU)
--
Murray State
with Miles Simon (only on ESPNU)
--
Kansas
with Sean Farnham (only on ESPNU)
--
ESPNU Midnight Madness whip-around/UNITE Madness special
(
9 p.m. ET to 1 a.m. ET
)
Need some reading material while watching the Madness? Dana O'Neil has a
column on the wide-open nature
of the upcoming season. Andy Katz wrote about
rule changes
that have diminished Midnight Madness a bit. Four of our writers met at the
roundtable
and answered five big questions, and then a bunch of our staff answered fan questions
here
. Over at Insider, Seth Greenberg has five key
position battles
to track, while our scouts answer questions about a
huge recruiting weekend
. Finally, if you want to jump ahead to the season, take a look at our complete breakdown of all of the
nonconference schedules
.
October, 12, 2012
10/12/12
11:12
AM ET
By
ESPN.com staff
| ESPN.com

Andy Katz and Seth Greenberg discuss how the latest rule changes on when coaches can begin practices take away some of the luster of Midnight Madness.

October, 12, 2012
10/12/12
10:00
AM ET
By
ESPN.com staff
| ESPN.com
After six long months, college basketball is back. At arenas, gyms and fieldhouses all around the country tonight, teams will be practicing in anticipation of a new season. For at least a few weeks, hope springs eternal everywhere.

From 1 to 3 p.m. ET, join ESPN.com writers Dana O'Neil, Andy Katz, Myron Medcalf, Eamonn Brennan and Dave Telep as we discuss and debate college hoops. Analyst Seth Greenberg will also be joining us as he gets ready for ESPNU's Midnight Madness special, which begins at 9 p.m. ET.

This is meant to be interactive, so post your questions and we will answer as many of them as we can!