College Basketball Nation:

Mikael Hopkins
September, 30, 2013
9/30/13
2:00
PM ET
WASHINGTON D.C. -- It's just one hour into the official start of the season and already John Thompson III wishes he could talk about someone other than
Joshua Smith
.
That doesn't make him unusual. Coaches like nothing less than talking about guys who are hurt, suspended or ineligible. They aren't ready to play, so why bother?
Fair logic in an illogical, information-hungry world.
[+] Enlarge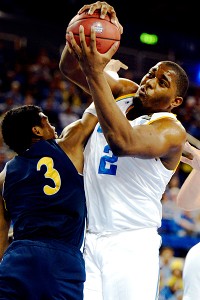 Richard Mackson/US PRESSWIREUCLA transfer Josh Smith has to show he can play defense at Georgetown.
The fact of the matter is the UCLA transfer is more than just a curiosity for Georgetown; he could be a critical piece to the Hoyas' puzzle. With
Greg Whittington
sidelined indefinitely with a torn ACL, Georgetown will push junior
Mikael Hopkins
into the middle and count on senior
Nate Lubick
to help him out. Both are decent candidates; none has the potential of Smith.
Of course that's always been the catch with Smith -- he has all this potential, most of it unrealized -- and that's why the big man lumbering up and down the McDonough Hall court on Saturday morning is the big question mark for Georgetown.
As of right now, Smith won't be available until the second semester, but Thompson said he's awaiting a decision from the NCAA, intimating there's a chance Smith could play immediately.
Thompson declined to get into specifics to the nature of the request.
"We don't know when or how long we'll have him,'' Thompson said. "But we think we should know pretty soon.''
Having Smith available is one thing; if Smith is ready another. The one-time top recruit followed up a conference all-freshman season with an average sophomore season, his playing time diminishing as the season progressed.
His lack of dedication exasperated Ben Howland, who privately and publicly fumed at his big man's lack of progress.
Six games into his junior year and Howland's final turbulent year, Smith elected to transfer.
Georgetown, which opens the season on Nov. 8 against Oregon in South Korea, offers not only a fresh start but also a coach who suffers no fools. Certainly Smith is to blame for his own failures, but he was also caught in a Westwood soap opera that wasn't good for anyone.
"He has to make a decision if he wants to be good or not,'' Thompson said. "He has all the tools. He always has. When and if he commits, he'll see the positive results. It's a process.''
What will be especially interesting to watch is how Smith blends in to a team that cares about its defense above its offense. That wasn't exactly UCLA's MO last season, unless matador defense is a new trend.
Thompson peppered his first practice with challenges to his team about its defense, promising later that "we will guard.''
Plenty was made about the Hoyas' lack of offensive fireworks last season, a display that might fizzle even more sans Otto Porter, but Thompson argues that not enough was said about the other side of the ball. While it mmight have lacked in aesthetics, Georgetown did hold teams to just 56.4 points per game, practically suffocating foes into defeat.
The long and lanky Hopkins and the worker bee Lubick understand what's expected on that end.
Smith, who didn't exactly dash back on transition for UCLA, will have to learn.
"We'll see how it all plays out,'' Thompson said. "But regardless, I think this team has a chance to be very, very good.''
March, 15, 2013
3/15/13
10:00
PM ET
NEW YORK -- A quick look at the Syracuse's
58-55 overtime win
over Georgetown in the semifinals of the Big East tournament.
What it means:
It doesn't get any better than that.


Georgetown and Syracuse, the two longtime archrivals, met one last time as fellow members of the Big East conference Friday night. And after 45 thrilling minutes, Syracuse had landed the final punch.
In a game that will be talked about for years to come, played in front of a sellout crowd at Madison Square Garden, the Orange defeated the Hoyas to advance to this year's Big East championship game.
No. 19 Syracuse (26-8, 11-7), which had lost four of five games prior to tournament, has now won three games in three days, previously defeating Seton Hall and Pittsburgh. The Orange will be a higher seed in the NCAA tournament as a result. And they've gotten some revenge after losing to the Hoyas twice in the regular season -- both times by double digits.
No. 5 Georgetown (25-6, 14-4), which had won 13 of its past 14 games, will no longer contend for a No. 1 seed in the Big Dance after this loss. But the Hoyas will still get a very high seed and will be a force to be reckoned with.
How it happened:
Georgetown drew first blood.
Otto Porter Jr.
scored the first bucket of the game and the Hoyas went in front by as many as five and maintained the lead for almost the entire first 12 minutes. But a
James Southerland
3-pointer pulled Syracuse even, 17 apiece, with 8:04 remaining in the first half. That was the first three points of a 13-0 run, making it 27-17, as Georgetown went nearly eight minutes without scoring a point. Freshman guard
Trevor Cooney
, who averaged 3.5 points in 11.7 minutes per game, scored 10 first-half points for the Orange, including a pair of 3s. Syracuse led 29-20 at intermission.
Georgetown gradually clawed its way back in the second half.
Mikael Hopkins
scored the Hoyas' first seven points, and then
Markel Starks
buried three 3-pointers in short order. Georgetown finally tied the game up, 49 all with 1:48 left in regulation, on a pair of
Jabril Trawick
free throws.
Baye Keita
drained both ends of a 1-and-1 to put Syracuse back in front 51-49, but then Porter also made both ends with 7 seconds left to tie the game again.
Michael Carter-Williams
missed a jumper at the buzzer and we moved on to overtime.
Syracuse's
Brandon Triche
scored the first two points of OT on a driving layup, and then Starks fouled out with 3:36 remaining -- a big blow to Georgetown. With 18 seconds left and the Orange in front 57-55, Triche was fouled. He made the first, but missed the second, giving the Hoyas another chance to tie. But after a timeout, Porter was smothered defensively and turned the ball over. With four seconds left, Fair went to the foul line, but missed both free throws. Georgetown rebounded, but Trawick's half-court heave at the buzzer was off the mark.
Star watch:
Triche, Southerland and Keita each scored 13 points for Syracuse. Triche scored 11 of his 13 after halftime. Southerland drained four 3-pointers, giving him 16 for the tournament -- that ties the tourney record. Keita, who averages just 3.3 points per game and was shooting just 48.6 percent from the foul line, made all seven of his attempts from the charity stripe.
Hopkins had 15 points to lead Georgetown. Starks scored 13 and Porter added 12.
Number crunch:
In a box score that reveals a very even game, two things stand out. Syracuse was a little better from beyond the arc, shooting 7-for-18 (38.9 percent); Georgetown was 4-for-18 (22.2 percent). Even more important, Syracuse was 13-for-19 from the foul line (68.4 percent). Georgetown, on the other hand, was just 11-for-20 (55 percent).
What's next:
Syracuse, the No. 5 seed, will play No. 2 seed Louisville on Saturday at 8:30 p.m. ET. Georgetown heads home, licks its wounds and begins preparing for the Big Dance.