College Basketball Nation:

Mike Black
March, 22, 2013
3/22/13
2:29
PM ET
PHILADELPHIA -- The No. 2 seed Duke Blue Devils handed 15th-seeded Albany
a 73-61 NCAA tournament loss
Friday.


Overview:
Mike Krzyzewski, a man who's amassed a few good memories to recall if the mood strikes him, doesn't believe in looking backward, not on good times and certainly not on bad. So when most everyone wanted to make the dialogue surrounding Duke's second-round matchup with Albany about last year's second-round loss to Lehigh, he refused.
"My feeling is stay in this moment," he said. "Whatever happened in the past, good or bad, has happened in the past."
For a little while at least, the past threatened to ruin the present for the Blue Devils.
Albany refused to go away, momentarily giving their purple-clad fans reason to cheer when the Great Danes cut the Duke lead to single digits late in the second half.
In the end, though, Albany couldn't duplicate Lehigh's second-round stunner of similarly seeded No. 2 Duke, and the Blue Devils officially got the monkey off their back, the albatross from around their neck, the hex removed.
Pick your metaphor.
Duke won.
Turning point:
Albany made it an eight-point game late in the second half, but this time,
Seth Curry
was there for the bailout. A year after a dismal game against Lehigh, Curry was the hero. He not only led the Blue Devils in scoring, he got the important bucket, too. Curry scooped up a slapped offensive rebound, drove the lane and scored, officially ending any Albany threat.
Key player:
A year ago, Curry went 1-for-9 from the floor and 1-for-7 from behind the arc as Duke lost to Lehigh. On Friday, Curry couldn't miss. He shot 10 of 14 from the floor and 4 of 6 from the free throw line for 26 points.
Key stat:
Sometimes the game of basketball is not terribly complicated. If you shoot the ball well, good things are likely to happen. Duke shot the ball exceptionally well -- 58.7 percent from the floor. A good thing happened for Duke, and the Blue Devils won.
Next:
The Blue Devils advance to the Midwest Regional third round on Sunday. They will play either No. 7 seed Creighton or No. 10 Cincinnati.
November, 16, 2012
11/16/12
9:00
AM ET
The Hall of Fame Tip-Off is a tournament set up for one marquee team.
That's what it did last season for Kentucky. That's what it's doing this season for Ohio State.
The Buckeyes are set to play in a "title" game, regardless of what occurs Saturday at the Mohegan Sun. And for OSU, having some sort of certainty probably helps, considering that its Nov. 9 opener -- against Marquette aboard the the USS Yorktown in Charleston, S.C. -- was canceled.
The basics
: Nov. 17-18 at Mohegan Sun Arena in Uncasville, Conn.
The set matchups (Nov. 17)
: Norfolk State vs. Loyola (Md.), noon ET; UMKC vs. Albany 2:30 p.m. ET; Ohio State vs. Rhode Island, 5 p.m. ET; Seton Hall vs. Washington, 7:30 p.m.
The favorite
: Well, the tournament is set up for Ohio State, so it's hard to pick any other team. The Bucks come into the event as the only ranked squad, much like last year's event with Kentucky. OSU hasn't had a true barometer contest yet due to the cancellation of the Marquette game. The best scenario would be for the Buckeyes to get pushed a bit here in advance of having to go to Duke on Nov. 28 in the ACC/Big Ten Challenge.
FIVE PLAYERS TO WATCH
Mike Black, Albany:
The senior guard is off to an America East player-of-the-year-type season. Black scored a combined 42 points over his past two games after 15 in the season opener. His ability to score in a variety of ways should prove useful once he gets into conference play. So far, he's not having any problems scoring against perceived tougher competition.
Aaron Craft, Ohio State:
The Buckeyes point guard is one of the top lead guards in the country. He has to set the tone early and often for Ohio State. He has been known as a defender and top facilitator, but might have to do more scoring with the current makeup of the OSU roster. Craft scored 20 points Sunday in a 22-point win over Albany.
[+] Enlarge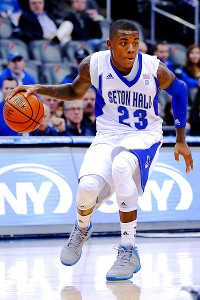 Jim O'Connor/US PresswireSeton Hall swingman Fuquan Edwin is averaging 19.5 points so far this season.
Fuquan Edwin, Seton Hall:
The Pirates have consistently had a big-time scorer under both Bobby Gonzalez and current coach Kevin Willard. Edwin is off to a terrific start in this department, averaging just under 20 points a game so far. He probably will get plenty of shots against Washington and then possibly Rhode Island. This could be a breakout weekend for Edwin to gain even more name recognition prior to Big East play.
Abdul Gaddy, Washington:
Gaddy is off to a solid start for the Huskies after a few seasons of erratic and injured play. He has the ability to dominate the ball and give Craft plenty to handle if the two meet Sunday. Gaddy didn't bolt when everything didn't go his way. Now he has to maximize his opportunity and excel.
Deshaun Thomas, Ohio State:
Thomas is the new face of this team. He played well off Jared Sullinger last season, but now he has to be the featured forward. Thomas scored 19 in the opening win over Albany. He is a consensus preseason All-American and he will need to live up to that hype if Ohio State has a real shot to compete for the Big Ten title.
FIVE BIG QUESTIONS
How will Ohio State handle being expected to win?
The Buckeyes have gone through the past few seasons in a favored role in the Big Ten. This season they can actually play with more freedom not being the fave. But in this event, anything less than two wins at the Mohegan Sun will be deemed a disappointment. The Bucks need to show that they have balance and can defend over the next two days.
Which Albany team will show?
The Great Danes are 2-1, with wins over Washington on the road and against Duquesne, so they appear to be a legit contender in the conference. Beat MAAC contender Loyola (Md.) and Albany will get even more credibility among its peers.
Will Washington turn its season around?
The Huskies lost two players to the NBA draft after winning the Pac-12 regular-season title. But the season was still expected to be promising and still can be if the Huskies can stop the bleeding from this week's stunning home loss to Albany. A year ago, Washington came east and lost at Madison Square Garden to Marquette and Duke. This is the first of two trips to Connecticut for the Huskies (they play at UConn on Dec. 29). Leaving with at least one win is a must. Two would add momentum for the rest of the nonconference slate.
How much of a contender or pretender is Seton Hall?
The Pirates are a bit of an unknown in the Big East. This event has a chance to unveil the mystery. Seton Hall should be taken seriously because of its ability to score. If the Pirates can get to a meeting with Ohio State and pull the upset, then a possible top-half finish in the Big East isn't out of the question.
What are the chances Danny Hurley can get his first win at Rhode Island?
The Rams lost by 12 at home to Norfolk State and got drilled at Virginia Tech by 19 points. URI is going through a complete overhaul and won't truly be back until a high-level recruiting class comes to Kingston next season. But this team can't get too discouraged here early in the season. A split of the games this weekend will at least give the Rams some confidence moving forward.
THE PICKS
Saturday:
Loyola (Md.) over Norfolk State; Albany over UMKC; Ohio State over Rhode Island; Washington over Seton Hall.
Sunday:
Norfolk State over UMKC; Albany over Loyola (Md.); Seton Hall over Rhode Island; Ohio State over Washington.