College Basketball Nation:

Mike Bobinski
March, 17, 2013
3/17/13
8:18
PM ET
It's so easy to bash the bracket and, by extension, the NCAA tournament selection committee.
But this is also a subjective process, where beauty is in the eye of the computers
and
still, the beholder. The country will never see eye-to-eye with the decisions made and no matter how many mock brackets the NCAA holds, plenty will still think the fix is on.
Of course, that's frankly the beauty of Selection Sunday. If it were easy and boring, we wouldn't be talking about it.
In the next few days we'll be able to critique the committee's job more thoroughly, but for now here are a few bracket first impressions:
A field day for conspiracy theorists
The NCAA tournament selection committee chair this year is Mike Bobinski, who is the athletic director (at least until next month when he takes over at Georgia Tech) at Xavier. And, Xavier is in the Atlantic 10 (at least until this week when the Musketeers join the Big East).
The A-10 received five bids (more than the ACC and the SEC): Saint Louis, the league's conference tournament champion, earned a No. 4 seed, VCU a 5, Butler a 6, Temple a 9 and bubble-dwelling La Salle a 13.
Out West, meanwhile, the Pac-12 also received five bids. Except the league's conference champion, Oregon, was a 12-seed while Arizona and UCLA came in as 6-seeds, Colorado earned a 10 and Cal another 12.
So was this Bobinski strong-arming the committee to give his league its due?
I'm pretty sure that wasn't the case, as the process truly is set up to avoid such personal favoritism.
[+] Enlarge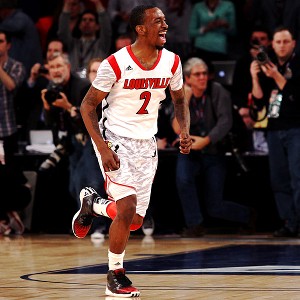 Chris Chambers/Getty ImagesRuss Smith and Louisville face what could be a hard road to the Final Four playing in the Midwest Region.
And in truth, is the committee wrong? Was the brand of basketball played in the Atlantic 10 not better than the Pac-12?
So why did we want to be the overall No. 1 seed?
That's what Louisville has to be thinking right now.
The Cardinals earned the distinction on merit, winning the Big East Tournament in a steamroller of an effort against Syracuse. But Louisville's reward is a date in the Midwest Region, which apparently was set up by the masochistic dentist who is sidelining on the selection committee.
Yes it's a nice, easy drive for fans from Louisville to Indianapolis, but they might want to bring some sedatives with them.
The team I believe is the best in the country and the committee tabbed the best in the country has the most difficult road to Atlanta.
In their second game the Cardinals will either get Missouri or Colorado State, two of the best rebounding teams in the country.
Survive that and it's on to a possible Sweet 16 date with Saint Louis, a team that can match Louisville's defensive intensity (albeit in a different way) head to head, a team that none other than coach Brad Stevens said could win the whole thing.
Make that, Cards, and congratulations -- you might get Tom Izzo or Mike Krzyzewski in the Elite Eight.
Neither of them know anything about getting to a Final Four, right?
OK, here's what the committee did right
Enough with the questionable calls, it's time to throw a few rose petals.
Middle Tennessee State, Boise State, La Salle and Saint Mary's are in the tournament, and that's a good thing.
Maybe not if you're a Tennessee or Kentucky fan, but oh well, tough break.
The big-league teams have plenty of chances to prove their worth. Their conferences are set up as NCAA tournament auditions, with brand-name games and RPI-grabbing opportunities weekly. Conjuring up a nonconference schedule isn't terribly difficult, either.
Try being Middle Tennessee State. You think anyone wants to go to Murfreesboro to play? No. Frankly not too many would be willing hospitable hosts to the Blue Raiders, either. What's there to gain but a bad loss?
Ditto Boise State. Idaho isn't on most blueblood's charter flight patterns.
So what are they to do? How about the best they can, and hope they're recognized for it.
This year, at least, the committee did just that.
The cruelty of March
Poor Shaka Smart.
When ESPN set up Akron and VCU in a BracketBuster game in 2011, both he and Zips head coach Keith Dambrot prayed it would be the last time.
So much for that.
In Auburn Hills, Mich., Smart and Dambrot will go head-to-head once more and this time it's a legit bracket buster.
The two are coaching best friends. Smart considers Dambrot a mentor. The two spent three years together at Akron, and Smart was Dambrot's right-hand man after he was named head coach. Dambrot was even in Smart's wedding.
Now one will have to beat the other.
"It will be strange for sure," Smart said via text message.
Random thoughts:
Michigan's Trey Burke versus South Dakota's Nate Wolters in the first round, that's a nice little point guard matchup.

Word to the wise for Duke fans. Seven years ago, Albany was a No. 16 seed in Philadelphia and scared the pants off of top-seeded Connecticut for a half, leading by 12 at the break. The Great Danes are back in Philly as a 15 seed, set to face the Blue Devils.

If Florida and Georgetown meet in the Sweet 16, will they move the game from Washington D.C. to a battleship to make up the cancelled game from November?

Butler versus Bucknell? Really? We have to pick one? That's mean.

How many times will Villanova and North Carolina have to answer questions about the last time they met -- at the 2009 Detroit Final Four? Forget the fact that both teams are considerably, um, different this time around.

Can someone please set up an on-camera conversation about court decorum and attitude between Bo Ryan and Marshall Henderson?
The possibility
After the Louisville-Indiana rivalry officially was killed off, Rick Pitino and Tom Crean gave fans -- both local and national -- a little hope when they floated the idea of playing one another next season. It would be a terrific game between two national powers that sit only a short ride from one another.
We very well could get an earlier date.
The two teams that started the season as Nos. 1 and 2 in both polls may be rolling downhill toward a meeting in Atlanta.
March, 6, 2013
3/06/13
11:25
PM ET
PHILADELPHIA -- Jay Wright was sitting at J.D. McGillicuddy's doing his radio show Monday night when the Villanova coach glanced up at one of the television screens in the restaurant.
He looked right in time to see the most popular graphic of the season -- Joe Lunardi's updated Bracketology information.
"It said we were in," Wright said. "I was like, 'We're in? Really?'"
That was then.
This is now.
It's time to stop worrying about popping bubbles and instead pop the champagne on the Main Line.
Villanova is in the NCAA tournament.
No, I am not Mike Bobinski, nor did I stay at a Holiday Inn Express last night, but I feel fairly confident speaking on behalf of the NCAA tournament selection committee chair on this one.
Barring something apocalyptic (and if the apocalypse can happen in any college basketball season, I suppose it would be this one), Villanova is in the NCAA tournament.
How could it be otherwise for the Wildcats?
Villanova beat Georgetown on Wednesday night
67-57
, stopping one of the hottest teams in the country in its tracks. Depending on your point of view, Villanova may or may not have gotten a little assistance from a favorable whistle (42 free throws attempted to eight) -- "I'll keep my issues to myself," Hoyas coach John Thompson III said when asked -- but the Wildcats won, and at this time of year, that's all that matters.
[+] Enlarge
Howard Smith/USA TODAY SportsJayVaughn Pinkston's game-high 20 points led Villanova to its third win over a top-five team.
The victory over the No. 5 Hoyas gives Villanova three W's against top-five teams and makes it 4-1 against teams in the Top 25. The Wildcats finish the regular season 10-8 in the Big East, 19-12 overall.
That is an NCAA tournament résumé.
Kentucky, Ole Miss, Southern Miss and Alabama, the crop of first-four-out teams that would be chasing the Wildcats, can't say that. Of that quartet, in fact, none has a single win against a team with an RPI of 25 or better.
"You know what, I would think so," Wright said with surprising candor when asked if he thought Villanova was in. "… We've got 10 wins in this league and some of those wins are high-caliber wins. Even the losses, like Providence, that's supposed to be a bad loss, but they're going to win 10 games in this league so that's not a bad loss. I like where we are right now. I think we're in a good spot."
Yes, there are blemishes, but let he among the bubble dwellers who does not have a blemish cast the first stone.
To Villanova's Columbia loss, Virginia offers Boston College and losses to three teams from the dreadful Colonial Athletic Association. To the Wildcats' ill-timed defeat at the hands of Seton Hall, Tennessee gives you Georgia.
The fact is, there's a lot of ugly out there, but the Wildcats have enough good to counter it.
As for Georgetown, this isn't exactly a deal-breaker. Figuring out who is a No. 1 seed is as difficult as figuring out who the No. 1 team is. The Hoyas' grip on a top seed is slipping, but not entirely through their fingers. Not yet, anyway, with Syracuse still on tap Saturday to finish out the regular season.
Thompson, though, wasn't too interested in tourney talk or fretting. Blessed with the luxury of knowing his team is in, he was more concerned about a more immediate prize -- the Big East regular-season title.
The Hoyas, once in control, now drop into a tie with Louisville and Marquette at 13-4 in the league.
"We needed this game also," said Thompson, whose team fell to 23-5 as its 11-game win streak came to a crashing halt. "We're trying to win a championship and that's just as important. We felt like we were just as desperate."
At this time of year, though, there is desperate, and then there is last-chance desperate. Villanova was last-chance desperate.
When the Wildcats lost to Columbia -- and not just lost, they lost by 18 -- Wright called it plainly.
"We were bad," he said.
The unhappy hecklers in and around Philly found their voices, frustrated with what looked like yet another Villanova season gone south.
Administratively, Wright was never on the hot seat; publicly, he was not exactly the golden child he once was.
But this team is the sort that Wright likes. The players are blue-collar and hard workers, grit sprinkled in with their talent. The Wildcats got better steadily, if not consistently and overwhelmingly.
That said, they still threatened more than once to be their own worst enemy. Villanova followed its unbelievable week of beating Syracuse and Louisville (putting Nova in the tournament) with back-to-back losses to Notre Dame and Providence (out).
Two weeks later, the Wildcats regrouped again, stringing together three consecutive victories, including one against Marquette (in), before losing not only to Seton Hall and Pittsburgh, but losing games they should have won (bubble at best).
"You can't say don't look at it or don't pay attention to it because it's everywhere," Wright said of the tourney talk. "They're going to see it. After we lost to Marquette and Pittsburgh, they all heard people saying, 'Oh you're out,' so we just tell them to control what they can control."
Turns out Villanova actually controlled its destiny, too.
February, 16, 2013
2/16/13
7:15
PM ET
Just last week, NCAA tournament selection committee chair Mike Bobinski hosted the first of a handful of teleconferences heading toward Selection Sunday. It was just a day after
Nerlens Noel
tore his anterior cruciate ligament, so naturally Bobinski was asked how the loss of Kentucky's best player would affect the Wildcats' chance at an NCAA tourney berth.
Here's what he said:
"The reality is we have about 4 1/2 weeks of basketball left to be able to watch Kentucky play and see how they perform without him in the lineup now, and that will really tell the story I think of how we ultimately judge and view Kentucky."
Well, here's what the committee saw:
[+] Enlarge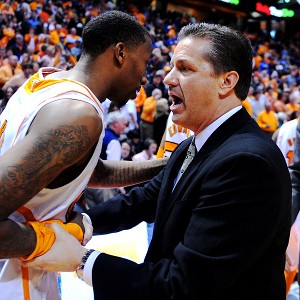 Randy Sartin/USA TODAY SportsA rocky road got worse Saturday for John Calipari and defending-champion Kentucky.
Tennessee 88, Kentucky 58
. Tied for the fourth-worst loss for UK in the past
80 years
. John Calipari's worst loss since Feb. 18, 1989. That was a lifetime ago, in his first season at Massachusetts, when the Minutemen lost to Duquesne by 31. He didn't have quite as many McDonald's All Americans on that roster.
If this were an audition for the tourney bracket, the director would be yelling, "Next!"
Just barely on the bubble to begin with -- Kentucky has zero top-50 RPI wins now that free-falling Ole Miss has dropped to 51 -- the Wildcats were quickly dumped to the First Four Out by Joe Lunardi on Saturday afternoon (remember, even before Noel got hurt, UK was getting essentially run out of the gym by Florida).
There is no question that losing Noel is a huge blow, but it is not just in terms of X's and O's. That Tennessee loss -- and give the Vols credit for playing a near-flawless game (especially point guard
Trae Golden
) -- exposed the real crux of the problem for Kentucky sans Noel.
For most of the season, he has been the only one playing with a combination of consistent ferocity and passion. The rest of the team tends to disappear frequently, lollygags on defense often and shows such dispassionate body language at times that you have to wonder whether the players are clock-watching.
In Noel's absence, his freshman classmates
Willie Cauley-Stein
,
Alex Poythress
and
Archie Goodwin
combined for 13 points, 13 fouls and nine turnovers.
A year after coaching one of the best collections of hard-working, unselfish players, Calipari has a group he cannot cajole, bullwhip or beg into cohesion. It has gotten so bad that the coach spent the week before the Florida game talking about his team's need to find love. Not the Valentine kind, but the bromance of basketball.
Thanks to the cottony soft bubble, Kentucky isn't dead yet. But the Grim Reaper is standing by. The Wildcats have six regular-season games left -- four that can only hurt them (against Vanderbilt, Mississippi State, Arkansas and Georgia) and two that will mean everything (visits from Missouri and Florida).
Noel, of course, won't be there for any of them, but for Kentucky right now, it's more about channeling the way he played.
Some other observations from Saturday afternoon:



1. Opportunity knocked ...
And North Carolina answered. Oklahoma couldn't unlock the door. Stanford didn't hear the doorbell. In what might go down as an ACC bracket-buster game, the Tar Heels topped Virginia,
93-81
. That doesn't officially seal either team's fate, but certainly it's a feather for UNC and a glancing blow for the Cavaliers.
Meanwhile, in the Big 12, Oklahoma blew an 11-point lead and lost
84-79 in overtime
at Oklahoma State, which has won seven consecutive league games for the first time in nearly a decade. It's a body blow for the rival Sooners, who have a confusing NCAA résumé -- an RPI of 20 but a 3-5 record against the RPI top 50.
As for Stanford, Bill Walton quite naturally put it best. Somebody, the analyst said, needs to start watering the roots of the Tree. Just two weeks ago, the Cardinal looked like the team that promised to capitalize on its NIT run from last season, winning three games in a row, including one against hot Oregon. Now, Stanford has lost three of four, blowing show-me opportunities against both Arizona and now UCLA.
[+] Enlarge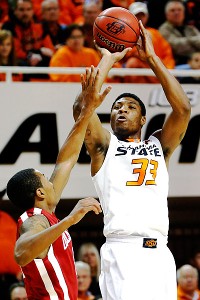 AP Photo/Sue OgrockiFreshman Marcus Smart scored 28 in OK State's rivalry win, the Cowboys' seventh in a row.
2. Pay attention to Marcus Smart:
The Oklahoma State guard might be the most unheralded player in the country right now. Seriously. The reason might be that on their own, none of his numbers jumps off the stat line -- he averages 14.4 points, 5.8 rebounds, 4.5 assists and 3.0 steals per game -- but then go back and look at that list collectively.
He's good at everything. Offense, defense, scoring and sharing, he is the consummate individual player and the consummate teammate. In the victory against the Sooners, he had 28 points, seven rebounds and four assists. Just another day at the office. He's also the reason the Cowboys are poised for their first NCAA tournament bid since 2010. Oklahoma State has won seven in a row. In that stretch, Smart is averaging 19.1 points, 6.1 rebounds, 4.3 assists and 3.4 steals.
3. What would happen if ...
Arkansas and Missouri played on a neutral court? Would the game ever end? Or better yet, would it ever start? Would both teams be turned into pillars of salt, frozen in fear by the unfamiliar, away-from-home surroundings? Give the Hogs credit -- they're now 15-1 at home after squeaking past Mizzou,
73-71
. But neither team can win on the road, which is something the selection committee kind of likes to see every once in a while.

4. Can a player win national player of the year and not make the NCAA tournament?
It has never happened with a Wooden winner, but
Doug McDermott
might be on the verge of rewriting history in a decidedly twisted way. McDermott is continuing to put up huge numbers -- he is averaging 23 points per game and just eclipsed the 2,000-point plateau -- but his team isn't doing much to prove it belongs in the field of 68.
The Bluejays rallied from a double-digit deficit to win
71-68
at Evansville and end their three-game skid. Feel free to celebrate the end of the losing streak, but then realize that Evansville is 14-13 overall and just 7-8 in the league, so skating to a three-point win doesn't exactly inspire a lot of confidence, does it?
In the latest player-of-the-year straw poll of actual voters, collected by Michael Rothstein, McDermott was second behind Michigan's
Trey Burke
. He had 118 points and 21 first-place votes to Burke's 136 and 30 (the poll is done every two weeks), and the next-closest vote getter,
Mason Plumlee
, wasn't even in the neighborhood, with 35 points and only four first-place votes.
Numbers matter in player of the year ballots, but don't think for a minute winning isn't (and shouldn't be) a factor. If Creighton doesn't right the ship well enough soon, it will be interesting to see whether McDermott is part of the collateral damage.

5. Watch out for Providence:
No, I'm not joking. Done in by injuries and down to five scholarship players early, the Friars appeared destined for their annual bottom-third-of-the-Big East finish. Not so fast. Coach Ed Cooley has talent --
Bryce Cotton
,
Kadeem Batts
,
Vincent Council
and
Kris Dunn
-- and now he's getting something out of it. Providence has won four consecutive Big East games for the first time since 2004, including wins against Cincinnati and today's
71-54 victory
over Notre Dame, which snapped a nine-game losing streak to the Irish.
I'm not sure whether the Friars are good enough to keep that streak going -- they go to Syracuse next -- but after too many lean years to count, Cooley has this team headed in the right direction. In a confusing Big East -- explain Villanova, please? -- Providence is good enough to make things even more confounding.
February, 15, 2013
2/15/13
5:00
AM ET
1. Kentucky's NCAA tournament fate is probably closely related to what happened to Purdue in 2010, when the Boilermakers were headed toward a No. 1 seed before Robbie Hummel tore his anterior cruciate ligament in a late-February game at Minnesota. The Boilermakers ended up dropping to a No. 4 seed. Kentucky isn't that high, but the seeding, more than an actual selection, is probably going to take the biggest hit following
Nerlens Noel
's season-ending knee injury. Selection committee chair Mike Bobinski said earlier in the week that there was still plenty of time to evaluate the Wildcats. He also said you can't eliminate what Kentucky has done, either, since the committee looks at the body of work. The Wildcats still have a victory at Ole Miss that isn't going to go away. They can make this all moot with a strong finish in their remaining seven regular-season games, including visits from Missouri and Florida. This has been John Calipari's most challenging season at Kentucky and now it will test him even more.
2. Connecticut's Kevin Ollie should be the Big East coach of the year. But the national honor is likely going to Miami's Jim Larranaga, barring a late-season collapse. The Hurricanes started unranked and are headed for a No. 1 seed-type season -- the hoops version of what Notre Dame did in college football in going from unranked to the national title game. Wisconsin's Bo Ryan would have to be in the conversation as well, as should Indiana's Tom Crean. The freshman-of-the-year chase has to be one of the most competitive, featuring Kansas'
Ben McLemore
, Oklahoma State's
Marcus Smart
, UNLV's
Anthony Bennett
and Arizona State's
Jahii Carson
, among others.
3. Pittsburgh coach Jamie Dixon made a great point Thursday about low scoring in college basketball. Dixon said that teams attempting more 3-pointers has led to more zone defenses and using up more of the shot clock. Of course, he added that teams are defending better and more fouls aren't being called. There are a lot of theories out there about low scoring, but perhaps the most important might be the lack of some fundamental shooting.
February, 12, 2013
2/12/13
5:00
AM ET
1. Outgoing Xavier athletic director Mike Bobinski, who will become the Georgia Tech AD next month and is the current NCAA tournament selection committee chair, made some interesting comments about the Musketeers' future on our
ESPNU college basketball podcast Monday
. Bobinski said if Xavier receives the expected offer from the departing Big East schools to become one of its new members then it would have to listen. It would be situation where there were like-minded schools with a common purpose. He also said that 2014 would be more realistic for any movement while 2013 could be a bit rushed, although everything is negotiable. He didn't say Xavier would definitely leave, but it sure sounded like the Musketeers have given this a lot of thought and are likely gone if asked, whenever that occurs. Xavier and Butler are expected to be first up on the docket to join Georgetown, Marquette, DePaul, St. John's, Villanova, Seton Hall and Providence -- with the choice for a 10th or possibly 11th or 12th coming from a pool of Creighton (MVC), Dayton, Richmond, VCU and Saint Louis (all A-10). Of course, that's the wishful thinking of the departing seven schools.
2. The NCAA tabbed Creighton athletic director Bruce Rasmussen to succeed Bobinski on the selection committee beginning this summer. The NCAA has to have a 6-4 split of FBS to non-FBS schools. The Valley has had representation just once, by MVC commissioner Doug Elgin. Meanwhile, Oklahoma athletic director Joe Castiglione's tenure increased for an additional three years after he finished the term of former Big 12 commissioner Dan Beebe. He will now serve until 2016 Castiglione agonized over the decision to fill Beebe's spot for just a year but was rewarded with his service with a full term. Castiglione has taken this role very seriously and offers a balanced approach to the process.
3. Tuesday marks the fourth anniversary of the crash of flight 3407, a Continental commuter trip from Newark to Buffalo that claimed the lives of 49 people, including former NCAA/Princeton administrator Lauren Maurer. Maurer was the girlfriend of Dayton assistant Kevin Kuwik, a former assistant coach at Ohio State, Butler and Ohio. Kuwik is still an advocate for the victim's families of the crash and has been working tirelessly among countless others on trying to change regional airline legislation (pilot training and rest issues). I've written about this many times and on this anniversary it's good to pause, remember those who perished, and those who continue to fight for their memories and to ensure these accidents don't occur again. I've covered the game since I was in college in the late 1980s and it's hard to find a coach who has more respect and honor than the former Indiana National Guard Iraqi war veteran and now advocate of change, Kevin Kuwik.
February, 7, 2013
2/07/13
5:00
AM ET
1. Resident Bracketologist Joe Lunardi posted his latest projections Wednesday night after Kansas' loss, and he had Arizona as the No. 1 seed in the West and Duke, Indiana and Michigan in the other No. 1 slots. I'm not sure Kansas will get back to the top line or if Arizona will hold its spot, but one thing that seems almost a given is that Indiana and Michigan should be No. 1 seeds. Their meeting Saturday certainly showed that these are two of the top four teams in the country. Michigan's ability to hold off Ohio State was yet another example. Indiana and Michigan will likely lose games yet this season because of the depth and strength of the Big Ten -- but that shouldn't diminish that these are two top-line teams. Meanwhile, Arizona will be in the thick of the chase for a No. 1 spot out West (possibly with Gonzaga). But the biggest question for the committee is what would happen if Miami wins the ACC over Duke but the Blue Devils have the better overall resume? I can't see the selection committee still putting the Blue Devils over the Canes if that occurs.

2. NCAA tournament selection committee chair Mike Bobinski was candid on "Katz Korner" on Tuesday about what to do with teams that have top-10 victories but not as much to show for it the rest of the season. Maybe that's why Lunardi had Illinois and Villanova in his first four out in the latest projections. If you didn't know anything else and heard that Illinois had won at Gonzaga, beaten Butler in Maui and Ohio State at home, you would think the Illini were a lock with those three wins. But the Illini have only two Big Ten wins, making it hard for them to get a tourney nod on body of work. Meanwhile, Nova beat top-five teams Syracuse and Louisville in the same week in Philadelphia ... but also got crushed by Columbia and swept by Providence. Bobinski said these types of discussions about teams like this will be interesting. He also said seeding will be tougher than selections this year.

3. Indiana State coach Greg Lansing was rightfully upset that the Sycamores drew Iona at home for BracketBusters on Feb. 23 instead of getting a team that is more of a lock to be on the bubble or in the NCAA field. But Lansing said he had to focus on winning the Missouri Valley Conference. So, all Indiana State did Wednesday was beat Creighton. Now, with victories over Creighton and at Wichita State and neutral-site wins over Ole Miss and Miami in Honolulu, the Sycamores have a better profile than the Shockers and most other bubble teams. Indiana State's split with the Bluejays and the possibility of a sweep of the Shockers also keeps Indiana State (a game behind Creighton) in the hunt to win the Valley title.
January, 17, 2013
1/17/13
5:00
AM ET
1. The NCAA selection committee met in Grapevine, Texas, at the NCAA convention Wednesday and had to come up with some quirky new rules for the selection-committee chair after Xavier athletic director Mike Bobinski announced he is leaving for the same position at Georgia Tech. Bobinski isn't leaving Xavier until March 22 and won't start at Tech until April. According to the NCAA, Bobinski will be the chair of the selection process but will have to leave the room if Xavier or Georgia Tech is being discussed. He cannot vote for either in the at-large pool (not likely an issue this season). Then, after the first weekend of the tournament, Bobinski will no longer be the chair for the regional final weekend and the Final Four. He will remain on the committee. The 2014 chair, Wake Forest AD Ron Wellman, will assume the role of chair. This is more or less a ceremonial position at that point in the tournament, as NCAA president Mark Emmert still hands out the championship trophy. Bobinski is leaving the committee after the tournament, so there will be only nine members instead of 10 until September, when Bobinski's position and that of outgoing member Joe Castiglione (Oklahoma AD) are replaced. The summer is when future tourney sites are usually selected. Bobinski's position will be taken by an athletic director or conference commissioner from a non-football-playing school or league.

2. In the lead-up to Gonzaga-Butler on Saturday, please don't refer to these teams as mid-major. I will continue to hammer this home, even to the point of being too repetitive. I don't like the term mid-major. I don't like labels. The net is cast way too wide. Is Creighton the same as St. Francis? Not at all. Oh, that's right, St. Francis is low-major. Stop. Gonzaga and Butler both now travel by charter. Their coaches make close to or more than $1 million a year. The fan bases are more passionate than a number of power-six (another label) conference teams. Both of these schools get invites to high-profile tournaments, can land quality home-and-home series and are ranked. These are all things schools like Washington State or Texas Tech or Penn State or Boston College, among others, would love to have to sell. Just because those schools are in a conference with major college football doesn't put their basketball programs at a higher level. They're not. Gonzaga and Butler are high-major (label) programs now. There is nothing mid-major about either one.

3. The Big West had a chance to rise as true basketball conference again with the addition of top-25 San Diego State and a surging program in Boise State. Now both are staying in the Mountain West and won't be joining the Big West. It's great news for the MWC, which, with the addition of Utah State, will remain one of the top six conferences (yes, I believe that). The Big West will now need Hawaii and one of the UC schools to be a regular at the top of the conference to create some consistency and legitimacy in the region. Hawaii has more of a national profile than the UC schools, in large part because it hosts more programs in tournaments like the Diamond Head Classic.
May, 18, 2012
5/18/12
5:00
AM ET
1. Being on the NCAA tournament selection committee has become a bad omen for athletic directors or commissioners keeping their jobs, with a third member losing his day job while on the committee. Last year, Big 12 commissioner Dan Beebe was fired and had to step away from the committee; he was ultimately replaced by Oklahoma AD Joe Castiglione. Then, UConn athletic director and chair Jeff Hathaway was forced to "retire." He had to take a faux consultant job with the Big East to stay on the committee. Hathaway is now the athletic director at Hofstra. The latest to lose his job is SMU AD Steve Orsini, abruptly fired Thursday. Chair Mike Bobinski of Xavier and new NCAA vice president Mark Lewis will now have to huddle to find a replacement for Orsini on the committee. If they stay in the Big East/Conference USA area, they should look at USF AD Doug Woolard, Big East associate commissioner Dan Gavitt or East Carolina AD Terry Holland.
2. Duke coach Mike Krzyzewski said Kentucky's
Anthony Davis
-- the consensus No. 1 pick in the upcoming NBA draft -- brings shot-blocking, something the U.S. Olympic team may need this summer in London. Davis' chances have risen due to the injury to Orlando's
Dwight Howard
. Krzyzewski said Davis isn't "trying out" for the team; rather, Davis is now in the pool of players who may be selected. Krzyzewski said it would be good to get Davis indoctrinated right away into USA Basketball. "He's a great talent and a good kid," Krzyzewski said. "Hopefully we don't get any more guys hurt."
3. Organizers for the Battle 4 Atlantis -- the top non-conference tournament -- won't decide on the bracket until August for the November event. The event, at the Atlantis Hotel on Paradise Island in the Bahamas, could put all eight teams in the NCAA tournament. They are: Louisville, Duke, Stanford, Missouri, Minnesota, Memphis, VCU and Northern Iowa.
May, 11, 2012
5/11/12
5:00
AM ET
1. The National Association of Basketball Coaches board of directors met with NCAA president Mark Emmert on Thursday in Indianapolis and, according to at least one source in the room, there is support to close up a few transfer loopholes. The coaches and Emmert discussed making any player who wants to transfer sit out a year, even if he or she has graduated and is seeking a waiver to play immediately at a school that has a graduate program that isn't available at the current school. The discussion also turned to the waiver that allows a player to play immediately if a relative is ill. That, too, could be closed. The consensus among the coaches is that if anyone transfers, he should sit out a year, even if that means a sixth year in college. The coaches also wanted some sort of universal language on transfer restrictions, maybe even an NCAA rule that forbids transferring within a league. Conferences and schools create their own policies on restricting transfers. According to the NCAA spokesperson, Emmert is going to put together a process to review and make recommendations that includes coaches' input.
2. North Texas athletic director Rick Villarreal said Thursday night that he has a policy that he doesn't release players who have signed with North Texas or leave the program during their career. Conversely, he won't allow his coaches, even new ones like men's basketball coach Tony Benford, to cut a player based on ability. He said the only way a player will be released is if there is an academic or behavior issue. This is relevant because signee
John Odoh
may want to follow former coach Johnny Jones to LSU. Villarreal said Odoh hasn't asked for a release yet. If he does, don't expect a release -- or at least not one to LSU. Villarreal was adamant that Odoh was recruited by Jones with Mean Green funds. Players may leave, but without a release, meaning they would then have to pay their own scholarships.
3. Incoming NCAA tournament selection committee chair Mike Bobinski said that 2013 East Regional sites were discussed Thursday in Indianapolis, and that a decision is due in two weeks. Syracuse and Brooklyn, N.Y., appear to be the favorites. The initial four candidates also included New York City (Madison Square Garden) and Newark, N.J. MSG is booked. Newark hasn't been eliminated yet.
May, 10, 2012
5/10/12
5:00
AM ET
1. The National Association of Basketball Coaches' board of directors is meeting in Indianapolis on Thursday, with the issue of transfers and how to handle the requests as a primary agenda item. The board has some notable names, including Wisconsin coach Bo Ryan, who was involved in a high-profile case in which the player was initially restricted from transferring to a number of schools; Michigan State's Tom Izzo; Pitt's Jamie Dixon; Syracuse's Jim Boeheim; Notre Dame's Mike Brey; and NC State's Mark Gottfried, among others. The NABC doesn't have legislative power but does serve as a lobbying group to the membership -- and can also influence other coaches on how to handle a transfer situation.
2. The men's NCAA tournament basketball selection committee will also meet Thursday in Indianapolis. The primary agenda item, according to incoming chair Mike Bobinski of Xavier, is to determine the 2013 East Regional site. The finalists are expected to be Syracuse and Brooklyn (Newark, N.J., is still technically in, but it would be a surprise since the regional was there in 2011). Bobinski said it is unusual for the site still to be unknown less than a year before the event. The dismissal of former NCAA vice president Greg Shaheen apparently contributed to the site selection delay; Shaheen's replacement, Mark Lewis, will be at the meeting. The original plan was for the tourney's 75th anniversary to have a presence at Madison Square Garden. But the NCAA couldn't make a commitment before the Garden had to turn in its Knicks and Rangers schedules to the NBA and NHL, respectively. The 2013 Final Four is in Atlanta. The other regional sites are set in Los Angeles (Staples Center), Dallas-Fort Worth (Cowboys Stadium) and Indianapolis (Lucas Oil Stadium)
3. New Illinois coach John Groce has added two transfers in
Rayvonte Rice
from Drake and
Sam McLaurin
from Coastal Carolina. The Illini are also busy finalizing their last major non-conference game. Illinois will play Auburn on Dec. 29 at the United Center in Chicago to fill the final significant game on the schedule.
May, 11, 2011
5/11/11
9:45
AM ET
In the transient world of college basketball coaching, this practically qualifies as "Honey, I love you. Will you marry me?"
On Tuesday, Xavier athletic director Mike Bobinski (who hopefully doesn't have to hear references to
Soda Popinski
all
that
often)
and Xavier coach Chris Mack reached what Bobinski called
"the most comprehensive agreement we have ever offered to a head coach at Xavier University." The deal? A seven-year contract extension that will take the second-year coach through the 2017-18 season. Financial terms of the deal were not disclosed to the public.
Mack's agreement with Xavier continues the recent trend of coaches at non-BCS programs -- Brad Stevens, Shaka Smart and Chris Mooney, to name this spring's high-profile examples -- spurning large offers from high-major schools in favor of staying at their current gigs.
In Mack's case, the impetus runs even deeper. Mack graduated from Xavier in 1992, and he deeply believes in the school's and basketball program's mission. More than anything, though, Xavier has proven that it can win as consistently as any program in the nation. It boasts high-level facilities, an excellent fan base, the same Nike contract the big boys get, and -- as Tuesday's deal clearly shows -- an extremely strong commitment to basketball success.
That wasn't always true. Xavier has been good for the past two decades, beginning with Pete Gillen in 1985 and continuing through the tenures of Skip Prosser, Thad Matta and Sean Miller, and on through the present day. But those coaches, successful as they have all been, share something in common: They all left. Mack didn't. With seven more years on his deal, he's unlikely to bolt anytime soon.
In other words: Don't ever confuse Xavier with a mid-major, a stopover for promising coaches on their roads to glory. Those days are long gone now. Xavier is committed to basketball and to Chris Mack, and Mack is committed right back. Comprehensive, indeed.