College Basketball Nation:

Mike Gerrity
December, 15, 2010
12/15/10
1:29
PM ET
By
Diamond Leung
| ESPN.com
Remember Mike Gerrity? (The Pac-10 does because after all this time he's
still the featured player
on the background of their basketball web page.)
The USC point guard became eligible last December and
provided such a spark
as a redshirt senior that the Trojans had the look of possible NCAA tournament team before self-sanctions put that to rest.
Jio Fontan
-- this year's version of Gerrity -- becomes eligible on Saturday when USC plays at Kansas, and while the Fordham transfer's debut is being overshadowed by
Josh Selby
's, Trojans coach Kevin O'Neill is pretty fired up about it.
"He's our best player," O'Neill said. "He's our best leader. He's our best scorer. He's our best defender. He's our best passer. He's our best guard. He's our best player."
So... O'Neill likes his new point guard. Fontan certainly was good as a freshman at Fordham averaging 15.3 points and 4.7 assists before leaving after five games into his sophomore season and
deciding on USC
.
O'Neill said if Fontan had been eligible at the start of the season, the 6-4 Trojans who've lost to Rider, Bradley, Nebraska and TCU would probably be 9-1 or 8-2.
Fontan's abilities should prevent teams from doubling post players
Nikola Vucevic
and
Alex Stepheson
while providing relief for the freshman backcourt of
Bryce Jones
and
Maurice Jones
.
Fontan is said to have gotten himself into shape after the long layoff from playing and will now attempt to have a Gerrity-like effect on the Trojans.
And in a Pac-10 where teams are jostling for position behind Washington and Arizona and USC is once again eligible for postseason play, that might be all the Trojans need to make some noise.
June, 10, 2010
6/10/10
6:37
PM ET
USC was finally healthy, had
Mike Gerrity
eligible to play the point and appeared to be a real contender for the Pac-10 title after beating Tennessee and sweeping its way to the Diamond Head Classic title with wins over Saint Mary's and UNLV in late December.
[+] Enlarge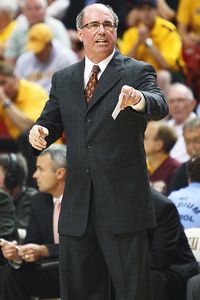 Doug James/Icon SMIKevin O'Neill is relieved the NCAA didn't impose any more sanctions on his program.
But information started to seep out to the USC administration about the pending February hearing in front of the committee on infractions. The school had to act to avoid future penalty and opted for a postseason ban, an immediate one for the ensuing March.
The decision crushed seniors like Gerrity and
Dwight Lewis
, but new coach Kevin O'Neill knew it was the right move.
"I thought it was the right timing, I really did," said O'Neill on Thursday, following the NCAA's committee on infractions' announcement of the penalties against USC's men's basketball, football and women's tennis.
"I thought [USC athletic director] Mike Garrett did the right thing. I thought we did the right thing and then I thought the hearing went well."
In rebuilding a program, O'Neill couldn't exactly recruit easily with the possibility of a postseason ban in 2011 and beyond. He still feared another hit, one more year of a postseason ban.
"I know this, had we been hit with another year of postseason ban, our program would have been in shambles," O'Neill said. "I definitely was concerned that we might get another year, especially as long as it went [from Feb. 18 to June 10, long past the six-to-eight week timetable given normally by the COI]. That was my concern -- the time."
In the end, the COI upheld the self-imposed sanctions on the men's basketball team of the postseason ban and the reduction of a scholarship in each of the past two seasons (from the maximum 13 to 12). Imposing sanctions is the reason basketball was spared and why football was hit. It is a lesson that Connecticut, next up on the COI docket in October for men's basketball, may need to heed.
The one additional thing that the COI hit USC on -- and it shouldn't be hard to enforce -- was to limit locker room access to those employed by USC. Former O.J. Mayo handler Rodney Guillory had access to the locker room.
When reached Thursday, O'Neill was adamant that he wouldn't recruit any player that had "handlers," where the possibility of illicit behavior is always present. The COI report details how the previous men's basketball staff was warned about the situation, including that the "travel team coach" of the former student-athlete [Mayo] wanted a "future payday."
"I couldn't put myself in that situation since I wasn't there. I wouldn't know how to react to that," O'Neill said. "I wouldn't put myself in that position. I know all of us [in college coaching] have felt those positions, but for me in this instance it's hard to comment."
Despite the uncertainty, the Trojans have kept pace on the recruiting trail. USC picked up two significant transfers in Fordham's
Jio Fontan
, who will almost certainly start when he becomes eligible in mid-December, and former Iowa starter
Aaron Fuller
, who will sit out next season.
O'Neill's staff also secured impact freshman guards Maurice Jones and Bryce Jones, as well as center DeWayne Dedmon, a JC center who might redshirt once he comes in at mid-year to preserve more eligibility. Forwards
Curtis Washington
and Garrett Jackson will also help.
For the class of 2011, the Trojans picked up verbal commitments from ESPNU100 players Byron Wesley out of Etiwanda High (Calif.) and Gelaun Wheelwright of Centennial High (Calif.).
But more important was the ability to keep returning players
Alex Stepheson
,
Nikola Vucevic
and
Marcus Simmons
when they could have left without knowing the sanctions.
"We did lose a recruiting class," O'Neill said of last year's touted class dispersing after the resignation of Tim Floyd. (Many of them ended up at rival Arizona while another went to Clemson.)
"We had to be creative in our recruiting with someone sitting out at mid-year and another coming in mid-year to get us moving forward," he added. "Hopefully this will all balance out. What it does show is the power of USC as an institution and for me that was refreshing to see."
So what of Floyd? Paul Dee, the chair of the COI, was clear on the conference call that Floyd was not found to violate any rule. As for the charge that Floyd paid Guillory $1,000 in Los Angeles in the year prior to Mayo's arrival, Dee said the COI "didn't make a finding on that issue."
In a press release early Thursday evening, Floyd's attorney, Jim Darnell, made note of the cover letter sent to Floyd by the NCAA that read, "The committee did not name you in any findings of violations or impose a penalty upon you."
"As Coach has wanted to say publicly for a long time: It didn't happen," Darnell said through the release. "We are pleased at this outcome, but certainly not surprised. The Committee did its work and reached the right conclusion."
UTEP had to know that Floyd would not be found to have a show-cause penalty when it hired him to replace Tony Barbee, nearly a year after Floyd abruptly resigned from USC after what he said was a lack of support from Garrett, not an admission of guilt.
O'Neill said he talked to Floyd, whom he considers a friend, when he took the job and now was looking forward to opening up the lines of communication again.
"I'm happy things worked out for him," O'Neill said. "It's great for him. It has all worked out the right way for us here."
February, 4, 2010
2/04/10
11:36
PM ET
LOS ANGELES --- Arizona has the best young talent in the Pac-10.
But it shouldn't be close as to which team has the most experience.
Cal is still the pick to figure out a way to win the Pac-10.
No other team has as experienced a pair of guards as
Jerome Randle
and
Patrick Christopher
with
Theo Robertson
as the third option.
Of course depth is an issue with the Bears, but there's no reason why Cal shouldn't find a way to win the regular-season and be in play for a bid.
Or is there?
Well, as the first half was unfolding here at the Galen Center it became clear once again that the Bears have to make perimeter shots or they don't win.
That has been the issue for this squad. Like some other higher-profile teams that were supposed to be more consistent (like North Carolina or Connecticut) the Bears can't have an off night and expect to win.
Cal took a 30-27 lead into the half but the Bears had to grind it out as has been the case in the Pac-10.
Randle can be a streaky shooter as can Christopher, but they both can find a way to get into the seams of the Trojans' defense for layups.
Some other quick thoughts:
Mike Montgomery must be constantly perplexed by some of the quick shots that the Bears take either from the perimeter or inside. Monty had been such a disciplinarian at Stanford for shot selection.
USC's Mike Gerrity is still a calming presence, but isn't dominating the games in the Pac-10 the way he did when he first became eligible.
USC manager Stan Holt is back on the bench. He was reinstated after an ill-timed technical at Oregon led to a Ducks' 10-0 run and ultimately a USC loss in Eugene last Saturday. Kevin O'Neill said he believes in second chances. Holt looks like he doesn't want to do anything wrong. He's ready with the timeout chairs and sprints out to deliver them.
Cal's Jamal Boykin has really improved his face-up game, hitting a few jumpers. If he continues to do this, the Bears will have a shot to win the Pac-10 tournament at the Staples Center next month.
Monty is playing zone to mess with USC.
I'm impressed by the crowd on a Thursday night to see Cal play a Trojans' team that isn't going to the postseason.
USC athletic director Mike Garrett is in the front row on the end line. It's amazing how he has survived a number of controversial hires and multiple NCAA investigation. The Heisman is a powerful trophy.
USC has spunk and doesn't quit. That's a sign of an O'Neill coached team. There is actual noise here at the Galen Center. I still contend that this could one day be quite a home court.
January, 7, 2010
1/07/10
1:45
AM ET
By
Diamond Leung
| ESPN.com
PALO ALTO, Calif. - USC's chaotic week is only halfway over, and fittingly, their game Wednesday night ended in a mad scramble.
Bodies flew, tip-in attempts failed, the buzzer sounded, and the scoreboard read
Stanford 54, USC 53
.
Nikola Vucevic
pulled his jersey over his head in frustration.
Leonard Washington
sprawled on the court, his face buried in his hands.
On Sunday morning, the Trojan players learned that there would be no postseason. Tonight, in a battle between the teams slotted ninth and 10th in the preseason Pac-10 media poll, USC didn't look very NCAA-tournament-like anyway.
Coach Kevin O'Neill offered no excuses.
"For me, the news (of self-imposed sanctions) had nothing to do with this game," he said. "It's unfathomable to me that we would play like we did in the first half.
"I thought we had a total lack of effort in the first half. We were awful."
The Trojans woke up with 66 seconds left in the game, when they trailed by seven points. Improbably, with 32 seconds to go, they tied the game.
But with 10.6 seconds left and USC looking to force overtime, Washington fouled
Jarrett Mann
on a reach-in with his team in the double-bonus.
Mann missed the first free throw and made the second.
Mike Gerrity
tried a runner to win it, and by the time the scrum under the basket was over, USC's eight-game winning streak had ended.
The good news?
It's hump day.
January, 3, 2010
1/03/10
3:23
PM ET
By
Diamond Leung
| ESPN.com
USC has
announced self-imposed sanctions
that include banning its current 10-4 team from postseason play due to NCAA rules violations the program committed involving one-and-done guard O.J. Mayo.
The timing of the announcement is devastating to a team that has established itself as a legitimate contender for the Pac-10 regular-season title. The Trojans, using a stifling defense and a new point guard, have won eight in a row and could receive national poll recognition on Monday after beating Arizona State last night, 47-37, to complete a home sweep of the Arizona schools.
Coach Kevin O'Neill told ESPN's Kelly Naqi that athletic director Mike Garrett told him of the sanctions after last night's game when the Sun Devils were held to a low of 37 points in a single game for the second time since the 1949-50 season.
O'Neill told Naqi he met with the players this morning who were "stunned, shocked, disappointed."
USC not only is out of the Big Dance, but also won't even get to play in the Pac-10 tournament. It's an especially cruel blow to seniors like
Mike Gerrity
,
Marcus Johnson
and
Dwight Lewis
.
The Trojans will vacate all 21 wins during the 2007-08 season under coach Tim Floyd when Mayo played while ineligible. Also, there will be a reduction of one scholarship for the 2009-10 and 2010-11 academic years as well as limitations in recruiting activities.
"I think the University did the right thing in self-imposing sanctions," O'Neill said in a statement. "I respect and understand the action that was taken. Our players have risen to many challenges already this season and I am proud of what they have accomplished. I am confident that they will rise to this latest challenge.
"As their coach, I will do everything in my power to make our program better on and off the court every day. Our job as a team now is to move forward in a positive manner. We have 16 games left to play this season. I have no doubt that our players will prepare and play well in those games. While it is unfortunate that our players won't have the chance to compete in the postseason, that just makes every game for us now a postseason game."
According to USC, Mayo became ineligible because of
his involvement with Rodney Guillory
, who under NCAA rules became a USC booster due to his role in Mayo's recruitment.
Floyd, who was not mentioned in the release, had also been
accused of giving money to Guillory
in 2007. Floyd resigned in the offseason, and O'Neill has said that an ongoing investigation "
has basically taken over our team
, since we lost so many players," with recruits backing out of their commitments.
But O'Neill is surprising people with his current team, which dominates on defense. Gerrity has been a revelation since becoming eligible and taking over at point guard.
Leonard Washington
became academically eligible, and along with transfer
Alex Stepheson
, the two have been tough in the paint. Also playing inspired basketball are Johnson and
Nikola Vucevic
.
Like it or not, their season ends March 6.
"When we've done something wrong, we have an obligation to do something about it and that is exactly what we are doing here," Garrett said in a statement.
December, 28, 2009
12/28/09
5:36
PM ET
By
Diamond Leung
| ESPN.com
The
Pac-10 today named
USC point guard
Mike Gerrity
its player of the week, which is nice.
Gerrity transferred from two schools to get to this point, and since becoming eligible this month, the Trojans haven't lost with the redshirt senior quarterbacking the offense and averaging a team-leading 14.8 points per game. Two ranked teams, Tennessee and UNLV, have been toppled in the process.
There are plenty of indicators that the 6-foot-1 Gerrity is becoming a big man on campus.
December, 26, 2009
12/26/09
11:45
AM ET
A few weeks ago, in a previous life,
I wrote the following about USC
:
Like a beautifully rendered post-apocalyptic landscape, you won't be able to help checking in on the Trojans. [...] These are not last year's USC Trojans. The reasons for this are obvious: Tim Floyd resigned his position amidst a Yahoo! Sports report that he had a very dirty hand in O.J. Mayo's recruitment, and Floyd chose not to fight the impending NCAA investigation into USC's entire athletics program. Instead, he fled, leaving his players to transfer and recruits to choose elsewhere. USC, with its brand-new stadium and shiny uniforms and big-program sheen will look an awful lot like D.C. in "Fallout 3." What was here before was beautiful, but the destruction has an attraction of its own.
I hate reading my old writing, so realize how difficult that was for me. Why, yes, I do want a cookie. Thank you.
Anyway, the point is that USC wasn't supposed to be good. It wasn't even supposed to be marginal. USC was a program in distress, a bombed-out and depleted facsimile of what Tim Floyd spent years building and then, if reports of his involvement in the dirty specifics of O.J. Mayo's recruitment are correct, destroying. The Trojans look different. They're being coached by Kevin O'Neill, who by all accounts
is not a player's coach
, and that's putting it very politely. They have a fraction of the talent left over from last year's team.
And yet, don't look now, but USC might still be OK. Downright good, even. I know, I know. It's weird. But it's true. After all,
USC just cruised to an easy win over No. 20 UNLV
at the Diamond Head Classic. That would be interesting enough, but it follows the Trojans' 22-point win over Tennessee on Dec. 19. That was guard
Mike Gerrity
's first game since his transfers from Pepperdine and Charlotte. Gerrity was granted a waiver by the NCAA to play against Tennessee, and the Trojans are mighty thankful for his services.
Alongside the return
of academically suspect forward
Leonard Washington
-- also
the name of a classic Chappelle's Show character
, and that never hurts -- the Trojans have
serious basketball people asking seriously
: Can USC actually win the Pac-10? Maybe?
Maybe not. Let's not get ahead of ourselves. But the Trojans have cleared at least one hurdle: they're decidedly
not
awful. Post-apocalyptic landscape this is not.
December, 23, 2009
12/23/09
4:27
PM ET
By
Diamond Leung
| ESPN.com
USC forward
Leonard Washington
was declared eligible today, according to a team source, just in time for a showdown against one-loss Saint Mary's at the Diamond Head Classic, which tips off in about half an hour.
Washington, a sophomore, sat out the first semester due to academic issues, but his grades were posted this morning. He made 13 starts for the Trojans as a freshman.
With point guard
Mike Gerrity
now eligible as well and leading the team, it's all coming together for the Trojans just in time for the Pac-10 season.
Andy Katz had an
in-depth story on USC
, with coach Kevin O'Neill talking about his team's prospects. O'Neill also the other day
chatted with fans at ESPNLosAngeles.com
.
December, 20, 2009
12/20/09
1:51
AM ET
Was this just a post-finals funk? Something was amiss Saturday.
While the more traditional and somewhat predictable teams held serve -- like Texas running away from North Carolina, Duke playing harder and defending tougher than Gonzaga and top-rated Kansas holding serve once again at home -- there seemed to be something askew across the land.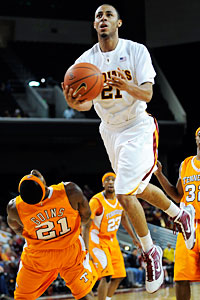 AP Photo/Mark J. TerrillDwight Lewis led all scorers with 21 points in Saturday's win.
The Pac-10, which was headed for an abyss, managed to pull off the biggest stunner of the day. USC pounded SEC East title contender Tennessee at the Galen Center in what was the most lopsided loss of the Bruce Pearl Era. The USC staff had stated privately that transfer guard
Mike Gerrity
would be a huge lift once he got eligible. Having a healthy
Alex Stepheson
in the post was also supposed to be a major lift.
Well, Gerrity was 10-of-11 at the free throw line, with 10 assists (and six turnovers) and Stepheson was a force in the middle with 19 points and 15 boards. The win over the Vols is by far the best nonconference win of the season for the Pac-10 -- the first against any ranked team.
The Trojans are a long shot to get an NCAA at-large berth after losing at Texas, Georgia Tech and at home to Nebraska in its other power six matchups. But with the way the Pac-10 is wide open, why not give the Trojans a shot if they have somehow figured out how to play going forward, especially with Kevin O'Neill settling in as head coach.
Some more observations on a wacky Saturday of hoops:
Florida, which won rave reviews after wins over Florida State and Michigan State, didn't lose much cachet with a loss to title-contending Syracuse last week in Tampa. But, while Richmond is a threat to win the Atlantic 10, Saturday's game was in Sunrise, Fla. The 56-53 victory by the Spiders, who already had wins over Missouri and Mississippi State, proves they are truly a conference contender and that the Gators have to be considered a step below Kentucky at this juncture.

Georgetown should stop inviting Old Dominion to McDonough Gym. For the second time in three years, the Monarchs beat the favored Hoyas on GU's campus. ODU was the preseason CAA favorite, but hadn't done much thus far to warrant an in-season tab. This certainly helps.

Seton Hall suffered the fate as other teams that have added a key player midstream (see UTEP and BC) by losing at home to Temple on the day Keon Lawrence and Jeff Robinson became eligible for the Pirates. Temple has now knocked off two Big East teams from the ranks of the unbeaten: Seton Hall and Villanova.

The A-10 continues to be one of the deeper conferences in the country as Richmond, Temple, Xavier, Charlotte, Dayton and Rhode Island have all made their marks so far this season.

It's pretty clear Illinois isn't ready for prime time yet, despite the incredible comeback win at Clemson a few weeks ago. Losing to a mediocre Georgia team won't spark massive confidence in Champaign.

Give Herb Sendek five full days to prepare for a game and you get quality results. Arizona State beat San Diego State by three in Tempe. Over the last three seasons, Sendek is 10-1 when given a week of prep.

Hope everyone caught the crazy endings in Boston (UMass beating Memphis on a Terrell Vinson freak layup that bounced into his hands with 0.7 seconds left) and in Indianapolis (Butler beating Xavier with 1.2 seconds left on a Gordon Hayward layup that was nearly as opportunistic as Vinson's, before a clock controversy that should have the X fuming).

Wofford must be pretty good to nearly beat Pitt, take out Georgia and then beat South Carolina 68-61, ending a 21-game losing streak to the in-state Gamecocks. South Carolina just isn't the same team without Dominique Archie.

Remember the name Robo Kreps. He had quite a week. The Illinois-Chicago junior beat Oregon State on a runner in the final seconds earlier in the week and then led UIC to a 20-point win over Northern Illinois on Saturday. The Flames, now 3-6, had only beaten Division 3 Illinois-Springfield prior to this week.

Mississippi State's Jarvis Varnado is quietly putting together another great season. In a six-point win at Houston, he contributed 13 points, 17 rebounds and 5 blocks, including one in the final minute that put away the Cougars for good. It was a nice road win for the SEC on an otherwise forgettable day.

Washington smacked Portland by 35, officially ending the early-season crush on the Pilots and proving that the Huskies might have something going after all.

Wichita State is back under coach Gregg Marshall. The Shockers are 10-1 and handed Texas Tech its first loss of the season. Clevin Hannah scored 24 points. He was suspended for the only Shocker loss, to Pitt in Kansas City in the CBE semifinals. Wonder what would have happened if he'd played?

What was West Virginia doing going to Cleveland State? Not sure, but at least the Mountaineers got out with a two-point win to preserve a potential undefeated showdown at Purdue on Jan. 1.

Eastern Washington won at Utah earlier this season and lost on a 3-pointer in the closing seconds at Nevada on Thursday. That heartbreaker must've taken a lot of the Eagles. How else to explain a 91-34 annihilation at BYU? EWU went 10 minutes without a point at one stretch, as the Cougars used a 33-0 run to lead 55-14 at halftime. Ouch.

After a win over Rick Majerus and Saint Louis, Missouri State is 10-0. Let that sink in. It doesn't mean as much as Northern Iowa's one-loss record since the Panthers have more quality wins. But at least it makes the Valley even more interesting.

Get to know Darington Hobson. The New Mexico junior put together another double-double (22 pts, 16 reb) and helped lead his still-unbeaten Lobos (12-0) from 16 down to a 66-61 win over Creighton at the Pit.

Don't look now, but Northwestern is 9-1. The Wildcats beat back Stanford 70-62 as John Shurna (22 points, 8 rebounds) continued to be the newfound star for the Wildcats, who are on a quest for their first-ever NCAA tournament berth.