College Basketball Nation:

Mike Gesell
February, 10, 2014
Feb 10
11:00
AM ET
Does the Big Ten owe Tom Crean lunch?
On Saturday afternoon, during Iowa's ruthless home rout of Michigan, ESPN analyst Dan Dakich hit on a key insight.
Convention would dictate that a coach should check Michigan guard Nik Stauskas with as tall a wingman as he had available -- the better to challenge Stauskas, who spent all of January destroying Big Ten defenses, on the perimeter. But Dakich noted that when Indiana played (and beat) Michigan, Crean used a much shorter player -- 5-foot-11 point guard Yogi Ferrell -- on the Wolverines' star. Crean didn't make this decision out of necessity: 6-foot-7 Indiana wing Troy Williams might be the Hoosiers' best all-around defender, and he would have been convention's perfect candidate. But Ferrell's quickness, his ability to stay inside Stauskas' comfort zone, made him a constant nuisance. Stauskas, who had averaged a scorching 131.0 offensive rating since Dec. 21, who blew kisses to the Breslin Center, who was unstoppable ... finished with six points on 1-of-4 shooting. It was his worst game of the season.
[+] Enlarge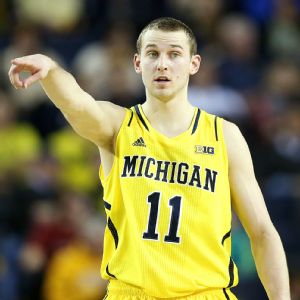 Leon Halip/Getty ImagesPutting smaller, quicker guards on Nik Stauskas has neutralized Michigan's star guard the past three games.
Did Crean crack the code? Michigan's two games since are suggestive. Stauskas finished with nine points against Nebraska Wednesday; he didn't attempt a two-point field goal, but then again he didn't have to. (Michigan won 79-50 in 63 possessions.) Iowa coach Fran McCaffery followed Crean's lead on Saturday, though, using 6-foot-1 guard
Mike Gesell
as opposed to
Roy Devyn Marble
, the obvious size-for-size matchup. It worked: Stauskas used just 11 of Michigan's 64 possessions and finished 3-of-6 from the field with four turnovers. Among the Wolverines' many problems Saturday was a star scorer suddenly detached from the offense going on around him.
Say what you want about the frustrating, stop-start 2013-14 Indiana Hoosiers, but it would appear their coach did the rest of the Big Ten a solid.
Of course, Stauskas was probably due for a natural regression at some point. He was never going to sustain 45 percent shooting from 3 and 60 percent from 2. Maybe that regression came along on its own, and teamed up with Crean's unconventional strategy. Maybe? It's hard to tease exactly all of this out.
But there is clearly something to the idea of chasing Stauskas around the court with a small, quick, aggressive man-to-man defender. He is more likely to turn the ball over. He is less likely to get to the rim. He may see 3s more easily, but when he was tearing opposing defenses apart in January, any of them would have begged to turn Stauskas back into the semi-manageable spot-up shooter they had to worry about a year ago. Better that than unstoppable all-court destruction, you know? Better him be uncomfortable. Better to take away something.
Ohio State, for all of its issues -- and it another of those inconsistent Big Ten teams with massive, glaring flaws -- does one thing extremely well: perimeter defense. Aaron Craft and Shannon Scott are excellent perimeter defenders, and Lenzelle Smith Jr. and Sam Thompson aren't far behind. As a group, the Buckeyes force Big Ten opponents into turnovers on nearly 21 percent of their possessions. OSU opponents also shoot the worst percentage in the league (28.6) from 3, and that's when they even get a shot off, which isn't often (just 30.6 percent of shots against the Buckeyes are 3s, second fewest in the Big Ten). The Buckeyes' offense is occasionally a train wreck; it's usually pretty tough to watch. But Ohio State's defense is still a nightmare for opposing guards.
If you're Stauskas, there is no worse way to break out of a three-game mini-slump than having Craft and Scott chase you around the perimeter. Whether the league's coaches have figured out an antidote is almost beside the point. Ohio State had one ready all along.
January, 6, 2014
Jan 6
1:31
AM ET
MADISON, Wis. -- He defended the costly, ill-timed tirade. That's what players do.
The leader knew what he was doing, he said.
The coach just wanted to change the vibe, he said.
The man on our sideline is always right, he said.
"It got us riled up," Iowa point guard
Mike Gesell
said. "Got us excited as a team. I wouldn't say it was a negative thing or anything like that. We all trust in Fran. We all trust in what he's doing. And we know that everything he does is for the best."
He's wrong. That wasn't best for the team.
Fran McCaffery's outburst and subsequent ejection in No. 22 Iowa's 75-71 loss at No. 4 Wisconsin on Sunday night disrupted the Hawkeyes as they pursued the best win of their head coach's tenure.
After the game, McCaffery implied that the first technical foul was a deliberate attempt to jolt his program. But his team had the lead against an undefeated Badgers team when he decided to lose it.
He could've used that energy to outcoach Bo Ryan -- he did that in a first half that ended with Iowa leading by 11 -- down the stretch. Instead, McCaffery unleashed a soon-to-be-viral wrath of anger that led to a pair of technical fouls and an ejection midway through the second half.
Wisconsin made five of its six free throws -- four attempts for the two technical fouls, two for a foul against
Gabriel Olaseni
-- and seized an advantage that it never relinquished.
McCaffery denied that he had made contact with an official and did not expound on the incident in his postgame news conference. But Big Ten officials in Chicago will have the final word on that.
The tantrum after the tantrum was even worse than the initial eruption. Earning the first technical foul might have been a scripted attempt to energize his team. But the display that resulted in the second technical foul was an exorcism.
An uncontrollable McCaffery had to be restrained by assistant Andrew Francis as he charged toward officials multiple times before he ultimately left the floor.
After the game, McCaffery expressed some remorse, although he refused to discuss specifics.
"I can't address that, as much as I would like to," he said.
"I think what I feel bad about is getting a second one. I think the first one, I think it's safe to say that I kind of went after that one a little bit. The second one, I'm not so sure about that."
Iowa didn't need that.
McCaffery has worked hard to mold this program since his arrival in 2010. The Hawkeyes have the pieces to contend for the program's first NCAA tournament berth in years. He has an 11-man rotation.
Former Wisconsin forward
Jarrod Uthoff
, a double-digit scorer most nights, comes off his bench.
Peter Jok
, the top recruit in the state of Iowa last year per RecruitingNation, didn't even play against the Badgers.
There were no guarantees that Iowa would have left Madison with a win if McCaffery had managed to avoid an ejection. But we'll never know.
And that's not fair to Iowa or Wisconsin.
The Badgers deserve praise for their second-half turnaround. The same team that registered 24 points in the first half and began the game with a 1-for-13 clip, somehow outscored the Hawkeyes 51-36 after halftime. The Badgers won by four, even though they were outscored 36-12 in the paint. They went 6-for-9 from the 3-point line in the second half. And Iowa couldn't stop
Ben Brust
, who scored all 19 of his points after halftime.
This resilient bunch might be the best squad in the Big Ten.
But McCaffery's temper wouldn't allow the Hawkeyes to prove that they're contenders, too.
It was not the first time that McCaffery's emotions had been problematic. He
slammed a chair during a loss to Michigan State
in 2012. As Siena's coach, he was ejected from a game against Hofstra in 2006. His wife, Margaret, was kicked out of the game, too.
If 100 is the emotional threshold that warrants a technical foul, McCaffery certainly coaches in the 90s most games. And he's not alone in that.
Fiery coaches are plentiful throughout college basketball. And sometimes the nose-to-nose, technical-foul worthy productions are viewed as necessary tactics that inspire players.
That's part of the problem.
Coaches are called strategic when they draw technical fouls. Players are immature when they do the same thing.
If McCaffery were a significant Iowa player who'd been ejected with his team holding the lead in a crucial Big Ten road game, he'd be called a hothead. He'd be blamed. And probably disciplined.
Maybe he'd be benched by his head coach. Maybe he'd have to wake up early and run laps.
But what recourse does a player have when his coach deserves the scolding and punishment?
"It helped us out, so I'm not complaining," guard
Josh Gasser
said after the game.
In the final seconds, Gesell dribbled into Wisconsin's web and nearly lost the ball.
He seemed rushed and uncertain. But he recovered.
The Hawkeyes were down by four points then. And Gesell missed an unnecessary 3-pointer from the corner with 1:15 to play.
Sam Dekker
drew a foul and scored -- Iowa failed to sprint to the other side of the floor -- and stretched Wisconsin's lead to seven points.
Somewhere in the bowels of the Kohl Center, McCaffery found a TV and watched his best Iowa team fall short on the road.
He had coached his players to play smart basketball.
He had instructed them to stay tough on the road against a talented, relentless team.
They had obviously listened. They had the unblemished Badgers on the ropes. They had won the first nine rounds of this Big Ten bout.
But then, McCaffery left the floor.
He didn't invigorate the Hawkeyes, though.
He abandoned them.
December, 14, 2013
12/14/13
2:14
AM ET
Iowa State's 85-82 victory over Iowa on Friday night was many things.
It was a seminal moment, a truly great game, and a line of demarcation for two basketball programs that haven't had a truly marquee rivalry game since 1987, in a state that really does love basketball -- if you give it a little nudge.
Iowa State 85, Iowa 82 was also a thrilling, high-speed affair. It was 40 minutes of sheer, evenly matched entertainment. It was a clear indication that, in their twin streaks to national prominence, both the Cyclones and the Hawkeyes have not only become good but somehow become have done so at exactly the same time. It was a gigantic vibrating cardinal-and-gold love-in, or a high-decibel world-record attempt, or both.
It was, more than anything, a great win for Iowa State and coach Fred Hoiberg, which is starting to become a habit.
And it was a brutal, heartbreaking, kick-in-the-teeth kind of loss for Iowa -- a glaring, gobstopping missed opportunity for a team that was sure it kicked that tic in 2012-13.
Perhaps the most frustrating part for Iowa fans is the inability to direct frustration. Viewed from a more remote, detached perspective, Friday night's loss was less a breakdown than a very good 40-minute effort in a difficult road environment that came down to 13 seconds and two statistically advantageous circumstances, all of which went Iowa State's way.
[+] Enlarge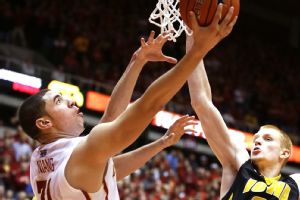 AP Photo/Charlie NeibergallGeorges Niang scored 24 points as Iowa State pulled out a tense 85-82 win over in-state rival Iowa on Friday.
The first, with 13 seconds left, is sure to live in Cy-Hawk lore for years to come. After Iowa State's
Georges Niang
made a baseline reverse layup (one of his apparently endless supply of post moves) to put the Cyclones up a point, Iowa point guard
Mike Gesell
pushed the right side of Iowa State's defense and got a shockingly quick foul call to put him on the line. It was a heady play, and a mental error by the Cyclones; it put an 80 percent free throw shooter on the line with a chance to reclaim the lead.
Instead, Gesell -- facing a storm of noise at Hilton Coliseum; "You could feel the vibrations in the building again," Hoiberg said -- missed the first. He rimmed out the second.
Iowa still had a chance. After the Cyclones' Dustin Hogue made two foul shots to put the Cyclones up by three, Gesell advanced again. The Hawkeyes ran a pretty simple wing-screen set and got a shockingly open look for guard Zach McCabe. Down three, with overtime on the line, it was the kind of look college basketball teams never, ever get. Iowa got it, and got it for one of the best shooters in the country to date this season -- a 48.5 percent 3-point shooter. McCabe was lined up. He was square. His shot rimmed out, too.
How do you even get mad about that? Where do you direct your anger? The gulf between process and outcome can be vast. Even with Iowa's issues down the stretch in the second half, it got the shots it needed to get to win the game. They didn't go in. What are you going to do?
All of which takes nothing away from Iowa State. The Cyclones trailed for longer during the game than Iowa did, but not by much; in any case, you knew the run would come. That is the chief strength of Hoiberg's program: The Cyclones have become so skilled and versatile on the offensive end that no gap seems too large for them to close before the end of regulation. The ensemble setup also allows them to cover for sudden productivity dips.
Friday was a perfect example. Guard DeAndre Kane, Iowa State's best player to date, shot just 1-of-6 (albeit with nine assists). But Niang and Melvin Ejim combined for 46 points, 7 assists and 9 rebounds. No worries, right? Meanwhile, Hogue -- a junior college transfer grabbing 26.4 percent of available defensive rebounds, and shooting 67 percent inside the arc -- added 16 boards and 12 points. And while all of the Cylcones have slightly different strengths, they are thrillingly non-traditional: Kane is a big, versatile ballhandler who can hold his own in the lane; Ejim is an undersized forward who uses his quickness to his advantage; Hogue might be one of the best rebounders in the country at 6-foot-6; and Niang is one of the quirkiest and most unclassifiable stretch-point-forward players in recent college hoops memory.
The combination works. With a road win at BYU and a home win over Michigan under its belt, Iowa State's win over the Hawkeyes was its third genuinely impressive victory of the season.
Iowa, despite all available evidence of its quality, can not say the same.
Friday night's three-point loss is unlikely to hurt this Iowa team the same way last season's series of close losses did down the stretch. The Hawkeyes were much younger and on the bubble then, fighting a desperate uphill battle against their own soft RPI. This year's team is older, deeper, stronger, and more balanced, especially with the addition of Wisconsin transfer Jarrod Uthoff. Iowa should be fine.
Even so: Iowa's two best chances for nonconference plaudits this season were an overtime loss to Villanova, 88-83, in the Bahamas, and Friday night. The Hawkeyes played good basketball; they are good. But they still missed on both.
So you can excuse Iowa fans if they don't quite feel up to the spirit of the occasion. Iowa State 85, Iowa 82 was a lot of things Friday night, from the basketball to the atmosphere to the symbolism of both programs' recent history. But for Iowa fans, it was another missed opportunity -- another instance of a bad habit everyone involved would be more than happy to correct.
April, 4, 2013
4/04/13
11:32
PM ET
NEW YORK -- Quick thoughts on Baylor's
74-54 victory
over Baylor in Thursday's NIT title game at Madison Square Garden:


What it means:
Baylor is your 2013 NIT champion -- the first Big 12 team ever to win this tournament.
Baylor (23-14) had a disappointing regular season. The Bears were ranked No. 19 in the country in the preseason, coming off a berth in the NCAA tournament's Elite Eight a year ago. They didn't even make the Big Dance this time around but finished the season on a high note.
Iowa (25-13) was on the bubble on Selection Sunday and didn't make the NCAA cut, but collected four wins and some valuable experience the past couple of weeks.
The turning point:
After Iowa's
Roy Devyn Marble
scored the first bucket of the game, Baylor scored nine consecutive points and led the rest of the first half. It took the Bears' leading scorer,
Pierre Jackson
, almost 15 minutes to collect his first point. But Baylor still led 27-22 at intermission. The Hawkeyes shot just 7-for-28 (25 percent) in the first half and committed eight turnovers.
Iowa cut the deficit to one early in the second half, 28-27, thanks to five quick points by
Eric May
. But Baylor answered with seven points in a row to reassert control, and soon turned the game into a rout. The Bears pushed the lead past 20 for the first time on a
Cory Jefferson
two-hand slam with 7:04 remaining. The rest was garbage time.
Star watch:
Jackson scored just four points in the first half, shooting 1-for-6. The second half was a different story. The senior finished with 17 points and 10 assists, and was named the tournament's most outstanding player. Jefferson scored a game-high 23 points, and
Isaiah Austin
added 15.
Mike Gesell
scored a team-high 13 points off the bench for Iowa, while
Aaron White
chipped in 12. Marble finished with just six points.
Number crunch:
It just wasn't Iowa's night offensively. The Hawkeyes missed open shots from the perimeter, and several chippies around the rim -- they were clearly bothered by the presence of the 7-foot-1 Austin (five blocked shots) in the paint. For the game, Iowa shot 18-for-69 from the field (26.4 percent), including 5-for-24 from beyond the arc (20.8), while Baylor shot 26-for-48 (54.2 percent).
What's next:
That's the final college basketball game of the season at Madison Square Garden. Enjoy the Final Four, and we'll see you next year.
December, 17, 2012
12/17/12
1:32
PM ET

Player of the Weekend - Roosevelt Jones, Butler
Alex Barlow
hit the heroic game-winner as Butler knocked off No. 1 Indiana 88-86 in overtime. However, Jones did a little bit of everything before fouling out in regulation.
The sophomore posted a season-high 16 points to with 12 rebounds and a career-high seven assists. The last player to reach all of those levels in a win over the nation's top-ranked team was Andre Miller in the 1998 Final Four against North Carolina.

Scorer of the Weekend - Doug McDermott, Creighton
McDermott scored a season-high 34 points as Creighton picked up a 74-64 road win over California. That's back-to-back 30-point efforts for McDermott. He's the first Bluejay to do that since Bob Harstad in 1990.
After a slow start to the season, McDermott has scored 20 or more in seven straight games, and is third in the nation in scoring (23.7 ppg).

Stat Sheet Stuffer - Richard Howell, NC State
NC State made relatively easy work of Norfolk State on Saturday, as Howell finished with a line to remember. The senior had 12 points, 19 rebounds, five blocks and five assists in the 84-62 win.
No major-conference player has hit all four of those thresholds in a game since Georgetown's Michael Sweetney in 2003.

Freshman of the Weekend – Mike Gesell, Iowa
Gesell had a breakout performance in Saturday's win over Northern Iowa, scoring a career-high 23 points. He combined with
Roy Devyn Marble
(30 points) to score 66 percent of the Hawkeyes' points.
With three freshmen in the starting lineup, Iowa has defeated in-state rivals Iowa State and Northern Iowa in back-to-back contests.

Ugly Stat Line of the Weekend – UC-Riverside
The Highlanders shot just 19 percent from the field in a 70-26 loss to USC. No starter connected on more than one field goal, and no player scored more than six points. It was the fewest points by a Division I school in over four years, and the fewest allowed by the Trojans since 1946.
This is the second time this season that UC-Riverside has been held to 30 points or fewer.
October, 23, 2012
10/23/12
5:00
AM ET
1. Highly-touted freshman forward
Sam Dekker
will be a major factor for Wisconsin. But he's not the player who has wowed coach Bo Ryan during the first 10 days of official practice. Sophomore center
Frank Kaminsky
is the player who has caught Ryan's eye more than any other. "He's one of the most improved guys I've ever coached,'' said Ryan of Kaminsky, who averaged 1.8 points in 7.7 minutes a game last season. "He's really doing some nice things. It's going to be hard to keep him off the floor. He moves his body, he know how to move. He has a good feel for passing as a big and he's knocking down the 3-pointer like crazy. He's a big that can stretch and in the post he's developed more than last year.'' Somehow no one should be surprised that Ryan has found yet another big that developed and will suddenly be on the Big Ten radar two years into his career.
2. Iowa is a legitimate sleeper in the Big Ten. I had a question tweeted to me that Iowa coach Fran McCaffery answered on our
ESPNU college basketball podcast Monday
. The question was simple: Can Iowa win the Big Ten? McCaffery's answer was direct. "I do think it's possible,'' he said. "Can you win the Big Ten with a freshman point guard?
Aaron Craft
(Ohio State) did. And last year nobody was talking about
Trey Burke
at Michigan except for me. We're going to beat each other up but we can't lose games by four. At some point we have to win the close games. Michigan did that last year with a freshman point guard. We'll have to do that with a freshman point guard.'' McCaffery is referring to freshman
Mike Gesell
, who will be the point guard. Meanwhile, Michigan did have a freshman point guard in Burke and the Wolverines finished in a three-way tie for first with Ohio State and Michigan State last season.
3. One of the reasons I have long speculated about why Tubby Smith has stayed at Minnesota is how much he enjoys working with his son Saul on the staff. I spent time with them two years ago and saw how rich their relationship had become professionally with Saul on the staff. Saul's arrest for suspicion of a DUI and subsequent suspension has to be a crushing blow to Tubby. The Minnesota experiment has not been smooth since Day One and this is yet another major obstacle. But this is personal and it will be very interesting to see the long-term effects on the father if Saul doesn't come back to the bench.
July, 20, 2012
7/20/12
1:33
PM ET
As part of our Summer Shootaround series, here are the best- and worst-case scenarios for the Big Ten:
Illinois
Best-case
: No one's expecting much from Illinois in 2012-13, and the reasons are obvious: With zero in the way of fresh blood entering the program this season, this is essentially the same team that lost 12 of its final 14 games last season (necessitating the firing of coach Bruce Weber) only without its best player, center
Meyers Leonard
. I get it. But there hasn't been a mass exodus at the program.
Brandon Paul
and
D.J. Richardson
will be senior guards capable of blowing up at any time (Paul especially). The supporting cast has its holes, but harnessed correctly that's a backcourt that could give plenty of Big Ten teams trouble -- at the very least.
Worst-case
: What happens when you add a dearth of young talent, experienced players who pretty much gave up on their last leader and a new coach asked to bring it all together? There is no one answer. Frankly, anything is possible, and while that includes the aforementioned revival from Paul and Richardson, it could just as easily lead to Paul looking around, deciding he's the best player on his team by a lot (not that he would be wrong) and posting yet another incredibly inefficient, borderline-greedy offensive season. I don't think Illinois will totally bottom out this season, but that's only if coach John Groce can convince everyone, Paul included, that's no way to spend a year on the hardwood. If he doesn't, this could get ugly in a hurry.
Indiana
Best-case
: Don't look now, Indiana fans, but I'm going to do it: IU's best-case scenario is the NCAA collegiate men's basketball national championship. I know. Crazy, right? What's even crazier is that it doesn't require a huge stretch of the imagination. After all, Indiana will feature the best returning player in college basketball in
Cody Zeller
, who was dominant as a freshman and (according to every dispatch out of Bloomington this summer) is only beginning to showcase his newfound core strength, defense and versatility. The Hoosiers have a coterie of scorers around Zeller: stretchy wing
Christian Watford
, rim-attacking guard
Victor Oladipo
, sharpshooting floor general
Jordan Hulls
and do-everything
Will Sheehey
, not to mention a recruiting class that features at least one sure-fire immediate rotation player in point guard
Yogi Ferrell
. This team is deep and well-rounded and scores like crazy, and it's going to be a lot of fun to see where Zeller & Co. can go.
Worst-case
: To go where they really want to be, the Hoosiers are going to have to play better defense. It's just that simple. Indiana improved some last season, but where it really excelled was offense: Tom Crean's team ranked fourth in the country in adjusted offensive efficiency but just 64th on the defensive end (IU's 102-90 tournament loss to Kentucky was thrilling evidence of this disparity). Hulls' size disadvantage makes him unreliable at the point of attack; Zeller and Watford must become better rim protectors; and in general Indiana must find some trait to sustain itself on that end of the floor. At some point in the tournament, everybody goes cold. Eventually, your D has to carry you through.
Iowa
Best-case
: It's Year 3 of coach Fran McCaffery's rebuilding cycle, and everything seems to be going according to plan. Iowa has made strides in each of his first two seasons. Now with two talented freshmen from the Iowa-Nebraska border (center
Adam Woodbury
and point guard
Mike Gesell
), this could be the year the Hawkeyes officially emerge from their post-Todd Lickliter morass. Other than the freshmen, the keys are rising sophomores
Aaron White
and
Josh Oglesby
and junior
Melsahn Basabe
, who took the Big Ten by storm as a freshmen but fell off a bit last season. If there is a collective step forward and the freshmen prove productive in a hurry, this is an NCAA tournament team waiting to happen. Right on schedule.
Worst-case
: Let's not forget, of course, that senior guard
Matt Gatens
was by far this team's most efficient scorer, not to mention its senior leader -- the guy who almost
single-handedly shot Iowa into the tournament last season
. His loss is a crucial one. Just as crucial is defensive improvement. In 2011-12, the Hawkeyes were a top-35 offensive team but ranked No. 180 in defensive efficiency and No. 278 in opponents' effective field-goal percentage (eFG%). There is plenty of reason for optimism here, but if Iowa doesn't guard someone, it won't be dancing yet.
Michigan
Best-case
: Just last week, Big Ten Co-Freshman of the Year
Trey Burke
told the media he saw his team as a national title contender. That's a very optimistic best-case scenario, sure, but in such a wide-open hoops landscape, I'm inclined to agree. Burke is one of the nation's best lead guards, and he's complemented well by
Tim Hardaway Jr.
's outside-in game. The Wolverines also have a pair of top 25-ranked freshman to fawn over. Like Hardaway,
Glenn Robinson III
comes equipped with NBA genes, while just last summer forward
Mitch McGary
was once considered one of the best five prospects in the class of 2012. This is unquestionably the most talented Michigan team in a decade, and if the freshmen excel early, Burke's opinion won't seem farfetched.
Worst-case
: It's hard to see this team, which is indisputably more talented and almost certain to be more dynamic, somehow
not
being in Big Ten title contention by the end of next February. But if somehow the Wolverines are merely above average in 2012-13, it could be because they carry over last season's just-OK defensive effort (No. 60 in adjusted defensive efficiency). Or because they lack the breadth of reliable 3-point shooters (
Evan Smotrycz
transferred, while
Zack Novak
and
Stu Douglass
graduated) who have come to define coach John Beilein's two-guard front offense, which relies on 3-point shooting to stretch the floor. I think Beilein will make it work, and I think Michigan will be very tough to beat. But increased success is far from guaranteed.
Michigan State
Best-case
: As good as Michigan's backcourt is, could Michigan State's actually be better? If
Gary Harris
, the No. 2-ranked shooting guard (and No. 11-ranked player overall) in the Class of 2012 lives up to his considerable hype, it's a distinct possibility. But for seniors
Draymond Green
and
Austin Thornton
(and one-year graduate rental
Brandon Wood
), the Spartans return everybody from last year's 29-8 redeem team, including big-bodied forward
Derrick Nix
, still-blossoming athletic freak
Adreian Payne
and impressive freshman
Branden Dawson
, who should recovery from an ACL tear in time to join the team for the Big Ten season. But the key to it all is point guard
Keith Appling
. If Appling is a star -- and I would bet he will be -- the Spartans will be right back near the top of the Big Ten, same as usual.
Worst-case
: I brushed over Green's departure casually in the above paragraph, but there's really no way to overstate just how important Green was to Michigan State in 2011-12. Not only was he the team's tireless vocal leader, he was its best scorer, rebounder
and
passer. Without Green to solidify everything the team did, it's not unfathomable to see Michigan State take a step back into respectable but not great territory.
Editor's note: ESPN.com's Summer Shootaround series is catching up on the offseason storylines for each conference. For the rest of the best- and worst-case scenarios for the Big Ten, click here.