College Basketball Nation:

Mike Hamilton
June, 13, 2011
6/13/11
2:53
PM ET
After months of public statements to the contrary -- remember when Tennessee seemed so devoted to its maligned coach? -- Volunteers athletic director Mike Hamilton fired Bruce Pearl. The
dynamics behind this firing was complicated and by all accounts acrimonious
. Pearl seemed to expect his school's continued support, and he was reportedly surprised and hurt when that support suddenly vanished in the wake of yet more revelations about his conduct before and during the NCAA's investigation into his alleged violations.
Unfortunately, it's unlikely we'll ever hear Pearl's side of the story. That's because Pearl is "contractually obligated to adhere to restrictions and stipulations which include not making any disparaging remarks about UT or face up to $50,000 in fines,"
according to the Knoxville News Sentinel
.
That's why you haven't heard Pearl say anything about Tennessee or Hamilton since the settlement agreement was signed in March, and why Pearl isn't likely to start making any such comments now. The agreement also requires cooperation with the NCAA Committee on Infractions -- Tennessee had its hearing Saturday, and hey, Lane Kiffin showed up! -- and prevents Pearl from any future legal action against Tennessee whether Pearl was aware of the hypothetical claim at the time of the settlement agreement signing or not.
In other words, when Pearl emerges from this mess -- and he is likely to do so, albeit not anywhere near a college hoops team -- it's unlikely we're going to hear much from him about his final days as Tennessee's coach. That's not unusual, but Tennessee fans, many of whom believed Pearl shouldn't have been fired in the first place -- or believe Hamilton deserved to be fired with him -- may well be disappointed at the news.
June, 10, 2011
6/10/11
2:25
PM ET
That may be the least surprising headline of all-time. At this point -- with an NCAA hearing this weekend, followed by at least a few chaotic years rebuilding in the wake of likely NCAA sanctions -- you'd be hard-pressed to find anyone that would want soon-to-be-departed Tennessee athletic director Mike Hamilton's job.
You'd be even more hard-pressed to find someone with a high-profile gig who actively wanted to plunge into the Tennessee breach. Why, again, is why it's no surprise to hear Kentucky athletic director Mitch Barnhart make absolutely clear that he has no interest in Hamilton's former gig.
From the Lexington Herald-Leader
:
"I don't have any interest," Barnhart said of the UT vacancy. "I've got good coaches (at Kentucky), I have a family that has settled in here, I have a son who is about to be a senior in high school.

"I said when I agreed to my last contract that (Kentucky) is where I plan to be until I decide on my next path, something that will probably be outside athletics. I've got things I still want to accomplish here and I'm excited about doing that."
You wouldn't think Barnhart would have to issue these sorts of decrees to the media. After all, his basketball team -- the pride of Kentucky's rabid statewide fan base -- is in position to compete for a national title for the third consecutive season. But Barnhart was an assistant athletic director at Tennessee from 1986 to 1998. That sort of long-term experience tends to breed rumors, or at least educated guesses, of this sort. Probably best to nip it in the bud early.
And now you know: Kentucky's athletic director will not be taking over the vacant Tennessee job. Try to contain your shock.
June, 7, 2011
6/07/11
1:21
PM ET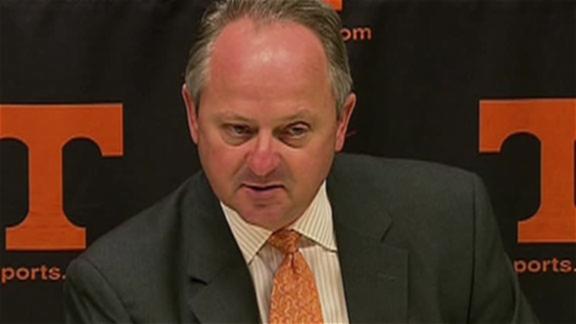 In the past 12 months, the more you heard about Tennessee athletics, the more you had to wonder:
How does Mike Hamilton still have a job?
Our own Pat Forde put it harshly -- but appropriately --
in his Feb. 23 column on the topic
:
It's bad when the football program is charged with major violations. It's bad when the men's basketball program is charged with major violations.

When they both get charged at the same time? It's really bad. Fireable offense bad.

If I were the president at Tennessee, the man in charge of an athletic department that has hemorrhaged credibility at an alarming rate in recent years would need a Committee on Infractions miracle to keep his job. Nothing short of an exoneration of both programs would be enough to spare Hamilton -- and chances of that happening are even smaller than the chances that Tennessee plays in the next BCS championship game.
That pretty much sums it up. We've seen Lane Kiffin dash away in the middle of the night to USC after one embarrassing, allegation-filled season. We've seen Bruce Pearl publicly flogged for lying to the NCAA, after which he resigned his post and prepared for potential basketball wilderness. That's two of the school's three truly marquee athletics programs --
thanks goodness for Pat Summitt's ethical stubbornness
, right? -- that have allegedly committed violations in the past several years. (Hamilton is the men's athletic director, by the way, so he doesn't even get to take credit for Summitt. Heck, no one does. But he does get the nod for a disastrous baseball hire in recently fired Todd Raleigh. Add it to the list.)
[+] Enlarge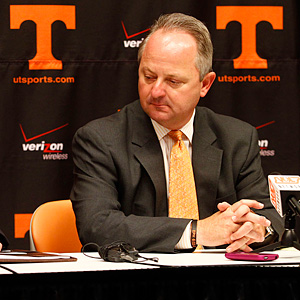 AP Photo/Wade PayneTennessee men's athletic director Mike Hamilton announced his resignation on Tuesday.
There's one thing those two programs have in common: an athletic director. That athletic director was Hamilton. These things happened on his watch and under his supervision, and still, Hamilton kept his job. It got to the point this week that, believe it or not, Hamilton appeared ready to sit in front of the NCAA Committee on Infractions and do his damnedest to keep Tennessee athletics from winding up in some sort of COI Mortal Kombat combo finishing move. (
FINISH HIM!
) This appeared to be unwise, but there Hamilton was. He wasn't going anywhere.
Until, that is, today. At the risk of burying the lead (which is not much of a risk, since you know this news already), Hamilton
suddenly resigned his post
as Tennessee men's athletics director Tuesday.
"My family and I love the University of Tennessee, and we love Knoxville," Hamilton said in a statement. "We have poured out our lives over the last 19 years to try to make this a better community, a better athletic program and a better university."

His resignation comes just days before Tennessee officials will travel to Indianapolis to appear before the NCAA's Committee on Infractions. That hearing is scheduled for Saturday, which Hamilton also will attend.
If you remember your eighth-grade reading lessons, you'll be able to spot the context and inferences at work in that last paragraph. Hamilton's resignation does indeed come just a few days before Tennessee is set to face the COI in Indianapolis. He'll still be on hand for that meeting, and technically he'll be representing it as the current athletics director, because he will technically leave the job at the end of June.
But that is a formality. In reality, Hamilton is resigning as a sign to the Committee on Infractions that Tennessee, if only now, finally, mercifully
gets it
.
There are very good reasons for that. The Committee on Infractions, which sounds scary and Orwellian but is really just a group of people like you and me, takes no joy in punishing programs. But it will do so harshly if it believes that program doesn't take the allegations against it seriously. It will do so if it believes that program has done little to change the atmosphere of compliance that it, according to its notice of allegations in the NCAA case, "failed to promote" before it got in trouble in the first place.
You know how in grade school, when a teacher would punish you, and you would try to laugh and look cool and impress your buddies, and the teacher would only get way, way angrier? The COI is a little like that. Unless you take serious steps to change the nature of your athletics programs before you show up to your long-awaited hearing, the punishment is only going to get worse.
With all the uncertainty already surrounding Tennessee athletics -- not to mention new
NCAA president Mark Emmert's stated desire for harsher, more prohibitive penalties
-- an image of anything but grave seriousness is the last thing the Volunteers can afford.
The question is ... will Hamilton's gambit work? Will the committee look at Tennessee, with its new football coach, new basketball coach and new athletic director and say, "Hey, Tennessee gets it? I think they might!"
I have my doubts. If I'm Emmert, I'm looking to make clear that it isn't enough to respond after the fact. I want you to know I'm not happy with your athletic directors and coaches resigning. If I'm Emmert, I want to punish you for not getting it right the first time. I want to make sure your school -- and every conference and every conference member -- knows that there's an old way of doing things and a new way, and that this is the new way now. If I'm Emmert, I want cheaters to know: My name is my name. Let it ring out: If word gets back to me, I'm coming down to the street, and sooner or later, you're going to realize your only option was not cheating in the first place.
We'll see how it plays out. Perhaps a cleared house will earn Tennessee some measure of mercy. Perhaps not. Either way, by the time the NCAA releases its findings, Hamilton will be long gone.
As he said at his press conference today, that
departure was always inevitable
. The surprise is that it took this long.
March, 21, 2011
3/21/11
5:22
PM ET
A year ago, Bruce Pearl was within seconds of guiding Tennessee to the first Final Four in program history.
A few months ago, as Pearl found himself in hot water with the NCAA, was suspended for eight games by the SEC and was pilloried nationwide as the guy who lied to the
NCAA about a photo of his own house,
Pearl somehow
maintained the clear public backing of Tennessee athletic director Mike Hamilton and university chancellor Jimmy Cheek
, not to mention overwhelming support from Vols fans throughout Tennessee.
For all his troubles, and for the many months and days yet to come before those troubles would be resolved, it seemed that Pearl could -- even
would
-- survive this mess.
How quickly things change.
[+] Enlarge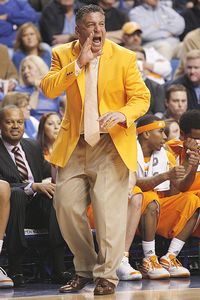 Mark Zerof/US PresswireBruce Pearl was fired after six seasons at Tennessee.
Tennessee fired Pearl on Monday after his school-record sixth straight NCAA tournament appearance.
Pearl took to Facebook
(the public relations clearinghouse for all matters of grave import, of course) to address the decision today:
"As many of you know, I have been fired as head coach of the
Tennessee Volunteers
," Pearl wrote to his 11,000-plus Facebook followers. "This really does not come as a surprise to me, but my emotions are getting the best of me. This is perhaps the saddest day in my life. I loved everything about Tennessee, Knoxville and the Volunteers. These were the best years of my life."
According to ESPN.com's Chris Low
, "Pearl was informed of his dismissal on Monday, and all that remains is the finalization of a financial package for Pearl and his assistants."
Clearly, this is not an amicable parting of ways. This is a nasty breakup to a relationship that seemed healthy even as Pearl and Hamilton revealed the extent of the program's NCAA violations in September. Pearl,
a onetime attempted NCAA whistle-blower and coaching pariah
, had become just another coach caught in the tangled web of phone calls, illegal visits and other bureaucratic shortcuts that ensnares this profession so frequently.
But Pearl did something worse. Pearl lied to NCAA investigators about a barbecue at his house, and although he eventually went back to correct the record, the damage was done. You can make too many phone calls, and you can have high school juniors to your house for a barbecue, but when the NCAA asks you about it -- and they have a photo proving your guilt -- you can't lie. Pearl did.
A tearful public mea culpa conference soon followed, as did an unprecedented eight-game SEC suspension from conference commissioner Mike Slive. Despite the decision, Hamilton and Cheek stood by their coach's side.
"Bruce is our coach, and he's going to be our coach for many years," Cheek said on Nov. 20. "We're going to get through this adversity."
"It's our intention to keep him," Hamilton said on Feb. 16. "Unless there's something [severe violation] out there we're unaware of."
Clearly, Hamilton and Cheek do not feel the same way today. What, exactly, caused this dramatic change?
Was it the discovery by the NCAA of a potential "bump" violation that Pearl failed to share with Hamilton and Cheek? Did UT officials come to their senses and decide that Pearl's continued employment would undermine their university's academic and ethical mission? Was it Tennessee's uninspiring, heartless 30-point loss to Michigan in the NCAA tournament?
Despite what they might say, the answers are no, no and no.
Pearl isn't being fired because he didn't win. Hamilton and Cheek supported Pearl for so long precisely because Pearl built Tennessee's once-flagging men's program from the ground up; no men's basketball coach has been more successful at the school.
Pearl isn't being fired because of the Tennessee's high-minded institutional morals. If that were the case, he would have been gone this past fall.
And no, Pearl probably isn't being fired because of any additional NCAA violations. That might be what Hamilton and Cheek say, but given everything Pearl has done to anger the NCAA, a minor, unreported run-in with a recruit amounts to nothing more than a drop in the ocean -- albeit an incredibly untimely drop in the ocean.
No, what seems most likely -- and this is a guess -- is that Hamilton and Cheek stepped back, took a deep breath and looked around. They likely looked at the precedent for cases such as Pearl's;
such coaches usually receive show-cause penalties
. They absorbed the seriousness of the NCAA's notice of allegations. They analyzed the prospect of Tennessee's ability to survive an NCAA investigation into both its football and basketball programs, and they pictured the scene when the Volunteers were called to June's hearing before the NCAA committee on infractions with an orange-clad Pearl in tow.
If one had to guess, one would guess that Hamilton and Cheek pictured that scene and realized they needed to do what should have been done months ago. To save Tennessee basketball -- or at least give it some hope -- they needed to fire Pearl.
What Chancellor Cheek and the decision-makers in Knoxville don't seem to understand is that Hamilton likewise needs to go. The athletic director has been the man in charge while two violations investigations were launched into Tennessee's two biggest sports programs. If Pearl deserves to be fired, so does Hamilton. In fact, most Tennessee fans would prefer Pearl stayed and Hamilton left, and
the margin is not even close
.
Alas, that is not a viable way forward for Tennessee. Maybe it never was. But if you heard Hamilton and Cheek in November, December, January and February, you were right to assume that Pearl could potentially find his way out of this mess without having to ditch his collection of orange jackets. UT brass wanted Pearl to remain the coach for as long as it was possible.
It's not possible anymore, and so Pearl is gone. The support has withered. The risks are too great. The rewards, flashy though they were, no longer measure up.
Things change quickly in March.
Both on and off the court.
February, 23, 2011
2/23/11
4:07
PM ET
The NCAA Committee on Infractions has been busy. On Tuesday, as the college hoops world debated Jim Calhoun's alleged crime and too-lenient punishment, the COI was in the process of sending another program -- Tennessee -- its long-awaited notice of allegations. Twenty-two months after the start of the investigation, we now know exactly what the NCAA believes Bruce Pearl, the men's basketball program and the former Lane Kiffin-led football program has done wrong.
Still, though, the question remains: Will Pearl survive?
[+] Enlarge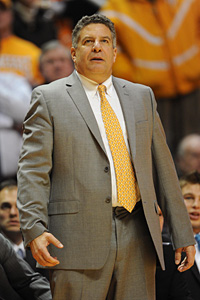 Don McPeak/US PresswireTennessee coach Bruce Pearl has led the Vols to five NCAA tournament appearances.
Let's begin with the actual notice, which
you can read right here
. The basketball-related charges are as follows:
"Impermissible contact with prospective student-athletes resulting from a cumulative total of 96 impermissible phone calls over a 24-month period (Aug. 1, 2007 through July 29, 2009).

"By the head men's basketball coach: impermissible contact with prospective student-athletes during an unofficial visit, acting contrary to the principles of ethical conduct, failure to promote an atmosphere of compliance, and failure to monitor the activities regarding compliance of all assistant coaches within the men's basketball program.

"By the head men's basketball coach and associate head coach: impermissible contact with a prospective student-athlete at his high school.

"By the three members of the men's basketball assistant coaching staff: failure to furnish full and complete information relevant to the investigation."
Those are serious allegations, especially where Tennessee's creamsicle-jacketed coach is concerned. The NCAA is alleging that Pearl, in his decision to lie to NCAA investigators about hosting prospective recruits at a barbecue at his house (before his eventual decision to correct the record), acted "contrary to the principles of ethical conduct," failed "to promote an atmosphere of compliance" and failed "to monitor" the rest of what was going on in his program. These are some of the most serious charges the NCAA can allege against a coach and his program; merely one of them got Calhoun tainted, if
not actually punished
, less than 24 hours ago.
There are a few new tidbits in the notice, which our own
Andy Katz pointed out in his excellent breakdown of the allegations this afternoon
. From Andy:
The one new charge revealed in the notice of allegations was that Pearl and associate head coach Tony Jones were cited for a secondary violation of "bumping" 2012 recruit Jordan Adams (Lawrenceville, Ga.), on Sept. 14, 2010, during Adams' junior year when the two visited Adams at Oak Hill Academy.

According to the report, Pearl and Jones had a two-to-three-minute conversation with Adams prior to the start of basketball practice. The violation with Adams came shortly after Pearl and Tennessee held a news conference announcing the self-imposed penalties. Pearl was allowed to recruit on the road for two-plus weeks before he was shut down for a year on Sept. 24.
That's not good. Neither is this, which isn't new but is disconcerting all the same:
The report states that Pearl also called John Craft, Aaron's father, who was also at the unofficial visit to Pearl's home on Sept. 20, 2008, and told him that it was a violation for the family to attend the cookout. Unofficial visits are supposed to take place on campus, not at a coach's home.

Pearl gave John Craft the choice of attending the cookout. According to the report, John Craft was led to believe that Pearl was trying to influence his statements to the NCAA enforcement staff.
There is little to no wiggle-room here. Not only has Pearl admitted that he lied to investigators about the cookout at his house, the NCAA has apparently found enough evidence to prove that Pearl knew the cookout was against the rules after the fact and attempted -- at least according to John Craft -- to influence testimony from involved parties to that effect. There is no possible way for Pearl to play the age-old, "My assistants went rogue, I had no idea!" card. Pearl knew. He admits he knew. He admits he lied. He hopes his decision to correct the lie means something to the NCAA, and he hopes the rest of Tennessee's alleged recruiting violations can be forgiven in kind.
In other words, there is really nothing new in this report. This is the same stuff the public -- and Tennessee -- has known about Pearl since this whole ill-advised barbecue mess became public last year.
Which brings us to whether Pearl will keep his job. That answer seems to be … yes. Probably.
How so? How does a man who openly admitted lying to NCAA investigators -- not to mention all the other stuff listed above -- avoid losing his job? Because he wins. And because the Tennessee brass appears to appreciate those wins very much. We know this because they've essentially said so. As the
Knoxville Sentinel-News
reported yesterday:
Hamilton said it's UT intention to keep men's basketball coach Bruce Pearl on staff even if the NCAA imposes a one-year suspension. Hamilton said when the Vols received their letter of inquiry on Sept. 10 that he expected Pearl to be charged with unethical conduct.

"It's our intention to keep him,'' Hamilton said on Feb. 16. "Unless there's something [severe violation] out there we're unaware of.''
Pearl has also received a very public statement of support from the man in charge, which in this case is Tennessee Chancellor Jimmy Cheek. When Pearl was suspended by SEC commissioner Mike Slive for this season's first eight conference games,
Cheek supported Pearl as such
:
Chancellor Jimmy Cheek echoed his previous message of support for Pearl, indicating that the SEC's punishment in no way affects the coach's job security.

"Bruce is our coach, and he's going to be our coach for many years," Cheek said in the press conference. "We're going to get through this adversity."
Cheek neither confirmed nor deviated from that stance today, which means the following: Tennessee's athletic director supports Pearl. Tennessee's chancellor supports Pearl. We can use the present tense there, because both of them supported Pearl in the fall when both knew all about the charges currently listed in today's notice of allegations. There is nothing new or unexpected in the report, so why would either change their positions now?
This could change in the future. Perhaps the NCAA could rule so harshly against Pearl that Tennessee is practically forced to fire him (and Hamilton along with him). But the school seems to have little interest in cutting ties with Pearl. Pearl is still wildy popular in the state of Tennessee. No one really seems to want him out. Certainly not the fans.
Both of these points are related; neither of them are all that hard to figure out. Pearl
wins
. He wins a lot. He wins in a manner that Tennessee has never experienced before, at least not in men's hoops. He has turned a long-dormant sideshow program into one of the nation's most perennially competitive outfits. In 2007-08, he led the school to its first-ever No. 1 overall ranking. In his five full seasons at the school, Pearl has led Tennessee to five NCAA tournament appearances, which is as many as the previous 22 years of UT coaches
combined
. He's also taken the Vols to three Sweet 16 berths, one more than Tennessee had achieved in its history before Pearl arrived. Last season's Elite Eight appearance? A first for the school.
So Tennessee isn't exactly ready to let go of Pearl. Not just yet. There will be more to this story, of course, and the NCAA could come down on Pearl -- and Hamilton, for that matter -- with the sort of punishment that makes his firing almost mandatory. But unless Pearl suddenly stops being the most successful Vols coach of the modern era, Tennessee appears ready to go to war on his behalf.
Last night, as Pearl's Volunteers essentially played themselves into yet another NCAA tournament berth with a huge win at Vanderbilt, Pearl finished his postgame sideline interview and bounded to the locker room, high-fiving orange-clad Tennessee fans along the way. The
symbolism wasn't hard to spot
: The Vols still love their winner.
So unless something changes, Pearl seems likely to survive this mess.
Somehow.