College Basketball Nation:

Mike Muscala
March, 21, 2013
3/21/13
5:03
PM ET
LEXINGTON, Ky. -- Butler's evolution is complete.
The Bulldogs have gone from the Horizon to the A-10 to the new Big East starting next season. Along the way, they've played in two national title games.
They are no longer the cute underdog from Indianapolis.
"The Cinderella shoe doesn't fit anymore," Butler senior center
Andrew Smith
said.
Butler has the stature, the clout and the ingrained ability to withstand any challenge.
For Bucknell, beating Butler Thursday would have meant a great deal.
"They play in so many big games that they're not the type of team that's going to get rattled," Bucknell coach Dave Paulsen said.
No, that wouldn't be the Butler way. Just ask Marquette, Indiana or Gonzaga this season. Sure, VCU got Butler out of whack in an early March loss, and Saint Louis did control the Bulldogs in winning three games against them.
This is not a team without flaws or the potential to lose control. But the program is in good shape.
This team has the ability to stick around in the tournament past this weekend after its
68-56
win against Bucknell at Rupp Arena.
Bucknell's NBA prospect,
Mike Muscala
, was forced into being a bystander at times, finishing 4-for-17 from the field and nine points. Had it not been for
Joe Willman
's 20 points, it wouldn't have been a game.
Smith is hardly discussed as an NBA prospect, yet he has been on the floor in winning situations against Gonzaga's
Kelly Olynyk
, Indiana's
Cody Zeller
and now Muscala. Smith had 16 rebounds and 14 points Thursday.
The Bulldogs wore the target well in the Horizon League when they were the primary draw. La Salle fans stormed the court after beating the Bulldogs in an A-10 game, a sign that Butler was coming of age.
Now -- in the NCAA tournament -- the Bulldogs have no issue with being the higher seed.
"It's fun, and we enjoy it," Smith said. "We always want to get everyone's best shot. It's fun for us. It makes us a great team."
Rotnei Clarke
transferred from Arkansas and hadn't been part of a winning culture. He sat out last year and is playing in his one and only season at Butler.
He had never been on a team that heard its name called on Selection Sunday, let alone played in an NCAA tournament game. After the game, he described how cool this result was for him.
But what is unique is how much the Bulldogs reflect the demeanor of their coach, Brad Stevens, in close games.
They went from up seven to down six against Bucknell in the second half.
Did they fret? Hardly.
"It's calm, and it starts with our coach," Clarke said. "He's really calm, and he carries that over to us. We know we've been through big games and tough atmospheres. That got us through."
It always has for Butler. There are no more surprises. Butler is as much a part of the March landscape as any other team now. We expect it to survive and advance.
It was too bad the selection committee pitted these two programs against each other, because Bucknell also had the chops to advance in this field. But the Bison ran into a more formidable team and elite program.
"In the past, we've been Cinderella," Butler's
Roosevelt Jones
said. "Now we're the favorite and everyone is gunning for us. We're excited for it."
March, 19, 2013
3/19/13
11:00
AM ET
I know the feeling. You're nervous. You know the big names --
Ben McLemore
,
Victor Oladipo
,
Trey Burke
-- but who's this Nate kid I keep hearing about? Let me help you. Here are 10 mid-major stars who could really mess up your bracket in the coming days.
Mike Muscala (Bucknell)
-- The Muscala Monster is a dangerous creature. The Bison are capable of upsetting Butler in the second round Thursday in Lexington because they're led by one of America's most underrated stars. He scored 25 points and grabbed 14 rebounds in a two-point loss to Missouri in January. Muscala (19.0 PPG, 11.2 RPG) dropped 18 points in a win against NCAA tourney participant La Salle in December. He's finished with 25 points or more in 10 games. He also has the strength of 10 men. Not really, but he's legit and more than prepared to help Bucknell ruin brackets worldwide.
[+] Enlarge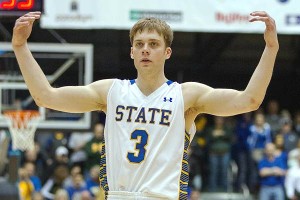 Brace Hemmelgarn/USA TODAY SportsCan Nate Wolters and South Dakota State upset Michigan in the NCAA tournament's second round?
Nate Wolters (South Dakota State)
-- He plays with a chip on his shoulder. Few Division I schools sought his services when he was a high school standout in St. Cloud, Minn. Every season since, however, Wolters has proven he was clearly overlooked. He led the Jackrabbits to their second consecutive NCAA tournament appearance via a silky game that's caught the attention of NBA scouts. He's one of the nation's most explosive offensive performers. Wolters (22.7 PPG, 39 percent from the 3-point line) recorded a Division I-high 53 points in a Feb. 7 win against IPFW. He'll make Thursday's matchup against Michigan in Auburn Hills interesting.
Will Cherry (Montana)
-- Damian Lillard is arguably the top player in the NBA's rookie class. When he was a Big Sky star at Weber State, Cherry was his top adversary. The senior is known for his defensive prowess (1.9 SPG), but he's a talented offensive player, too. Cherry is averaging 13.9 PPG for a Montana team that will face Syracuse in San Jose on Friday. The Grizzlies don't have top scorer
Mathias Ward
, who is out for the season with a foot injury. But Cherry is a proven leader. He's tough, too. He missed a few games in early March after aggravating a foot injury that cost him the first few months of the season. But he hasn't shown any signs of regression since his return.
Siyani Chambers (Harvard)
-- The West Region is probably the easiest region. With Gonzaga as the 1-seed, it just seems more wide open than the other three. So expect the unexpected. Harvard could spur some madness in its second-round matchup against New Mexico in Salt Lake City on Thursday. The Lobos are the better team. But the Crimson have overcome adversity to reach this point. Stars Kyle Casey and Brandyn Curry left the team prior to the season because of an academic scandal. Chambers (12.9 PPG, 5.8 APG, 44 percent from the 3-point line), just a freshman, helped Tommy Amaker's squad recover from those losses and earn another automatic berth with its second straight outright Ivy title.
Matthew Dellavedova (Saint Mary's)
-- The senior was a member of the Australian national team in the London Olympics. He's struggled in his past two games, but Dellavedova will be ready for the NCAA tourney. The Gaels will face Middle Tennessee in Dayton in the First Four on Tuesday night. If they get past the Blue Raiders, they'll see Memphis in the next round. Dellavedova (15.8 PPG, 6.4 APG, 38 percent from the 3-point line) is not just recognized as a mid-major star. He's one of the best point guards in America, regardless of level. He's talented and experienced. And he might help the Gaels nullify your bracket.
Jamal Olasewere (LIU Brooklyn)
-- I don't think we'll see the first 16-over-1 upset. But if it is to happen, I pick the Blackbirds to pull off the feat. Why? Because Olasewere (18.9 PPG, 8.5 RPG) is a tough matchup for any team in the country. The 6-foot-7 forward is active inside, and he's efficient in transition. The Blackbirds must get through James Madison in the First Four in Dayton on Wednesday. If they do, they'll see Indiana on Friday in Dayton. If something crazy happens, Olasewere will certainly be involved.
[+] Enlarge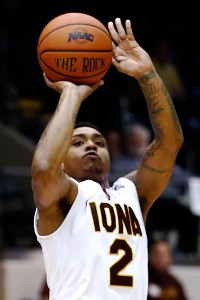 Mark L. Baer/USA TODAY SportsSenior guard Lamont Jones, who is averaging 23.0 PPG, will have Iona prepared to face Ohio State.
Lamont "Momo" Jones (Iona)
-- Iona is second in America with an average of 80.7 PPG. Jones, who started his career at Arizona, is the catalyst for the Gaels' offense. He's averaging 23.0 PPG, third in the nation. He's recorded 30 points or more in six different games. He's certainly a potent performer who guides a Gaels squad that can score in bunches. Iona, however, is facing one of the hottest teams in America right now. Ohio State has won eight games in a row, a streak that the Buckeyes capped with a Big Ten tournament title in Chicago on Sunday. But the Gaels play fast (17th in adjusted tempo per Ken Pomeroy). And their defense is porous. Still, Iona can overwhelm teams with its high-powered offense. That's what makes its second-round matchup against Ohio State in Dayton on Friday so intriguing.
Ryan Broekhoff (Valparaiso)
-- The 6-7 forward from Australia cracked ESPN's "SportsCenter" recently when his buzzer-beating 3-pointer knocked UW-Green Bay out of the Horizon League tournament. He's one of the top mid-major players in the country. Broekhoff is averaging 15.9 PPG and 7.3 RPG for a Crusaders squad that will face Michigan State on Thursday in Auburn Hills. The atmosphere will favor the Spartans, but Valpo will be tough. The Crusaders are a versatile team with an offense that's ranked 44th in adjusted offensive efficiency per Ken Pomeroy. And Broekhoff is the key to that success.
Doug McDermott (Creighton)
-- The Bluejays might be the most dangerous 7-seed in the field. They certainly hit a few bumps during Missouri Valley Conference play. Overall, however, they've been one of the top mid-major programs in the country. They have wins against Wisconsin, Arizona State, Akron and Cal. They lead the nation with a 50.8 percent clip from the field. Their defense is suspect (78th in adjusted defensive efficiency per Ken Pomeroy). But McDermott, their leader, is a legit star. He's averaging 23.1 PPG and 7.5 RPG. He could really go off in the Big Dance. First, he has to lead his team through a tough opening-round matchup against Cincinnati in Philly on Friday. Creighton is definitely a sleeper in the Midwest Region.
Ian Clark (Belmont)
-- On paper, there's a lot to like about Belmont. The Bruins are a strong squad that's faced some of the best teams in the country in nonconference matchups. Belmont can beat Arizona in the second round Thursday in Salt Lake City. And a Sweet 16 run isn't a crazy concept for this veteran squad. Clark (18.1 PPG, 46.3 percent from beyond the arc) is just one of the weapons that the Wildcats will have to neutralize when the two teams meet. He's a stud who could really disrupt brackets throughout the country.
January, 24, 2013
1/24/13
11:05
AM ET
Every season, there has usually been one. Whether the player has ended up winning the award or comes close, at least one player from a mid-major league usually enters the player-of-the-year conversation by the middle of the season.
Some, such as BYU's Jimmer Fredette two years ago, have ended up leading the poll at the end of the year and sweeping the four big player-of-the-year awards. Others, such as Stephen Curry from Davidson in 2008-09, come close.
Creighton junior
Doug McDermott
was in the conversation for player of the year last season, finishing fourth behind Anthony Davis, Thomas Robinson and Draymond Green. Now, in the second in-season poll of the 2012-13 basketball season, McDermott has ascended to the top spot of our Player of the Year poll, just ahead of Michigan sophomore
Trey Burke
.
In the five-year history of the poll, the only season in which a non-BCS candidate did not garner serious consideration was in 2009-10, when Fredette made a late charge and showed up way down on the list during the final poll.
This season, two non-BCS players are receiving major attention in McDermott and UNLV freshman
Anthony Bennett
; a third,
Nate Wolters
from South Dakota State, is also receiving a vote.
McDermott, who was third two weeks ago in the initial in-season POY poll, leapt over Burke and the leader of the first poll, Duke senior
Mason Plumlee
, to take the lead.
There is a long way to go, though, between now and when awards ballots start to come due in March. McDermott and Burke, as you'll see below, are not separated by much. Plumlee is still hanging around, and the players below them could all make a charge in this balanced race.
A common thread among the non-BCS candidates is usually making some noise the year before -- either in the NCAA tournament, in the case of Curry, or through a high-scoring regular season the year before, in the cases of Fredette and now McDermott.
For those who don't remember, the poll consists of actual voters from the four major player-of-the-year awards -- the Wooden, Naismith, Associated Press and Robertson -- and each voter is asked to give his top three vote-getters, anonymously. A first-place vote garners three points, a second-place vote two points and a third-place vote one point.
Notes
A note on the polling: I poll voters from every region, but the poll is unfortunately at the mercy of those pollsters who respond, hence the lack of response from the Far West region. The majority of potential pollsters from the Far West -- and even Southwest -- regions have not responded at the same clip as those in other regions. Understand, too, that national writers and broadcasters are listed in the states in which they live, not as national writers, which could help explain some of the regions being more populated than others. That said, the poll is going to make a concerted effort for more West Coast pollsters in two weeks when the third poll is released.
The nine players are an all-time low for the poll, but that is actually not so surprising considering the way the race has been shaping up. There is no one true breakaway candidate, but rather a logjam of three candidates hanging out at the top. This probably means fewer players will get one or two votes since those top candidates -- with guys such as Carter-Williams, McLemore and Zeller hanging around, too -- are starting to separate themselves.
The nine players are from seven different conferences -- the ACC, Big East, Big 12, Big Ten, Missouri Valley, Mountain West and Summit.
McDermott and Burke essentially split regions, with the Creighton forward winning the northeastern part of the country, Burke taking the South and the middle of the nation and McDermott seeing an advantage out west. In the first poll, Plumlee led every region but the Far West (McDermott) and Midwest (Burke).
A host of players -- Kansas senior Jeff Withey, Santa Clara senior Kevin Foster, Notre Dame senior Jack Cooley, UNC sophomore James Michael McAdoo, UCLA freshman Shabazz Muhammad and Bucknell senior Mike Muscala all departed from the last poll. The only new addition to the poll was Syracuse sophomore Michael Carter-Williams.
Votes were due by 5 p.m. on Wednesday.
January, 24, 2013
1/24/13
8:15
AM ET
Here at the ESPN.com college hoops headquarters, we -- and by "we," I mostly mean our tireless editor, Brett Edgerton -- spend a lot of time trying to plan for a sport that is inherently unpredictable. It's just part of the gig, same as anything else: You want to allocate your resources in the best and most efficient manner possible. You highlight some games and pay only passing attention to others. You dive deep on big nights, those weeknights and Saturdays with loads of top-25 matchups, and you recognize that others probably aren't going to be as exciting.
Throughout my three-plus years here, if there's one thing I've learned about covering this sport on a daily basis -- if there's one motto Edge and the rest of us have had repeatedly drilled into our heads -- it's that the best hoops nights are the ones you never expect.
Wednesday was one of those nights.
Don't get me wrong: There were good games on the docket. We were prepared for a solid night of basketball. But the sheer randomness that ensued last night went far beyond anything we could have imagined as recently as, say, Wednesday afternoon. To wit:
[+] Enlarge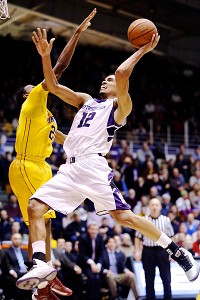 AP Photo/Nam Y. HuhNorthwestern's Jared Swopshire drives past Minnesota's Austin Hollins on his way to 16 points.
So, yeah. We assumed Wednesday night would give us a couple of obviously good games (Duke-Miami, Colorado State-New Mexico) and a bunch of your standard regular-season college hoops games. So much for that.
January, 17, 2013
1/17/13
12:43
PM ET

Player of the Night – Matthew Dellavedova, Saint Mary's
First, watch
this
. But Dellavedova's night was more than an improbable buzzer-beater. He finished with 18 points and eight assists, as Saint Mary's edged BYU 70-69 in Provo. Of those points, 16 came in the second half, including six in the final two minutes. Dellavedova, Michgan's
Trey Burke
and Baylor's
Pierre Jackson
are the only Division I players averaging 17 PPG and 6 APG.

Freshman of the Night – Semaj Christon, Xavier
Add Christon to the list of Wednesday's heroes. His floater with 4.8 seconds left gave Xavier a 66-64 win at Saint Bonaventure. He finished with 19 points and a career-high 10 assists. Christon is the only freshman to reach both of those totals in a game this season. Christon and Arizona State's
Jahii Carson
both rank among the top 15 freshmen in scoring and assists.

Stat Sheet Stuffer – Mike Muscala, Bucknell
A candidate for this section whenever he plays, Muscala's line was particularly impressive in a 73-59 win over Colgate. He finished with 25 points, 10 rebounds, seven blocks, four assists and two steals. No one has reached all of those levels since Minnesota's Joel Przybilla in 2000 against Iowa. The last senior to do it? Tim Duncan.

Scorer of the Night – Maurice Kemp, East Carolina
Kemp scored a career-high 30 points in the Pirates' 89-78 win over Houston. That performance makes him Conference USA's scoring leader at 18.3 PPG. His 13 field goals were the most by an East Carolina player since 2007.
Bench Player of the Night – Michael Carrera, South Carolina

Carerra scored 21 of his career-high 23 points after halftime to lead the Gamecocks to an 82-73 road overtime win over LSU. That's the most points for a South Carolina player off the bench since LeRon Williams had 25 in 1998. He's also the first South Carolina player with 20 points and 10 rebounds off the bench since Rolando Howell in 2001.
January, 10, 2013
1/10/13
7:58
PM ET
At 7:30 p.m. ET, ESPNU unveiled the 2012-13 Wooden Award Midseason Top 25 Presented by Wendy's (a sponsorship I have no problem citing, because I love me a good spicy chicken sandwich) and, by and large, the list was about what you'd expect.
This is intended as a compliment. The Wooden Award midseason list -- unlike some other awards watches in recent seasons -- doesn't have any obvious or glaring holes. You might take issue with a couple of inclusions here or there, but you'd be hard-pressed to find something totally egregious.
So, instead of critiquing the list item by item, I decided to list five players who could play -- or arguably already
have played
-- their way onto the Wooden Award radar in the next few weeks. Let's dig in:
Victor Oladipo, guard, Indiana
: There are two players on this list who should be on the Wooden watch already. Oladipo is one of them. I know, I know:
Cody Zeller
is the obvious choice, because Zeller was the consensus preseason player of the year and the favorite to win all the individual awards. And rightfully so. Plus, Zeller has played really well, particularly lately, and he is still totally deserving of some prospective POY attention. It would be a mistake to argue that one should be on the list without the other. Indeed, if I had to take one player off, it would probably be Duke's
Seth Curry
-- a good but not outstanding guard who is still a defensive liability against quicker guards on the perimeter.
By contrast, Oladipo is his team's, and one of the nation's, best and most important players on
both
ends of the floor. He averages 5.0 steals per 100 possessions, and the impact of his athletic harassment and near constant deflections goes far beyond that stat. Oladipo almost always guards the opponent's star player, and almost always makes said star's life utterly miserable.
In the past, that was Oladipo's specialty. This season, he has taken his game to a new level on the offensive end, and that is probably the understatement of the day. Oladipo, who takes 20.4 percent of his team's shots, is averaging 72 percent from inside the arc. Oladipo's effective field goal percentage -- which is weighted to factor in the 23 3-pointers he has shot this season -- is 72 percent, the highest in the country.
In other words, Oladipo has been not just good but arguably brilliant on both ends of the floor. It's hard to earn POY honors with stifling defense and purely efficient offense, but it shouldn't be. Oladipo should already be on that list.
[+] Enlarge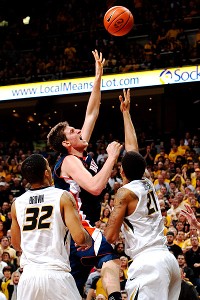 AP Photo/L.G. PattersonBucknell's Mike Muscala, center, has the country's third-highest offensive rating, averaging 19.3 points and 10.9 rebounds.
Mike Muscala, forward, Bucknell
: So should Mike Muscala. It's not hard to understand why a forward from Bucknell failed to capture the Wooden folks' attention. I mean, I get it. He plays for Bucknell. But
Nate Wolters
plays for South Dakota State, and with all due respect to Wolters (who is also having an excellent season), Muscala is having a better season for an inarguably better team -- one that nearly beat Missouri on its own floor last weekend.
To date, Muscala is averaging 19.3 points, 10.9 rebounds, 2.5 blocks and 2.7 assists per game. He uses 31.0 percent of his team's possessions but does so very efficiently (his offensive rating is 120.4, which trails only
Erick Green
and
Doug McDermott
among players who take a similar number of their team's possessions), he's one of the best shot-blockers and rebounders in the country, and he does all of that without committing too many fouls -- his team needs him, after all.
It may be hard for Muscala to get POY traction in the Patriot League, especially now that fellow contender
C.J. McCollum
is injured (which could rob us of a really thrilling Lehigh-Bucknell battle). But he is deserving of much greater recognition.
Shabazz Muhammad, guard, UCLA
: It's not a surprise to see UCLA freshman Shabazz Muhammad absent from the midseason list. After all, Muhammad missed the first three games of the season thanks to an eligibility scuffle with the NCAA, and when he did return, he was the first to admit he was still fighting his way back down to his playing weight after an offseason injury. It took him -- and his team -- a while to adjust. But entering Thursday, UCLA has won seven in a row, and Muhammad is a major reason why. His offensive performances since the Dec. 1 loss to San Diego State have been sublime: Muhammad is averaging 22.1 points per game in those contests, with an average offensive efficiency rating of 127.7. The dude is balling. And if he keeps it up, it won't be long before everyone who dismissed the early hype jumps back on the bandwagon.
Kelly Olynyk, center, Gonzaga
: When we discussed Gonzaga in the preseason, we talked about point guard
Kevin Pangos
and forward
Elias Harris
(also on the list) and freshman center
Przemek Karnowski
. We did not talk much, if at all, about center Kelly Olynyk. But Olynyk, who redshirted last season, when he worked out and focused on getting his body into shape, has emerged as Gonzaga's best player, its leading scorer and the major reason why this team is a serious Final Four contender. Olynyk's latest outing -- a hard-fought Saturday victory at Santa Clara -- included 33 points on 12-of-15 shooting (including 8-of-9 shooting from the charity stripe).
Cleanthony Early, forward, Wichita State
: How is Wichita State, a team that lost five senior starters this offseason, currently 15-1 and a real threat to upset Creighton's predicted waltz through the Missouri Valley Conference? You can start with Cleanthony Early. Early was a two-time NJCAA Division III Player of the Year for Sullivan (N.Y.) County Community College before he arrived in Wichita this fall, and he has taken almost zero time to adapt to the Division I game. Through 16 games, Early is averaging 15.4 points and 5.3 rebounds with a 116.8 offensive rating on 28.9 percent usage. That's impressive, but his latest game -- Wednesday's 39-points-on-19-shots outing that helped save Wichita State from an upset at Southern Illinois -- should help introduce him to a wider audience.
January, 5, 2013
1/05/13
8:58
PM ET
By
ESPN.com staff
| ESPN.com
December, 20, 2012
12/20/12
12:48
PM ET
Player of the Night -- Mike Muscala, Bucknell
Bucknell is off to its best start in 105 years thanks to another monster performance from Muscala. He finished with 26 points, 13 rebounds, four assists, three steals and five blocks in a 71-65 win over Marist. If you combine the averages for points, rebounds and blocks, he's now tied with Duke's
Mason Plumlee
for most in the nation (32.0).
Bucknell improved to 11-1, its best start since an undefeated 1907-08 season.
Freshman of the Night -- Anthony Bennett, UNLV
With 20 points, 12 rebounds and three blocks, Bennett put forth another complete effort in UNLV's win over Northern Iowa. It's his fourth 20-10 game this season. No other freshman has more than two.
Still averaging just 27 minutes per game, he now leads the nation in points plus rebounds plus blocks per 40 minutes.
Bench Player of the Night -- Konner Tucker, UTEP
In reality, you could take your pick among several bench stars in UTEP's triple-overtime win over Oregon. More than half of the Miners' 91 points came off the bench. That included 21 points and 10 rebounds from
John Bohannon
, and 12 points and eight assists out of
Jacques Streeter
.
But it was Tucker, in just his second game with the Miners, who scored nine of his 12 points in the overtimes, including the decisive points down the stretch. After stints at Lon Morris College, Wake Forest and Sam Houston State, Tucker is closing out his career at UTEP.
Stat Sheet Stuffer -- Peyton Siva, Louisville
In a game hyped for the Pitino father-son matchup, Siva made the biggest impression. He finished with 15 points and a career-high 12 assists as Louisville topped FIU 79-55. That included a career-high five 3s.
It's the first such 15-12 game for a Louisville player since Francisco Garcia in 2004.
Scorer of the Night -- Jesse Morgan, Massachusetts
Morgan's career-high 35 points led the Minutemen to an 85-76 win over Ohio. The last UMass player with more points in a game was Marcus Camby in 1996.
His 35 points are the most in the A-10 this season. Morgan went into halftime with 24 points, a Mullins Center record.