College Basketball Nation:

Mike Young
March, 17, 2011
3/17/11
11:43
PM ET
By
Diamond Leung
| ESPN.com
DENVER -- The buzz from upset wins by Morehead State and Richmond still lingered when BYU took the court at the Pepsi Center. The Cougars knew all about what had happened earlier in the day and certainly didn't want it to happen to them.
By the time BYU got done with Wofford, order had been restored. It was business as usual, with
Jimmer Fredette
scoring 32 points in a
74-66 second-round win
on Thursday.
And unlike last season when Fredette's monster game against Florida gave BYU its first NCAA tournament victory in 17 years, the Cougars hope this is just the start of a march to the Sweet 16.
[+] Enlarge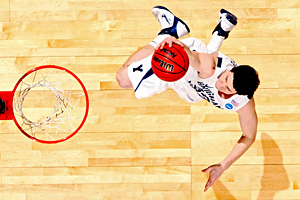 Doug Pensinger/Getty ImagesJimmer Fredette still notched 32 points despite decent defense by Wofford.
"Last year was a euphoric atmosphere," BYU coach Dave Rose said. "Guys were jumping around.
"Guys today were happy with the win and look forward to the next challenge. This team is pretty business-like."
Wofford actually felt it did a decent job on Fredette, a sign of just how dangerous the nation's leading scorer is. He was 10-of-25 from the field and only 2-of-9 from beyond the arc, but other players stepped up for BYU.
Charles Abouo
scored eight straight points at one point to extend the lead to 14 while
Noah Hartsock
and
Logan Magnusson
knocked down two 3-pointers apiece. Fredette finished with seven assists.
"Those assists come to those guys who are ready to make a play." Rose said. "We had three or four guys able to knock them down."
Said Fredette: "They were trying to force me left, so I kept going left and went to the basket."
His passing helped showcase once again that no, the Cougars are not just a one-man team. Abouo, Hartsock and Magnusson scored 10 points apiece, and
Kyle Collinsworth
collected 11 rebounds. These are players who still have to prove that there's a successful future after Brandon Davies was lost for the season.
Wofford kept the game close, with
Noah Dahlman
scoring 22 points, but the No. 14-seeded Terriers didn't shoot well from the perimeter and couldn't come up with baskets when they needed them.
Jamar Diggs
(5-for-14),
Cameron Rundles
(5-for-14) and
Brad Loesing
(3-for-10) all struggled.
"Had you told us our team would do a great job on Fredette, I thought we would have won the game," Wofford coach Mike Young said.
Diggs felt he did a good job on Fredette, but it wasn't enough. "He's deceptively quick," Diggs said. "You look at him and think you're in front of him, and then he's by you."
BYU wasn't going to suffer an upset, not with Fredette leading the way and not with the team's complementary players performing their best. After witnessing Louisville and Vanderbilt go through it, the Cougars collectively told themselves the ride wasn't going to end.
"A lot of the guys saw it and said, 'Let's not let that happen to us,'" Magnusson said.
March, 19, 2010
3/19/10
9:30
AM ET
JACKSONVILLE, Fla. -- Previewing Friday's action at Jacksonville Memorial Arena:
Temple (5) vs. Cornell (12), 12:30 p.m.


This promises to be one of the more fascinating first-round matches of the tournament. Both teams appear criminally underseeded -- Cornell is one of the best Ivy League teams in years, while Temple won both the Atlantic 10 regular season and tournament title. The game features a contrast of styles: The Big Red led the country in 3-point shooting (43.4 percent), while the Owls have the fourth best 3-point percentage defense (27.8 percent). Hard as it is to believe, the Ivy Leaguers want to push the pace, but Temple prefers a more controlled tempo.
And then you have the side story on the coaches, as Cornell's Steve Donahue spent 10 years as an assistant to Temple's Fran Dunphy at Penn. "There are so many emotions that go on in this tournament, and I'd rather not have the extra layer of emotion of competing against a guy that you were hoping to root for," Dunphy said. No one will want to play the survivor of this confrontation.
Wisconsin (4) vs. Wofford (13), 2:50 p.m.


In its first-ever trip to the NCAA Tournament, Wofford had the misfortune of drawing the Badgers and their suffocating style of play. The Terriers know that they're facing a tall order -- or do they? "It would be a huge upset if we were to beat them; let's be honest" Wofford coach Mike Young said. "But I can tell you this: I know my team. They're a little crazy in a great way, in a wonderful way. They are convinced that they're going to come in here and play well and give themselves a chance to win."
The biggest obstacle will be dealing with Wisconsin's size. The Terriers like to go inside first, but they play a three-guard lineup with two 6-foot-6 forwards. The Badgers counter with 6-foot-10 center
Jon Leuer
and 6-8
Keaton Nankivil
fronting Bo Ryan's typically stingy defense, which allowed just 56.2 points per game this season. Wisconsin had one of the worst shooting days imaginable against Illinois in the Big Ten tournament and still almost found a way to win. A lot more will probably have to go wrong for Ryan's team if Wofford is to pull the upset.
Duke (1) vs. Arkansas-Pine Bluff (16), 7:25 p.m.


Arkansas Pine-Bluff has already won one game in the school's first-ever NCAA Tournament appearance -- beating Winthrop on Tuesday night in Dayton -- and that will almost certainly have to suffice for the Golden Lions. They don't shoot the ball well -- making just 36.8 from the field and 31.8 percent from the 3-point line on the season -- and they have only one player taller than 6-foot-7. That doesn't sound like the profile of a team that can topple Duke, which has both size and shooters. But guard
Terrance Calvin
is trying to stay optimistic. "They're a very big team and we're going to have a small lineup, so we're going to try to use our speed against them," he said. More realistically, the Blue Devils will have far too much firepower for this to be close.
California (8) vs. Louisville (9), 9:45 p.m.


Both teams are a bit of a mystery. Cal won the Pac-10 and had a great RPI but lacks any marquee wins. Louisville was good enough to beat Syracuse twice but bad enough to get hammered by Marquette, St. John's and Western Carolina. Each team boasts some very streaky shooters, especially the Golden Bears'
Jerome Randle
, who can score in bunches.
If Louisville wants to press and play up tempo, Cal says bring it on. "The faster the better," coach Mike Montgomery said. But Montgomery has to worry about the paint, especially with starting power forward
Omondi Amoke
not making the trip because of a suspension. The Cardinals say they want to feed big man
Samardo Samuels
early and often. "I feel like he's the key for us in this tournament," Louisville point guard
Edgar Sosa
said.
March, 9, 2010
3/09/10
2:16
AM ET
Let's put Wofford's Southern Conference title in perspective, shall we?
The Terriers haven't been in the NCAA tournament. The Terriers haven't been in the NIT. The Terriers have never won a conference tournament or a regular-season title.
This was an old NAIA school that just joined the Southern Conference in 1997. Its undergraduate enrollment is just under 1,500 students. So when head coach Mike Young got on the phone late Monday night/Tuesday morning, he simply said: "Forgive me, this is new.''
[+] Enlarge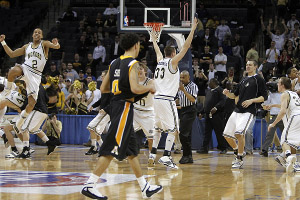 AP Photo/Chuck BurtonWofford players erupt in celebration after the team clinched the SoCon tourney title with a win over ASU.
No reason to apologize, coach. Wofford is hardly a household name. But looking back, the Terriers should have been more on our mind. They were one possession away from winning at Pitt in the season opener, took out Georgia and South Carolina of the SEC and went 15-3 in a respected league.
Young should have perspective. He's been with Wofford since joining Richard Johnson's staff in 1989, and has been the head coach for the past eight years.
"Can we cause some trouble? Well if it's a matchup with a team that is really big it could be tough,'' Young said by phone. "I would think we could cause some heartburn for the team preparing for us in the first round. We're not going to beat ourselves. We're not going to take bad shots.''
Young said he wouldn't want to face a team like Wofford in the first round.
"We'll be ready to go."
That doesn't sound like someone who is new to this NCAA process. Remember, this is a league that produced Davidson and Steph Curry and a magical Elite Eight run.
Wofford, like conference mate College of Charleston, has seen the big boys, stood up and won. Wofford was the aggressor from the outset against Appalachian State, jumping out to a 17-3 lead before holding on to defeat the Mountaineers.
"There's no secret we hit with a special group of guys,'' Young said. "We have a group of kids that believe in us, are getting a great education and came here to win a championship of a really good mid-major league.''
As giddy as Young is about the bid, he's not shocked. He knows how well Wofford played in nonconference games against the power schools.
"There was a time when we were 2-0 against the SEC East and 0-2 in the Southern Conference,'' Young said. "To turn it around and get to this point is amazing. We were in a two-point game at Michigan State at the 10-minute mark. We should have been up three or five against Illinois (before losing). The bottom line is that we've got a darn good basketball team. We play the right way, we don't turn it over and we're happy people.''
Happy indeed. At their tiny campus in Spartanburg, S.C., there could be no better adjective at the moment.