College Basketball Nation:

Milton Jennings
March, 1, 2013
3/01/13
7:30
AM ET
Duke coach Mike Krzyzewski often has said he doesn't believe in revenge games. But after losing at Miami by 27 points in January, and getting beaten at Virginia on Thursday night, is there much doubt there will be some extra, er, motivation for the Blue Devils when they host the Hurricanes on Saturday? In the meantime, here's an attempt at this week's ACC power rankings:

1. Miami:
The now-No.-5 Hurricanes bounced back from their first ACC loss of the season (by 15 points at Wake Forest) by beating up on Virginia Tech. Since then, they've been able to focus on the game everyone's been talking about: Saturday's rematch with Duke: "It's going to be a blast," guard
Trey McKinney Jones
said, according to The Associated Press. "We beat them here this year, and we beat them there last year, so they're going to be gunning for our heads."
2. Duke:
Plus, the No. 3 Blue Devils should be especially fired up after shooting worse than 40 percent and never leading during the 73-68 loss at Virginia on Thursday. Forward
Ryan Kelly
, sidelined since January with a foot injury, returned to practice this week, but isn't expected back until after Saturday's game.
3. Virginia:
Nothing like beating the No. 3 team in the nation to bolster your NCAA tournament hopes.
Joe Harris
scored a career-high 36 points and teammate
Akil Mitchell
added a double-double Thursday night as the Cavs toppled the Blue Devils and remained tied for third place in the ACC standings.
4. North Carolina:
The Tar Heels are now 4-1 since they went to a four-guard starting lineup, and as their momentum grows, so does their NCAA tournament résumé. UNC secured another 20-win season with Thursday night's victory at Clemson, and junior
Reggie Bullock
has averaged 17 points and 11 rebounds the past two games.
5. NC State:
The Wolfpack bounced back from their loss at UNC by blasting Boston College, securing back-to-back 20-win seasons for the first time since Herb Sendek was coach. Next up: a trip to Georgia Tech, with an eye on trying to work back into the top four of the conference standings. State now stands in fifth place, a game behind the Cavs and Tar Heels.
6. Maryland:
The Terps are 1-6 on the road in conference play after losing at Georgia Tech, with their only ACC road win coming at last-place Virginia Tech. They still travel to Wake Forest and Virginia, and play UNC at home, during the regular season, but Maryland's at-large NCAA tournament bid hopes are diminishing.
7. Florida State:
The Seminoles remain the worst rebounding team in the league (31.3 per game) but could get a boost when 6-foot-8
Terrance Shannon
-- who suffered a neck injury on Jan. 19 but has been cleared to play -- returns. FSU beat Wake Forest earlier this week, but has still lost four of its past six games.
8. Wake Forest:
After scoring 23 points en route to a court-storming win over then-No. 2 Miami, Demon Deacon
C.J. Harris
made only one field goal, and finished with nine points, in a loss at Florida State. So continue Wake Forest's road woes. As some consolation, two of its final three games are at home.
9. Georgia Tech:
Yellow Jackets coach Brian Gregory called his team's win over Maryland earlier this week the most consistent 40 minutes of basketball it has played this season. Freshman forward
Robert Carter Jr.
posted his fourth double-double; and at 15-12 with three games left, Tech is guaranteed at least a .500 regular-season finish.
10. Clemson:
Even with double-doubles from big men
Milton Jennings
and
Devin Booker
, the Tigers couldn't outmatch the Tar Heels' smaller starting lineup. Thursday's defeat marked Clemson's third consecutive loss and sixth in its last seven games, as the Tigers continue to struggle to score.
11. Boston College:
It was a tough week on Tobacco Road for the Eagles, who followed a 21-point loss at Duke with an 18-point loss at NC State.
Ryan Anderson
averaged 17.5 points in the two defeats.
12. Virginia Tech:
The Hokies snapped a nine-game losing streak by besting FSU, only to lose at Miami. The Canes held senior guard/nation's-leading-scorer
Erick Green
to 16 points, only the second time during the conference season that he's failed to score at least 22.
February, 28, 2013
2/28/13
9:38
PM ET
North Carolina's smaller lineup continues to come up big.


The Tar Heels (20-8, 10-5 ACC) won their fourth consecutive game Thursday night,
68-59
at Clemson, and are now 4-1 since coach Roy Williams opted to insert 6-foot-5
P.J. Hairston
into the lineup for 6-11
Desmond Hubert
. And UNC continued to show signs that it's all starting to come together -- and at the right time.
Senior guard
Dexter Strickland
, looking healthier and healthier as the season has progressed, led the Tar Heels with 16 points. Point guard
Marcus Paige
continued to show more confidence in his offense, finishing with 10 points and four assists. And
Reggie Bullock
did a little bit of everything yet again, recording 12 points, 6 assists and 9 rebounds.
A closer look at the Tar Heels' victory at Littlejohn Coliseum:
Turning point:
The score was knotted 18-18 with about 10 minutes to go in the first half when UNC broke away with a 12-2 run. Reserve
Leslie McDonald
jump-started it with back-to-back 3-pointers, Hairston added a 3, and forward
James Michael McAdoo
added a three-point play to give the Tar Heels a 30-20 lead.
The Tar Heels didn't play a particularly pretty second half, as the Tigers outrebounded them and clawed to within seven points with a minute left in the game. But UNC's cushion was plenty, especially against a foe that has struggled to score this season.
"Well, we're happy to get an ACC win on the road,'' Williams said. "There's no question about that. But boy, we finished the game about as ugly as you can finish it. We missed some free throws. They outrebounded us by 14 in the second half, and they ended up outrebounding us by nine for the game. You can't have that and be very good. We got sloppy."
Players(s) of the game:
Strickland made 7 of his 9 shot attempts and also added 3 rebounds and 4 assists.
Forwards
Devin Booker
(25 points, 11 rebounds) and
Milton Jennings
(12 points, 10 rebounds) both had double-doubles for the Tigers (13-14, 5-10).
What it means for UNC:
Security. Beating a team with an
RPI near the mid-100s
might not exactly turbocharge the Tar Heels' ever-strengthening NCAA résumé, but a loss likely would have hurt.
The victory kept the Tar Heels even with Virginia (which upset No. 3 Duke later Thursday night) for third place in the ACC standings; the top four seeds earn a first-day bye in the upcoming league tournament.
What it means for Clemson:
More growing pains. Entering the game, the Tigers ranked last in the ACC in scoring (61.8 points per game) and 10th in field-goal percentage (42.6). And they were not helped by the fact that starter
K.J. McDaniels
, one of only two Tigers averaging double figures (10.7 ppg), sat out Thursday due to an ankle injury. The Tigers shot 39.7 percent for the game.
Etc.:
The victory secured UNC's 40th 20-win season in the last 43 years. … UNC reserve big man
Joel James
, who had missed four straight games because of a concussion, returned and played two minutes.
Up next
: Clemson plays at Virginia Tech on Saturday; UNC hosts Florida State on Sunday.
February, 15, 2013
2/15/13
11:15
AM ET
If you haven't done it already, go ahead and circle March 2 on your calendar. That's when Miami travels to Duke in what should still be a clash of top-5 teams. In the meantime, here are this week's rankings based on myriad factors, including how teams have performed lately and the foes they've faced:
1. Miami.
Raise your hand if you would have guessed at the beginning of the season that the Hurricanes would be in the conversation for the No. 1 ranking. They're No. 3 in the AP poll, still the only undefeated team in ACC play. And point guard
Shane Larkin
continues to wow; he averaged 20 points and 6.5 assists in two wins last week.

2. Duke.
Make that six wins in a row for the No. 2 Blue Devils after surviving tests at Boston College and versus UNC.
Mason Plumlee
continues to average a double-double (17.5 points, 10.2 rebounds) in ACC play. Coach Mike Krzyzewski said he still expects
Ryan Kelly
to return this season, but he also used the word "if" a couple times last week.
3. Virginia.
Can the Cavs, who have now won seven of their past eight, beat UNC on the road Saturday for a season sweep? A victory would certainly bolster their improving NCAA resume.
Joe Harris
is averaging 17.8 points in ACC play, second best in the league.
4. NC State.
After three straight losses, the Wolfpack finally got back in the "W" column at Clemson last weekend, but it took a
Scott Wood
3-pointer with a second to go to do it. Point guard
Lorenzo Brown
has returned from his ankle injury, and State had an open week to regroup and reset.
5. North Carolina.
Despite being the unranked underdogs, the Tar Heels led by as many as 10 points in an eventual loss at second-ranked Duke, and the insertion of
P.J. Hairston
into the starting lineup was a big reason why. It will be interesting to see whether the move sticks.
6. Maryland.
It's been an inconsistent couple of weeks for Terps center
Alex Len
, who has scored in single digits in three of his past five games -- and the Terps have lost all three. Maryland had an open week since losing to Virginia last weekend. Next up: the Blue Devils.
7. Clemson.
Senior
Milton Jennings
came up big Thursday night, blocking a potentially game-tying 3-pointer at the buzzer to secure his team's victory over Georgia Tech. It was a nice bounce-back after losing to NC State on a 3-pointer the game before.
8. Florida State.
The Seminoles' five ACC wins have been by five points or fewer. Four of their six league losses? By double digits. Their six-point defeat to Miami last week was one of the rare exceptions.
Michael Snaer
continues to lead the team with 13.7 ppg.
9. Wake Forest.
It's wacky how much worse the Deacs are on the road than at home. Case in point: last week, when they blew out Florida State 71-46 at Lawrence Joel Coliseum, only to let a seven-point lead with 2:12 left at Boston College slip away.
10. Boston College.
After losing a late five-point lead against the Blue Devils, the Eagles were the ones who staged a late-game comeback, against the Deacons.
Joe Rahon
, who capped an 8-0 run with two free throws, had 12 points and nine rebounds in that game.
11. Georgia Tech.
Speaking (writing?) of ACC road woes, the Yellow Jackets finally ended theirs, at Virginia Tech, before losing to Clemson. Freshman
Robert Carter
posted his third double-double of the season in that defeat.
12. Virginia Tech.
Weekly
Erick Green
tracker: He scored 28 against Georgia Tech, 22 at Virginia, and continues to lead the ACC (and nation) in scoring with 25.2 ppg. Seven straight losses now for the Hokies, though, with a trip to NC State up next.
November, 29, 2012
11/29/12
5:00
AM ET
1. Clemson's
Milton Jennings
had better be apologizing to his Tigers teammates for quite some time after his arrest early Wednesday for possession of one ounce or less of marijuana,
according to the Anderson (S.C.) Independent Mail
. Why? The Tigers played well for a rebuilding club at the Old Spice Classic in Orlando, Fla., and should have protected their home court and beaten Purdue in the ACC/Big Ten Challenge on Wednesday. Instead, the Tigers lost to the Boilermakers by 12. Jennings was averaging a team-high 10.8 points a game. Jennings' lack of leadership had a direct effect on this loss. Meanwhile, Ernie Zeigler, the former Central Michigan coach and father of Pitt forward
Trey Zeigler
, said his son has apologized to team staff and in person to athletic director Steve Pederson for a DUI over the weekend. Zeigler has been indefinitely suspended by Pitt coach Jamie Dixon. "Trey is a very good kid who made a bad mistake,'' said his father. "He showed very poor judgment. He will be disciplined by the judicial system, currently by coach Dixon and, more importantly, by his parents. We are extremely confident Trey will learn, grow and ultimately respond in the appropriate fashion to the adversity he brought upon himself.''
2. Tulane coach Ed Conroy is confident that the Green Wave can live up to the challenge of playing their games at the New Orleans Arena (capacity 18,500) when they join the Big East rather than playing at the Devlin Fieldhouse (formerly Fogelman), which holds 3,600. Conroy said the setup will be similar to St. John's, which plays its marquee games at Madison Square Garden and other random games on its campus in Queens, N.Y. Conroy said Tulane will play non-conference games at Devlin and Big East games at the home of the NBA's Hornets. Conroy said playing the Big East games at the Hornets' site was part of the deal of admission to the conference. Of course, this further complicates scheduling for the Big East, most notably assistant commissioner Tom Odjakjian. He lost school-controlled arenas at Louisville, Rutgers and Notre Dame in 2014 and '15 and added one in Tulane that nevertheless will be at the mercy of the NBA schedule. Odjakjian also got one campus-controlled arena and one where he'll have to wrestle pro dates away from the NBA with Temple and Memphis, respectively.
3. The frustrations at Texas are bubbling over. Texas gave the NCAA information on
Myck Kabongo
's paid workout last May (former teammate and current Cleveland Cavalier Tristan Thompson has already been quoted saying he paid for the plane ticket but Kabongo's brother paid him back). The school submitted its paperwork "a while ago,'' according to a source, but no word from the NCAA on any penalty. Texas has already held Kabongo out of six games and the Longhorns are 4-2 in his absence.
November, 21, 2012
11/21/12
9:45
AM ET
Gonzaga and Davidson are the most experienced teams in this field. Might we see a mid-major finale? Stay tuned....
The basics:
Nov. 22-23, 25 at HP Fieldhouse in Orlando, Fla.
The set matchups:
Thursday – West Virginia vs. Marist, Noon ET; Vanderbilt vs. Davidson, 2 p.m.; UTEP vs. Oklahoma, 7 p.m.; Clemson vs. Gonzaga, 9 p.m. Friday – semifinals and consolation games. Sunday – consolation games and championship game.
The favorite:
Gonzaga, ranked 17th
in the AP poll
this week, is clearly the team to beat. The Zags feature a versatile roster that lost only one key contributor from last season, and coach Mark Few will be looking to hone his team early in hopes of a 14th straight trip to the NCAA tournament.
FIVE PLAYERS TO WATCH:
Jake Cohen, Davidson –
The Wildcats return all five starters from the squad that won the Southern Conference championship, including Cohen, the league's reigning player of the year. He is averaging 10 points and 6.3 rebounds but is shooting only 32.3 percent. Davidson has a surprising 1-2 record.
[+] Enlarge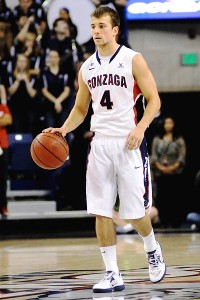 James Snook/US PresswireKevin Pangos and the Gonzaga Bulldogs are one of the favorites entering the Old Spice Classic.
Milton Jennings, Clemson –
As one of only two scholarship seniors on this year's team (along with forward
Devin Booker
), the former McDonald's All-American has a chance to live up to his billing this season. He is averaging 10.5 points (second behind Booker) and 6.5 rebounds, and he needs to continue to be a major player for the Tigers to be a factor in this tournament.
Adam Kemp, Marist –
The 6-foot-10 junior has averaged a double-double over his first three games (11 ppg, 10 rpg) and has developed as a reliable inside weapon. But he'll have his hands full with some big foes during this tournament.
Kevin Pangos, Gonzaga –
The guard led his team in scoring (13.6 ppg) as a freshman and is averaging 11 points and five assists thus far. He's also made 6 of 13 3-point attempts, picking up where he left off last season, when he converted 40.1 percent from long distance.
Steven Pledger, Oklahoma –
The senior has said that three straight losing seasons has fueled his fire. As a result, he is averaging 12 points and 42.1 percent shooting in the Sooners' first two games. Those are stats he'll want to keep building upon to keep his team winning.
FOUR BIG QUESTIONS:
How big of a difference will Kelly Olynyk make?
After being suspended for the first three games of the season for violating the school's code of conduct, the 7-foot Zags forward should make his season debut against Clemson on Thursday. He redshirted last year but averaged 5.8 points and 3.8 rebounds as a sophomore in 2010-11. He should add even more depth to an already deep squad.
Will the Mountaineers bounce back?
After getting blown out 84-50 at Gonzaga on Nov. 12, West Virginia would probably love a rematch in the championship game, but the Mountaineers have to get there first. That means improving from the outside (they missed their first 10 3-pointers), taking better care of the ball (they turned it over 18 times) and, according to coach Bob Huggins, competing harder.
Who are these Vanderbilt guys?
You might recognize sophomore guard
Kedren Johnson
, who converted the three-point play that gave the Commodores the lead for good when they upset Kentucky in the SEC tournament. But otherwise, it's not a very familiar group. All five starters from last season are gone, and Johnson (who averaged only 3.1 ppg last season) is the leading returning scorer. He is averaging 19.5 points so far this season, followed by junior
Kyle Fuller
(16.0) and freshman
Kevin Bright
(10.0).
Will the brothers keep leading?
It's always fun to watch brothers who are teammates, especially when those brother-teammates are leading their team in scoring. UTEP's
Chris Washburn
, a 6-foot-8 freshman, is averaging 12.5 points and 3.5 rebounds off the bench, while 6-7 sophomore
Julian Washburn
is a starter averaging 11 points and 2.5 rebounds.
THE PICKS
Opening games:
West Virginia over Marist; Davidson over Vanderbilt; Oklahoma over UTEP; Gonzaga over Clemson
Semifinals:
Davidson over West Virginia; Gonzaga over Oklahoma
Championship:
Gonzaga over Davidson
February, 13, 2012
2/13/12
8:00
AM ET
Remember earlier this season, when it looked as though the ACC might not get more than three NCAA tournament bids? As many as six are making cases now. My attempt at this week's power rankings:

1. Duke:
The Blue Devils beat Maryland over the weekend, but it will be their come-from-behind victory at UNC on Wednesday -- rallying from 10 points down in the final 2:38 -- that will linger in the annals of the rivalry. Freshman
Austin Rivers
, who scored 29 points (including the winning 3-pointer) in the victory, averaged 20 points, three rebounds and three assists for the week -- and shot his team back to the top of these ratings.
2. North Carolina:
The Tar Heels -- led by forward
Tyler Zeller
-- bounced back from the Duke loss with a double-digit win over Virginia. But they've hit only 2 of their past 16 3-pointers and will be thin on the bench until freshman
P.J. Hairston
(who missed Saturday's win with a sore foot) returns.
3. Florida State:
Forward
Bernard James
scored 15 of his 18 points in the second half to help beat Miami, but the loss at Boston College has to burn. Guard
Michael Snaer
, who had been shooting better than 57 percent from 3-point range during his team's seven-game winning streak, managed only one 3 against the Eagles, proving again how key he is to this team's success.
4. Virginia:
Coach Tony Bennett was able to rest star forward
Mike Scott
for a long second-half stretch in a blowout victory versus Wake Forest. But Bennett would have liked to have used him more at UNC, where the senior was in foul trouble early and his team lost by double figures. The Cavs have lost two of their past three games, both to Top 25 foes.
5. NC State:
Junior
Scott Wood
finally missed a free throw, ending his ACC-record streak at 66. But the Wolfpack won their only game last week, at Georgia Tech, avenging their loss to the Yellow Jackets last month. They have won three in a row.
6. Miami:
Reggie Johnson
was held to four points as FSU halted the Hurricanes' winning streak at five. Next up: a home rematch with UNC.
7. Maryland:
With players moving in and out of the lineup early on, first-year coach Mark Turgeon said it felt as though he had coached several different seasons in one. Add another. Starting point guard
Pe'Shon Howard
, who missed the first nine games with a stress fracture in his foot, is out for the rest of the season with a torn ACL in his knee. The Terps lost their first game without him (again), at Duke.
8. Clemson:
After losing three straight games by four points or fewer, the Tigers got a 20-point blowout win at Wake Forest. Forward
Milton Jennings
, back from his second suspension of the season, scored 15 points.
9. Virginia Tech:
The Hokies followed a sloppy 16-point loss at Miami with a one-point win over Boston College on Sunday when
Dorian Finney-Smith
hit a tip-in with 1.8 seconds left.
10. Boston College
: Eagles coach Steve Donahue said he doesn't put great emphasis on wins and losses, considering the youth of his team. But he had to be thrilled with the Eagles' upset win over Florida State, its third ACC victory of the season. They followed that with a one-point loss to Virginia Tech.
11. Georgia Tech:
Tech made only 1 of 17 3-point attempts against NC State and has lost seven of its past eight games.
12. Wake Forest:
The Deacons' 20-point loss to Clemson marked their sixth straight defeat. "Obviously we are embarrassed," coach Jeff Bzdelik said, according to the Winston-Salem Journal. "Obviously we have some limitations on this team. ... What we have to do is be stronger and tougher to stay the course with great energy in those areas we can control -- like defending and rebounding and running the court."
Follow Robbi Pickeral on Twitter at @bylinerp.
February, 6, 2012
2/06/12
8:00
AM ET
North Carolina rallied, Miami upset and Virginia and Florida State battled. It was quite a weekend for the ACC, and here's an attempt at this week's power rankings:

1. North Carolina:
Harrison Barnes
can star when hurting.
Kendall Marshall
can play an extended stretch with four fouls. And the Tar Heels can still rally, as they showed by coming back from a nine-point deficit at Maryland. But they're going to have to get more production from their bench, as their reserves managed only nine points in two games last week.
2. Florida State:
Michael Snaer
managed only three field goals against Virginia's defense, but they all came at timely points in the second half. The Seminoles have now won seven in a row -- including beating the three other ranked teams in the ACC -- and remain in the driver's seat for the league's regular-season race.
3. Duke:
The Blue Devils' loss to Miami marked their second ACC loss at home. Coach Mike Krzyzewski summed up the problem like this: "A Duke team should play with energy for 40 minutes – or 45," he said, according to The (Raleigh) News & Observer. "Go outside and look at the banners. There are quite a few of them up there. They were not won without energy, without hunger, with ... complacency, with[out] people really wanting it."
4. Virginia:
The Cavs recorded a season-high 20 turnovers in their loss to Florida State, which they blamed more on their execution than the Seminoles' defense. Senior
Mike Scott
continues to impress, as Virginia's four losses this season have come by a combined 10 points.
5. Miami:
It took three overtime periods -- two versus Maryland, one at Duke -- to extend the Hurricanes' winning streak to four, and in so doing, they're pushing their way back into the NCAA conversation. Sunday's win marked Miami's first at Cameron Indoor Stadium, and only its second win over the Blue Devils since joining the ACC.
6. NC State:
Scott Wood
made six 3-pointers in the Pack's victory against Wake Forest. Most notably, he did it in his home arena, the RBC Center -- although he told The News & Observer he prefers playing on the road. "Anytime you have fans talking trash, it raises your game."
7. Maryland:
The Terps gave the Tar Heels all they could handle on Saturday, even leading by as many as nine points in the second half before UNC rallied. Guard
Terrell Stoglin
continues to lead the ACC in scoring, but Maryland has now lost five of its past six games.
8. Clemson:
The Tigers lost both their games last week and also lost forward
Milton Jennings
, who was suspended for the second time this season, this time for academic reasons. He's out indefinitely, meaning the Tigers lose an average of 8.9 points and 5.4 rebounds per game.
9. Virginia Tech:
The Hokies -- who had had six of their previous eight ACC games decided by four or fewer points -- finally won a close one when it beat Clemson 67-65. But they squandered a 17-point and lead and needed the Tigers to miss a shot at the end to survive.
10. Wake Forest:
It was a tough week for the Deacons, who lost to two in-state foes -- UNC and NC State. That extended their losing streak to four.
11. Georgia Tech:
Glen Rice Jr.
scored three points in the final minute to help his team beat Boston College and snap a six-game losing streak. "Everybody in the locker room right now is going crazy," Tech guard
Mfon Udofia
told the Atlanta Journal-Constitution after the game.
12. Boston College
: The Eagles have now lost six in a row -- the last two by a combined nine points -- and things don't get any easier with Florida State coming to town on Wednesday.
Follow Robbi Pickeral on Twitter at @bylinerp.
January, 2, 2012
1/02/12
8:30
AM ET
Would the fourth-best team in the league please raise your collective hand? Or at least, your level of play? One more attempt to rank the ACC squads before conference competition (finally) begins this weekend. As always, feel free to debate or weigh in:
1. North Carolina:
Blowout wins against Elon and Monmouth certainly don't help UNC's RPI. But then again, its ACC opener against Boston College this weekend probably won't either. Forward
John Henson
continues to average a double-double, plus a league-leading 3.2 blocks per game.
2. Duke:
After a 40-point win over Western Michigan followed by a 30-point win over Penn, the Devils have one more road game, at Temple on Wednesday, to gear up for league play. Freshman
Austin Rivers
continues to lead the team -- and the ACC Rookie of the Year race -- with 15.4 ppg.
3. Virginia:
The Cavaliers, who have won 10 straight, should get a good pre-conference test Monday night in Baton Rouge, where they will face an LSU team that has won seven straight by holding its competition to fewer than 60 points per game.
4. Virginia Tech:
The Hokies have now beaten Oklahoma State twice this season, the second time snapping the Cowboys' 37-game home winning streak against nonconference foes. Tech has won six in a row entering its ACC opener at Wake Forest on Saturday.
5. NC State:
Scoring depth could be an issue come conference play, but the Wolfpack's starting five sure knows how to keep things interesting.
Lorenzo Brown
leads the league in steals at 2.1 per game.
6. Florida State:
For the second time this season, the Seminoles lost to an Ivy League school -- this time to Princeton in triple overtime. With six scholarship seniors on the team, FSU should be showing more motivation.
7. Miami:
The Hurricanes haven't lost since forward
Reggie Johnson
returned, and trail only Duke in the league in 3-pointers made per game (8.3).
Malcolm Grant
is the team's leader (and the ACC co-leader) in that category with 2.8 made per game.
8. Maryland:
Center
Alex Len
made an alley-oop dunk in the opening minute of his college debut against Albany. A sign of good things to come for the Terps? He's averaging 13.5 points and 7.5 rebounds after two games, and Maryland has won six straight.
9. Wake Forest:
Led by
C.J. Harris
(18.7 ppg), the Deacs have already won nine games this season, one more than 2010-11. They've won three straight, but are still tied for last in the league in rebounding margin, at minus-5 per game.
10. Georgia Tech:
The Jackets' latest loss was at Fordham, which only managed one victory in the Atlantic 10 last season. One problem: Tech can't seem to hold on to the ball, as its turnover margin is minus-3 per game.
11. Clemson:
Forwards
Milton Jennings
and
Devin Booker
are combining to average only about three more points per game than last season. More was expected.
12. Boston College:
The Eagles managed only three points (all on free throws) in the final 8:32 of their loss to Harvard, and the point-less stretches are becoming a theme for young BC. Boston College is averaging a league-worst 61 ppg.
Robbi Pickeral can be reached at bylinerp@gmail.com. Twitter: @bylinerp.