College Basketball Nation:

Mississippi Valley State Delta Devils
October, 22, 2012
10/22/12
4:50
PM ET
By
ESPN.com staff
| ESPN.com
Before we get to the Blue Ribbon team-by-team previews for the Southwestern Athletic Conference, here is Eamonn Brennan's quick wind sprint through the league:
Blue Ribbon breakdowns of all 10 teams in the SWAC:
Alabama A&M
Alabama State
Alcorn State
Arkansas Pine-Bluff
Grambling
Jackson State

Mississippi Valley State
Prairie View A&M
Southern
Texas Southern
April, 23, 2012
4/23/12
5:00
AM ET
1. Mississippi Valley State coach Sean Woods is one of a handful of coaches vying for the Southern Miss job, beginning with an in-person interview Monday. The others reportedly in the mix are Larry Eustachy's Southern Miss assistant Steve Barnes, Middle Tennessee's Kermit Davis, former Nebraska coach Doc Sadler, Wichita State assistant Greg Heiar, and UTEP coach Tim Floyd. If USM, which is also hiring an athletic director doesn't bump up Barnes to replace Eustachy (who left for Colorado State) then Woods should be given a serious look as the choice. Woods did a remarkable job at one of the toughest places to win. He steadily increased his win total from seven to nine to 13 to 21 this past season, going 17-1 in the SWAC. Woods and Sadler are both interviewing Monday.

2. Illinois State coach Tim Jankovich was recruiting with a host of other coaches in Minnesota over the weekend. He still hadn't been told if he's the coach-in-waiting at SMU. It has reached a point where something better happen soon or Jankovich is going to stay put and continue to coach a Redbirds team that has a chance to win the Missouri Valley next season.

3. The Atlantic 10 still may add VCU and George Mason, along with Butler, to get to 16 schools now that Temple is off to the Big East in 2013. But no one from any of the schools or conferences are indicating an imminent departure. VCU athletic director Norwood Teague, fresh off a trip to Europe, said Sunday that there is movement going on and that everyone is simply in evaluation mode. A-10 commissioner Bernadette McGlade and CAA commissioner Tom Yeager both said Friday there was no truth about a done deal for VCU and Mason to leave. Yeager better hope that's true. The CAA can't afford to lose these two Final Four programs. The A-10 would have a chance to elevate itself to being considered a power basketball conference if it pulled off this move.
March, 14, 2012
3/14/12
2:25
AM ET
By
ESPN.com staff
| ESPN.com
Two all-time Men's Basketball Championship records were set Tuesday, setting the bar high for an exciting tournament that continues Wednesday.

BYU trailed Iona by 25 points in the first half, but moved into the Round of 64 with the largest comeback in Men's Basketball Championship history.

Western Kentucky, the only team in the field with a losing record this season, trailed Mississippi Valley State by 16 points with under 5:00 remaining. The Hilltoppers moved on to the Round of 64 with the largest final-5:00 comeback in Men's Basketball Championship history.
(14) BYU 78, (14) Iona 72
BYU
has won a tournament game for the third straight season, the first time in school history with such a streak, after holding
Iona
to just 17 points over the final 24:34 of the game.
Iona scored 55 points and shot 69 percent from the field and 71 percent on 3-pointers in the first 15:26 of the game and went into halftime with a 55-40 lead.
In the final 24:34 of the game, the Gaels scored 17 points, shot 20 percent from the field and went just 1-for-18 from 3-point range -- and 15 of their 18 turnovers came during that span.
The Gaels went scoreless for a 9:13 stretch while BYU went on a 17-0 run.
Noah Hartsock
scored a game-high 23 points on 10-of-14 shooting and
Brandon Davies
notched his eighth double-double of the season with 18 points and 15 rebounds.
Scott Machado
had 15 points and 10 assists in the loss, his 11th double-double of the season.
(16) Western Kentucky 59, (16) Mississippi Valley State 58
Western Kentucky
trailed by 16 points (53-37) with 4:51 remaining but came back to beat
Mississippi Valley State
. The Hilltoppers ended the game on a 22-5 run, making their 16-point deficit the largest ever overcome in the final five minutes of an NCAA tournament game.
The comeback began with a 15-0 run to cut the lead to one. The previous largest comeback was set by Illinois, which came back from 15 points down in its 90-89 OT win over Arizona in the 2005 Elite 8.
Western Kentucky is just the sixth team with a losing record to win a game in the Men's Basketball Championship. There have been 26 teams with sub-.500 records to make the NCAA tournament and five of the past six have won their first game.
Western Kentucky has won seven straight games after starting the season 9-18, and will put that winning streak on the line Thursday against top overall seed Kentucky.
Western Kentucky had 28 turnovers, the most by a team in a tournament game since 1996, when Tulsa turned it over 28 times in a Round of 64 OT loss to Louisville. No team had turned it over 28 times in a tournament win since 1988, when Kansas had 30 turnovers in a Round of 64 win over Xavier.
The Jayhawks went on to win the national championship that season.
Mississippi Valley State is now 0-5 all-time in NCAA tournament games.
March, 13, 2012
3/13/12
11:35
PM ET
DAYTON, Ohio -- "Wow. I don't know where to begin."
That's how Ray Harper started his postgame news conference following his team's
59-58 win
over Mississippi Valley State on Tuesday at the University of Dayton Arena.
With President Barack Obama sitting courtside, the Hilltoppers recovered from a 16-point deficit in the final five minutes of their First Four win over the Delta Devils. It was the third time in four games they overcame a double-digit disadvantage.
They were down by 13 against both Arkansas-Little Rock and North Texas in the Sun Belt tournament but came back to win both games.
Against the Delta Devils, they were doomed by turnovers (27) and a first half in which the Hilltoppers recorded six field goals. They went 2-for-16 from beyond the arc.
But a late push -- the largest comeback in the final five minutes of an NCAA tournament game -- changed everything as Obama looked on with British prime minister David Cameron. The Hilltoppers, a team that features seven freshmen, admitted Obama's presence caused some anxiety.
"For him to be in the house, that's a crazy feeling. That's the president of the United States coming to watch our game," freshman
Derrick Gordon
said. "I'm sure he liked what he saw."
Freshmen Gordon (11 points, 11 rebounds),
T.J. Price
(11 points, 8 rebounds) and
George Fant
(9 points, 11 rebounds) led that that game-winning charge.
[+] Enlarge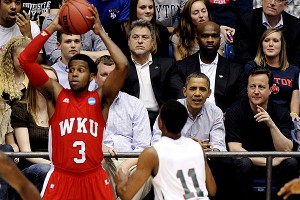 Gregory Shamus/Getty ImagesPresident Barack Obama and British Prime Minister David Cameron took in Western Kentucky's comeback win over Mississippi Valley State.
Price's three-point play with 33 seconds to go was a crucial sequence that put the Hilltoppers ahead by three. Late free throws sealed the win.
The Delta Devils'
Kevin Burwell
(20 points), who'd pointed and nodded toward the president after some of his big plays, had a chance to tie the game but missed a 3-pointer near the buzzer.
Western Kentucky finished with a 53-30 rebounding margin and a 19-11 advantage in second-chance points.
The Hilltoppers might lose to Kentucky by a large margin in the second round. Doesn't matter.
They've already won.
Their former coach, Ken McDonald, was fired in January following a rocky start. Harper took over and led the program to a Sun Belt tournament title even though it possessed a sub-.500 record in conference play (7-9).
"We're a tougher team," Fant said about the change the program has made under Harper. "We're going to defend you the whole game."
The same grit the Hilltoppers have used to salvage what started out as a 5-11 season and evolved into a team that's won an NCAA tournament game emerged during the final minutes of their win over the Delta Devils.
Down 53-37 with 5:06 to go, the Hilltoppers relied on past experiences and didn't panic. They closed the game with a 22-5 rally that included seven MVSU turnovers.
"They were ready to play some more basketball," Harper said.
As the Delta Devils crumbled in the final minutes, Obama turned to Cameron and made a 'T' with his hands before calling for a MVSU "timeout." Even the president could sense that the Delta Devils were unraveling.
It was an intriguing conclusion to an ugly game. For Western Kentucky, it was another chapter for a team that's refused to allow its earlier drama to define its season.
"I knew my team was going to keep on fighting," Fant said.
March, 13, 2012
3/13/12
9:14
PM ET
DAYTON, Ohio -- Reaction from Western Kentucky's
59-58 win
over Mississippi Valley State:
Overview
: Western Kentucky and Mississippi Valley State kicked off the NCAA tournament Tuesday night at the University of Dayton Arena. The stakes were both clear and daunting. The winner would face No. 1 Kentucky in the second round the Big Dance.


But that seemed just as important as the once-in-a-lifetime opportunity to play in front of a president. President Obama took British prime minister David Cameron to the First Four matchup.
Obama was the center of attention, but he didn't witness anything spectacular, especially in the first half when the two teams combined for a 2-for-14 clip from beyond the arc. Western Kentucky recorded six field goals and 13 turnovers before halftime. Mississippi Valley wasn't much better. The Delta Devils were outrebounded 25-18 before halftime.
But the game changed in the second half. An 11-0 run gave the Delta Devils a 47-36 edge with 8:19 to go in the second half. In the final minutes, however, the Hilltoppers recovered with a 15-0 run to cut a 16-point deficit to one point with 2:27 to play.
With 1:06 to go, the Hilltoppers and Delta Devils were tied. It finally felt like March.
T.J. Price
scored on a layup and drew the foul with 33.8 seconds to play to put the Hilltoppers up by three. It was a crucial sequence. The Delta Devils had a shot to tie the game at the buzzer, but
Kevin Burwell
's 3-point attempt missed.
And now, the Hilltoppers will face the favorites to win the whole show. But they gave spectators a thrilling finish in the first official game of the NCAA tournament.
Turning point:
After trailing by 16 points, the Hilltoppers stayed alive with that late run in the second half.
Key player:
Western Kentucky's Price and
Derrick Gordon
both had 11 points. Price's three-point play in the final minute was crucial.
Key stats:
The Hilltoppers ended the game on a 22-5 run and won the rebounding battle, 60-32.
Miscellaneous:
Wow. This was a bad game early. But the finish was wild. True March Madness. … Burwell scored 20 points. During the game he gestured toward the president after big plays, and at one point Obama winked and pointed at the guard.
March, 11, 2012
3/11/12
8:44
PM ET
Bracket first impressions:
Someone on the Selection Committee must be a frustrated screenplay writer.
How else to explain the endless plots coursing through some of these regions?
In the South, Kentucky will debut as the No. 1 overall seed against either its in-state neighbor, Western Kentucky, or former Wildcat Sean Woods, the man who would have sent the Unforgettables to the Final Four were it not for a guy named Laettner.
Should the Cats get through that game, next up is defending national champion Connecticut, the team that knocked them out of the Final Four a year ago. Last we took the pulse, former New England rivals Jim Calhoun and John Calipari weren't double-dating with milkshakes, either.
After that how about a possible Sweet 16 date with
Christian Watford
, er, Indiana? The Hoosiers, thanks to Watford's shot that restored a program, are the only team to beat Kentucky in the regular season.
And then to complete the fun down South, there is perhaps an Elite Eight game against Duke (which might have to get UNLV, its program-establishing Final Four foe, first). Twenty years ago this season, the two met in in a sort-of kind-of memorable regional final.
That guy named Laettner again.
Across the way in the Midwest there are some decent storylines, too.
Harrison Barnes
and
Doug McDermott
could square off in an 1-8 game. The two once, believe it or not, were on the same team. As you might expect, Ames (Iowa) High was pretty good – 53-0 with two state titles in their tenure.
In the Sweet 16, Barnes' Tar Heels could tango with Michigan. If you don't recall, the two met in the 1993 title game. Chris Webber remembers. He called timeout.
Being a No. 1 seed ain't what it used to be.
Back when, like last year, you could write the nation's best through to the Sweet 16 in ink. Maybe you wouldn't press too hard, but ink was fine.
[+] Enlarge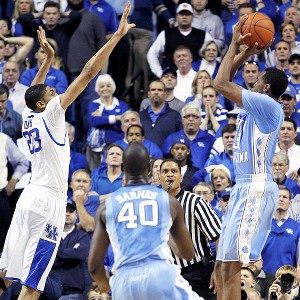 AP Photo/James CrispAnthony Davis blocked John Henson's would-be winner when Kentucky and North Carolina met in December; will he get another shot in New Orleans?
Now grab a pencil.
The No. 1s were not exactly rewarded with cakewalk 8-9 opponents.
Potentially lining up across from Kentucky: defending national champion Connecticut, a team that started the season ranked No. 4 in the country and sports two NBA first-rounders on its roster.
In line for North Carolina: How about a possible date with Creighton, one of the few teams in the country that can score with the Tar Heels and boasts an All-America candidate in McDermott to boot?
Michigan State could get a matchup with Memphis, a wildly talented No. 8 seed that has won 11 of its past 12 games.
Syracuse might say hello to Kansas State, two-time winners over Missouri.
Some other random observations:
Is it the nickname? If he went by something less intimidating — like his given name, James — would Bruiser Flint be welcomed to the party? His Drexel team did win 27 games after all, and that used to be the goal of the sport — winning games.

As usual, the 5-12 game is where the action is. Wichita State and VCU, mid-major darlings both, meet in the South; New Mexico-Long Beach State in the West and Vanderbilt-Harvard in the East. Tiebreaker in that one is a spelling bee.
Seeded too high:
Colorado, Southern Miss.
Seeded too low:
Memphis, Murray State, Detroit.
VCU 2012:
That would be Iona. Most everyone is screaming about the Gaels being in. Understandable. But the Gaels are talented enough to make everyone eat their words just like the Rams did last year.
First team to 300 wins:
That could be Creighton and North Carolina. The Tar Heels average 80 points; the Bluejays 83. Bring your oxygen tank.
Win or you're out:
That goes to all the folks who argued their merit despite failing to finish above .500 in their respective leagues. It's not an official selection committee rule but de facto works fine by us.
And finally the potential:
In October, they were tabbed the two best teams, loaded with the most talent. In December, they played an epic game in Lexington, Ky., decided only by
Anthony Davis
' incredible reach topping
John Henson
's equally impossible wingspan. And on April 2, Kentucky and North Carolina could meet again for the national title.
February, 14, 2012
2/14/12
10:57
AM ET
By
Jeremy Lundblad, ESPN Stats & Info
| ESPN.com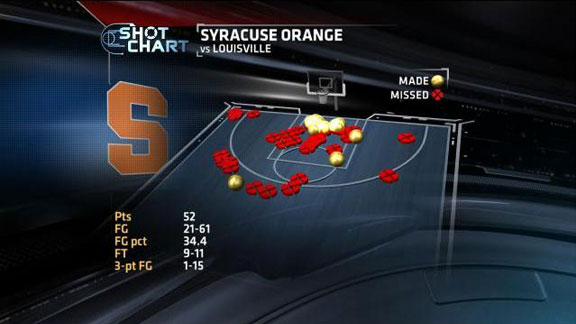 ESPN Stats & InformationSyracuse picked up a one-point victory against Louisville on Monday night despite making just two shots from outside the paint.

Player of the Night - Jeff Withey
Withey fell one block shy of a triple-double as
Kansas
topped
Kansas State
59-53 in Manhattan. He finished with 18 points, 11 rebounds and nine blocks, becoming just the fifth Big 12 player to reach all three of those totals in a game. Over the past three games, Withey has looked like one of the top players in the nation, averaging 20 points, 12 rebounds and six blocks.

Freshman of the Night - Quincy Miller
Averaging 6 points over the first three games of February, it looked like Miller had hit the freshman wall. But following up on a 20-point performance against
Missouri
, Miller had 16 points and matched a career-high six assists in
Baylor
's 79-64 win over
Iowa State
. At 12.4 points per game, he's the Big 12's second leading freshman scorer.

Bench Star - Cor-J Cox
Just 1-11 entering January, it was nearly impossible to envision
Mississippi Valley State
as a tournament team. Since then, the Delta Devils have gone 13-0 in the SWAC, including last night's 58-53 win at
Southern
. Cox was again a difference maker off the bench with 11 points and nine rebounds. Among those with one start or fewer, Cox ranks second in the nation in rebounding and tied for fifth in scoring.

Ugly Stat Line of the Night (Player) - Angel Rodriguez
Rodriquez went 0-for-8 from the field with seven turnovers in Kansas State's loss. That's tied for the third most turnovers without a point by a Division I player this season.

Ugly Stat Line of the Night (Team) - Syracuse Orange
Syracuse beat
Louisville
52-51, but the Orange did it without any semblance of outside shooting. Just 1-for-15 from beyond the arc, it was the second worst 3-point shooting game by Syracuse over the past 15 seasons. Including that 3-pointer, Syracuse made two shots from outside the paint all night. In fact, 18 of the Orange's 21 field goals were either layups or dunks.
November, 1, 2011
11/01/11
9:22
AM ET
By
ESPN.com staff
| ESPN.com
Before we get to the Blue Ribbon team-by-team previews for the Southwestern Athletic Conference, here is Eamonn Brennan's quick wind sprint through the league:
Blue Ribbon breakdowns of all 10 teams in the SWAC:
Alabama A&M
Alabama State

Alcorn State
Arkansas Pine-Bluff
Grambling
Jackson State
Mississippi Valley State
Prairie View A&M
Southern
Texas Southern
More SWAC content
:
New Faces, New Places: Diamond Leung on new Southern coach Roman Banks, who inherits a mess in Baton Rouge after the firing of a coach and the scandal-induced resignation of an AD.
John Stovall gives the lowdown on the incoming freshmen in the SWAC.
February, 22, 2011
2/22/11
11:32
AM ET
By
Jeremy Lundblad, ESPN Stats & Info
| ESPN.com
Inside the numbers behind Monday's top performances:
1. Kansas' 92-65 win over Oklahoma State was brought to you by the letter M. Markieff and
Marcus Morris
scored the Jayhawks' first 12 points, ensuring they'd never trail in this one. The Morris brothers ultimately combined for 42 points on 15-for-23 from the field. Meanwhile,
Marshall Moses
scored 27 points for the Cowboys, one game after being held scoreless while battling an illness. Monday's 27-point loss was the worst of the Travis Ford era at Oklahoma State, and the largest margin of defeat for the Cowboys since a 30-point loss to Marquette in 2007. Oklahoma State still hasn't won in Lawrence since 1989.
2. Philadelphia natives also came up big in Syracuse's 69-64 win at Villanova.
Scoop Jardine
scored 20 points on 7-for-11 from the field. Compare that to the January meeting with the Wildcats when Jardine shot 1-for-8 on his way to two points.
Rick Jackson
again came up big against Villanova with 18 points, while
Dion Waiters
contributed seven off the bench. In all, those three served up 45 of Syracuse's 69 points. Last month, they only managed 24 points against Nova. Jardine and Waiters, who were a combined 3-for-20 in the first meeting, shot 52.9 percent on Monday.
3. Valparaiso's hopes of winning the Horizon League regular season title took a hit on Monday. The Crusaders lost 81-80 in overtime to Green Bay. With the loss, Valpo fell a game behind Cleveland State and a half-game back of Butler. It was Senior Night at the Resch Center, and it was a senior who stepped up for Green Bay.
Bryquis Perine
hit the game-winner with 11 seconds to go in overtime. In the first 30 minutes of the game, Perine only had two points. But he finished with 20, including seven of his team's nine in overtime.
4. Texas Southern improved to 13-1 in the SWAC with a 58-55 overtime win over Mississippi Valley State. The Tigers won despite a 35.1 field goal percentage and getting outrebounded 43-35. So how'd they do it? Turnovers. MVSU committed 33 of them, the second-most in a D-I game this season. The Delta Devils are averaging 17.7 turnovers per game this season, fifth-most in the nation.
5. Coppin State shot 60.0 percent from the field in an 89-72 win over Delaware State. That's the Eagles' best shooting performance since November 2003 against Loyola Marymount.
Michael Murray
chipped in a career-high 16 points on 7-for-10 shooting. He's scored 27 combined in his last two games, after entering that stretch with 49 points on the season. It was a rare decisive result for Coppin State. Five of its previous eight games had either gone to overtime or been decided by two points or fewer.