College Basketball Nation:

Missouri State
March, 1, 2014
Mar 1
7:25
PM ET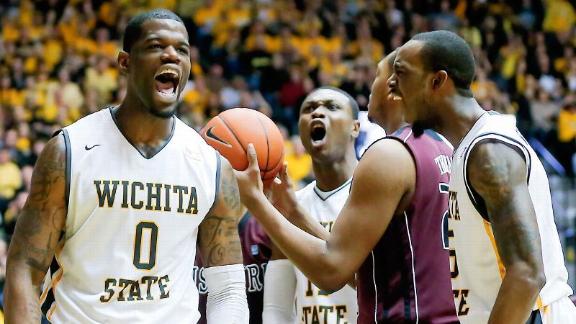 WICHITA, Kan. -- In the closing minutes of college basketball's first perfect regular season in a decade, Wichita State point guard
Fred VanVleet
lofted a pass right of the basket. On the other end,
Nick Wiggins
collected the lob and slammed it through the rim with both hands.
The overflowing crowd of 10,506 could feel perfection coming from the opening tip. And after Wiggins' dunk, they finally declared it, as chants of "UN-DE-FEAT-ED" reverberated throughout Charles Koch Arena.
"There was a moment before the season I was looking at the schedule, saying, 'Man, I don't think we'll lose any of these games,'" VanVleet said.
"When we're sitting down someday, we'll think back to one of the greatest seasons ever played."
Saturday, the Shockers finished off their perfect, 31-0 regular season in style,
routing Missouri State 68-45
to become the first team since Saint Joseph's in 2004 to go into the postseason undefeated.
"This was pretty special today," Shockers coach Gregg Marshall said.
Special and inevitable.
Almost two months ago in Springfield, Mo., the Bears came oh so close to ruining Wichita State's dream of a perfect season. Missouri State led by 19 in the second half, but a furious Wichita State rally catapulted the Shockers to an overtime victory.
This time, the final outcome was never in doubt.
[+] Enlarge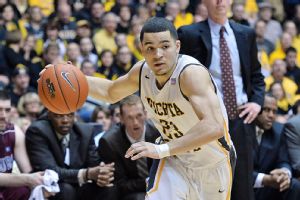 Peter Aiken/Getty ImagesFred VanVleet liked the way Wichita State took control of Saturday's game.
Riding a wave of momentum spurred on by a boisterous crowd that showed up early despite frigid conditions outside, the Shockers roared to an 18-6 lead before the second media timeout and led by double digits the rest of the way.
"The way we played made everything better," VanVleet said. "We could've slapped the ball around and came out with a win. But we were on point from the beginning."
The Shockers have been on point since the beginning of last year's NCAA tournament. And they were dynamic again Saturday.
Wichita State beat the Bears to a pulp inside, outrebounding them 43-25.
Underscored by VanVleet's exclamation alley-oop, the Shockers passed with conviction and foresight, racking up 16 assists.
And with a tenacious full-court press, they overwhelmed yet another opponent in the arena Shocker fans still affectionately term the "Roundhouse."
"We had no answers for them," said Missouri State coach Paul Lusk. "They defend you, they take care of the basketball and they're able to come down and pound it inside every time."
Cleanthony Early
led the onslaught inside with a game-high 19 points and six rebounds. On the perimeter, VanVleet frustrated another adversary with his focused passing and sure ballhandling, dishing out seven assists to just a single turnover. And on the wing, marksman
Ron Baker
nailed a pair of 3-pointers, both coming at the start of each half.
"This group really enjoys a challenge," Marshall said. "They enjoy one-and-done basketball like we're going into now. They embrace whatever is in front of them. They embrace the challenge, the grind. That's how you achieve something like this. Grind every day and fall in love with the process.
"It's been an incredibly special and long ride."
A special ride that could be far from done.
With a deep bench and valuable postseason experience gained last year, the Shockers will ride into next week looking to solidify their case for a No. 1 seed and capture their first Missouri Valley Conference tournament title in 27 years.
In 2004, Xavier ended Saint Joseph's perfect run in the first round of the Atlantic 10 Conference tournament. St. Joe's still snagged a No. 1 seed in the East Regional despite the upset. But with Wichita State likely being the only Missouri Valley team in line for an at-large selection, a perfect regular season might not be enough for a No. 1 seed. The Shockers might need a perfect conference tournament in St. Louis, too.
"31-0 is good, but 34-0 is better," Marshall said. "We have another challenge, another obstacle in front of us in St. Louis.
"I know this group is excited. Also, they'll have to move on."
But Saturday, the Shockers weren't ready to move on quite yet.
After Wiggins' alley-oop dunk, Marshall began subbing out his starters to kick-start an hour-long celebration of the conference trophy and senior day. When Baker reached the bench after being subbed out, he grabbed his jersey No. 31 and snapped it toward the crowd to the loudest ovation of all.
"My teammates told me a couple weeks ago that my number was something special, because that's how many games we could potentially win," Baker said. "I didn't put that together myself. But it's very special.
"It's going to be something I look back on forever."
March, 6, 2010
3/06/10
12:44
PM ET
Tournament expansion has been a roundly panned idea, mostly for one reason: No one wants to watch teams 66 through 96 play a bunch of low-quality, NIT level basketball. It really comes down to that. There are reasons you could list for expansion, and some of them are valid (chief among them the NCAA's desire to make more money, which isn't necessarily a bad thing). But the bottom line is that very few people like the idea of expanding the NCAA tournament, because expanding the NCAA tournament means shoehorning the NIT into the NCAA. Even in vague form, it's not a very attractive idea.

How about in not-so-vague form? College Gameday asked Joe Lunardi to project a 96-team field on this morning's show. He did so. Here are some of bracketology-esque elements that resulted. A word of warning -- if you weren't against tournament expansion already, you might be now:

CONFERENCE BREAKDOWN
" Big East (13)
" ACC (8)
" Big 12 (8)
" Atlantic 10 (6)
" Big Ten (6)
" SEC (6)
" Conference USA (5)
" Missouri Valley (5)
" Colonial (4)
" Mountain West (4)
" Pac-10 (4)
" WAC (4)
" West Coast (3)
" Metro-Atlantic (2)
" Mid-American (2)

LAST FOUR IN
" Missouri State
" North Carolina
" Arizona
" Akron

FIRST FOUR OUT
" Charleston
" IUPUI
" Wright State
" Fairfield

Gross, right? Do you have a losing record in the Missouri Valley? Not a problem! A major program going struggling to stay above .500 in a down year? Come on down! Are you, um, Fairfield? Great! You're all in the tournament! Woo-hoo! Expansion, baby!

I'm probably be a little bit too snarky here, so you'll have to forgive me. I'm just a little, I don't know, shocked? Talking about tournament expansion -- which, again, I'm not 100 percent against -- and actually seeing that expansion in action are two entirely different things. I get the pro-expansion arguments, but really? 13 Big East teams? Who, besides those teams' coaches, want this? And why?