College Basketball Nation:

Mitch Barnhart
May, 30, 2012
5/30/12
6:05
PM ET
Yes, yes, it's what you've all been waiting for: More Indiana-Kentucky drama. Fun! (And by fun I mean: tedious!)
The Indiana-Kentucky rivalry -- which has been played every year since 1969 -- has been more or less dead
since the start of the month
. You know the story by now: Tom Crean wanted to continue the current home-and-home format, in place since 2005, while John Calipari wanted to schedule the games on a neutral court, their home from 1991 to 2005. Kentucky
is adjusting to its new "nontraditional" scheduling strategy
, and Calipari later revealed that strategy to mean, in essence, lots of neutral-court games at future NCAA tournament venues, lots of big buzzy events, a potential series with Duke, and nothing that isn't 100 percent in Kentucky's best interest.
[+] Enlarge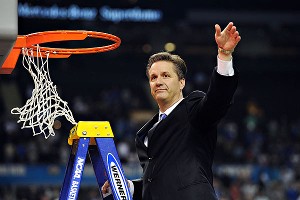 Richard Mackson/US PresswireKentucky coach John Calipari clearly doesn't have a problem finding willing opponents these days.
That was supposed to be the end of it. Not so much.
Thanks to a public records request, the
Bloomington Herald-Times reported Wednesday that Indiana athletic director Fred Glass in fact reopened negotiations with Kentucky on May 10
. He did so with a compromise -- a four-year contract including two years at neutral sites and two years back on campus -- starting with two years at Lucas Oil Stadium in 2012 and 2013, followed by a year at Rupp Arena and a year at Assembly Hall:
"We were trying to find something that worked well for everyone," Glass told the Herald-Times. "That was a suggestion that a number of people had written in to me had made. That four-year plan struck me as a fairly good idea. We reached out in the spirit of compromise to save the series and to save the ability for our students to see at least one Indiana-Kentucky game on campus in their tenure."
According to Glass, the letter reignited the discussion between the schools, and he spoke with Kentucky AD Mitch Barnhart and other administrators on both sides in a conference call about the idea. This was before Calipari released
last week's aforementioned blog post
, which detailed a variety of plans, including a new series with Duke, the 2013 Cowboys Stadium event versus Baylor, a continuation of the series with North Carolina after a break in 2012-13 and an ongoing commitment to the four-team Champions Classic. That's a full plate, and that's where the Indiana-Kentucky negotiations -- if you can even call them that -- again broke down:
Glass said he called Barnhart to find out if that meant that negotiations were off. According to the letter, IU director of basketball operations Jayd Grossman received a call from Kentucky executive associate athletics director DeWayne Peevy saying that Kentucky would refuse a contract lasting more than two years.

"In other words," Glass said in the letter, "we were back to Kentucky's take it or leave it demand that we play on a neutral court with no opportunities to play on our campuses in front of our students and other season ticket-holders."
Sadly, this is not at all surprising. Indeed, it is in keeping with the strategy Calipari has pretty clearly outlined for Kentucky in the coming seasons: He does not want to schedule contracts longer than two years under any circumstances. That includes North Carolina, Louisville and presumably every other school in talks to play Kentucky in the next few seasons.
Why? Because being "nontraditional" means recruiting so well, and turning over so often, you never really know who's going to be on your roster. Calipari doesn't want to make four-year commitments, because he doesn't know what his team will look like in four years. The Hoosiers -- whom he is clearly ambivalent about anyway -- are no different.
You can practically feel the frustration seeping out of Bloomington, where this game remains, or remained, a high priority even after the initial talks broke down in early May. And you have to hand it to them for the attempt at compromise. All in all, it's a pretty good compromise! Thing is,
Calipari doesn't compromise
. He never has. Coming off his first national title, riding a wave of unquestioning fan support rarely seen this side of Nick Saban (ROLL TAHDE), he has decided that he's not about to start now.
Unfortunately, as I've argued before, what's good for Kentucky or Indiana specifically -- or what the schools perceive that to be -- is not always what's good for the game of college hoops at large. A yearly rivalry with Indiana, with both programs in top form, would have been
great
for the sport. And, you could argue, just as good for Kentucky.
Calipari doesn't care. That's his prerogative. But that's a pretty disappointing prerogative.
In any case, good news: Kentucky will use the spot it saves from not playing one of its traditional rivals on a neutral-court, NCAA tournament and Final Four atmosphere. Which,
if I'm understanding the man's logic correctly
...
"We would have won the 2011 national championship,'' Calipari said. "I'm convinced of it. Would you rather I play games home-and-home or get this team ready for the NCAA tournament? You can't tell me to do both. It's one or the other.''
... means Kentucky will be winning the national championship every year, forever. It's just that easy! Right.
August, 24, 2011
8/24/11
10:30
AM ET
Rupp Arena is a legendary basketball venue. It has housed some of the best teams in college hoops history. Blue-clad fans pack the place every night, even if they're only there to take in a
halfhearted exhibition game between a foreign national team and a handful of former Kentucky stars
.
But Rupp, like any good storied arena, is getting to the point where its age is outshining its charms. The building is old and drab and lacks many of the modern conveniences baked in to the gleaming new arenas we've seen pop up in NBA cities and college towns in the past 10 years. The obvious example is Louisville's Yum! Center Arena, which provides a beautiful year-round venue for Louisville residents and a top-notch hoops facility in the heart of the city's entertainment district. Kentucky is not the kind of program that wants to lack
anything
, let alone the facilities required to keep up with the basketball Joneses. (Not to be confused with
The Basketball Jones
, still the best NBA 'cast on the planet.) But could Kentucky really move out of Rupp?
Kentucky athletic director Mitch Barnhart is currently trying to find an answer to that question. On Tuesday, Barnhart and Lexington mayor Jim Gray sat down for a local news conference to discuss UK's possible arena options going forward.
From the Lexington Herald-Leader
:
Gray noted that the process of exploring options is a long way from the finish line. "We're at Step One or Two," he said. "This is a project that will have 10 steps."

Barnhart said UK would be "open-minded" to either renovating Rupp or building a new arena. "My job is to protect University of Kentucky basketball and make sure it has what it needs to be the flagship of college basketball," he said. "... We think about the next 30, 40, 50 years of Kentucky basketball, and how we can be partners with the city in what the mayor's trying to get done."
There are a variety of options available. Barnhart and Gray were impressed with Columbus, Ohio's model, which included building a 75-acre arena district that surrounded Nationwide Arena with privately and publicly financed investments in surrounding amenities -- bars, restaurants and the like. That could require the construction of an entirely new building in Lexington and a permanent move out of Rupp Arena.
Another option is to renovate Rupp from the inside-out, adding new updates -- Barnhart cited fan amenities like "electronics" and updated concession stands -- without totally abandoning the Wildcats' traditional home. One local businessman, who cited the bad economy as a reason to avoid a costly excursion into new construction, said Rupp Arena should become college basketball's Fenway Park, referring to the updates Red Sox ownership have made at the classic stadium that has preserved its charm while increasing its modern palatability (not to mention profitability).
Stadium debates can be fascinating for what they say about our economic times and the importance of sports in the public consciousness. But they're especially interesting because of the emotions they inspire in the fan bases affected. Will Kentucky fans really be OK with leaving Rupp Arena? Or are the ties just too deep?
June, 10, 2011
6/10/11
2:25
PM ET
That may be the least surprising headline of all-time. At this point -- with an NCAA hearing this weekend, followed by at least a few chaotic years rebuilding in the wake of likely NCAA sanctions -- you'd be hard-pressed to find anyone that would want soon-to-be-departed Tennessee athletic director Mike Hamilton's job.
You'd be even more hard-pressed to find someone with a high-profile gig who actively wanted to plunge into the Tennessee breach. Why, again, is why it's no surprise to hear Kentucky athletic director Mitch Barnhart make absolutely clear that he has no interest in Hamilton's former gig.
From the Lexington Herald-Leader
:
"I don't have any interest," Barnhart said of the UT vacancy. "I've got good coaches (at Kentucky), I have a family that has settled in here, I have a son who is about to be a senior in high school.

"I said when I agreed to my last contract that (Kentucky) is where I plan to be until I decide on my next path, something that will probably be outside athletics. I've got things I still want to accomplish here and I'm excited about doing that."
You wouldn't think Barnhart would have to issue these sorts of decrees to the media. After all, his basketball team -- the pride of Kentucky's rabid statewide fan base -- is in position to compete for a national title for the third consecutive season. But Barnhart was an assistant athletic director at Tennessee from 1986 to 1998. That sort of long-term experience tends to breed rumors, or at least educated guesses, of this sort. Probably best to nip it in the bud early.
And now you know: Kentucky's athletic director will not be taking over the vacant Tennessee job. Try to contain your shock.
May, 5, 2010
5/05/10
10:59
AM ET
That's Kentucky athletic director Mitch Barnhart's plan, anyway. Yesterday, in the wake of a report that
John Calipari was interested in the Bulls job
and "would listen to a pitch from management," Barnhart announced that he
was beginning discussions on a new contract
for Calipari that would, in Barnhart's words, keep Calipari in Kentucky for the rest of his career. Forget that whole grades thing: Big Blue Nation has found its coach, and it does
not
want him to leave.
Fortunately for Kentucky, Calipari denied interest in the Bulls job to Andy Katz early Tuesday,
and he later tweeted to that effect:
Throughout my career I've been mentioned for other jobs. Now that I'm here u won't hear about other colleges because I've got the best job. Every year you will hear my named mentioned for NBA jobs because I coached in the league before. I'm very happy at Kentucky.
OK then. So, issue settled? Calipari and Barnhart work on a new contract -- if it's going to have the years and dollars to keep Calipari in Kentucky until he retires, it's going to be a mammoth deal -- get it signed, and get the NBA rumor mill away from the school for good. Calipari ends his career at Kentucky and that's that.
The problem is that his tweets didn't exactly say that. There's no real commitment there. Just a word of warning, dismissive but not definitive. (To be fair, they came before the word of a new deal; that could change everything.) Still, there's no guarantee a new contract would bind Calipari to the Wildcats for life.
A new deal could make it more prohibitive to leave
-- Barnhart could tie in a buyout clause stating Calipari would have to pay back a certain percentage of his deal if he left for the NBA, and in return Calipari gets another record-breaking paycheck -- but there's still the chance that Calipari could be interested in leaving. (For example, if a Memphis-esque situation came down the pike -- not saying it will, UK fans, so take it easy -- coaching in the NBA would probably seem a lot more fun than coaching at a program hamstrung by NCAA sanctions. For example.)
The bottom line is that even with a new contract,
there will always be that worry in Barnhart and UK fans' mind
. The best thing
Big Blue Nation can do is enjoy him while he lasts
. Don't worry, be happy, etc. Until something actually happens, everything else is just sideshow.