College Basketball Nation:

Mo Walker
August, 1, 2013
8/01/13
9:00
AM ET
Minnesota center
Mo Walker
's chuckle exudes pain.
It's his natural response to questions about the foods he's ditched to achieve a 50-pound weight loss since the end of the Gophers' season.
The Lasagna? Gone.
The vanilla ice cream and milkshakes? No more.
The pizza? Well ….
"I'll have a slice of pizza every now and then," said Walker, who weighs 260 pounds now after playing at 310 pounds throughout last season. "But it's usually in the middle of the week when I know I have a few workouts coming up and I can burn off the calories I just ate."
Walker isn't perfect but his new body is a testament to his offseason commitment and response to Richard Pitino's plea.
The new Minnesota coach recently
tweeted stunning before and after images
of the junior:
Proud of what @BigggMo has done this offseason with his body. Looks like a different person! pic.twitter.com/i7946xYemP

— Richard Pitino (@MNCoachPitino) July 25, 2013
Walker credits extra weightlifting sessions, training and a revamped diet.
"I'm going to be able to contribute a lot more," he said. "I'm going to be able to play more minutes. I'm going to be able to give a lot more effort out there on the court."
Shortly after Pitino arrived in early April, he told the center that he had to lose weight to play in his system, which emphasizes full court pressure and quick buckets in transition.
With
Trevor Mbakwe
and
Rodney Williams
gone, Pitino knew he needed more size. But he also recognized that his small recruiting window would probably result in a roster with limited interior depth. The Gophers only have two true big men,
Elliott Eliason
and Walker.
And Walker, Pitino believed, couldn't thrive in his fast-paced style. Not at that size.
"A lot of people were saying 'He can't play in your system at that weight,'" Pitino said. "Well, he can't play in anyone's system at that weight. He was just too heavy."
That's no longer the case.
Walker has lost nearly 100 pounds throughout his career. And now he's a more mobile and usable forward for a program that needs size more than anything.
He's certain he can keep the weight off, too.
"A lot of people fall off and cheat every now and then, but I've been pretty good with my dieting and watching my carbs and my calories and just working out," he said.
But weight has been a perennial challenge for Walker.
An
ESPN.com scouting report
described him as a "mountain disguised as a man" when he was a 270-pound high school senior in 2010.
By the time he reached Minnesota's campus, he'd hit 326 pounds. He peaked at 346 before a knee injury ended his freshman season, but Walker actually lost weight following surgery.
Then, he went back to Toronto for the summer and it all returned.
"That home cooking," he said.
Walker decided to stay in Minneapolis this offseason and work with the team's strength coach on his diet and workouts.
It's not easy to stay fit on any college campus, where young men usually subscribe to an "eat everything in sight" philosophy.
When Walker's teammates make fast food runs, he usually stays home. When he joins them, he tries to make healthy choices.
"If I were to go to [a Mexican restaurant], I'd just have to order salad instead of a burrito," he said. "It's just picking my spots."
But that's only the first phase of the change.
Pitino is excited about the weight loss, but he wants the weight loss to be accompanied by a better player, a stronger player.
That's the next step, he said.
"I told him just because you lost weight does not mean you're a great player," Pitino said.
He is more confident, though. And that's a good start.
Yet it's difficult to project a level of growth for a player who averaged just 6.6 minutes per game last year.
The weight, however, will no longer be an obstacle. And he's proven that he can avoid the temptation that has thrown off his progress in the past.
It's not exactly a piece of cake for him, though.
"Vanilla ice cream is my favorite thing, milkshakes," he said. "I love the milkshakes. Pizza is just pizza. I don't really like it that much. But ice cream's probably the main [challenge]."
June, 25, 2013
6/25/13
3:30
PM ET
Weight has been a challenge for Minnesota center
Maurice Walker
throughout his career.
The 6-foot-10 big man weighed 340 pounds when he reached the Minneapolis campus in 2010. But he was a fluid post presence despite his size. He had some unique tools for a freshman center.
But the weight was clearly an issue. Still, he became a semi-reliable contributor for Tubby Smith's squad as the pounds began to fall off his frame midway through his debut season.
Everything changed when he tore his posterior cruciate ligament and meniscus in a December nonconference matchup against South Dakota State. Walker missed the rest of that season and all of 2011-12 as he recovered.
That's when the weight came back. Walker averaged just 6.6 minutes per game in 2012-13.
Once Richard Pitino was hired as coach in April, Walker's role in a system that thrives on speed and stamina was questioned due to the new coach's emphasis on creating offense through full court pressure.
[+] Enlarge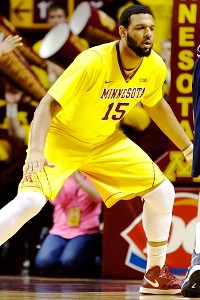 AP Photo/Jim MoneMinnesota center Maurice Walker, seen here in March, has reportedly lost 40 pounds this offseason.
Walker, however, viewed the change as a challenge.
Per Star Tribune columnist Chip Scoggins
, the Canadian center has already lost more than 40 pounds in the offseason:
Not long after the Gophers introduced Richard Pitino as their new men's basketball coach, rumors began to circulate that an unnamed player intended to seek his scholarship release and transfer to another program.

My gut reaction was, "Wonder where Maurice Walker will end up?"

It didn't require much deductive reasoning to determine that Big Mo appeared ill-fitted for Pitino's breakneck brand of basketball. At 310 pounds, Walker looked out of shape manning the low post in Tubby Smith's plodding offense. How in the world would he ever survive in Pitino's run-and-gun system? That's like asking a pontoon to keep pace with speed boats. A change in scenery seemed inevitable.

In a touch of irony, the player who transferred -- Joe Coleman -- might have been the team's best athlete. As for Walker, he decided to stick it out and make some life changes.

"Once I heard Pitino, I was really excited," he said.

And then they met for the first time. Pitino has made Walker's weight a standard quip in his public speeches, and he didn't mince words in offering a blunt critique of his 6-10 junior center.

"[He said] it's going to take a lot of work to get into shape and that I'm a long ways from where I need to be," Walker said.

He's still not there yet, but Walker has lost nearly 40 pounds through diet and fitness training. Noticeably slimmer, he hopes to lose an additional 15 to 20 pounds and enter next season around 255.

As someone who showed up on campus as a freshman weighing 340 pounds, Walker believes his career will follow a different arc with these changes to his body.

"Looking back at it now, I should have done this a long time ago," he said.

A coaching change provided the necessary push, but Walker's new outlook likely stems from a recognition that he was wasting an opportunity. He was either injured or too overweight to be considered anything but an intriguing unknown his first three years, including a redshirt season. His size became nothing more than a tease because he lacked the quickness and stamina to maintain anything.
Pitino needs Walker, and anyone else he can find, to boost his interior depth.
Trevor Mbakwe
and
Rodney Williams
are gone.
Elliott Eliason
is the only player on Minnesota's roster who is 6-10 or taller.
It appears, however, that Walker recognizes the contribution he could make on this season's squad. He has lost 70 pounds since 2010. And he's determined to lose even more so he can help a Gophers team missing multiple pieces.
January, 17, 2011
1/17/11
8:30
AM ET
1. Memphis coach Josh Pastner is earning his salary, going through the most trying season of his young career.
And that includes a season on the staff of Arizona interim coach Kevin O'Neill, who took over after Lute Olson's health problems caused him to take a leave of absence. Pastner was supposed to cruise to the Conference USA title with one of the nation's top-three recruiting classes. That hasn't happened. The players on the roster, both returnees and newcomers, have challenged him more than imagined.
Will Barton
's eligibility was an issue in the summer, but he was cleared and all seemed calm. Then Jelan Kendrick didn't adhere to the standards of the team, and Pastner decided to jettison him (he eventually transferred to Ole Miss).
Angel Garcia
decided he needed to make some cash and went back to Spain prior to the conference season. Losses in the "up" games against Kansas, Georgetown and Tennessee piled up before a stunning loss at SMU. To add to Pastner's misery, after the loss to the Mustangs last Wednesday, his top returning player,
Wesley Witherspoon
, who had already missed a few games with an injury, opted to be insubordinate. Witherspoon reportedly grabbed the microphone on the team bus and proceeded to mock a member of the coaching staff. So Pastner had to suspend Witherspoon. To his credit, he didn't flinch or cave in to play a valued player. He's now empowered by the result -- the Tigers beat upstart Marshall without Witherspoon. Memphis might have to win the conference tournament in El Paso to get a bid, and if so it will be well-earned.
2. If Tony Bennett could ever catch a break at Virginia and have his whole team available, the ACC might see quite a turnaround.
The Cavaliers are playing without their best player,
Mike Scott
, who is out for the year with an ankle injury. But the Cavs had North Carolina on the ropes before losing at home and then pushed Duke for more than half of its game Saturday before the Blue Devils flipped a switch and rolled. Virginia will be a pest the rest of this season but once they're whole, the Cavs will be a factor in a league that is going through a transitional period, save Duke. Remember, this Virginia team won at Minnesota and at Virginia Tech.
3. The SEC is the toughest conference to predict. Kentucky has been the most consistent team but after that forget it.
Georgia has won games it was supposed to win and lost the ones, like at Vanderbilt, which you would assume it would on the road. Tennessee is all over the map, playing in a constant state of chaos. Florida? The Gators looked like a possible SEC East champ, winning in overtime at Tennessee and then once again were flat at home -- this time losing to South Carolina. The Gators have already lost three home games to Ohio State, Jacksonville and South Carolina, making a trip to Gainesville less intimidating. Vanderbilt has had multiple chances to close out teams but failed, most recently at South Carolina and Tennessee -- two games it had a significant lead in. The Gamecocks were awful at home against Boston College, yet
Sam Muldrow
and
Bruce Ellington
have been stars in wins over Vandy at home in overtime and then at Florida. Ole Miss fancied itself a possible at-large berth team at the start of the week and then got beat by rival Mississippi State and Georgia, both at home. Mississippi State finally got the output from
Renardo Sidney
(24 points) and
Dee Bost
(25) that Rick Stansbury had been hoping for in that win over Ole Miss. But it's too late to consider the Bulldogs for an at-large candidacy.
4. It's a shame that Minnesota won't have a complete roster this season.
The Golden Gophers had a real shot to win the Big Ten had they avoided controversy. The injury to
Mo Walker
was unavoidable, but he would have provided plenty of beef to a solid inside game. He had five fouls to toss at
Jared Sullinger
of Ohio State but didn't get the chance.
Devoe Joseph
's apparent selfish play of wanting more shots, according to the Gophers' staff, hurts this team's offensive versatility even if it might help in the locker room. And it's unfortunate that
Trevor Mbakwe
has put himself into trouble again. Even though the Facebook message was harmless in its verbiage, there was still a restraining order about contacting the woman in question. Mbakwe was released from his brief jail stint earlier in the week and returned to help the Gophers beat Purdue in a thrilling affair. But the image damage was done and he will now have to work to get it back. The Gophers nearly won at Ohio State without Joseph and Walker. Nearly every Gopher game is close. And there are plenty to go. But this team probably won't reach its full potential of what was projected in the preseason due to the myriad of distractions.
5. Check the standings a third of the way through the Sun Belt and you'll see that the recycled coaches are going through a bit of a renaissance.
The East division is led by Florida Atlantic's Mike Jarvis at 6-0 with Florida International's Isiah Thomas in second place at 3-2. Atop the West is Denver at 5-0 led by the coach Joe Scott. Arkansas State is second at 4-2 behind John Brady. Jarvis went to the Elite Eight at St. John's, Brady to the Final Four at LSU, Thomas was an NBA coach/GM for multiple teams and Scott was once the chosen one at his alma mater Princeton. Yet the obscurity of the Sun Belt is providing cover for these coaches all vying for a return to the NCAA tournament.