College Basketball Nation:

Moe Harkless
June, 29, 2012
6/29/12
11:15
AM ET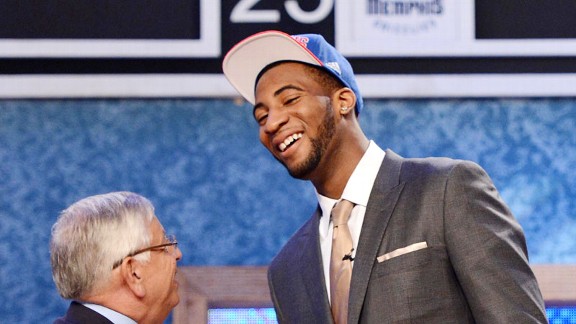 Jerry Lai/US PresswireThe Pistons drafted Andre Drummond with the No. 9 overall pick, mostly based on potential.
For college hoops/NBA nerds like me, the NBA draft is an event.
Chinese food. High-def TV. A comfortable chair. An iPad/laptop to follow Chad Ford's "Matrix"-like draft coverage. (When I logged off, he was teasing his 2025 mock draft, which will likely feature the children of D-Wade and LeBron.)
I anticipated more trades. And I had no idea David Stern would take on the hostile crowd the way he did. Fascinating stuff.
And there were certainly some surprises with the various selections. Some good. Some bad. Some baffling.
The Good ...
Jared Cunningham to Dallas at No. 24
: I think Cunningham is a major sleeper. It's nice to see a guy get credit for defensive prowess. He's a versatile guard. His defensive skills (2.5 spg) will make him a valuable player on Day 1. He's big (6-foot-5), too. This pick may have turned a few heads, but Cunningham is legit. Nice sleeper.
Royce White to Houston at No. 16
: I figured some team was hiding its interest in White, a high-level passer and ball handler trapped in a power forward's body. Some called his anxiety disorder a red flag prior to the draft. But the concern was so over-the-top, I started to think that some NBA squad probably wanted that. Let everyone assume he's not top-20 and then grab him. The Rockets did that. He has NBA strength right now. And the best part about White's game is he'll facilitate an offense and not worry about buckets. Just wants to win.
Austin Rivers to New Orleans at No. 10
: Some booed this pick. Rivers couldn't escape the haters at Duke. He either did too much or too little. Here's the thing. He played within an offense that didn't have a true point guard. He had to run the offense and create shots. Now, he can focus on the latter. Rivers has an NBA game. He's not going to face the zones and traps that teams needed to lock him up his freshmen season. He'll have the freedom to roam. This is how he learned the game. The son of Boston Celtics and former NBA standout Doc Rivers will be a different player at the next level. Might not make sense right now. But give it a year.
The Bad ...
[+] Enlarge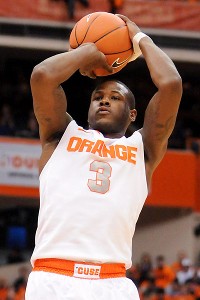 Mark Konezny/US PresswireDion Waiters, a guard drafted by Cleveland, averaged 12.6 points per game at Syracuse last season.
Dion Waiters to Cleveland at No. 4
: So NFL officials aren't the only ones who fall for athletes after one or two workouts. Based on reports, Waiters had a few amazing auditions in Vegas and the Cavs fell in love with him. The former Syracuse star is a great athlete who attacks the rim. He'll push the pace and get buckets in transition. But
Harrison Barnes
is more polished.
Thomas Robinson
, too. Big risk for the Cavs here. And Barnes and Robinson could have better careers.
Andre Drummond to Detroit at No. 9, Meyers Leonard to Portland at No. 11
: Plenty of potential with both players. Drummond has the gift to form a potent frontcourt with Greg Monroe. In stretches, Leonard was a stud. One of his biggest challenges at Illinois was the limited touches he received. They didn't feed him enough.
But I can't justify taking these two over North Carolina's duo of
Tyler Zeller
and
John Henson
. Henson blocked 2.9 shots per game last season with few fouls (1.6). So many knocks against his limited strength. How about the fact he's a pure shot-blocker who plays the ball and not the body? Few possess that skill. Milwaukee should be happy with that pick. Zeller, who was traded to the Cavs, was the ACC's player of the year. He averaged 16.3 ppg, 9.6 rpg and 1.5 bpg. He's 7 feet tall. Both Drummond and Leonard have had some motor issues. Can't say that about Zeller and Henson. Drummond and Leonard were drafted on potential. Zeller and Henson produced. I just don't get it.
Miles Plumlee to Indiana at No. 26
: Over
Draymond Green
? Over
Arnett Moultrie
? Over
Perry Jones III
? At this point, you're not necessarily drafting according to need. You just want a good player. Plumlee is big (7-foot), but he averaged just 6.6 ppg and 7.1 rpg as a senior at Duke. I just think Indiana had a chance to pick multiple players with more talent and higher ceilings.
More surprises ...
• Barnes fell to No. 7, but he might average 15.0 ppg for the next decade. Might not be a star, but he could have the most consistent career in the entire draft.
• I don't know about
Jared Sullinger
's back. But if he's healthy, he'll be one of the best players in this draft. He faced bigger, more athletic players in college. High school, too. Yet he keeps winning. That should count for something, too.
• Perry Jones III slipped all the way to 28th? Just ... wow. Read more of my take on this
here
.
• Not sure why so many teams passed on Draymond Green, who fell all the way to No. 35. He played point guard in the NCAA tournament. He's a strong rebounder. Knows how to be a leader. Not the most athletic forward in the draft, but he'll surprise people next season. The Warriors made the right move when they took him in the second round.
•
Maurice Harkless
is very athletic. Not to mention he was one of the best athletes in the draft. I'm just not sure what else he has to offer Philly right now. He might develop into a stud (15.3 ppg for St. John's). But there's a lot of work to do.
• I think the Grizzlies made a great pick at No. 25 when they grabbed
Tony Wroten
(16.0 ppg last season). The confines of college basketball were not suited for this guard's strengths. He's a free spirit on the floor. And the NBA's flow will really enhance his game. He'll be a different (better) player at the next level.
• This isn't surprising, but it's ironic. The Minnesota Timberwolves picked Purdue's
Robbie Hummel
at No. 58. Two years ago, Hummel tore his ACL for the first time during a matchup against the Gophers in Minneapolis. That was the beginning of a tough road for Hummel, who tore his ACL again about eight months later. I wouldn't count him out. He could stick with the Wolves and earn a spot in next year's rotation.
June, 28, 2012
6/28/12
5:00
AM ET
1
. Baylor coach Scott Drew said he is coming to Newark to witness history: three Baylor players taken in the NBA draft. All three --
Perry Jones III
,
Quincy Miller
and
Quincy Acy
-- have a legitimate chance to be in the first round. Miller is on the bubble; Acy could yet climb into the back end of the first round. Acy is the best back-to-the-basket player among the three. What makes Drew's appearance interesting is that none of the Baylor players were invited by the NBA. But Drew said late Wednesday that all three are going to go to Newark, sit in the stands and walk across the stage when their names are called.
2. New Kansas State and former Illinois coach Bruce Weber said he will also be in Newark, at the invitation of
Meyers Leonard
. This is a great gesture by Leonard, who stuck with Weber through a tough season in Champaign. Leonard had an enigmatic career at Illinois, but Weber was in his corner. Leonard has been complimentary of Weber and his time at Illinois during multiple interviews in Chicago and again Wednesday in New York.
3. St. John's coach Steve Lavin is planning on being in Newark to witness
Moe Harkless
get selected somewhere in the first round. North Carolina's Roy Williams and Kentucky's John Calipari will also be in the green room -- Williams has three players invited (
Harrison Barnes
,
Tyler Zeller
and
John Henson
), Calipari two (
Anthony Davis
and
Michael Kidd-Gilchrist
). Washington coach Lorenzo Romar is in Newark as well to support late add Terrence Ross, who isn't expected to get past No. 15 Thursday night. Two coaches who have had a history of not coming to the draft and allowing their players to have the moment to themselves are Duke's Mike Krzyzewski and UConn's Jim Calhoun. Neither will be in Newark on Thursday.
June, 26, 2012
6/26/12
4:30
PM ET
In case you missed it -- or, as we say on Twitter, "ICYMI" --
Monday brought the third annual edition of the College Basketball Production-Only Mock Draft
, which has an entirely silly name but is nonetheless a yearly treat to write. It tries to gauge the most productive college players in the NBA draft, and order them based on how they would be selected if their college careers -- individual production, contributions to wins, and so on -- were the only qualities scouts care about.
Of course, these are not the only qualities NBA scouts care about. They care about much more: body type, athletic ability, measurables, and most of all that unquantifiable gut feeling of potential, that vague notion that a player has only scratched his surface, that hope that one day he may make his general manager look like a genius. This is not an easy job.
So, in contrast to Monday's piece, here's a quick look at five of the most potential-driven players in the current NBA draft. These players are the antithesis of Monday's production-only mock draft; they're the players who didn't produce much in college, but whom nonetheless are responsible for mass quantities of NBA saliva in advance of Thursday night's 2012 NBA draft. (For reference's sake, I consulted Chad Ford's latest mock draft update,
which is available here
.)
[+] Enlarge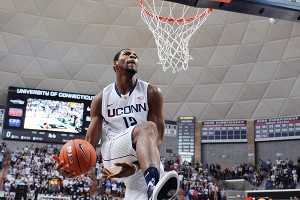 AP Photo/Jessica HillUConn big man Andre Drummond has the athletic ability that NBA scouts adore.
Andre Drummond, center, Connecticut
: Drummond is this year's king of potential. Like all of the players on this list, it's not hard to see why NBA types are freaked out -- in a good way -- by his size and sheer athleticism. Athletes that can get up and down the floor typically don't come at this size, and it's not like he was all bad in his lone season with Connecticut. He did average 10 points and 7.6 rebounds in 28.6 minutes per game, with a good offensive rebounding rate (14.2 percent) and block percentage (9.9 percent), both of which ranked among the top 30 players in the country.
But Drummond just as often looked lost, even out of shape, in the Huskies frontcourt. Meanwhile Connecticut, despite having two potential lottery picks in this year's draft, barely made the NCAA tournament, was bounced in the second round and submitted some of the least inspiring play we saw from any team last season, let alone one this talented.
It's not hard to see why Drummond is a potential top-10 pick. (Chad currently lists him being selected at No. 7 by the Warriors.) He's incredibly athletic for his size; he has all the physical gifts; he has the potential to be a true center in a league bereft of them. Those factors make him difficult to pass up for any general manager. But until he proves otherwise, Drummond will be a huge question mark for anyone who watched him play at UConn.
Meyers Leonard, center, Illinois
: At the risk of categorizing everyone in typical draft cliches, Leonard is this year's late draft bloomer. His sudden rise up the NBA draft boards came in large part thanks to a stellar performance at the Chicago pre-draft camp, and it's been fascinating to see how quickly he has apparently become a surefire lottery pick. Some of that has to do with size -- Leonard is a legitimate 7-footer who also happens to be built like
one of those aggressive alien dudes from "Prometheus"
-- as well as a unique batch of ball skills more advanced than the typical 7-footer. Unlike Drummond, Leonard was an efficient offensive player in 2012 (that is when
Brandon Paul
,
Illinois's undisputed usage champion
, allowed him to touch the basketball).
Leonard was also a key part of a team that essentially quit on its coach. Illinois lost 10 of its last 12 games in 2012, resulting in Bruce Weber's eventual dismissal at Illinois. Leonard doesn't deserve all (or even most) of the blame for that breakdown, probably, but it is disconcerting nonetheless. And when you compare the way
Jared Sullinger
treated the Big Ten for two years to what Leonard did in his time in Champaign, it's kind of hard to fathom, even with Sullinger's supposed back problems in the mix, why Leonard would be so much more highly regarded by NBA scouts.
Actually, come to think of it, no it isn't. He's taller, and he has more untapped potential. And there you have it.
Moe Harkless, forward, St. John's
: Harkless was without question the highlight of his freshman-filled team at St. John's last season. He scored 15.3 points and grabbed 8.6 rebounds, and showed much promise. Those counting stats look impressive, and they are, but Harkless failed to crack the 100.0 offensive rating barrier thanks in large part to the 79 3s he launched, of which he made just 17.
Meanwhile his team finished 13-19 overall, truly limping through a challenging year that began with coach Steve Lavin's battle with prostate cancer and ended without even a trip to the NIT. You wouldn't dare blame Harkless for any of that, and I do think he's a promising player. But a potential lottery pick? From a 13-19 team? It feels like a bit of a stretch.
[+] Enlarge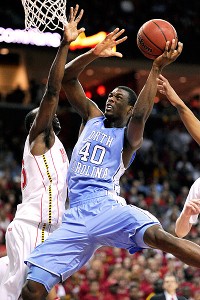 AP Photo/Nick WassCan North Carolina's Harrison Barnes drive to the rim regularly in the NBA?
Harrison Barnes, small forward, North Carolina
: Don't get me wrong: Harrison Barnes was not an unproductive college player. He has an NBA body and a more developed mid-range game than most players his age. But he has remained in the top five of the projected draft -- Ford has him at No. 4 to the Cavaliers, ahead of
Michael Kidd-Gilchrist
-- and I can't help but think that has to do with how well he tested in the pre-draft combine this summer.
My question is this: If Barnes is so athletic, why did he so frequently struggle to create his own shot in two years at North Carolina? And if he will struggle to create his own shot, and is not an NBA-range 3-point shooter (yet), is he really worthy of a top-five pick? Or is the Promise of Harrison Barnes -- the long-held idea that the next great mid-range wing was waiting to arrive from Ames, Iowa, ready to take the world by storm -- still swaying over NBA GMs? You wouldn't think Barnes would belong in a list like this, because again, he was a solid college player. He could be a solid NBA small forward for 15 years. But a ceiling much higher than that seems foolhardy, doesn't it?
Tony Wroten, Jr., guard, Washington
: I have to forgive the scouts for this one. My first experience with Tony Wroten, Jr. came at last summer's Nike Skills Camps, and with the possible exception of
Thomas Robinson
and the obvious exception of
Anthony Davis
, Wroten may have been the most impressive player I saw that summer. When he's out on the break, finding teammates as talented as him, you're wowed by the smooth passing touch and athleticism in a big point guard frame. I saw Wroten for an afternoon or two, and I was.
So yeah, I get it. Wroten can really dish the ball. Only two problems: He turns the ball over, and he can't shoot. Wroten posted a sub-100 offensive rating as a freshman at Washington last season, thanks in large part to a 45.3 percent effective field goal percentage and a 9-of-56 mark from 3. He also posted a 21.7 percent turnover rate, which nearly equalized his solid assist tallies. These were among the reasons Washington never got it together in a historically bad Pac-12 last season, despite the presence of Wroten and fellow projected first-round pick
Terrence Ross
.
If some NBA team can fix Wroten's shot, then he can be an effective pro. But that's a pretty big if, isn't it? And if it doesn't happen, will Wroten really be able to beat NBA defenders off the dribble? The potential is most definitely there. Like the rest of this list, the tangible results -- at least relative to draft position -- are not. At least not yet.
(
One extra production note
: I assumed
Perry Jones III
would belong on this list; for two years, he's been the fulcrum of the potential vs. production debate. He just oozes talent, the type of talent -- long, lanky, ball skills, "Kevin Garnett type", all the buzzwords apply -- that burns scouts more frequently than any other. But then I saw that Jones was ranked at the edge of Chad's lottery, where the Houston Rockets are projected to take him at No. 14. Say what you want about Jones' two years in college, but he wasn't
that
bad. If you want to take him in the top five, I'd urge caution. If you can get him at No. 14 -- the same spot the Rockets got Marcus Morris last year, hello -- you definitely roll the dice.)
April, 30, 2012
4/30/12
12:31
PM ET
Editor's note: It's the offseason edition of The Watercooler. Eamonn Brennan and Myron Medcalf talk NBA draft decisions, the preseason's No. 1 team, UCLA's upside and more.
Myron Medcalf:
What's up, Eamonn? Feels like we left New Orleans months ago. Not sure how I'm going to handle the upcoming months without games. Withdrawal is setting in. But, it's already time to look forward to next season. How about Indiana? Three Big Ten wins two seasons ago. The Hoosiers will enter next season as a top-three team for sure.
Cody Zeller
is coming back. Wow, huh?
[+] Enlarge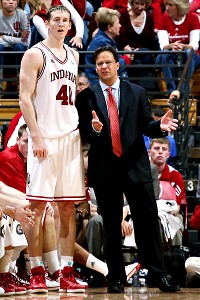 Brian Spurlock/US PresswireCody Zeller and coach Tom Crean have helped revive the Hoosiers.
Eamonn Brennan:
My buddy's little brother attends Indiana, and his mom brought back a shirt they're selling on campus that simply says "We're Back." Needless to say, IU fans would be loving this renaissance if they merely had a top-20 team. To go from where they were two and three years ago -- I mean, they were 12-20 in 2010-11; that literally just happened! -- to No. 1 in our very early preseason poll … well, it's remarkable, when you think about it. Such a dramatic turnaround.
MM:
Very remarkable. And Zeller is back. I know I mentioned that earlier. But he's a lottery pick if he leaves. I know the NBA draft entry deadline was Sunday, and many storylines were connected to it. But Zeller's decision to stay away from the draft is bigger than any of them in my opinion.
EB:
My reaction to Zeller coming back trends far more toward the "meh" side of things. It's not because he's not a great player, an immediate POY candidate and hugely important to the Hoosiers' chances, because obviously he is all those things. But I never thought there was any real threat Zeller would leave for the draft. Even as he jumped up to potential top-10 pick status, the way he's openly enjoyed his first season on campus, the patience his brother displayed at UNC, and the fact that Tyler will be a pro -- there's no rush, in other words -- made it clear that Zeller would be back as a sophomore. Some IU fans are hoping he'll stay all four years. That might be asking too much, but he's back for his sophomore season, and he has an awfully talented team around him.
Let's talk draft. Any decisions that really surprised you?
MM:
A few.
Maalik Wayns
… OK. He's a junior who carried the load for a bad Villanova squad. But he's a projected late second-rounder, and will possibly be undrafted. His teammate,
Dominic Cheek
, drank the Kool-Aid, too. The whole 'If I jumped off a bridge, would you do it?' is sometimes true. But the biggest surprise is
Quincy Miller
. He made the right decision to return a few weeks ago. Then he changed his mind. He should be a first-rounder. But with another year, he could be top 10. He's a great example of a young player who would gain a lot by coming back for his sophomore season.
Who surprised you?
EB:
Yeah, I thought Miller made the right call initially, because (a) without
Perry Jones III
there, he would have been the featured scorer on a good Baylor team, (b) he could take on college competition (and not fully grown men) while beefing up that lanky frame in the weight room, and (c) this draft already has how many talented tweener forwards set to go in the first round? Twenty? Thirty?
But when you're projected as a first-round pick, particularly when you're closer to the lottery end of things than the fringe, it never feels like a particularly bad decision to go.
That's kind of the deal with
Moe Harkless
. I thought Harkless could probably use another year in school for a St. John's team that really had time to congeal, but he looks like he could go in the first round. So you can't fault him for leaving now.
I thought
Khris Middleton
was one of the real surprises. He could have been a first-rounder last year but stayed. Then he got hurt all season and A&M struggled in its first year under Billy Kennedy. Now Middleton is in the draft, but isn't a likely first-round choice anymore. It will be interesting to see how he tests out and what scouts think if he can get healthy in pre-draft camps, because he's an awfully polished and athletic forward when he's at full speed. He could be a steal. (Which probably means the Spurs will draft him in the second round. Figures.)
MM:
True. The Spurs would nurse Middleton back to 100 percent, then use him to fuel some epic playoff run next season. You have to look at the powerhouses, too. Kentucky lost everyone. And yet, Calipari inks a top-two class again. And
Anthony Bennett
is still available. North Carolina is in a different boat. Still a very talented team, but a major shift from the veteran core the Tar Heels employed last season. On Kentucky … and I know this is a tough thing to assess right now … but should the Wildcats be preseason No. 1 with the talented freshmen who are headed to Lexington next season?
Also, what's the over/under on me adopting the
Nerlens Noel
box cut?
EB:
Oh, you should totally do it. I would put the odds at just slightly more favorable than a UK national title.
I am torn on the Indiana-Kentucky preseason No. 1 thing, because it's easy to forget the talent Indiana has arriving in
Yogi Ferrell
(a true athletic point guard who is exactly what they need) and even
Hanner Perea
, who comes with ready-made NBA athleticism (another thing the Hoosiers really need) at the 4 spot.
But Kentucky is reloading, no question, and if there's one thing we know about John Calipari, it's that he's the best in the country at getting new, young teams to come together as actual teams very early in the process. But this is not the 2012 Wildcats. Nerlens Noel is going to be a beast, but he's not
Anthony Davis
.
Michael Kidd-Gilchrist
, the heart and soul of that national title team, is nowhere to be found next season. I will be fascinated to see what this team looks like in November and December.
I have Louisville at No. 3 -- I think
Chane Behanan
is going to have a star-making breakout sophomore season.
My biggest preseason-ranking question revolves around the
UCLA Bruins
. Assuming Kyle Anderson's hand
ligament injury is long since healed
by the time the season starts, is that a top-five team?
MM:
Oh man … I mean, I'm trying to erase memories of last season. That "talent." That preseason ranking … That collapse. But if we're going to give Kentucky No. 1 status (potential) based solely on the status of its recruiting class, I think you have to give UCLA the same consideration.
Tony Parker
helped the Bruins grab a No. 1 class ranking on ESPN.com. We know talented freshmen
can
win national titles.
So I say they're top 10. Can't go top five yet because the returning guys were so inconsistent. Since we're talking about teams that are hard to assess … Thoughts on Ohio State? Is that a top-five squad with
Deshaun Thomas
leading the way now?
EB:
It's hard to know what to do with UCLA, because unlike Kentucky, we've yet to see Ben Howland take a star-studded recruiting class and turn it into a contender. In fact, last time he had a great class, things pretty much fell apart.
And yeah, I like Thomas as the star scorer. I think that's his perfect role. The question is whether he can be a leader on both ends of the floor, whether he'll devote himself to a total game, rather than being happy scoring a ton of points every night. Because he will shoot -- and score -- a lot.
[+] Enlarge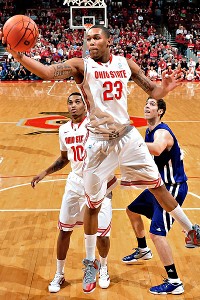 Jamie Sabau/Getty ImagesThe Buckeyes need a big season from Amir Williams.
The biggest question re: OSU is
Amir Williams
. I thought he was going to get a lot more run as a freshman, so
Jared Sullinger
could do his whole "hey, I'm a versatile, skinny power forward now, check out this 15-foot jumper!" routine in 2012. Instead, Sullinger gained all that weight back by the end of the season; he was basically playing the exact same position he played as a freshman, and Williams spent most of his time on the bench.
He has to take over in the middle right away, and
Shannon Scott
needs to have a big sophomore season as a combo 2-guard alongside
Aaron Craft
. If Craft and Scott can figure it out, I think that's OSU's most talented and dynamic lineup, and an awfully good one.
MM:
The bottom line is that we have a lot to look forward to next season. Many question marks remain, but I like the intrigue. Plus, some talented players are back.
C.J. Leslie
could make NC State a top-10 team.
Jeff Withey
was the most dominant interior defender in the NCAA tourney. He's back. The Big Ten is stacked. The Pac-12 might matter again.
I know it's early, but I'm pumped about the 2012-13 campaign. Not sure how I'll last until November without it. Maybe I'll watch this LeBron guy in the NBA playoffs.
EB:
My two-point is as follows:
1. Watch as much of the NBA playoffs as humanly possible (I love the NBA playoffs).
2. Watch the new Rihanna video as much as possible. No, RiRi, where have
you
been all my life?
MM:
Rihanna and the NBA playoffs … the perfect elixir. Good times as always, Eamonn. Until next time … or the next big development.
EB:
We'll talk that talk. Until then, Myron.
February, 29, 2012
2/29/12
10:15
AM ET
Editor's Note: To see our expert picks for each of the nation's 12 top conferences, click here. To cast your vote in these races, visit SportsNation.
A quick look at the player and coach of the year races in the Big East:
Player of the year
Syracuse is far and away the best team in the Big East Conference.
Which is great when it comes to winning games, but a real problem when you're trying to sort out player of the year trophies.
Usually you can at least find one obvious candidate from the best team in the conference. With the Orange, that's impossible. Together they are unbeatable, but individually they almost cancel one another out. Is
Scoop Jardine
more valuable than
Kris Joseph
? Does Joseph do more than
Fab Melo
? How about
Dion Waiters
, the guy who comes off the bench to rank second on the team in scoring?
[+] Enlarge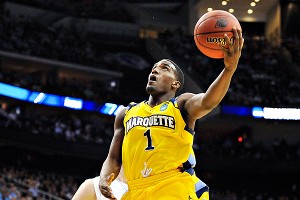 Howard Smith/US PresswireMarquette's Darius Johnson-Odom's 18.4 points per game could earn him player of the year honors in the Big East.
All four will get and deserve votes but Syracuse is truly a sum-of-its-parts squad, one where every piece is critical but none more than the others. Someone on this team could win Big East POY -- and if we were voting, we'd lean Waiters -- but it's not likely.
So who are the obvious candidates? There are two front-runners – Marquette's
Darius Johnson-Odom
and West Virginia's
Kevin Jones
.
Johnson-Odom has been terrific for a team that has been rock steady all year. Second in the Big East (behind Jones) in scoring, he averages 18.4 points per game. He's scored in double figures in every game he's played in save one -- suspended for the first half against West Virginia, he had nine.
Jones, in the meantime, had to be great for coach Bob Huggins' young team to survive -- and the senior forward has been great. Along with leading the league in scoring and rebounding (20 points and 11 boards), he's put up 18 double-doubles this season.
Some other long shots to consider: Marquette's
Jae Crowder
, Notre Dame's
Jack Cooley
, Georgetown's
Jason Clark
and Seton Hall's
Herb Pope
. St. John's freshmen D'Angelo Harrison and
Moe Harkless
have been terrific but there's another newcomer award for them.
It's a tough pick between the two favorites and I waffle daily but I'd probably lean Johnson-Odom because he has not only been sensational, his team has been, too.
Coach of the year
Interesting test case here -- do you reward the guy who has steered the loaded roster to near perfection or do you celebrate coaches who have had surprising success?
[+] Enlarge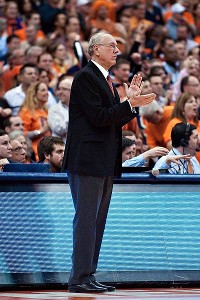 Mark Konezny/US PresswireJim Boeheim has coached Syracuse to near perfection. But does he deserve to be the Big East coach of the year?
Jim Boeheim is one trip to South Bend away from perfection, achieving such rarefied air despite dealing with the fallout from the Bernie Fine scandal in December. Outsiders might argue that a kindergartener could coach a team with so much depth and talent. What looks easy, though, isn't always. Managing a team -- especially in this day and age, when premier players come in with premier egos -- is not easy.
And Boeheim hasn't steered a team to near perfection in any old league. He's done it in the Big East.
Mike Brey and John Thompson III, meantime, took the opposite run to success. Neither is supposed to be here.
The Irish were picked ninth in the league, and that was before Tim Abromaitis blew out his knee. After that? No one figured Brey's team to be of any consequence.
But Brey, who memorably retooled his team two years ago after Luke Harangody's injury, has done it again. Notre Dame is 12-5 in the league, vying for a top-four finish. Brey, who won coach of the year honors last year, has imbued his team with confidence, handing over the keys to the sophomore backcourt of
Eric Atkins
and Jerian Grant, and letting them run the show.
Thompson's year at Georgetown has been equally impressive and equally surprising. The Hoyas were picked 10th in the preseason coaches' poll after losing Chris Wright and Austin Freeman to graduation.
Instead, Georgetown is knotted with Notre Dame at 12-5.
Henry Sims
has been an eye-opener, the ideal point-center for the Hoyas' Princeton style, and
Otto Porter
is arguably among the top freshmen in the conference.
Outsider choices: Mike Dunlap and Stan Heath. Dunlap is supposed to be an assistant, helping Steve Lavin. Instead, while Lavin recuperates from prostate cancer surgery, Dunlap has been running the show at St. John's, and running it with a roster stuffed to the gills with freshmen. Heath, meantime, has pulled himself off the hot seat and the Bulls into the conversation, taking South Florida to its best finish since joining the Big East.
This is another can't-go-wrong choice. And hey, could you argue with Marquette's Buzz Williams winning it too? Not me.
My pick: Boeheim. The name of the game is winning, and no one in the league has done that better this year than the Syracuse coach.
February, 27, 2012
2/27/12
10:00
AM ET
Syracuse put a bow on its nearly perfect Big East run, sewing up the conference's regular-season honors. But there's still much jockeying to be done in the final week -- for bubble positions and, more immediately, for seeding positions for the Big East tournament. The top four earn the double bye.
1. Syracuse:
The Orange clinched the regular-season crown with a win that might have been more impressive than the other 15. Syracuse needed to stave off UConn for a victory that made up in grit what it lacked in style points.

2. Marquette:
Not even the absence of four starters for a half could keep the Golden Eagles down or Buzz Williams from dancing. Marquette's rally from an 11-point halftime deficit at West Virginia proved this is a very good team.
3. Georgetown:
You almost had to feel for Villanova. The Hoyas went and got inexplicably clobbered by Seton Hall. Someone was going to pay. The Wildcats were the victim, sliced and diced by 21.
4. Notre Dame:
Nothing lasts forever, not even the Irish's luck. Notre Dame's nine-game streak ended at the hands of St. John's and an awful 4-of-31 performance from beyond the arc. The Irish need to fix that or their Big East tournament visit won't last long, either.
5. Louisville:
The Cardinals are among the teams pushing to grab that last top-seed position. To get it, they'll need to win two tough ones -- against equally hungry South Florida and at Syracuse.
6. South Florida:
The Bulls will be among the most watched teams all the way through Selection Sunday. South Florida is 11-5 in the league after beating Cincinnati but still needs a signature win. The Bulls have a chance at Louisville and then with a home game against fellow bubble resident West Virginia.
7. Cincinnati:
Most folks believe the Bearcats are in the Dance. But they certainly don't want to make it easy. Cincinnati scored 45 points against South Florida's defense and now has to finish up against Marquette and Villanova. A loss to the Wildcats isn't how Cincinnati wants to finish the season.
8. Seton Hall:
The Pirates giveth; the Pirates taketh away. A hugely impressive win against Georgetown proved why Seton Hall deserves NCAA consideration. A home overtime loss to Rutgers negated some of the good. How the Hall finishes will be critical.
9. Connecticut:
The Huskies showed more in defeat than they have all season, finally displaying some energy, hustle and feistiness in their loss to Syracuse. The question is: Was it too late? UConn absolutely cannot lose to Providence or Pitt to finish the season.
10. West Virginia:
Kevin Jones
might be the best player in the conference, but his team is trying to dull his star and keep him out of the NCAA tournament. The Mountaineers are fading, losing four of their past five. Jones struggled with foul trouble against Marquette, and no one picked up the slack.
11. St. John's:
Technically, Madison Square Garden is a home-court advantage for the Red Storm. The way this young team is playing, it just might take advantage of it.
Moe Harkless
and
D'Angelo Harrison
, perhaps as good a one-two punch as there is in the league, led St. John's to its upset of Notre Dame, its third win in a row.
12. Rutgers:
There's nothing like a win against your rival to cure what ails you. And we'll see whether that's the case for the Scarlet Knights, who ended a six-game skid by upsetting Seton Hall. Now it's up to Rutgers to use the momentum well against Villanova and St. John's.
13. Pittsburgh:
Saddled with injury and illness, the Panthers came up short on an upset bid against Louisville. That's five losses in a row, a streak the Panthers need to end to gain some confidence heading into New York.
14. Villanova:
Maalik Wayns
returned.
JayVaughn Pinkston
turned his ankle during pregame warm-ups. That about sums up the Wildcats' season, which is limping -- quite literally -- to a merciful finish.
15. Providence:
At this point of the season, the Friars are latching onto any good news: Blowing a 17-point lead yet still beating DePaul thanks to
Vincent Council
's late heroics qualifies.
16. DePaul:
The promise of a new beginning for the Blue Demons in the Big East has faded to the same result. DePaul will need to beat both West Virginia and Seton Hall to crawl out of their regular conference-basement seat for the Big East tournament.
February, 2, 2012
2/02/12
12:09
PM ET
By
Jeremy Lundblad, ESPN Stats & Info
| ESPN.com
Player of the Night: Julian Mavunga
The senior carried Miami (Ohio) to a 62-57 overtime win over Eastern Michigan, leading all players with 19 points, 19 rebounds and eight assists. Both his rebound and assist totals are career-highs.
No player in the nation is relied upon more than Mavunga. Even though he's not even in the top 50 in scoring, he's put up 30.8 percent of the RedHawks' points. That's fourth most in the nation according to
bbstate.com
.
Mavunga also has 39.0 percent of Miami's rebounds, which ranks second in the nation. The only other player who is even in the top 20 in both categories is West Virginia's
Kevin Jones
.
Lofty Comparison: Thomas Robinson = Blake Griffin
Leading by just three points at halftime, Kansas pulled away in the second half to beat Oklahoma, 84-62. Once again, Robinson was huge with 20 points and 17 rebounds, numbers that would be eye-popping if he wasn't doing it so consistently. Robinson now has four games this season with at least 19 points and 17 rebounds. No one else has three such games. The last major conference player with four 19-17 games in a season? Blake Griffin, who did it 10 times in 2008-09.
Bench Star: God'sgift Achiuwa

It's hard to believe St. John's could win a road game when
Moe Harkless
goes 2-for-15 from the field, but that's just what happened Wednesday at DePaul. The Redmen got a career-high 29 points from D'Angelo Harrison. But the biggest boost came from Achiuwa, who scored 15 points in 18 minutes off the bench, hitting all seven of his shots. It was the best shooting performance for a Big East player off the bench this season.
Road Show: Evansville

The Aces put on an offensive display in a 93-62 win at Bradley. Not only did they shoot 60.3 percent from the field, but also combined on 31 assists -- 18 more than Bradley. (
Colt Ryan
and
Denver Holmes
combined for 47 points and 20 assists.) The last time a team had more assists in a true road game? UCF in February 2003.
Ugly Stat Line of the Night: Connecticut (except Andre Drummond)
The Huskies' offense came up empty in a 58-44 loss at Georgetown. It was the fewest points for the Huskies since scoring 42 against Syracuse in 1999. Connecticut has failed to score 50 points in back-to-back games for the first time since 1964. Drummond went 9-for-12 from the field, but the rest of the Huskies combined to shoot 18.8 percent (9-for-48).
January, 26, 2012
1/26/12
12:05
PM ET
By
Jeremy Lundblad, ESPN Stats & Info
| ESPN.com
Player of the Night -- Le'Bryan Nash

Nash scored 13 points during a pivotal 17-4 run late in the second half, as
Oklahoma State
knocked off No. 2
Missouri
,
79-72
. The freshman finished with a career-high 27 points. Nash came into this one shooting just 37.8 percent from the field, but hit 12 of 18 shots in the best shooting night of his career. It was the first time since 1957 that an unranked Oklahoma State team defeated the No. 2 team in the nation.
Board Monster -- Mike Moser

One of the best rebounders in the nation had the best rebounding game of his career. Moser pulled down 21 rebounds to go with 18 points as
UNLV
topped
Boise State
77-72 in overtime
. Moser is the only player with multiple 20-rebound games this season. He fell five shy of Jimmie Baker's school record set in 1973. Moser's 11.7 RPG would be the highest for an UNLV player since Sidney Green's 11.9 in 1982-83.
Youth Is Served -- St. John's

In
Wednesday's 78-62
win over
West Virginia
,
St. John's
featured a starting lineup consisting of five freshmen. It's believed to be the first time the school has done that since 1927-28. The Red Storm were led by 23 points and 13 rebounds from
Moe Harkless
, the fourth-leading freshman scorer in the nation. According to
kenpom.com
, St. John's has the least experienced roster in the nation, averaging just 0.56 years.
Free Throw Focus -- Julius Mays

Mays went 19-20 from the free throw line in
Wright State's
69-63 win
over
UIC
, setting a school record for free throws made in a game. It's the second-most free throws made in a game this season behind 20 from
Oregon State's
Jared Cunningham
. Mays, a transfer from
NC State
, finished with a career-high 33 points.
Ugly Stat Line of the Night -- Herb Pope

Pope went 2-for-16 from the field in
Seton Hall's
ugly
55-42 home loss
to
Notre Dame
. It was the fewest points Seton Hall has scored at home since 2005. Even without Pope's bad night, the rest of the Pirates still shot just 31.7 percent. Pope missed his first six shots and was 1-12 going into halftime. Of his 14 misses, seven were listed as layups in the box score, and one was a dunk.
January, 16, 2012
1/16/12
10:00
AM ET
Ranking this mega-league is not an easy task, but we'll give it another shot ...
1. Syracuse:
Someone on Twitter suggested that the Orange's second five be ranked as the second-best team in the Big East. It's not crazy, considering the bench accounted for 41 of Syracuse's 78 points against Providence.
2. Connecticut:
Another difficult week for the Huskies. With Jim Calhoun's suspension over, now UConn is dealing with the uncertainty of
Ryan Boatright
's status for the rest of the season as the NCAA looks into his eligibility again. That the Huskies were able to deal with the immediate news and win at Notre Dame is a credit to the team. The long-term effects, however, remain to be seen.

3. West Virginia:
Interesting week for the Mountaineers, who appear headed in the right direction. They play against in-state rival Marshall, a dangerous game against a good team in Conference USA, and then host Cincinnati.
4. Georgetown:
The Hoyas hopped off their losing streak in convincing fashion by toasting St. John's by 20. That should -- at least temporarily -- silence critics who wondered if Georgetown was heading to another midseason slide.
5. Seton Hall:
So was the loss to South Florida a hiccup or a more serious problem? That's the question that needs to be answered for the Pirates, who had a chance to win the game, but
Jordan Theodore
missed the front end of a one-and-one. Seton Hall is good, but until the Hall avoids upset losses, fans will be leery to go all-in.
6. Cincinnati:
Just how good are the Bearcats? We'll know by the middle of next week. This is Cincinnati's gauntlet: at Connecticut, at West Virginia and then home against Syracuse. One win would be good, two huge and three a reason for serious joy in the streets.
7. Marquette:
The Golden Eagles went back to their bread and butter, their defense, to beat skidding Pittsburgh. But one thing that's becoming obvious: The margin for error for Marquette is slim.
8. Notre Dame:
Tim Abromaitis
remains the Irish's leading scorer, despite not playing since tearing his ACL after Game 2. That tells you all you need to do know about the good job Mike Brey has done retooling this team into something respectable. The sledding gets harder now, with ranked opponents in three of Notre Dame's next five games.
9. Louisville:
The reeling Cardinals got exactly what the doctor ordered: a game against DePaul, one of the league's lower-tier teams.
Russ Smith
looks like the key puzzle piece for a team that struggles offensively. The sixth man makes his coach crazy, but Louisville needs to afford Smith some freedom if it's going to score. It also needs
Kyle Kuric
back.
10. South Florida:
Success for the Bulls has to come in increments, and beating a ranked opponent for the first time in 11 years counts. South Florida's inability to score makes nothing easy.
11. Rutgers:
This is just the way it's going to be for Rutgers. The Scarlet Knights are young and so the same team that can beat Florida and Connecticut and hold Pitt to 39 points can, in fact, lose by 24 to West Virginia.
12. St. John's:
Here's what you can know for sure about the Red Storm:
Moe Harkless
and
D'Angelo Harrison
are terrific. After that, how do you fairly judge a team with a roster full of freshmen, no head coach and players transferring? St. John's is skidding (losing four of its last five) with little reason to believe it can right itself.
13. Villanova:
The Wildcats just aren't very good. There's a host of reasons -- youth, inexperience -- but bottom line,
Maalik Wayns
is left to do everything on his own. He's trying, scoring 39 in Villanova's loss to Cincinnati, but it's just not enough.
14. DePaul:
The Blue Demons are better. But better still isn't equating to improved results, especially on the road. A victim of tough scheduling, DePaul has lost its past three games away from home. With two now back in Chicago, the Blue Demons need to get back on track.
15. Providence:
The Friars lost to Syracuse and lost badly, but credit Ed Cooley for benching leading scorer
Vincent Council
. As he tries to rebuild Providence, Cooley has to set a standard regardless of what it might do to the win-loss column.
16. Pittsburgh:
Put the Panthers right up there next to the pyramids as one of the Seven Wonders of the World. One of the most consistent teams in the country is now consistently awful. Fans are now looking for respectable losses, like ones in which Pitt scores more than 39.
January, 9, 2012
1/09/12
10:00
AM ET
After No. 1, good luck figuring out the rest of the Big East. But I'll give it a shot ...
Syracuse: Instead of giving pause to how good the Orange is, Syracuse's survival win against Marquette only enforced just why Jim Boeheim's team is the best in the country. The Orange needed to be tested and was, giving up most of a 23-point lead. Yet Cuse dug in to gut out the win.
Georgetown: West Virginia put the breaks on the Hoyas' 11-game winning streak, exposing Georgetown's defensive flaws with its inside-outside power. To be determined: Was it just a bad night in a tough environment for the Hoyas? Upcoming games against Cincinnati and at St. John's will at least partially answer that.
West Virginia: In Kevin Jones, Bob Huggins has the current frontrunner for conference player of the year honors. Mix in Truck Bryant, who's playing the best basketball of his career, and you have a good recipe for success for a young WVU team that is finding its stride at just the right time.
Seton Hall: Do the Pirates belong in the top tier of the league? Hard to say, but they're playing like it. Embarrassed by the pounding they took from Syracuse, the Pirates have been relentless since, winning their last three by an average of 13 points per game.
Marquette: The Golden Eagles are the kings of almost. They almost beat Georgetown on the road and almost dethroned Syracuse at the Carrier Dome. Except almost doesn't count. Marquette is tricky to rank. This is clearly a good team, and one that will be a tough out in the tournament, but it needs to get the wins to prove it.
Cincinnati: The Bearcats' seven-game win streak came to an end on a buzzer-beating putback from Moe Harkless and St. John's. Cincinnati is a good team but with that home loss to Presbyterian still on its resume, it doesn't have a lot of wiggle room for bad losses. A big game against Georgetown is upcoming.
Connecticut: With or without their coach, the Huskies aren't particularly fond of New Jersey. UConn lost to Seton Hall while Jim Calhoun finished out his NCAA suspension and fell to Rutgers with him back on the bench. Turnovers are becoming a problem for the Huskies -- Shabazz Napier had five against the Hall and UConn had 20 against Rutgers. They have a critical game against West Virginia on Monday.
Notre Dame: No one is better at adjusting on the fly and squeezing everything out of reconstructed rosters than Mike Brey. When Tim Abromaitis' season ended with a torn ACL, it seemed the Irish's season was lost as well. Instead, Brey has conjured up a team that is in the mix in the Big East, especially with its double overtime win at Louisville.
Louisville: The Cardinals are hard to figure. Solid defensively with gritty players, they are abysmal offensively. Those struggles have led to a mini-skid, with Louisville losing three of its last four.
St. John's: Moe Harkless and D'Angelo Harrison give the Red Storm a bright future. The immediate present will be harder to predict for a young team still trying to make do without its head coach.
South Florida: Progress comes in increments in Tampa and the Bulls' win at Villanova, only their seventh league road win in seven seasons, is progress. The catch: continuing it. USF has to become a consistently tough team on the road to really show improvement.
DePaul: Reality is starting to seep in for the Blue Demons. After winning five in a row, they've lost two of their last three. Shoddy defense -- Villanova shot 63 percent -- negated what could have been another win after DePaul forced 28 turnovers.
Rutgers: Maybe the Scarlet Knights should play top-10 teams all the time. The young Knights pulled off another stunner by toppling Connecticut, a game that showed (again) the promise of Mike Rice's young team. Now Rutgers needs to exhibit that promise more often.
Villanova: That a win over DePaul provided a sigh of relief tells you how desperate the Wildcats were to taste victory. Villanova put an end to a three-game conference slide by beating the Blue Demons. Whether it was a win over an easy opponent or signs of legitimate improvement will be determined quickly. The Cats host No. 1 Syracuse on Wednesday.
Pittsburgh: Just when you thought a bizarre season couldn't get weirder, the Panthers lost at DePaul. Pitt is reeling through an inexplicable four-game losing streak in what is quickly becoming a lost season.
Providence: The hurts are likely to keep coming for Ed Cooley in his rebuilding process. The Friars' next three opponents: Louisville, Syracuse and Marquette.
January, 2, 2012
1/02/12
10:30
AM ET
Big East play has begun. Let's take another crack at ranking this mega-conference:
1. Syracuse: Like Otto, their citrus-infused mascot, the Orange keep on rolling. Syracuse was supposed to get a challenge from Seton Hall. The Orange won by 26. DePaul is better this season, which meant only a 19-point loss to the top team in the country. The next circle-the-date challenge comes on Jan. 7, when Syracuse hosts Marquette.

2. Georgetown: The Hoyas mastered the art of survive and advance against Providence, shooting an abysmal 30 percent for the game yet coming away with the win. Georgetown will need to find its touch soon with a rough run of games -- against Marquette, at West Virginia and against Cincinnati.

3. Connecticut: The Huskies have weathered their first two games without coach Jim Calhoun, who is serving his mandated NCAA suspension. UConn hasn't been pretty -- the Huskies needed every one of Jeremy Lamb's 23 points to beat South Florida and squandered much of a 23-point lead against St. John's -- but pretty doesn't matter in the Big East.

4. Marquette: Weird week for the Golden Eagles, who played horribly against Vanderbilt but rebounded in league play against Villanova. The simple secret to Marquette's success seems to be Darius Johnson-Odom. When he plays well, as he did against the Wildcats, so does Marquette.

5. Louisville: The Cardinals were handed a double-whammy, with back-to-back games (and losses) to conference rival Georgetown and in-state rival Kentucky. Louisville's defense took a night off against the Hoyas but came to life in the slugfest against the Wildcats. This remains a team with limitations, but one that can count on its pressure defense to keep it alive in conference play.

6. Cincinnati: The Bearcats' guard-fueled offense continues to pay huge dividends for Mick Cronin. Since the brawl housecleaned his lineup, Cronin has gone with four guards. He's got six consecutive wins to show for it. Yancy Gates is due back on Wednesday against Notre Dame.

7. Notre Dame: In the midst of a week-long break, the Irish at least have a nice game to linger over. Notre Dame's offense caught fire against Pitt, hitting 18 of 25 from the floor in the second half, to score the upset in the the league opener.

8. Seton Hall: Seton Hall is part of a glut of Big East teams that is hard to separate, mixing in with Cincinnati, West Virginia and Pittsburgh. The Hall may not be quite ready for the top of the pack -- not if the 26-point loss to Syracuse is any indication -- but the Pirates earned themselves a little space from the pack with a decisive win against West Virginia.

9. West Virginia: The Mountaineers, a team with seven freshmen on the roster, are going to be something of an enigma this season. The same team that couldn't miss against Villanova struggled to score against Seton Hall's zone.

10. Pittsburgh: The Oakland Zoo has been tamed. Pitt, which once lost at home about as often as the solstice, dropped its third at the Zoo this season and second in eight days. The Panthers have now skidded to their third loss in a row.

11. DePaul: The Blue Demons are better but there is a big distance between better and competitive with the top of the Big East. How improved DePaul is can't be defined by its 19-point loss to Syracuse. The Demons' next two games, however, could be more telling. DePaul hosts Pittsburgh, a team that's been on the ropes already this season, and travels to face a reeling Villanova team.

12. St. John's: The tough sledding continues for a young Red Storm team that is trying to get through Big East games without its head coach. There are good signs -- Moe Harkless has the ability to take over a game, as he did with 32 against Providence -- but there is still plenty of work to be done.

13. Villanova: The Wildcats are like a car stuck in mud -- the wheels are spinning, but they aren't getting anywhere. A close game dissolved in to a 14-point loss against West Virginia and a late rally proved too late against Marquette. Villanova, a young team in both age and experience, has lost seven of its past 10.

14. South Florida: A decent week for the Bulls to open conference play -- they gave UConn all it could handle and topped Rutgers. But South Florida has to get more offense out of Augustus Gilchrist going forward. He's getting touches, but shooting only 36 percent from the floor.

15. Rutgers: Mike Rice's fears came true. Minutes after the Scarlet Knights improbably upset Florida in double overtime, Rice said his only concern was South Florida. Sure enough, Rutgers, which played so well against the Gators, started sluggishly and paid for it with a loss to the Bulls on Sunday.

16. Providence: The Friars are what they are -- young and limited. They simply aren't ready to win Big East games, even when they try to make them as ugly as possible, as they did in a competitive loss against Georgetown.
December, 28, 2011
12/28/11
12:59
PM ET
Moe Harkless
exploded for 32 points and 13 rebounds is a 91-67 win over Providence. It broke a Big East record shared by Troy Murphy and Allen Iverson for most points by a freshman in his first conference game. He is one of only five major conference freshmen with a 30-10 game in the past five seasons, a list that also includes
Jared Sullinger
, Michael Beasley, Bill Walker and J.J. Hickson.
The last Big East freshman with a 30-point, 10 rebound effort? Carmelo Anthony, who did it three times in 2002-03.
Tolbert emerging for Texas Tech

Jordan Tolbert led Texas Tech with 27 points in a 74-58 win over Cal State-Bakersfield. Tolbert has scored over 20 points in each of his past four games. He's averaging 21.0 ppg in December, fifth-highest among major conference players. Tolbert is now averaging 15.8 PPG. Only Washington's Tony Wroten has a higher scoring average among freshmen in the power six conferences. Tolbert came into the season ranked 38th among incoming freshman power forwards.
Leonard filling the stat sheet for Illinois

Meyers Leonard
logged 42 minutes in Illinois' 81-72 double-overtime win over Minnesota. Leonard recorded his third straight double-double with 20 points and 11 rebounds to go with five blocks. It's his second 20-10-5 game this season. He's the only Big Ten player in the past 15 seasons with multiple such games in a season. Only
Draymond Green
and Jared Sullinger have more double-doubles in the Big Ten this season.
Big second half for Dragicevich

Notre Dame extended its home winning streak to 28 games with a 72-59 win over Pittsburgh. The Irish were led by a career-high 22 points from
Alex Dragicevich
. That's more than the 20 points he scored in 14 games as a freshman last season. Notre Dame trailed by one at halftime, but Dragicevich scored 17 in the second half to help the Irish pull away. Pittsburgh has lost back-to-back games in December for the first time since 2007.
St. John's freshman
November, 18, 2011
11/18/11
12:10
AM ET
By
Kieran Darcy, ESPN New York
| ESPN.com
NEW YORK -- A quick take on No. 16 Arizona's
81-72
win over St. John's on Thursday night at Madison Square Garden in the second semifinal of the 2K Sports Classic benefiting Coaches vs. Cancer.


What it means
: The Red Storm suffer their first loss of the season, in their first game at MSG after winning three games against mid-major competition at Carnesecca Arena last week. For six of the seven players in the St. John's rotation, it was their first game at the Garden; they proved they could play on the big stage, but couldn't close out the more experienced Wildcats (4-0) down the stretch.
The skinny
: St. John's coach Steve Lavin was worried about his team displaying some nerves, but the young Red Storm looked comfortable on the big stage from the get-go. They did trail by as many as nine early, 19-10, but went on a 12-2 run to pull into the lead midway at the 9:24 mark. St. John's led by as many as six in the first half, 32-26, but gave the lead back and trailed 44-41 at the break.
St. John's fell behind by seven early in the second half, but responded with a 19-4 run, taking their biggest lead, 66-58, with 7:20 to play. But Arizona recovered from there. Leading scorer
Nurideen Lindsey
(18 points) fouled out with 4:02 left to play, just after the Wildcats had retaken the lead, and St. John's trailed the rest of the way.
Big nights
: Besides Lindsey,
D'Angelo Harrison
had 16 points for St. John's -- 14 coming in the second half.
Moe Harkless
had 13 points and 9 rebounds, and
Phil Greene
had 12 points off the bench.
Solomon Hill
led five Wildcats in double figures with 15 points.
Killer stat
: Arizona shot 14-for-28 from beyond the 3-point arc -- that is awfully hard for any team to overcome. St. John's was just 3-for-8 from long range.
What's next
: St. John's will play Texas A&M on Friday at 4:30 p.m. in the consolation game of the tournament. Arizona will take on Mississippi State in the championship at 6:30 p.m. ESPN2 will televise both games.