College Basketball Nation:

Monte Morris
May, 5, 2014
May 5
10:05
AM ET
This week ESPN.com will feature a
position-by-position look
at players to watch for the 2014-15 season.
Point guard might be the single most important position. The potential for postseason success increases substantially for teams that have an elite point guard.
If you didn't already know from watching Connecticut's
Shabazz Napier
guide the Huskies to their fourth national championship, college basketball remains a guards' game. Napier followed the blueprint set before him with strong leadership and, when needed, clutch shooting. With the ball in his hands, Napier was in full control of the game's tempo.
Now everyone wants a Napier; whether in the form of a pure point guard like Arizona's
T.J. McConnell
or a scoring point like Indiana's
Yogi Ferrell
. Here are the point guards to keep an eye on next season.
[+] Enlarge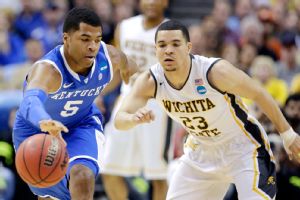 AP Photo/Charlie RiedelKentucky's Andrew Harrison and Wichita State's Fred VanVleet are among the nation's top returning point guards.
Top returnees to watch
Fred VanVleet, Wichita State:
He epitomizes the definition of a true point guard. Simply put, he makes everybody better. VanVleet doesn't overwhelm with speed, but he does with his decision-making, especially when it comes to using ball screens. Opposing coaches leave impressed by his poise because he never seems to force the action and he never appears rattled. The rising junior had 22 games last season in which he didn't commit more than one turnover. Defensively, VanVleet sets the tone for the Shockers, too, as he led the team with 69 steals.
Marcus Paige, North Carolina:
He is one of the nation's best point guards when it comes to taking over a game scoring. He also might be the nation's most reluctant leading scorer. Because of P.J. Hairston losing his eligibility, Paige had to be more of a scoring point guard than he was accustomed to being. The newness of Paige's scoring role meant he generally waited until the second half of games before aggressively looking for his shot. He still managed to lead the Tar Heels with 17.5 points and 4.2 assists as a sophomore last season.
Monte Morris, Iowa State.
He didn't crack the starting lineup until the final 17 games of the season. But when he did, the Cyclones operated at a higher level, as evidenced by their 13-4 mark in that span. Morris led the nation in assist-turnover ratio as a freshman last season. His 4.79 mark smashed the old record of 3.96 set by Utah State's Tyler Newbold in 2009. Morris played roughly half the season as a backup, but next season he'll fully inherit the offensive reins from the start.
Kenneth Smith, Louisiana Tech:
Folks in Ruston, La., call him "Speedy." Whatever he's referred to as, his name belongs in any conversation of elite college point guards. Check the stats. He'll return next season as the nation's leader in assists per game with 7.7. (He finished second last season to LIU Brooklyn's
Jason Brickman
, who graduated.) Smith also ranked ninth nationally with 2.5 steals per game. The rising senior is joined by three other returning starters and makes the Bulldogs one of those experienced teams the power conferences don't want to face.
Andrew Harrison, Kentucky:
He ranked 241st in assist-turnover ratio last season. He's not what you would call a pure point guard. But Kentucky doesn't reach the final game if not for Harrison's development down the stretch of the season. When he looks to distribute more than he looks for his own shot, the Wildcats are a different team. No one can question his toughness. Harrison endured much criticism last season but didn't wilt under the pressure. By deciding to put off the NBA and return for his sophomore season, Harrison could again have Kentucky playing for a national title.
Top newcomers to watch
Emmanuel Mudiay, SMU:
How good is the Mustangs freshman? Some prognosticators are already predicting 6-foot-5 Mudiay as the No. 1 pick in the 2015 NBA draft. He has a rare combination of speed, quickness and athleticism for a big guard. A native of the Democratic Republic of the Congo, Mudiay attended high school in Arlington, Texas. He's unquestionably the biggest recruit of SMU coach Larry Brown's tenure and arguably program history.
Tyus Jones, Duke:
Don't be surprised if Jones joins all-everything center
Jahlil Okafor
in the Blue Devils' starting lineup next season. Jones will have tougher competition to beat out than Okafor, with
Quinn Cook
and
Rasheed Sulaimon
returning, but he has the skills to do it. Jones seems to, almost instinctively, read the court and make solid decisions. He is as polished as they come for freshman point guards.
Romelo Trimble, Maryland.
The Seth Allen and
Roddy Peters
decisions to transfer from Maryland will be softened by the arrival of Trimble. He's the first McDonald's All American coach Mark Turgeon has signed in his tenure. Trimble is a natural scorer who can play either guard, but having Allen and Peters gone paves the way for him to start from the opening tip.
March, 14, 2014
Mar 14
11:49
PM ET
KANSAS CITY -- As
Melvin Ejim
,
DeAndre Kane
and a bandaged
Georges Niang
-- he took an elbow to the right eye -- walked off the podium, each player gave Fred Hoiberg a fist bump minutes after they'd punched Kansas in the mouth.
On Friday night, the Good
Iowa State Cyclones
showed up. That's the group that might deserve a space in the Final Four of your office pool bracket. That's the team that can turn the basketball court into a canvas with strokes of beautiful basketball that paint the picture of a program with a ceiling that keeps getting higher.
That's also the squad that's not always fortunate enough to see its three best players excel and avoid foul trouble on the same night. That's when the Unpredictable Iowa State Cyclones arrive. That's the team that lost four of five in January.
In the Sprint Center, however,
Iowa State outplayed Kansas during a 94-83 win
in the Big 12 tournament semifinals Friday to set up the program's second conference tournament title game appearance, and first since the Cyclones won the championship in 2000.
[+] Enlarge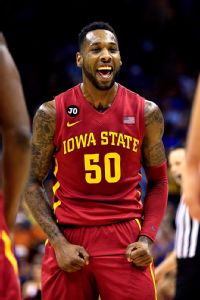 Jamie Squire/Getty ImagesDeAndre Kane and Iowa State had plenty to smile about after knocking off KU to advance to the Big 12 championship game.
At the final buzzer, the Cyclones weren't sure whom they'd face, but they knew how they'd reached Saturday's finale. This vital trio of talent -- Kane, Ejim and Niang -- had pushed the program into the title game.
"I think every day we play, we bring it," Ejim said. "The chance of us three playing well is increasing and when guys that come off the bench, like
Dustin [Hogue]
, are playing well,
Monte [Morris]
is playing,
Daniel [Edozie]
comes off and gives us some vital minutes, it shows how versatile this team is, how many weapons we have and how hard we are to beat when we're all clicking. We're doing a real good job and we're really rolling right now, and I think that it's just going to continue to go in that direction."
With simple layups, Niang (game-high 25 points) hammered a Kansas interior defense that needs injured center
Joel Embiid
to return soon. Kane (20 points, six rebounds, six assists, two steals, 5-for-6 from the 3-point line) allowed the shots to come while the Jayhawks were conflicted by matchups against players who can all shoot and slash. Ejim, the Big 12 player of the year, had a quiet 19 points, five rebounds and two steals.
"We like the run and gun," Kane said. "We like to get up and down the court. Anybody can bring it up."
In all, the threesome collected 64 points. And they were also responsible for a defensive effort that limited
Andrew Wiggins
to a 7-for-21 outing and contained the Jayhawks to a 4-for-15 effort from the 3-point line.
It wasn't just Ejim, Niang and Kane, though. It rarely is.
Morris and Hogue finished with double figures. And it's always easier to win when you hit 11 3-pointers. The Cyclones scored 1.25 points per possession against the Jayhawks and they outscored them 41-18 outside the paint, according to ESPN Stats & Info.
Ejim, Niang and Kane, however, were the conductors of the ensemble.
When that happens, Hilton Magic happens. Even in Kansas City.
"Well obviously, we play through those guys," Hoiberg said. "They're all guys that are capable of handling the load on the offensive end. All of them can create a mismatch out there. And I'll tell you the thing I've been most impressed with is that they recognize mismatches out there on the floor."
But talk to any Iowa State fan and they'll tell you about their fears and nightmares. They'll tell you what they've seen. They'll talk about the times this season that the trio became a duo or an individual to the detriment of the program.
During that Jan. 13 loss to Kansas, Niang (4-for-20) went missing. Five days later, Kane went 3-for-12 in a loss to Texas. Ejim went 3-for-14 in a loss to Baylor in early March.
And those are just examples from some of the losses. There's a distinct difference in Iowa State's performances when only one of those leaders struggles.
And there's an elevation that's displayed when they're all flowing.
"I think we're very good going forward when all three of us make great contributions," said Niang, who sported a Band-Aid over his right eye after Kansas guard
Brannen Greene
accidentally elbowed him in the second half.
That was clear Friday. On that day, the Jayhawks couldn't touch them.
And the truth is that few teams will Saturday or beyond if this continues.
It's the "if" part, however, that worries the Cyclones faithful.
February, 17, 2014
Feb 17
11:00
AM ET
Here are a few facts about the
Iowa State Cyclones
:
• They rank sixth in the Big 12 in points per possession (1.075).
• Through Sunday night, Texas Tech and West Virginia both ranked higher than the Cyclones in per-possession offense in conference play.
• They rank sixth in the Big 12 in points allowed per possession (1.068).

Now, to some extent, those numbers are disproportionately affected by the 102-77, 75-possession wallop West Virginia delivered to the Cyclones last week. That kind of demolition will mess with your statistics, you know? And the Big 12 is good -- probably the best league in the country now that Texas Tech is playing everybody tough.
But even so, Iowa State, sixth on offense
and
sixth on defense? Really? What happened here?
The Cyclones are a prime example of why tempo-free stuff helps us make more sense of the basketball world. Because they play fast, the Cyclones' offense always numerically looks like one of the best in the country -- and at various points in the season, it was. But it's not right now, and the sneaky-good defense that helped anchor ISU's early run has mostly gone missing. Meanwhile, the Cyclones are getting great frontcourt stuff out of of
Dustin Hogue
. Fred Hoiberg just added freshman
Monte Morris
, who almost never turns the ball over, to the starting lineup in a two-point configuration with
DeAndre Kane
. Everything our eyes tell us that the Cyclones, save that whole West Virginia fiasco, are one of the best 10 teams in the country. Right now, their actual performance tells us otherwise.
Might Texas' visit to Hilton on Tuesday night expose the gulf between the two?
Forget all the perception stuff: Texas is a tough matchup for anyone. The Longhorns don't shoot the ball particularly well -- though they too rank above Iowa State in offensive efficiency in Big 12 play -- but they make up for it with their size and athleticism in the lane. The Longhorns rebound more of their own misses (40 percent) than any team in the Big 12, and more than 70 percent of their opponents'. They block 16.4 percent of opponents' field goal attempts, sixth-most in the country. When they beat Kansas in Austin, they outpowered one of the most athletic and physical frontcourts in the country a few nights after it handled the Cyclones.
Melvin Ejim
,
Georges Niang
, and Hogue have a tough task ahead of them. They also have the advantage of spacing, and of the offensive strengths of their coach's innovative and versatile offense. But the fact is, Iowa State hasn't been playing that great lately. Where it goes from here will say a lot about whether this is the product of a slight mid-season slump, or something more disconcerting.
February, 4, 2014
Feb 4
1:43
AM ET
STILLWATER, Okla. -- Walking toward the locker room, Iowa State guard
DeAndre Kane
looked haggard yet relieved. His words said it all.
"Man, that was huge," he said.
Indeed, it was.
Kane's Cyclones had just capped off their 98-97 triple-overtime win over Oklahoma State at Gallagher Iba Arena on Monday night. The Cyclones appeared on the brink of falling below .500 in Big 12 play multiple times during the three-overtime thriller, but ISU made the key shots and got the key stops when it needed them to earn the program's first win in Stillwater since 1988, a span of 18 games.
With both teams sitting at 4-4 in Big 12 play and understanding the critical nature of the head-to-head battle, ISU and OSU took turns throwing punches and responding to each other's runs during regulation and the first two overtime periods. Cyclones sophomore
Naz Long
hit a 3-pointer to force a third overtime after OSU appeared poised to earn an emotional win on the night the program honored former longtime coach Eddie Sutton.
[+] Enlarge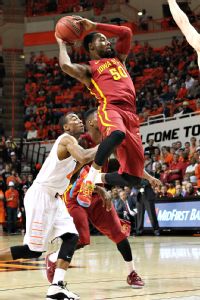 Nelson Chenault/USA TODAY SportsIowa State needed every one of DeAndre Kane's 26 points, nine rebounds and nine assists in its triple-OT win over Oklahoma State.
"He rose up with no fear and hit the biggest shot of the game to extend it," Iowa State coach Fred Hoiberg said.
Freshman guard
Monte Morris
buried a clutch 3-pointer with less than a minute left in the third overtime to give the Cyclones a lead they would never relinquish, as
Le'Bryan Nash
's last-second jumper clanged off the rim.
"We had guys step up [with] Naz, Monte making huge shots," said ISU forward
Melvin Ejim
, who finished with 22 points and 12 rebounds. "The confidence coach instills in us to go out and knock down that shot with confidence showed today. We had multiple guys step up and make big shots."
Now Iowa State's fortunes could be turning after having lost four of their past six games heading Monday's clash. The schedule becomes Iowa State's friend over the next four games, with ISU (17-4, 5-4) hosting TCU (Feb. 8), Texas Tech (Feb. 15) and Texas (Feb. 18), with another big Monday matchup at West Virginia on Feb. 10 serving as the lone road tilt.
"To gut this win out was huge. It would have been a very difficult loss," Hoiberg said. "I'm proud of our guys to win it."
For Oklahoma State, things aren't looking quite as rosy. The loss dropped the Cowboys below .500 in Big 12 play with their third straight loss,
Marcus Smart
struggling, the dismissal of freshman guard
Stevie Clark
earlier in the day and questions about effort surrounding Travis Ford's squad.
The Cowboys (16-6, 4-5), who rose as high as No. 5 in the AP poll earlier this season, ended Monday in seventh place in the Big 12.
Ford, OSU's sixth-year coach, was a man of few words after the game as adversity continues hit the Cowboys locker room, but his words were revealing.
"There were things we can build on that we haven't seen in the last week and a half," Ford said. "That's the positive part of it. We just need to go get a win and go from there. We need to play with that kind of effort for 40 minutes."
Positive words based purely on the effort of a team that was considered among the nation's best at one point this season? This is not why Smart returned to OSU. The Cowboys are on the brink of disaster as they enter the second half of conference play.
Asked how his team can get things back on track with back-to-back road trips to Texas Tech and Texas on the horizon, Ford was at a loss for all words but one.
"Win," he responded.
January, 8, 2014
Jan 8
12:16
AM ET
AMES, Iowa -- He did not fear the 7-foot-1 defender in front of him. He baited him.
In the first half of a performance that should multiply the All-American chatter about the transfer from Marshall,
DeAndre Kane
drove left and stared at
Isaiah Austin
.
He maintained his dribble and gave Austin a moment to think about his next move.
Although it was still early in No. 9 Iowa State's 87-72 whipping of No. 7 Baylor on Tuesday night at Hilton Coliseum, the Bears had already tried everything to contain Kane. They used a zone. They put
Gary Franklin
on him. They trapped him. They even chased him down the floor and tackled him in their effort to beat Iowa State on the road for the time in school history.
On that drive before halftime, they threw their biggest man at him. That's all Baylor had left. But Kane's floater sailed above Austin's broomsticks and found the hoop.
[+] Enlarge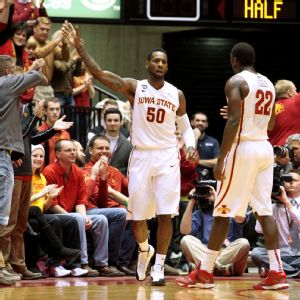 Reese Strickland/USA TODAY SportsDeAndre Kane has made an immediate impact at Iowa State, delivering a virtuoso performance Tuesday to help keep the No. 9 Cyclones unbeaten.
"Coming in, I heard he was good, but I think he's far surpassed what people might have thought about the impact he would have on his team," Baylor coach Scott Drew said.
In that moment, it was clear that Baylor hadn't brought an answer for the senior point guard on its trip from Waco.
It was also obvious that Kane is the engine of an unblemished Cyclones team that might be the best squad in school history -- if the program-record 14-game winning streak is any indication -- and arguably the best team in the Big 12. But the latter might be decided on Monday when Iowa State hosts Kansas.
Kane scored 30 points, grabbed eight rebounds, recorded nine assists and collected five steals. He's the fourth Division I player since 1997 to produce those numbers, according to ESPN Stats & Info.
"I think the stats speak for themselves,"
Melvin Ejim
said. "He went off."
In the beginning, there was
Andrew Wiggins
and
Marcus Smart
.
The Big 12 orbited around the talented underclassmen from Kansas and Oklahoma State, respectively, during the months leading up to the season.
But Kane was relatively unknown, even though he'd starred in Conference USA for three seasons at Marshall.
He was productive, but few knew it because he'd never reached the NCAA tournament.
"I just wanted to be a part of something special," Kane said about his decision to choose Iowa State.
Kane left the Thundering Herd on uncertain terms. On the surface, it appeared that he and Marshall had parted ways on a good note. It also appeared that Marshall coach Tom Herrion had given the senior his blessing. Kane had even penned an endearing letter about the Huntington, W.V., community that was published in the local paper.
However, rumblings of trouble and hints throughout the college basketball community that Kane might come with red flags started to circulate.
That's nothing new for Fred Hoiberg, the maestro of young men seeking second chances and fresh starts. He's relied on Royce White, Chris Allen and other transfers throughout his time with the Cyclones.
All arrived with question marks, and all succeeded.
"If [people] thought I was a risk, they see now I'm pretty helpful to the team," Kane said.
Signing transfers and junior college players is not a new tactic in college basketball. But Hoiberg's gift is that he blends it all together in a short amount of time. And that's what stood out against Baylor.
Dustin Hogue
(10 rebounds) is a junior college transfer.
Monte Morris
(13 points, 3-for-4 from the 3-point line) is a freshman.
Georges Niang
(9 points, 5 assists) is a sophomore. Ejim (18 points) is a senior.
A few months ago, Hoiberg handed Kane the ball and told him to organize the pieces and create harmony despite being new.
New faces, new egos, new pressure. It's a recipe for chaos.
But it's the consistent template for perennial symphonies in Ames.
How does it all work and so quickly?
"I don't know," Hoiberg said. "I give our guys a lot of credit."
After Tuesday's game, Kane didn't talk about his teammates. He talked about his brothers.
They play together.
It takes a unified team to trick a lengthy Baylor team into playing small ball. Although the combined size of Austin,
Rico Gathers
and
Cory Jefferson
presented problems for Iowa State, the Cyclones never let those big men get free. They harassed them and forced them to make shaky passes that contributed to Baylor's 19 turnovers.
They also convinced Baylor that the 3-pointer was its only weapon. So a Bears team that entered the game ranked 293rd nationally with just 207 3-pointers attempted in its first 13 games equaled Iowa State's 25 3-point attempts Tuesday evening. The Bears were actually better than the Cyclones from beyond the arc (44 percent to 40 percent).
But they abandoned their greatest advantage -- their size inside -- so they were outscored 47-26 in the paint.
This Iowa State team's game-by-game strategy is anchored by a senior point guard who wanted to help, not disrupt, when he arrived.
He's the catalyst that allows good teams to exploit the gaps in their opponent's game plan.
Kane found the gaps against Baylor. He usually does. That's why he embarrassed a top-10 team on national television. And that's why he has All-American stats and a chance to guide a team into the NCAA tournament for the first time.
Yet he's still waiting on All-America recognition.
Kane wants a slice of the spotlight. Not because he's selfish and self-absorbed, but because he's worked so hard and executed in anonymity for so many years.
"I just gotta give it everything I got," Kane said. "I've gotta show people around the word that I can play with the elite players. I deserve to be talked about a little bit more. And I will. As long as we win, that's all that matters to me. I came here to win. I didn't come here for the player of the week or the newcomer of the week."
But that praise will come if he continues to excel.
Kane is too good to stay hidden. He's too talented to be suppressed.
"He's a matchup nightmare out there," Hoiberg said.
In Ames, however, he's finally part of the dream.