College Basketball Nation:

Myles Mack
March, 13, 2013
Mar 13
11:52
PM ET
NEW YORK -- A quick look at sixth-seeded Notre Dame's
69-61 victory
over No. 11-seed Rutgers on Wednesday night in the Big East tournament at Madison Square Garden.
What it means:
No. 24 Notre Dame is moving on to the quarterfinals in its final Big East tournament before heading to the ACC next season. Rutgers, soon to be a member of the Big Ten, makes an early exit as usual.


Notre Dame (24-8) is already a lock for the NCAA tournament. Rutgers (15-16) has now missed the NCAA tournament for 22 seasons in a row.
The turning point:
Notre Dame jumped in front early and dominated the first 20 minutes, going ahead 31-15 on a
Tom Knight
layup with 2:48 remaining in the first half. Rutgers'
Myles Mack
scored a bucket with one second left to pull the Scarlet Knights within 33-19 at intermission. Rutgers shot just 8-for-27 in the first half (29.6 percent), 1-for-8 from 3-point range.
The second half began differently, with the Scarlet Knights scoring nine consecutive points to get within 33-28. But then back-to-back 3-pointers by
Jerian Grant
and
Pat Connaughton
expanded the lead back to double digits, 39-28. Rutgers again closed to within 41-36, but Connaughton answered with another 3-ball. A few minutes later, Rutgers closed to within 49-43 and Connaughton drained another triple -- see a pattern here? The Scarlet Knights kept coming, but the Fighting Irish had an answer every time.
Star watch:
Connaughton finished with a game-high 21 points for Notre Dame, shooting 7-for-10 from the field and 6-for-8 from beyond the arc. Knight had 18 points and nine rebounds. Star forward
Jack Cooley
scored just two points, shooting 1-for-6 from the floor.
For Rutgers, senior forward
Austin Johnson
scored a career-high 18 points -- with 15 coming after halftime. Mack also scored 18 points. Forward
Wally Judge
, who scored a season-high 20 in the Scarlet Knights' win over DePaul on Tuesday, had just two points on Wednesday.
Number crunch:
Notre Dame shot 10-for-17 from beyond the arc (58.8 percent), while Rutgers was just 4-for-15 (26.7 percent). Notre Dame shot 15-for-19 from the foul line (78.9 percent), while Rutgers was just 5-for-11 (45.5 percent).
What's next:
Notre Dame will play No. 3 seed Marquette on Thursday at approximately 9:30 p.m.
Rutgers heads home to Piscataway, N.J., and looks forward to next season.
December, 29, 2011
12/29/11
11:42
PM ET
PISCATAWAY, N.J. -- Before his team faced No. 10 Florida, Rutgers coach Mike Rice sat the Scarlet Knights down for a home movie, hoping that celluloid evidence of what a team could accomplish with a little faith might somehow spawn some belief in their skeptical minds.
The video was less than 12 months old, made on Feb. 9 of this year, when Rutgers upset then-No. 10 Villanova.
It might as well have been the Zapruder film.
Films of victories over top-10 programs are rare, grainy artifacts in the Rutgers archive room. There were, in fact, just seven lonely -- and mostly dusty -- videos in the library.
Now there are eight.
The Scarlet Knights, a team parked in the outliers' version of relevant, upset the Gators on Thursday
in double overtime, 85-83
.
That the Knights, who previously this season hadn't beaten a team with a winning record or an RPI better than 224, were able to pull off the stunner was only slightly more stunning than how they did it.
Rutgers rode the backs of a trio of backcourt freshmen who managed to play with more skill and poise than Florida's dynamic duo of
Kenny Boynton
(a junior) and
Erving Walker
(a senior).
Eli Carter
, who exploded for a career-high 31 points,
Myles Mack
(14) and
Jerome Seagears
(13) did more than just outplay Boynton and Walker for the game; they skewered them in the extra periods. The freshman trio scored 17 of the Scarlet Knights' 19 overtime points to just five from Florida's pair.
"Our freshmen's faces lit up,'' Rice said of watching the Villanova video. "I just said, 'This is what happens when you believe. This is what happens when you don't think impossible is impossible. This is what happens when young men are determined to follow the formula and play for one another.' It's a process.''
That's the same term Billy Donovan used in discussing his team's loss, a process.
His "team didn't play the right way,'' the coach said, citing not just the Gators' 18 turnovers but foolish decisions in various offensive sets and an inability hold on to what looked like a reliable 9-point first-half lead.
But neither coach was willing to make wholesale trades on his team's fortunes based on this one game in December.
Nor, history says, should they.
A season ago, the Gators lost to Jacksonville at home. And went to the Elite Eight.
A season ago, Rutgers beat Villanova. And promptly lost its next four and six of its final eight.
The result, both coaches know well, doesn't matter nearly so much as what you do with it.
"What we need to do is see how self-reflective we're willing to be,'' Donovan said. "What do we need to do differently as coaches and as players? How you handle situations like this is a big part of any young player's development. It's a matter of what comes out of this. That's why I say it's bigger than this game.''
What comes next is truly the question.
This could be a huge first step for Rutgers, a program that has been locked in an abysmal purgatory for years.
In his second season at RU, Rice now has two wins against top-10 teams. Only the legendary Tom Young has more (four) in school history.
That tells you all you need to know about Rutgers' run of irrelevance. That and the 20-year chasm between NCAA tournament berths.
[+] Enlarge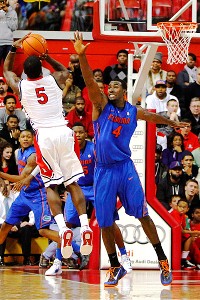 Jim O'Connor/US PresswireRutgers freshman Eli Carter pulls up for the jumper that sent the game into double overtime.
Rice, most would agree, has the Knights headed in the right direction. It's just taken them a little time this season to find the map. Rutgers beat up on an unappetizing menu of walkovers -- an RPI doesn't reflect everything, but when your team RPI is 256 and you have seven wins, it tells you plenty -- and lost to anyone with a pulse. That included Miami, Illinois State, Richmond, LSU and Princeton.
Rice knew things could get better because he had talent. A year ago he was getting by on smoke and mirrors, fully aware he didn't have the sort of transcendent player you need to survive in the Big East. He has that guy now in the form of Carter, but he needed Carter to recognize it, too.
Finally -- or suddenly -- this week, he got a glimmer of hope, sensing in practice that his team was finally buying into the lessons he was preaching, maybe even ready to take a big step.
And then there were the steps, in living color, on the court, against, of all teams, Florida.
Carter hit a dead-eye, fearless 3 to force the second overtime and swished a driving leaner to score the go-ahead bucket in that frame. Mack then sealed the deal with his own 3 with under a minute to play.
Those were just three of a highlight package of clutch shots those two and Seagears hit during the game.
"The guys really got after it this week in practice,'' said Carter, who logged 46 of the 50 minutes. "Not just the starting five, but everyone, down to the walk-ons. We knew we were better than we were playing. We never put our heads down.''
Now the Knights need to make sure their heads don't get in the clouds.
Florida, meantime, has nothing to be ashamed of. The Gators have lost three games this season -- at Syracuse and at Ohio State, the No. 1 and No. 2 teams in the nation -- and on the road here.
But how UF processes this one is what people will be looking at.
Brad Beal
finally looked like a freshman, with seven turnovers, and
Patric Young
disappeared until the overtime periods. Neither can afford too many repeat performances.
More crucially, Walker and Boynton need to be more dynamic and less enigmatic. They can be a duo you love for their fearlessness and detest for their carelessness, sometimes in the span of two possessions.
If Florida is to be as good as advertised, the Gators need to find a rhythm with one another and within the game.
"We didn't maximize each other,'' Donovan said. "There were too many guys standing around and watching, but I think this is something we have to go through, as much as you may not like it, to reach our full potential.''
December, 19, 2011
12/19/11
9:20
AM ET
Here's my attempt at ranking the Big East teams:
1. Syracuse: The Orange handled their first true road test of the season with ease, dispatching of NC State by 16 on Saturday. What continues to impress about Syracuse is the bench. The Orange might have the best second five in the country. Dion Waiters, who's been sensational this season, scored 22 against the Wolfpack, with James Southerland and C.J. Fair chipping in 11 in "reserve" roles.

2. Louisville: It's time to start believing in the Cardinals. Dogged by injuries all season, Louisville's worth has been questioned but the Cards ability to keep old rival Memphis at bay Saturday proved Rick Pitino's squad is for real.

3. Marquette: With or without Darius Johnson-Odom, the Golden Eagles keep rolling. Marquette's sensational guard spent the game against Northern Colorado on the bench for a violation of team rules. No matter. His sub, Todd Mayo, scored a career-high 22. Johnson-Odom should be back for Marquette's game at LSU on Monday.

4. Connecticut: The Huskies continued to waltz through their New England competition, dispatching of Holy Cross with ease. Things get a little more interesting when Fairfield, a team better than its 7-4 record, brings its four-game winning streak to town this week.

5. Georgetown: Henry Sims continues to thrive as arguably the league's most improved -- and most surprising -- player this season, becoming the prototypical point-center for John Thompson III. Sims scored 17 against American but it was the big man's seven assists that really turned heads as the Hoyas continue to rack up victories.

6. Pittsburgh: Highly touted freshman Khem Birch has left the program and Travon Woodall is still out injured. None of it is affecting the Panthers. Pitt has won eight in a row and doesn't appear to be in danger of losing until the conference season starts.

7. West Virginia: The young and improving Mountaineers got what will go down as a quality win with their double-overtime victory against Kansas State. Kevin Jones, the best and most experienced player for Bob Huggins, is starting to play that way. He's combined to score 64 points in his past three games.

8. Seton Hall: The last time the Pirates started so well, P.J. Carlesimo was the head coach. Now 9-1, Seton Hall is continuing to go where Herb Pope goes. The senior has double-doubles in eight of 10 games. The road gets a little scarier before 2012, with a game at tough Dayton this week and a Dec. 28 matchup at top-ranked Syracuse.

9. Cincinnati: The Bearcats caught the nation's eye last week, just not in a way they'd ever want to. The ugly brawl that came at the end of the Xavier game put Cincinnati in the nation's headlines for all the wrong reasons. The good news: Cincy faced the music and has accorded itself well without some of its top players. Sans Yancy Gates, the Bearcats manhandled Wright State and Radford.

10. Providence: The Friars continue to pad their record by feasting on unimpressive competition. This week's flavor of the week, Bryant, has just one win. Providence will face New Hampshire and reeling rival Rhode Island before figuring out just how good it is when Big East play begins.

11. DePaul: Like Providence, DePaul's record looks good. At 8-3, it's off to its best start since 2004. Then again, the Blue Demons haven't played anyone. DePaul opens the Big East season against Syracuse and Pittsburgh. That ought to offer a better barometer.

12. Villanova: In disarray seems an apt description of the Wildcats about now. Their first trip to the St. Joe's campus ended up in a beatdown, with the Hawks throwing down enough thunder dunks to fill a highlight reel. Disjointed on defense, Nova also is a mess on offense. The Cats, who are at their best when they drive to the hoop, instead opted for 27 3-pointers against St. Joe's and made just five of them.

13. Notre Dame: The Fighting Irish's offensive woes continue. Against Indiana, Notre Dame went more than 16 minutes without a basket. It's tough to win that way against anyone.

14. St. John's: Credit the Red Storm for playing a tough schedule. Unfortunately, the young team has nothing to show for it. St. John's has lost to the three ranked teams it's faced but, more damning, lost to Northeastern and Detroit as well. The upside for this team is big once the players mature and Steve Lavin is able to return for the duration.

15. Rutgers: Mike Rice is trying to use the starting rotation as a motivation, bringing Myles Mack off the bench against Stony Brook. It worked well in that game -- Mack scored 22 and the Knights won. It remains to be seen if the coach has found a temporary fix or a more permanent one.

16. South Florida: Bad to worse is the best way to describe the Bulls' current path. USF lost to Auburn, tough to swallow in and of itself, and scored all of 40 points in the process. South Florida ranks a woeful 301st nationally in scoring, averaging an anemic 61 points per game.

September, 2, 2010
9/02/10
1:10
PM ET
When you're rebuilding, you need recruits. Rutgers and St. John's are both very much programs mired in protracted rebuilds. So it's probably a good thing they're landing recruits.
First, Rutgers. After the losses of Mike Rosario, Greg Echenique and Hamady Ndiaye, new coach Mike Rice has a lot of roster-building to do if he wants the Scarlet Knights to be even remotely competitive in the coming years. Rice was hired too late to truly give the 2010 class a run, but he's making up for it in 2011.
First,
Rice got a verbal commitment from 6-foot-8 power forward Kadeem Jack
, who
is outside the ESPNU 100
but is rated as highly as No. 33 overall in the class by some other recruiting services. Then, a day later,
Rice landed Myles Mack
, the
No. 16-ranked point guard in the country
and one of New Jersey's top 2011 prospects. Both players are local kids; Mack hails from Bob Hurley's storied St. Anthony's program in Paterson, N.J., and Jack comes from Manhattan Rice high school in New York.
St. John's coach Steve Lavin has a similar recruiting goal -- keep local talent local -- and got his first big-time commitment to that effect this week, too. Small forward Maurice Harkless, the
No. 19-ranked small forward
(and No. 81-ranked overall prospect) in the 2011 class
committed to St. John's on Tuesday in a ceremony in front of Madison Square Garden
. The Garden is perhaps Lavin's biggest recruiting tool; don't be surprised if every new St. John's commitment gets some sort of MSG-related ceremony. That's just smart salesmanship.
In any case, both schools are still years away from competing with the best of the Big East, and a few local recruits here and there aren't going to change that. But if this becomes a pattern, Rice and Lavin won't just be competing on the floor. They'll be competing for the hearts and minds of New York and New Jersey's high school talent. That's a place both coaches want -- and need -- to be.