College Basketball Nation:

Myles Turner
January, 2, 2015
Jan 2
4:00
PM ET
Friday morning brought some welcomed news for the Texas men's basketball team:
Point guard
Isaiah Taylor
was cleared to play
in time for Saturday's Big 12 opener against Texas Tech.
On Nov. 20, when Taylor suffered the broken wrist that would sideline him for 10 games, the news was unfortunate but not dire: Texas had backup point guard
Javan Felix
ready to step in to ball-handling duties, plus guards
Kendal Yancy
and
Demarcus Holland
there to pick up leftover backcourt minutes. There was even an argument to be made that Texas could be slightly more efficient offensively without Taylor. In 2013-14, Felix had the team's lowest turnover rate and represented more of a 3-point threat (he shot 34 percent on 178 attempts) than Taylor, who barely even looked at the rim beyond the arc last season (he was 5-of-19 all year).
That hasn't been the case. Texas has held the line, in large part thanks to the work of
Jonathan Holmes
, who shot 44 percent from 3-point range and 45 percent inside the arc in nonconference play. The Longhorns got out of New York with two wins (they beat Iowa and then Cal a night later), won at UConn and even gave Kentucky a legitimate challenge until deep in the second half at Rupp Arena. But the Texas offense has been surprisingly turnover-prone without Taylor. Felix has a 22.3-percent assist rate. Holland is an impressive weapon attacking on the break, but he's coughed up the ball on 27 percent of his possessions. Yancy's turnover rate is similarly high. None of the three have positive assist-to-turnover ratios.
[+] Enlarge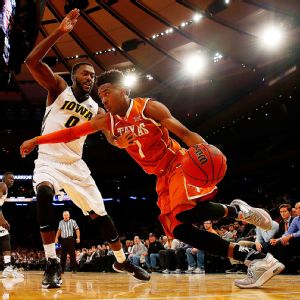 Mike Stobe/Getty ImagesIsaiah Taylor's return could provide a spark to Texas' offense.
The result has been an occasionally stagnant Longhorns offense. Texas is recording almost three possessions per game fewer than it did a year ago; it's slower and more plodding than with Taylor in the lineup. Felix is a cautious dribble on ball-screens, preferring to put the defense on his back and probe into traffic. Meanwhile, teams with the size to defend Texas' bigs (see: Kentucky and Stanford) have made the Longhorns look pretty easy to deal with. When the ball enters the post, it makes sense to double both because
Cameron Ridley
,
Myles Turner
and
Prince Ibeh
aren't assured passers and because, with the exception of Holmes, the Longhorns can be contained with smart rotations on the wing. That hasn't necessarily translated into
worse
offense. Texas is on pace to eclipse last season's points-per-possession mark even without its best guard in the lineup. But the real strength of this team is its defense, which has excelled even without Taylor.
This team could yet be a national title contender if the offense can get there. The question is, what would Texas look like with Taylor in the lineup?
The answer will have a lot to do with whether Taylor is improved, and by how much. A year ago, the freshman guard led the Longhorns in usage percentage and he showcased an ability to get to the rim and some promising passing instincts. But he also shot the ball poorly. When he wasn't passing on 3s (which was most of the time), Taylor shot just 40 percent from inside the arc. He led all Longhorns in two-point attempts by a wide margin. Despite smart defenders playing off and under ball screens, Taylor still found his way into the defense. But he wasn't always Texas's most effective option.
Because his wrist injury came so early, Taylor's development remains an open question. He showed flashes early, though, hitting four 3s in Texas's first two games (on eight attempts), just one fewer than he had all of last season. He shot 12-of-22 from two-point range. His assist rate was still high, and his turnover rate was down. That's just two games worth of data; it's as small as samples get. Still, if it's any indication of where Taylor is as a player after a year of offseason work -- if he's a better shooter and finisher, and a more assured ball-handler -- then Texas's offense is in line for an immediate and noticeable boost.
If Taylor is merely what he was a year ago, well, that's still something. Post-ups and kick-outs need not always end in spot-ups. Driving at a closing defender is often as good a way -- at least against man-to-man, and very often in zone, too -- of turning a stretched rotation into a good look. At the very least, Taylor provides an attacking option off the dribble, with size and explosive athleticism, that the Longhorns have missed. If his return provides nothing more than more effective penetration and a few more open shots for Holmes, that's a huge help, too.
Over the summer and into the fall, Taylor was hailed as Texas's best player from the 2013-14 season. In reality, he was the Longhorns' most-used player, a beneficiary of statistical volume as much as anything else. But his work last season was promising on a variety of fronts. If he can live up to that promise, we might soon be adding Texas to the short list of teams -- Duke, Virginia, Wisconsin -- with a realistic chance of upending Kentucky's seemingly inevitable national title run. Either way, the Longhorns are about to get better.
November, 22, 2014
11/22/14
12:10
AM ET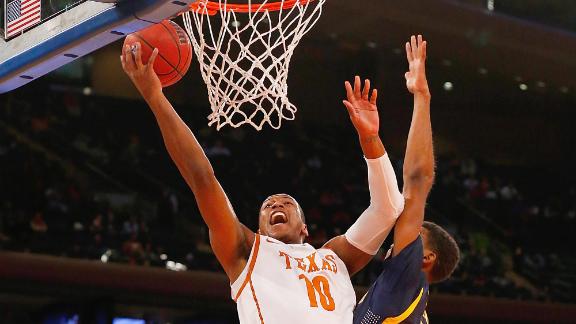 The game was already over. Two minutes left,
Texas
up 64-51. Cruise control.
Texas forward
Jonathan Holmes
was on the right baseline corner when he caught the bounce-pass product of
Javan Felix
's scuttled dribble penetration. Cal's defense stretched. Holmes slid past the close-out, gathered his dribble in his right hand, and jumped at the right side of the rim. For maybe a second, it looked like another easy gliding finish.
Cal center
Roger Moute a Bidias
had other ideas. He jumped too, and when he did he awkwardly and (probably) unintentionally caught his arm around Holmes' neck. The Longhorns forward went down hard.
[+] Enlarge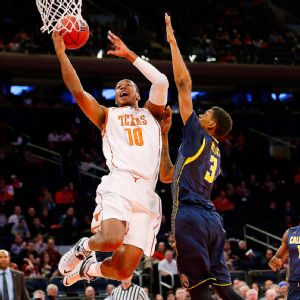 Jim O'Connor/USA TODAY SportsTexas' Jonathan Holmes drives to the basket against Cal's Tyrone Wallace during the Longhorns' win. Holmes has proven to be Texas' most indispensable player early on.
A few seconds later, Holmes was up again. Rick Barnes, and anyone with a shred of investment in the Texas men's basketball program, could breathe a sigh of relief.
The alternate ending to that collision -- an injury -- would have been next-level cruel. On Thursday night, Longhorns point guard
Isaiah Taylor
, in the midst of an aggressive 15-point start to his sophomore campaign, likewise soared to the rim, was likewise battered by an opposing center (in this case, Iowa's Melsahn Basabe) and suffered a left wrist injury that will keep him out of the Longhorns' lineup for weeks. Another key injury on an exact replica of Taylor's garbage-time play would have been unfortunate. Star-crossed, even, and we've barely cracked Week 2.
But an injury to Holmes would have been much worse than that, and not just because Texas has a quality backup point guard in Felix. If two nights at Madison Square Garden told us anything, it's that no player is more important to the Longhorns' success than its one and only senior.
In Texas's two 2K Classic wins, Holmes scored 40 points on 13-of-23 from the field, 4-of-6 on 3-pointers, and 10-of-13 from the free throw line. He grabbed 13 rebounds in Friday's end-to-end dismantling of the Bears. On Thursday, his perimeter shooting was the key ingredient to the Longhorns' second-half burst against Iowa, wherein Texas turned a six-point halftime deficit into a 71-57 blowout. (The Longhorns scored 24 points in that first half and 47 in the second. By the 10-minute mark, the Hawkeyes looked astonished. Understandably so.)
And yes, he was more impressive than his lines. Holmes defended multiple areas on the floor, his length allowing him to pinch in to the paint and spread to the wing in nearly equal measure. He disrupted shots, tracked back on fastbreaks. When Cal went to a zone, Holmes was devastating in the pivot -- his best play of Friday night may well have come with 15:11 left in the second half, when he fired a quick high-low bounce pass to
Prince Ibeh
that made Cal's 2-3 zone look like an art installation. In an event featuring four legitimate NCAA tournament hopefuls, celebrated veteran players like
Aaron White
and
David Kravish
and a fair number of talented newcomers -- to say nothing of Holmes' own teammates -- the Texas swingman had no obvious peer.
It wasn't always supposed to be this way. After two mostly nondescript seasons, Holmes was versatile and plenty efficient as a junior, but the fact that he took even 88 3s -- he made 33 percent of them -- was a sign less of his own strengths than of the Longhorns' weaknesses. He averaged nearly two turnovers per assist. In the spring, Texas landed center
Myles Turner
, the No. 2-ranked player in the class of 2014 (behind only
Jahlil Okafor
). With Turner en route and
Cameron Ridley
already on the block, it was fair to wonder whether Holmes' minutes as a quasi-power forward would be displaced.
Put another way: When people talked about Texas, they talked about Taylor and Turner, and how it would all work out.
Holmes has immediately made that conversation seem silly. He was braced for a change in his role, so, as he said at Big 12 Media Day in October, he worked on becoming a "true" small forward. Passing, ballhandling, shooting. Playing away from the rim on the offensive end. Playing anywhere Barnes needed him, really.
Turns out he didn't need to brace himself much. Turner has been introduced to the college game as a reserve. Barnes is starting forward
Connor Lammert
and giving Ibeh plenty of minutes, too. Turner's game has been tantalizing in spots; a 7-footer with soft baby hooks and quality footwork can't help but get the blood boiling. But he also has had his share of ill-advised shots and missed defensive rotations. He hasn't set the world alight, or forced Barnes to give him for 30 minutes a night.
No matter. With Taylor injured and Turner figuring it out on the fly, Texas has had the most impressive start to the season of any team in the country not named Kentucky or Gonzaga. Soon, people are going to start talking about Texas' odds of unseating Kansas from its 10-year reign atop the Big 12 -- if they haven't started already. As long as Holmes is on the floor, you'll know why.
November, 20, 2014
11/20/14
10:00
AM ET
You don't sleep well when you know you have to deal with these guys the following night.
It's difficult to stop any elite Division I player. These athletes, however, are nightmare matchups for any individual or team in the country.
Agree? Disagree? Tell us on Twitter by using the hashtag
#Top10Thursday
.
1. Jahlil Okafor, Duke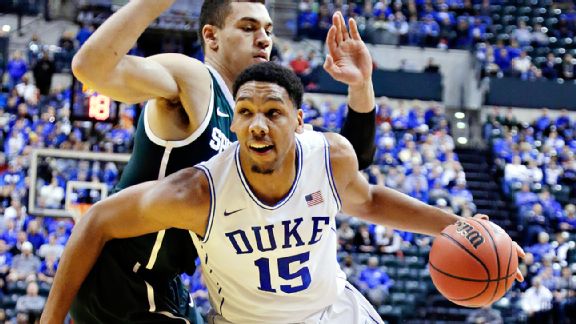 AP Photo/Michael ConroyDuke center Jahlil Okafor will likely be the No. 1 pick. But does Philly need another big?
What can you do with him? Okafor (17.7 points, 6.7 rebounds, 2.3 assists, 1.7 blocks per game) has been one of the most dominant players in the country, regardless of seniority. He's tough to front and he can score with layups, dunks, baby hooks and the occasional jumper. Okafor is a problem for every team outside Durham, North Carolina.
2. Georges Niang, Iowa State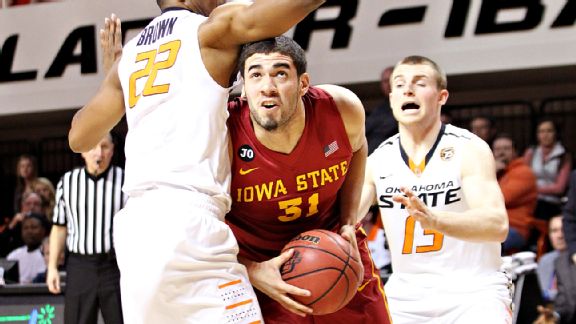 Nelson Chenault/USA TODAY Sports
He's never the fastest player on the floor. The Iowa State star doesn't play above the rim. But the 6-foot-8, 230-pound forward can score from outside (33 percent from the 3-point line last season), bring the ball up the floor, lead the break, collect from midrange and score in the post.
3. Montrezl Harrell, Louisville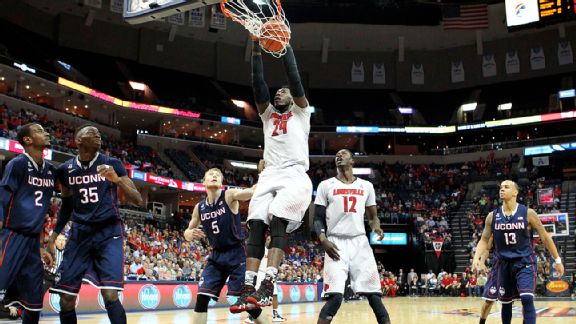 Nelson Chenault/USA TODAY Sports
When he wasn't shattering high school backboards this offseason, Harrell was reportedly working on his range. The 6-foot-8, 240-pound monster forward is 3-for-7 from beyond the arc in Louisville's first two games this season. Harrell hitting 3s is like the Incredible Hulk learning how to fly. It's just not right.
4. Karl-Anthony Towns, Kentucky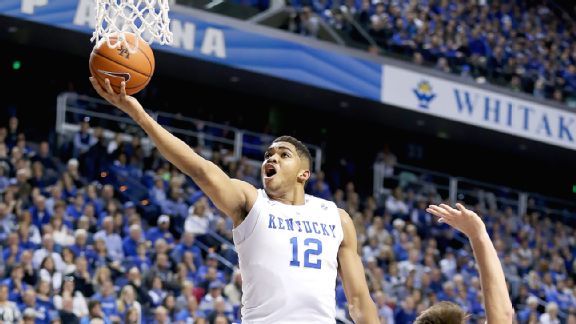 Andy Lyons/Getty Images
He's both mentally and physically mature for a freshman. The 6-foot-11 center has range and he's tough in the paint, too, which is why he's such a hot pro prospect. But Towns is also a handful because you have to find a way to score against him. And that's not easy to do against the guy who is the top shot-blocker (2.3 blocks per game, 22nd in block percentage, per kenpom.com) on a Kentucky squad that's swatting everything.
5. Frank Kaminsky, Wisconsin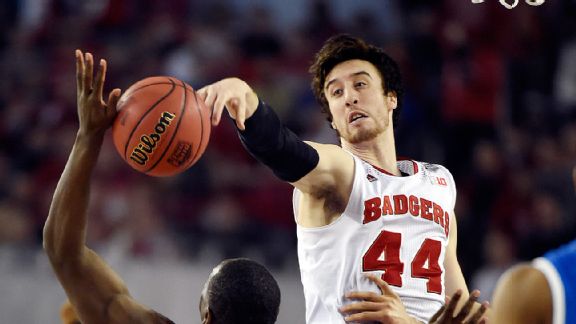 Robert Deutsch/USA TODAY Sports
Frank the Tank is 7 feet tall. That always helps in basketball. But unlike the bulk of the 7-footers who've excelled, he's capable of hitting 3-pointers and jump shots. So whom do you put on this Wooden Award candidate? Kaminsky (37.8 percent from the 3-point line in 2013-14) sets hard screens that create chaos for defenders. If you help a teammate on the pick, you'll lose him. And that's not good. Ask last season's NCAA tournament field.
6. Myles Turner, Texas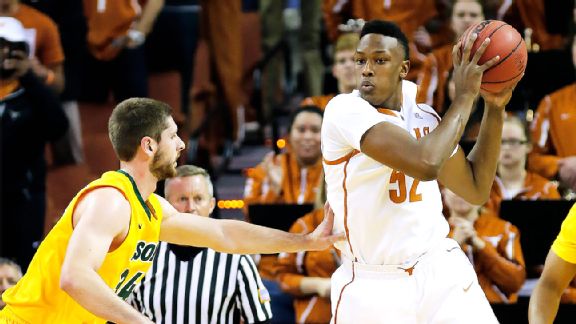 Chris Covatta/Getty Images
The 6-foot-11 forward was the No. 2 prospect in the
2014 class
, per RecruitingNation. His size and skill could help Texas compete for the Big 12 crown and possibly a national title. He's comfortable outside the lane. But he can also run the floor and exploit defenders in transition. Hard to stop a guy with that length and agility.
7. Rondae Hollis-Jefferson, Arizona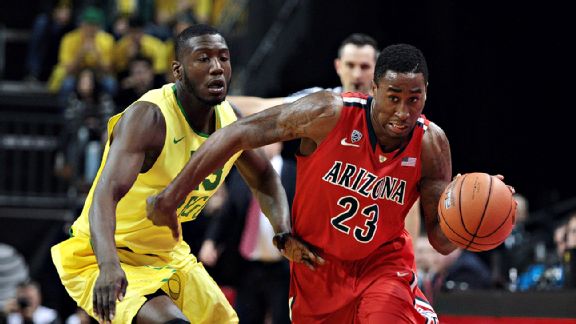 Scott Olmos/USA TODAY Sports
The sophomore could be a star for Sean Miller's squad this season. He has already produced some impressive highlights. He has a quick first step, he's long, he'll soar over anyone in his way and he's a good rebounder. You'll need an energy drink and a cup of coffee to track Hollis-Jefferson all night.
8. Ron Baker, Wichita State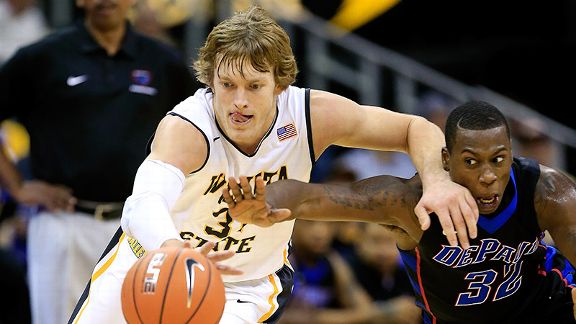 Jamie Squire/Getty Images
The Wichita State wing is a true combo guard. Baker (18.5 PPG through two games this season) is dangerous from the perimeter. He can take you off the dribble and slash. He can score with a hand in his face. And he's a solid and shifty ball handler, too. Off a screen, you can't do much with him, either.
9. Keifer Sykes, Green Bay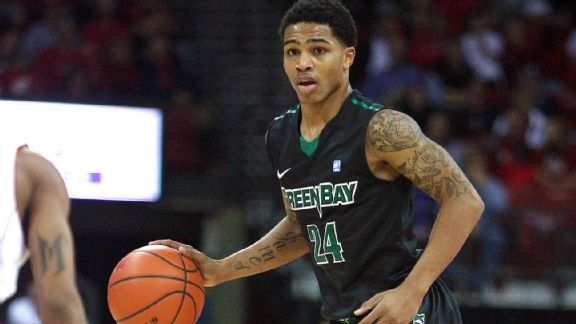 Mary Langenfeld/USA TODAY Sports
The 6-foot, 180-pound point guard is one of the quickest guards in the country. But don't let his size fool you. He'll catapult in a second and dunk on the biggest man on the floor. That's what makes Sykes such a challenge. His stat line last season was just ridiculous: 20.3 points, 4.4 rebounds, 4.9 assists, 1.2 steals, 81 percent from the free throw line.
10. Kyle Wiltjer, Gonzaga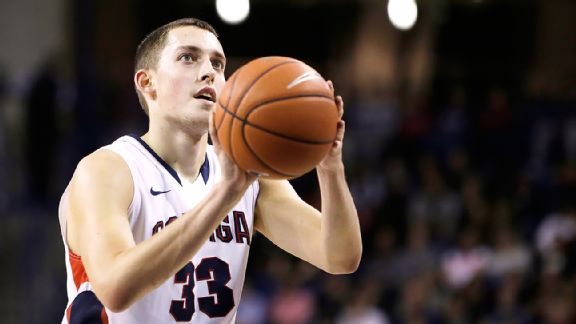 AP Photo/Young Kwak
He didn't really fit in with Kentucky's fleet of talented big men. But Gonzaga is the perfect spot for Wiltjer. The Zags have one of America's best offenses. You can't just zone them because they'll shoot the lights out. And you can go man-to-man if you want, but you'll have to deal with the 6-foot-10 Wiltjer and his appetite for the arc.
June, 16, 2014
6/16/14
12:00
PM ET
By
ESPN.com staff
| ESPN.com

In today's 3-point shot, Andy Katz reports about the four players who are looking like the stars on the U-18 team for Team USA, Myles Turner's potential impact at Texas and a 2016 prospect who is turning heads.
May, 16, 2014
5/16/14
10:00
AM ET
CHICAGO --
Julius Randle
is gone, but he wouldn't mind watching the
Kentucky
big men battle in the fall.
"Yes, there's going to be some competition," Randle said at the NBA draft combine in Chicago. "But Coach [John Calipari] will figure it out."
Randle wasn't going to return next season. He was a one-and-done player from the moment he arrived, looking like a chiseled NBA veteran. He was the one big man who didn't need seasoning. But the rest did. Toss in newcomer
Karl Towns Jr
., and the Wildcats have as many bigs as any team assembled recently.
Randle's favorite to replace his low-post ability? He's leaning toward sophomore to-be
Dakari Johnson
.
"He's very good in the low post," Randle said. "He's got a nice touch. It's hard to move him down there."
Randle should know. He had to tussle with Johnson in the low block in practice every day. Now, Johnson will take Randle's role as the player whom the others try to knock off in the post -- for position and, possibly, playing time.
ESPN.com is
examining position battles this week
. Here are some center battles to keep an eye on:

Kentucky:
Dakari Johnson,
Willie Cauley-Stein
,
Marcus Lee
versus Karl Towns Jr.: Yes, there are veterans -- three of them -- returning against the young pup. Calipari could figure out how to play all four of them at some point during a game. Johnson, Cauley-Stein and Lee all had their moments in which they shined. Johnson has the best chance to be in the low post, Cauley-Stein can be the top shot-blocker and Lee is a bit of an X factor among the group. Now, enter the newcomer. Towns can do a bit of everything, but he doesn't need to be the primary option. That's key for him and rare for a high-profile Kentucky player. This isn't even mentioning
Trey Lyles
and
Alex Poythress
, who are more positioned to play smaller forward positions next to the bigs. This team is loaded.

North Carolina:
Kennedy Meeks
versus
Brice Johnson
. Meeks is much more of a physical specimen. He can be immovable at times in the low post. Johnson has more finesse to his game. The two of them can play together, but they could take turns sharing the focal point in the middle, depending on the opponent or the flow of the game. They have a chance to both average double figures and nearly seven or eight rebounds per game. If that happens, the Tar Heels could be a force in the ACC and beyond.

Texas:
Cameron Ridley
versus
Myles Turner
. Ridley made himself into a real threat last season. He was nearly a double-double player (he averaged 11.2 points and 8.2 rebounds per game). Ridley could progress even more next season. The Longhorns nabbed a late-recruiting season coup in Turner. Turner is too good, too effective to not be on the court. The key for coach Rick Barnes will be whether he can play the two as a tandem. If he can't, then who is on the court when the game matters most is more of a competition than the overall minutes. Regardless, both players can help Texas take a huge leap next season.

Gonzaga:
Przemek Karnowski
versus
Kyle Wiltjer
. Karnowski is the traditional post player. He can be difficult to move around, and his offensive game continues to develop. Wiltjer can certainly play with Karnowski because he's slender and is much more of a face-up player. The two can be an effective high-low tandem, but if there is a need to see who is on the floor late, then that is also, like with Texas, where the real competition begins. Wiltjer had a year to get stronger, but he won't turn out like
Kelly Olynyk
. Wiltjer is still going to be skill first, strength last. Karnowski needs to be the opposite for the Zags to find the right balance.

LSU :
Jarell Martin
,
Jordan Mickey
versus
Elbert Robinson
. The Tigers have a chance to make the NCAA tournament because of the decisions of Martin and Mickey. The two were effective double-figure scorers last season playing with
Johnny O'Bryant III
. Now, toss in the newcomer Robinson. He'll need to find minutes as well. Coach Johnny Jones can't play all three together, but the minutes will need to be divided up. These are good problems to have, and with 15 fouls to expend among the three, the Tigers are one of the few teams in the SEC with the numbers to hang with Kentucky's frontcourt.

Arizona:
Kaleb Tarczewski
versus
Brandon Ashley
. Tarczewski was one of the most improved players in the country last season. Give him another summer and he should really be a regular to score in the post. But he has to command the ball even more next season without the presence of
Aaron Gordon
. Ashley is coming off a foot injury that sidelined him for the second half of the Pac-12 season. He will play with Tarczewski, but if there is any question who would demand more minutes, then that can be a highly competitive battle in practice. It might be moot for coach Sean Miller since the two can coexist, but dividing up the frontcourt minutes will still be an interesting decision for the staff.
May, 9, 2014
5/09/14
10:30
AM ET
College basketball's incoming freshman class features some elite rim protectors. They are the guys who are able to patrol the paint on defense and turn away a wide variety of would-be scorers. Here are the best shot-blockers in the class and one name to know in 2015:
1. Myles Turner, Texas
He went on national television and announced he was going to "hook em." Well, he might have also meant he was going to "block em." Arguably the best shot-blocker in the rising freshman class, Turner will provide an immediate boost to Texas' defense with his ability to turn away shots at the rim. What's going to be interesting is to see how Rick Barnes elects to use Turner in combination with returning center
Cameron Ridley
, not to mention last season's starting power forward
Jonathan Holmes
. The trio is likely to see plenty of time on the floor together next season, which could mean more of a 2-3 zone from the Longhorns. That allows both Turner to anchor himself to the front of the rim when he plays in the middle, as well as show his mobility in challenging shots on the perimeter from the wing position.
November, 6, 2013
11/06/13
1:15
PM ET
We are one week away from the national signing period for men's basketball. Seven of the top 17 recruits in the country are still on the board. Here's the latest on some schools rising and falling in the
ESPN class rankings
:
To continue reading this article you must be an Insider
October, 9, 2013
10/09/13
10:04
AM ET
October, 8, 2013
10/08/13
12:00
PM ET
By
RecruitingNation staff
| ESPN Insider
With only eight of the top 20 prospects in the ESPN 100 currently committed and a number of high-profile national programs like Kentucky, Kansas and Duke all still looking to make their mark in the Class of 2014, there is still a huge amount of unpredictability with only five weeks before the early signing period.
With major dominoes like
Jahlil Okafor
,
Myles Turner
,
Cliff Alexander
and
Tyus Jones
all yet to drop, the only certainty is that there will be major movement to our ESPN class rankings before it's all said and done.
With that in mind, we asked our team of experts to give their take on which team will end up on top when the smoke clears:
To continue reading this article you must be an Insider