College Basketball Nation:

N.C. State
February, 17, 2010
2/17/10
10:40
AM ET
From 2002-2006, Herb Sendek and NC State didn't miss an NCAA tournament. After the 2006 season, Sendek resigned and was replaced with Sidney Lowe, who in three years has yet to take NC State to an NCAA tournament, who has one NIT appearance, and whose team has never finished higher than No. 10 in the ACC.
Those marks are unlikely to change this year, and Lowe's job status has been in doubt all season. Lowe has already received his athletic director's vote of confidence, so it's unlikely he'll be fired this year ...
and if NC State officials lend any weight to the published opinion of its prized recruits
, Lowe's job just got even safer.
Why? Because high schooler Ryan Harrow -- one of the recruits supposed to revitalize Lowe's program in 2010-2011 --
wrote a letter to NC State fans posted on PackandPride.com
, the Wolfpack-affiliated Scout forum, in which he respectfully asked fans to go easy on their criticism of Lowe. A sample:
Myself and Lorenzo are on NC State's blogs and forums everyday and we look to see all the support you give us, but now a days we see so much negative and it has become really discomforting to my godbrother and I. The things that are said about the fans giving up and not wanting to show the support like I know ya'll can. I was at the Duke game. Our fans can get crazy lol. Those statements matter to me. I came to the school at first solely for Coach Lowe but when I come to see games and people are greeting me, saying " thank you so much for joining us", it made me realize I love the atmosphere to. These fans can get better. I hate going on the forums reading those things.

Also Lorenzo and I see the statements about coach Lowe and it really makes me think, " what am I getting myself into". Coach Lowe works hard and is very passionate about the game. He just needs people and players around him like Lorenzo, Luke, C.J., and me to transpire that fire onto the court. Every bad game we cannot criticize coach Lowe. It comes down to the players performing on the court. I know Coach Lowe is going to help my game and make me the best point guard I can be. But it will come in time.
Pretty strong stuff, and as you can tell from the responses to the letter, it worked.
For his part,
Lowe was shocked by the letter
, saying it was "incredible" and that he'd "never heard of any young player going out and doing that." It's a major win for Lowe, really; taming that wildest segment of your fan base -- the message board denizens -- isn't easy even when you're winning. To have them fall in line at the behest of an 18-year-old is exactly the sort of thing Lowe needed.
Now all he has to do is go out and win. Easy, right?
January, 27, 2010
1/27/10
10:01
AM ET
The Morning After is our semi-daily recap post. Try not to make it awkward.
[+] Enlarge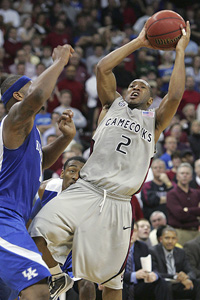 AP Photo/Mary Ann ChastainDevan Downey did most of his damage off the dribble, which led to 23 of his 30 points.
South Carolina 68, No. 1 Kentucky 62
: There's nothing quite like your roommate coming home from work, glancing at the game you're watching, and asking who South Carolina's best player is and you telling him it's 31-points-per-game scorer
Devan Downey
... and then watching as Downey hits a series of clutch down-the-stretch baskets one more unfathomable than the next. The fallaway three-point play? The extra-tight crossover on the left block? That probably-a-little-lucky-but-who-cares spin move through a sagging, slapping defense, ending with a teardrop high off the glass? Downey finished with 30 points on 9-for-29 shooting, but who cares? He got to the line all the time, and he made so many key buckets in crunch time that a few (OK, a ton of) early misses can be excused. If the average college basketball fan wanted to get to know this 5-foot-9 guy from South Carolina they'd been hearing about, well, there he is. He's pretty awesome, huh?
In the meantime, there are sure to be a flood of stories about why this is a good loss for Kentucky. That makes sense. It will disappoint Kentucky fans that their ascent to college basketball's upper crust has been derailed so quickly, but the more reasonable among them would have had to assume it would happen eventually. Upsets happen. All Kentucky can do is take the lessons from Tuesday night --
John Wall
and
Eric Bledsoe
must protect the ball better; when
DeMarcus Cousins
has position, he needs the rock; help defense means stopping penetration
and
recovering to your man -- and apply them as they go on their quest for a national title. I'm not sure I buy the good loss theory. There are no such things as good losses. But there are plenty of good lessons to come from losses, and those are what Kentucky needs right now.
(Oh, and for plenty more on last night's game, be sure to scroll below for
Pat Forde's instant postgame observations
and
Dana O'Neil's wrap
.)
No. 5 Michigan State 57, Michigan 56
: I have no allegiance to Michigan, other than my affection for a friend who went there, and that has nothing to do with Michigan basketball. (Plus, that friend broke our fantasy league's traveling trophy yesterday, so I couldn't care less about him right now. Such disrespect!) I attended a rival Big Ten school. But I have to admit I'm starting to feel a little bit sorry for Michigan fans. First their team is ranked in the top 15 at the beginning of the season. Then they have to suffer through 19 games of mediocre, lifeless basketball, nine of which the Wolverines lost. Then their best player is suspended for a date at Purdue. Then they welcome No. 5 Michigan State, play the Spartans tough for 40 minutes, lose a one-point lead on a
Kalin Lucas
jumper with 3.5 seconds left, and then rim out an inbound play that nearly got them a two-foot game-winner with less than a second left. I mean,
yikes
. Whether Michigan should be better than this or not is up for debate; whether their fans expected more and are now forced to face a 10-10 team is not.
But there is a silver lining here, however bleak it may be: Even if Michigan had won last night, it's not like they'd be in the tournament for sure. Heck, even if they'd won, converted the win into momentum, and finished the Big Ten regular season strong, there's no guarantee the committee will find the Wolverines worthy. Michigan will probably need to win the Big Ten tournament to get in the NCAA. Look on the bright side, Michigan fans: This loss, painful though it may be, doesn't really matter.
No. 13 Kansas State 76, Baylor 74
: Smart money was on this being a close game, an eminently winnable one for Baylor if the Bears kept K-State off the free throw line. At the most crucial time, that didn't happen:
LaceDarius Dunn
fouled
Jacob Pullen
with eight seconds left to put the Wildcats guard on the free throw line, where Pullen knocked down the two game-winning shots to give K-State a steal of a win on the road. Baylor actually shot more free throws than Kansas State; the Bears also managed to keep turnovers low and rebound a decent portion of their offensive misses. The difference
was in the shooting
. Kansas State shot a 58.8 eFG percentage, while Baylor shot 43.2 eFG, and the Bears' solidity in other facets of the game wasn't enough to overcome a cold night in Waco.
Everywhere else
: On a day when
Clemson fans were talking
about becoming an elite hoops program, this has to be
a disappointing road loss at Boston College
...
Maryland cruised over Miami
, continuing the Terps' streak of efficient, impressive basketball in the ACC thus far ...
West Virginia had few issues at DePaul
... UAB defended its place in the top 25 by
topping Tulsa and taking full ownership of a wide-open C-USA
... This was probably NC State's best shot at toppling the hated Tar Heels in, what, five years? Unfortunately for the state's red-clad fans, it didn't happen,
as UNC cruised to a 14-point win
... and Northwestern, despite its ugly efficiency profile,
played Minnesota tough at Minnesota
. The Wildcats are still, despite all odds, looking tourney-worthy.
January, 21, 2010
1/21/10
10:19
AM ET
The Morning after is our semi-daily recap post. Try not to make it awkward.
All together now (
all together now!
): That was one wild Wednesday night. For the short version of last night's unlikely events,
check Brett's late-night roundup
. For the long, rambling, wordy version, simply keep reading.
UTEP 72, Memphis 67
: Well, I guess a share of the all-time conference wins record will have to do. Yes,
after much sturm und drang
leading up to Wednesday night's match up with the Miners, Memphis fell flat, dropping a game to a good-but-not-great UTEP squad in Memphis. This is no doubt disappointing; Memphis players and coach
Josh Pastner couldn't stop talking
about owning that all-time, 65-game streak. As a Tigers fan, you have two choices: You can lament the loss and tie it into John Calipari's untimely departure this offseason, and you can worry for the program's future under a younger, less experienced coach. Or you can take a minute, collect yourself, and realize that there are seniors on this current Memphis team that
just lost their first conference game ever
. Vacated wins or not, that is remarkable.
No. 3 Kansas 81, Baylor 75
: I'll keep this one brief, since it was the one game that actually made sense last night, but it almost wasn't. Despite a raucous crowd fired up from Baylor's decision to leave the court during Kansas' pregame video session and
Sherron Collins
' intent from the tip-off to get his teammates as many open dunks as possible, Baylor hung around all game and made a late comeback to tie Kansas at 65 with 3:34 left in the second half.
LaceDarius Dunn
turned in a monster performance on the road: 27 points, nine rebounds, and four steals, while Collins led the way for the Jayhawks with 28 points and
Xavier Henry
came up with seven steals of his own. And late in the second half, Kansas escaped with the win, providing some small measure of sanity in an otherwise insane college basketball world.
NC State 88, No. 6 Duke 74
: You've already read that this was the first time Duke and UNC have lost on the same night in seven years. That's a pretty incredible stat. But I'd wager it's less incredible than Duke losing to a hapless North Carolina State team, and less incredible than that Duke team surrendering 88 points on 70 possessions (or 1.25 points per possession) to an NC State team averaging just over a point per trip. What happened to Duke's defense? Last year the Blue Devils were quietly one of the best defensive teams in the country, and they carried that pattern through to the beginning of the 2009-10 season. But after last night's matador act (and to be fair, the Wolfpack shot an insane percentage) the Blue Devils have fallen all the way to
No. 18 in the country in defensive efficiency
. Oh, and more importantly, Duke has yet to win a true road game; last night's loss dropped them to 0-3 in that department. I'm guessing this is something Coach K will want to spend some time on.
No. 14 Georgetown 74, No. 11 Pittsburgh 66
: Pitt is an awfully good team, but a Big East-leading one? Questionable. So after a 5-0 league start, the Panthers were probably due for some sort of natural, universal correction, some force bringing them back down to Earth, lest they go all Icarus on us and burn up Jamie Dixon's well-tailored suits. That force's name: Georgetown. The Hoyas waltzed into what the AP described as a home-court where students were "stomping their floor-level seats so passionately it caused the grandstands to ripple like a wave." If that's true, Pitt should probably get that fixed. But you get the idea. Georgetown didn't seem to mind:
Chris Wright
scored 27 points as Georgetown turned in a solid all-around performance. The Hoyas went to the line on 37 percent of their possessions; they rebounded 31.2 percent of their misses; they rarely committed turnovers; and they posted a 52.7 effective field goal percentage in a slow, 63-possession game. That is the statistical profile of a winner, folks, and no number of rippling bleachers and pounded seats could deny it.
Oh, and to continue with the streak-busting theme, this was Pitt's first home loss in two years. Seriously, weird stuff happened last night.
Wake Forest 82, No. 23* North Carolina 69
: Speaking of weird, is it weirder that Roy Williams just lost his third game in a row ... or that Roy Williams has never lost three games in a row at North Carolina before? That, like Memphis' streak, is pretty remarkable, a sign of just how much Roy and the Tar Heels have dominated since his arrival from Kansas in 2003. But they are not dominating in 2009-10, and rather than getting better with experience the Heels, if anything, seem to be regressing. Anyway, this week will test the
durability of the media's love for UNC
; if they're still in the AP poll on Monday, I will drink an entire jug of milk on video and post that video on this blog. I'm not even kidding. It will almost be like a protest. A delicious, milky protest.
Everywhere else
: So much to get to. DePaul busted its own ignominious streak Wednesday night,
topping Marquette by one
at the Allstate Arena and winning its first Big East game in 24 tries, a streak that spanned almost two years ... Iowa deserves credit for playing Michigan State tough in East Lansing,
but the Hawks eventually ceded
to a far superior Spartans team ...
Villanova had no problems with Rutgers
in New Jersey, which, man, poor Rutgers fans. That thing is
bad ...
West Virginia didn't get an easy one at its rare January nonconference date with Marshall, either,
needing free throws to build a late margin
against the Thundering Herd ...
Temple edged Xavier in Philly
; read
Dana's recap from the scene last night
... and UConn found a
forgiving home date with St. John's was just the thing
to snap a three-game losing streak (
and get a win without head coach Jim Calhoun
on the bench).
January, 13, 2010
1/13/10
10:06
AM ET
The Morning After is our semi-daily recap post. Try not to make it awkward.
[+] Enlarge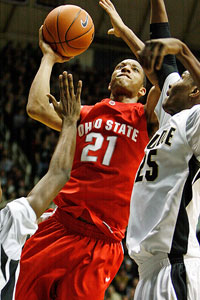 Andy Lyons/Getty ImagesEvan Turner scored 23 of his career-high 32 points in the second half Tuesday night.
Ohio State 70, No. 6 Purdue 66
:
Evan Turner
does bad things. You know this already. He did such things before the ugly back injury (which he suffered doing something awesome; players like Turner don't get injured in normal or unexciting ways, apparently), and he's done such things since returning from that injury. He's, um, really good. But the Buckeyes' accomplishment Tuesday night -- winning a road game over an efficient, brutal defensive team like Purdue -- is truly remarkable: Road wins like this simply don't happen all that often in basketball.
How did Ohio State do it? It was almost flawless where it counts most: The Buckeyes shot well, they rebounded their misses, and they didn't allow Purdue to get to the line, surrendering free throws on a mere 12 percent of the Boilermakers' possessions. Purdue will be disappointed with that number; the Boilermakers must find a way to balance their perimeter strengths with more touches for
JaJuan Johnson
, who shot only five times Tuesday night. Make no mistake, though: This win belongs to the Buckeyes, who got a legendary performance from their star and did more than enough around the margins to complement him. If the Buckeyes go on to stir things up at the top of college hoops this season, they will have learned their formula on Jan. 12.
No. 2 Kentucky 89, Florida 77
: It's almost unfair. After all, John Calipari already has the best point guard and arguably best player (I'm adding in the "possibly" because did you
see
Turner last night?) in the nation in
John Wall
. It's easy to forget that
Eric Bledsoe
was almost as highly touted as Wall as a high schooler;
Bledsoe was considered
the third-best point guard in that class and among the top 20 or 30 players entering the 2009 class. But for all the John Wall love, Bledsoe is showing Kentucky fans they have no reason to worry about 2010 and beyond -- while not as versatile and athletic, Bledsoe is nearly as quick as Wall and has a much better shooting touch, which he displayed last night in his 25-point, 10-of-13 performance at Florida.
In the meantime, the tandem of
Patrick Patterson
and
DeMarcus Cousins
(and even
Daniel Orton
) is proving impossible for teams to stop. The Wildcats scored 1.25 points per possession last night -- an insane rate for any team -- without shooting particularly well from beyond the arc. Kentucky was just that good (65.2 percent for the game) on their twos. If the Wildcats can score at this rate even when they don't shoot well from the perimeter (and when Wall bricks 3 after 3, which he's prone to do), then we were all wrong: The Cats aren't vulnerable. They're just scary.
Colorado 78-No. 24 Baylor 71; No. 12 Kansas State 88, Texas A&M 65

: Who else is trying -- and failing -- to figure out the middle portions of the Big 12? Eamonn confused: Baylor beats Oklahoma by 31 and goes to Colorado and loses to a frisky-but-let's-be-real-here-still-pretty-bad Buffs team. Meanwhile, Texas A&M looks like a tough matchup for a K-State team that lost its first Big 12 game to Missouri. Instead, the Aggies build themselves a tower of bricks (how tall? 38.2 percent FG% tall, is how tall) while K-State scores almost 1.2 points per possession. Road difficulties? Weird night? Who knows? The Pac-10 is this year's most wide-open conference -- which is a nice way of saying there are no good teams -- but the Big 12 might be the most fun to figure out in the next two months.
NC State 88, No. 25 Florida State 81
: Florida State will have some 'splaining to do. How do you lose to the hapless Wolfpack at home? Well, here's how: Freshman Scott Wood made 7-of-11 3-pointers and scored a career high (duh) 31 points on the way to a Wolfpack win. Add that to NC State's generally hot shooting and efficiency on offense -- it went to the line on 66 percent of its possessions and scored 1.2 points per trip -- and you have a recipe for a freaky loss at home to an inferior team. Not that this is the upset of the century, but still.
Everywhere else: Maryland-Wake Forest played a classic that few around the country saw, trading baskets in overtime on the way to a two-point Wake win; Al-Farouq Aminu had 24 and 13 and a key defensive play in the victory. ... Northern Iowa tied a school record with its 14th straight win, but a two-point win over Bradley at home was probably not the win the UNI folks had in mind. ... TCU edged Wyoming out West. ... Illinois needed some last-second drama to top Penn State at home, but escaped with 54-53 the win all the same. ... Iowa got its sixth win, a five-point home win over Tennessee State.
January, 12, 2010
1/12/10
3:35
PM ET
Saddle Up is a quick preview of the basketball your TV wants you to watch tonight. Here's Tuesday night's rundown.
No. 2 Kentucky at Florida, ESPN
, 9 p.m. ET
: ESPN resident bracketologist Joe Lunardi (perhaps you've heard of him?)
sees big implications
in Tuesday night's pair of ESPN games. Can you blame him? We'll get to Ohio State-Purdue in a minute, but Florida has a major opportunity. It gets the
Kentucky Wildcats
, unbeaten and riding high, in Gainesville. For Kentucky, there would be no shame in losing to a motivated Florida team on the road tonight; if Tennessee's weekend upset over Kansas tells us anything, it's that elite teams can and will often lose on the road to merely good teams. That would be the case tonight ... if a "merely good" Florida team shows up. The Gators have the potential to beat Kentucky in Gainesville -- they
topped Michigan State on a neutral court earlier this year
. Florida has also lost to Richmond and South Alabama. This is why tonight's opportunity is such a major one. Playing the Wildcats at home is Florida's chance to steal a win that most of us will recognize as the difficulty of a road contest, but that the selection committee will see first and foremost as a quality résumé win. And a big performance against
John Wall
's crew might just make Florida's own highly touted freshman,
Kenny Boynton
, a household name, too.
Ohio State at No. 6 Purdue, ESPN
, 7 p.m. ET
: If Florida's date with the Wildcats is an uphill battle, Ohio State's trip to Mackey Arena to face a brutally tough Purdue team is more like trying to play laser tag on Mt. Everest. But, much like Florida, this is the Buckeyes' chance to change their entire season, to prove they're fully recovered from losing uber-versatile Wooden Award candidate
Evan Turner
to a busted back, to show that with Turner in the lineup, they're just as good as anyone in the Big Ten. There's a bit of immovable-object-meets-unstoppable-force stuff going on here; is Turner good enough to shed Purdue's smothering defense? It's a tall order, but if anyone can do it, Evan can.
Texas A&M at No. 12 Kansas State, ESPN 2
, 7 p.m. ET
: If you knew nothing about either team, and merely glanced at their records, you'd be forgiven for thinking Texas A&M (12-3, 1-0 Big 12) was Kansas State's (13-2, 0-1 Big 12) relative equal, at least in terms of perception. But Kansas State's last loss, a 74-68 loss at Missouri, was its first since Nov. 20; in the meantime, Frank Martin's team has shot up the polls and gained a measure of respect most K-State hoops fans will find foreign. A&M, on the other hand, has yet to achieve the same level of national respect, despite an impressive record and three OK losses (West Virginia, New Mexico, at Washington). Tonight, A&M gets a shot to prove its worth, while simultaneously making an argument for Big 12 as the deepest conference in the land.
Everywhere else
: Baylor will look to build off its blowout win over Oklahoma
as it travels to Colorado
...
Florida State should handle N.C. State
, probably the ACC's worst team, at home ...
Maryland will travel to Wake Forest
in the much-anticipated "Battle Of Teams That Seem Like They Should Be Better Than They Are Based On Star Power" ... and Northern Iowa, or as we Iowans call it, "UNI," will look to
extend its winning streak another game against Bradley in Cedar Falls
.