College Basketball Nation:

Naismith HOF Pitino
September, 4, 2013
9/04/13
1:20
PM ET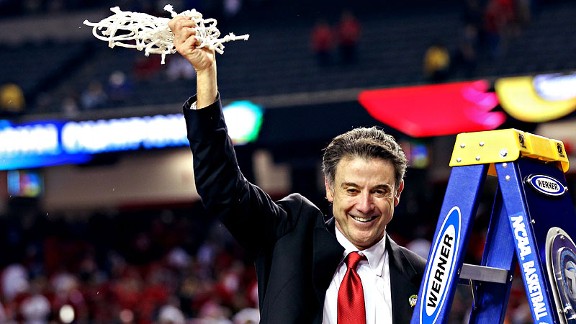 Streeter Lecka/Getty ImagesRick Pitino's rise and eventual redemption will include this weekend's induction into the Basketball Hall of Fame.
Editor's note: Three legendary college basketball coaches -- Jerry Tarkanian, Rick Pitino and Guy Lewis -- take center stage this weekend as the trio is inducted into the Basketball Hall of Fame in Springfield, Mass. We'll be devoting a day to each as we examine what made them HOF-worthy. Here is Tuesday's tribute to Tarkanian.
By the time his career is over -- and in some ways this is already the case -- Rick Pitino will be mentioned among the greatest college basketball coaches of all time. What separates him is how winding his path has been. The coaches we maintain as the game's greatest almost universally built their legacies on decadeslong, storied tenures at blue-blooded schools. They become institutions synonymous with their programs.
John Wooden at UCLA, Mike Krzyzewski at Duke, Bob Knight at Indiana, Dean Smith at North Carolina, Jim Boeheim at Syracuse, Adolph Rupp at Kentucky, Jim Calhoun at Connecticut -- these are men who,
as I wrote already Wednesday morning
, built their basketball Valhallas in their own image and settled in for a lifetime. Pitino left his own Valhalla -- Kentucky -- in 1997, at the height of his powers -- only the most memorable and notable fork in a career full of them.
Here is a look at some of Pitino's defining moments -- some good, some bad, all of a piece with his story.
1. "The Untouchables":
For all the twists and turns that would come before, and all the strange and florid detours that would follow, Rick Pitino's defining moment as a coach will always be the 1995-96 season, when he achieved something like Pitino Basketball Nirvana. After the better part of a decade spent resurrecting Kentucky's proud but bruised program in the wake of the post-Eddie Sutton sanctions, Pitino's beautiful Wildcats machine morphed into its ideal form in 1995-96, when Pitino led a team that eventually would send 11 players to the NBA draft to a 34-2 season, a national title and a place at any "best college basketball team of all time" table.
That season wasn't special just because the Wildcats were so talented. That was part of it, sure, but only the baseline. It was the fact that Pitino managed to unleash that many future NBA players within a style -- his up-tempo, high-pressure, defensively masterful style -- he had been working toward his entire career. He realized it fully, with a team deep enough and balanced enough to utterly dominate with it, in one of those just-about-perfect seasons every coach sees when he closes his eyes at night. Imagine how it must have felt. I'll use the phrase again: In 1995-96, Pitino achieved Basketball Nirvana. It was beautiful to watch.
Also,
it happened in these uniforms
. Which is pretty great, as bonuses go.
2. The Redeem Team:
The decades since Pitino descended from Valhalla were less kind. By the late 2000s, Pitino's personal and professional reputation had been thoroughly bruised, while his old personal rival, Kentucky coach John Calipari, was rapidly turning Pitino's former program into a constant national title contender perennially stocked with the type of pro talent few programs in history have been able to boast. But in 2011-12, Pitino's Louisville group made a surprise run to the Final Four, and all of a sudden a seemingly mediocre team had the look of a national title contender. In 2012-13, that batch of seemingly ragtag guys -- a barely recruited guard
best known for biting his nails and no-no-YES shot-selection
, a Senegalese center
who didn't understand why everyone took basketball so seriously
, a point guard who couldn't shoot, an undersized sophomore power forward, and a slow, tweener George Mason transfer -- morphed into a dominant two-way force, a modern update of Pitino's old pressing style capable of seamlessly shifting into any tune their emphatic sideline conductor demanded.
After Luke Hancock, Peyton Siva, & Co. outlasted Michigan in a classic finale, Pitino became the first man in college basketball history to win national titles at two different programs. In April, the lasting shot -- of Pitino and his family drenched in confetti on the Georgia Dome floor, of Louisville's players staring in awe at a cheesy old tradition -- marked Pitino's redemption after years of personal and professional struggle.
3. And everything that went with it:
How far had the karmic balance swung back in Pitino's favor this spring? Not only did he win a national title -- which surely would have been more than enough -- within a handful of days at the Final Four, he also 1) congratulated his 30-year-old son on being hired as the head coach at Minnesota, 2) was informed that his horse had won the Santa Anita Derby and qualified to run in the Kentucky Derby, and 3) learned he was going to be inducted into the Hall of Fame. A few weeks later, he
reveled in simultaneous horse and hoops heaven at the Kentucky Derby
-- unofficial king of all he surveyed. Forget coaches; from March to September, few people
anywhere
had quite as much fun as Pitino. Even fewer changed the tone of their public-facing lives quite so jubilantly.
4. The Shot:
Before Pitino really got his Kentucky machine humming, he had to reform UK out of the rubble of the late-'80s sanctions. That process appeared to come to a symbolic head in 1992 when Sean Woods led the Wildcats to what appeared to be a win over a star-studded Duke team -- just 2.1 seconds before Christian Laettner made the most famous shot in college basketball history. This past March, in advance of Pitino's Elite Eight rematch with Duke, both Pitino and Krzyzewski explained their shared membership in the rarest, most unlikely club. "I think when the basketball gods deem you worthy enough to put you in a great moment, sometimes you're placed in that moment as a winner, and sometimes you lose," Coach K said. "But sometimes the loser shines more than the winner. I thought how [Pitino] reacted and has reacted since made him shine."
[+] Enlarge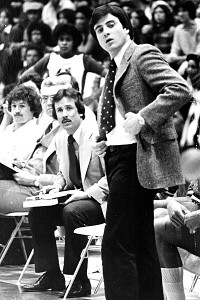 Boston University AthleticsIn his storied career, Pitino has guided three schools to the Final Four.
5. But it would have been awesome if he had:
As in 1992, not all of Pitino's defining moments have been positive, and when the final accounting is taken -- when Pitino one day retires, and the prepared highlight package is rolled out -- it will have to include perhaps his most notorious moment as a coach. "Larry Bird is not walking through that door, fans" is the line everyone remembers, but it was part of a longer monologue:
"Larry Bird is not walking through that door, fans. Kevin McHale is not walking through that door, and Robert Parish is not walking through that door. And if you expect them to walk through that door, they're going to be gray and old. What we are is young, exciting, hardworking, and we're going to improve. People don't realize that, and as soon as they realize those three guys are not coming through that door, the better this town will be for all of us because there are young guys in that (locker) room playing their asses off. I wish we had $90 million under the salary cap. I wish we could buy the world. We can't; the only thing we can do is work hard, and all the negativity that's in this town sucks. I've been around when Jim Rice was booed. I've been around when Yastrzemski was booed. And it stinks. It makes the greatest town, greatest city in the world, lousy. The only thing that will turn this around is being upbeat and positive like we are in that locker room ... and if you think I'm going to succumb to negativity, you're wrong. You've got the wrong guy leading this team."
Had Pitino turned his struggling Celtics teams around, that March 1, 2000, speech might have gone down as a turning point. At worst, it would have been forgotten. (Landing Tim Duncan in the 1997 draft after a league-worst 15-67 season would have helped, too.) Instead, as Celtics head coach, GM, CEO and president of basketball operations, Pitino's failure in Boston was total, and the "Fellowship of the Miserable," Pitino's name for the Celtics' infamously intense fans, quickly turned.
If there was one bright spot (besides "Fellowship of the Miserable," which is amazing), it was when
Pitino gave Sports Illustrated the definitive Kenny Anderson quote
: "Celtics coach, after hearing that point guard Kenny Anderson has hired a track coach to improve his speed and conditioning: 'Who's he going to hire to run for him?'"
6. Say hello to Billy the Kid:
Before the New York Knicks, Kentucky, Boston and Louisville, Rick Pitino earned his national reputation as an upstart coach who turned Providence around from an 11-20 outfit the year before his arrival to a Final Four team in a matter of two seasons. He did so in large part thanks to the arrival of Billy Donovan. Then better known as "Billy the Kid," thanks to Pitino's shameless marketing savvy (Pitino made Donovan dress up like a cowboy on the cover of the Providence season program), he transformed from an overweight, unused sophomore reserve to a star. In 1986-87, Donovan's senior year and the first with a collegiate 3-point line, the Kid posted arguably the most statistically impressive individual season (20.6 points, 7.1 assists, 3.0 rebounds and 2.4 steals per game, and 41 percent from 3) of any Pitino player while leading the Friars to the program's second Final Four. It would be the first of Pitino's seven trips -- and counting.
7. Sept. 11, 2001:
One of the most profound tragedies in American history was a personal nightmare for Pitino and his family. Pitino's brother-in-law and best friend, Billy Minardi, was working as a bond trader for Cantor Fitzgerald on the 105th floor of the north World Trade Center tower when the planes hit. Processing that senseless loss has taken Pitino and his family years, and the coach has talked (and written) openly about that struggle -- and
the familial bonds it forged
.
8. Karen Cunagin Sypher:
A decade later, those bonds were tested in the most public way possible. In early 2009, Pitino announced that he was the victim of an extortion attempt, and a week later Karen Cunagin Sypher, the wife of Louisville equipment manager Tim Sypher, was arraigned in federal court on charges of extortion and lying to federal agents. The details of the case -- in which Pitino admitted he had sexual relations with Sypher in a Louisville restaurant, and that he paid Sypher $3,000 when she said she did not have health insurance for an abortion -- were not only embarrassing, they drew Pitino, an avowed family man and devoted Catholic, in a dismal light.
9. The tattoo:
Save the family portrait moment at the Final Four in April, perhaps the sharpest contrast to that ugly period in Pitino's life came a few weeks later, in a downtown Louisville tattoo parlor. After his team won the national title, Pitino revealed that, after Feb. 9's five-OT loss at Notre Dame, he had promised his players that if they won the national title, he would get a tattoo. His players proved giddy about the idea (no surprise there) and held up their end of the bargain. Which is essentially how a 60-year-old multimillionaire with a horse-racing hobby and suits that make Sinatra look like a hobo
came to stroll into a place called Tattoo Salvation in downtown Louisville, where he obtained his first-ever tattoo
.
10. And now, the Hall of Fame:
It takes a special career to earn Hall of Fame induction by the age of 60, and Pitino's, for better or worse, has most certainly been that. Now that he seems to be having more fun than ever, how much longer will Pitino coach? How many more games -- how many more
titles
-- can he win? Whatever the final number, the journey will be just as interesting as the destination. That much is a guarantee.
September, 4, 2013
9/04/13
10:45
AM ET
Editor's Note: Three legendary college basketball coaches -- Jerry Tarkanian, Rick Pitino and Guy Lewis -- take center stage this weekend as the trio is inducted into the Basketball Hall of Fame in Springfield, Mass. We'll be devoting a day to each as we examine what made them HOF-worthy. Here is Tuesday's tribute to Pitino.
During his career, Rick Pitino has earned two national championships, led three schools to the Final Four (only coach in Division I history to achieve that) and won 664 games.
The soon-to-be Hall of Fame coach has also molded some of the most talented athletes in recent college basketball history. Here is my take on the top 10 college players Pitino has coached, while my colleague Eamonn Brennan
counters with his own list
:
[+] Enlarge

AP Photo/Morry GashRick Pitino's 1996 title team churned out 11 players who eventually got drafted.

Tony Delk, Kentucky: If we're just talking collegiate production, then Delk deserves this slot. He averaged 17.8 points per game during the 1995-96 season and 14.2 ppg throughout his four-year career at Kentucky. Pitino had multiple (future) pros on that 1996 national title team, but Delk was that squad's best player, especially in the postseason. He was a consensus All-American, SEC Player of the Year, and the NCAA tournament's Most Outstanding Player.

Jamal Mashburn, Kentucky: He didn't win a title, but he anchored one of Pitino's most important Kentucky squads. The 1992-93 Wildcats reached the Final Four, where they lost by three points to Michigan and the Fab Five in overtime. Mashburn, a consensus All-American that year, scored 26 points (10-for-18) in the game. That achievement provided more evidence that Kentucky would be a player on the national scene again following a crippling scandal under former coach Eddie Sutton.

Antoine Walker, Kentucky: In recent years, he has been plagued by highly publicized financial problems. But Walker was a star in his prime. He was the MVP of the SEC tournament as a freshman in 1995. And he averaged 15.2 ppg for the Kentucky squad that secured Pitino's first national championship in 1996. Walker was a member of the all-SEC first team that year, too. He stayed only two seasons but they were some the most fruitful individual of Pitino's career.

Reece Gaines, Louisville: Last season, Dwyane Wade called Gaines the best player he faced in college. That's how good the Wisconsin native was throughout his four years at Louisville. Gaines didn't fulfill his potential after he was picked 15th in the 2003 NBA draft. But he was a beast in Pitino's first two seasons with the Cardinals. He averaged 21.0 ppg in 2001-02 and 17.9 ppg in 2002-03. He was a third-team All-American as a senior.

Ron Mercer, Kentucky: He scored 20 points in Kentucky's national title game victory in 1996. But he was a true star in the 1996-97 campaign, Pitino's last at the school. Mercer was the SEC Player of the Year and a consensus All-American that season. With the sophomore on the floor, Kentucky nearly retained its crown but ultimately lost to Arizona in the national championship game. Mercer scored 13 points in that matchup, his last game as a collegiate player.

Billy Donovan, Providence: Sure, he has won two national titles as head coach of the Florida Gators. But in the 1980s, "Billy the Kid" was a star for a Providence program that improved once Pitino arrived in 1985. Donovan averaged 15.1 ppg during the 1985-86 campaign. He averaged 20.6 ppg in 1986-87, the year the Friars reached the Final Four. He's recognized as one of the greatest players in Providence history, and he's certainly one of the best players Pitino has ever coached at this level.

Peyton Siva, Louisville: Siva represented the character of the 2013 national championship squad that won the crown in Atlanta last season. He was a gritty, quick, smart point guard who anchored Pitino's second national championship squad a year after guiding the program to the Final Four. He also ended his career by earning back-to-back Big East tournament MVPs. And he's the program's all-time leader in steals.

Derek Anderson, Kentucky: He started at Ohio State but eventually transferred to Kentucky in time to help the Wildcats win a national championship in 1996. Anderson recorded 11 points, four rebounds and one assist in 16 minutes of action in Kentucky's win over Syracuse in the national title game. His senior season was affected by a serious knee injury. But he still managed to average 17.7 ppg in 19 games that season. He was also named to the all-SEC second team.

Francisco Garcia, Louisville: The Bronx native was critical as Pitino coached Louisville to the Final Four in 2005, the program's first trip in nearly two decades. Pitino was the first coach to claim three Final Fours with three different programs. Without Garcia, it probably wouldn't have happened. He averaged 15.7 points, 4.2 rebounds, 3.9 assists and 1.7 steals per game that season. He's one of the most versatile players that Pitino has coached at the collegiate level.

Walter McCarty, Kentucky: He was one of Pitino's most consistent players and probably his best singer, too. McCarty averaged 11.3 points, 5.7 rebounds and 1.2 steals per game the season that Pitino secured his first national championship. He also hit 46.7 percent of his 3-pointers during the 1995-96 season. His time under Pitino also fueled his coaching endeavors. He recently joined Brad Stevens' staff as an assistant with the Boston Celtics.
September, 4, 2013
9/04/13
10:45
AM ET
Editor's Note: Three legendary college basketball coaches -- Jerry Tarkanian, Rick Pitino and Guy Lewis -- take center stage this weekend as the trio is inducted into the Basketball Hall of Fame in Springfield, Mass. We'll be devoting a day to each as we examine what made them HOF-worthy. Here is Tuesday's tribute to Tarkanian.
Rick Pitino's march through college basketball history has been unusual in more ways than one.
[+] Enlarge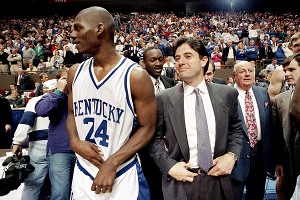 AP Photo/Ed ReinkeJamal Mashburn was not only one of Rick Pitino's best players, he anchored one of the most important teams in Kentucky basketball.
Unlike many of his Hall of Fame peers, who find their Valhalla and stay there until they retire, Pitino has been atypically restless. In 1983, he left Boston University, his first head-coaching gig, to be an assistant with the New York Knicks. In 1987, after just two years at Providence, he went back to Madison Square Garden as the head coach. In 1997, after a massively successful tenure at Kentucky -- a last-stop summit most coaches spend their entire lives fighting to scale -- Pitino left for the NBA again, this time to take over the Boston Celtics. His constant search for the next challenge has in some ways obscured the accomplishment; imagine how many career wins the guy would have if he'd been coaching college games uninterrupted since 1978. Imagine if he'd never left Kentucky. Yeah. Yikes.
The other unusual aspect to Pitino's legacy is that his best teams have always been ensemble casts. This is not to say Pitino hasn't coached some great players. He certainly has. But unlike, say, Jerry Tarkanian, whose best players
we ranked Tuesday
-- or Dean Smith, or Mike Krzyzewski, or John Wooden, or even Bob Knight, who had at least one individual talent (Isiah Thomas) as good as any in college hoops history -- Pitino's brightest stars have always existed less as centerpieces to be built around than cogs in variously terrifying machines.
This is impressive in and of itself, but how do you parse guys whose careers feel interdependent and inseparable? How do you distinguish between the best of those dominant mid-90s groups? Does anyone from the 2012-13 title team belong? Are Kentucky and Louisville fans going to argue about this list?
After no small amount of statistical research and mental haggling, I know the answer to exactly one of those questions. But hey, let's give this thing a shot anyway, shall we? My colleague Myron Medcalf
took a stab at it as well
. How did we do?
1. Jamal Mashburn, Kentucky
: On Tuesday, I wrote that Tarkanian's No. 1 player, Larry Johnson, was a lock at the top before my fingers even hit the keyboard. Pitino's No. 1 is not nearly as certain. Still, while Mashburn didn't win a national title like his successors on this list, he was as gifted and productive an individual talent as Pitino ever coached at the college level -- averaging 18.8 points, 7.8 rebounds, 2.2 assists and 1.6 steals while shooting 37.6 percent from 3 and 51.6 percent from the field in his three seasons at Kentucky. In 1992-93 -- one year after Kentucky's destined-to-be-replayed-forever loss to Christian Laettner and the Duke Blue Devils -- Mashburn averaged 21 points on 15.5 shots (and 8.4 rebounds) per game, and was rewarded with a First-Team All-American honor and the fourth overall pick in the NBA draft. He might not have been the world-devouring monster that Johnson was, at least relative to the rest of Pitino's talent, but I think he deserves the top nod.
2. Tony Delk, Kentucky
: And, having said all that, I would have absolutely no problem if you chose to rank Delk No. 1 instead, as Myron did. Delk's statistics (14.2 points, 3.5 rebounds, 1.6 assists, 1.6 steals) during his four-year UK career don't look as impressive as Mashburn's three-year run, but that's less a product of Delk's ability than the immensely balanced group of future pros he led to the national title in 1996. He might well have been the best player on that 1996 team; he was certainly its most important, an undisputed team leader that got a large group of future pros to coalesce around Pitino's desire to unleash all that talent in a concerted, balanced, full-court-pressing behemoth. Delk's defense (also something that doesn't show up much in old box scores) was truly fearsome, and his best performances came at the best times.
In that memorable 1995-96 season, he was the SEC Player of the Year, First Team All-American
and
the NCAA tournament's Most Outstanding Player, and his seven 3s in UK's 76-67 national title win over Syracuse ranks near the top of any of list of best all-time individual performances by a Wildcat. Given the program we're talking about, the team he played for and, frankly, the other 1996 first team All-Americans (which, get this: Allen Iverson, Kerry Kittles, Marcus Camby, Ray Allen), Delk's legacy in Lexington is deservedly sealed.
3. Antoine Walker, Kentucky
: Given Walker's future as a swaggering, shimmying, well-paid 3-point chuck, it's hard to grasp the fact that he shot just .188 percent from 3 in 1995-96 -- and attempted a mere 48 3-pointers in the first place. Even crazier? Despite that lowly figure, Walker finished the 1995-96 season with averages of 15.2 points and 8.4 rebounds per. Even crazier? Delk averaged 17.8, Walter McCarty averaged 11.3, Derek Anderson averaged 9.4, Ron Mercer averaged 8.0, Mark Pope averaged 7.6, Anthony Epps averaged 6.7 … I mean, has there ever been a deeper, more balanced national title team? The mind boggles, and now we're digressing again, and anyway: If Delk was the stoic senior leader, Walker (then a sophomore) was the young hotshot. Both were equally important to Pitino's first national title run.
4. Ron Mercer, Kentucky
: This is where things start to get a little bit hilarious with the mid-90s Wildcats: Ron Mercer a guy who would put up 18.1/5.3/2.4/1.7 averages as a First Team All-American in 1996-97 and go on to have a totally respectable, lengthy and profitable NBA career, was UK's fifth banana as a freshman in 1995-96. That's, like, borderline unfair. Mercer's excellence after the national title season helps elevate him in this list, and frankly only adds to the mystique involved with that 34-2 national title run.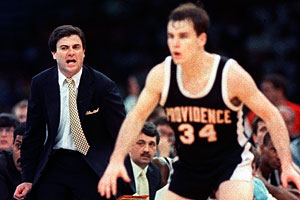 AP Photo/Susan RaganBilly Donovan averaged 15.1 points as a junior and 20.6 as a senior, when he led Providence to Rick Pitino's first Final Four.
5. Billy Donovan, Providence
: Before Madison Square Garden and the "Untouchables" and Larry Bird-is-not-walking-through-that-door, Rick Pitino was a rising, upstart young coach at Providence, where he inherited a program that went 11-20 one year before his arrival. Two years later, Pitino had them in the Final Four. How did
that
happen?
Donovan, who, like Providence's program in general, went from a non-entity before Pitino to a star under him. Some good timing helped: Donovan's senior year, 1986-87, was college basketball's first year with a 3-point line, which he exploited to the tune of 40.9 percent. The once-pudgy benchwarmer finished his magical senior season with crazy numbers -- 20.6 points, 7.1 assists, 3.0 rebounds, and 2.4 steals per game -- as well as an unlikely run to the Final Four, a fantastic nickname ("Billy the Kid") and a rest-is-history future in basketball waiting for him. Not bad for a couple years' work, eh?
6. Derek Anderson, Kentucky
: The 6-foot-5 guard's supporting role in 1995-96 might have been enough to get him on this list in the first place, but his breakout follow-up was cut short when an injury ending his season after just 19 games. And even so, Anderson made his mark, shooting 40.4 from 3 and 81.1 percent from the free throw line and averaging 17.7 points, 4.1 rebounds, 3.5 assists, and 1.9 steals. His overall Kentucky legacy could have been something even greater, but maybe it's even more impressive that he was able to accomplish so much in just a season and a half.
7. Sean Woods, Kentucky
: Younger fans might know Woods best from his unfortunate handling of one of his Morehead State players last November, or maybe for the criticism he took for his (prophetic-in-retrospect) blasting of the 2012-13 Wildcats' "sense of entitlement." But before all that, Woods was (and is) a Kentucky legend, part of the "Unforgettables" group that played through three years of Eddie Sutton-era sanctions, resurrected UK basketball in the process. His retired No. 11 hangs from the Rupp Arena rafters for good reason: In just 91 games, Woods handed out 482 assists -- fifth all-time at Kentucky, and the highest per-game average (5.3) of any Wildcat ever. Woods was nearly a March Madness legend, too. His 10-foot floater with 2.1 seconds left in overtime against Duke in the 1992 Elite Eight should have sealed the Unforgettables' Final Four bid. Instead, Laettner made The Shot, and Woods' magnificent performance became a historical footnote. Even so, it's impossible to understate just how important Woods' career was.
8. Russ Smith, Louisville
: What if I told you that the best and most important offensive player on a national title team -- one who posted a 108.9 offensive rating on 32.0 usage (11th-highest in the country), assisted on 21.1 percent of his possessions and drew 6.7 fouls per 40 minutes -- was also arguably the best defender in the country? What if I told you that this two-sided excellence caused a
reliable advanced statistical formula to rank him as the best player in the country
by a significant margin? What if I then told you that same player -- again, arguably the best offensive and defensive player for the team that won its last 16 games, the Big East regular-season and tournament titles, and the national championship -- wasn't even a second-team All-American?
The point is, understanding Smith's career is all about perspective. If the only time you saw Smith was
his disastrous five-OT performance at Notre Dame
and/or his not-much-better Final Four, you probably agreed with the voters who left him off their final All-American tallies. If you have watched Smith more intently, though, you've seen an occasionally frustrating but often brilliant player blossom into one of the nation's best. By the way: In the past two seasons, Smith has helped Louisville win two Big East tournament titles, gone to two Final Fours, and won the aforementioned national title -- and he still has one more season to add to his legacy. No joke: By the time 2013-14 is over, he could crack the top five of this list. Maybe higher. Frankly, I'm not sure he shouldn't be higher already.
9. Wayne Turner, Kentucky
: Another of those relatively unsung 1990s UK guys that were nonetheless really,
really
good (word to Anthony Epps, Jamaal Magloire and Travis Ford), Turner played in a then-record 151 total collegiate games for the Wildcats and finished his career with 494 career assists (fourth-most in school history) and 238 steals (No. 1 at UK all-time). Turner only played two seasons for Pitino before the Celtics came a'calling, but he was a major reason Pitino's then-revolutionary all-hands-on-deck full court pressure worked in the first place.
10. Francisco Garcia, Louisville
: Another classic Pitino player rounds out this list, and while I like that symbolic consistency, Garcia wouldn't be here were he not a very good collegiate player in his own right. As a sophomore at Louisville in 2003-04, Garcia averaged 16.4 points, 4.5 rebounds, 4.7 assists, 1.9 steals and 1.4 blocks; as a junior (his final season), he posted 15.7, 4.2, 3.9, 1.7, and 1.5, leading the Cardinals to their first Final Four in 17 years, which made Pitino the first coach to take three different programs to the Final Four. Like most of the players above, Garcia wasn't an obvious can't-miss pro prospect (though he has carved out a perfectly respectable NBA career), but rather a versatile, rangy, defensive-minded wing who did just about everything his coach asked of him when he took the floor.
If there's a unifying theme to this list -- beyond "the 1995-96 Kentucky Wildcats were awesome at basketball," that is -- it's that. Pitino's best players didn't always have elite pro pedigree. They didn't always wow you with one unstoppable skill. But they were almost always perfect for their coach and his system -- a testament to his ability to build cohesive, dominant basketball teams from a wide swath of unlikely parts.
In sum: Rick Pitino is really good at coaching basketball. You know, in case that wasn't already clear.
September, 4, 2013
9/04/13
10:30
AM ET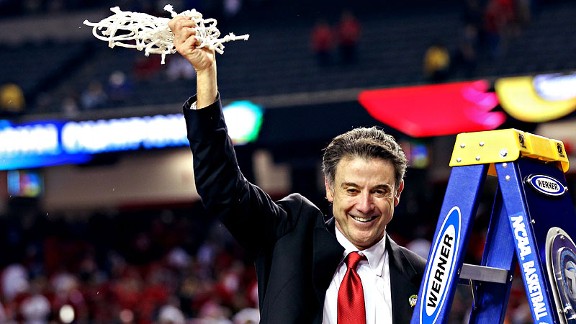 Streeter Lecka/Getty ImagesRick Pitino hasn't just won two national titles and taken three separate schools to a Final Four -- he also has provided a strong group of assistants who have had success of their own.
Editor's Note: Three legendary college basketball coaches -- Jerry Tarkanian, Rick Pitino and Guy Lewis -- take center stage this weekend as the trio is inducted into the Basketball Hall of Fame in Springfield, Mass. We'll be devoting a day to each as we examine what made them HOF-worthy. Here is Tuesday's tribute to Tarkanian.
There are coaching trees and then there is the
forest birthed by Rick Pitino
. Imagine crossing a redwood with a sequoia. And then adding the Rockefeller Christmas tree on top for good measure.
That gets you maybe a quarter of the way up the branches of Pitino's tree. No fewer than 13 of his ex-assistants and/or players currently serve as college head coaches (Mick Cronin, Scott Davenport, Billy Donovan, Travis Ford, Marvin Menzies, Richard Pitino, Kareem Richardson, Steve Masiello, Herb Sendek, Tubby Smith, Reggie Theus, Kevin Willard, Sean Woods). And if you stretch the list to include former head coaches or current assistants, it goes on for miles.
Between them, Pitino's disciples have four national championships of their own (two for Donovan, one each for Smith and Davenport). So trying to pick the best of this family tree is like trying to pick your favorite uncle. Highly subjective.
Consider this attempt just that, then -- an attempt to amass a list of the most successful ... with an out clause list of others who were left off.
1. Billy Donovan:
Before he won two national titles at the University of Florida, Donovan was Billy the Kid, the feisty point guard who led Providence and Pitino to the Final Four in 1987. Two years later, Donovan and his mentor reconnected at the University of Kentucky, where Donovan cut his coaching teeth as an assistant until 1994. Embarking on his own as a head coach, first at Marshall and now at Florida, Donovan has rolled up 13 NCAA tournament bids and has been to at least the Elite Eight in five of the past six appearances.
2. Tubby Smith:
Smith had the unenviable job of following in Pitino's well-heeled footsteps at Kentucky, when Pitino's one-time assistant returned to Lexington as head coach in 1997. Smith picked up right where his old boss left off, leading the Wildcats to their seventh national championship in his first season. Smith would go on to reach the 100-win mark faster than any other UK coach not named Adolph Rupp and collect five SEC titles. The former head coach at Tulsa and Georgia went on to Minnesota and is now at Texas Tech.
[+] Enlarge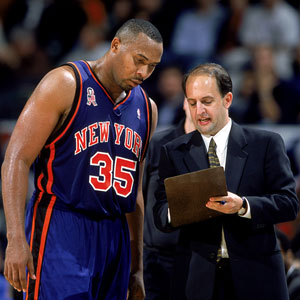 Garrett W. Ellwood/NBAE/Getty ImagesJeff Van Gundy went from being an assistant under Rick Pitino at Providence to leading the New York Knicks to the 1999 NBA Finals.
3. Jeff Van Gundy:
The popular NBA analyst and former NBA head coach was part of a pretty impressive bench lineup at Providence. Van Gundy was the graduate assistant, alongside assistants Herb Sendek and Stu Jackson, when the Friars went to the Final Four in 1987. Van Gundy, who was working as a high school head coach before Pitino hired him, used that coaching gig to launch his own career. He'd eventually serve as head coach for both the New York Knicks and Houston Rockets.
4. Jim O'Brien:
The son-in-law of one Hall of Famer (Jack Ramsay), O'Brien would begin working alongside a future Hall of Famer in 1994, when he joined Pitino at Kentucky. Long a college coach in his own right, O'Brien helped Pitino usher the glory years back to Lexington and when Pitino jumped to the Boston Celtics, O'Brien went with him. Little did he know it was the beginning of his own career. It was O'Brien who would take over in Boston after Pitino epically flamed out, twice leading the Celtics to the playoffs. He'd then go on to two more NBA head-coaching jobs, with Philadelphia and Indiana, before retiring at the end of last season.
5. Herb Sendek:
The master of his own pretty heavily limbed coaching tree, Sendek got his start under Pitino. The western Pennsylvania native joined the Providence staff as a graduate assistant before moving up to assistant coach. When Pitino left PC for Kentucky, Sendek went with him, spending four seasons with the Wildcats before launching his own head-coaching career. Sendek has gone from Miami (Ohio) to NC State to Arizona State and now has 20 years of head-coaching experience. He has made seven NCAA tournaments and has three conference coach of the year awards.
6. Frank Vogel:
No one can trace their roots directly to Pitino quite as thoroughly as the Indiana Pacers head coach. After meeting Pitino at Five-Star camp in Pittsburgh, Vogel, then a student at Juniata College, decided he was transferring on the spot to Kentucky. He had no promise of anything from Pitino but after loitering around the gym for weeks, he got a two-week trial period helping out assistant Jim O'Brien. A year later he was a student manager, and after graduation served as a video coordinator. The coach was so impressed with Vogel's abilities that when Pitino went on to the Boston Celtics, he brought Vogel with him, hiring him as the team's video coordinator. Vogel would outlast Pitino in Boston, staying on as an assistant coach under O'Brien. Six years later, when O'Brien was fired at Indiana, Vogel was named the Pacers' interim coach. This past season under Vogel, the Pacers made their first Eastern Conference finals appearance since 2004.
7. Mick Cronin:
The son of a head coach counts his father and Pitino as his two biggest mentors. He joined Pitino at Louisville in 2001 after five seasons at the University of Cincinnati under Bob Huggins. Eventually becoming Pitino's right-hand man and associate coach, Cronin was lauded for his recruiting savvy and eventually parlayed that into a head-coaching job at Murray State. He led the Racers to two Ohio Valley titles and NCAA tourney appearances before leaving to lead his alma mater, Cincinnati. Cronin has been credited with reviving the Bearcats, who had just one returning player when he arrived on campus.
8. Ralph Willard:
One of Pitino's closest friends and confidants, Willard worked alongside the Hall of Famer in three different stretches -- first as an assistant with the Knicks (1987-1989), then later at Kentucky (1989-90) and finally, at Louisville (2009-2012). In between, Willard forged his own impressive career, serving as head coach at Holy Cross, Pittsburgh and Western Kentucky. He had his best success at his alma mater, Holy Cross, leading the program to four NCAA tournament berths and amassing a 192-117 record at the Patriot League school.
9. Travis Ford:
The beloved Kentucky point guard started his career at Missouri but transferred to his home state school because he liked the style of its head coach. That would be Rick Pitino. Ford, fashioned in the same spitfire image of Billy Donovan, would take the Wildcats to three NCAA tournaments. With all that UK love and his coach's endorsement, Ford landed his first head-coaching gig at the tender age of 26, taking over at NAIA Campbellsville. That led to a job at Eastern Kentucky -- and EKU's first NCAA berth in 25 years -- which led to a job at Pitino's alma mater, UMass (and an Atlantic 10 title) and now to Oklahoma State.
10. Scott Davenport:
Maybe not as well known as others on this list, Davenport is every bit as successful. In his eighth season at Division II Bellarmine, Davenport has taken a program that was sub-.500 before he arrived all the way to a national championship in 2011. The former high school coach made the jump to the college game in 1996, joining Denny Crum's staff at Louisville. When Pitino came aboard in 2001, Davenport stayed on staff, working with Pitino until 2005, when he moved on to Bellarmine.
11. Marvin Menzies:
As a longtime assistant coach, Menzies' resume went on for pages before he joined Pitino at Louisville in 2005. Menzies' career had hopscotched from the high school ranks to junior college to San Diego State to USC to UNLV. After just two seasons alongside Pitino, Menzies was a head coach, taking over at New Mexico State. He has since led the Aggies to three WAC titles and three NCAA tournament berths.
Others to be considered:
Cal State Northridge head coach Reggie Theus (Louisville assistant, 2003-05); Seton Hall head coach Kevin Willard (Louisville assistant, 2001-07); Florida assistant coach John Pelphrey (played at Kentucky); former NBA executive vice president Stu Jackson (Providence and New York Knicks assistant).