College Basketball Nation:

Nasir Robinson
October, 26, 2011
10/26/11
5:00
AM ET
1. Pitt coach Jamie Dixon said senior forward
Nasir Robinson
should be back at practice sometime next week after missing the past few weeks following a torn meniscus in his right knee. Robinson is one of two key seniors for the Panthers. The other is lead guard
Ashton Gibbs
. Dixon said Gibbs has been playing at a high level, making shots, and proving to be the necessary leader for the Panthers. "He'll play in the NBA some day,'' Dixon said of Gibbs.
2. BYU coach Dave Rose said that so far the two players on the Cougars who appear to be ready to take over for Jimmer Fredette's production are wing
Charles Abouo
and big man
Stephen Rogers
. Rose said both have been highly productive so far in practice. But the one player who has the most NBA potential and is starting to be even more assertive is forward
Brandon Davies
. Davies was reinstated to the team in the fall after being dismissed for an honor code violation last February. The Cougars will need the inside-out combination to have a chance to catch Gonzaga in the WCC.
3. Gonzaga coach Mark Few said he might have his best set of big men in his tenure with
Robert Sacre
,
Elias Harris
,
Kelly Olynyk
,
Sam Dower
and
Ryan Spangler
. If
Gary Bell
and
Kevin Pangos
can have as much of an impact as projected and
David Stockton
proves to be a calming presence at the point then the Zags have a shot to be a deep March team. Gonzaga needed to be deeper inside and with more options. It appears they have that this season.
July, 26, 2011
7/26/11
12:23
PM ET
For the next month or so, our friends at The Mag are previewing one high-profile school per day for their Summer Buzz series. For the sake of all that is synergistic, yours truly will be attempting the same, complementing each comprehensive Insider preview with some adjusted efficiency fun. Today's subject: the Pittsburgh Panthers.

If you've been hanging out this summer,
you'll remember this visit
with Pittsburgh guard
Ashton Gibbs
at the Nike Skills Camp in Chicago. Gibbs, who might be the purest shooting guard in the college game, was participating in the Deron Williams Skills Academy. Naturally, he was surrounded by point guards, players used to facilitating teammates and finding their own shots. Gibbs, on the other hand, has been a curl-screen-and-spot-up 2 guard for his entire career. So why sign up for a point guard camp?
Gibbs' reasons were both collective and individual. To have a shot at the NBA -- the senior tested the waters before returning to Pitt this spring -- he has to prove to scouts that he is capable of playing a combo role; he lacks the size and athleticism most NBA scouts want in modern shooting guards. More pressing, though, is coach Jamie Dixon's need for Gibbs to do so much more with the ball in his hands. The Panthers are going to remain as tough as ever on the interior. The steady inertia of Dixon's program practically guarantees it. But for the first time in recent years, questions exist. Chief among them: Can Gibbs do what he's done in his first three seasons -- hyper-efficient spot-up shooting, basically -- while also taking a larger and more diverse command of the offense?
In today's Summer Buzz,
ESPN Insider LaRue Cook delved into the Synergy scouting data

to prove just how drastic a change this might be:
According to Synergy Sports, more than half of Gibbs' plays last season were spot-ups or screens, and nearly 50 percent of his jumpers were of the catch-and-shoot variety. In other words, Gibbs wasn't generating a ton of points for himself or for others on his own. So Big East teams would be foolish not to double every time he crosses half court, meaning those reserves and blue-chip recruits Dixon keeps stocked better be ready to produce. If not, Pitt won't have an easy march to its 11th consecutive Dance.
Anyone who's watched Gibbs the past three seasons recognizes as much. He's at his best running to space off the ball, where he utilizes screens in classic, fundamental ways. It's as simple as reading your defender and deciding whether to curl, fade or slip; well-coached eighth graders learn this stuff, but so few players execute it well at the college level. Gibbs, on the other hand, is as good as anyone. If not better.
There is some good news here. For one, despite the loss of guard
Brad Wanamaker
, Pittsburgh does have a suitable replacement in junior
Travon Woodall
, who notched an assist rate of 28.6 percent in reserve duty last season. Likewise, Pitt's main offensive attack in 2011 came thanks to offensive rebounding, and while the Panthers will no doubt miss the bruising presence of
Gary McGhee
on the offensive boards, it retains
Nasir Robinson
(who grabbed a promising 9.5 percent of available offensive rebounds despite playing next to his rebound-hogging counterpart) and will add a top-ranked center (and arguably the highest-profile recruit of Dixon's tenure) in forward Khem Birch. Many of Gibbs' open looks came as the result of rebounds and kick-outs. It's fair to assume many of those same looks will be available in 2012, too.
In other words, Pittsburgh's not going to stop rebounding the ball. That's the most important feature of this team, one that has kept its offense among the nation's best for the past few seasons. But the Panthers weren't just a chuck-and-grab bunch like, say, West Virginia in 2011. They were also efficient before the ball hit the rim, hitting 39.5 percent of their 3s, the 12th-highest percentage in the country. Will those looks still exist for Gibbs? Will he be able to get them if he is the primary ball handler? Will defenses honor high ball screens, or will Gibbs face constant traps and hedges? And if he does, will he be able -- and this is one of the things he said he has worked on all summer, including at the Nike camps -- to attack those matchups with the panache of an experienced ball handler?
We know Pitt will rebound. We know it'll be tough inside. We know Robinson, whose crucial mistake led to Pitt's upset loss to Butler in the NCAA tournament, will be as durably motivated as ever. And we know Gibbs will be able to make open shots. What we don't know is how everything will work
before
the ball goes into the air. If Gibbs evolves into the multifaceted player he wants (and needs) to be, then there's little reason for concern. If Woodall is as capable as he was last season, then it might not matter. But if neither of those things happen, a team whose offense has drive its recent success will find itself struggling to score for the first time in years. That's not a welcome prospect for any Pitt fan. We'll see.
March, 28, 2011
3/28/11
2:36
PM ET
The NCAA tournament had plenty of excitement when it came down to crunch time. Let's look back at some of the memorable late-possession moments from the first two weeks:
In the East:
Luke Hancock's 3-pointer with 21 seconds left capped a George Mason comeback win over Villanova in the second round.
Brandon Knight's driving layup with two seconds remaining gave Kentucky a two-point win over Princeton in the second round.
Darius Johnson-Odom's 3-pointer with 27 seconds left helped push Marquette past Syracuse in the second round.
Washington's meltdown against North Carolina in the final few possessions that prevented the Huskies from tying the Tar Heels at the end of regulation in the third round.
Knight's 15-foot shot that sent Kentucky past Ohio State in the Sweet 16.
In the West:
Tennessee quit on the game in the second half and lost by 30 to Michigan.
Duke's Kyrie Irving made his only field goal against Michigan with 32 seconds left as he gave the Blue Devils a lead before the Wolverines' Darius Morris missed a game-tying runner at the buzzer.
Arizona's Derrick Williams blocked a potential game-tying bucket by Memphis in the final seconds.
Williams converted a three-point play with 9.6 seconds remaining to upset Texas after the Longhorns committed a five-second violation on an inbounds play.
Temple's Juan Fernandez nailed an off-balance 18-foot shot to beat Penn State in the second round after Talor Battle hit a game-tying 3-pointer with 12.2 seconds left.
In the Southwest:
Down by two to Louisville, Morehead State's Demonte Harper went for the win and got it with a 3-pointer with 4.2 second left to beat the Cardinals in the second round.
VCU's Bradford Burgess converted a layup off an inbounds pass with 7.1 seconds left in overtime to knock off Florida State in the Sweet 16.
And in the Southeast:
Butler beat Old Dominion on a layup by Matt Howard at the buzzer.
Butler beat Pitt after Nasir Robinson fouled Howard on a rebound off a missed free-throw at the buzzer when the game was tied. Howard hits a free throw to win the third-round game.
And in the First Four:
UNC Asheville's Matt Dickey hit a 3-pointer with 10.5 seconds left that sent the game against Arkansas-Little Rock into overtime before Asheville won.
March, 24, 2011
3/24/11
4:25
PM ET
One of the indelible images from the first weekend of the 2011 NCAA tournament came after Butler's did-that-really-just-happen second-round win over the top-seeded
Pittsburgh Panthers
Saturday. The came courtesy of Pitt forward
Nasir Robinson
, and man, was it hard to watch.
Robinson, as you no doubt know, committed the inexplicable last-second loose-ball foul on Butler's
Matt Howard
. In a weekend full of the tournament's parallel joys and disappointments, the forward's postgame reaction -- slumped at his locker, towel over his head, weeping openly as he explained to reporters that he had "blamed himself" because he had played "this game too long to make a dumb mistake like that" -- was the most affecting reaction of them all.
Which is why, less than a week later, it's borderline profund to see Robinson handling the postgame furor so well. The forward took questions on Tuesday. He didn't make excuses for himself. He didn't question the referee's call. (I did, and would.) He didn't avoid the media altogether. Instead, Robinson agreed to a live radio interview Tuesday, followed by questions from
ESPN columnist Tim Keown, among others
:
On Tuesday he told me, "I can't blame the refs. They have a job to do. I put myself in that situation, and I knew the outcome of that." And while the rest of us were watching the scramble for Gilbert Brown's missed free throw with momentary confusion -- wait, was there a foul? -- Robinson wasn't confused at all. "I knew once I heard the ref blow his whistle what the call was going to be," he said. "I didn't have to look. I was just trying to make a play, and I knew as soon as the whistle blew what I had done."
Robinson
also discussed the play with Pittsburgh Post-Gazette writer Ron Cook
. The content of Robinson's responses didn't change: He took responsibility for the play ("I don't blame my teammates or the refs, I blame myself") and said he would use it as "motivation" for improvement in the offseason. He also told Cook that while some of the responses on his Facebook page were negative -- of course they were -- many were supportive, and a few even pointed out that Robinson's overall game (16 points, 7-of-9 from the field) was one of the best of his season. (Hooray for nice people on the Internet.)
More than anything, though, Robinson got to hear a rather important message from Cook himself, a message that someone like Cook -- who has written his Post-Gazette column since 1990 -- is perfectly qualified to deliver:
I asked Robinson what sort of reception he expects to get from the home crowd when he's introduced as a starter before the first game.

"I would think the same ovation we always get," he said.

I told him he was wrong.

Robinson looked at me with a horrified look.

I told him he would get a standing ovation. I told him Pittsburgh people appreciate athletes who don't make excuses or look to pass blame. I told him they know character in a kid when they see it.

Robinson grinned.

I'm thinking it was the first time he smiled in a few days.
Good for Cook, and good for Nasir Robinson. Yes, people will be talking about his mistake for years. Yes, he will always be the guy who fouled Matt Howard 85 feet from the rim with less than a second remaining. But Robinson -- who will be a senior next year -- still has time to add to his Panther legacy. In many ways, he already has.
February, 13, 2011
2/13/11
2:20
AM ET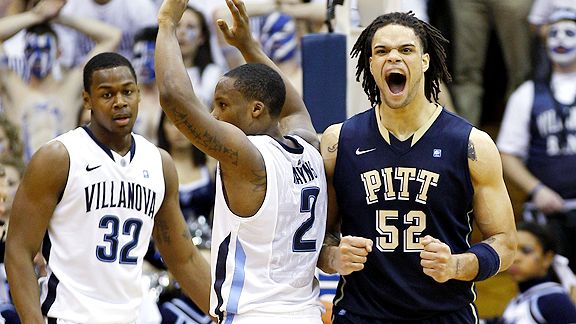 AP Photo/Matt SlocumGary McGhee and the Panthers won a hard-fought match against the Wildcats.
VILLANOVA, Pa. -- At first it looked harmless, like
Isaiah Armwood
actually was trying to pull
Mouphtaou Yarou
away from a potential fracas.
On replay, however, it was viewed otherwise. As Armwood, the Villanova sophomore, wrapped his arm around Yarou, he hit
Nasir Robinson
in the left eye.
"A cheap shot,'' Robinson called it.
A technical Jim Burr ruled it.
Another day at the office, Pittsburgh declared.
Pitt always has been the sort of team that prides itself on taking an opponent's best punch and responding. The Panthers typically mean that in the figurative sense.
Apparently they can take the literal body blows, too.
"He reached around Yarou and extended his arm,'' Robinson said. "It was definitely intentional, a cheap shot. But that sort of stuff happens every day in practice. We get bloody noses, black eyes, you name it. It doesn't matter. We just let the refs call it and keep playing.''
Handling friendly fire is one thing. Walking onto a campus 14 hours into its fevered pitch and handling a punch to the face in a heated game that featured three technicals, 43 fouls, and so many floor burns and loose-ball dives that you were waiting for the coaches to call for their cut men, is another.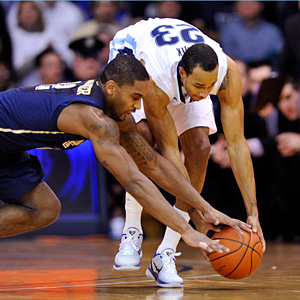 Brad Wanamaker (left) and James Bell combined for 8 personal fouls. Brad Wanamaker (left) and James Bell combined for a total of 8 personal fouls.
Yet Pitt absorbed the hits and kept on coming, not only keeping its composure but running on a post-punch 15-4 streak that ultimately proved the difference in a
57-54
victory against Villanova.
The Panthers, who halted the Wildcats' 46-game win streak at the on-campus Pavilion, now stand atop the sequoia of conference perches, 11-1 in the Big East.
Which will mean what, exactly, on Monday?
Not likely a spot atop the rankings.
When the conversation tracks to who ranks among the nation's best -- a conversation sure to take on a rowdier tenor after Ohio State's loss at Wisconsin -- it rarely loops around to the Panthers.
Most everyone agrees that the Big East is the best conference in the country and no one will argue that the Panthers aren't the best in the Big East.
But in 14 weeks of poll voting, the best team from the best league has yet to receive a single vote.
"I think it's time for us to be in the conversation among the elite,''
Brad Wanamaker
said. "But really, we want to be in the conversation among the elite at the end of the season, not now. When they start talking about the national championship, that's when we want to be talked about.''
Ah, but therein lies the chronic rub with the Panthers, the dirty little secret that maybe has kept voters from casting their ballots in Pitt's favor.
The Panthers have won at least 10 conference games in each of the past 10 seasons and have won 211 games since Jamie Dixon took over as head coach for the 2003-2004 season -- the fifth-most among Division I teams.
For all of that success, Pitt has no Final Fours appearances during that time. The Panthers were tantalizingly close two seasons ago, making it to the Elite Eight before Nova's Scottie Reynolds quashed the Panthers' dream in one coast-to-coast dash.
Other than that, it has been during the Sweet 16 or earlier rounds that Pitt leaves the party.
And so fairly or not, the Panthers have been labeled a team built to withstand the rigors of the Big East but not necessarily built to win it all.
This team, though, might be different.
"This is as tough and as good a team as they've had,'' Villanova coach Jay Wright said.
Pitt seems to have a knack for losing key players at critical times. Mike Cook, Levance Fields, Jermaine Dixon are among the who's who to have missed stretches during their careers.
Now the Panthers can add
Ashton Gibbs
to the list. The junior, and most improved Big East player a year ago, is sidelined with an MCL injury in his left knee. He sat nattily dressed in a suit on the bench while his teammates played a game that was more akin to a brawl.
In the past, the Panthers sort of looked to survive without their star, finding a way to piecemeal their way to enough success while their injured player mended.
This time Dixon sent a much simpler message: relax.
"We've emphasized that since day one, that there's no need to do anything differently,'' Dixon said. "We've practiced without him, played without him. We don't have to make it more than it is.''
Echoed Wanamaker, "We were confident. We knew without Ashton somebody would have to step up but that didn't meant someone had to fill Ashton's shoes. We just had to go play our game.''
And in arguably two of the toughest environments they'll face this year -- at backyard brawl rival West Virginia and at "College GameDay" juiced Villanova -- the Panthers did exactly that.
This game was ugly, brutal and mean, just the way Pitt likes it. At times, the fans were crazy that the officials were blowing the whistle too much and others, angry that they were letting too much go.
When Robinson all but tackled
Corey Fisher
on a fast break, the play itself resulted merely in a foul call. It was the jawing after that earned the pair a double technical.
That's sort of how it went all night, with bodies flying and shots not falling, a thing of beauty to those who prefer their basketball served with a side of hand-to-hand combat.
Not until the final minutes did there seem to be any fluidity, and naturally when it arrived, it came from the most nonsensical of sources.
In a game where the two teams would combine to shoot 4-of-25 from beyond the arc, a guy who took five 3-pointers all season drained one like it was nothing.
Antonio Pena
's 3 with under a minute got the Wildcats within three and after Pena stripped Wanamaker, Villanova -- burned by Rutgers on a 4-point play at the buzzer a game ago -- had a chance to at least force overtime.
Dominic Cheek
missed a 3 from the baseline but
Maurice Sutton
corralled the rebound and passed it out to
Maalik Wayns
. Falling and eventually landing on his backside, Wayns drained the 3.
But it came a split second after Jim Burr already ruled the shot was after the buzzer. The game was over.
"We made too many mistakes in the second half,'' Wright said. "I just think they were just physically older and tougher than us. It seemed like every time there was a loose ball in this game, we'd both get a hand on it but in the end, they'd end up ripping it out of ours.''
Not just absorbing the punch, but delivering the knockout.
January, 18, 2011
1/18/11
12:35
AM ET
By
Dana O'Neil, ESPN.com
| ESPN.com
PITTSBURGH -- The Legendary Blue Horizon, home to some of boxing's richest history, sits just a few blocks north on Broad Street from
Brad Wanamaker
's Roman Catholic high school.
So when the Philadelphia native was looking for a way to explain the Big East, and, better yet, to explain who wins the Big East, Wanamaker went with an analogy he and his Brotherly Love natives know well.
"In this conference, it's not just about throwing the first punch,'' the Pittsburgh senior said. "It's about how you respond. You survive in this league. Survival of the fittest.''
You remember Pittsburgh, right? The team picked to win the Big East in the preseason? The one on most everyone's Final Four short list back in October?
The one that promptly fell off the radar after an inexplicable loss to a Tennessee team that used said victory to go on a losing rampage and further discredit Pitt for the loss?
[+] Enlarge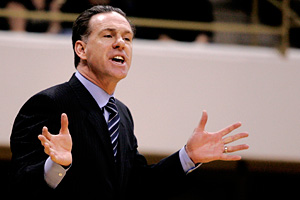 Justin K. Aller/Getty ImagesJamie Dixon directed his Panthers to an early 19-0 lead against No. 3 Syracuse.
Yes, well, the Panthers would like to offer a little bit of a memory jolt: they didn't go anywhere.
And as the Big East gets churning into the meat of things, Pittsburgh has three things going for it: the Panthers are healthy, they are deep and they are talented, a simple formula that works like a Molotov cocktail in this Darwinian league.
With its
74-66 win
over a depleted Syracuse team (the Orange were without leading scorer
Kris Joseph
, and going into the Oakland Zoo without your leading scorer is like going to Las Vegas with an empty wallet), Pittsburgh is 6-0 in the Big East for the first time in school history.
"Since the Tennessee game … we've been on a mission to just prove to everybody and ourselves what type of team we are and what we're capable of,''
Gilbert Brown
said. "I don't think people necessarily forgot about us. They may have doubted us a little bit.''
But the Panthers are out to do more than silence their critics. For all the success Pittsburgh has enjoyed over the past 10 years -- nine consecutive NCAA tournament appearances, a 263-66 record in the Big East, nine 20-win seasons in a row -- there is one glaring hole in the Panthers' résumé .
Pitt has yet to cross the threshold to the Final Four Promised Land. The Panthers have been close -- a Scottie Reynolds coast-to-coast buzzer-beater close -- but they have yet to achieve the ultimate basketball measuring stick.
Is this team capable of doing it?
Dixon won't bite on that, but he does offer this assessment, one that ought to frighten opponents:
"We're improving,'' he said. "We're getting tougher. Confidence is part of toughness and we're gaining confidence.''
This game will only serve to up the needle on the confidence meter.
Pittsburgh dropped a hoops haymaker on the Orange to start, rolling to a stunning 19-0 lead in the first seven minutes.
That can happen against, say, DePaul.
It doesn't happen against the No. 3 team in the country, a team without a loss on its schedule.
[+] Enlarge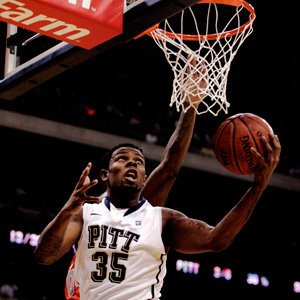 Justin K. Aller/Getty ImagesNasir Robinson scored eight of Pitt's first nine points and finished with 21 points in a win against previously unbeaten Syracuse.
Of course neither does what happened next: Syracuse, which missed its first 10 shots, sank its next five and peeled off a 17-0 run of its own.
A goose egg for one team followed by a goose egg for the other? Go figure.
"We just did not do anything well at the beginning,'' Jim Boeheim said. "We regrouped. I thought we played well the rest of the first half once we got over that start. We made as good a comeback as you're probably going to make.''
Indeed the Orange leave Pittsburgh with little to hang their heads about. This is the place where top-5 teams come to die -- Pitt is 9-0 against top-5 opponents since the Zoo opened nine years ago -- and Syracuse would have been hard pressed even if it could have had Carmelo Anthony in uniform.
Relying on freshmen
C.J. Fair
(16) and
James Southerland
(8) to make up for Joseph's points and experience will only help the Orange in the long run.
But like Wanamaker said, it's not about throwing the first punch.
It's about withstanding all of them.
The Panthers picked and prodded the Syracuse zone, letting
Nasir Robinson
destroy it from the inside out. He put himself in the heart of the zone, taking feeds from up top and then either passing back to his shooters or scoring himself.
Robinson finished with 21.
"Coach preached to me all week to get catches in the middle so that we could work out of that to our perimeter shooters,'' said Robinson, who helped the Panthers shoot 40 percent from beyond the arc against a team that ranks in the top 10 in 3-point defense. "The key thing in zones is getting inside touches.''
The only real disappointment in this game is that the two teams won't meet again in the regular season with, presumably, Joseph in the lineup.
The unbalanced Big East schedule doesn't offer up a rematch at the Carrier Dome.
If these two heavyweights are to meet again, it will have to be in New York, during the Big East tournament.
"I'd love to play them again,'' Wanamaker said. "They're a great team and playing at their place is like playing here. I'm sure people probably will say this has an asterisk because he didn't play. Let them put an asterisk next to it. We don't care. We're used to people doubting us.''
Sounds like a fighter.
January, 17, 2011
1/17/11
10:05
PM ET
By
Dana O'Neil, ESPN.com
| ESPN.com
PITTSBURGH -- Remember Pittsburgh? The team picked to win the Big East?
Yes, rumors of the Panthers' death were slightly premature.
Somewhat forgotten behind a red-hot Syracuse team and thanks to a bizarre train wreck of a loss to Tennessee, Pitt reasserted its preseason expectations with a
74-66 win
against Syracuse.


The win, however, comes with a caveat: No
Kris Joseph
for the Orange. The leading scorer stayed back home after a frightening fall on his head during the Cincinnati game this past Saturday.
The bad news: These two teams won't meet again in the regular season thanks to the stilted Big East scheduling.
The good news: There's always the Big East tournament.
What it means for Syracuse:
The Orange drop out of the select company of undefeated teams, leaving Kansas, San Diego State and Ohio State to forge ahead without them. Other than that? This isn't exactly a killer. There is little shame in losing at Pittsburgh. Period. There is even less shame in losing at the Oakland Zoo when your leading scorer is sitting back in New York, nursing a head injury and you once trailed by 19. The only real thing the Orange can't afford to do is spend too much time wallowing in disappointment, not with Villanova coming to town on Saturday.
What it means for Pittsburgh:
That whole preseason favorite thing? Yeah, that's back on the table. The Panthers now stand alone atop the Big East standings, the only conference team without a blemish. They are 6-0 in the Big East for the first time in their history. Pitt's very un-Pitt-like loss to Tennessee remains the lone blemish on its record and the Panthers frankly have a decent schedule in front of them. Aside from a home and away with Villanova and a game at West Virginia, the Panthers will easily be favored in the rest of their games.
Game ball goes to… Nasir Robinson:
The junior scored eight of Pitt's first nine points to spearhead the Panthers' crazy 19-0 start, and finished with 21 points. He was lethal cutting through the Syracuse zone, scoring at the rim and dishing when the Orange sagged on him.
Not so Fab:
Freshman
Fab Melo
started the game for the Orange, proceeded to get burned on two defensive plays and took an ill-thought jumper. Two minutes into the game, he went to the bench. He never came back. That's what Jim Boeheim likes to call a teaching moment.
OK, your turn:
In what had to be the most bizarre first half of basketball played this season, Pitt opened the game on a 19-0 run. Syracuse erased that with a 17-0 dash. The Panthers responded with seven unanswered and then the Orange matched that with a 7-0 run of their own. Not until the final minute, when the play-by-play read
Lamar Patterson
jumper,
James Southerland
3-pointer,
Ashton Gibbs
3-pointer did the two teams actually trade a succession of buckets.
Maybe it's a Big East thing. Over the weekend, Providence blew a 17-point lead to South Florida and Marquette gave up an 18-point advantage against Louisville.
The difference? The Friars and the Golden Eagles both lost.
November, 8, 2010
11/08/10
11:33
PM ET
PITTSBURGH -- Pitt coach Jamie Dixon and his staff were analyzing the game tape, rewinding missed layups, failed 3-point closeouts, and looking for warts to clean up.
The Steelers were playing the Bengals on Monday Night Football and while the rest of the city's sports fans had probably moved on to the hometown football team, the coaching staff was stuck pausing the Panthers'
83-75
season-opening win over Rhode Island.
And there is a reason Dixon was in midseason postgame form. The Panthers are the Big East favorite, a Final Four contender and got pushed to its final few possessions against a fringe Atlantic 10 contender.
[+] Enlarge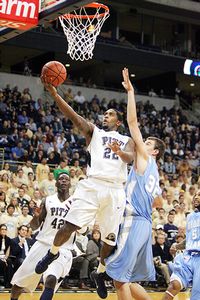 Charles LeClaire/US PresswireBrad Wanamaker led No. 4 Pitt with 24 points in a season-opening victory over Rhode Island.
Dixon did discuss how few teams would open with such a high-quality opponent and the reality is this game was just what he needed for his team on Nov. 8. Sure, there are other quality openers Friday like Syracuse hosting Northern Iowa, Georgetown going to Old Dominion and Seton Hall playing at Temple. But in tournaments like the 2K Sports Classic benefiting Coaches vs. Cancer, there are few first-round games as difficult as playing a pressing team like the Rams.
"There's a reason why teams don't want to play them, especially on Nov. 8, because of how well they play and how well they're coached,'' Dixon said. "It was a good win, a quality win.''
What Dixon discovered about his Panthers is that he has three quality closers in seniors
Gilbert Brown
and
Brad Wanamaker
and junior
Ashton Gibbs
. Gibbs and Wanamaker scored seven of the nine points in a 9-0 run that turned an eight-point deficit into a one-point lead heading into halftime.
Wanamaker got to the free throw line and converted on multiple trips in the final three minutes, as did Brown and Gibbs to close out the pesky Rams. Wanamaker finished with 24 points, Gibbs 22 and Brown 10, the only three players in double figures for the Panthers, something that will likely be common all season. The Final Four contender two seasons ago was interior-based with DeJuan Blair and Sam Young. This squad will be guard-oriented.
"We're always up for a challenge,'' Gibbs said. "That's what coach expects of us. Those are the type of players we recruit. We all need to keep taking on those challenges and playing hard and executing. It doesn't matter what we're ranked. We need to come out every game hungry.''
The Panthers were playing shorthanded with starting forward
Nasir Robinson
out with a right knee injury following a meniscus tear. Robinson said earlier Monday that he was hopeful he could return for the game against Maryland on Nov. 18 at Madison Square Garden. But that might be wishful thinking since he hasn't practiced yet.
In his place, Dixon discovered that he has a hidden gem in redshirt freshman
Talib Zanna
, who started for Robinson. Zanna was efficient in scoring nine points and grabbing 11 boards in 20 minutes.
"I came out and did what I do best, grabbed some rebounds for my team," Zanna said.
The more-heralded
Dante Taylor
was in foul trouble (three in 12 minutes) and
Gary McGhee
couldn't convert some putbacks and wasn't as much of a factor with four points and six boards. If the Panthers are going to be a serious player for a Final Four berth, then the post must develop prior to the Big East.
Dixon and the players agreed that this game felt more like February than November. The intensity and atmosphere at times rivaled a game from the middle of the season. As expected this early, the quality of play wasn't great and that's why Dixon and the staff were watching the game tape just minutes after the final buzzer. The Panthers don't have time to be idle, playing Illinois-Chicago in game No. 2 of the CVC on Wednesday before a game against North Florida on Saturday. Then it's off to New York for Maryland and either Texas or Illinois.
The heart of the Panthers' nonconference strength of schedule will include Rhode Island, the two games in New York and then Tennessee in the SEC/Big East Invitational in the new Consol Energy Center in downtown Pittsburgh. The Vols lost an exhibition game Monday night to Division II University of Indianapolis. Pitt better hope that Tennessee cures its preseason ills so that game will matter for power-rating purposes and a possible No. 1 seed come March, especially since the only nonconference road trip is to MSG.
But for now, Dixon and his group of players will breathe easy after avoiding an opening upset.
"We played a very good team, a team that presses two-and-a-half weeks into the season,'' Dixon said. "We took on the challenge and it'll be a quality win later on in the season.''
December, 9, 2009
12/09/09
1:45
AM ET
NEW YORK -- The team won't come right out and say it, but it's hard to dispute the notion that Indiana would have no chance to beat No. 4 Kentucky on Saturday if the Hoosiers had not beaten Pitt on Tuesday night.
The Hoosiers still are looking at a monumental challenge Saturday at Assembly Hall in Bloomington. But to pull off a major upset in UK's first true road game of the season, the Hoosiers had to enter the game with some sort of confidence.
They have plenty now after
holding off the Panthers 74-64
in the nightcap of the Jimmy V Classic at Madison Square Garden.
[+] Enlarge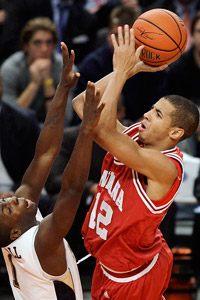 AP Photo/Julie JacobsonVerdell Jones III led the Hoosiers with 20 points Tuesday night.
The young Hoosiers whiffed on all three games in the Puerto Rico Tip-Off Classic, including losses to Boston University of the America East and a George Mason team that is currently 4-5. The other loss was to a likely NCAA tournament team in Ole Miss, and falling to Maryland at home in the Big Ten/ACC Challenge wasn't a confidence killer, either. But the Hoosiers had to beat someone from a power six conference before Kentucky comes calling this weekend.
"Oh man, we were begging for it,'' IU point guard
Jeremiah Rivers
said. "We've been working so hard to get a win. We needed this win so badly. We needed it for our confidence, for our sanity.''
Indiana coach Tom Crean looked like he was running for the Senate after the game, shaking hands with the Hoosier fans, who were clearly louder than their Pitt counterparts at MSG. He brought in his fellow politician/brother-in-law Jim Harbaugh. The Stanford football coach delivered, according to Crean, an unbelievable halftime speech that had the Hoosiers as energized for a half as they've been this season.
Crean even said No. 2 Kentucky was calling Saturday. It's actually No. 4.
"I lied, but by Friday night, they may be No. 1,'' Crean said. "They're the real deal; as much talent on the floor as anybody we'll see.''
Crean said Saturday's game against the Wildcats isn't the Hoosiers' season. And it's not. No one expects the game to be close, let alone a win. What Crean needs to see from this crew -- what he saw Tuesday from
Verdell Jones III
(7-of-13 for 20 points),
Christian Watford
(18 points) and Rivers (a solid floor game) -- is progress.
The Hoosiers defended the Panthers well as
Nasir Robinson
went 0-for-7 inside and Pitt shot just 32.3 percent for the game.
As for Rivers, who was nursing a pinched nerve in his back, Crean isn't concerned about him hanging with Kentucky point guard
John Wall
.
"If he's healthy, he'll do fine,'' Crean said. "Jeremiah is one of the fastest guys in the country. But you're not guarding John Wall with one person. You need team defense, transition defense and it has to be as good as it has been. We're going to have to have a Michigan State times two effort on Saturday.''
Rivers said he'll be ready to play Saturday and that he and Wall will be going up and down the court in a "track meet" since they're both "speedy and athletic.''
What the Hoosiers need more than anything, though, is a rocking Assembly Hall. Crean said he expects it to be as loud as it has ever been.
* Pitt's
Ashton Gibbs
took 25 shots to score 25 points.
Jermaine Dixon
, the only starter back from last year's Elite Eight team, played in his first game of the season after sitting out with a broken foot that was surgically repaired twice in the offseason. Dixon was limited to 13 minutes and missed both shots he attempted.
Gilbert Brown
, who should be a solid scorer for the Panthers, will return from academic suspension on Dec. 19. Pitt coach Jamie Dixon said Brown hasn't been able to practice during his academic suspension. Clearly, though, the Panthers will be better once Brown and Dixon are at full strength.
Pitt now has three straight home games against Kent State, Mount Saint Mary's and Ohio before opening Big East play against DePaul on Dec. 28.
"I think we're going to be good,'' Gibbs said. "Gil can knock down shots. Jermaine is a great penetrator and playmaker for this team. If we start to defend and get stops, the offense will come.''
Still, the Panthers will have to get more inside, something that was a given for them in previous years with DeJuan Blair. Robinson and
Gary McGhee
combined to shoot 10 percent (1-of-10). Freshman
Dante Taylor
came off the bench and was 4-of-4.