College Basketball Nation:

Nate Bendall
January, 28, 2011
1/28/11
1:47
AM ET
By
Diamond Leung
| ESPN.com
SAN JOSE, Calif. -- BYU is the talk of the nation, but have you heard? There's another team in the state that's making some noise.
It's Utah State that has the nation's third-longest active winning streak, and the Aggies stretched that to 14 games after handling their business in an
84-65 win
at San Jose State on Thursday.
Peaking once again during WAC play, the 19-2 Aggies are ranked No. 25 and don't really mind that BYU is the team leading the local newscasts and overshadowing some of their success.
"I feel like it has, but that's fine," said Utah State forward
Tai Wesley
, who has been following what he calls the Jimmer Show. "We don't care about attention. We care about wins."
[+] Enlarge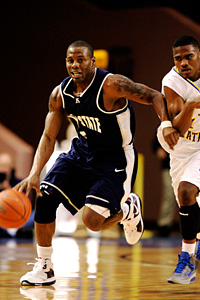 Phil Carter/US PRESSWIREBrockeith Pane and Utah State improved to a perfect 8-0 in the WAC with a win over San Jose State.
The only two teams Utah State has lost to this season? BYU and Georgetown, both ranked teams that got to play the Aggies at home. They haven't lost since the Hoyas blew them out on Dec. 4, but have improved during the latest streak.
The last time the defending regular-season WAC champs played San Jose State -- and won by nine on New Years' Eve -- coach Stew Morrill blew his top in the halftime locker room speech.
"He went nuts," Wesley said. "He was kicking over stools, spitting and yelling. I don't know how many episodes like that he has left."
Said Morrill: "We're really a team that has to defend and play hard. I didn't think our energy level was up. I have a hard time when my teams don't play hard."
The Aggies have won all but one of their games since then by double digits, and by beating San Jose State, which was without injured point guard
Justin Graham
, they've now won 22 straight WAC games and 34 of their past 36 regular-season games.
Wesley, the WAC's preseason player of the year as voted on by the league's coaches, has been dominant down low with his .608 field-goal percentage.
Nate Bendall
has played through foot pain to bolster the frontcourt along with
Brady Jardine
, who is tied as the team leader in rebounds with Wesley.
The player that gives Utah State an extra boost in athleticism is point guard
Brockeith Pane
, a junior college transfer who played his freshman season at Houston.
"We got to earn people's respect," said Pane, who scored 13 points against San Jose State. "If we continue to bring it, the sky's the limit."
Brian Green
came off the bench to score a career-high 25 points, hitting all five of his 3-point attempts, but don't expect many Jimmer-like single-game numbers for a program known for its methodical play.
The Aggies do have experience with winning and are showing it right now.
"We got a lot of seniors and leadership," Wesley said. "Each game we're getting better."
January, 4, 2011
1/04/11
9:21
PM ET
By
Diamond Leung
| ESPN.com
Utah State is 13-2 and undefeated in the WAC, but coach Stew Morrill is not a happy camper right now. During Friday's 80-71 win at home against San Jose State, Morrill ripped into his team at halftime and then again to reporters after the game.
The halftime session that involved a lot of yelling and kicking things, according to forward
Tai Wesley
, was necessary in Morrill's mind.
From the
Deseret News
:
"It would be a crying shame if I acted like a complete idiot in here and they didn't respond," Morrill said. "I shouldn't have to do that."

The ugly performance by the Aggies reaffirms what Morrill has been trying to say all season, that the Aggies are not yet the dominant team that fans want them to be.

"Someone is going to believe me when I say we are not a good team," Morrill said. "We are a very average WAC team right now. We better get better or else we will finish in the middle of the WAC or lower."
The thing is, even if Utah State is average this season, the Aggies are likely still the best of the average teams in the conference.
Injury-plagued New Mexico State, last year's conference tournament champ, announced Tuesday that top rebounder and consistent double-double threat
Wendell McKines
would redshirt the season following preseason surgery on a broken foot.
Boise State has already beaten New Mexico State, and Fresno State is 2-0 as well. But with Hawaii and Nevada inexperience and San Jose State finding out that it will take more than
Adrian Oliver
's scoring to get them wins in the WAC, the path to another regular-season title appears to be clear for Utah State.
Wesley shoots 65.5 percent from the field,
Brian Green
shoots it well from beyond the arc,
Brockeith Pane
brings athleticism and
Pooh Williams
is a top on-ball defender.
Nate Bendall
is playing through chronic foot injuries.
Somehow, it seems Utah State will be a dangerous team like it usually is no matter how much the Aggies are currently struggling and drawing Morrill's ire.
November, 3, 2010
11/03/10
12:26
PM ET
By
Diamond Leung
| ESPN.com
Utah State forward
Nate Bendall
, a preseason all-WAC second team selection, has suffered a setback with a chronic foot injury and could very well struggle to get on the court this season to help the Aggies defend their conference title.
Bendall's right foot had kept him out of workouts, and after coming back to play in the team's intrasquad scrimmage, he was once again sidelined for the Aggies' exhibition game on Saturday.
According to
The Herald Journal
, that left coach Stew Morrill feeling doubtful about Bendall's availability this season.
"It's the same stuff," Morrill said. "He tried to go. He just can't go. He wakes up in the morning and can't walk. He's got chronic foot issues. ... We were probably fortunate to get him through last year. Whether or not he'll be able to play at all is hard to say. He's going to be out at least four weeks or more, and then we will go from there."
If the 6-foot-9 Bendall does play, the
Salt Lake Tribune
reports that he might have to play through a significant amount of pain. As the team's second-leading returning scorer and rebounder, Utah State certainly needs him.
But if he can't go, the Aggies will need more contributions out of their other forwards.
Morgan Grim
is eligible this season after transferring from Utah, and Morrill can also turn to
Matt Formisano
and
Brady Jardine
.
October, 19, 2010
10/19/10
1:42
PM ET
By
Diamond Leung
| ESPN.com
Utah State and New Mexico State, which the WAC coaches and media have picked to finish first and second in the conference coming off NCAA tournament appearances, are both dealing with injury concerns with their veteran big men.
New Mexico State forward
Wendell McKines
broke his foot during practice Saturday and is out indefinitely.
McKines averaged 10.7 points and 9.8 rebounds last season after he was ineligible for the first semester. He would have repeated as the conference's rebounding champ had he played enough games to qualify.
"That's a big blow for us being one of the two seniors and one of the leaders on the team both on and off the court," New Mexico State coach Marvin Menzies said of the team's second-leading returning scorer.
Utah State forward
Nate Bendall
also has a foot injury that has kept the senior out of workouts for the past two weeks and is expected to sideline him for at least another two weeks.
Bendall, the team's second-leading returning scorer and rebounder, averaged 10.3 points and 5.5 rebounds last season. He forms a formidable frontcourt with
Tai Wesley
, the coaches' pick for preseason player of the year.
March, 19, 2010
3/19/10
9:35
AM ET
SPOKANE -- Does Michigan State have another run in it? Can Purdue go far without
Robbie Hummel
? Does the nation's leading scorer, Houston's
Aubrey Coleman
, have enough points in him to shock Maryland and ACC Player of the Year
Greivis Vasquez
? Will Texas A&M slip because of poor free-throw shooting? Does Siena have another Cinderella win in it? Or is Utah State going to break through?
Those are a few of the many questions that will be settled in Spokane on Friday and Sunday.
SOUTH REGIONAL
No. 4 Purdue (27-5) vs. No. 13 Siena (27-6), 2:30 p.m.


Storyline:
Purdue looked like a title contender at one point, but the loss of star Robbie Hummel to a torn ACL has most thinking the Boilermakers won't go far. Siena is dangerous because it's done this before: It's posted first-round upsets the past two tournaments.
What to watch Boilermakers:
Will
E'Twaun Moore
and
JaJuan Johnson
, who combine for 31 points per game, give Purdue enough scoring, or will someone else step up? The other three starters combine for just over 14 points per game. Watch out of senior
Keaton Grant
, who scored in double figures in four of the past eight games.
What to watch Saints:
Four players average between 13.6 and 16.3 points per game, topped by
Alex Franklin
.
Ryan Rossiter
is the force inside (11.1 rebounds per game), while
Ronald Moore
is the distributor (7.8 assists per game, which leads the nation). On the downside: They don't consistently hit from 3-point range.
They said it:
"The only thing we can do to prove anybody wrong is to win basketball games," Purdue guard
Chris Kramer
said. "There's a quote that says losers make excuses and winners make it happen. So we just got to go out there and make it happen."
No. 5 Texas A&M (23-9) vs. No. 12 Utah State (27-7), 5 p.m.


Storyline:
Texas A&M can't shoot the 3 and struggles at the line, which are both Utah State strengths. Both teams play deliberately, which could mean a low-scoring game. Texas A&M might have noticed that a lot of folks are pegging it for an upset. One thing we know: The Aggies are going to win.
What to watch Texas A&M Aggies:
Donald Sloan
, a first-team All-Big 12 pick, averages 18.2 points per game. No other player averages in double figures, though though three average nine-plus points. The defense led the Big 12 in scoring (65.8 ppg). The Aggies have shot .475 from the field in their past four games. They are 30-0 under coach Mark Turgeon when they shoot at least 50 percent from the field.
What to watch Utah State Aggies:
Point guard
Jared Quayle
is where Utah State's precise offense starts. He averages 12.5 points, 4.2 assists and 6.3 rebounds per game.
Nate Bendall
and
Tai Wesley
are smart, capable post presences.
Brian Green
is the best 3-point shooter on a very good 3-point shooting team (42 percent).
The said it:
"They run a ton of sets, obviously, and run them very well," Turgeon said of Utah State's offense."They have counters to counters to counters. And you've got to pick and choose what you show and how much you show. I have a couple of my seniors and I say, 'Is this a lot?' and they say, 'Yeah, this is a lot, coach'."
MIDWEST REGIONAL
No. 5 Michigan State (24-8) vs. No. 12 New Mexico State (22-11), 7:20 p.m.


Storyline:
Did New Mexico State's leading scorer
Jahmar Young
tweak Michigan State's two-time first-team All-Big Ten point guard
Kalin Lucas
this week by replying, "Who?" when asked about Lucas. Absolutely. But Young clearly was making a statement that he -- and, by extension, his teammates -- aren't afraid of the Spartans.
What to watch for the Spartans:
Lucas leads four players who average in double figures.
Chris Allen
, suspended for the Big Ten tournament, is the Spartans best threat from 3-point range. The Spartans aren't big but
Raymar Morgan
,
Delvon Roe
sixth man
Draymond Green
are particularly good at grabbing offensive rebounds.
What to watch for the Aggies:
Young and fellow guard
Jonathan Gibson
combine for 38 points a game, but
Wendell McKines
,
Hamidu Rahman
and
Troy Gillenwater
are physical players who each averages in double-figures. The Aggies like to run-and-gun and try to force turnovers. They are 19-0 this season when they outshoot their opponents.
They said it:
"I watched him. He can play. Everyone can play. What am I supposed to do, bow down because of what they say? That's not going to happen, but it's no disrespect to him at all," said Young when told that Lucas has been offended by his comments.
No. 4 Maryland (23-8) vs. No. 13 Houston (19-15), 9:50 p.m.


Storyline:
It's ACC Player of the Year Greivis Vasquez (19.5 ppg) vs. the nation's leading scorer, Aubrey Coleman (26.0 ppg). Both teams are hot. The Cougars won four games in four days to win the Conference USA Title. Maryland won nine of 10 to finish the regular season.
What to watch for the Terrapins:
The Terrapins averaged 79 points per game, so it's obviously not just Vasquez, but the senior will have the ball in his hands if things are tight late. It's likely Maryland is eager to face a defense that allows foes to hit 46 percent of their shots.
What to watch for the Cougars:
The 6-4 Coleman will get his points, but the Cougars upset chances probably require more than a one-man show. Guard
Kelvin Lewis
, the conference tournament MVP, averages 15.3 points per game and he likely will spend plenty of time guarding Vasquez. He also shoots nearly 40 percent from 3-point range.
They said it:
"I'm not going to get caught up in trying to go back and forth with him. He's a great player in the ACC. And we know everybody is going against us because we are Conference USA," Coleman said of his matchup with Vasquez. "We don't have nothing to lose."
February, 18, 2010
2/18/10
2:06
AM ET
By
Diamond Leung
| ESPN.com
Utah State gained some separation from the rest of WAC after a
67-61 win
against Louisiana Tech.
Pooh Williams
scored all 15 of his points in the second half, as the Aggies (21-6) won their 11th straight game and 22nd straight home conference game.
And with Utah State up two with under a minute left, and Williams missing the front end of a one-and-one,
Nate Bendall
came up with the offensive rebound and three-point play.
Magnum Rolle
scored 15, and
Kyle Gibson
added 14 for Louisiana Tech, which turned in a great effort in a hostile environment at the Spectrum that included "
Shirtless Bill
" dressed up like Peter Pan.
But the Bulldogs (20-6) fell into a third-place tie with Nevada in the conference. Utah State leads by a game and a half over New Mexico State.
December, 22, 2009
12/22/09
2:15
PM ET
By
Diamond Leung
| ESPN.com
1. Utah State forward
Nate Bendall
notched career-highs of 18 points and five blocks in a win over Morehead State on Monday night despite having surgery on his mind. The procedure is believed to be minor, but involves addressing the elevated heart rate that the junior experienced last month. Bendall, of course, has some nerves about it, as he
told Jared Eborn of the Deseret News.
2. New Mexico State got an early Christmas present when forward
Wendell McKines
was declared academically eligible before Monday's game against Alcorn State. McKines led the conference in rebounding as a sophomore, but sat out the first 10 games of this season. He didn't get word that he had been cleared until after shootaround, but had eight points, eight rebounds and six assists in a 25-point win.
3. Nevada takes on a 10-1 BYU team in the
Las Vegas Classic
today, with the start time scheduled for about 45 minutes from now. The tipoff was changed to accommodate BYU fans who can maximize their time in Sin City by taking in hoops in the afternoon and also the Las Vegas Bowl later in the day, with the Cougars taking on Oregon State.
4. Hawaii hosts the inaugural
Diamond Head Classic
beginning today with four games. Tipping off in about 45 minutes are one-loss Saint Mary's and Northeastern. The tournament also features UNLV and USC. For a preview, take it away
Ryan Greene of the Las Vegas Sun.
5. Boise State guard
Westly Perryman
is scheduled to undergo surgery on both of his ankles and miss the rest of the season, reports
Nick Jezierny of the Idaho Statesman
.