College Basketball Nation:

Navy Midshipmen
October, 22, 2012
10/22/12
7:30
PM ET
By
ESPN.com staff
| ESPN.com
December, 9, 2011
12/09/11
5:00
AM ET
1. The Big East will have some pressing questions to decide in the coming weeks/months. Navy has put off the Big East for the immediate future, meaning the league might have to press the Naval Academy for a definitive answer so it can move forward. The Big East is still determined to get to 12 football-playing members and that will mean still pursuing other schools, possibly Temple, Memphis and East Carolina, according to sources. Air Force is out. If Navy ends up being gone too, then two of the three could come from the aforementioned list. If that occurs, then there is still hope that the Big East can improve its basketball by getting Temple and/or Memphis. The Big East lost three great programs in Pitt, Syracuse and West Virginia. It needs to add a program that could compete for the league title. Temple and Memphis have that potential. The rest of the schools don't.
2. The official decision from the NBA to keep the age limit the same, at 19 years old and one year out of high school, will likely gut Kentucky with the possible departure of
Anthony Davis
and
Michael Kidd-Gilchrist
(sophomore
Terrence Jones
is likely to go as well). But the Wildcats can absorb that kind of hit as they have the past two seasons. College basketball would have been strengthened by a two-year age limit, but it wasn't a high priority for the NBA or the players association. Still, there will be players who stick who aren't projected to do so like this season. All is not lost for college hoops. This is a hit to the college game, but in reporting on this topic for the past year I hardly found someone in the college game who believed the NBA would change the age limit even though they were hoping it would be increased.
3. The departure of the high-energy and erratic
Nurideen Lindsey
from St. John's is a hit on the court. Two weeks ago, he was the one St. John's player who continued to push toward the basket. He didn't always convert but he was active. But the Red Storm lost both games. And, according to a source, Lindsey was simply not a good fit for the team. Lindsey had a frustrating game against Kentucky, missing all three shots and fouling out with 5 turnovers. He had 6 turnovers in a loss at Detroit. In the long run, if Lindsey isn't clicking with Steve Lavin or Mike Dunlap, then it's best he move on to another destination. But what this departure and the ineligibility of key newcomers proves is that the rebuilding job in Queens will be a long-term project.
November, 17, 2011
11/17/11
3:34
PM ET
Want to see something awesome, something that reaffirms your love in college basketball -- not in the game itself, so much, but in what it means to its most dedicated fans? Of course you do.
Here's what you do: Type "youtube.com" into your web browser. Enter the search term "I believe that we will win." Click on the second video. Watch:
Yes, that's "I believe that we will win," the Utah State student section's pregame chant. I've seen it before, but never in such high video quality, not until the
tremendous MileHighMids passed it along on Twitter
. It's everything a basketball chant should be: Organized, direct, supportive, intimidating and not the least bit hokey. It's not cocky, either; when I hear "believe," I hear less expectation than faith. That's what sports fandom is. It's a form of faith.
To be honest, I think our English neighbors tend to outdo us when it comes to chants and songs; we yell "DE-FENSE," they sing "You'll Never Walk Alone." But I'm not sure I've heard a chant this good in the last five years. I'm all goosebumps. I could watch it 10 times. (Correction: I
have
watched it 10 times. I could watch it 10 more.)
Tipster Mids was curious: Is this chant spreading, "Zombie Nation"-like, across the country? Thus far, the YouTube evidence is slim. The majority of the videos on YouTube are of Utah State's student section; some are higher quality than others, but all of them are impressive. There are a
few clips of San Diego State's "The Show" student section organizing
the chant last year. There is
one clip of Harvard students doing the same
-- be sure to wait for the guy dancing at the :19 second mark. And New York Red Bulls fans -- come on you, Red Bulls! -- have given it a decided football flair. (It does sound soccer-y, doesn't it?)
Utah State has been doing this chant for years, so I assumed they invented it. Turns out, that's not the case.
According to a Dec. 6, 2003 story in the Washington Post
, the chant originated at a Navy football game, when Navy -- in one of their first promising seasons in decades -- was trailing No. 25-ranked Air Force 28-25 in the final minutes:
In October, the Midshipmen were in the last minutes of a 28-25 win over Air Force, then ranked No. 25. Navy hadn't beaten a ranked opponent in 18 years -- longer than some Mids had been alive. Yet some in the Brigade, which stands throughout every game, began jumping up and down at FedEx Field. "I," they chanted softly, then louder, "I believe . . ."

Sources say a group of Navy lacrosse players started the ruckus, though you can't be sure because urban legends are quickly springing up around Johnson's 7-4 team.

"I believe that," they yelled as more joined in. "I believe that we . . ." Until finally, the whole Brigade, more than 2,000 strong, was bounding up and down, screaming, "I believe that we will. ... I believe that we will win!"
Just when you think this chant can't possibly get any cooler, you go and learn something like this. It's been eight years in the making -- maybe longer, but
the first T-shirt sale reference at Navy came in 2003, too
-- but "I believe that we will win" finally seems to be entering the college basketball mainstream.
It may do so solely as a mid-major rallying cry: The
Mid Majority's Kyle Whelliston
added the words to his masthead this season to commemorate the start of a new, collectively driven era of coverage at the site. (Whelliston is on sabbatical, but his readers are attempting to travel to 800 games as a group,
and the early results have produced some fantastic writing
).
Or maybe "I believe that we will win" will really sweep the nation the way Zombie Nation once did, infecting student sections at schools both large and small. As much as fans from Navy or Utah State may want to preserve the unique nature of the chant -- and as much as the chant feels like it should be reserved for the underdog -- I ... I believe ... I believe that ... I believe that I wouldn't have any problem with that. Would you?
November, 10, 2011
11/10/11
5:00
AM ET
1. Former Penn State men's basketball coach, Nittany Lions' alumnus and current Navy coach Ed DeChellis echoed many when he called the charges of sexual abuse by former football defensive coordinator Jerry Sandusky "disgusting.'' DeChellis said Wednesday night after president Graham Spanier and legendary football coach Joe Paterno were fired by the board of trustees, "I don't think the board had a choice. They needed to start the healing process. I feel for Joe.'' DeChellis chose to leave Penn State after last season for the Naval Academy. DeChellis said that Navy had a chance of playing in the Carrier Classic in an undercard game Friday but the previous coach turned down the offer. DeChellis said he would love to get into the game in the future (and playing Air Force would make sense). But organizers did want to make sure one game worked, let alone doing a doubleheader.

2. Texas A&M coach Billy Kennedy said in a text message late Wednesday night that he's getting better in his ongoing fight with Parkinson's disease. Kennedy wasn't on the court for the Aggies' win over Liberty on Wednesday night, but he was around, and did visit with the players in the locker room. Kennedy said in a text message that he did watch the game, but he's not sure yet if he'll be strong enough to coach the Aggies next week in the 2K Sports Classic benefiting Coaches vs. Cancer in New York's Madison Square Garden. Kennedy has been on a medical leave since practice started last month. Steve Lavin, who was coming off prostate cancer surgery, returned to St. John's Wednesday night. The Red Storm and Aggies are in the 2K tournament next week with Arizona and Mississippi State.

3. Central Florida coach Donnie Jones had the Knights ranked a year ago after upsetting Florida in his first season. But by the time the Knights got to Conference USA, the slide started. And it hasn't stopped. The Knights are on the verge of possibly joining the Big East, but they better get their house in order first. Jones was suspended for three C-USA games and athletic director Keith Tribble resigned amid recruiting violations announced in football and men's basketball. This comes on the heels of UCF suspending five players for an exhibition game. Jones left Marshall for UCF because of the hidden gem label given to the Orlando school. But UCF can't make significant strides if it is embroiled with the NCAA or dealing with any other off-court issues. There has consistently been a failed attempt at consistency.
October, 20, 2011
10/20/11
3:29
PM ET
By
ESPN.com staff
| ESPN.com
Before we get to the Blue Ribbon team-by-team previews for the Patriot League, here is Eamonn Brennan's one-minute wind sprint through the league:
Blue Ribbon breakdowns of all eight teams in the Patriot:
American
Army

Bucknell
Colgate
Holy Cross
Lafayette
Lehigh
Navy

More Patriot League content
:
May, 23, 2011
5/23/11
7:21
PM ET
Bizarre, confusing, stunning. Those were just some of the words on the Twitter universe after news broke that Penn State's Ed DeChellis was leaving a Big Ten job for a middle-of-the-pack Patriot League job at a service academy.
Here's another good adjective to add to the mix: indicting.
DeChellis' decision to bolt State College for Navy, more than a few rungs lower on the coaching ladder of success, speaks volumes to the state of Penn State basketball. And the state of Dear Old State isn't a good one, at least not on the hardwood. Penn State just made the NCAA tournament for the first time in 10 years. This should be a time to capitalize and build.
Instead, the coach is leaving town.
Plenty will argue -- and not entirely inaccurately -- that DeChellis is merely getting ahead of the posse. He was in the second year of a three-year extension, parked on a seat that improved to only lukewarm thanks to a run to the Big Ten tourney title game and an NCAA berth. But
multiple sources
have said DeChellis would have been fired if the Nittany Lions hadn't made the NCAA tournament. So who's to say he wouldn't have been canned had the Nittany Lions struggled mightily -- as expected -- this upcoming season?
So, reportedly unable to get the assurances from the university administration that he was hoping for this season, DeChellis bolted. Bolted for a job that will result in a pay cut.
If there is an equivalent spin on the coaching carousel, I haven't thought of it. Why? Because it doesn't happen. Coaches don't voluntarily leave major conference jobs for low-major spots.
That DeChellis, a Penn State graduate, defied convention screams loud and clear as to just how bad things are at Penn State.
For years the basketball team has been a little sister of the poor stepchild to football, a winter afterthought given all the tending and care of a vegetable garden positioned in the middle of a nuclear field. Administrative support waffles between tepid applause and casual indifference.
[+] Enlarge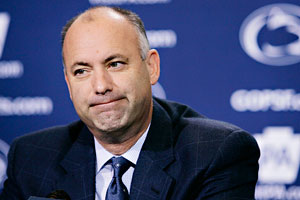 AP Photo/Carolyn KasterEd DeChellis is leaving Penn State after eight seasons and just one NCAA tournament berth.
The dirty little truth is, whether the team is good or bad, the university profits thanks to the hefty paycheck doled out by the Big Ten Network. And so the university pays little attention to and cares less about the program.
According to USA Today
, DeChellis made about $709,000 last season, by far the least among his Big Ten coaching brethren. This offseason, Matt Painter toyed with leaving Purdue for Missouri and almost everyone agreed Painter was woefully underpaid. Now, DeChellis is no Painter, but Painter made $1.29 million, a cool half-million more than his counterpart in Happy Valley.
The money, though, is merely the hard-number proof of the university's disinterest. There is plenty more anecdotal evidence.
Until DeChellis was hired, the Bryce Jordan Center sported little in the way of artwork or signage to signal it was the home of Penn State basketball, and only last season were the basketball staffs given significant office space.
Worse, this season the team was forced to move out of the Bryce Jordan Center and
practice in the nearby intramural building
, in a gym outfitted for volleyball and only retrofitted for basketball. This as the Nittany Lions were jockeying for position for an at-large bid. The reason? Bon Jovi needed the space for rehearsal, and the university was hosting a career fair.
With DeChellis' departure, the program stands at a critical crossroads. In two years, Penn State will bring Division I ice hockey to campus, giving the team a brand-new palace to play in, courtesy of an $88 million alumni donation. Thanks to the splashy coaching hire of Cael Sanderson, the wrestling team is officially on the national map, having just won a national championship.
That gives Penn State two viable winter sports commodities and more, two viable options for a fervent fan base of both students and alumni to donate its time to.
So what, then, of men's basketball?
If Penn State wants to change both the culture and the image of its basketball program, it has to show it cares. And it can do that by making the right hire.
By all accounts, DeChellis was a decent coach and a good man, but he also followed the pattern of recent PSU basketball hires (Bruce Parkhill to Jerry Dunn to DeChellis) -- decent coaches, good men, not a lot of pizzazz.
This job needs a man with oomph, someone who will literally jump on the cafeteria tables and pound on the dorm room doors to make students care. Someone who will win a living room and make a dent in the recruiting arms race.
That might mean taking a risk. A seasoned, high-profile coach isn't coming to State College. Especially not in late May. But a top-flight assistant or a young head coach will, and that -- not some other staid and safe elder statesman -- is what Penn State needs.
When DeChellis tendered his resignation, he also handed down an indictment on his alma mater.
Now it's up to Penn State to prove it's not guilty in the demise of its program.
October, 15, 2010
10/15/10
3:41
PM ET
By
ESPN.com staff
| ESPN.com
August, 2, 2010
8/02/10
5:20
PM ET
Former Duke guard Greg Paulus has been quite busy since he walked off the hardwood as a senior at Duke.
In 2009, sudden, unexpected interest from NFL teams got the former Parade All-American quarterback interested in football again; he parlayed that interest into a
relatively successful one-year stint as a quarterback
at Syracuse. After visiting the New Orleans Saints' camp this offseason, Paulus ended up leaving football behind.
What's next for the sport-crossing Bo Jackson of his Duke era? Professional baseball? A turn on the PGA Tour? OK, not so much: Paulus has been focusing his efforts on finding a college coaching gig, and it seems those efforts have paid off: The former guard was hired by Navy head coach Billy Lange to become an assistant at the Naval Academy.
Fox Sports' Jeff Goodman has the story
:
"I'm excited to get started and help out the team in any way I can," Paulus said. "This is a great opportunity for me to learn from a great coach in Coach Lange."

"I want to thank Coach K (Duke coach Mike Krzyzewski) and all he's done to help me," Paulus added. "I plan to utilize my experience at Duke and Syracuse to help me at Navy."
Paulus is merely the latest in Coach K's extensive coaching tree. Those coaches range from the successful (Mike Brey, Jeff Capel) to the less so (Quin Snyder) to those on which the jury is still out (Tommy Amaker, Johnny Dawkins). It will be interesting to see which path Paulus' career takes; either way, it would be surprising if Paulus didn't advance up the coaching tree in the years to come.
February, 18, 2010
2/18/10
11:24
AM ET
There is something about
Jimmer Fredette
that must like getting out of Utah -- either that or he feeds off of opposing crowds. Fredette scored 36 points in BYU's
92-70 win
at Colorado State. It was Fredette's third 35-plus point game this season, tied with Seton Hall's
Jeremy Hazell
for most in the nation. At 26.3 points per game in road games (compared to just 17.8 at home), Fredette is the nation's top scorer on the road.
To say that Xavier won the battle of the boards against St. Joe's would not do it justice. The Musketeers held a 53 to 17 rebounding edge over the Hawks. The plus-36 edge was the largest in school history. In 17 minutes,
Kenny Frease
came off the bench to grab nine rebounds, equaling the total of the entire opposing starting lineup. Xavier had more offensive rebounds (18) than St. Joe's had total rebounds. Perhaps most embarrassing of all, Xavier's 53 rebounds eclipsed St. Joe's point total of 52. Not surprisingly, the Hawks are tied (with 1-26 Alcorn State!) for the sixth-worst rebounding percentage in the nation.
Samardo Samuels
scored a career-high 36 points in
Louisville's double-OT win
over a
Luke Harangody
-less Notre Dame team. It's the most points for a Cardinal since Reece Gaines had 37 in 2002. Samuels is just the second player this season with 10-plus field goals and 15-plus free throws in a game, joining Nicholls State's
Anatoly Bose
. Perhaps the most overlooked improvement that Samuels has made this season is staying out of foul trouble. He logged 45 minutes Wednesday while committing only three fouls. Last season, Samuels had four or more fouls 14 times. This season, that is down to only four instances, despite logging almost four more minutes per game.
After
beating Holy Cross 83-30
, Navy has won four of its last five and sits in a tie for second in the Patriot League. A big reason has been the improved play of point guard
O.J. Avworo
, who finished with 14 points and 13 assists on Wednesday. Avworo, who started his college career at Idaho, has reached double-digit assists in each of the last four wins for the Midshipmen. In conference play, he is putting up 7.1 APG, second in the nation behind Illinois'
Demetri McCamey
.
On paper, Wednesday appeared to be a pretty good matchup for Iowa State's 6'10" center
Craig Brackins
. Oklahoma State features only one player over 6'7" and ranks 330th in the nation in average height according to KenPom.com. However, the Cowboys came out physical and Brackins connected on just three of 17 shots. Over the last three games, the Cyclones' leading scorer is shooting just 26.9 percent. On the season, Brackins is shooting just 37.9 percent in the Cyclones' 13 losses.