College Basketball Nation:

NBA age limit
May, 10, 2012
5/10/12
6:20
PM ET
Did Steve Kerr just spark serious progress on the NBA minimum age requirement? It certainly appears that way.
On Tuesday,
Grantland published Kerr's essay
on the reasons why a change to the NBA's current rule, which has spawned the current one-and-done environment everyone knows and hates, would be beneficial to the league and its players. As a 15-year former NBA veteran, Kerr blended experience and common sense into a borderline unimpeachable argument.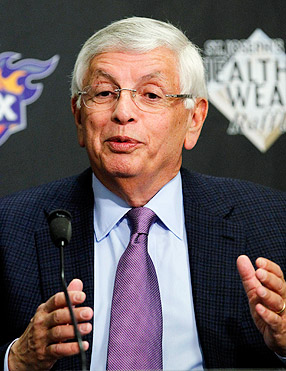 AP Photo/Ross D. FranklinA rule-change on age limits by David Stern and the NBA could have positive trickle-down effects on the entire basketball culture.
His point: All that really matters is whether the NBA and its players can agree on why an extra year in college would be good for the entire business. The arguments about fairness and freedom to pursue a career and why it isn't Eddy Curry's fault if a GM drafts him No. 4 overall don't apply, not when we're talking about business. Even better? A rule change in the NBA could have positive trickle-down effects on the entire basketball culture, from high school to AAU to the collegiate level. It could be good for
everybody
, not just the NBA's bottom line.
That's my hope, anyway
.
Which is why
Andy Katz's Thursday afternoon report
is so potentially exciting. Two days after Kerr published his essay -- and more than a month after NBA commissioner David Stern weighed in on the issue after the Final Four -- the National Basketball Players Association at least publicly addressed the issue. From Andy:
"The NBPA's position on the age limit has been consistent,'' said NBAPA spokesperson Dan Wasserman after consulting with NBAPA director Billy Hunter on Thursday. "An overwhelming majority of the NBPA's members support the ability of potential NBA players to freely pursue their livelihood by allowing high school graduate age players to apply for the draft. As a practical matter we recognize that any change to the current rule must sufficiently balance both the league's and players' interests.''

[...]

The NBAPA wants the owners to give rookies a quicker path to free agency if they stay in school longer. The NBAPA wants the players to have more money up front as rookies if they have stayed in school longer.

"In our view, an increase in the age limitation benefits the teams and owners in a variety of ways,'' Wasserman said. "These benefits include a reduction in compensation paid to some of the league's best players over the course of their careers. Although we are always willing to discuss any topic with the NBA, it will be difficult to make any progress in this area if the league seeks unilateral concessions from the players."
Last winter, many expected the one-and-done rule to be a hot topic during the collective bargaining discussions. At the very least, it was a chip -- something the NBPA could (theoretically) have used to extract a different demand from NBA owners.
As it turned out, last winter might have been the worst possible time to expect this sort of change. Both sides spent months fruitlessly bickering about the basic fundamentals of their agreement; the NBA owners were after far more than a one-year bump in the minimum NBA draft age requirement. The whole environment was poisoned. By the time the sides announced their agreement, discussion of the age limit was nowhere to be found.
As Wasserman's quotes show, the tone between the two sides is at least slightly less poisonous now. And believe it or not, there might even be cause for hope. At the very least, the NBPA is acknowledging the discussion. They are providing some sort of outline for an agreement. And their demands are reasonable: If the NBA wants its incoming players to spend not one, but two years out of high school not playing in the league -- whether in the lowly D-League, on a European club, or most often, on a college campus -- the league should be willing to give those players the benefit of fewer years on their free agency clocks. Based on the current rookie wage scale (which could be subject to some scrutiny in any age limit negotiations) that seems fair.
There are other concerns, like hardship and medical loans,
which Kentucky coach John Calipari has evangelized repeatedly in recent months
. But they, too, seem reasonable. Besides, as Calipari is quick to point out, we are really talking about 15 to 20 players per season. Most college basketball players are not going pro in basketball, let alone after one season. It's a minority group, and that makes the logistics much easier.
In any case, at least we're talking about this -- and not in vague and whiny terms, but in tangible and reasonable ones. Maybe it doesn't mean much, but I'm choosing to be hopeful. Part of it is selfish: I want college basketball to be better, and more good players on campuses for two years means better college basketball. But as a fan of the college game, and the NBA, and pickup basketball, and local high school games and
you-name-it-as-long-as-it's-hoops-I'm-watching
, I do think there are legitimate, unselfish reasons to get behind this idea.
The NBA will have to give the players something, and the players will have to respond in kind. What are the chances of that? I don't know. But maybe, just maybe, the right people have finally been persuaded.
Steve Kerr, take a bow. The rest of us will be crossing our fingers.
May, 8, 2012
5/08/12
2:30
PM ET
The age limit feels like a topic immune to new, fresh perspectives. Writing on
Grantland
today, Steve Kerr -- whose post-column bio might be my favorite of all-time -- proves that notion a fallacy.
[+] Enlarge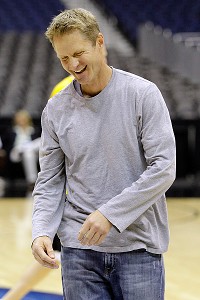 AP Photo/Tony GutierrezFormer NBA player Steve Kerr says the AAU culture is having a negative impact on the development of young players.
Kerr's essay on the potential benefits of a 20-year-old age limit
is clear, reasonable and well-argued, and the benefits Kerr lists (not only for the NBA itself, but for future pro prospects) are legitimate. My favorite passage is one we probably don't talk about enough: How the modern AAU travel team subculture affects the way some young players develop, and why one year in school might not be enough to reverse the damage:
"Even if today's players are incredibly gifted, they grow up in a basketball environment that can only be called counterproductive. AAU basketball has replaced high school ball as the dominant form of development in the teen years. I coached my son's AAU team for three years; it's a genuinely weird subculture. Like everywhere else, you have good coaches and bad coaches, or strong programs and weak ones, but what troubled me was how much winning is devalued in the AAU structure. Teams play game after game after game, sometimes winning or losing four times in one day. Very rarely do teams ever hold a practice. Some programs fly in top players from out of state for a single weekend to join their team. Certain players play for one team in the morning and another one in the afternoon. If mom and dad aren't happy with their son's playing time, they switch club teams and stick him on a different one the following week. The process of growing as a team basketball player -- learning how to become part of a whole, how to fit into something bigger than oneself -- becomes completely lost within the AAU fabric."
This is a pervasive and corrosive effect. We see it at the college level (in the high number of transfers and their connection to decommitments) but we also see it in the pros, where stars like LeBron James and Dwight Howard and Carmelo Anthony seem, whether rightly or wrongly, less devoted to their current teams than their brands and their desires to play with friends/the best possible teammates. We can argue whether college is better than the NBA for this sort of maturation, but we do know this: Everyone's impressionable when they're a teenager. The highest reaches of the AAU system are leaving a bad impression.
To wit:
See the St. Louis Post Dispatch's story on transfers
. It's new perspective on a recurring issue -- more college basketball players are transferring than ever before, rinse and repeat every May, etc. -- but our own recruiting analyst Dave Telep hits on the systemic issues well, I think:
ESPN's Dave Telep, who has covered recruiting for 16 years, said the skyrocketing transfer rate has impacted high schools as well. He sees a connection with sports trends in general such as free agency and one-and-dones. "The (college) transfer rate mimics the transfer rate in high schools and among AAU teams," he said. "As a society we've enabled this generation to go to the next opportunity. They haven't learned to fight through adversity. They just look for their next chance. All they're doing is mimicking what they see."
This is a really difficult thing to write about, not because it's a sensitive topic, but because "culture" is inherently a nebulous thing. There are plenty of AAU coaches on the side of angels, after all, and the things we say about players not learning "commitment" is painting a lot of undeserving people with a broad brush. Kevin Durant and Derrick Rose played AAU basketball and stayed in college for one season apiece; it would be hard to find two more purely team-oriented players in the NBA. This isn't a universal thing.
Even if it were, would one more year in college for a handful of players really change it? Kerr believes it would have a profound effect. I find it difficult to disagree. But we can also agree that college basketball is not immune to this cultural issue (as I guess we'll call it) either. Plenty of players transfer. Plenty of coaches tamper. Plenty of programs are happy to take on the mercenary, provided he can handle the ball and has range to 23 feet. Fans want immediate success, too: Coaches aren't allowed to build programs over six, seven, or eight seasons. If you haven't won by year four, hire a real estate agent.
It all plays into a perpetual state of immediacy and impatience, from players to coaches to fans, from the NBA free agency to under-14s. I don't know how to fix it. An extended stay in college might -- repeat:
might
-- help. Or maybe not.
What I do know is this: The NBA and its players want, or should want, the best possible development environment in the United States. The more capable, mature, insanely talented league-ready players that bubble up to the top of the sport, the better the NBA's product and the easier it is to sell U.S. fans and those around the globe. The NBA has almost no power to affect deep societal change -- not that commissioner David Stern has any interest in the undertaking, anyway. But anytime the NBA's immediate business interests (i.e. fewer draft mistakes) align with long-term benefits to the sport itself (better long-term development), at least there's a chance.
That's what Kerr is really getting at: Wherever you stand on the legal or moral implications of the one-and-done rule, the NBA is the only interested party with power, and it makes sense for the league to change the rule. The obvious benefits to college basketball would be a nice little bonus.
The affect on the rest of the nation's basketball culture would be much harder to pin down. Still, given where we are right now, some fundamental shift -- call it an emphasis on patience -- certainly couldn't hurt.
May, 8, 2012
5/08/12
1:15
PM ET
November, 28, 2011
11/28/11
4:18
PM ET
On Sunday, at the local gigantic organic grocery store deli counter, my roommate complimented a meat salesman wearing a Chicago Bulls hat.
"Thanks," the deli salesman said. "I just wish they weren't canceling the season."
My roommate paused and smiled, flashing the look of someone who had just realized he and he alone had the power to immediately make this man's day approximately 200 percent better. "You didn't hear?" my roommate said. "The lockout's over!" If only every deli counter interaction could end so well.
It was easy to miss the big NBA news this weekend, not only because it came so late on Friday night, but because with the Thanksgiving holiday, the NFL in action and a large smattering of college hoops around the country, the NBA lockout had briefly become an afterthought. No more. Tentatively,
the league appears set for a return Christmas Day
. The basketball-related income mark, or BRI,
is set and agreed upon
. The league will return as soon as the various parties come to an agreement on a variety of so-called B-List issues.
As a fan of all kinds of basketball, this pleases me greatly. As a writer who covers college hoops, it bears a much closer look. Somewhere, lost in all the talk about BRI and various horserace-style who-won-the-day maneuverings, these so-called B-list issues have faded to the background. But
lest we forget
, one of these issues -- the NBA age limit -- could have the biggest impact on the college hoops landscape of any systemic change since the one-and-done rule was instituted in 2006.
As of Monday, the age limit remains up for debate. The NBA is in favor of extending the limit to two years, giving the league's GMs a better look at incoming players in hopes of avoiding the high-profile draft mistakes that led to the one-and-done rule in the first place. The players oppose this rule in theory. They believe it is unfair, and they're probably right, because why is it an 18-year-old's fault that an NBA GM falls in love with that player's "length?" But it's been a while since the players have actually had to deal with it, and they notably agreed to a one-year age limit when this expired collective bargaining agreement was hatched in 2006. Could the same thing happen again?
Sports Illustrated's Michael McCann discussed the age limit
in the current negotiation context this weekend, and he believes the players are set to compromise on this issue yet again:
The union will probably compromise this time around as well since, A) raising the limit would only directly impact those players not yet in the union and thus those who have no voice and; B) a higher limit would mean that more veterans keep their jobs every year. Still, there are many NBA players who believe firmly in not raising the age restriction and this is not an easy issue to resolve over a weekend.
The calculus reminds me of the scene in "Ides of March" when hotshot political operative Ryan Gosling convinces hotshot presidential candidate George Clooney that supporting a mandatory service requirement for 18-year-old American citizens (in exchange for college tuition) is not only sound policy but great politics. Why? Because the only people who wouldn't like the idea -- those under 18 -- can't vote. Future NBA prospects may have interests at stake in this negotiation, but they have no voice in the process.
It feels like a no-brainer for the current players, who can protect veterans' jobs while conceding something in exchange for a concession from the owners. (For example: drug testing.) That's not to say it's a done deal. Far from it. But if you had to guess which major B-list concession the NBA players would be making in the next week of final negotiations, wouldn't it be this one?
There are arguments to be had -- and believe me, they will be had -- about the ethics of such a rule. Is it a good thing prep players have to spend two years on a college campus? Probably! Is it unfair? Also probably!
But if the age limit is changed, these arguments will soon cede the foreground to the practical reality of the situation, which is undeniably good for college basketball at large. It means more top talents at more teams for a longer period of time. It means this year's promising freshmen are sure to be next year's monster sophomores. It means drastic changes to the way many programs scout and recruit talent on a yearly basis. It means look out 2012-13
Kentucky Wildcats
. It will change so much about the sport. At least right now, many of those changes appear to be for the positive.
It's no done deal, but now that the big BRI stuff is out of the way, the NBA lockout's relevant parties can get around to deciding the immediate future of college basketball. Stay tuned.