College Basketball Nation:

NCAA Midwest 2014
March, 30, 2014
3/30/14
11:28
PM ET
INDIANAPOLIS -- It was a reverse choke hold, but Marcus Lee could still breathe.
That's because it was an endearing gesture, not an expression of violence during Kentucky's 75-72 win over Michigan at Lucas Oil Stadium in the Elite Eight -- a victory capped by Aaron Harrison's 3-pointer with 2.6 seconds to go.
Alex Poythress snatched freshman Marcus Lee (10 points, eight rebounds and two blocks in 15 minutes) by the neck sometime in the second half after another big play extended the previously-anonymous-outside-of-Lexington forward's incredulous streak of ridiculousness that helped the program grab a slot in the Final Four in North Texas, where it will face Wisconsin on Saturday.
"Just natural reaction," Poythress said about the bear hug he gave Lee. "I'm just happy for him. Emotions get the best of you out there."
To most of us, Lee emerged from the abyss.
He'd averaged 5.7 MPG and 2.0 PPG prior to Sunday night. But his stat line against Michigan said, "Tim Duncan."
But a Kentucky reserve is another team's starter -- star, really. John Calipari will compete in his third Final Four in four years because he could reach for Lee, a 6-9 forward with a Sequoia's wingspan and the No. 25 ranking in the 2013 class by RecruitingNation, when he needed someone to help in the post because Willie Cauley-Stein was unavailable with to a foot injury. When John Beilein -- who'd earned a slot in the Elite Eight for the second consecutive season, this time without big man Mitch McGary's services -- needed a boost inside, he called on Max Bielfeldt (85 minutes all season).
It's just different.
To continue reading,
click here
.
March, 30, 2014
3/30/14
7:16
PM ET
INDIANAPOLIS -- Here are five observations from
Kentucky's 75-72 win over Michigan
in the Elite Eight at Lucas Oil Stadium in Indianapolis.


So much drama:
Glenn Robinson III's
layup with three minutes to play cut Kentucky's lead to two points. But
Dakari Johnson
's score extended the edge to four points. With 2:26 to go, Kentucky had a 69-65 edge. This was a battle. Like Hagler vs. Hearns. So many uppercuts, left hooks and jabs thrown. So many bodies on the floor. So many hard fouls. Exactly what you would expect with a shot at the Final Four on the line.
Nik Stauskas
hit a pair of free throws to cut Kentucky's lead to two points again late. Wow. Here we are again.
Aaron Harrison
hit a huge 3-pointer. Robinson hit a huge 3-pointer on the other end. Two-point game again. Ridiculous. Some crazy
Jordan Morgan
tip-in. Twenty-seven seconds to play. Tied game, 72-72. And then Aaron Harrison hits a step-back 3-pointer with 2.3 seconds to play. Wow. Wow. Wow. Stauskas misses a deep 3-pointer. Game over.
Let's talk about Marcus Lee:
In the first half of Sunday's game, freshman Marcus Lee had 10 points (5-for-5), four rebounds and a block in nine minutes of action. And we all predicted that, right? Not exactly. Lee was averaging 5.7 MPG prior to Sunday's ridiculous coming-out-party. The 6-9, lanky big man was the difference in the first half. Without him, Michigan probably would have pulled away. The Wildcats didn't have
Willie Cauley-Stein
, who missed the game due to a leg injury he suffered in Friday's win over Louisville. John Calipari needed someone to step up against a hot Kentucky team. And Lee did that. Gave his team quality minutes when it needed them.
LeVert, Stauskas, Robinson chemistry:
Michigan isn't the only talented trio in college basketball. But few trios work together as well Stauskas, Robinson and
Caris LeVert
. Michigan was clearly undersized. And the Wolverines don't have Kentucky's depth (see: Marcus Lee). But on both offense and defense, LeVert, Robinson and Stauskas helped the team stay alive. They just play with a rare balance. They're all smart players. And they're all aggressive players. But there's no hero ball here. They search for the best shot. And that's why Michigan made a push toward its second consecutive Final Four.
Julius Randle:
The 6-9, 250-pound big man had six points and four rebounds in the first half. He'd gone 2-for-7 at the break. Part of that was the result of poor shot selection. But the future lottery pick cleaned up his act down the stretch and began to dominate in the second half. With six minutes to play in the game, he had 16 points and 10 rebounds. He just attacked and attacked and attacked. And when he does that, he's unstoppable. He's a force.
Big plays for Morgan:
Few were as big as Morgan's three-point play with 4:47 to play. That play cut Kentucky's lead to one point, 62-61, with 4:34 remaining on the game clock. But Aaron Harrison responded with a huge 3-pointer of his own to give Kentucky a four-point edge again. Morgan comes back with another dunk seconds later to make it a two-point game. He's not a one-and-done. He's not even a four-and-done. But he was huge for Michigan throughout the tourney.
March, 29, 2014
3/29/14
5:00
PM ET
INDIANAPOLIS -- During his team's Saturday afternoon news conference, John Calipari polled his players only hours after they knocked off rival Louisville in the Sweet 16 to earn a shot at Michigan in a Sunday matchup at Lucas Oil Stadium.
"Raise your hand if this is really hard?" Calipari asked.
[+] Enlarge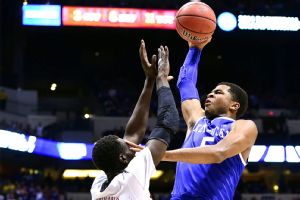 Bob Donnan/USA TODAY SportsAndrew Harrison has risen into the position of leader of the young Wildcats.
Andrew Harrison
, sitting to the coach's left on the podium, raised both hands.
It's not easy for an 18-year-old to be the leader of young men -- a situation that Michigan's
Derrick Walton Jr.
understands too -- but that's who he has become for a program that needed one.
"He's just doing a great job leading us,"
Julius Randle
said. "When things get tough, he's picking us up."
There was a five-month gap between the amalgamation of Kentucky's potential and the tornado of talent that finally blended in time to whip three good teams on its way to the Elite Eight. Kentucky is always projected as a national title contender. But the preseason hype for this team was unprecedented because Calipari lured the most star-studded recruiting class in college basketball history to Lexington.
The young Wildcats were supposed to win. Every night. Regardless of the opponent. And when that didn't happen, the pressure spiraled into criticism calamity. Andrew Harrison was in the middle of that downpour.
The point guard -- a position that automatically suggests leadership even if it doesn't fit that player's qualities -- has to guide those around him. Andrew Harrison recognized the significance of that role from the day he arrived in Lexington last August. But the idea that he just inherited that leadership slot, he said, is false.
"What people don't understand -- people think, 'Oh, you're the point guard and you're going to become the leader,'" Harrison said. "But at the same time, you have to earn it. You have to do something to earn your teammates' respect, whether it's stand up to somebody or speak up for them -- you have to do that, and I think I did that eventually."
Despite the early scrutiny, Harrison ultimately proved that he was ready by navigating through the season's drama and playing his best basketball when the games mattered most. He's averaging 13.6 points, 5.0 assists and 3.6 rebounds through three tourney games. He has had various struggles during this stretch (11-for-26 from the field, 14 turnovers). But he also has delivered for the Wildcats when they needed him. In Friday's win over Louisville, he scored eight points and threw an alley-oop to
James Young
during a crucial five-minute stretch that revived Kentucky. And that wasn't necessarily his most crucial contribution to this young team.
That came during timeouts in the final minutes.
"He was just telling us that we will win this game if we just keep fighting,"
Aaron Harrison
said. "He led us."
Youth is the fabric of Sunday's Kentucky-Michigan matchup. Michigan's most important veterans are just sophomores. Kentucky starts five freshmen.
[+] Enlarge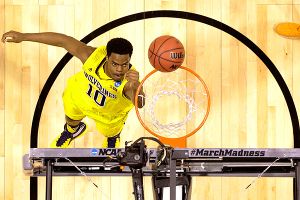 AP Photo/Michael ConroyFreshman Derrick Walton Jr. has earned the trust of his teammates over the course of the season.
Both coaches understand the challenges that arise when a squad must rely on a young point guard.
Walton initially faced as much pressure as anyone on his roster. Last year, the Wolverines reached the national title game via the dynamic performances of Wooden Award winner Trey Burke. Walton had to follow in those footsteps.
"Coming in, I felt a little pressure because he did a great job at his position," Walton said. "But over the course of the season, my teammates did a great job letting me know that they're with me every step of the way."
Walton didn't attempt to commandeer a leadership position. He didn't demand it. John Beilein already had a strong unit of returning players he could trust. Yet, he couldn't run his stuff without a point guard he believed in.
So Walton wooed the Wolverines with his work ethic and focus. And now the freshman, who is averaging 7.6 points, 3.3 rebounds and 3.6 assists in the NCAA tournament, has so much respect on this roster that he's calling plays now without asking Beilein for approval.
"His brand started the first day he came on campus, how he took care of his business, how he approached study hall, how he went to class, how he responded to coaches critiquing him," Beilein said. "As he built that brand, everybody, sort of, is watching that thing. Now when he's calling signals, we're trusting him with the ball. He's put so many deposits into that bank of trust."
No matter what happens on Sunday, youth will be woven into the dominant storyline. Neither team is stacked with seniors. Both rosters feature standouts who won't last four years -- some of Kentucky's players could be gone after next weekend -- but continue to excel on the most intense stage of any college basketball season. To continue on this path and reach the Final Four, both programs will turn to a pair of young point guards who've showcased tangible growth in recent weeks and months.
"For him to keep just growing his game and seeing this has just been fantastic," Beilein said. "He's a really bright kid."
You could say the same about Andrew Harrison, too.
March, 29, 2014
3/29/14
3:45
AM ET
INDIANAPOLIS --
James Young
wants to reach the Final Four, and he believes he'll win the title. He's consumed by the idea.
After Kentucky's surprising, come-from-behind 74-69 win over rival Louisville, the freshman talked about seeds, pairings and favorites. He had Bracketology on the brain.
Before that Friday night (Saturday morning) victory at Lucas Oil Stadium, a win that sent Kentucky to a Sunday night matchup against Michigan in the Elite Eight, Young and his teammates gathered at their team hotel to assemble an elaborate "NBA 2K" video game tourney. There was trash talk and conversation.
"I got the first seed," said Young, proud and smiling. "I'm out here winning. I'm trying to get to the Final Four. I'm working right now."
Julius Randle
disputed Young's proclaimed dominance, though.
"James Young is a liar," said Randle, who finished with 15 points and 12 rebounds against Louisville. "But it is important. Just team-bonding. Just having fun with it."
In the hours before a high-stakes showdown with Louisville, these young Wildcats played video games.
They didn't talk about external expectations. They didn't discuss Louisville's matchup zone or dissect defensive assignments. They didn't watch extra film to prep for the defending national champs.
You can read the rest of this story
here
.
March, 29, 2014
3/29/14
12:27
AM ET
INDIANAPOLIS -- Here are five observations from Kentucky's 74-69 win over Louisville in the Sweet 16 at Lucas Oil Stadium in Indianapolis on Friday night.


The rivalry delivered:
With 4:33 to go, Louisville led 64-59. Both teams were tired. During timeouts, players bent over and tried to catch their breaths. That was the effect of a wild night. Louisville nearly pulled away early, but Kentucky came back. Some of the standouts on both rosters struggled but both teams found alternatives.
Luke Hancock
missed most of the first half with foul trouble. But he'd already recorded 19 points with four minutes to play. Kentucky didn't quit, though. The Wildcats cut their rival's lead to three points. With 2:22, Kentucky faced a 66-63 deficit. Then,
Alex Poythress
drove, scored and drew a foul. He hit the free throw. Tied game.
Aaron Harrison
had a chance on a fast break but missed the layup. Louisville turned the ball over on its next possession. With 1:41 to go and a shot at the Elite Eight on the line, Poythress drove again and drew another foul. He made one of two free throws to put Kentucky in the lead for the first time.
Russ Smith
hit a big bucket on the other end to regain the lead for Louisville. And then,
Aaron Harrison
hit a big 3-pointer to give Kentucky the two-point edge, 70-68 with 31.5 seconds to go. Then,
Wayne Blackshear
drove and drew the foul. He missed the first free throw, made the second.
Julius Randle
made a free throw on the other end, hit the second one too. Three-point lead for Kentucky. Smith missed the 3-pointer on the other end. Aaron Harrison sealed the win with a pair of free throws. Game over. Kentucky wins. Wow.
Foul trouble, poor free throw shooting ruins Louisville's hot start:
The Cardinals came out throwing haymakers. They were fired up and energetic.
Mangok Mathiang
was altering shots and really playing with passion. Louisville took an early 18-5 lead. The Cardinals controlled the game. Their matchup zone caused many problems for Kentucky, which shot just 27 percent against Louisville's zone in the first half, per ESPN Stats and Info. But fouls and missed free throws ruined that start.
Montrezl Harrell
picked up three fouls by halftime. Mathiang and Hancock played 13 minutes combined in the first half with two apiece. But the Cardinals also had trouble at the charity stripe. They were just 6-for-15 from the free throw line in the first half. And just like that Kentucky had closed the gap to 34-31 by halftime. The Cardinals squandered too many opportunities to pull away.
Kentucky returns fire:
A lot of young teams might have collapsed after encountering a double-digit deficit against the defending national champion. But the Wildcats weren't intimidated by the moment. They returned fire and got back into the game.
Andrew Harrison
and Aaron Harrison both hit big shots in the first half. Randle attacked the rim. By halftime this was a battle, which is what we all expected. I'm not sure how Kentucky has grown up in recent weeks, but it has. It's just a different team. A different brand of maturity. A different focus. It took five months. Doesn't matter. The Wildcats were ready to joust with the defending national champs in the NCAA tournament.
The Willie Cauley-Stein factor:
The sophomore big man left the first half with an injury and never returned. That was a major challenge for Kentucky as it struggled to protect the rim. Not having Cauley-Stein's ability to alter shots and disrupt offenses with his length was a blow. But the young Wildcats deserve credit for continuing to battle despite the adversity.
The background singers:
The buildup to this rivalry game centered on the big names. Smith, Andrew Harrison, Randle, Harrell. They were all important. But if you watch the film, the subtle playmakers truly dictated the day. Mathiang made an early impact.
Dakari Johnson
made huge plays for Kentucky down the stretch.
Stephan Van Treese
was a critical defender for the Cardinals all night.
Dominique Hawkins
gave Kentucky important minutes. This wasn't about individual matchups. This was Kentucky versus Louisville. Another classic.
March, 28, 2014
3/28/14
9:28
PM ET
INDIANAPOLIS --
Tennessee
made a remarkable run to the Sweet 16 after beginning its journey beginning in the First Four. The Volunteers topped
Iowa
,
UMass
and
Mercer
to reach the Sweet 16, but
Michigan
was just too much in a 73-71 victory on Friday night.
Here are five observations from that Sweet 16 game:


What a comeback
: The Vols didn't give up. With 4:10 to play, they were down 67-60 after being down by as many as 15 points. They were down just 70-64 with 2:21 to go. Tennessee continued to attack the floor and get to the rim. With less than two minutes to play, Tennessee and Michigan were separated by only five points. The Vols continued to whittle away, drawing within three with 23 seconds left and moving to within one when
Jordan McRae
scored with 10.8 seconds left.
Caris LeVert
then stepped out of bounds with 9.6 seconds to play, making things real at Lucas Oil Stadium. Tennessee, despite struggling from 3-point range, was in position to win. But
Jarnell Stokes
drew a late charge against
Jordan Morgan
with six seconds left that essentially ended the game for the Vols despite a great comeback effort.
Michigan nearly flawless in first half
: In some of the great upsets in past NCAA tournaments, the underdogs succeeded because they got off to fast starts. That didn't happen with Tennessee. The Vols needed an impressive 11-3 run after going down 15-7 early. But the first half from there was all Michigan. The Wolverines dissected the Vols from that point forward. Cuonzo Martin's squad couldn't handle John Beilein's collection of 6-foot-6-ish wings -- is there a factory in Ann Arbor, Mich., that we don't know about? -- who just kept punishing Tennessee inside and outside. Michigan went 7-for-9 from the 3-point line, a 78 percent clip. This isn't some Tennessee team that got lucky on its way to the Sweet 16. The Vols had defeated its three previous opponents in the NCAA tournament by nearly 20 points per game. But the Wolverines were just too much. Per ESPN Stats & Info, Michigan is 18-for-30 from the 3-point line in the first halves of its NCAA tourney games. The Wolverines don't wait. They just go.
LeVert … the future
:
Nik Stauskas
(14 points) has no reason to stay in school beyond this season. That much was clear in Friday's game. He's a big guard with range and solid ballhandling ability.
Glenn Robinson III
(13 points) could leave, too, but the program will still be in good hands if LeVert (10 points) returns. The 6-6 sophomore has made dramatic improvements this season. He's been a 41 percent shooter from the 3-point line, but the most impressive element of his game on Friday, something I didn't see until I watched him live, was his quick first step and ability to create his own shot. He is thin, and a summer in the weight room would really enhance his game, but he's a special talent who might be the next Michigan superstar. His late error doesn't define his season or his potential.
Size doesn't always help
: When Tennessee walked to the podium for its pregame media session on Thursday, it looked like a college football team.
Jeronne Maymon
and Stokes are large individuals, with size that Michigan lacks, and, on paper, that appeared to be a potential issue for the Wolverines. How would they deal with a team that had big wings and strong post players such as Stokes and Maymon? Well, that wasn't the real question. The real question became, "How can Tennessee stay in front of the Wolverines?" It couldn't in the first half. Martin had Maymon on Robinson early, which didn't last long, as Robinson kept beating Maymon off the dribble. He had to insert
Derek Reese
, a 6-8 wing, to guard him. Early in the game, Tennessee wasn't even using Stokes and Maymon together. Maymon's early foul trouble might have contributed to that, but the Vols were better with the one-big system. That's how you know Michigan is a really good team, as Tennessee had to adjust its entire scheme in the first five minutes to deal with it. But the one-big system also helped the Vols climb back into the game.
Beilein deserves credit for developing players
: Yes, Beilein doesn't exactly draw kids from the prep market's scrap heap, but he's also not signing a bunch of one-and-dones, either. Look at Stauskas, Robinson and LeVert, along with
Zak Irvin
and
Derrick Walton Jr
. Check out the game that Morgan (15 points, seven rebounds) had. They've all developed at a respectable pace. Stauskas will be a millionaire lottery pick if he decides to turn pro. Robinson could be a first-round pick, too. LeVert could be a top-15 selection in 2015 if he doesn't leave this year. Walton looks comfortable. Irvin is next. And we haven't even mentioned
Mitch McGary
, who was the team's top pro prospect entering the season before a back injury ended his year. He was just a solid freshman, but by the end of last year's tourney, he was a lottery pick. Sure, the Wolverines can shoot, but the perennial progression of Beilein's rosters is worth noting. His players have made some tremendous strides.
March, 27, 2014
3/27/14
9:30
AM ET
A look around the Midwest Region:
Tennessee vs. Michigan


What to watch
:
Jarnell Stokes
and
Jeronne Maymon
have led Tennessee's charge to the Sweet 16 thus far. A Michigan team that lacks a comparable post threat could struggle with Tennessee's tough bigs inside, but the Vols will have their hands full as they try to stay in front of
Caris LeVert
,
Glenn Robinson III
and
Nik Stauskas
.
Who to watch
: The potential battle between Stauskas, a 6-foot-6 shooter who won Big Ten player of the year honors, and 6-6 wing
Josh Richardson
could decide the game. Richardson has to find a way to frustrate Stauskas, who can hurt opponents by shooting or slashing.
Why watch
: There will be fireworks because this is not the same Tennessee team that struggled throughout the SEC season. The Vols are hot right now and are running into a Michigan team that also overcame adversity -- notably the losses of
Trey Burke
and
Mitch McGary
-- to reach this stage.
Kentucky vs. Louisville


What to watch
: Kentucky had little trouble in its 73-66 victory over Louisville on Dec. 28, but it'll be interesting to see whether the hybrid zone that Louisville has used in recent weeks will stifle Kentucky's offense this time.
Who to watch
:
Julius Randle
(17 points) had a great game the first meeting. Can
Montrezl Harrell
& Co. find a way to stop the future lottery pick?
Why watch
: This is Louisville-Kentucky with a shot at the Elite Eight on the line. It's that simple.