College Basketball Nation:

NCAA Raleigh 2014
March, 24, 2014
3/24/14
12:45
AM ET
RALEIGH, N.C. -- Virginia led by 20 late in the second half when a double-team left Memphis'
David Pellom
alone with the ball beneath the basket. Pellom rose for a two-handed dunk when Cavaliers forward
Justin Anderson
rotated in time to block his shot.
The Cavaliers made the Tigers work for everything.
"We knew they were going to try to get us to go a little faster and I feel like they did early," Virginia guard
London Perrantes
said. "We slowed down and started to run off the picks like we usually do. They started to wear out pretty early."
Meanwhile, everything seemed to come fairly easy for the Cavs. They used a 16-2 run to close out the first half, effectively ending any drama about the outcome.
Virginia so thoroughly
dominated Memphis in its 78-60 win
to advance to the Sweet 16 that the biggest surprise from the Cavs' performance came down to two plays:
Evan Nolte
's dunk or
Mike Tobey
's 3-pointer.
Nolte, a 6-foot-8 sophomore forward, is most known for providing a perimeter boost. His back-to-back 3-pointers against Coastal Carolina broke open a tight game and made the Cavs loosen up.
But they don't call him "Takeoff" Nolte for nothing.
"We call Evan 'Takeoff' because he dunks once every two years," forward
Akil Mitchell
said.
Forward
Anthony Gill
likened the sight of Nolte dunking to an eclipse. With a minute left in the game, Nolte threw down a tomahawk dunk that got the crowd chanting his name.
"That's probably second to hitting a game winner, dunking on somebody," Nolte said.
Tobey, a 6-foot-11 sophomore center, missed the only two 3-point attempts he had before Sunday night. He stopped and popped from the top of the key with the Cavs nursing a 23-point lead.
"We were kind of [mad] at first," Virginia forward
Joe Harris
said. "We were trying to run offense and run some clock a little bit and Tobey just pulls for 3. You can't get mad at him when he makes it. It was kind of funny seeing the coaches' reaction on the bench."
That look of frustration quickly turned into smiles and laughter when Tobey's shot was good, which is why Nolte concluded that his dunk was the bigger surprise.
"Tobey can shoot 3s," Nolte said. "He doesn't really do it in games, but he can in practice. Next year or the year after he'll be able to do it in games."
March, 23, 2014
3/23/14
10:51
PM ET
RALEIGH, N.C. -- The win over Duke still stands. And that, for Mercer's 2014 NCAA tournament appearance, will be what everyone remembers when the stories are retold. Not
the Bears' 83-63 loss to Tennessee
, which advanced to the Sweet 16 to face Michigan.
Mercer's disbelief had less to do with losing than the realization that the careers of seven seniors who played together the better part of four years were over.
"We had an amazing four years, those kinds of things stay in your mind forever," senior guard
Langston Hall
said. "You tell your kids, 'Back when I was playing in the NCAA, we beat Duke.'"
The Bears matched up favorably with No. 3 seed Duke and were able to lean on their experience to pull off the upset. From the outset on Sunday, the game took on a very different tone than the Bears' win over the Vols last season in the NIT. Tennessee never trailed and Mercer found it difficult to keep its deficit around 10 points.
Mercer had no one who could match up with Tennessee's pair of 6-foot-8, 260-pound forwards,
Jarnell Stokes
and
Jeronne Maymon
.
[+] Enlarge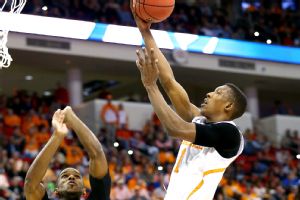 Streeter Lecka/Getty ImagesTennessee's Josh Richardson drives to the basket against Mercer's Darious Moten.
Stokes had outrebounded Mercer's entire squad for most of the game. Stokes finished with 18 rebounds and 17 points. The Bears managed just 19 rebounds.
"Stokes was a man on the boards," Hall said. "We tried to help with the bigs, he was throwing us all out of the way. He's a load to handle."
Maymon helped keep Mercer senior center
Daniel Coursey
from having much of a presence inside. Early in the game, the Bears resorted to launching 3-pointers before they ever got settled into a half-court flow.
"Their two bigs are absolutely enormous," Coursey said. "They played a lot harder than last year [in the NIT]. I hope they win it all."
Mercer coach Bob Hoffman said his seniors helping to win the Atlantic Sun title and beating Duke for the program's first tournament victory left a legacy that has planted a seed for future teams.
"It'll be hard to match what these guys accomplished," Hoffman said. "There's no doubt what these guys are going to be remembered for. They're champions and they will always be champions."
Coursey believed the words, but found them hard to accept in the wake of their loss to Tennessee. But he hopes he'll come to appreciate the impact of the winningest class in school history.
"It's kind of hard to realize," Coursey said. "Hopefully when we go home and sit down a while and talk about it we realize what we've done has been pretty unbelievable."
March, 23, 2014
3/23/14
9:00
AM ET
By
ESPN.com staff
| ESPN.com
Andy Katz talks to Virginia guard
Joe Harris
as expectations for the Cavaliers continue to rise.
March, 22, 2014
3/22/14
7:38
PM ET
RALEIGH, N.C. --
Tennessee
coach Cuonzo Martin played "One Shining Moment" enough times when his team struggled during the season that junior forward
Jarnell Stokes
said the team should have the song memorized by now.
Martin showed the video montage that concludes every NCAA tournament after a debilitating loss to
Texas A&M
. He even played the Luther Vandross song without the visual clips so his players could just feel it.
Martin said he wanted the Volunteers to realize they could still salvage their season.
"To have a chance to do that right now -- I think at certain parts of the year we didn't even think we'd get in the tournament, so it just makes it that much more fun," Stokes said.
The "moments" are part of what makes the NCAA tournament so special, and there are plenty of reasons the four teams vying to leave Raleigh with one more win on Sunday would savor it.
[+] Enlarge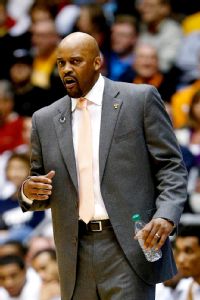 Gregory Shamus/Getty ImagesTennessee coach Cuonzo Martin hopes to leave Raleigh with at least one more shining moment.
Memphis
coach Josh Pastner can taste his first Sweet 16 berth. For
Virginia
, which has had a lot of "first since" moments this season, it would be its longest foray in the tournament since 1995. For Martin and the Vols, it'd be validation that his method is working.
For No. 14 seed
Mercer
, though, it would mean
Monty Brown
gets another chance to build his tournament memories. The cruel irony of the Bears' upset of No. 3 seed
Duke
on Friday is that
Brown doesn't remember much from it
.
The 6-foot-11 reserve senior center played just four minutes before suffering a concussion in the first half against Duke. Brown had the ball and pump-faked, Duke's
Jabari Parker
jumped and Parker's hip crashed into Brown's head.
Senior guard
Anthony White Jr
., who was on the court standing in the corner when the play happened, initially didn't think Brown was injured. When White encouraged him to shake it off, he knew something was wrong.
Senior guard
Kevin Canevari
, who will be Brown's best man in his wedding this summer, went over and asked if he was all right.
"He was like, 'What'd you say?' and kind of looking very dazed," Canevari said. "It was a little bit scary at first. It's definitely sad that it happened, but we'll be praying for him."
Although Brown sat on the sideline for the remainder of the game with earplugs to block out the noise, senior
Jakob Gollon
said his teammate had trouble recalling the victory.
On Saturday, Brown couldn't even attend the team's practice and media sessions. He was at the hotel, likely sitting in a room with little light. His teammates couldn't even talk to him much after the win because he was so sensitive to noise.
"Beyond his injury and not being able to play for us, as far as memories are concerned, that's a pretty big deal," Gollon said. "Obviously, this is a pretty big experience that we're going to remember for the rest of our lives. He may or may not be able to recall some of the things that happened during this time."
Brown wasn't in the locker room when Duke's Mike Krzyzewski made an impromptu visit to congratulate the team. He didn't get to ride the team bus back to the hotel and hear his teammates' amusement over the #LordhaveMercer hashtag that was trending on Twitter.
Brown's concussion meant what could arguably be the greatest single moment of his basketball career might be forever lost in the haze of his brain.
"This is what you live for. This is what you dream of as a kid," senior guard
Bud Thomas
said. "Especially playing Duke and Coach K. That's a once-in-a-lifetime opportunity, and to go out and beat them and pretty much shock the world. We're getting all this press and Monty is pretty much in the shadow."
[+] Enlarge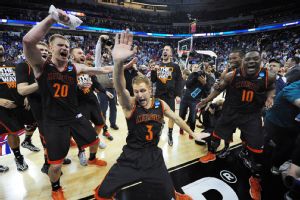 Bob Donnan/USA TODAY SportsMercer's Monty Brown wasn't able to celebrate Friday's win over Duke with his teammates. The Bears are hoping another win will give him the opportunity to rejoin them next week.
Brown averaged only 9.5 minutes, 4.5 points and 2.4 rebounds per game this season. His numbers on the court can be replaced when the Bears play Tennessee on Sunday, but he is viewed like an elder on a team full of seniors.
Mercer coach Bob Hoffman called Brown "one of the unsung heroes on our squad."
The Bears view Brown as an "old head" who offers up wisdom and encouragement. After all, as
Langston Hall
put it, he is getting married. Senior center
Daniel Coursey
said Brown is the one who "tells us not to do stuff and be all responsible."
"No matter what's going on, his spirits are always high," White said. "He's always telling you it's all right, get to the next thing if something bad happens. If something good happens, he's the first person to come out and congratulate you."
The Bears are hoping to celebrate one more upset and have one more chance to watch Canevari dance the "Nae Nae," because that would mean Brown could have one more chance to rejoin them on the floor next week and enjoy his own NCAA tournament experience.
"Of course, he can watch the video on ESPN, but it's another thing to be able to experience that," White said. "And Kev's dance -- he would have been right there, right behind him jumping up yelling a little bit."
March, 22, 2014
3/22/14
1:30
AM ET
RALEIGH, N.C. -- While Virginia coach Tony Bennett huddled with his assistants at halftime the Cavaliers players actively discussed their dilemma. Trailing 35-30 to No. 16 seed Coastal Carolina, the phrase that kept being repeated was, "to get back to doing what we do."
There was frustration, yet it didn't lead to finger pointing. Senior forward
Akil Mitchell
said he didn't even yell.
"There was no reason to yell; I yell out there on the floor when everybody needs to hear me and when it's time to get excited," Mitchell said. "We needed to settle in and we needed to know that we'd be fine."
The Cavs know that if they play Sunday against Memphis like they did in the first half Friday, their NCAA tournament stay will end in the Round of 32. They agreed the best thing to come out of
their 70-59 win over Coastal Carolina
was the relief of getting that first win.
"It's only two or three players on our team that's played in the NCAA tournament," said sophomore forward
Justin Anderson
, who was scoreless in his NCAA tournament debut. "The expectation level is high; everyone expects you to go out and make every shot. You never factor in the adversity that you may see."
[+] Enlarge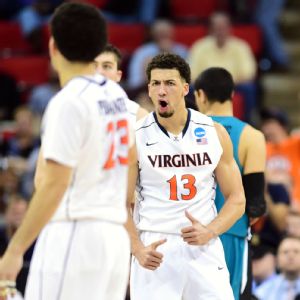 Bob Donnan/USA TODAY SportsVirginia's Anthony Gill shows some emotion in the victory over Coastal Carolina.
Virginia got tested more than it expected in the first half when Coastal shredded its vaunted defense. The Chanticleers had eight assists on their first 13 field goals en route to shooting 52 percent for the half. The Cavs twice got caught sleeping on back-door cuts and more often than not had slow rotations that left shooters open.
Halftime allowed them to regroup. They shed their fears of being on the wrong side of history -- becoming the first No. 1 seed in 120 games to lose to a 16-seed -- that guard
Malcolm Brogdon
admitted was in the back of their minds.
They've seen or heard about all of the upsets in the first two days of the tournament and it had an impact on their start.
"We came out with some jitters and it took us a whole half to shake them off," said Brogdon, who had 14 points. "The jitters are gone. We'll play a very good team on Sunday like we did tonight and we can't come out like we did. We have to come out like we did in the second half and impose our will from the beginning."
Getting back to what the Cavs do best meant playing better defense. Virginia held the Chanticleers to just two field goals for nearly the first 10 minutes of the second half. Those open shots Coastal got with ease were nonexistent after halftime.
Offensively it took sophomore forward
Evan Nolte
, nicknamed Nol-trey by his teammates, knocking down back-to-back 3-pointers to expand a three-point lead to 56-48 with 7:11 left. Nolte played just two minutes in the first half, but in the second scored all eight points of his points within a two-minute stretch that broke the game open for the Cavs.
"That's just kind of my game," Nolte said. "People ask me where it comes from; that's what I do in practice."
Mitchell said Nolte's baskets "opened up the floodgates" as the Cavs' lead never dipped below six after that. As they begin preparation for Memphis, Virginia hopes to start on Sunday the way it finished.
"Everyone is here to win," Nolte said. "The margin of error is so small. We came out flat, and I think we learned from that. On Sunday we'll come out with an edge and try to punch people in the mouth -- figuratively."
March, 21, 2014
3/21/14
5:58
PM ET
RALEIGH, N.C. -- Duke coach Mike Krzyzewski was navigating the back halls of PNC Arena with his wife and police escort when he passed a few steps by Mercer's locker room, the buzz still fresh and tangible from the
Bears' 78-71 upset
of the Blue Devils.
Krzyzewski backtracked and made his way inside, at first unnoticed, while Bears players were virtual celebrities surrounded by camera crews and reporters. Krzyzewski congratulated their victory and saved his biggest compliment for his last statement.
"If we had to be beaten," Krzyzewski said, "I'm glad we got beat by a hell of a basketball team."
It was the only time on Friday that Mercer was in awe of Duke's presence.
[+] Enlarge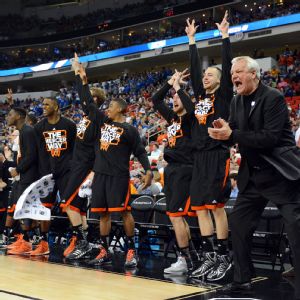 Rob Kinnan/USA TODAY SportsMercer, playing in its first NCAA tournament since 1985, won its first tournament game in school history.
It might not have meant much to outsiders, but the No. 14 seed Bears have had the most successful three-year run in school history. They won the 2012 CollegeInsider.com Tournament and beat Tennessee -- their opponent in Sunday's third round -- in the first round of the NIT last season before losing to BYU. Add to that the fact that they start five seniors and bring two more off the bench and they are very secure in who they are.
They're used to winning, even if Friday's was the school's first win in the NCAA tournament.
"This is probably one of our biggest wins ever," junior
Darious Moten
said. "Beating Duke will always be in the history books. Anytime you watch March Madness, there will be clips of us beating Duke."
Going against Duke's
Jabari Parker
, who is likely a lottery pick when he declares for the NBA, didn't faze them. Even after Mercer held Parker to 4-of-14 shooting for 14 points, forward
Jakob Gollon
's admiration for Parker's skills hadn't changed.
"He's a beast," said Gollon, a Stevens Point, Wisc., native. "I hope the [Milwaukee] Bucks draft him next year."
Duke's
Rodney Hood
could also be in the NBA next season. Mercer held him to a season-low six points on 2-of-10 shooting.
It was the first postseason appearance for Parker and Hood and it showed. Parker had four turnovers, his highest total since having five in Duke's win over Syracuse in late February. Hood had three turnovers to go with his five assists but was often in situations in which he didn't know what to do with the ball.
"Once I got the ball," Hood said, "I saw 10 eyes. I had to give the ball up because I didn't want to force it."
Mercer coach Bob Hoffman said his game plan was to double-team Parker and Hood from every angle. By making the duo give up the ball, it led to
Quinn Cook
and
Rasheed Sulaimon
combining for 12 3-pointers for the Blue Devils. But it prevented Parker and Hood from getting into a groove.
"We were going to run at them no matter where we were when they bounced it, no matter where we were on the floor, and they ended up hitting 3s because of it," Hoffman said. "In the second half, we didn't do as much trapping. We tried to bluff, but what I thought it did was make them hesitant a little bit, so they started looking around."
[+] Enlarge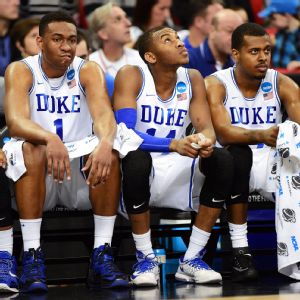 Bob Donnan/USA TODAY SportsFor the second time in three years, Duke will not advance past its first NCAA tournament game.
An emotional Parker was still searching for answers after the game. He was asked if he'd consider turning pro and he told ESPN.com that his Duke career was "incomplete" and he "didn't care about the rankings" of where he'd be picked. But when asked if he needed to separate himself from the emotion of the loss before he made any decision Parker replied, "I think so."
The difference in the game was that while Duke looked around searching for answers, Mercer already had them. It started with Hoffman and trickled down to the seniors.
The first impression of Hoffman hasn't always been the best one. His wife, Kelli, admitted that she didn't see herself dating him when the two first met. Gollon said he didn't know what to think of the new coach who flew to Wisconsin to see him play.
But Hoffman has a way of winning people over. With his wife, it was going out for a Coca-Cola on a date that included his buddies. For Gollon and guard
Langston Hall
, it was hearing Hoffman say they could help him build something special at Mercer.
"Once you put all those pieces together and you work so hard on team-building, as we do, and our guys work on believing in each other, that's a huge element of our success," Hoffman said. "Whether it's me giving [confidence] to them or them giving it to me, it's a pingpong deal, it goes back and forth, and it's fun to watch."
There was never any panic on the Mercer bench even when it seemed the Blue Devils were beginning to get some separation late in the first half. Duke led by seven, its biggest lead of the game, only to have reserve
Ike Nwamu
score six points during an 11-3 run that temporarily gave Mercer the lead. Nwamu scored all 11 of his points in the first half.
The Blue Devils took a 63-58 lead with just less than five minutes left in the game. Mercer responded with consecutive baskets, including a 3-pointer from senior
Anthony White
Jr. -- that Krzyzewski called the biggest shot of the game.
"We knew we were going to have to play tough-minded basketball and not get into the mindset that if they had a run on us that we just threw our hands up," Hoffman said.
With the victory secure, the Bears came across the court to greet their fans, and reserve senior guard
Kevin Canevari
broke out in dance as the team circled around him. Only then, when they threw their collective hands up, did Hoffman finally smile and celebrate, too.
March, 21, 2014
3/21/14
2:34
PM ET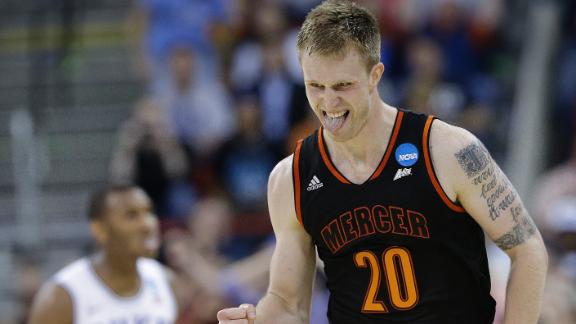 RALEIGH, N.C. --
Mercer
's student section started the game with chants of "I believe that we will win," and the No. 14-seeded Bears followed suit with a
78-71 victory
over No. 3 seed
Duke
in the 2014 NCAA tournament's biggest upset so far.


Here are five thoughts from the game:
This is why experience matters. Mercer started five seniors against Duke. They were not intimidated by the Duke name or playing on the big stage of the NCAA tournament. The trio of Jakob Gollon, Langston Hall and Daniel Coursey carried the Bears offensively. Gollon had 20 points, Coursey 17, and Hall 11 points and five assists. Mercer never strayed from its game plan even as Duke seemed to gain control late in the first half. Trailing by seven with five minutes left in the half, the Bears responded and trailed just 35-34 at halftime.
With first-time NCAA tournament participants Rodney Hood and Jabari Parker struggling -- they scored a combined 20 points -- junior Quinn Cook and sophomore Rasheed Sulaimon took control offensively for the Blue Devils. Cook hadn't shown as much emotion and confidence since early in the season. He set a new career high with seven 3-pointers, and his 23 points were the most he'd scored since netting 24 against Michigan on Dec. 3. Sulaimon nearly matched Cook's efficiency from behind the arc with five 3-pointers of his own and finished with 20 points.
It was strange to see both Parker and Hood struggle the way they did in the same game. The duo combined to shoot 6-of-24 from the field. Mercer's Gollon, a 6-foot-6 senior, kept Hood from driving and scoring in the lane. Mercer coach Bob Hoffman sprinkled in the use of zone, which kept Coursey, a 6-10 senior, stalking Parker nearby and kept Parker from scoring in the post. The result coaxed Parker and Hood into taking more jumpers than usual and led to their low shooting percentage.
Ike Nwamu's lift from off the bench cannot be underestimated for Mercer. He didn't score a single point in the second half, but his 11 points in the first kept the Bears from fading when Duke got its offense together.
Duke's lack of an inside presence finally caught up to it. The Blue Devils had no one to protect the rim -- Mercer outscored them in points in the paint 26-10 en route to shooting 55.6 percent from the floor. Duke had no one to throw to in the post for high-percentage baskets.
March, 20, 2014
3/20/14
3:18
PM ET
RALEIGH, N.C. -- Mercer is making its first NCAA tournament appearance since 1985, and Duke coach Mike Krzyzewski figures it's been at least that long since he's had a team configured like this.
[+] Enlarge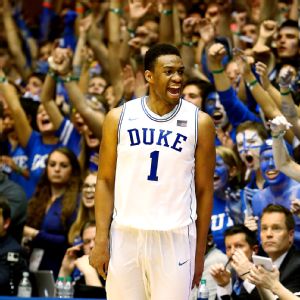 Streeter Lecka/Getty ImagesJabari Parker will be playing in his first (and maybe last) NCAA tournament game on Friday against Mercer.
Jabari Parker
and
Rodney Hood
, the Blue Devils' two most gifted players, are as inexperienced as the Bears when it comes to the NCAA tournament. Krzyzewski said he can't remember the last time his two best players were both in their first year of playing. The names he brought up -- Johnny Dawkins and Mark Alarie -- were part of his first recruiting class that made a Final Four.
"Rodney and Jabari, this is their first NCAA tournament just like for the guys at Mercer," Krzyzewski said. "For a number of our guys, for almost half our team, it's our first NCAA tournament. So I hope it's a good one for us."
It could actually be the
only
tournament moment for Parker and Hood, as both could end up turning pro at the end of the season.
"[Mercer is] kind of looking forward to the game too, because it's their first appearance for a long time," Parker said. "So we're going to try to treat it like them, because this may be the last time we might play together with the guys on the team."
Mercer uses seven seniors in its top nine rotation, including its five starters. Krzyzewski said the Bears won't be intimidated and that this group of Blue Devils had to prove something to themselves.
"It's not given to you, you got to keep earning it," Krzyzewski said. "But because of what we've done [as a program], a lot of people think that this group of guys have done that. They haven't done it."
Mercer coach Bob Hoffman has been quick to point that fact out to his players. Hoffman doesn't want his team focusing on the Blue Devils' Final Fours and national championships when only
Andre Dawkins
remains from their 2010 national title team.
"We're not playing all those other guys who have made runs," Hoffman said. "We're playing the team that's going to walk on the floor tomorrow."
Mercer has an edge about it. The Bears -- not Florida Gulf Coast -- were supposed to amaze the college basketball world in last season's tournament after winning the Atlantic Sun regular-season title. But a loss in the conference tournament sent FGCU to the tournament and its improbable, yet endearing, run to the Sweet 16. Mercer was relegated to the NIT.
"We were right there, had won the regular season, and then they beat us on our floor, cut the nets down," Hoffman said. "And for 365 days, our guys worked harder than any team in the country individually to get a chance to get back to the same moment."